How Positive Affirmations Alone Won't Lead to Success
Watching people use positive affirmations to help them be more successful is such a joy!
In today's article, we are discussing a powerful transformation tool—affirmations.
Many people use them, but have you ever wondered why some people see results and others don't?
Maybe your friend used an affirmation to manifest her dream job, or to get an extra $10K in her business, and it worked!
You tried the same approach, but nothing happened.
There is a reason for this.
Using affirmations for success is NOT enough.
Let's discuss why affirmations don't work – and six ways to change that.
Affirmations Won't Do the Job Alone
An affirmation is defined as a positive declaration expressing a powerful belief.
It's a tool used to manifest what you deeply desire.
I must admit, I'm a transformation junkie.
To see positive change take place in my life and in others keeps me committed and accountable to personal leadership as well success.
Transformation gets you to your next level—but there's definitely a process and system to getting there.
Although rooted in the power of intention, affirmations require inspired action to be effective.
In fact, they are part of a system which includes vision mapping, goal setting, and mindset mastery.
Voicing affirmations of what you will do or become WITHOUT putting things into action is meaningless.
Affirmations contain the power to attract one's desires, but need a strong support system.
Let me share a personal experience that recently happened.
Opportunity with Success Magazine
I'm intentional about my life and goals.
Every year, I get clear on what I want to accomplish and how I'll get there.
One goal was to increase my brand visibility found in both my 2016 and 2017 action plans by partnering with major publications.
One of those publications is Success Magazine.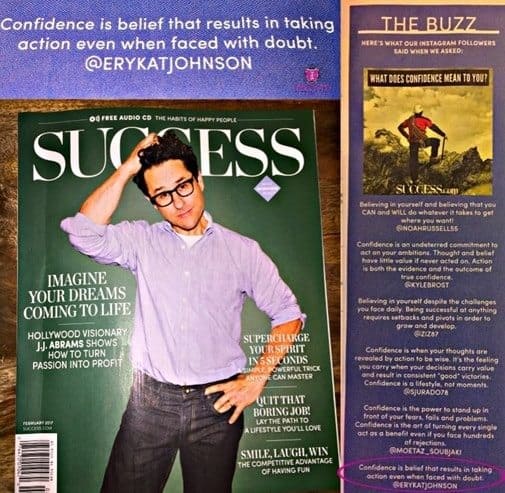 Because I'm passionate about helping high-achieving women professionals elevate their careers and influence through leadership development, I often help them master their mindsets and increase confidence.
This expertise is something I wanted to share on a larger platform than my community of 15,000 female professionals.
Here is how I manifested an opportunity with Success Magazine:
Wrote my goals down along with the steps to take to accomplish it.
Placed the Success Magazine logo on my vision board.
Created a positive affirmation that aligned with my goal and recited it daily.
Saw an opportunity posted online to contribute to the magazine using my expertise around "confidence."
Shared my expertise and was chosen to be featured in February 2017 issue.
Simple, right?
Well, let me share with you six steps to manifesting your dreams that incorporate affirmations for success – but does NOT solely rely on them.
How To Use Affirmations for Success
1. Be clear on what you want.
Set aside time to visualize your genuine desires.
An ordinary life is lived by default.
If you want to be extraordinary, however, design exactly what you want to see.
Be wild and crazy, or simply dream like a kid.
The holistic approach to using affirmations for success involves visualizing your life in seven areas:
Family
Faith
Career/Business
Community
Simply ask yourself: what do I really want?
For each of these areas, write it down.
Remember: give yourself permission to dream without the limitations—mentally or physically.
Don't allow an old story to dictate your new future.
Experience a fresh start.
You have an empty canvas.
Now get to work!
Related: Positive Affirmations
2. Create an action plan and accomplish ONE task daily towards your goal.
Your dreams must translate into goals and action steps to produce results.
In fact, I like to call them V.A.S.T. goals.
V = valuable, significant and important
A = attainable, reasonably realistic
S = specific, definite, and actionable
T = timed, element of urgency
V.A.S.T. goals focus on the "what", while action steps focus on the "how".
Goals define an end result while your action plan gives specific strategies and daily tasks to reaching that result.
Don't attempt to accomplish everything in one day.
However, build a plan that allows you to "do a little a lot."
Take ONE action daily that gets you closer to accomplishing your goal.
Related: Daily Affirmations
3. Convert each goal into a positive affirmation.
After you are clear on what you want, understand the result, and have defined your daily actions, now incorporate affirmations into the process.
Because an affirmation is a statement of belief, focus only on positive affirmations rather than the use of negative words.
Instead of saying…
"I will not eat cake"
Try saying…
"I feed my body nutritional foods that give energy"
Do you see the difference?
Because the mind brings you what you say, stay away from negative cognitions.
"You will be a failure until you impress the subconscious with the conviction you are a success. This is done by making an affirmation which 'clicks'"—Florence Scovel Shinn
4. Increase your belief.
With any transformation, belief is the essential element of success.
Recite your affirmations for success daily out loud.
Through this, you communicate your intention and reset your mindset concerning your desires and goals.
Upgrading your thinking will increase your confidence level, mental toughness, and commitment.
You will, without a doubt, know that you can have what you say and remain committed to the vision even in tough times.
5. When an opportunity manifests, take it.
An opportunity is a good chance for advancement or progress.
When you build your belief and upgrading your mindset, expect opportunities to manifest.
In fact, opportunities rise to meet your level of expectation.
Not only will others come into the picture to assist you with reaching your goals, but you see opportunities in "plain sight" that may have been there the entire time.
Your vision gets illuminated and your focus is intensified.
6. Tell a friend who will keep you accountable.
Accountability is simply "giving account for your ability."
If you are working through your action plan, share your goals and timing with a close friend who will keep you honest.
Share your difficulties and challenges, but also things that are going well.
This is so you can celebrate with someone.
You may be surprised to find that accountability will help you get to the finish line sooner.
Have you tried using affirmations for success?
Did you or did you not get your desired results?
We'd love to hear from you!
Don't forget to leave a message in the comment section below.