7 Simple Ways To Practice Mindfulness
With so much recent focus on the depressing state of politics and the ever-increasing selfies of social media, I looked to my smartphone for some informational rehab.
Although (at the time) I didn't have much interest in it, I decided to search for a meditation app.
After checking out a few of the options, I liked the look of the Masters of Mindfulness app and decided to try it's 14-day free trial.
Here's what I discovered.
First off, the Masters of Mindfulness app's design aesthetic is just like how using it feels, calming and serene.
They offer seven simple ways to practice mindfulness in your life with whimsical icons.
You can select between Meditation, Soothing Sounds, Mood Tracker, Gratitude Journal, Upspirations, Videos, and a Game.
Here's a rundown of each.
Meditation
I was curious to learn that the Masters of Mindfulness app is the first to offer live-stream, guided meditations that you can join from anywhere every week.
But if you can't make the allotted times, they also offer a nice selection of pre-recorded guided meditations.
At first, doing the meditations felt a bit alien to me, but once I joined a live-stream meditation, I was hooked.
I love the intangible feeling of connectedness that it brings.
You really must give it a try.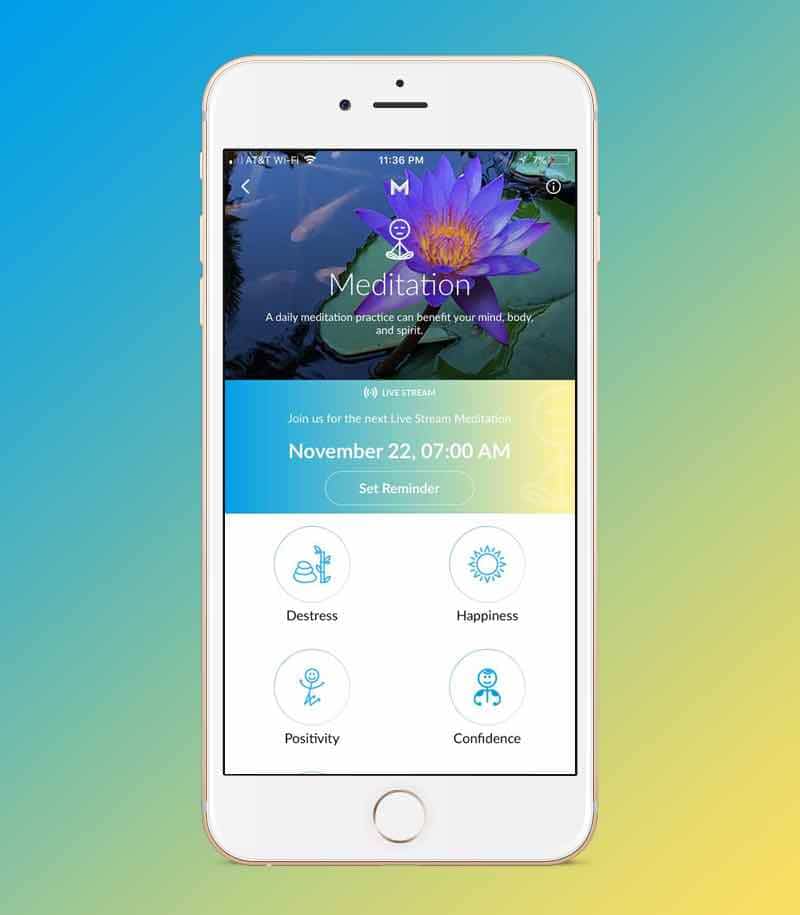 Soothing Sounds
Another pleasant surprise in this app are the Soothing Sounds, which are a collection of songs sung by a woman with a truly ethereal voice.
Each of the songs work great to calm the mind in different ways.
I learned that the woman who created the app is also the songstress, Monica Ortiz.
She is a mindfulness instructor and author of Universe 101: Learn Grow Evolve, which I am now interested in checking out.
Mood Tracker
The Mood Tracker is just as it sounds, a place to log your daily moods.
But then it also takes your moods and populates them onto a calendar to make it easier to see your personal patterns.
This comprehensive mindfulness app isn't just interested in if you feel happy or sad, it asks you to explore why you are happy, or what made you feel sad.
After using it as often as I remembered too, I found that small little extension of describing my mood helped me to better understand where my emotions were coming from.
With this deeper understanding, I felt that I could control my mood swings better, or at least be more compassionate with myself when I wasn't acting my best.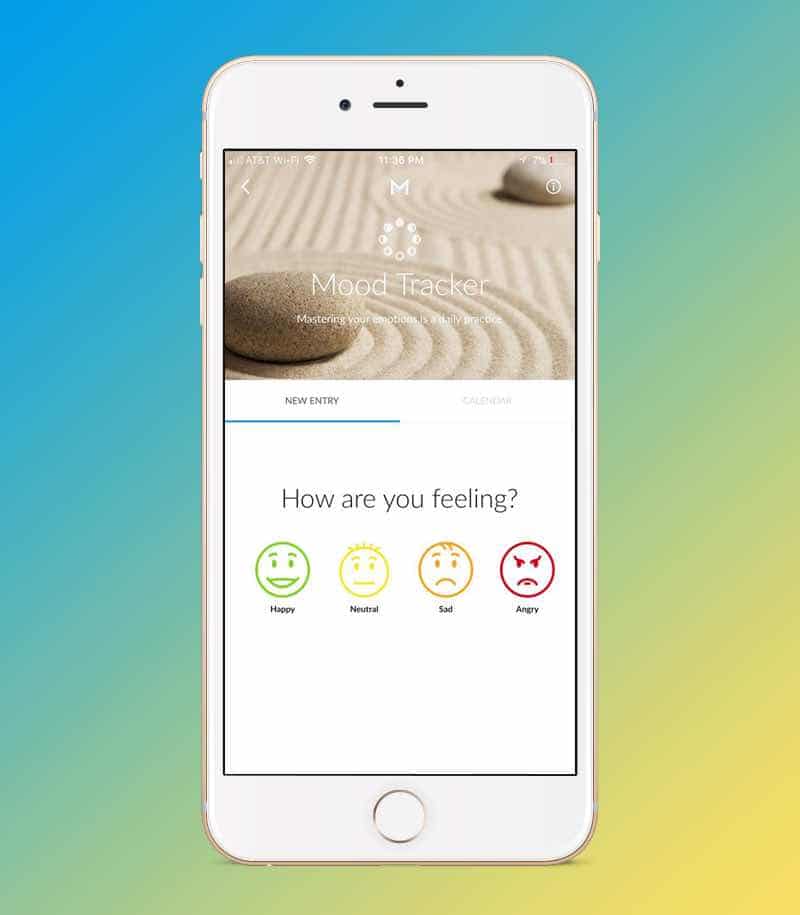 Gratitude Journal
Although this idea sounds simple, I found it to be the most impactful.
The Gratitude Journal goes hand in hand with the Mood Tracker when you are feeling happy or thankful for something.
You just open it up, and write a little statement on what you are grateful for.
It doesn't have to be for anyone else to see.
It's just for you to acknowledge, and therein lies its power.
The more I used the features of this mindfulness app, the more I liked it and seemed to feel happier on the whole.
Using the Gratitude Journal turned into my little secret positivity weapon where I could write silly things like, "I'm grateful for sunny days with no clouds in the sky because they remind me of being a kid and playing outside at my grandparent's ranch."
As simple as it is, writing these thoughts out make me feel good.
Plus, there's an option to share your quotes with others, with beautiful backgrounds and fonts to choose from.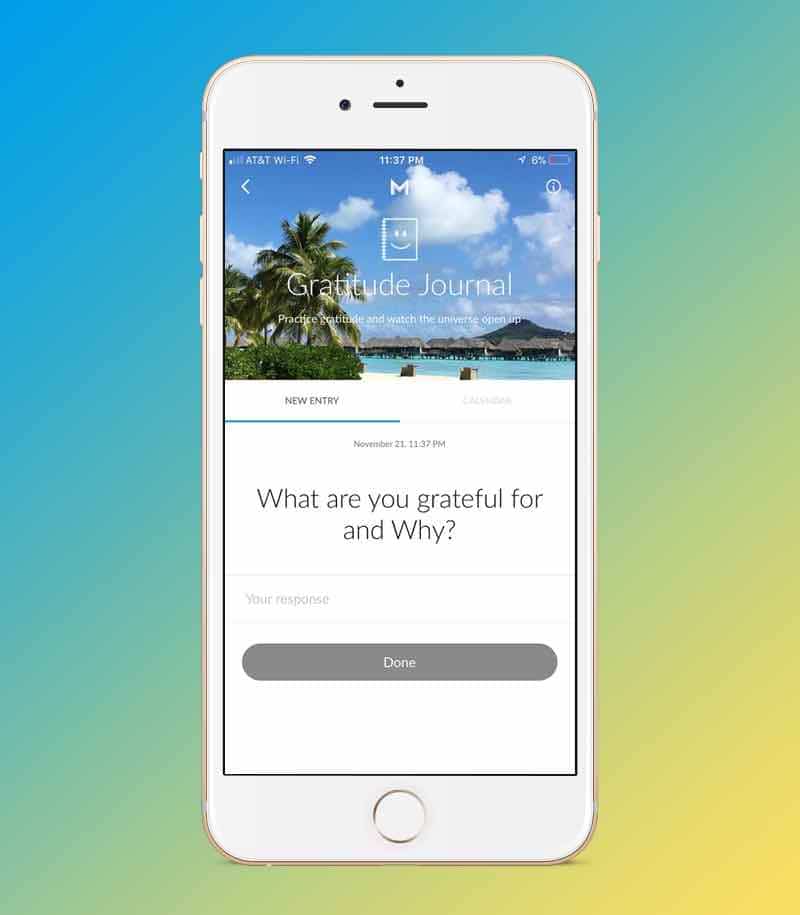 Upspirations
For a more direct dose of inspiration, I have come to really enjoy reading the Masters of Mindfulness Upspirations.
They are poignant life quotes designed like memes that you can share on your social media.
But it's not just about posting an inspiring statement.
Another unique perk of this mindfulness app is that it takes even this basic practice a step further.
Instead of just giving you a cute quote, Masters of Mindfulness then explains how to apply the quote to your life.
And for that, I am grateful.
Videos
After practicing mindfulness for a while, I found that it was not just increasing the enjoyment of my daily life, but it was starting to affect how I was hearing others as well.
Usually, I am not drawn to direct one-on-one interviews, but since I was liking the other sections, I gave the Videos a try, and I'm glad I did.
Also conducted by the app creator, Monica Ortiz, you can watch these interesting interviews she does with all sorts of healing practitioners and prominent people in the wellness community.
She seems to put new ones up all the time, and they are always packed with useful info.
I look forward to seeing who shows up next.
Game
Another favorite of mine is the Game that this mindfulness app offers.
It's not the usual type of phone game you are used to; this is the world's first meditation game, and it's designed to help you relax.
From it, I have learned to practice the amazing 7-7-7 breathing technique.
It's just breathing in and out in succession and learning to hold your breath comfortably in between, which is actually quite simple.
This easy practice does a great job to calm my mind and now I know to use it anytime I am having a hard time relaxing enough to go to sleep.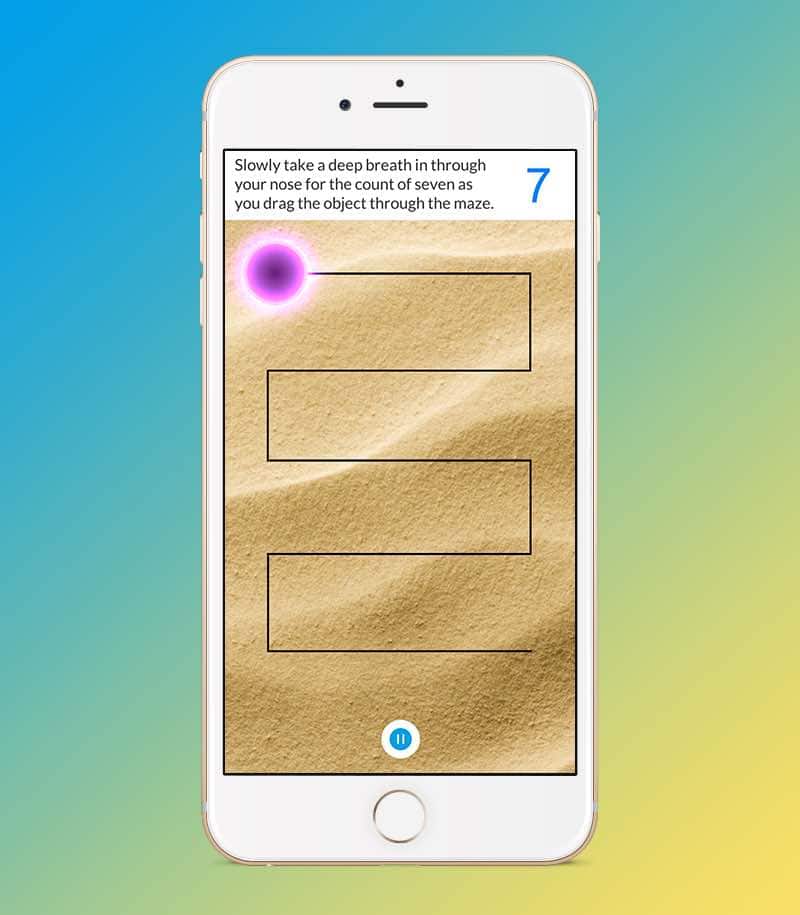 The well thought out exercises and serene style of the Masters of Mindfulness app make it fun and a breeze to use.
With both video and live-streaming content, as well as cool stuff I can share, I really enjoyed the different features and found myself using it daily.
I've learned that the app will always be launching new additions and updates, which makes me feel like the $2.99 per month investment in my personal growth is more than worth it.
Now that I have (somewhat) become a master of mindfulness, I can see that using this simple practice is just like the muscles in our bodies that can be trained for optimal use and enjoyment; the more I practice mindfulness, the better I become.
The Masters of Mindfulness app is available for iPhone and Android smartphones.
For more information visit mastersofmindfulness.com.