Song Quotes From Some of the Biggest Hits
Relive some of the greatest music with these song quotes.
When you are done, let us know your favorite song quote in the comment section below.
What are the benefits of reading through these song quotes?
Music means a lot to people.
Songwriters use their talent to communicate messages that are important to them, experiences that they've had in their lives, and life lessons.
Some of these song quotes might:
Take you back to the best moments of your life.
Others might move you and inspire you.
Some songs will make you sad and aware of some feelings you might have been trying to ignore.
Music can be cathartic, so if some of these song quotes make you feel something, be sure to fire them up on whatever music streaming service you prefer!
Some of us enjoy listening to the songs and finding inspiration, motivation, support, and so many other emotions from the words. 
But not all songs are meant to teach deep life lessons.
Some are purely just meant to be enjoyed.
2021 brought some big hits from names that have been around for decades and some that are newer on the music scene.
Don't forget to read these great BTS quotes and lyrics from the platinum-selling South Korean boy band.
Song quotes from some of the greatest music
1. "You're stuck in my head and I can't get you out of it." — Selena Gomez, "Back To You"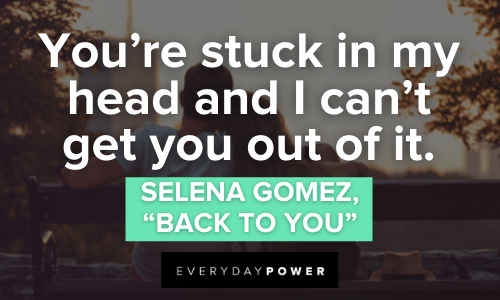 2. "I promise that you'll never find another like me." – "ME!" Taylor Swift feat. Brendon Urie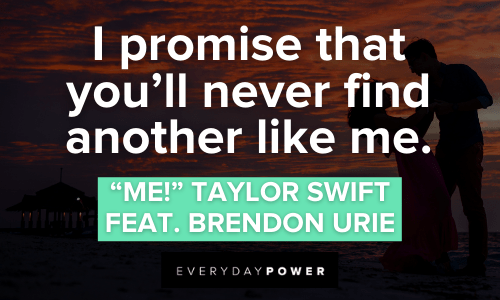 3. "You like my hair? / Gee, thanks, just bought it." – "7 Rings" Ariana Grande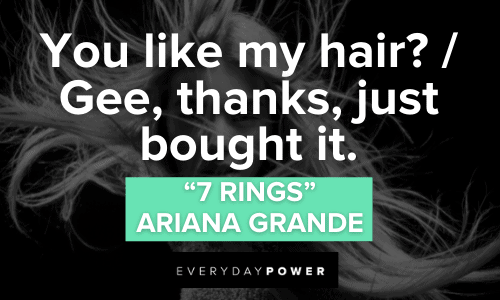 4. "You are the best thing, that's ever been mine." — Taylor Swift, "Mine"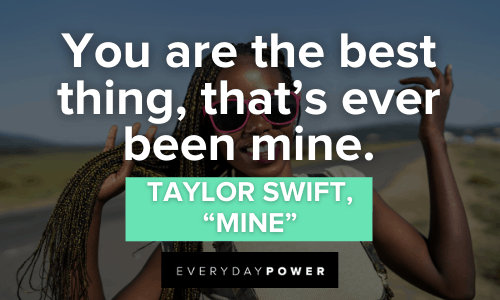 5. "I'm looking right at the other half of me." — Justin Timberlake, "Mirrors"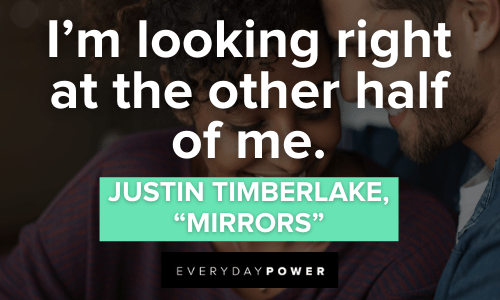 6. "I was sent here for you. We were made to love." — John Legend, "Made To Love"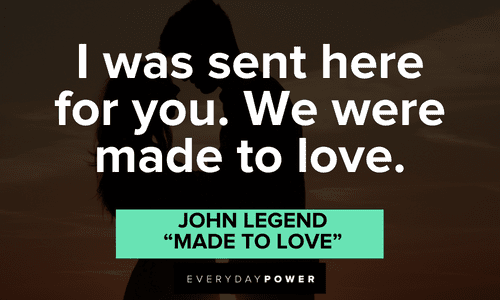 7. "Where you go I follow, no matter how far. If life is a movie, oh you're the best part." — Daniel Caesar, "Best Part"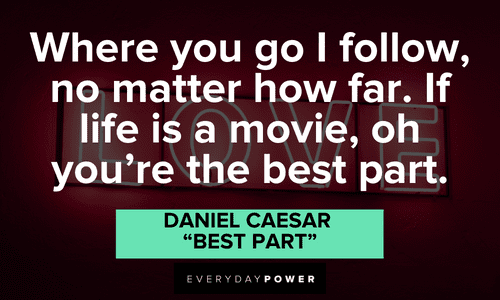 8. "Every time I close my eyes, I thank the Lord that I've got you. And you've got me too." — Babyface, "Every time I Close My Eyes"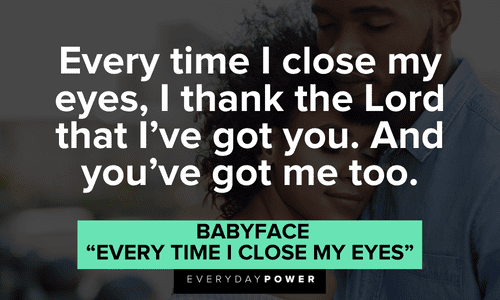 9. "I know some people search the world to find something like what we have." — Alicia Keys, "No One"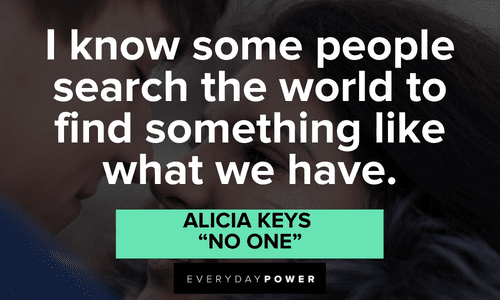 10. "The way that you know what I thought I knew. It's the beat my heart skips when I'm with you." — Beyoncé, "Crazy in Love"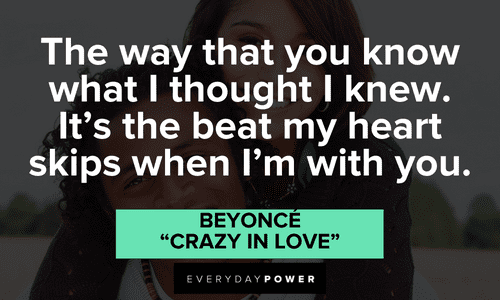 Pop and more music song quotes
11. "It's your love. It just does something to me. It sends a shock right through me. I can't get enough." — Tim McGraw, "It's Your Love"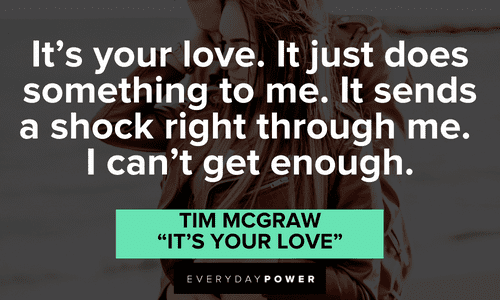 12. "Feeling good living better." – Drake, "Over My Dead Body"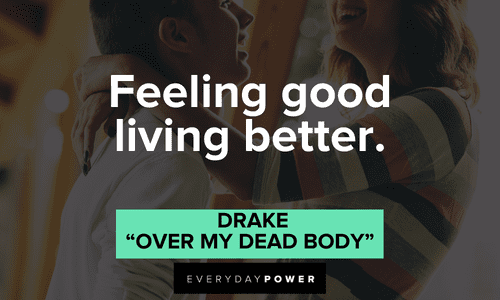 13. "I used to hold my freak back, now I'm letting go."—Demi Lovato, "Confident"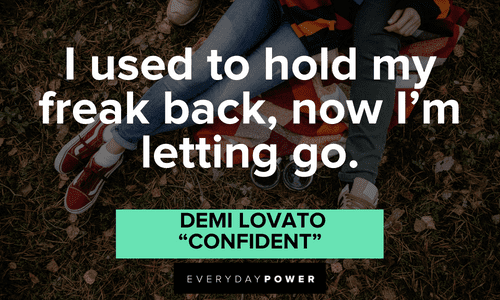 14. "I take it nice and slow, feeling good on my own."—Hailee Steinfeld, "Love Myself"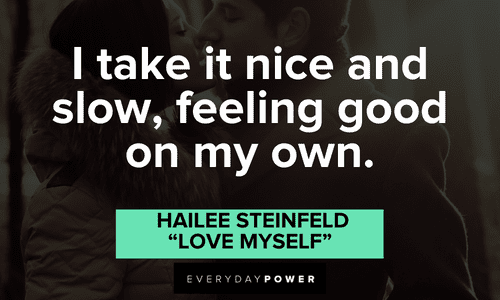 15. "I belong to nobody, try not to disturb, I mind my business."— SZA, "Go Gina"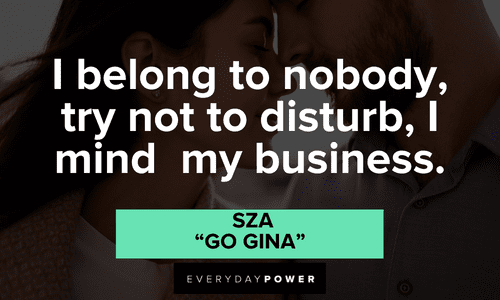 16. "Didn't they tell you that I was a savage." —Rihanna, "Needed Me"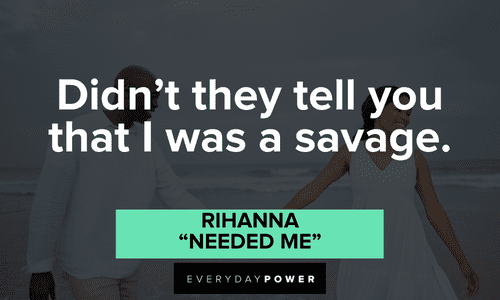 17. "Lose your dream, you lose your mind."― The Rolling Stones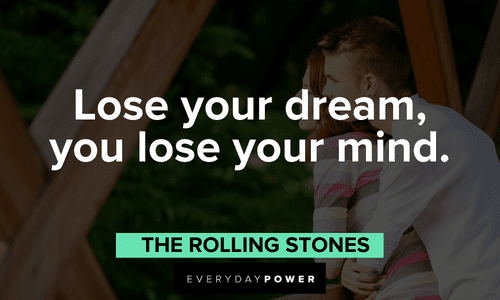 18. "You drive me crazy, I just can't sleep. I'm so excited, I'm in too deep." — Britney Spears, "(You Drive Me) Crazy"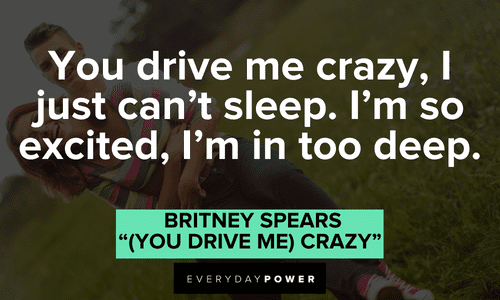 19. "I will survive! Oh as long as I know how to love I know I will stay alive!" – Gloria Gaynor "I Will Survive"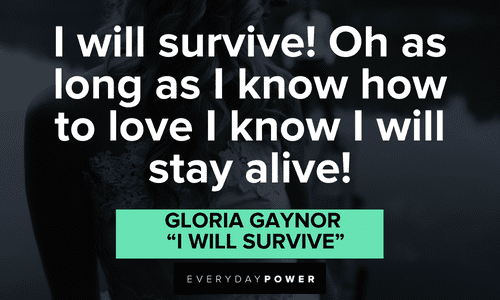 20. "I won't be afraid just as long as you stand, stand by me." – Ben E. King "Stand By Me"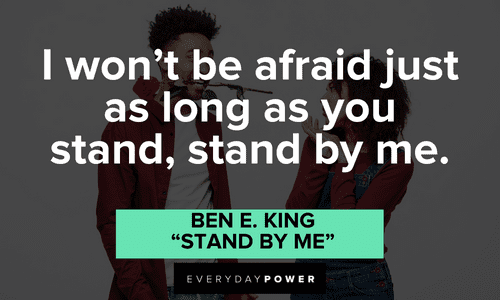 21. "You are Beautiful, no matter what they say." – Christina Aguilera "Beautiful"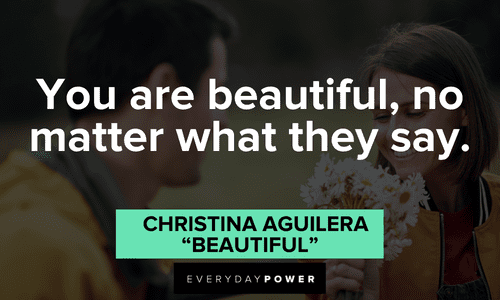 If you're enjoying these quotes, check out our dance quotes to inspire you to get your body moving.
22. "It's a beautiful day. Don't let it get away." – U2 "Beautiful Day"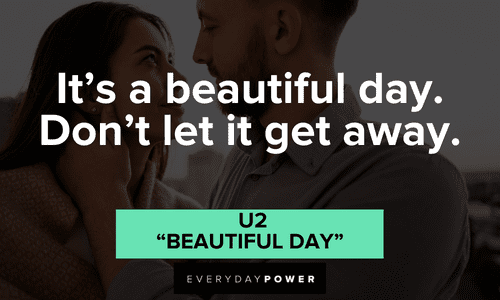 23. "In every life we have some trouble. But when you worry, you make it double." – Bobby McFerrin "Don't Worry be Happy"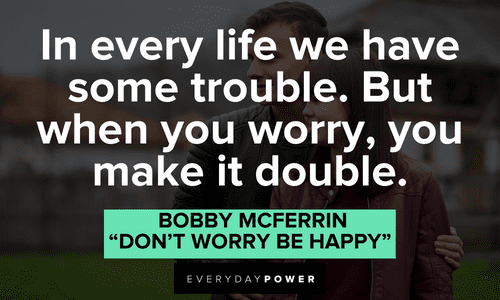 24. "Your heart is all I own. And in your eyes you're holding mine." — Ed Sheeran, "Perfect"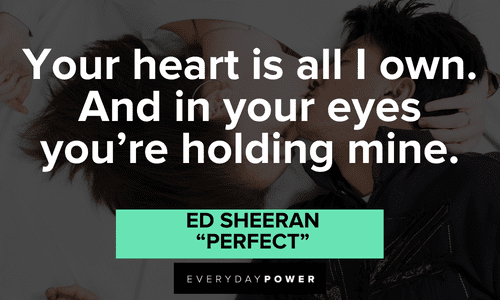 25. "Let's love like there are no goodbyes." – Dua Lipa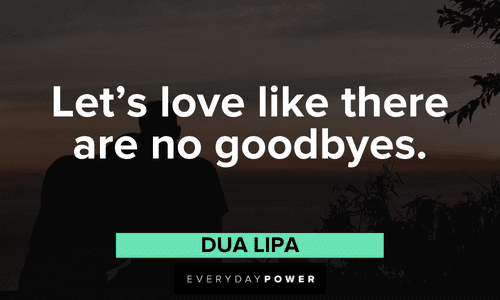 26. "If I was you, I'd wanna be me too." – Meghan Trainor, "Me Too"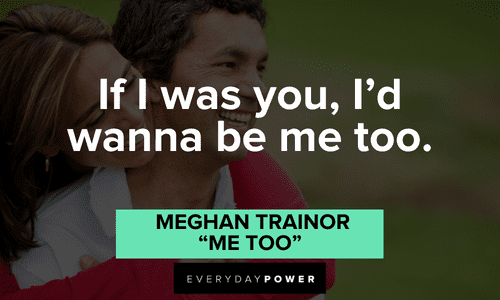 Hip hop song quotes
27. "Summertime is meant to fall in love / I could fall asleep and stare in your eyes / We'll dance all night" – "Summertime in Paris," Jaden and Willow Smith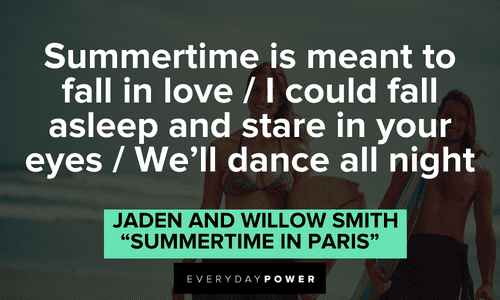 28. "Cause whatever you love can be taken away, so live like it's your dying day." – Machine Gun Kelly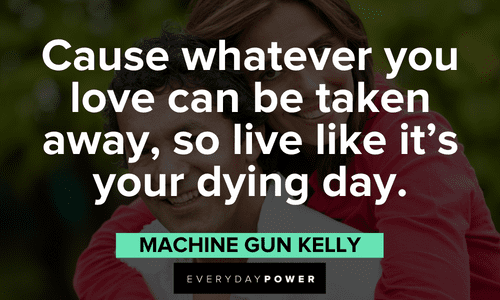 29. "I'm just feelin' my vibe right now. I'm feelin' myself." – Desiigner, "Panda"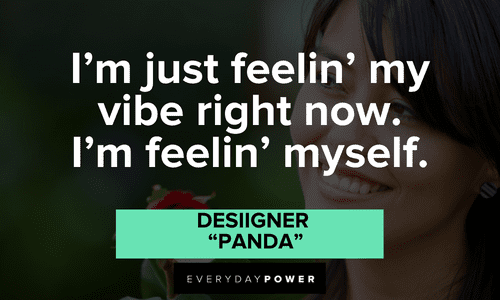 30. "I wear my crown, show it off, go on, girl." —Kelly Rowland, "Crown"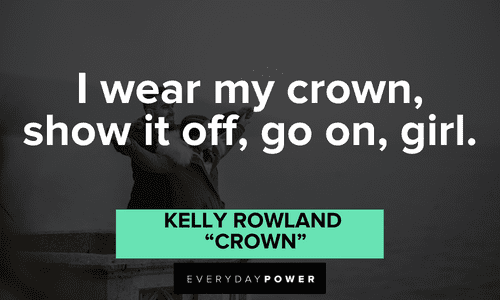 31. "We've got that love, the crazy kind. / I am his and he is mine, in the end it's him and I." — G-Eazy and Halsey, "Him & I"
If you're enjoying these quotes, make sure to read our collection of Halsey quotes to motivate you to be yourself.
More song quotes to fuel your soul
32. "The story of life is quicker than the wink of an eye, the story of love is hello and goodbye…until we meet again"― Jimi Hendrix
33. "You might think that I can't take it, but you're wrong. 'Cause now I'm stronger than yesterday. Now it's nothing but my way." – Stronger, Britney Spears
34. What do you want from me? / Why don't you run from me? / What are you wondering? / What do you know? – "Bury a friend" Billie Eilish
If you're enjoying these quotes, make sure to read our collection of Billie Eilish quotes from the singing sensation.
35. "Yeah, I'm in my bag, but I'm in his too / And that's why every time you see me, I got some new shoes" – "Cash Shit," Megan Thee Stallion featuring Da Baby
If you're enjoying these quotes, you'll love our collection of Megan Thee Stallion quotes to inspire your hot girl.
36. "I'm still looking for my own version of America / One without the gun, where the flag can freely fly / No bombs in the sky, only fireworks when you and I collide / It's just a dream I had in mind" – "Looking For America," Lana Del Rey
If you're enjoying these quotes, you'll love our collection of Lana Del Rey quotes that give a glimpse of who she is on a more personal level.
37. "Oh no, how did I manage to lose me? / I am not this desperate, not this crazy / There's no way I'm stickin' 'round to find out / I won't lose like that, I won't lose myself" – "How Do You Sleep?," Sam Smith
38. "I know you hear me when I cry / try to hold it in at night / While you're sleeping next to me / But it's your arms that I need this time" – "Ghostin" Ariana Grande
39. "If you feel insignificant, you better think again / Better wake up because you're part of something way bigger / You're part of something way bigger" – "Bigger", Beyoncé
40. "The purpose of life is a life with a purpose. So I'd rather die for a cause, than live a life that is worthless." – Immortal Technique
41. "Cause you make my earth quake / Oh, you make my earth quake / Riding around, your love be shakin me up / And it's making my heart break" – "Earfquake" Tyler, the Creator feat. Playboi Carti
42. "Tell 'em that it's my birthday!" — Selena Gomez, 'Birthday'
43. "But just because it burns, doesn't mean you're gonna die. You gotta get up and try, and try, and try." – Try, Pink
44. "I got the eye of the tiger, a fighter. Dancing through the fire, 'Cause I am a champion and you're gonna hear me roar." – Roar, Katy Perry
If you're enjoying these quotes, make sure to check out our collection of Lil Nas X quotes that will make your day.
45. "No, I won't never give up…And I won't let you get me down. I'll keep gettin' up when I hit the ground." – Never Give Up, Sia
You might also like these Nipsey Hussle quotes that will elevate your mind.
Song quotes about love
46. "I've known it from the moment that we met. No doubt in my mind where you belong" – "Make You Feel My Love" by Adele
47. "And I can't help but stare, cause I see truth somewhere in your eyes." – "Mirrors" — Justin Timberlake
48. "'Cause you make me feel so brand new. And I want to spend my life with you" – "Let's Stay Together" by Al Green
49. "I am thinking of you in my sleepless solitude tonight, if it's wrong to love you then my heart just won't let me be right." – "My All" — Mariah Carey
50. "I never loved someone, The way that I love you" – "Fallin'" by Alicia Keys
51. "And when you're needing your space to do some navigating, I'll be here patiently waiting to see what you find." – "I Won't Give Up" — Jason Mraz
52. "Who wants that perfect love story anyway?" – Part II (On the Run) by Beyoncé and Jay Z
53. "Well I found a woman, stronger than anyone I know. She shares my dreams, I hope that someday I'll share her home." – "Perfect" — Ed Sheeran
54. "And here we are in heaven, For you are mine" – "At Last" by Etta James
55. "You've been my inspiration. Through the lies, you were the truth. My world is a better place because of you." – "Because You Loved Me" — Celine Dion
Song quotes to share with the one you love
56. "And whatever the weather, we have each other/ And that's how the story will end." – "Forever Like That", Ben Rector
57. "This could be so easy/ If you could see you through my eyes." – "See You Through My Eyes", The Head and the Heart
58. "And anything to make you smile/ It is my better side of you to admire." – "No One's Gonna Love You", Band of Horses
59. "It's amazing, it's amazing/ Isn't it crazy, isn't it crazy/ That you and me have found one another?" – "Lifting the Sea", The Hunts
60. "I think I'm caught up in the way I feel 'bout you/ I don't know how I can be so drawn into you/ I think I'm fallin in deep/ I think I'm caught up in the wave of you, of you." – "Wave of You", Surfaces
61. "You're my flashlight in the darkness, baby/ You're my electricity." – "Electricity", Drew Holcomb & Ellie Holcomb
62. "Oh, if I never get to see the Eiffel Tower at night/ Oh, if all I got is your hand in my hand/ Baby, I could die a happy man." – "Die a Happy Man", Thomas Rhett
63. "Shall I write it in a letter?/ Shall I try to get it down?/ Oh, you fill my head with pieces/ Of a song I can't get out/ Can I be close to you?" – "Bloom", The Paper Kites
64. "Times were tough, we made it through/ We tasted the rough, so let's savor the smooth." – "I Was Born To Love You", Ray LaMontagne
65. "Take me back to the night we met/ I don't know what I'm supposed to do/ Haunted by the ghost of you." – "The Night We Met", Lord Huron
BTS song quotes
66. "Watch me bring the fire and set the night alight." – BTS, "Dynamite"
67. "Erase all sad memories. Hold each other's hands and smile" – BTS, "So Far Away"
68. "Even when I fall and hurt myself, I keep running towards my dream" – BTS, Young Forever
69. "Can't hold me down 'cause you know I'm a fighter." —BTS, "ON"
70. "We'll keep going, and stay up until we see the sunrise." – BTS, "Permission to Dance"
71. "The dawn right before the sun rises is the darkest."— BTS, "Tomorrow"
72. "No matter how much I wonder, I want to believe in my path." – BTS, "Lost"
73. "I believe in myself. My back hurts in order to let my wings sprout." — BTS, "Interlude: Wings"
74. "Get me outta my blues, and now I'm feelin' brand new." – BTS, "Fly To My Room"
75. "I'm diamond, you know I glow up."— BTS, "Dynamite"
Taylor Swift song quotes
76. "Darling, let's run, run from it all" – Taylor Swift, 'Run (Taylor's Version)'
77. "Say my name and everything just stops, I don't want you like a best friend" – Taylor Swift, 'Dress'
78. "Life was a willow and it bent right to your wind" – Taylor Swift, 'Willow'
79. "I want you for worse or for better, I would wait forever and ever" – Taylor Swift, 'How You Get The Girl'
80. "Takes one to know one, you're a cowboy like me" – Taylor Swift, 'Cowboy Like Me'
81. "The rest of the world was black and white but we were in screaming colour" – Taylor Swift, 'Out Of The Woods'
82. "All these people think love's for show but I would die for you in secret" – Taylor Swift, 'Peace'
83. "We were like the mall before the internet, it was the one place to be" – Taylor Swift, 'Coney Island'
84. "I don't wanna look at anything else now that I saw you" – Taylor Swift, 'Daylight'
85. "It was the best night, never would forget how we moved" – Taylor Swift, 'Starlight'
Harry Styles song quotes
86. "You showed me a power that is strong enough to bring sun to the darkest days" – Harry Styles, 'Matilda'
87. "If you're feeling down, I just wanna make you happier, baby" – 86. "You showed me a power that is strong enough to bring sun to the darkest days" – Harry Styles, 'Late Night Talking'
88. "There's never been someone else so perfect for me" – Harry Styles, 'Grapejuce'
89. "You know the game's nevеr-ending" – Harry Styles, 'Boyfriends'
90. "I take you with me everytime I go away" – Harry Styles, 'Love of My Life'
91. "You don't have to be sorry for leaving and growing up" – Harry Styles, 'Matilda'
92. "It's not what I wanted, to leave you behind" – Harry Styles, 'Love of My Life'
93. "When nothing really goes to plan, you stub your toe or break your camera. I'll do everything I can to help you through." – Harry Styles, 'Late Night Talking'
94. "You know it's not the same as it was" – Harry Styles, 'As It Was'
95. "If I was a bluebird, I would fly to you. You'll be the spoon. Dip you in honey, so I could be sticking to you." – Harry Styles, 'Daylight'
Song quotes for Instagram
96. "Make it like your birthday everyday."—Katy Perry, 'Birthday'
97. "You may say I'm a dreamer, but I'm not the only one." – John Lennon, Imagine
98. "Sunshine mixed with a little hurricane." – Brad Paisley, "Perfect Storm"
99. "You got my heart. Don't know how you did it." — Ariana Grande, "The Way"
100. "Find me where the wild things are." —Alessia Cara, "Wild Things"
101. "There is no fear now. Let go and just be free. I will love you unconditionally." — Katy Perry, "Unconditionally"
102. "I'm no beauty queen, I'm just beautiful me." —Selena Gomez, "Who Says"
103. "I hope the days come easy and the moments pass slow." — Rascal Flatts, "My Wish"
104. "Gonna love myself, no, I don't need anybody else."—Hailee Steinfeld, "Love Myself"
105. "Here you come again, lookin' better than a body has a right to." — Dolly Parton, "Here You Come Again"
Cherish the old and get ready for the new
As you take time to read over song lyrics from hits, don't forget that it can be fun to look back over music from your past.
Music can easily connect us with lots of pleasant memories.
And it can be a fun way to relive good experiences that you've had.
While you're taking time to enjoy the music, get ready to experience all that 2020 has to offer as well.
Don't be afraid to try listening to different genres of music to see if you are connecting with the lyrics of new music as it comes out.
Did you enjoy these song quotes and lyrics?
Which of the quotes is your favorite?
Tell us in the comment section below.
We would love to hear all about it.
September 7, 2022 5:00 AM EST