Motivational Quotes of the Day For Daily Rejuvenation
In search of some amazing quotes of the day to help inspire your soul and speak to your mind?
If you ever need a daily reminder to motivate and inspire, these motivational quotes of the day can serve as your necessary reminder to make each day a great one.
Check out our awesome handpicked collection of daily motivational quotes to inspire you on any day ending in y.
We'd love to help you get the motivation you need to change your perspective for the better, each and every day. And sometimes starting off your day with words of wisdom is the very best way to do it!
Here we've gathered some of our most favorite quotes of the day from various sources to help you get inspired and motivated to have your best day yet.
Don't forget to also check out these achievement quotes to motivate you for massive success.
Motivational quotes of the day! carpe diem!
1. "I have always known what I wanted, and that was beauty… in every form." – Joan Crawford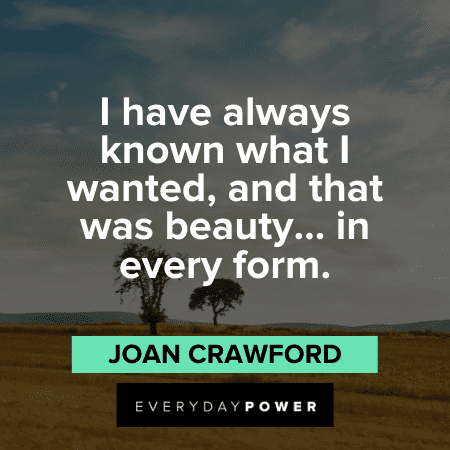 2. "What lies behind us and what lies before us are tiny matters compared to what lies within us." – Henry Stanley Haskins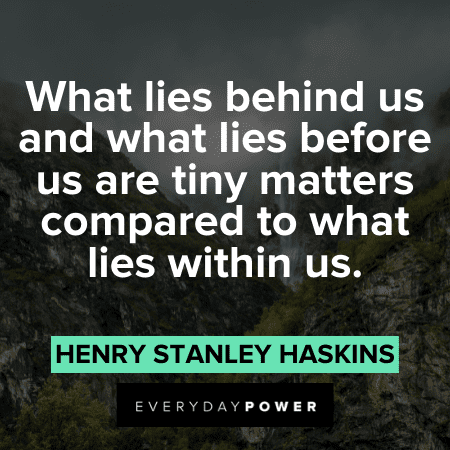 3. "The best way to predict the future is to invent it." – Alan Kay
4. "Life is not about having everything. It's about finding meaning in everything." – Joel Randymar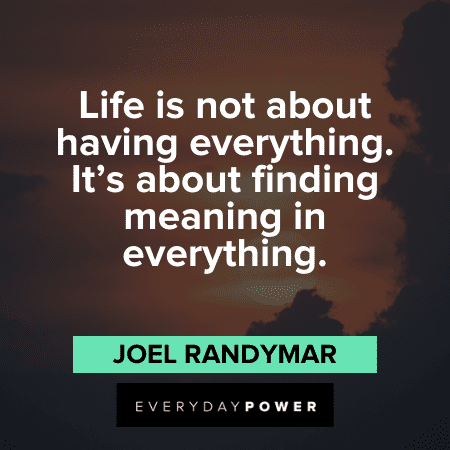 5. "Beauty is hidden in everything, just learn how to observe." – Ritu Ghatourey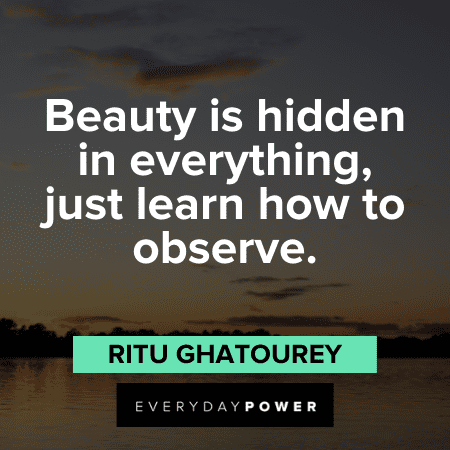 6. "When you reach the heart of life you shall find beauty in all things, even in the eyes that are blind to beauty." – Kahlil Gibran
7. "Challenge yourself with something you know you could never do, and what you'll find is that you can overcome anything." – Anonymous
8. "The love of beauty in its multiple forms is the noblest gift of the human cerebrum." – Alexis Carrel
9. "Beauty in things exists in the mind which contemplates them." – David Hume
10. "Those who joyfully leave everything in God's hand will eventually see God's hand in everything. Worries end when faith begins." – Nishan Panwar
Motivational quotes of the day to improve your life
11. "Life is better when you stop criticizing the faults, instead, look for the beauty in the flaws." – Unknown
12. "It is never too late to be what you might have been." – George Eliot
13. "All our dreams can come true if we have the courage to pursue them." –Walt Disney
14. "I think human beings make life beautiful. There's a lot of beauty in everything. I think what makes life beautiful is the ability to acknowledge that." – Andrew McMahon
15. "Life is 10% what happens to me and 90% how I react to it." – Charles R. Swindoll
16. "If you cannot do great things, do small things in a great way." – Napoleon Hill
17. "Though we travel the world over to find the beautiful, we must carry it with us or we find it not." – Ralph Waldo Emerson
18. "Everybody needs beauty as well as bread, places to play in and pray in, where nature may heal and give strength to body and soul." – John Muir
19. "Our hearts are drunk with a beauty our eyes could never see." – George W. Russell
20. "I've never seen a smiling face that was not beautiful." – Unknown
If you're enjoying this article, you'll also love our collection of Monday motivation quotes to start your week off on the right track.
Motivational quotes of the day to encourage you
21. "By plucking her petals, you do not gather the beauty of the flower." –Rabindranath Tagore
22. "Beauty is not in the face; beauty is a light in the heart." – Khalil Gibran
23. "Against Him those women sin who torment their skin with potions, stain their cheeks with rouge and extend the line of their eyes with black coloring. Doubtless they are dissatisfied with God's plastic skill. In their own persons they convict and censure the Artificer of all things." – Tertullian
24. "That which is striking and beautiful is not always good, but that which is good is always beautiful." – Ninon de L'Enclos
25. "Had the price of looking been blindness, I would have looked." – Ralph Ellison
26. "Some people, no matter how old they get, never lose their beauty, they merely move it from their faces into their hearts." – Martin Buxbaum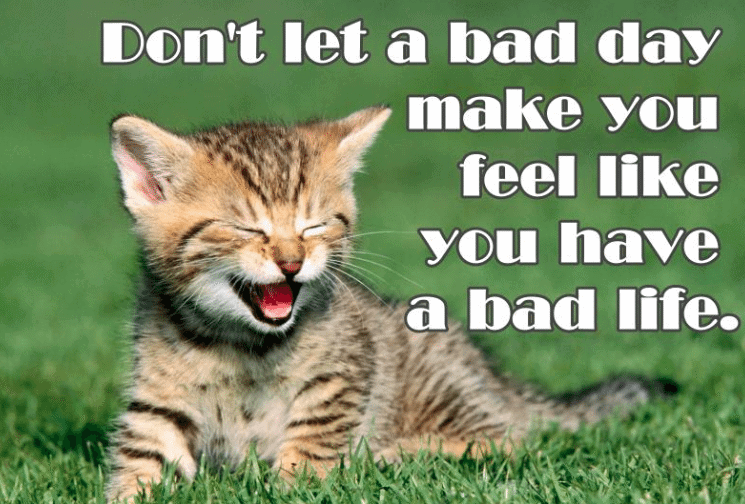 27. "Tell them dear, that if eyes were made for seeing, then beauty is its own excuse for being." – Ralph Waldo Emerson
28. "Close your eyes and see the beauty." – Author Unknown
29. "In every man's heart there is a secret nerve that answers to the vibrations of beauty." – Christopher Morley
30. "The most beautiful view is the one I share with you." – Author Unknown
If you're enjoying this article, be sure to also check out our collection of inspirational pictures quotes that will help push you to keep moving forward.
Motivational quotes of the day to help you reach your goals
31. "When you have only two pennies left in the world, buy a loaf of bread with one, and a lily with the other." – Chinese Proverb
32. "Beauty comes in all sizes, not just size 5." – Roseanne
33. "There is a road from the eye to the heart that does not go through the intellect." – Gilbert Keith Chesterton
34. "Never lose an opportunity of seeing anything that is beautiful; for beauty is God's handwriting on a wayside sacrament. Welcome it in every fair face, in every fair sky, in every fair flower, and thank God for it as a cup of blessing." – Ralph Waldo Emerson
35. "Everything has beauty, but not everyone sees it." – Confucius
36. "Beauty of whatever kind, in its supreme development, invariably excites the sensitive soul to tears." – Edgar Allan Poe
37. "A morning-glory at my window satisfies me more than the metaphysics of books." – Walt Whitman
38. "Beauty… is the shadow of God on the universe." – Gabriela Mistral
39. "Taking joy in living is a woman's best cosmetic." – Rosalind Russell
40. "I finally realized that being grateful to my body was key to giving more love to myself." – Oprah
Don't forget to also check out our collection of quotes about new beginnings and starting fresh.
Motivational quotes of the day to help you overcome your obstacles
41. "An obstacle is often a stepping stone." – William Prescott
42. "If opportunity doesn't knock, build a door." – Milton Berle
43. "Failure is the condiment that gives success its flavor." – Truman Capote
44. "If you have built castles in the air, your work need not be lost; that is where they should be. Now put the foundations under them." – Henry David Thoreau
45. "There are two primary choices in life: to accept conditions as they exist, or accept the responsibility for changing them." – Denis Waitley
46. "Many of life's failures are experienced by people who did not realize how close they were to success when they gave up." – Thomas Edison
47. "I am always doing that which I cannot do, in order that I may learn how to do it." – Pablo Picasso
Don't forget to also check out these karma quotes about what goes around & comes around in our life.
48. "It's not whether you get knocked down, it's whether you get up." – Vince Lombardi
49. "People who are crazy enough to think they can change the world, are the ones who do." – Rob Siltanen
50. "I know for sure that what we dwell on is who we become." – Oprah Winfrey
Other motivational quotes of the day
51. "The starting point of all achievement is desire." – Napoleon Hill
52. "A winner is a dreamer who never gives up." – Nelson Mandela
53. "All progress takes place outside the comfort zone." – Michael John Bobak
54. "Whether you think you can or you think you can't, you're right." – Henry Ford
If you're enjoying these quotes, read our collection of Henry Ford quotes from one of America's greatest pioneers.

55. "Success is the sum of small efforts, repeated day-in and day-out." –Robert Collier
56. "Everything you've ever wanted is on the other side of fear." – George Addair
57. "People often say that motivation doesn't last. Well, neither does bathing–that's why we recommend it daily." – Zig Ziglar
If you're enjoying these quotes, you'll love our collection of short motivational quotes that will get you ready to tackle the day.

58. "The most difficult thing is the decision to act, the rest is merely tenacity." – Amelia Earhart
59. "The function of leadership is to produce more leaders, not more followers." – Ralph Nader
60. "There will be obstacles. There will be doubters. There will be mistakes. But with hard work, there are no limits." – Michael Phelps
More Motivational Quotes of the Day
61. "Don't be pushed around by the fears in your mind. Be led by the dreams in your heart." – Roy T. Bennett
62. "Change the way you look at things and the things you look at change." – Wayne W. Dyer
63. "At the end of the day, let there be no excuses, no explanations, no regrets." – Steve Maraboli
64. "Action may not always bring happiness, but there is no happiness without action." – William James
65. "You have to accept whatever comes, and the only important thing is that you meet it with the best you have to give." – Eleanor Roosevelt
66. "Life is short. Focus on what really matters most. You have to change your priorities over time." – Roy T. Bennett
67. "Live boldly. Push yourself. Don't settle." – Jojo Moyes
68. "Make today worth remembering." – Zig Ziglar
69. "Learn everything you can, anytime you can, from anyone you can, there will always come a time when you will be grateful you did." – Sarah Caldwell
70. "Make your work to be in keeping with your purpose." – Leonardo da Vinci
71. "There are far, far better things ahead than any we leave behind." – C.S. Lewis
72. "A successful man is one who can lay a firm foundation with the bricks others have thrown at him." – David Brinkley
73. "We become what we think about most of the time, and that's the strangest secret." – Earl Nightingale
74. "If you genuinely want something, don't wait for it — teach yourself to be impatient." – Gurbaksh Chahal
75. "It's not what you look at that matters, it's what you see." – Henry David Thoreau

Each day we have a choice whether to be happy or sad. It's up to you to find the positivity in life and we hope that we've inspired you to do just that each morning when you start off your day. If you know someone special in your life who could benefit from these wise words, don't hesitate to share this article with them to brighten their day!
Did you like this collection of quotes of the day? Tell us which one was your very favorite. And if you've got one that always starts your day off on the right foot, share it with us in the comments section!
December 16, 2021 5:00 AM EST
Click to view