The Best Good Morning Text Messages for Her Love
Read this entire collection of good morning texts for her to let her know how much you care with thoughtful words first thing in the AM.
How do you show her your appreciation and love?
This collection of good morning messages and quotes are for her so she knows exactly how important she is to you.
One of the most perfect ways to enhance your existing relationship is through texting.
When done right, texting can be a great way to strengthen your relationship and build closeness. And who doesn't like to feel appreciated by their man the moment they open their eyes?!
Sending her a beautiful good morning quote or message is one of the sweetest things you can do to bring a smile to her face and to remind her that you think of her when you wake up.
It will not only make her feel special, but it proves to her that you want her to have a great day.
When you wake up and send that message, it means that you truly appreciate her.
Besides, it lets her know you care about her, which will ultimately strengthen the bond between the two of you.
If you're wondering what kind of messages can do the trick, here are some beautiful good morning quotes for her, good morning messages and good morning texts that will make her entire day worthwhile.
Don't forget to also check out our collection of motivational good morning love quotes for your significant other. We also have a selection of beautiful love quotes for her. Be sure to also read that.
1. Good morning, love! The sun is as bright as you today.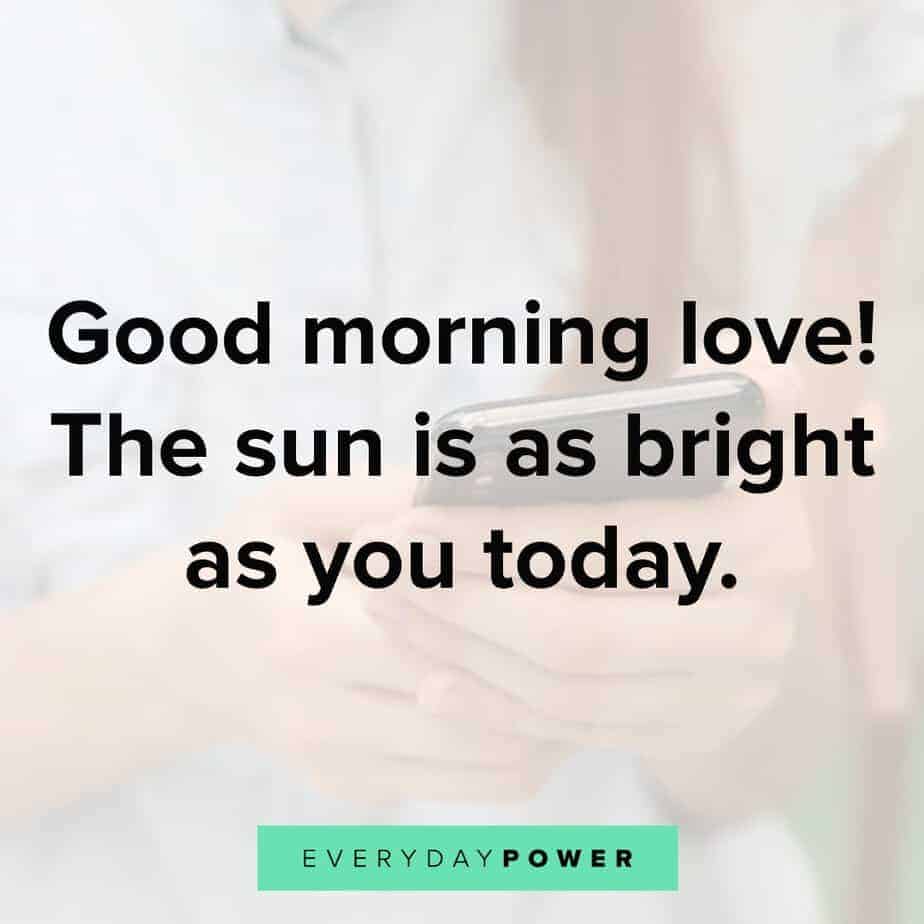 2. Good morning! Your sweet teddy bear misses you, I can't wait to see you.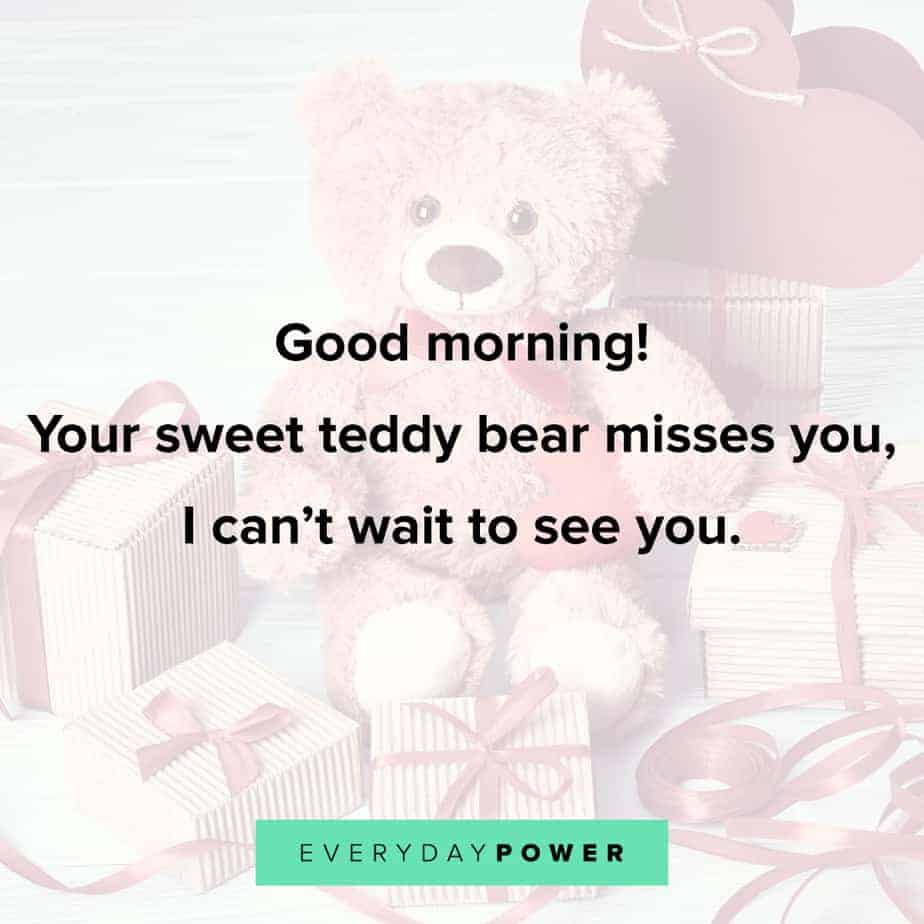 3. Sometimes I wish there was no alarm clock because that is the only device which wakes me up while I am dreaming of you.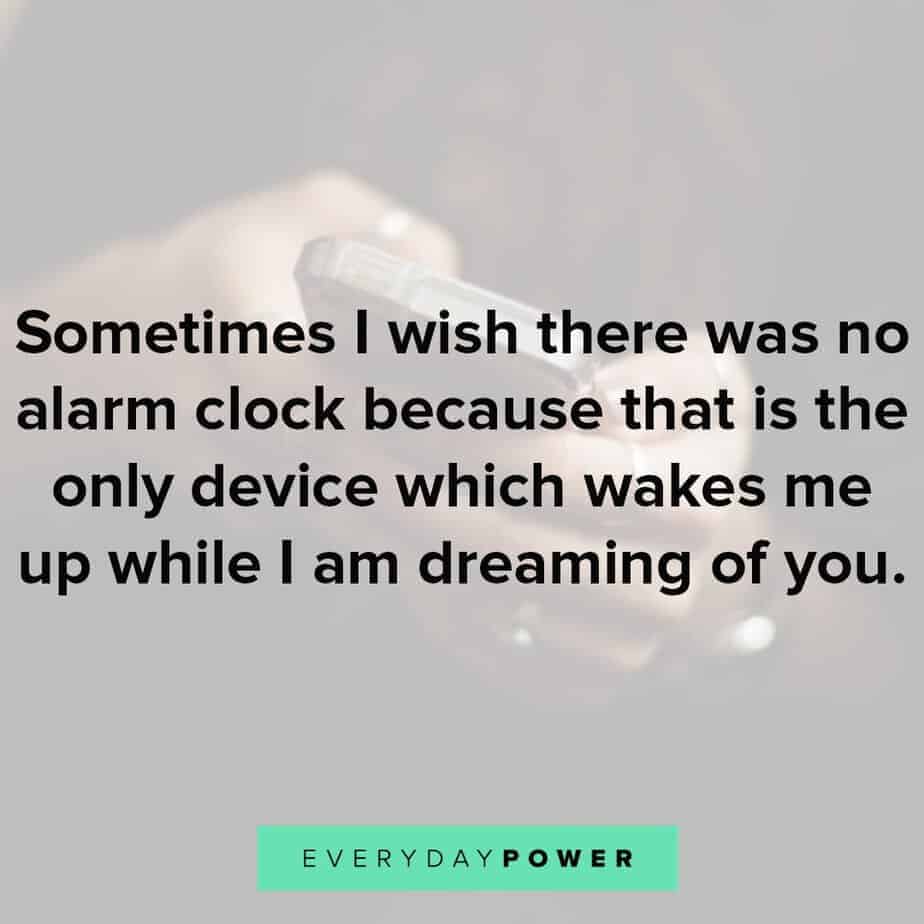 4. "Let me wake up next to you, have coffee in the morning and wander through the city with your hand in mine, and I'll be happy for the rest of my little life." – Charlotte Eriksso
5. Wake up my love. Flowers, smiles and laughter are waiting for you. Good morning, Love.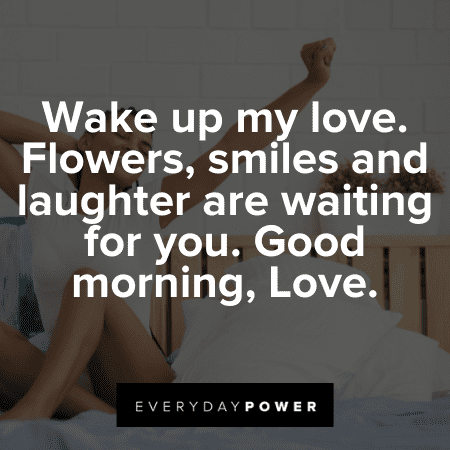 6. Good morning, my guiding star! Without you, I would have lost in a darkness of the universe.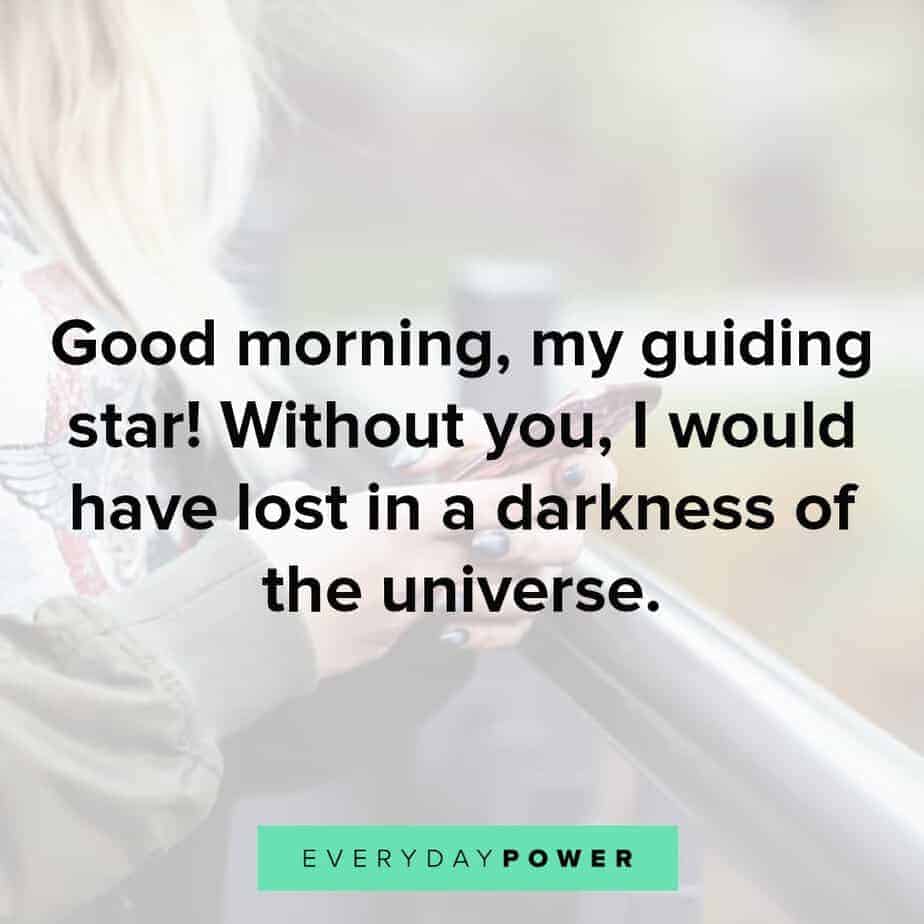 7. The beautiful morning DEW and the lovely morning HUE are symbolic of my love for YOU. Good morning.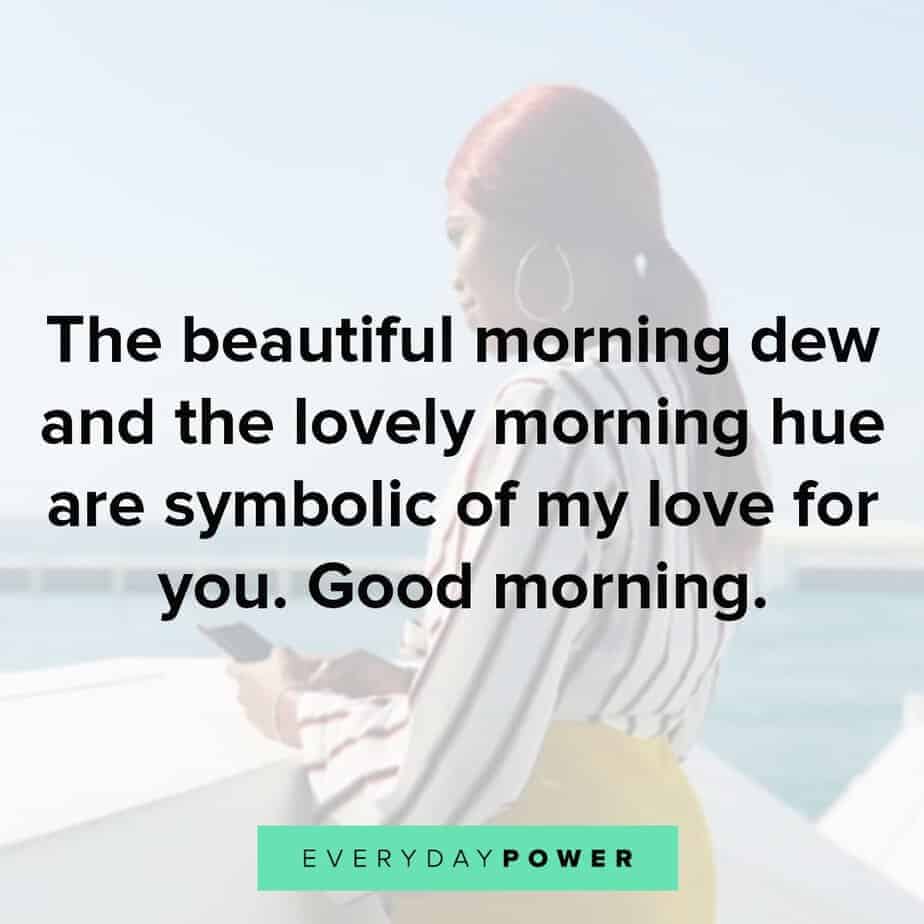 8. The best feeling is goosebumps from your kisses, I want to feel them for the whole life. Good morning, princess.
9. The morning breeze on my face makes me think of you. The sun on my skin makes me think of you. Even the birds singing their beautiful songs make me think of you.
10. For me, to breathe is natural as well as to love you and to greet each morning with you.
Also check out these flirty quotes that will brighten her day and spice up your love life.
Good morning texts for her that will make her smile
11. It's your love that helps me get out of bed every morning with a bright bright smile on my face.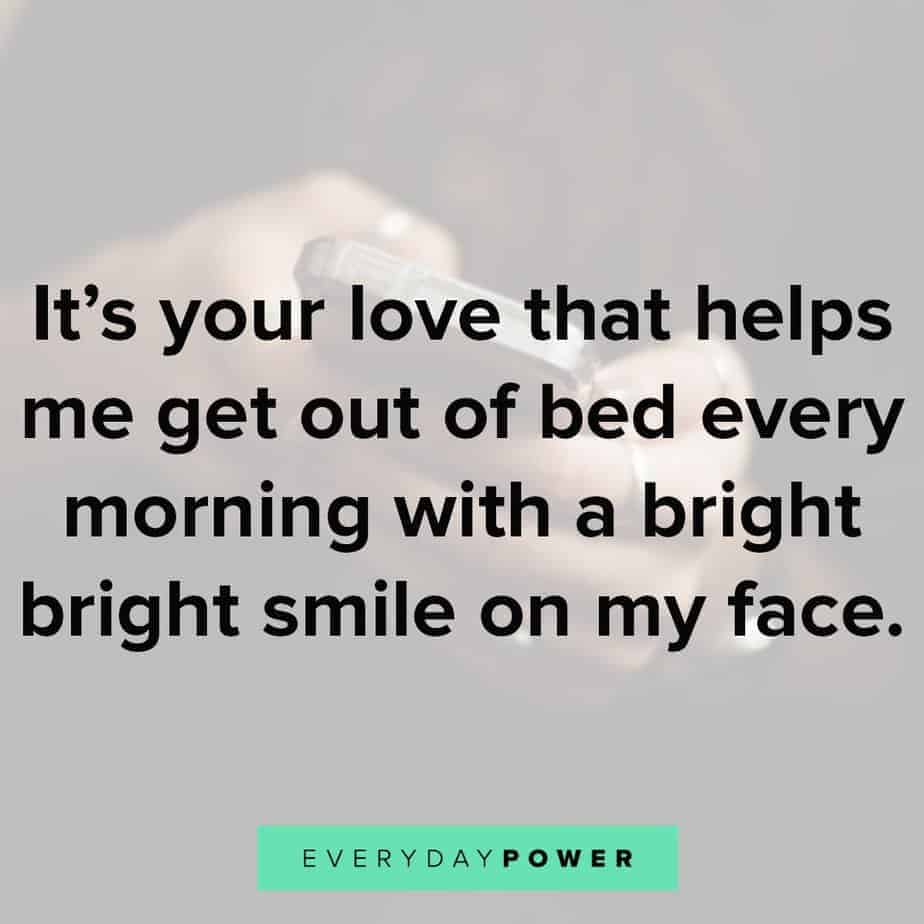 12. That wonderful bird, singing near your window, is my companion, who agreed to help me to express my feelings for you.
13. Thank you for making every morning such a great one.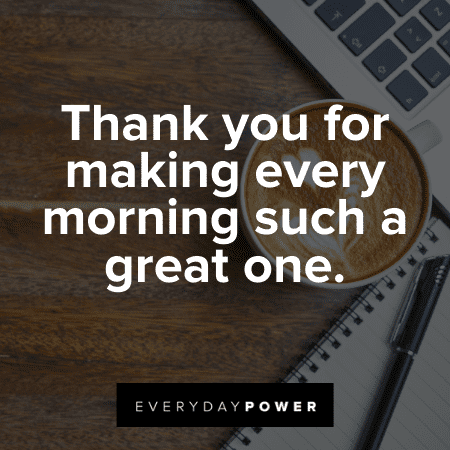 14. Meet a new day, sweetheart! I will fill it with my unconditional love, burning passion, hours of laughter and endless happiness!
Good morning texts for her that will make her day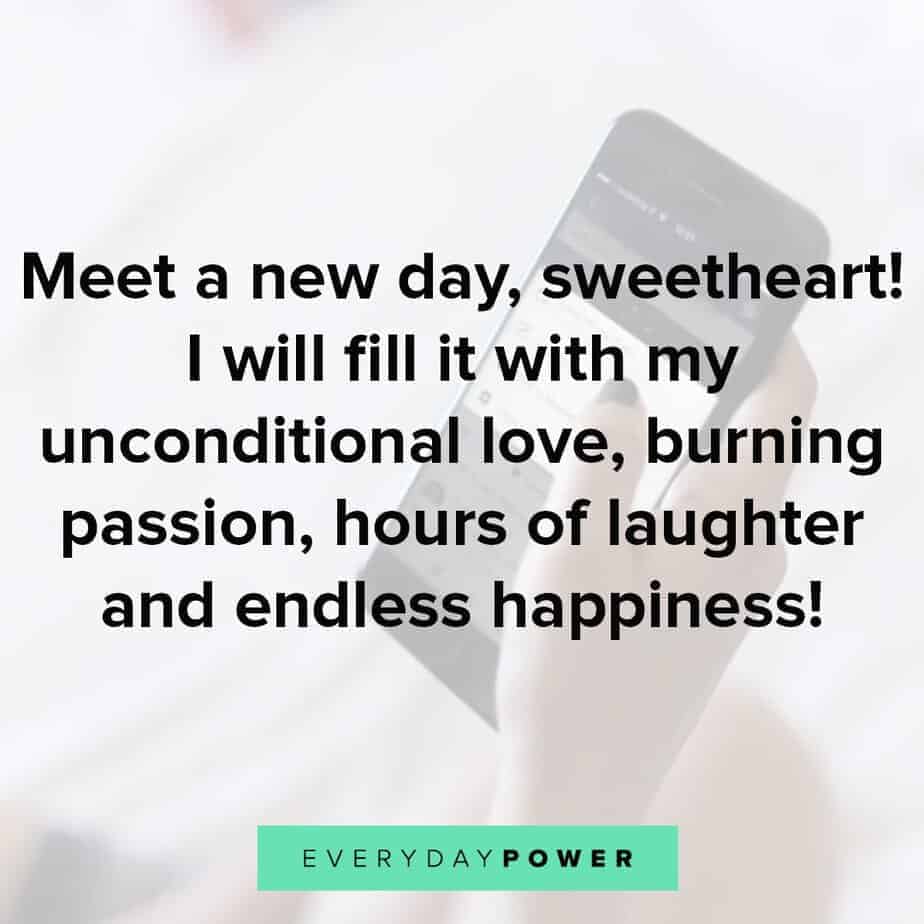 15. Every morning is a joy because it is another chance to see your lovely smile, your penetrating eyes and your sweet lips. I cannot wait for this night to pass and to see you again in the morning.
16. "I would rather spend one lifetime with you, than face all the ages of this world alone." -J.R.R. Tolkien
17. May you begin this day with a smile on your face, and with happiness for your soul to embrace. Good Morning my love.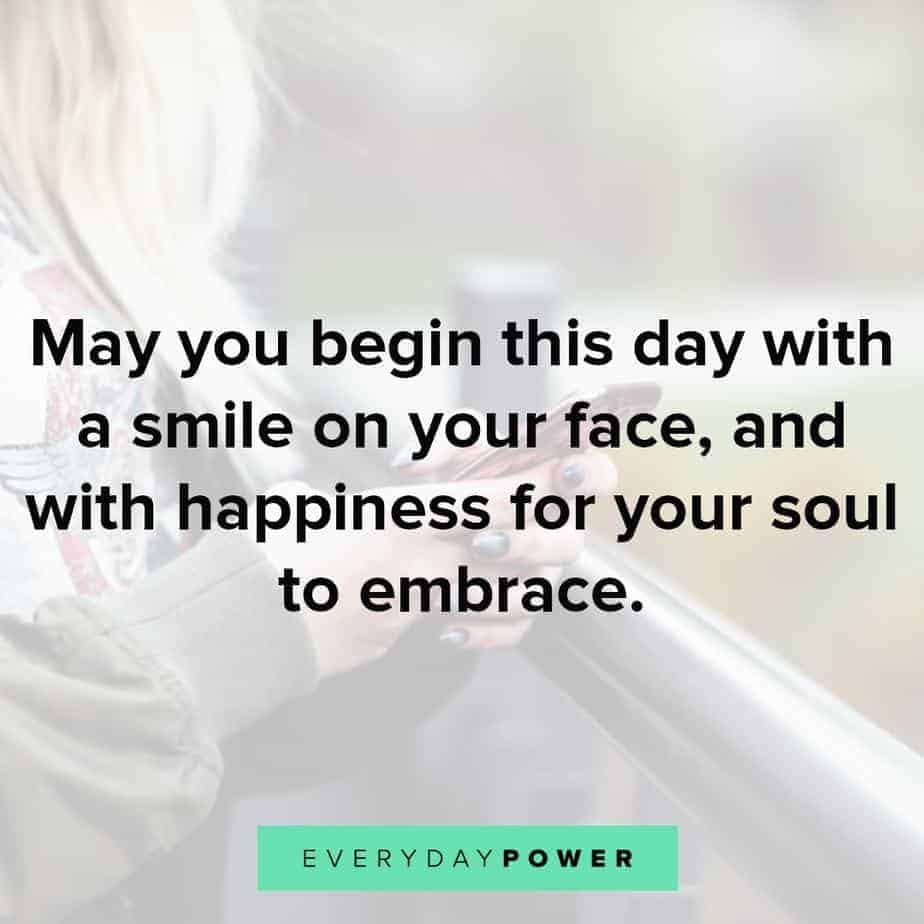 18. Just like how a beautiful morning is incomplete without its orange hue, my morning coffee is incomplete without texting you. Good morning.
19. Good morning to the girl of my dreams. Just the thought of you brightens up my morning.
20. Do you know why the sun rises every morning? It wants to see your dazzling smile. Good morning, dear.
Don't forget to also check out these loving girlfriend quotes to share with her.
Good morning texts for her to get her day off to the right start
21. I love you more than summer sunset and winter snow. I just love you more and more. You mean everything to me. Have a lovely morning!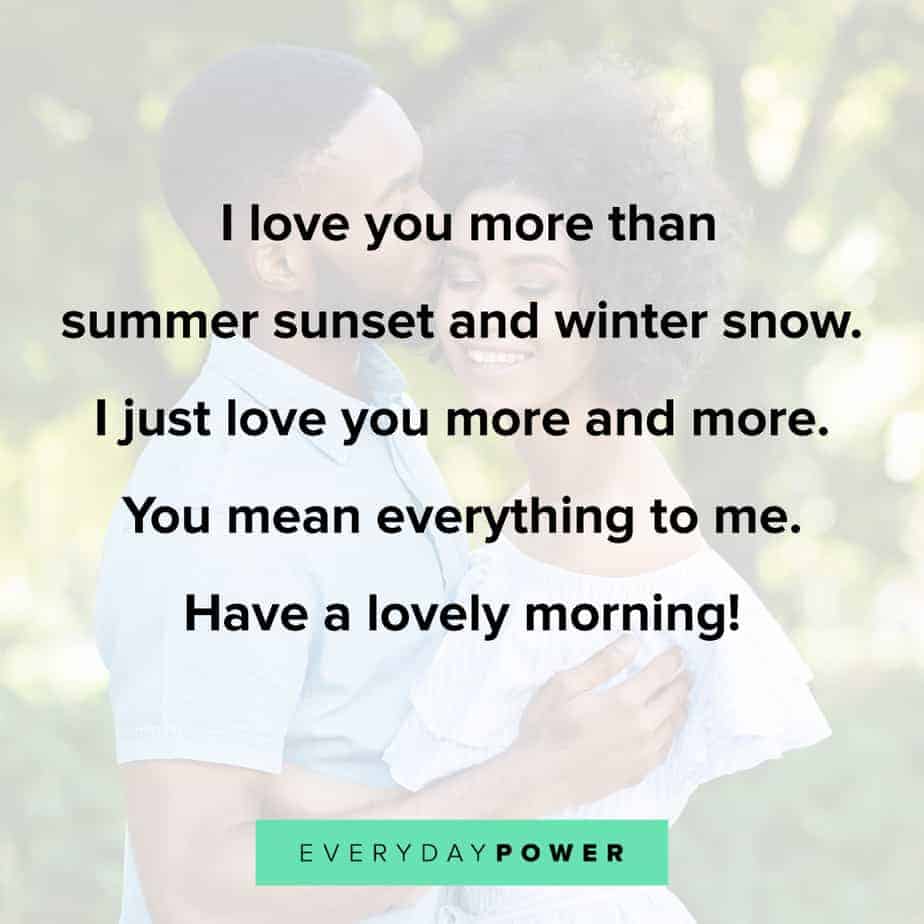 22. In the morning you are especially delicate and fragile, all I want is to keep you in my arms and never let you go.
23. Let every morning be a fresh start of the day, full of luck, joy, and love. Good morning, darling.
24. The best feeling in the world is to know that you are mine and I am yours. Every morning that is enough for me to have a good day.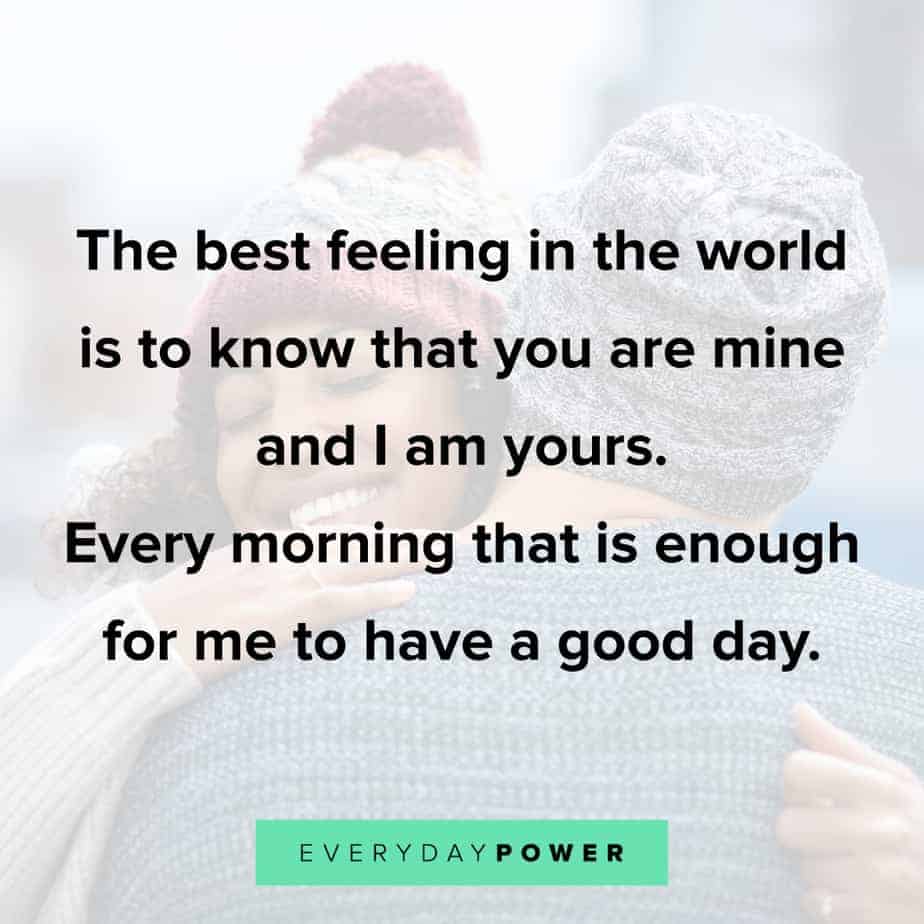 25. "Morning without you is a dwindled dawn." – Emily Dickinson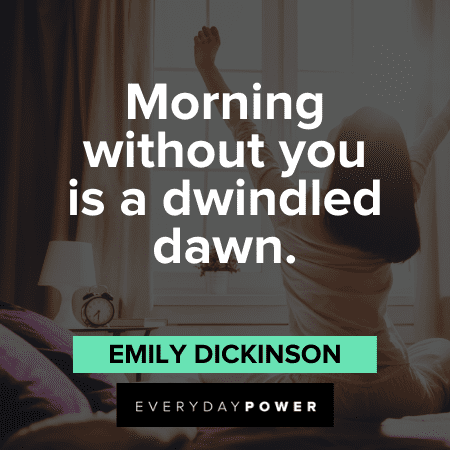 26. Let your most beautiful dream will become a reality. Good morning, beautiful.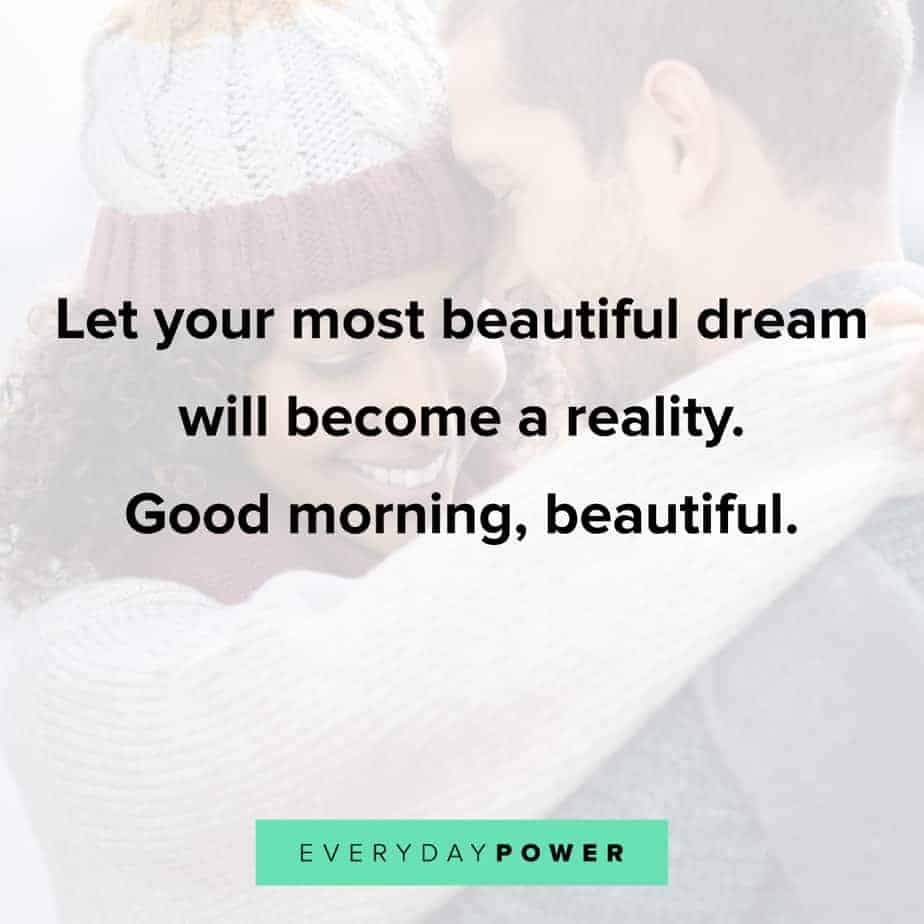 27. Hello, beautiful, you were the first most beautiful though in my mind as I woke up this cool morning, just wanted to say a good morning to the one that means the whole world to me.
28. Morning is the start of every day and I will live each day like it's a new day, renewing our love.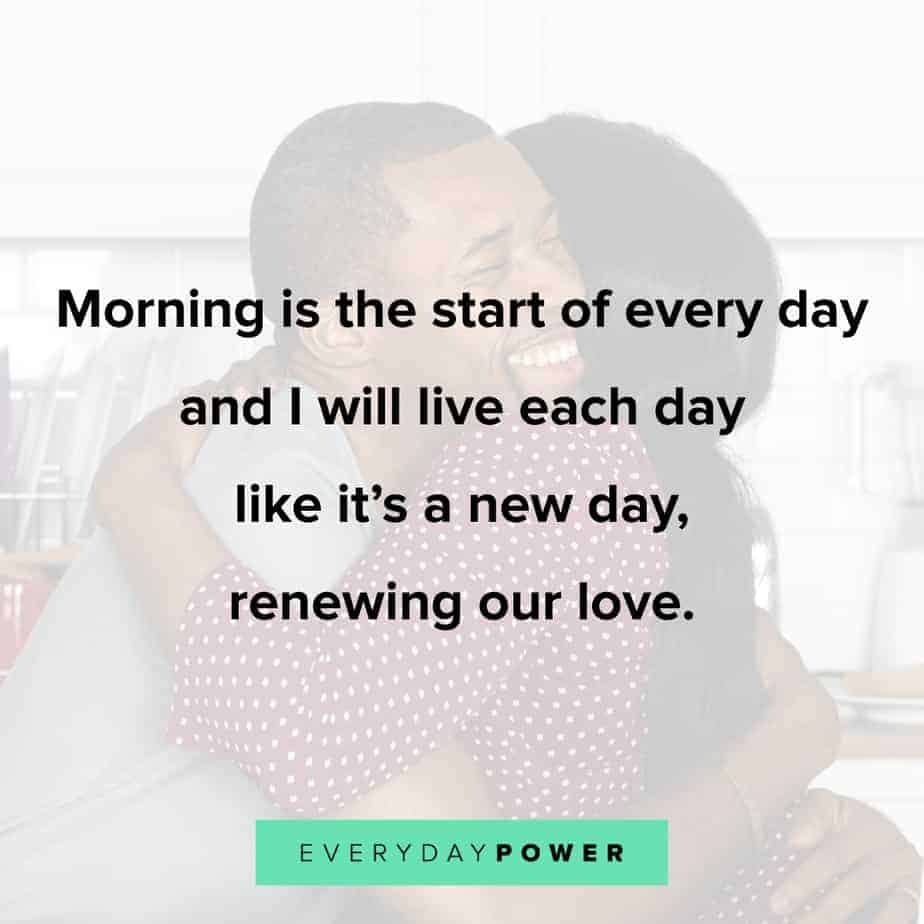 29. You ignited that ray of hope inside of me, stating about the amazing stuff I am capable of doing. Have a cheerful morning!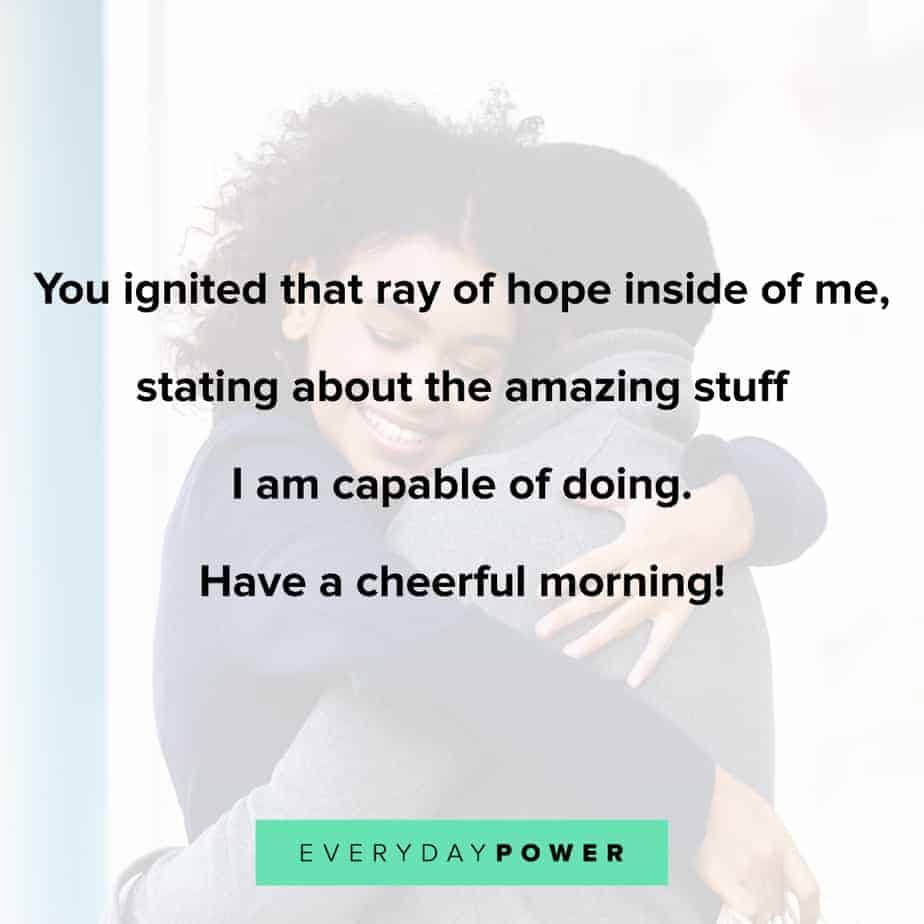 30. Only a few things are priceless for me in this world, one of them is your smile every morning.
Good morning texts for her that will make her entire day worthwhile
31. A new day has begun and I am already so excited and happy because we will be spending this day together. Good morning beautiful!
32. Good morning, gorgeous. You spoiled me with your care and kindness, and now I cannot start my day without you. Let's wake up together always.
33. Good morning, honey! I am truly in love with you. Whenever I wake up I am brimming with happiness. I never knew such mornings until you.
34. You are the sun which gives me warmth, you are the air which gives me life, you are the blood which gives me vitality and you are my heart that beats your name.
35. "When the sun came up… I couldn't tell where heaven stopped and the Earth began." – Tom Hanks
36. Your smile is the only inspiration I need. The voice is the only motivation I need. Your love is the only happiness I need. Good morning.
37. Since I've spent the night dreaming about you, I want to spend the day cuddling up with you. Good morning.
38. As I open my eyes each day, all I want to see is you. Good morning, my dear, I sent you hugs and kisses in my thoughts.
39. A look at your calm and serene face and all my insecurities evaporate, All my inhibitions about life fail, and I feel at peace just looking at you. Have a Serene Morning!.
40. The best alarm in the world is your sweet kiss! Good morning, my heart.
You might also like these inspirational morning quotes to help you seize the day.
Good morning messages to make her feel cherished
41. Good morning, sunshine! I am blessed to have you in my life.
42. People say that morning can't be good. I do not agree, every morning, I meet with you, is amazing. Good morning, darling!
43. Let this morning bring you only pleasant feelings. Better than you, no man on the earth. You are my tender miracle.
44. I hope your morning is as bright and gorgeous as your smile.
45. Good morning to the woman who makes me a happy man.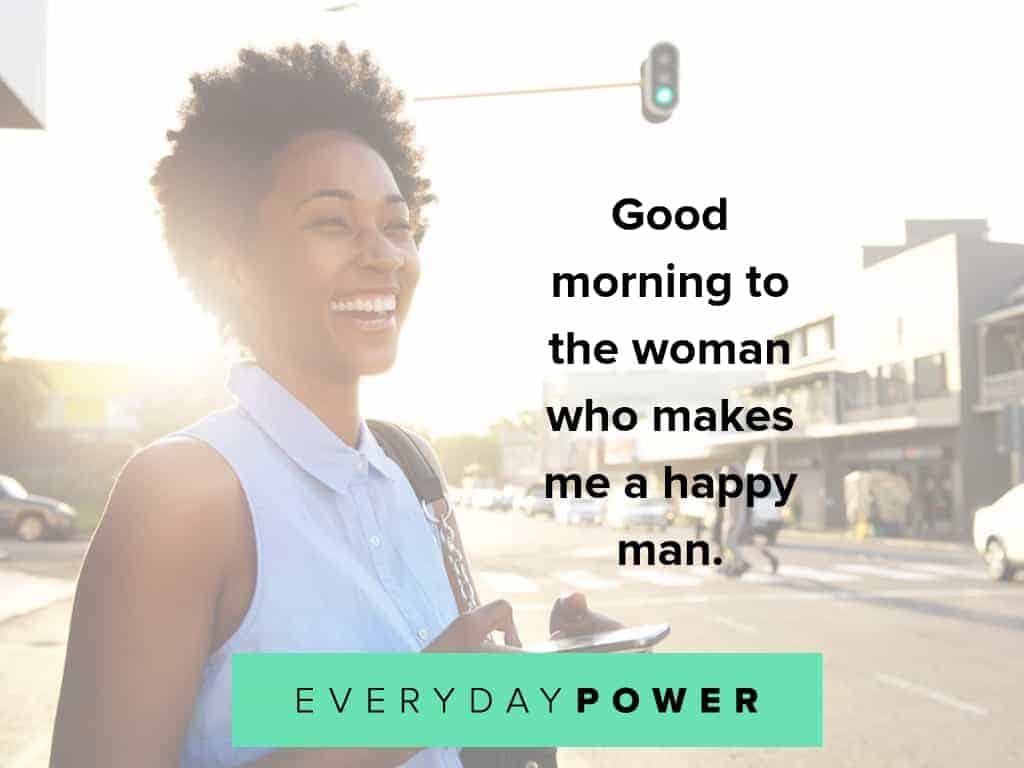 46. Good morning, to the woman who makes me smile and warms my heart every day. I love you more than ever before.
47. I've told this message to go to the sweetest person in the world and now you are reading it, good morning.
48. Night is over. Morning has begun. Now it's time to wake up and give me a hug.
49. You are the shore I wish to return, after a hectic and tiring day to satiate my life. Have a Fresh Morning!
50. Wake up, my sweetheart! Meet a new day, you are happy, healthy, and loved by me, life is beautiful, enjoy it!
Beautiful good morning messages for her
51. Good morning, wishing you a seriously wonderful and fabulous day!
52. Thinking of you keeps me awake. Dreaming of you keeps me asleep. Being with you keeps me alive.
53. Meeting you was not the first day of the rest of my life, it was actually the best.
54. Good morning, being in love is everything!
55. It is surely a good morning knowing that you are in my life. I love you babe. Good morning!
56. When you really love someone, age, miles, height, weight are just numbers.
57. You have replaced my nightmares with dreams, my worries with happiness and my fears with love. Good morning.
58. Good morning, may peace, love and joy have their way with you today!
59. Good morning, to the most wonderful woman that a man could ask for. I just wanted to make sure you knew how much I cherish you.
60. I am always excited to wake up each day because I know there's someone worth waking up for. Good morning to the sweetest person I've ever known.
If you're enjoying these quotes, make sure to read our collection of morning inspirational quotes to help you get your day started.
Sweet good morning messages for her
61. You're the first one I think of when I wake up and last one I think of before I go to sleep.
62. My dream wouldn't be complete without you in it.
63. I want to wake up at 2 a.m., roll over, see your face, and know that I'm right where I'm supposed to be.
64. If you live to be a hundred, I want to live to be a hundred minus one day, so I never have to live without you.
65. I swear I couldn't love you more than I do right now, and yet I know I will tomorrow.
66. Some people search their whole lives to find what I found in you.
67. If I could have anyone in the world, it would still be you.
68. I know I am in love with you because my reality is finally better than my dreams.
69. If I know what love is it is because of you.
70. I can conquer the world with one hand as long as you are holding the other.
Good morning messages for her to strengthen your love
71. I still haven't figured out how to sit across from you, and not be madly in love with everything you do.
72. I could start fires with what I feel for you.
73. Lost with you, in you, and without you.
74. When I saw you I fell in love, and you smiled because you knew.
If you're enjoying this article, you might also like these love quotes for your husband to make him feel appreciated.
75. Distance means so little when someone means so much.
76. There is my heart, and then there is you, and I'm not sure there is a difference.
77. I love that you are my person and I am yours, that whatever door we come to, we will open it together.
78. If you are still in bed, just know that I'm having a bad morning here without you. Please get up as soon as possible. Good morning!
79. Better than I was, more than I am, and all of this happened by taking your hand.
80. Grow old with me. The best is yet to come.
Romantic good morning texts for her
81. I love you in the morning, in the middle of the day, in the hours we are together, and the hours we are apart.
82. Girl, getting to wish you a good morning gets my day off to a great start!
83. The night time gives way to the daytime, I'll love you today and for all my lifetime, This morning one more time I say it one more time, I love you believe it all the time!
84. Coffee in your hand, and kisses from your man. That's how you start the day.
85. Every sunrise gives me a new day to love you! Good morning, sweetheart. Hope you have an amazing day!
86. You bring me to life each morning when I wake up and see your angelic face.
87. Good Morning to the one who holds the most special in my life. I love you more than yesterday but less than tomorrow, my darling.
88. The sun doesn't rise until I see the love shining from those gorgeous eyes of yours.
89. Every morning confessing my love to you and appreciating you for the amazing person you are – is not a habit but my way of treasuring you! Morning, love.
90. When I look into your sparkling, bright blue eyes each morning, I can't help but get lost and fall in love with you again.
If you're enjoying this article, make sure to also check out these good morning quotes for him that'll set the perfect tone for his day.
More sweet good morning texts for her
91. All my worries are gone, All my struggles are done! My future is great for you. And from now, that I can envisage. I love my life with you. Good morning!
92. May your morning be as pleasant as your girlish smile.
93. Every day waking up with you in the bed and getting lost in your eyes is my most favorite part of the day. I love you my sunshine. Good Morning.
94. Good morning beautiful! You are the kindest, most generous, loving person that I know, and I hope you have a truly amazing day.
95. Having you right by side makes me feel how lucky I am. Thank you for being the reason for my happiness. Morning, babe. I love you a lot.
96. Your bright smile is all that I need to start my day, but some coffee with you this morning will only brighten my day.
97. Waking up next to you is what I can a true blessing! Thank you so much for existing in my life, Love. I love you so much, Good Morning.
98. You were in my mind last night as I dreamed of you, and I woke up with you in my heart. Have a beautiful day, Girl!
99. You make my world colorful more than summer sky and rainbows. Thankful to Lord for sending you in my life. Good Morning, dear wife.
100. I just felt you wake, so I wanted to send some hugs and kisses your way to brighten your morning a little bit.
Good morning texts for her to wake up to
101. I think about you when I go to bed and when I get up. Thanks for sweetening up my life.
102. Even If In The Morning You Are Whimsical And Lazy, Still I Love You. Good Morning.
103. Every morning I open my eyes because I want to see your pretty face. Good morning, sweetie.
104. I just wanted to say good morning to one of the people that means the world to me. Time to wake up!
105. Waking up is my favorite and most hated part of the day. I can talk to you when I am awake, but my dreams with you at night are always cut short. Good morning my honey.
106. Hello, my beautiful! You were the first thing to come to my mind as I woke up this morning.
107. I love the spring mornings, the afternoons in autumn, the winter evenings and the summer nights … but you I love more!
108. I just woke up, and you're already on my mind. Good Morning, Beautiful!
109. May you notice the beauty of the morning, see the glory of the sunshine, feel the moments of the day and hear from a friend who cares. Good morning my love!
110. You are a warm cup of coffee on a rainy morning, soft blanket in the cold night; you are all of the love, passion, and comfort of my life.
If you enjoyed this collection of quotes, check out our coffee quotes for our high energy coffee lovers out there.
Good morning texts for her to remind her of your love
111. Good morning, beloved! In the morning you are especially beautiful, I love you!
112. I may not be able to whisper sweet nothings into your ear at night, but I can type them to you in the morning! I love you.
113. I hope your morning is as bright as your smile.
114. Every new morning brings a new beginning, like a new page to write on; scribble my name a few times, won't you? Love you.
115. Morning sunshine … You look great today. How did I know? Because you look great every day.
116. I got up this morning with you in my thoughts. Come to think of it, I went to bed last night the same way. Hey, at least I'm consistent. Good morning my dear!
117. Life is like a book. Each day like a new page. So let the first words you write be, good morning to you my love!
118. Happiness means you! Beyond you, there is nothing I can see, good morning and love you darling.
119. Some say luck is for the lazy, I don't care, I'll be lucky to have you by my side every time I wake up, filling me with good morning thoughts.
120. All that I love is you. I live entire life for loving you. Good morning, have a beautiful day.
Cute and memorable good morning texts for her
121. Good morning my love, if only you know that your happiness means everything to me.
122. You have a cute yawn on your face, a cup of coffee in your hands. All that remains is a good morning message from me. Have a great morning!
123. Always remember that when I say you are my everything, I mean that you give me joy when my heart thinks of you in the morning. I love you very much.
124. Good morning … have a beautiful day just like you!
125. I woke up today and felt filled with energy because of your love.
I can achieve more than the world achievers because you will be standing right at my back.
126. My dear wake up from the dream world. Here is the world welcoming you to face a new fresh day in your life! Have a great and wonderful morning!
127. I love you so much, my dear. I love you more during the morning because the rising sun reminds me of your beauty.
128. Get up my sleeping beauty and have a wonderful day!
129. I still believe that you are an Angel sent to our little planet to end my pain and sorrows. Thank you for always giving me hope even when there is no hope. Have a lovely day dear.
130. Good morning my sweetest addiction! I can't live without you.
Good morning texts for her to brighten the day
131. I think of you every morning, and I dream about you every day.
132. Good morning my dear, the birds are singing, the sun is shining, and the world is right because you are awake.
133. I dreamed of an angel last night, and when I woke with you on my mind, I realized that I've already met my angel.
134. I hope your morning is as radiant as your amazing smile.
135. Good morning to the best decision I ever made.
136. I've made a reconciliation that I want nobody else but you. I'm so in love with you and I hope you know that I want to stay with you and kiss you Good Morning for the rest of my life. I love you, baby!.
137. Good morning sweetheart. Leaving bed has become the hardest thing for me, mainly because I get to leave the woman of my dreams.
138. May this new morning bring forth miracles and blessings. I cherish and adore you.
139. Hey beautiful, I hope you wake up this morning feeling like a rose, filled with beauty and I hope your day is as sweet as honey. You deserve more, my love.
140. Open your eyes and embrace this wonderful world! Welcome to another happy day!
Good morning texts for her to make your love feel good
141. The light that shines from you is more vital to me than the sunlight in the morning. Rise and shine, my beautiful queen.
142. I can't wait until we can wake up together every morning. Until then, these good morning messages will help close the distance between our hearts.
143. God has given us another day filled with more blessings than we can count. However, let's try it anyway. Good morning, my Love!
144. Here are some hugs and kisses to start out your day. Hopefully, they will last until we meet this evening. Have a good day darling.
145. Waking up and holding you in my arms every morning is like a dream that I never want to end. Good morning, my bride.
146. Wishing a good morning to the person who is the reason why I feel like waking up every day. I love you.
147. I never imagined that true love existed until the day that I fell in love with you. Good morning, and enjoy your day, my dear.
148. Every morning I wake up, I realize that you are the best thing that ever happened to me. Have a great day.
149. This morning I woke up wanting some kisses from you, so I thought I'd send my love to make you smile when you wake.
150. I don't need paradise because I found you…I don't need dreams because I already have you. Good Morning!
Sweet and heartfelt good morning texts for her
151. There isn't a thing I love more than waking up next to you. Good morning, beauty!
152. Hey! I am not only wishing you a good morning, but I am also here to put a smile on your face.
153. I woke up this morning, and you instantly crossed my mind. Just wanted to tell you that I love you.
154. An ideal morning is not possible without you, my love!
155. I can't wait for the time to come when I will be waking up with you every single morning!
156. Knock! Knock! Here is your little morning surprise that will make your day!
157. I am sending you some virtual kisses for good morning. And you will get the real ones when you come over.
158. Good morning to the world's best lover!
159. All the best good morning texts can be put into 3 words: I love you!
160. It is such a great morning because I know I have you!
Good morning texts to impress her
161. "I couldn't let you start your workday without me telling you how much I love you!"
162. "It's national "happy morning" day. So, happy morning to my favorite person ever!"
163. "I was dreaming of kissing you the whole night. Please come soon, and don't ever leave."
164. "Good morning! I hope that your day will be great and you will not get stuck in traffic like yesterday."
165. "The best part of every morning is sipping my coffee and thinking of you!"
166. Very good morning to the woman who made me the luckiest man in the world.
167. "Good morning, babe! Did you sleep well or you were preoccupied dreaming of me?"
168. This is a daily reminder that you can achieve all you set your mind to do. Have a glorious day, my love.
169. "Can't wait to see you today. I am counting the minutes until I can see your beautiful face."
170. I was just thinking about how much you do for me and our family. I do not know how you do everything that you do. I love you.
Clever good morning texts for her
171. "It's rainy and cold outside. Wish you were here to warm me up with your kisses."
172. "Good morning, you sexy thing! Hope you have a stress-free day at work!"
If you're enjoying these quotes, read our collection of sexy quotes articulating your love.
173. "Good morning, honey! Hope your day goes well and your night with me even better!"
174. Wake up and smile because we have the most spectacular relationship. I love you.
175. "Good morning to the queen of my heart. Hope you had a good night's sleep."
176. "I could never thank you enough for being mine and for always believing in me. May this new day offer you the best in life."
177. "The best part of the morning is my body in your arms! I love waking up by your side, babe!"
178. "Good morning. I hope you delight in the fact that we can conquer all our problems together."
179. "I just wanted to let you know that because of you, I am a better person! Thank you for accepting me the way I am!"
180. "I hope your day be filled with joy and love. I'm always here if you ever need me."
Have you read these love quotes to help you express how you feel?
Loving good morning texts for her
181. "You brighten my day with the sound of your voice. Now call me when you see this message so i can hear it."
182. "May you receive blessings and the energy to keep moving this beautiful day. Have a nice day ahead!"
183. "It only takes me a second to think about you but the smile it gives me lasts all day long!"
184. "It's now the right time to wake up and do something interesting. Good Morning!"
185. "Great morning! let me know if you need some help getting into trouble later."
186. "To wake up every morning thinking that you are safe and healthy gives me real energy to beat the day."
187. "Every morning I thank the world for giving you to me. You are my sweetest addiction, I can't live without you."
188. "Wake up happy, choose to be happy, and no matter what the situation, let no one take that from you."
189. "Good morning, sweet face. You have two options this morning. Go back to sleep or chase that dream. I know you'll pick the second one."
190. "Good morning! Is this the day you were to achieve big? Wake up and find out."
You might also like these hot, flirting quotes that will reignite the spark in your relationship.
Sweet good morning texts for her
191. "Was just thinking of you baby… thought of making you think of me too!"
192. "Leave your ego in the bed every morning and get up to do something truly great. Good Morning!"
193. "I know my cold would disappear if I had a good morning kiss from you."
194. "Every time I wake up and know I have a trusted friend in my life, all my worries seem to disappear. Have a nice day ahead!"
195. "Good morning sweetheart! May the bluebirds sing songs for you to hear as you are getting ready for the day ahead."
196. "Hey sweetheart, you are sleeping too much, wake up and shine. Good morning!"
197. "As you open your eyes and begin your day, remember that you will never have this day again. Make it count. Spend the day with me. Good morning, sweetie!"
198. "The best thing this morning is you. Wake up and make things happen. Good morning!"
199. "Don't worry about the mistakes of yesterday, instead, place them under your feet and make miles out of it. Have a nice day!"
200. "I cannot keep calm after waking up this morning because I want to tell you how much I love you every minute. Good morning!"
Good morning texts for her to feel special
201. "Lying in your loving arms is heaven on earth."
202. "I'm much more me when I'm with you."
203. "I promise to handle your heart with care and treasure it with love."
204. "I wish I could turn back the clock. I'd find you sooner and love you longer."
205. "Your smile is intoxicating. It lingers, it captivates my heart."
206. "I saw that you were perfect, and so I loved you. Then I saw that you were not perfect and I loved you even more." – Angelita Lim
207. "You are the one for me. I have never been so sure of anything in all my life."
208. "You don't love someone for their looks, or their clothes, or for their fancy car, but because they sing a song only you can hear." – Oscar Wilde
209. "You can do no wrong in my eyes. You are perfect!"
210. "I want you. All of you. Your flaws. Your mistakes. Your imperfections. I want you, and only you." – John Legend
More good morning texts for her
211. "I wanted it to be you, I wanted it to be you so badly." – You've Got Mail
212. "Love is being stupid together." – Paul Valéry
213. "To get the full value of joy you must have someone to divide it with." – Mark Twain
214. "You can't blame gravity for falling in love." – Albert Einstein
215. "Love is the answer, and you know that for sure/Love is a flower, you've got to let it grow." – John Lennon, "Mind Games" lyrics
216. "I love you no matter what you do, but do you have to do so much of it?" – Jean Illsley Clarke
217. "But you've slipped under my skin, invaded my blood and seized my heart." – Maria V. Snyder, Poison Study
218. "I am in you and you in me, mutual in divine love." – William Blake
219. "Love is an irresistible desire to be irresistibly desired." – Robert Frost
220. "There is no remedy for love but to love more." – Henry David Thoreau
Good morning texts for her to start her day with a laugh
221. "Good Morning, lazy! May this day be full of productivity…from someone else! Obviously, not you!
222. "Why do they call it beauty sleep, when you wake up looking like a troll!"
223. "Let's face it. The worst part of waking up is actually having to wake up. Here's to you as you suffer through that struggle. Good morning!"
224. "Things i hate the most… Alarm clocks, things I like the most… The snooze button… Whom I love the most… You."
225. "Good morning! Don't let the exhausted look on my face deter you from waking up yourself. We can make it through this together."
226. "Good morning. Have a cup of coffee and start your engines because it's still a long way before you reach the weekend."
227. "I wish you a day full of unmeasurable good things. When you get them, remember my cut, 20%. Good morning sunshine."
228. "Some people wake up at noon and call it a morning. I am wishing you good morning now so you know when the real morning is!"
229. "My idea of a perfect morning is opening my eyes, rolling over, and going back to bed. Here's wishing you an equally joyous time. Good morning!"
230. "Sending the person who puts up with me, every day, a Good Morning message! May this morning find you even more patient than the last!"
Which of these good morning texts for her was your favorite?
Sending your woman a good morning message is incredibly sweet and loving. It indicates that they are the first person you think about when you wake up in the morning, and the last when you go to bed.
Hopefully, these quotes and texts have given you ideas on the kind of messages to send your significant other to make her morning special.
Did you enjoy these romantic good morning texts for her? Which of the quotes was your favorite? We would love to hear all about it in the comment section below. Also, don't forget to like and share.
January 20, 2022 5:00 AM EST
Click to view