Joe Dirt Quotes From the Hilarious Characters
Enjoy these Joe Dirt quotes that will keep you laughing!
Joe Dirt is that movie about a character who has been knocked down by life, then kicked while he was down over and over.
Joe goes on more adventures than most of us will ever be on, because he is willing to keep trying.
The great thing about Joe Dirt is that he doesn't let negativity keep him down no matter what might have happened.
He lost his family, jobs, and much more, but he is always chasing his dream and he is a good friend.
In the end, those friends of his who are real friends come through for him and show him what family really is.
Joe Dirt was written by David Spade and Fred Wolf, and directed by Dennie Gordon.
David Spade, Dennis Miller, Brittany Daniel, and Christopher Walken starred in the movie.
The film was released in April 2001 and received generally unfavorable reviews with some critics saying it was too predictable and strained.
Don't also forget to check out these hilarious Jim Halpert quotes from The Office
Best Joe Dirt quotes and sayings
1. "Life's a garden, dig it." – Joe Dirt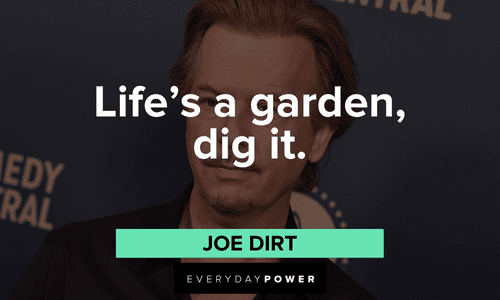 2. "Here on earth, we call this place a 'town.' A 'town' is a place where everyone hates you." – Joe Dirt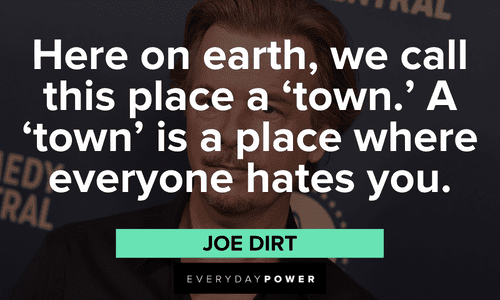 3. "Is this where you wanna be when Jesus comes back?" – Joe Dirt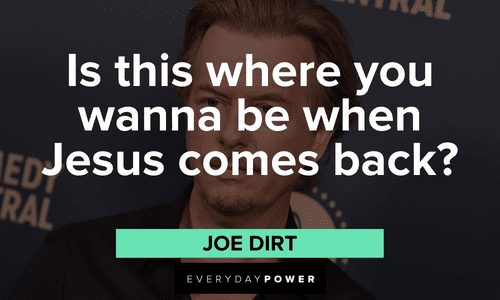 4. "My name is Joe Dirt, I added an e to the end, cause it sounds cool." – Joe Dirt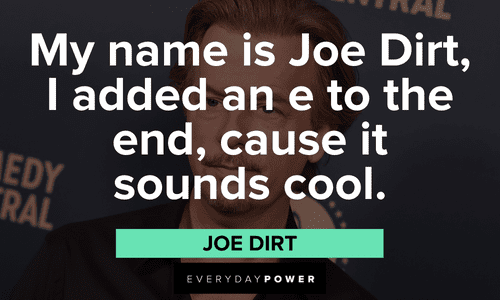 5. "Right on. You're Joe Meteorite and I'm Joe Dirt." – Joe Dirt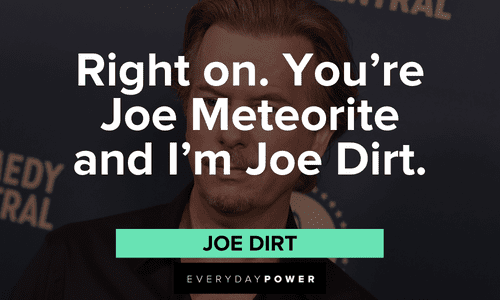 6. "Things are gonna happen for me, I'm Joe Dirt." – Joe Dirt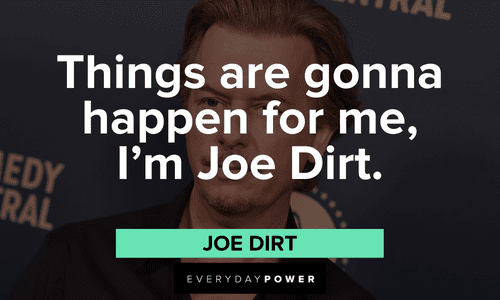 7. "When bad pets go bad, dang." – Joe Dirt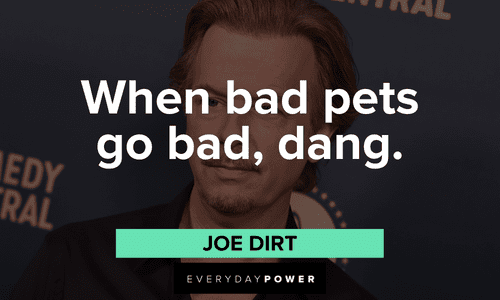 8. "Keep on, keepin' on" – Joe Dirt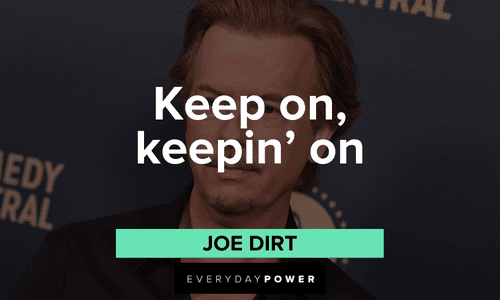 9. "If my calculations are correct, this will create ice… oh no, killer mustard gas!" – Joe Dirt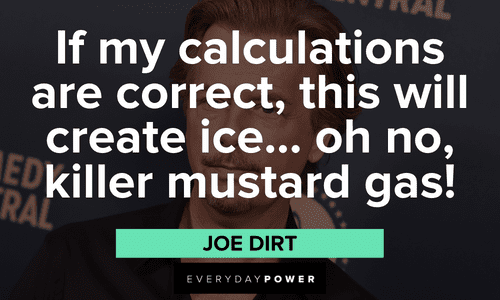 10. "Now, this ain't no flapjack. I'll go real easy. I won't look." – Joe Dirt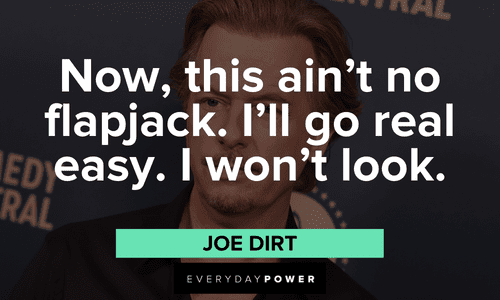 11. "You can't have "no" in your heart. "No" is not an option, brother." – Joe Dirt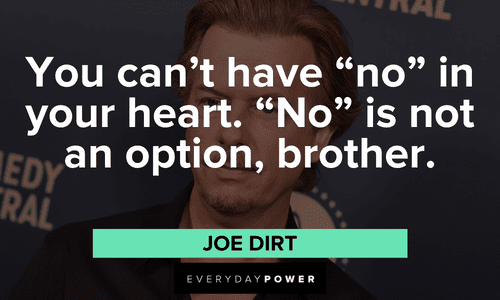 12. "You want me to put my ear to the ground and listen for hoofbeats, check for footprints, look for broken twigs? This is the modern era. That stuff doesn't work anymore." – Kicking Wing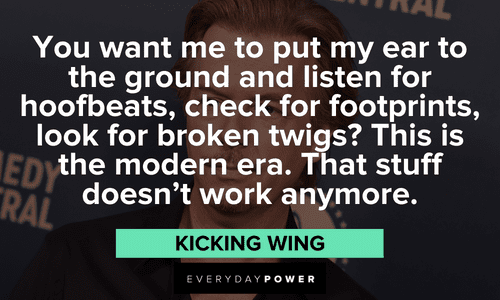 13. "Lose that frown. When you're down, stare at a clown," — Joe's Mom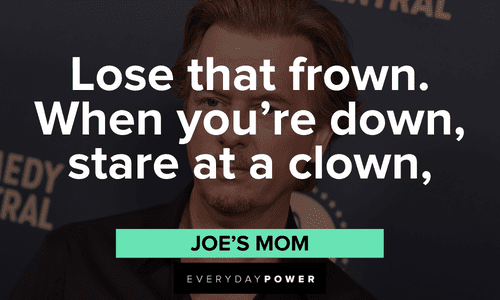 14. "Life is too short to waste doing nothing, make every day count because we all don't know when we will leave this world." – Joe Dirt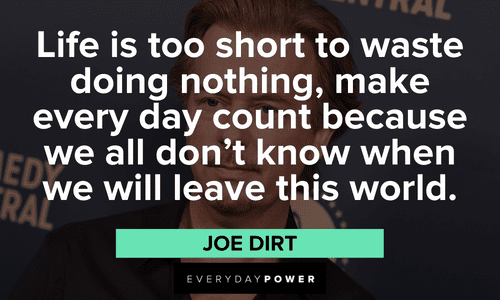 15. "Things get the darkest before dawn." – Joe Dirt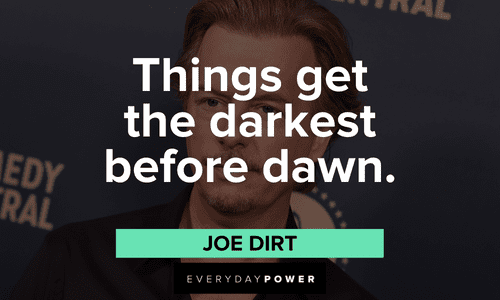 Funny Joe Dirt Quotes
16. "He'll stop humping as soon as he's done." – Miss Clipper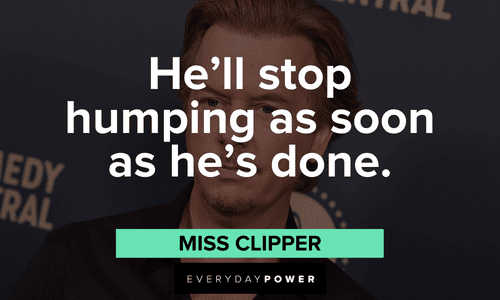 17. "And you'll be sticking your head out the window and check out chic dogs saying 'what's up, baby?'" – Joe Dirt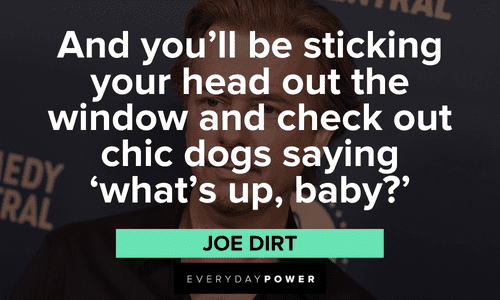 18. "There are three rules when dealing with a deadly crocodile. Rule number one, I'm number one. Rule number two, the croc's number two." – Joe Dirt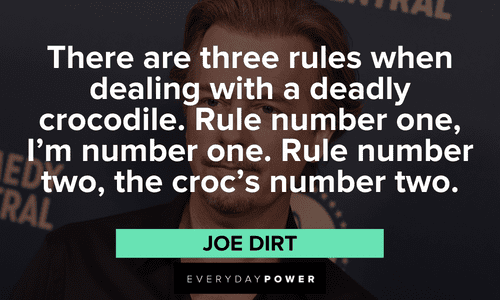 19. "So, what you're telling me, is that you're so ingrained with White Trash, that your facial hair just grows in all white trashy like that?" – Zander Kelly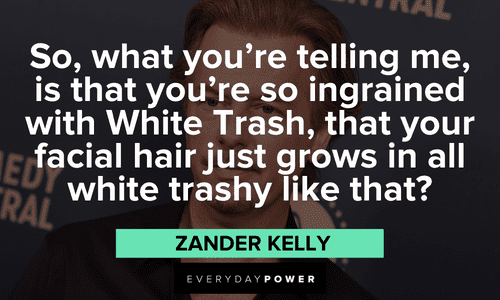 20. "What's the deal with your hair? You doing stunt work for Billy Ray Cyrus?" – Zander Kelly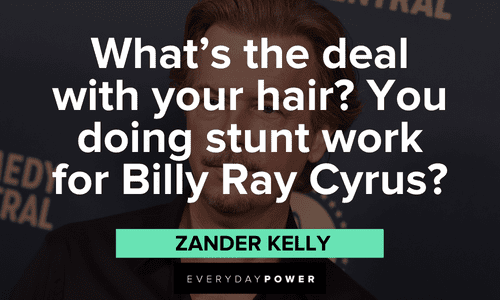 21. "I got the poo on me!" – Joe Dirt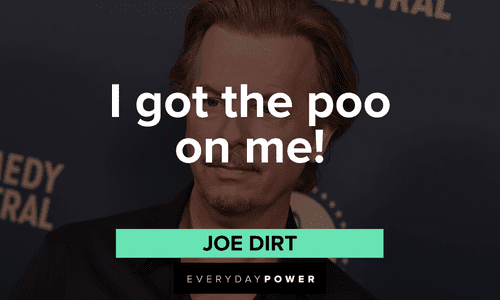 22. "Well, that might be your problem. It's not what you like. It's the consumer." – Joe Dirt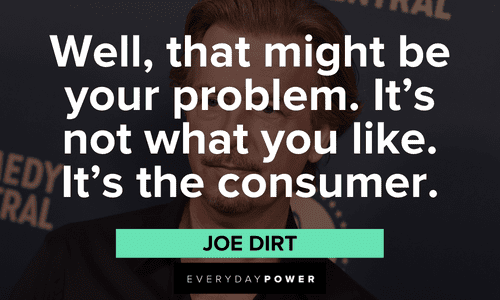 23. "Why don't you practice fallin down, I'll be there in a minute." – Joe Dirt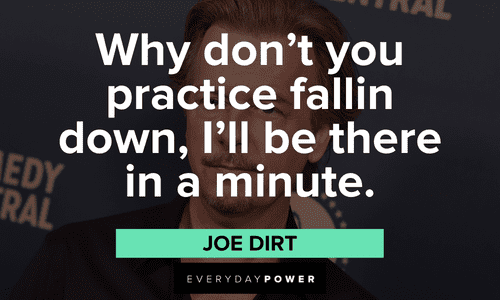 24. "Might as well ask why is a tree good? Why's a sunset good? Why are boobs good?" – Joe Dirt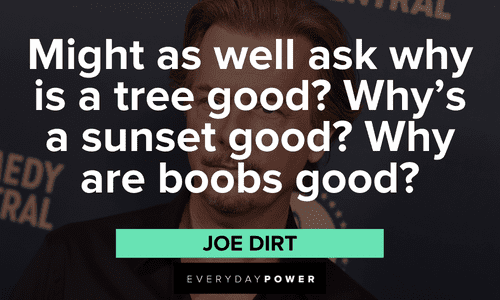 25. "His name's Rocky and he ain't no puppy." – Joe Dirt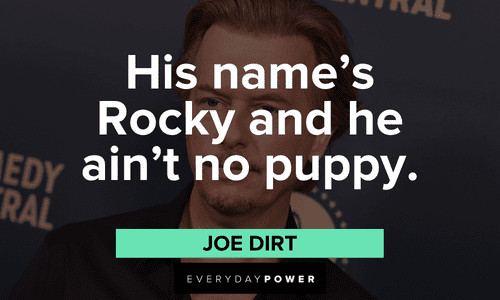 Which of these Joe Dirt Quotes is your favorite?
After seeing the quotes above, you can probably see that Joe Dirt is a ridiculous but hilarious comedy.
Joe Dirt is a fast-moving comedy from 2001 that stars David Spade.
The best thing about the movie is that Joe is constantly going from one adventure to another so you don't have time to get bored.
Instead, you will be laughing the whole time and just maybe find yourself rooting for Joe Dirt.
This movie will instantly become one of your favorites because of the characters, the adventures, the great one-liners, and Joe Dirt's great mullet.
Don't wait another minute to see your new favorite comedy!
Did you enjoy these Joe Dirt quotes and lines?
Which of the quotes is your favorite?
Let us know in the comment section below.
September 20, 2022 5:00 AM EST
Click to view