Inspirational Master Oogway Quotes for Kung Fu Panda Fans
Kung Fu Panda's Master Oogway is overflowing with a life's worth of knowledge and wisdom.
We have compiled 27 Master Oogway quotes that will inspire children and adults alike.
You may also enjoy our article on:
Are you a fan of Kung Fu Panda?
In Dreamworks Animation's Kung Fu Panda series, Master Oogway is an elderly tortoise who is greatly respected throughout all of China.
The master has accomplished many things throughout his life, including developing the legend of the Dragon Warrior and creating kung fu.
He was also the senior master of the Jade Palace, the central residence for hosting kung fu masters and their students.
Oogway aids the main characters of Kung Fu Panda throughout their journeys, often shifting them towards personal growth.
The wise words of Master Oogway are listed in the quotes below.
Don't forget to also check out these fun Toy Story quotes from the classic 90s movie.
If you enjoy this article, check out our most popular quote article, a list of short inspirational quotes for daily motivation.
Browse our entire collection of inspirational quotes for more motivating ideas and concepts.
Master Oogway quotes about life lessons
1. "There are no accidents." – Master Oogway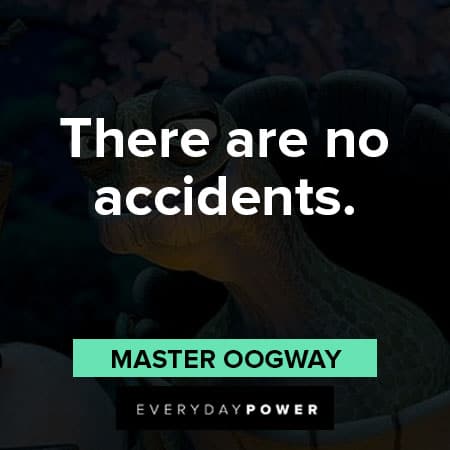 You will also enjoy our article on catastrophe quotes.
2. "There is just news. There is no good or bad." – Master Oogway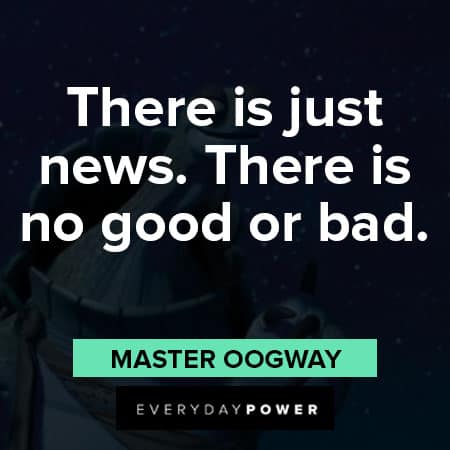 You will also enjoy our article on grey quotes.
3. "There is always something more to learn. Even for a master." – Master Oogway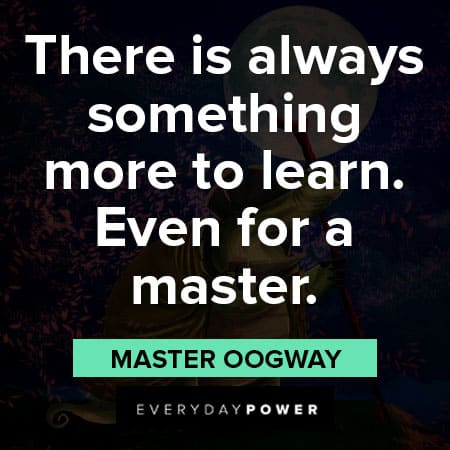 You will also enjoy our article on Naruto quotes.
4. "One often meets his destiny on the road he takes to avoid it." – Master Oogway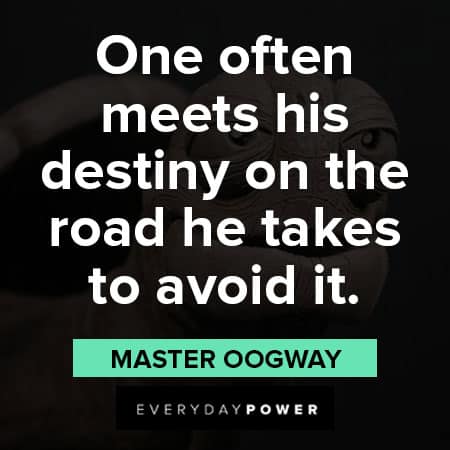 5. "When will you realise? The more you take, the less you have." – Master Oogway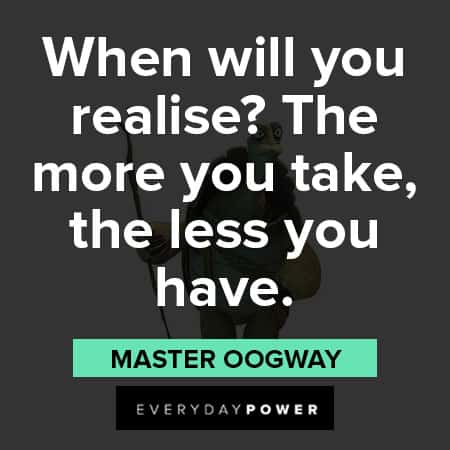 6. "It is you who must decide whether to stay or go." – Master Oogway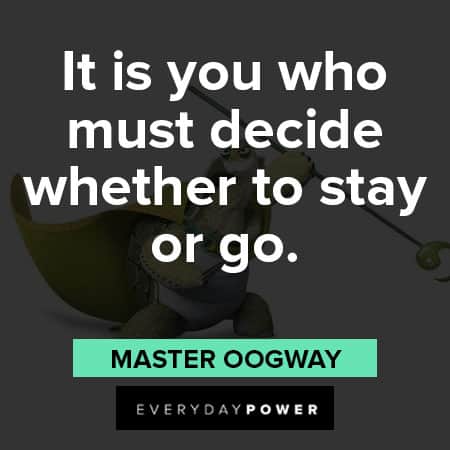 7. "When the path you walk always leads back to yourself, you never get anywhere." – Master Oogway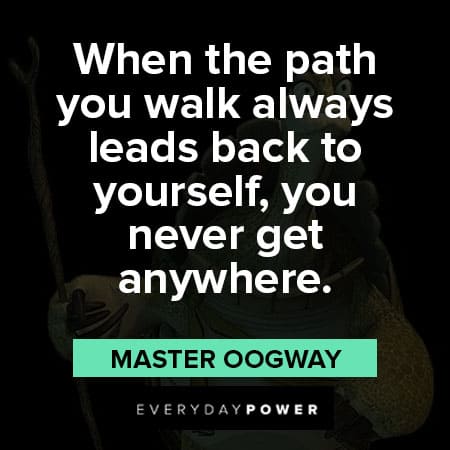 8. "Remember the path." – Master Oogway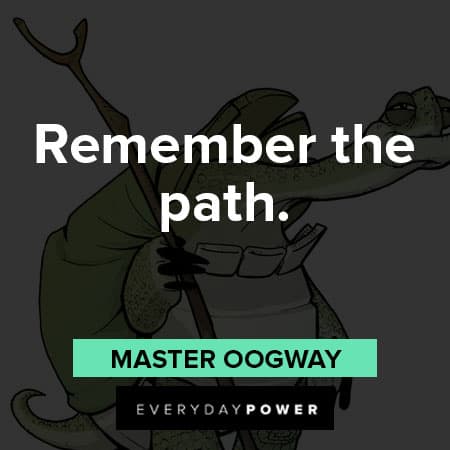 9. "Nothing is impossible." – Master Oogway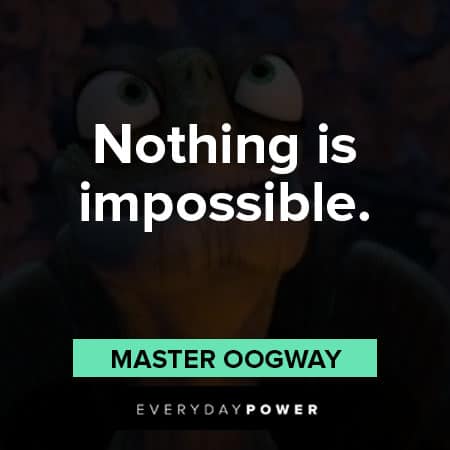 10. "You just need to believe. You must believe." – Master Oogway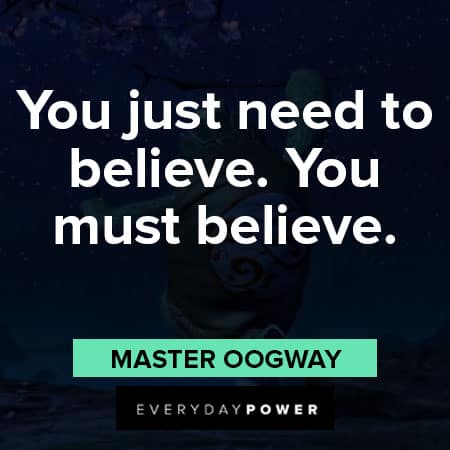 Inspirational Master Oogway quotes
11. "Maybe it can – if you are willing to guide it, to nurture it, to believe in it." – Master Oogway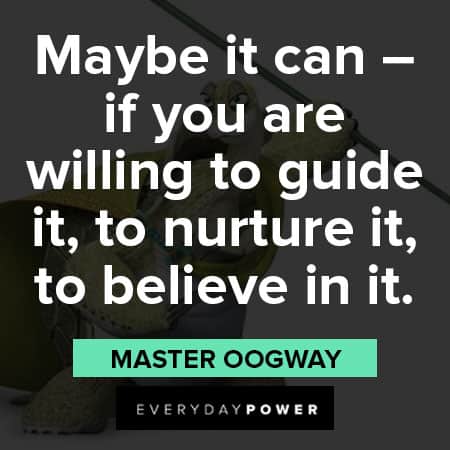 12. "If you only do what you can do, you will never be more than you are now." – Master Oogway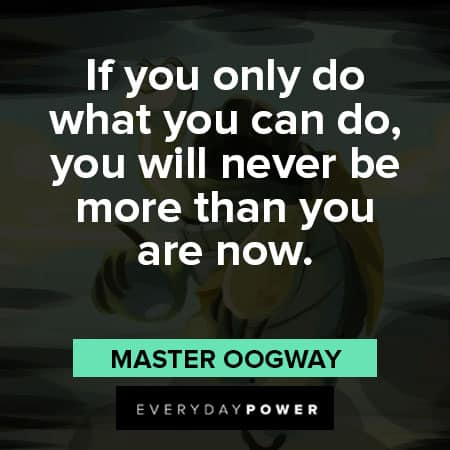 13. "Yesterday is history, Tomorrow is a mystery, but today is a gift. That is why it is called the present." – Master Oogway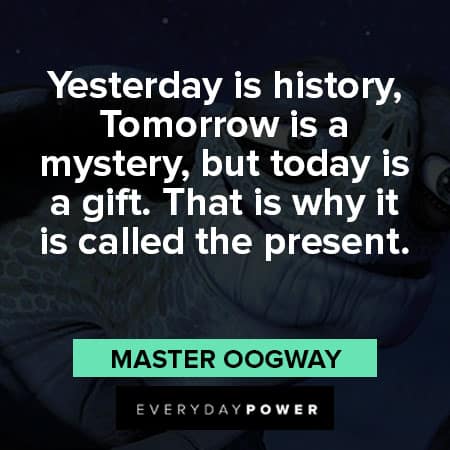 14. "You are the master of your destiny: No one and nothing can come in between you and your destiny except you. Take destiny by the horns and have fun." – Master Oogway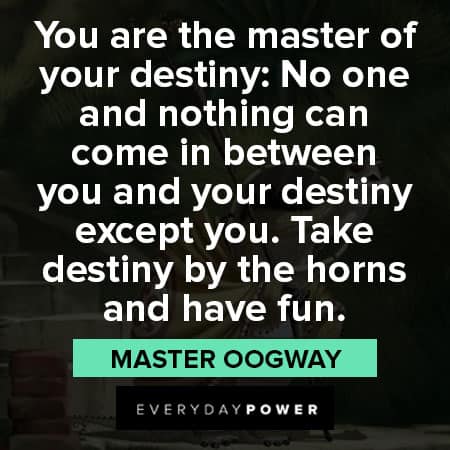 15. "Use your skills for good, young warrior. Find the one thing you were denied so long ago — compassion." – Master Oogway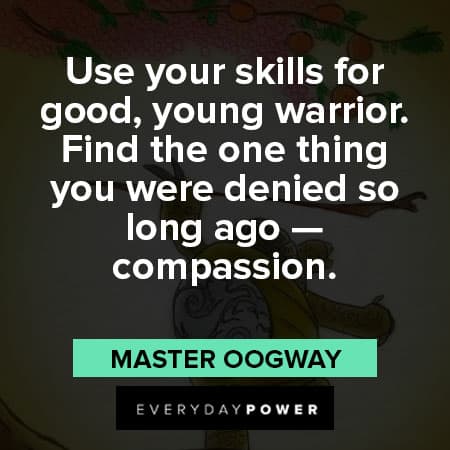 16. "Who knows the ways of the universe? Accident? Or destiny? That is the secret." – Master Oogway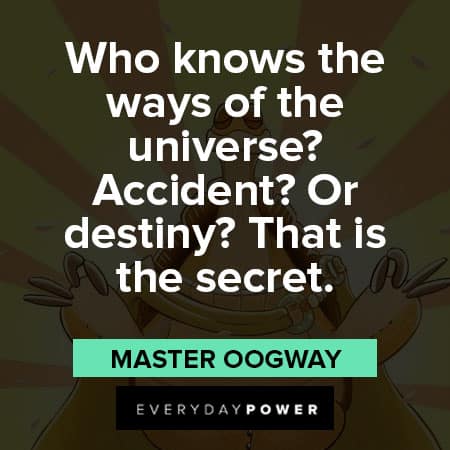 17. "My old friend, the panda will never fulfill his destiny, nor you yours, until you let go of the illusion of control." – Master Oogway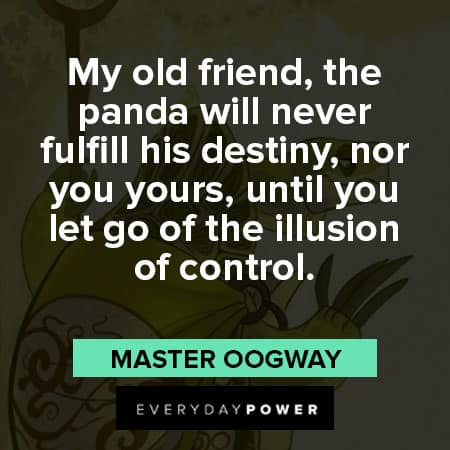 18. "Your mind is like this water, my friend. When it is agitated, it becomes difficult to see. But if you allow it to settle, the answer becomes clear." – Master Oogway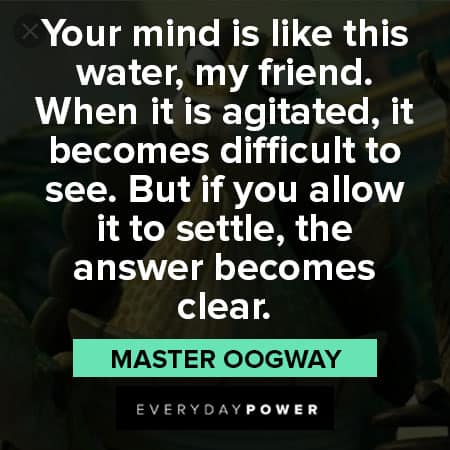 19. "Shifu, an acorn can only become the mighty oak, not a cherry tree. You must let her grow into what she will be." – Master Oogway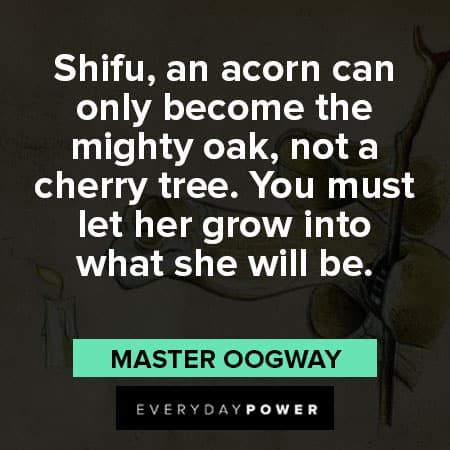 Other interesting Master Oogway quotes
20. "It matters not what someone is born, but what they grow to be." – Master Oogway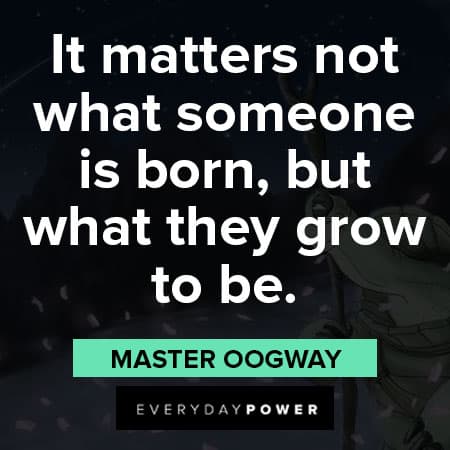 21. "Look at this tree, Shifu. I cannot make it blossom when it suits me, nor make it bear fruit before its time." – Master Oogway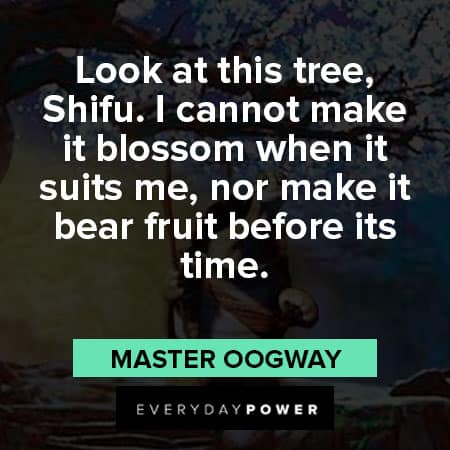 22. "My time has come. You must continue your journey, without me." – Master Oogway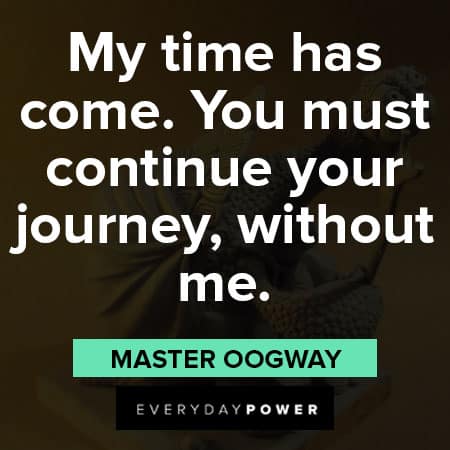 23. "I fear they will all lose. Until they find a battle worth fighting." – Master Oogway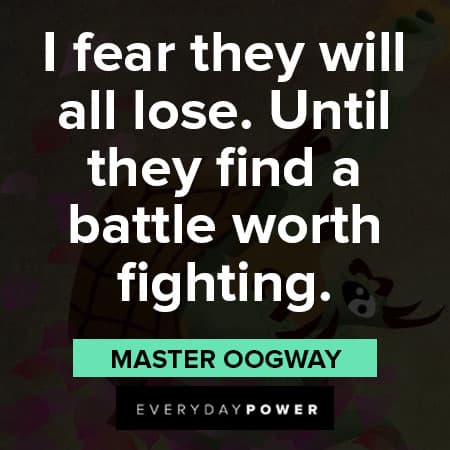 24. "I understand. You eat when you are upset." – Master Oogway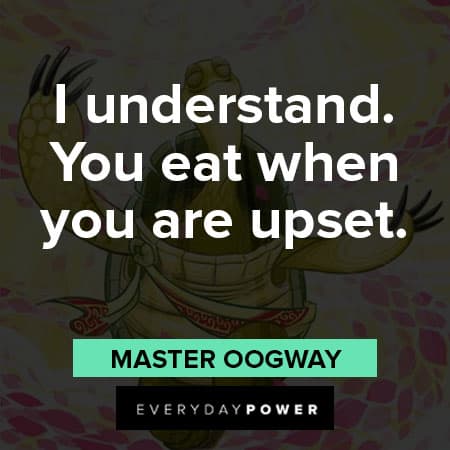 25. "I see you have found the Sacred Peach Tree of Heavenly Wisdom!" – Master Oogway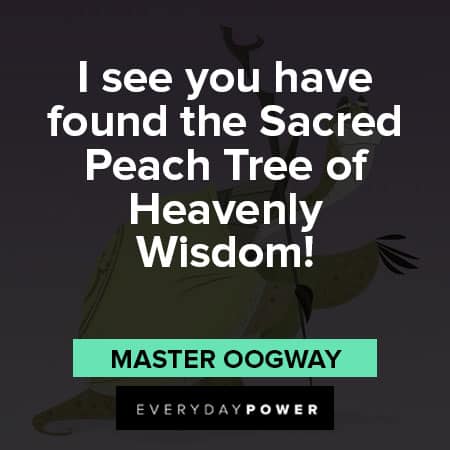 When's the last time you learned something new?
Although Master Oogway is a master, he reiterates the importance of lifelong learning to characters such as Po, Shifu, and Tigress.
As a lifelong learner, you can better understand the world around you and broaden your perspective.
Learning doesn't have to take place in a classroom setting.
Learning is a constant part of life.
For example, you could commit to learning a new hobby, reading diversely (books, newspapers, magazines, etc.), or volunteering in your community.
Each activity will teach you something different.
What's your favorite quote from Kung Fu Panda's Master Oogway?
Who should we feature next on Everyday Power?
Let us know below!