Jeff Spicoli Quotes From Fast Times at Ridgemont High
Listen to article
4 minutes
For some throwback laughs check out these Jeff Spicoli Quotes!
Jeff Spicoli is a character from the 1982 film Fast Times at Ridgemont High.
The movie is a coming-of-age comedy-drama based on Cameron Crowe's screenplay Fast Times at Ridgemont High: A True Story. 
You may also enjoy our article on:
The film followed the lives of several high school students in Southern California.
Spicoli is a teenage surfer who is constantly stoned.
Sean Penn played the iconic surfer in the film as one of his early roles, incorporating the stereotypes about surfers from the 60s and 70s.
When Crowe wrote the screenplay, she went undercover at a California school to observe teenage behavior.
She shared that the character of Spicoli was based on a combination of several students.
After reading these Jeff Spicoli quotes you will want to go re-watch the movie!
Check out our most popular quote article, a list of short inspirational quotes for daily inspiration.
Our inspirational quote category page has even more inspirational and educational quotes.
Jeff Spicoli Quotes That Will Make You Want To Catch A Wave
Whether you are a surfer or not, we can all see the appeal of being out in the ocean and enjoying a laid back lifestyle. Check out the quotes below to get in the surfer mood.
1. "All I need are some tasty waves, a cool buzz, and I'm fine." – Jeff Spicoli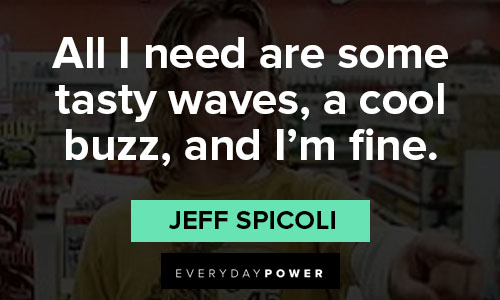 You will also enjoy our article on rainy day quotes.
2. "Life comes at you pretty fast. If you don't stop and look around once in a while, you could miss it." – Jeff Spicoli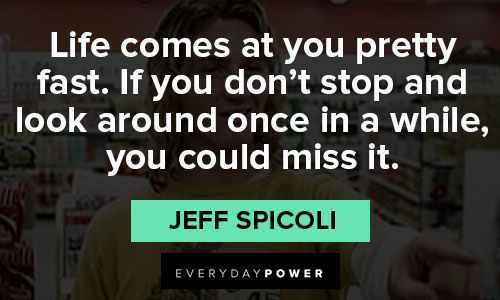 You will also enjoy our article on andrew carnegie quotes.
3. "I'm driving. You're navigating. Where is this party?" – Jeff Spicoli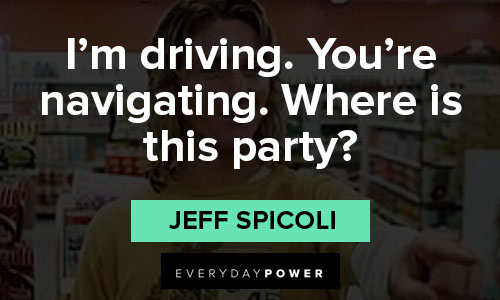 You will also enjoy our article on chimamanda ngozi adichie quotes.
4. "Relax, alright? My old man is a television repairman. He's got this ultimate set of tools. I can fix it." – Jeff Spicoli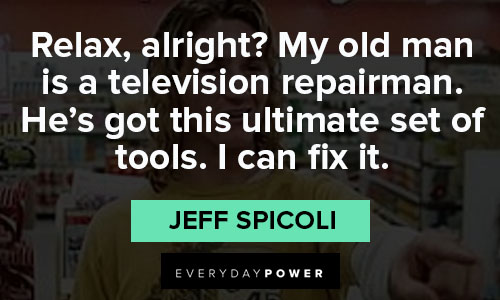 5. "This is U.S. History; I see the globe right there." – Jeff Spicoli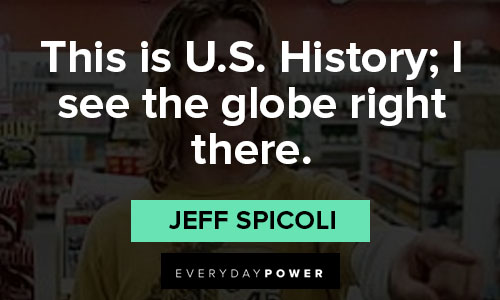 6. "You're crazy! That light was red! -It was yellow a minute ago. I'm sure." – Jeff Spicoli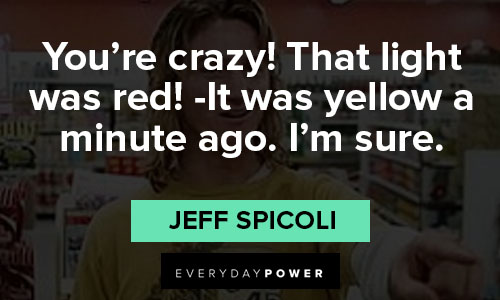 7. "Thought I'd do the whole surf-bum thing, but it turns out I don't like surfers or bums." – Jeff Spicoli
8. "Well, Stu, I'll tell you, surfing's not a sport, it's a way of life, it's no hobby. It's a way of looking at that wave and saying, 'Hey bud, let's party!'"– Jeff Spicoli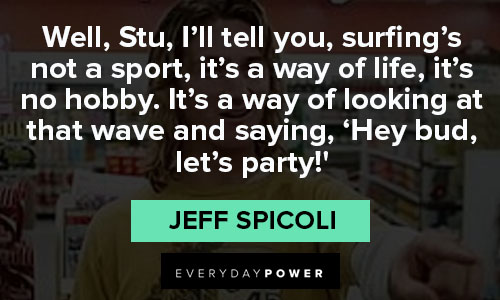 9. "Mr. Hand, do you have a guy like me in all your classes? You know, a guy you make an example of?" – Jeff Spicoli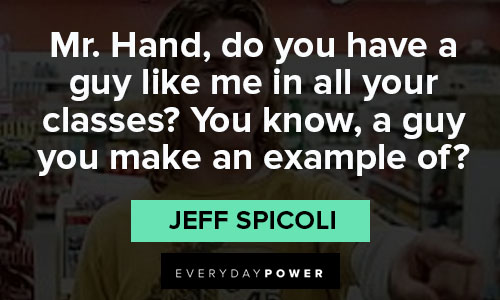 10. "Certainly, there's nothing wrong with a little feast on our time." – Jeff Spicoli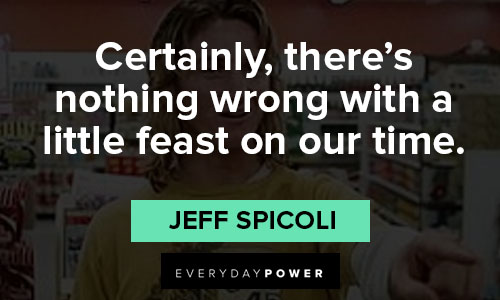 Jeff Spicoli Quotes To Remind You Why You Loved The Movie
It is always fun to see quotes from one of your favorite old movies. Take a look below and see if you recognize any of the quotes.
11. "Hey, wait a minute, there's no birthday party for me here!" – Jeff Spicoli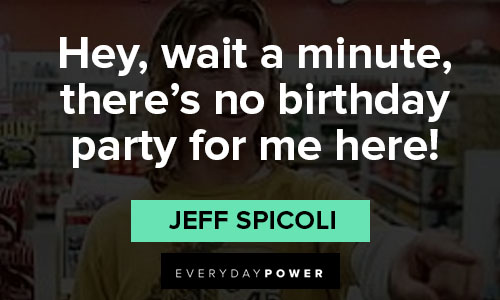 12. "I went to the stones concert, remember? Anaheim stones concert. I go backstage. Who do I see? It's Mick! So I cruise on over, I'm going to meet the man, ya know. As I get over there. He says, "Hey, bro! What's your name?" I go, "Jeff Spicoli dude, good to meet you." He goes, "Good to meet you, Jeff."– Jeff Spicoli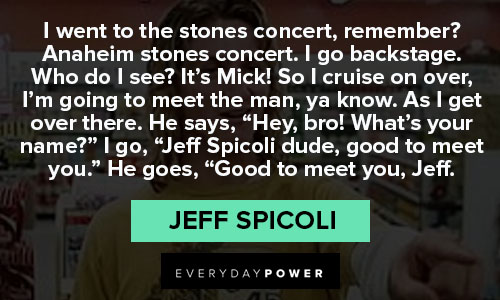 13. "You're crazy! That light was red! -It was yellow a minute ago. I'm sure." – Jeff Spicoli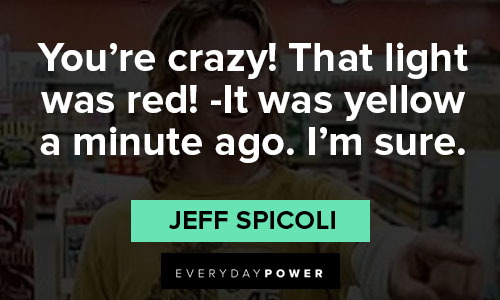 14. "Well, I'll tell you Stu, I did battle some humungous waves. But like I told the guy on ABC, danger is my business."– Jeff Spicoli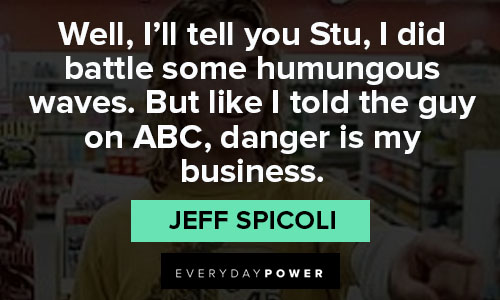 15. "It was like a full crowd scene at the food lines." – Jeff Spicoli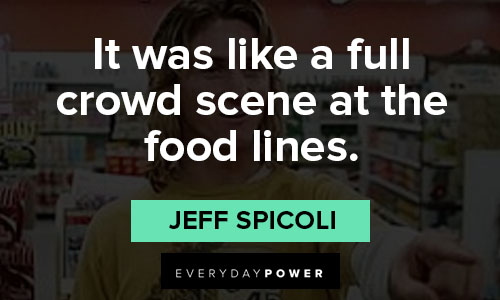 16. "Make up your mind, dude, is he gonna sh*t or is he gonna kill us?" – Jeff Spicoli
17. "Righteous bucks!" – Jeff Spicoli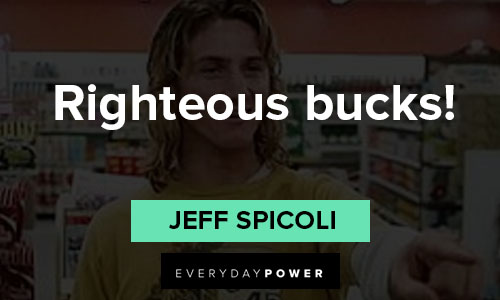 18. "Heading over to the Australian and Hawaiian internationals, and then me and Mick are going to wing on over to London and jam with the Stones."– Jeff Spicoli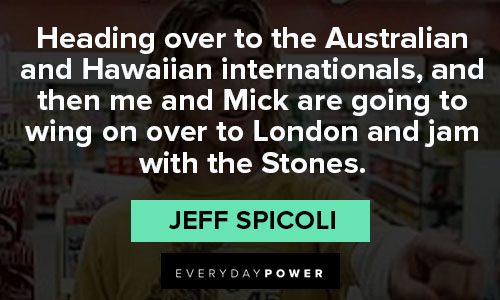 19. "Learning about Cuba, and having some food." – Jeff Spicoli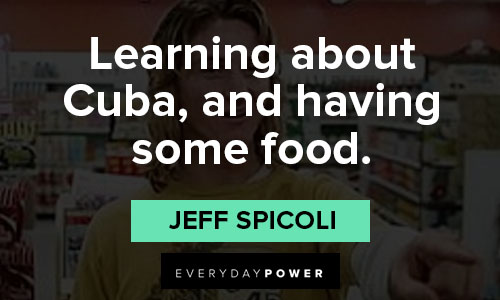 20. "Sorry, I'm late. It's just like this new schedule's totally confusing." – Jeff Spicoli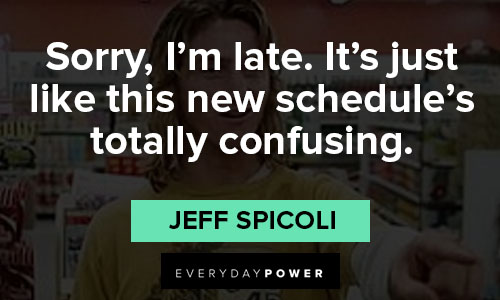 Did The Jeff Spicoli Quotes Remind You Who Your Favorite Character From The Movie Was?
American teenagers were instant fans of the Spicoli character, which helped Sean Penn's career escalate.
Penn took the role seriously and wouldn't allow people to call him anything other than Spicoli during filming.
He based the part on someone he knew from childhood.
Along with succeeding at showcasing the traditional stoned surfer persona, the character of Spicoli is also popularly known for kicking off the trend of Vans sneakers.
The character wore a checkered pair throughout the film.
While many were fans of the film and still are, National Scholastic Surfing Association was not pleased with the display of the stoner surfer.
They shared a message that the stereotype is no longer acceptable in the industry.
After reminiscing while reading the Jeff Spicoli quotes did it make you want to watch any more of your old favorite movies?
Post to see if your friends agree and comment below to keep the conversation going.
September 8, 2022 8:00 AM EST