The Top 10 Best Blogs for Men
March 11, 2017 5:00 AM EST | 6 min read
Listen to article
4 minutes
There are hundreds of blogs written to grab the precious and frequently distracted attention of the so-called "male reader."
As a blogger myself, it feels like I've already checked out every blog that's targeted at men.
Most of them are pretty similar, but some are a bit different.
In this article, I'll give you a list of my personal favorites for the best blogs for men.
I chose blogs that are a little more focused on HOW to become a better man.
The best blogs for men are those that strive to provide the reader with information they can act upon and apply to their lives.
For each blog, I'll give you a quick description of what differentiates it from the hundreds others on the Web.
I'll also highlight some of their best posts.
So here they are: The top 10 best blogs for men, in no particular order.
10 Best Blogs for Men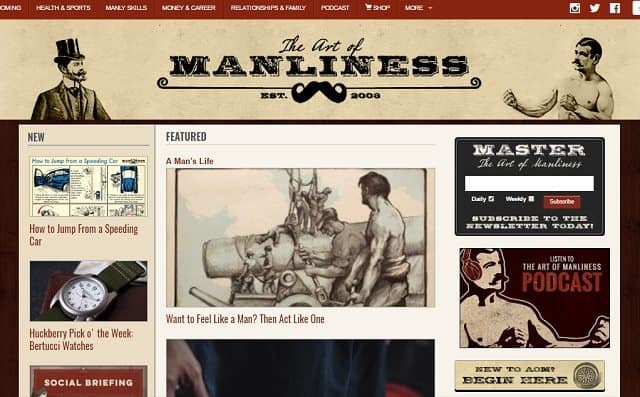 This site is simply too cool to not list it here.
Great name, unique vintage style, and the ambition to raise manliness to the level of an art form.
A monumental challenge fulfilled well by the authors of the site.
Being a gentleman is an art.
It's great that someone noticed that.
The Art of Manliness features articles written to help men break free from today's stereotypes of what a man is.
It also brings a positive sense of nostalgia to our often soul-less times.
Many of the articles leverage a very unique angle of advice like 'The Prisoner Workout' or 'How to Shave Like Your Grandpa', as well as practical advice like 'How to Survive an Earthquake: Your 60-Second Guide.'
I have a feeling that anything you read on that site will leave you with something you didn't know before.
You will also enjoy our article on what men want.
2. The Goodmen Project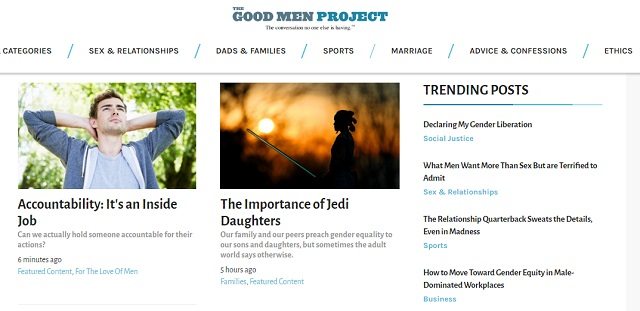 One of the best blogs for men with big dreams.
Founded in the U.S. almost a decade ago, it allows men to tell stories about the most important moments and realizations of their lives.
They even have a Wikipedia page that says:
"The hope was to spark a 'national conversation' around the question of 'What does it mean to be a good man?'"
The topics in the conversation starts from simple, everyday men's struggle with work-life balance, values, relationships, and branches out to important issues for society at large, such as the environment, LGBT and gender issues, raising children, and the prison system.
3. Man Made DIY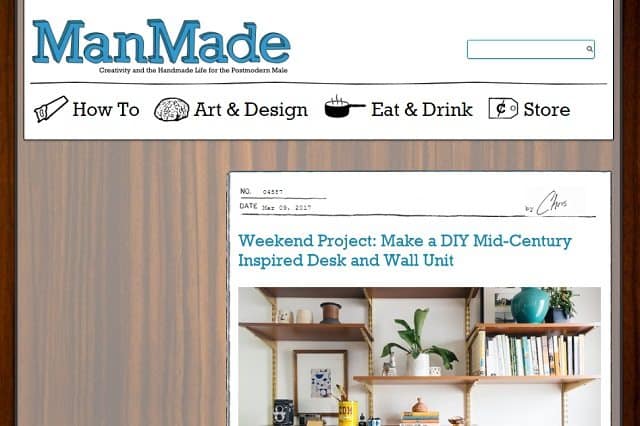 I appreciate ManMade for its goal: "developing creativity and the handmade life for the postmodern male."
Simply great!
Is there anything more masculine than building a great, useful object from scratch?
Unique, quality things made lovingly—that's what matters now.
And this blog shows great inspirations for making your own thing.
The abundance of men's DIY at this corner of the Internet will make you want to fetch your tool bag and start making something!
Again: Simply great!
Buying new stuff made overseas by underpaid labor is a thing of the past.
Well, at least it should be!
Not to mention the environmental costs of mass production of goods.
Check the blog to get some practical and often surprising knowledge.
For example: how to make rustic shelves, how to impress your friends with homemade fresh pasta or drinks.
Try reading more unique articles such as "10 DIY Ideas to Stay Occupied While You're Snowed In."
4. Dude Pins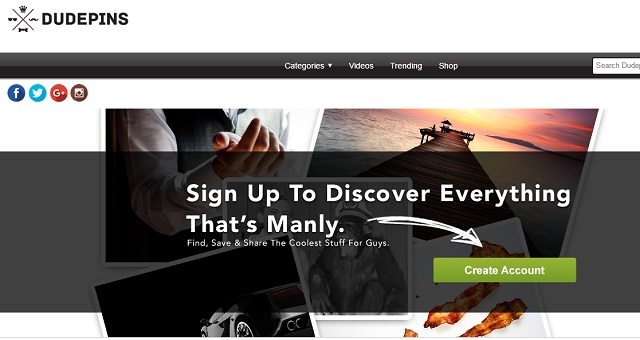 Are you familiar with what Pinterest? If not, I'm sure your girlfriend is.
I mentioned this blog, because I'm aware that some men like it.
Dude stuff, beautiful women, pictures you won't find elsewhere, practical tutorials, videos, DIS, fitness advice – now you can pin your favorite stuff from around the Web in one.
If you have a few minutes to 'kill', this may be more worth checking than 9gag…
5. Primer Magazine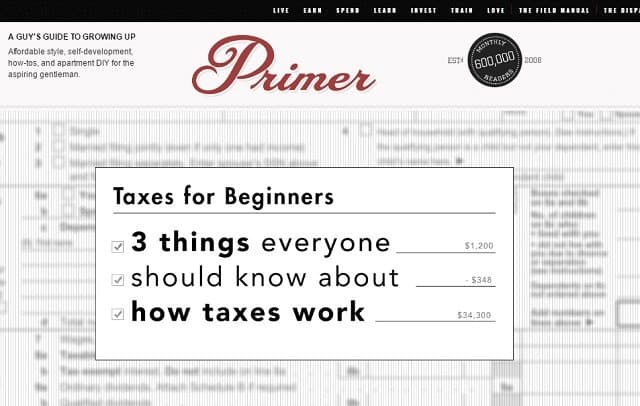 With a bold motto:
"A Guy's Guide To Growing Up"
Guys from Primer strive to teach men useful skills in a comprehensible way.
For example: Essential Techniques on How to Make a Cocktail with the Bloody Mary recipe.
Who wouldn't like that?
As one of the best blogs for men, you can find all sort of interesting, manly advice from "How to Dress Like a Movie Star" to "What Every Man Should Know About Giving Flowers and How to Exploit it for Personal Gain", to more serious advice on how to invest wisely and plan your retirement policy.
6. The Quintessential Man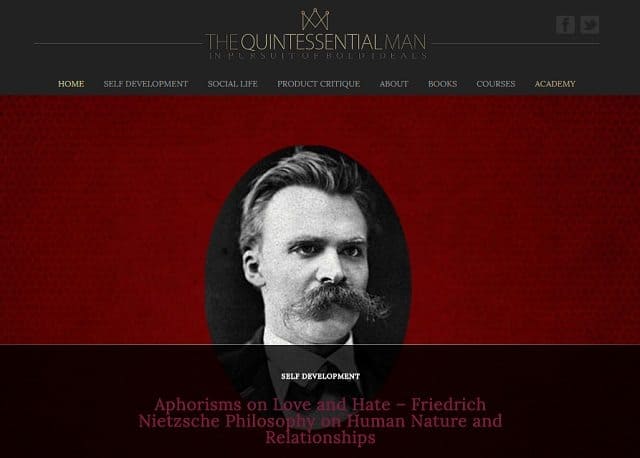 A great self-development blog run by an online entrepreneur Andrian, who, with a personal approach, selects a variety of topics valuable for men.
Check this blog if you have an affinity for visually pleasing content, graphic design, and unique self-help tips, such as "The Da Vinci Schedule –How to Organize your Day and Week for Peak Performance", or some manly book recommendations.
7. The Urban Agent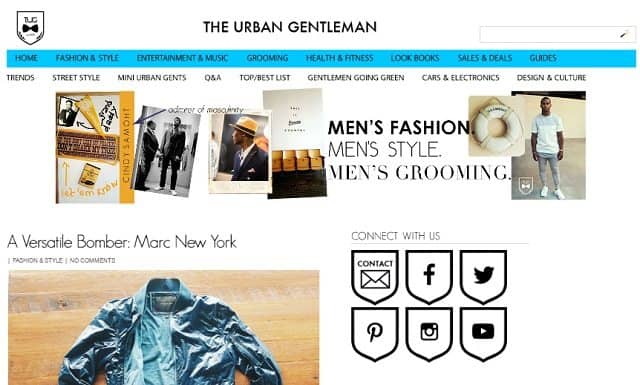 This blog is mostly devoted to men's fashion, style, and grooming.
As one of the best blogs for men, it keeps you up-to-date with the newest fashion trends, and gives some good insights about health, fitness, design, and culture.
8. No Meat Athlete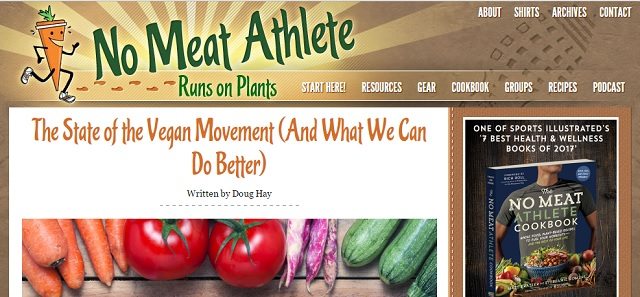 Everyone wants to stay healthy and get a great body.
I selected this blog out of a vast amount of fitness resources because it proves that you can get a great body without eating meat.
What's more, is the author gives actionable resources on how to achieve it in a specific timeframe.
This blog can not only change your body, but also your mind.
9. Sharpologist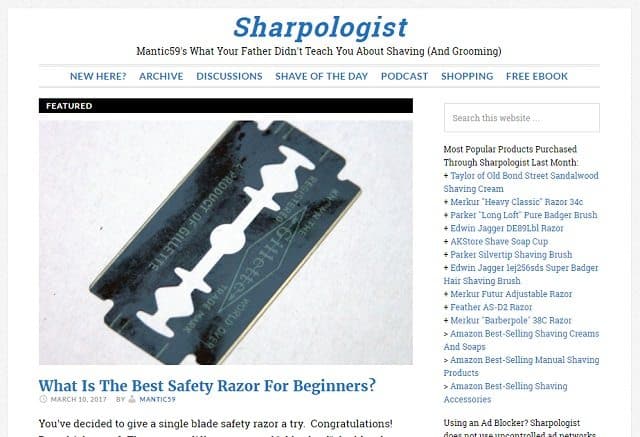 Beards, moustaches, and masculine looks are still in.
As one of the best blogs for men, it is devoted to all those things.
They treat it seriously and professionally.
As stated on the site: "most of Sharpologist's readers are men who are beginner to intermediate-level wet shavers eager for authoritative information on men's shaving and grooming."
Are you the target group?
Check the site and make sure you treat you precious beard well.
10. Wingman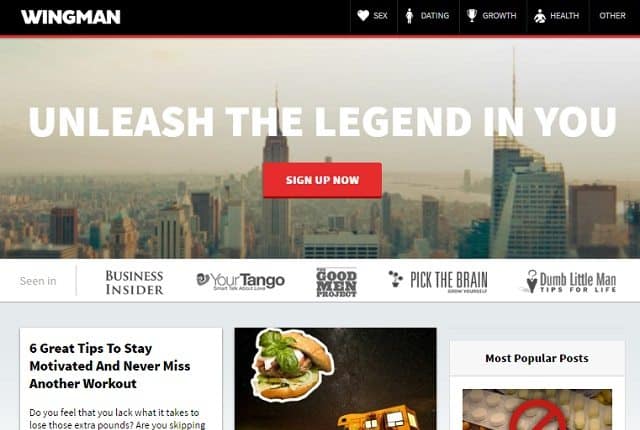 The team at Wingman Magazine, as well as guest contributors, want a young man to have a successful dating life, have lots of sex, keep him healthy, make him shine in college, and make his career brilliant.
This is all served with LOTS of humor.
Not surprisingly, these are the first subjects that grab a reader's attention the most.
After all, a happy social life is the best fundamental that will help you flourish in other spheres of life.
Which of these best blogs for men will you check out first?
Or maybe you have your own favorite? We'd love to hear from you.
Tell us your thoughts in the comments section below.