25 Hammerin' Hank Aaron Quotes About Smashing Records and Barriers
These Hank Aaron quotes speak to his love of baseball, hard life lessons, and how he saw himself.
Few people have lived out the American Dream in the way Hammerin' Hank (Hank Aaron) did.
When Hank was a little boy, he reportedly told his father he wanted to be an airline pilot.
His father replied, "Ain't no black airline pilots."
Little Hank then told his father he wanted to be a major league baseball player.
His dad's response was, "'Ain't no black baseball players."
However, when Hank Aaron was 13 years old, that changed thanks to Jackie Robinson.
Hank Aaron was born and raised in, or very near, Mobile, Alabama; which was a segregated state.
In fact, he played on the Negro American League briefly.
That league was established in 1932 and disbanded in 1962.
On March 14, Hank Aaron's dream of playing in the Major League came true; one day after Milwaukee Braves left fielder, Bobby Thomson fractured his ankle.
Hank was often separated from his team because of Jim Crow laws.
What a dark time in our history, that greatness was made to feel "less than" because of the color of his skin.
Keep reading these Hank Aaron quotes to learn more about how Hank felt being a black baseball player.
Check out our most popular quote article, a list of short inspirational quotes for daily inspiration.
Our inspirational quotes category page has all of our motivational quotes for all the different areas of life.
Hank Aaron quotes about being a black baseball player
1. "Some people resented the fact I was trying to break a white man's record." — Hank Aaron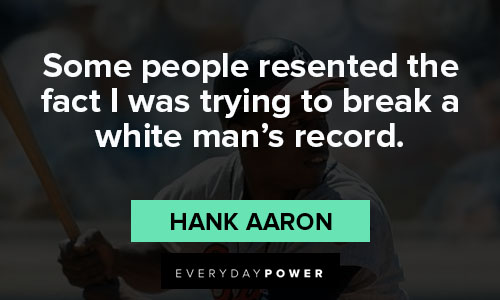 2. "On the field, blacks have been able to be supergiants. But, once our playing days are over, this is the end of it and we go back to the back of the bus again." — Hank Aaron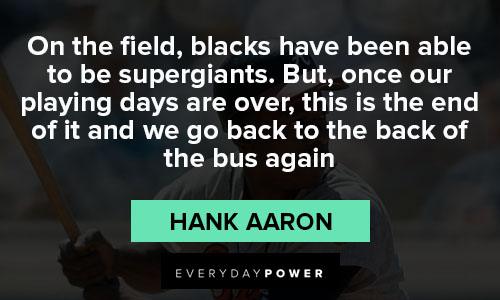 3. "There's only one way to break the color line. Be good. I mean, play good. Play so good that they can't remember what color you were before the season started." — Hank Aaron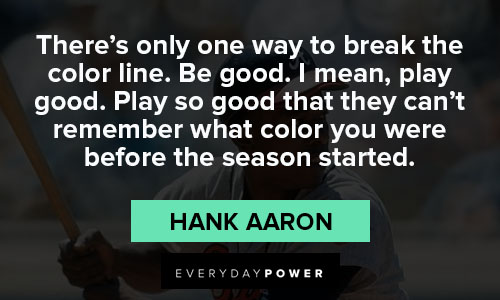 4. "There wasn't much white people would allow us to do in those days. You could be a schoolteacher or an athlete to get away from the manual labor and servant-type jobs, but there wasn't much else they were going to allow you [to] do." — Hank Aaron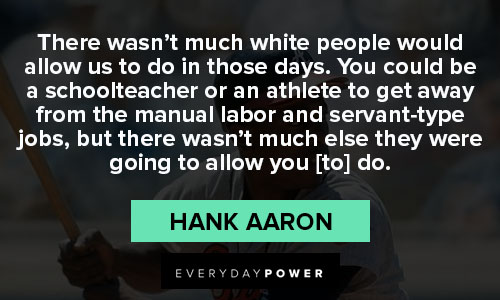 5. "Sure, this country has a black president, but when you look at a black president, President Obama is left with his foot stuck in the mud from all of the Republicans with the way he's treated. We have moved in the right direction, and there have been improvements, but we still have a long way to go in the country." — Hank Aaron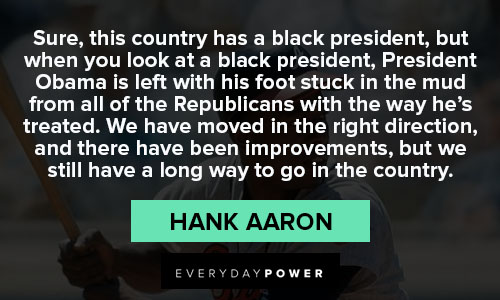 6. "I was being thrown to the wolves. Even though I did something great, nobody wanted to be a part of it. I was so isolated. I couldn't share it. For many years, even after Jackie Robinson, baseball was so segregated, really. You just didn't expect us to have a chance to do anything. Baseball was meant for the lily-white." — Hank Aaron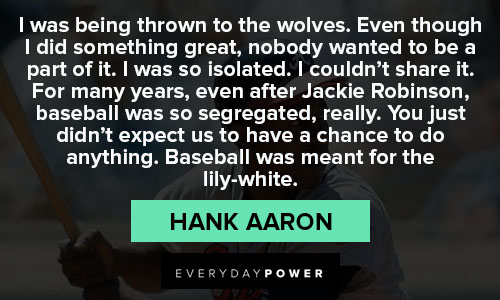 Hank Aaron quotes about playing baseball
7. "Looking at the ball going over the fence isn't going to help." — Hank Aaron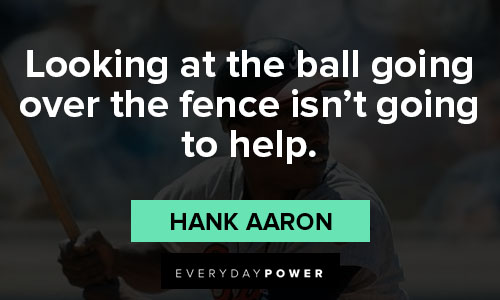 8. "I don't see pitches down the middle anymore – not even in batting practice." — Hank Aaron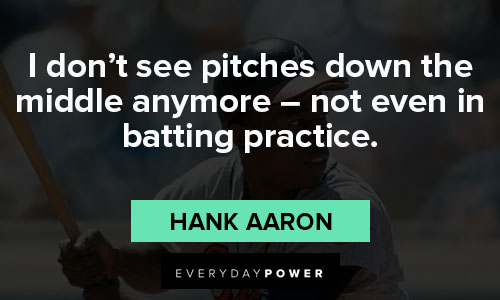 9. "There is no logical reason why girls shouldn't play baseball. It's not all that tough." — Hank Aaron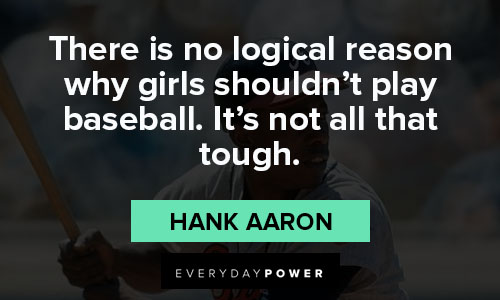 10. "I think what separates a superstar from the average ballplayer is that he concentrates just a little bit longer." — Hank Aaron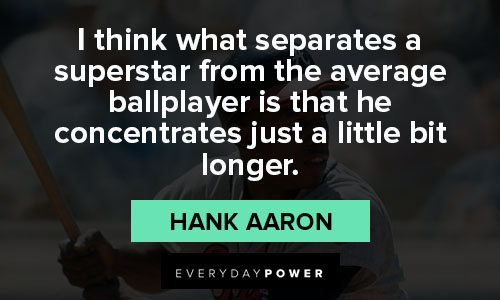 11. "It took me seventeen years to get three thousand hits in baseball. I did it in one afternoon on the golf course." — Hank Aaron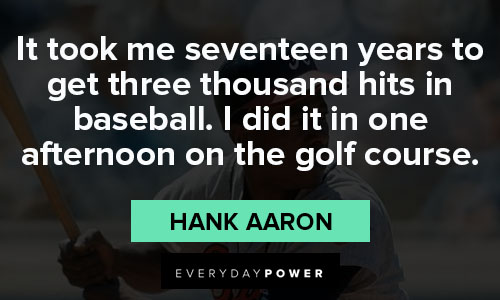 12. "Guessing what the pitcher is going to throw is 80% of being a successful hitter. The other 20% is just execution." — Hank Aaron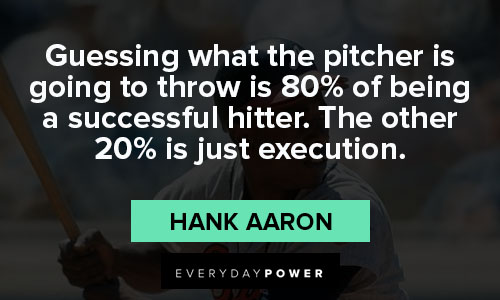 13. "The pitcher has got only a ball. I've got a bat. So the percentage in weapons is in my favor, and I let the fellow with the ball do the fretting." — Hank Aaron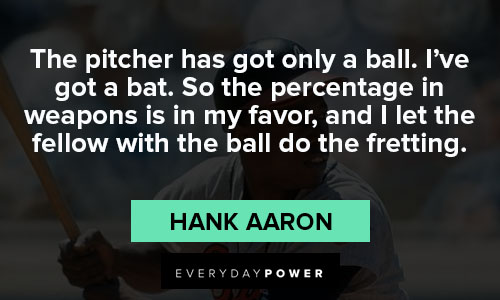 14. "I looked for the same pitch my whole career, a breaking ball. All of the time. I never worried about the fastball. They couldn't throw it past me, none of them." — Hank Aaron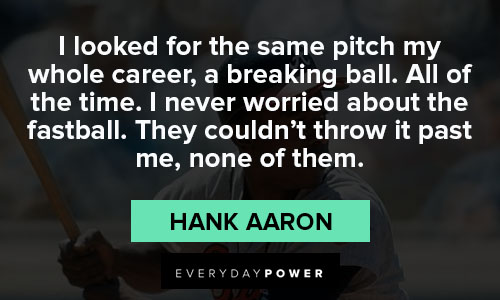 15. "The thing I like about baseball is that it's one-on-one. You stand up there alone, and if you make a mistake, it's your mistake. If you hit a home run, it's your home run." — Hank Aaron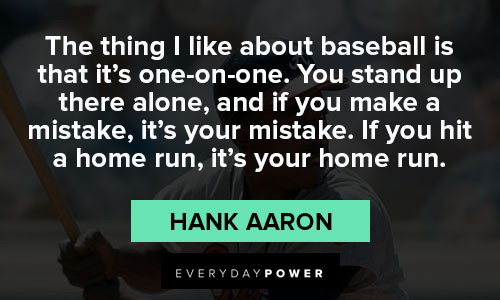 16. "I never smile when I have a bat in my hands. That's when you've got to be serious. When I get out on the field, nothing's a joke to me. I don't feel like I should walk around with a smile on my face." — Hank Aaron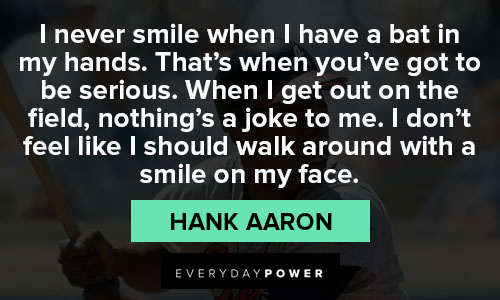 17. "You visualize [pitches]. You see it in your head; you think it…I used to play every pitcher in my mind before I went to the ballpark. I started getting ready for every game the moment I woke up." — Hank Aaron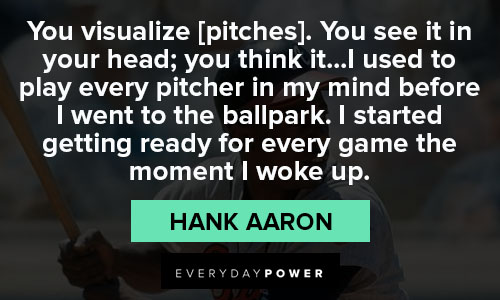 18. "I think about how a guy mentally prepared himself to do battle, to go out and face the pitcher. I think so many hitters do not know how to get themselves prepared to play or hit against a pitcher. You have to mentally be prepared to hit against all pitchers." — Hank Aaron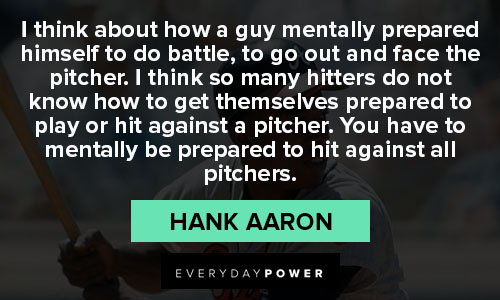 19. "I played sometimes about as dull as you can play it. I did things the right way; you know. I think I modeled my playing ability after one of the all-time greats, Joe DiMaggio. You always found Joe, when he played, you know, he always threw to the right base. He ran, he caught the ball. He did all the right things. He was an idol of mine in the outfield. He played the game the way it was supposed to be played." — Hank Aaron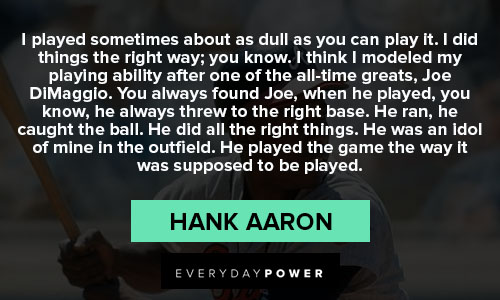 If you're enjoying these quotes, make sure to read our collection of golf quotes that will give you the motivation to keep playing and practice.
Hank Aaron quotes about himself
20. "Last year, I was sort of a kid and I was a little scared, I ain't scared anymore." — Hank Aaron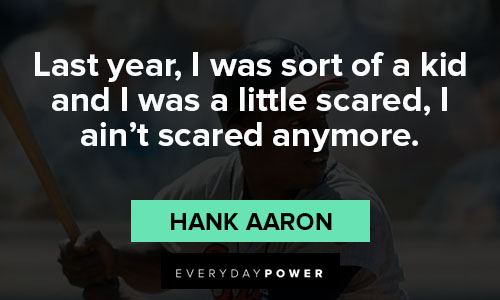 21. "I've tried a lot of things in the off-season, but the only thing I really know is baseball." — Hank Aaron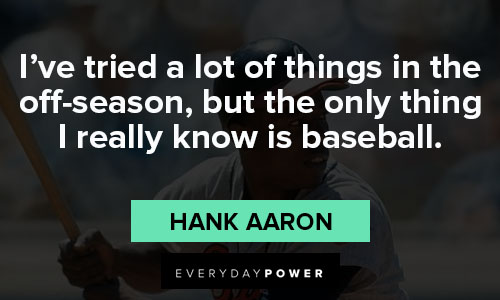 22. "I don't feel right unless I have a sport to play or at least a way to work up a sweat." — Hank Aaron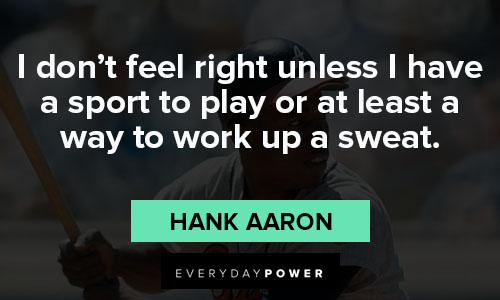 23. "I came to the Braves on business, and I intended to see that business was good as long as I could." — Hank Aaron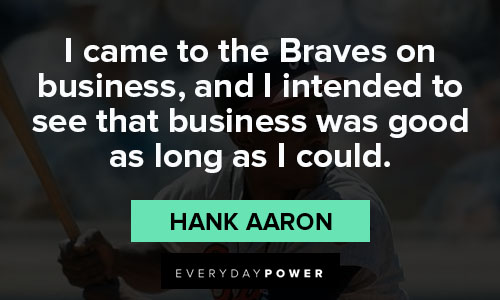 24. "I am very proud to be an American. This country has so much potential, I'd just like to see things better, or whatever, and I think it will be." — Hank Aaron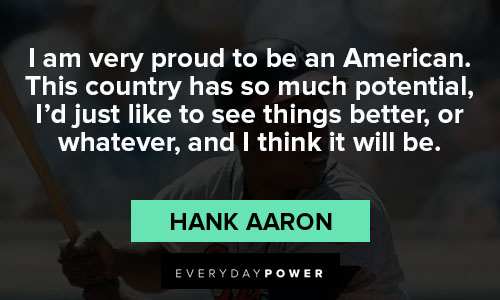 25. "I never doubted my ability, but when you hear all your life you're inferior, it makes you wonder if the other guys have something you've never seen before. If they do, I'm still looking for it." — Hank Aaron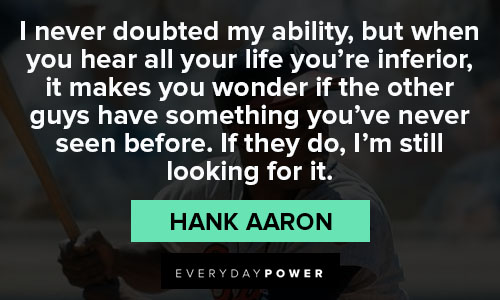 Which of these Hank Aaron quotes resonated with you best?
Hank Aaron was most famous for hitting more home runs (755 to be exact) than any other baseball player in history, hence the name Hammerin' Hank!
He is responsible for breaking Babe Ruth's record of 714.
Barry Bonds did beat his record in 2007, but it was revealed he had used steroids.
Hank holds a much more profound place in the history books though, as someone who spoke out against racism and who was able to smash through several racial barriers.
One of those barriers included becoming one of baseball's first black executives, for the Atlanta Braves.
At one point, he had a net worth of 25 million dollars.
Hank Aaron left the Braves after the 1974 season.
He went on to play for the Milwaukee Brewers until he retired from baseball in 1976, at the age of 42.
Are you a fan of baseball?
Leave any other Hank Aaron quotes or records in the comment section below!