Barbara Bush Quotes for Understanding the Complexities of Life
Barbara Bush, former first lady and wife of George Bush has had some wise things to say throughout her life.
These Barbara Bush quotes will show you her strong opinions, values, and life experiences.
Bush often talked about the value of other people, particularly family, but also had a lot to say about life as a whole, and often reflected on her life in government.
What can we learn from this former first lady?
While Barbara Bush talks quite a bit about the value of family and books, the true value lies in her words about life, and how to live it without regrets.
These Barbara Bush quotes will open your eyes to this, so that you can start living the fulfilled life you've always dreamed of.
Also check out these George HW Bush quotes from the 41st president.
If you love this quote collection, read out our most popular quote article about short inspirational quotes for daily motivation.
If you need more inspirational quotes, check out our motivational quotes category page.
Barbara Bush Quotes About Friends and Family
1. "At the end of your life you will never regret not having passed one more test, not winning one more verdict, or not closing one more deal. You will regret time not spent with a husband, a friend, a child or a parent." – Barbara Bush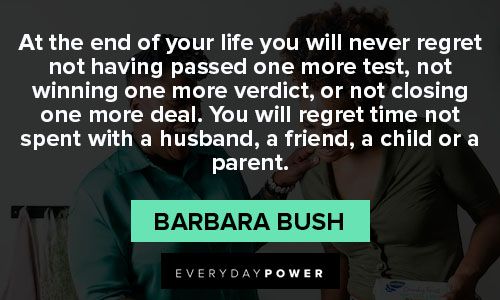 2. "Your success as a family… our success as a nation… depends not on what happens inside the White House, but on what happens inside your house." – Barbara Bush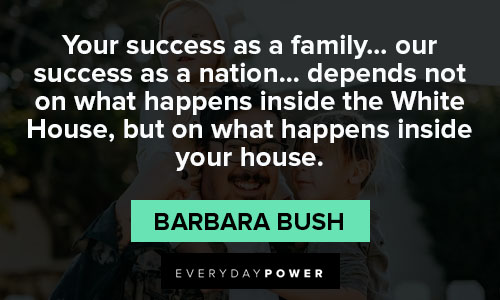 3. "I'm worried about parents who aren't parenting." – Barbara Bush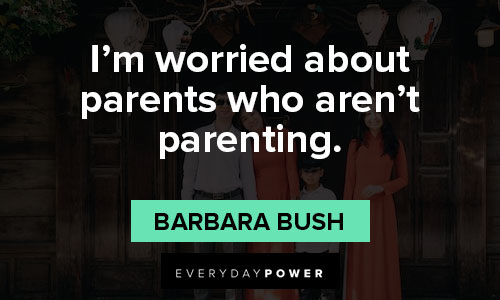 4. "One of the many things we have learned in all our travels is that it's the people who count… most people everywhere are interesting, and if you can't find a friend, then maybe there is something wrong with you." – Barbara Bush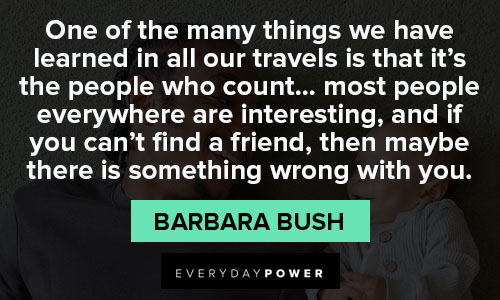 5. "To us, family means putting your arms around each other and being there." – Barbara Bush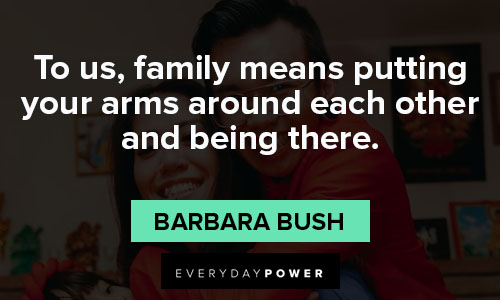 6. "Fathers and mothers, if you have children, they must come first. You must read to your children, you must hug your children and you must love your children." – Barbara Bush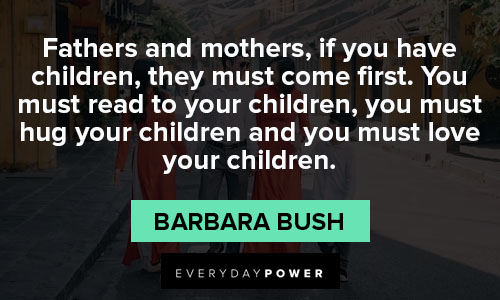 7. "Value your friendships. Value your relationships." – Barbara Bush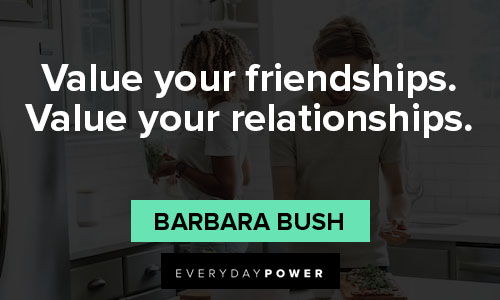 8. "You have to love your children unselfishly. That's hard. But it's the only way." – Barbara Bush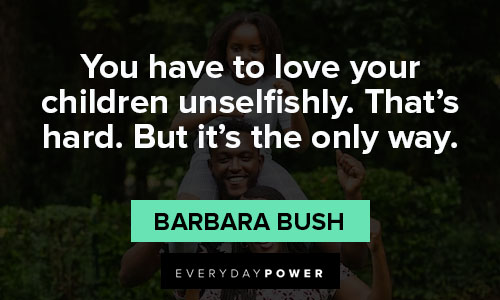 9. "I think togetherness is a very important ingredient to family life." – Barbara Bush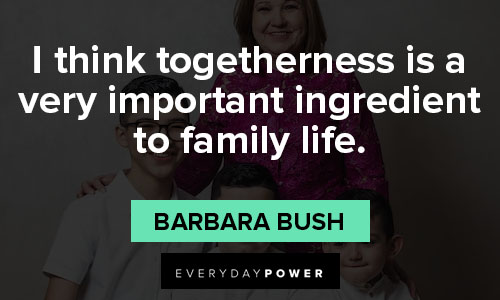 10. "It was the dumbest thing I had every seen, but it's a family thing, and I guess it's clean." – Barbara Bush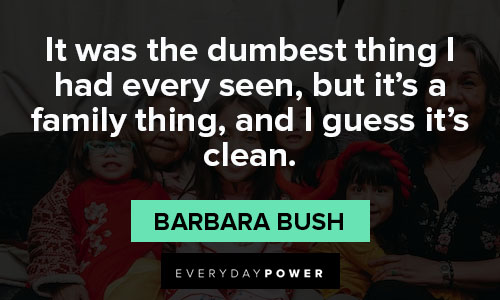 11. "You know sit with your arm around a little kid and read. It not only teaches them to read but it keeps the family strong." – Barbara Bush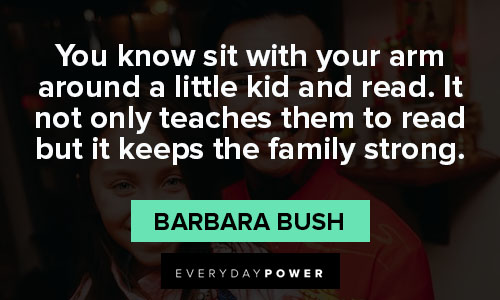 12. "You get nothing done if you don't listen to each other." – Barbara Bush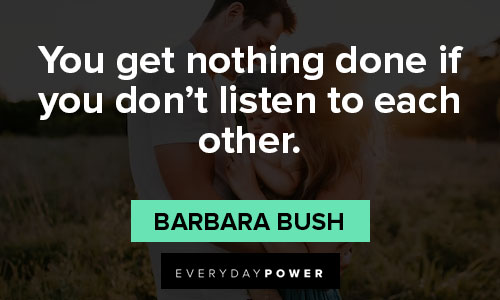 13. "Family and friends and faith are the most important things in your life and you should be building friendships." – Barbara Bush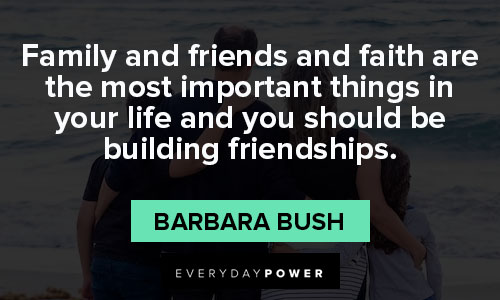 Barbara Bush Quotes About Life in Government
14. "War is not nice." – Barbara Bush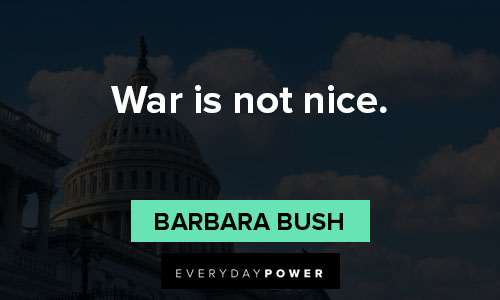 15. "Did you know that if a child never misses a day of school from first grade to twelfth grade, he or she would have spent only 9 percent of his or her life in the classroom? The other 91 percent is spent in the home or out in the community. We cannot expect teachers and the schools to solve all our children's problems." – Barbara Bush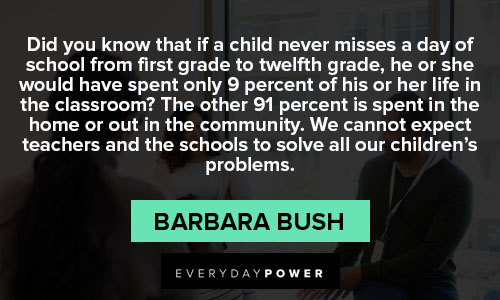 16. "Somewhere out in this audience may even be someone who will one day follow my footsteps, and preside over the White House as the president's spouse. I wish him well!" – Barbara Bush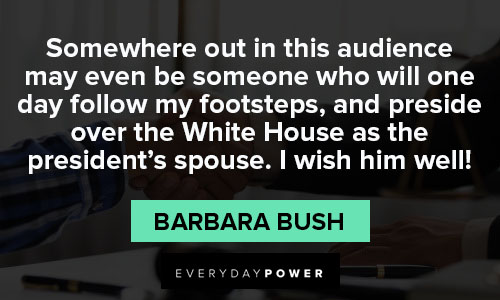 17. "The personal things should be left out of, in my opinion, out of platforms and conventions." – Barbara Bush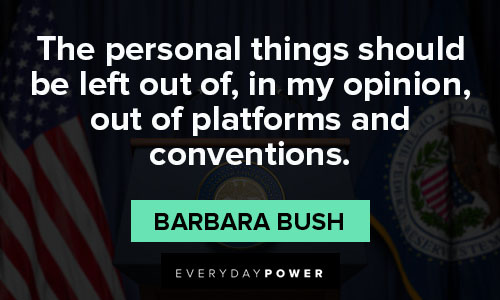 18. "Nobody likes, you know, the ugly part of politics." – Barbara Bush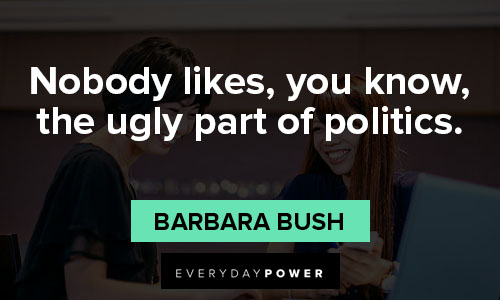 19. "I loved living in the White House, but I don't miss it at all." – Barbara Bush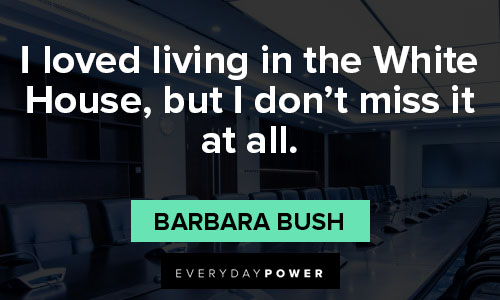 20. "Everything I worry about would be better if more people could read, write, and comprehend." – Barbara Bush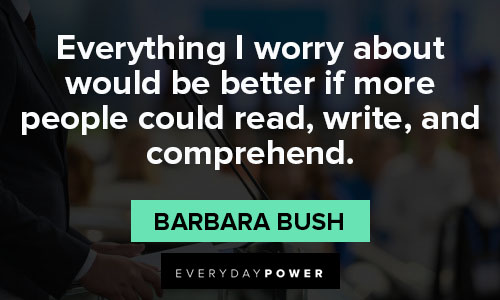 21. "The state dinner is almost a formula, but you try to make it interesting. You try not to overload it with too many political types. You try to get a cross section." – Barbara Bush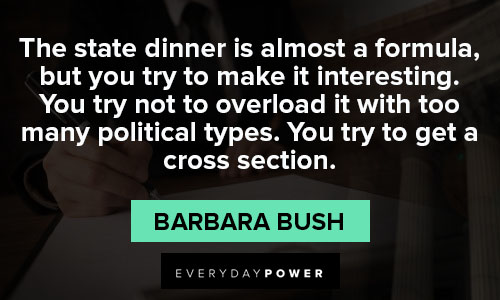 22. "Suddenly women's lib had made me feel my life had been wasted." – Barbara Bush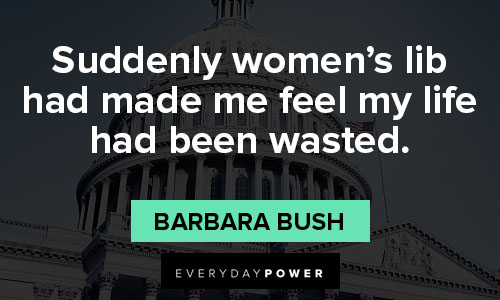 23. "I'm not a one issue person." – Barbara Bush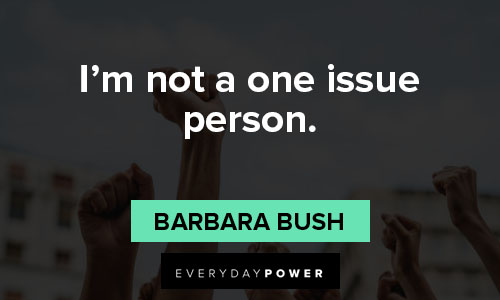 24. "Let's judge a man on what he's done." – Barbara Bush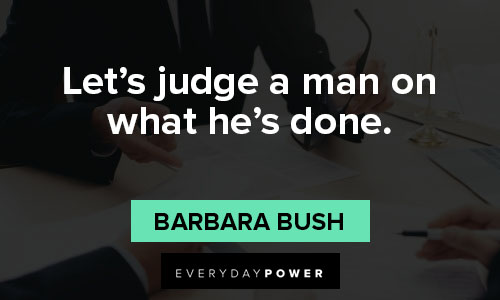 25. "I feel very strongly that the person who runs for office is the courageous one, and the one who everybody has to know." – Barbara Bush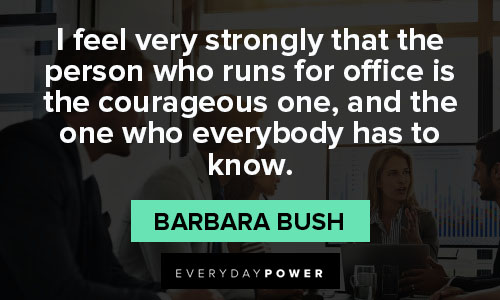 What did you learn from these Barbara Bush quotes?
Former first lady Barbara Bush is a wise person, bringing insight to many aspects of life throughout her own.
These Barbara Bush quotes show her life's philosophies, as they brought her into old age, through raising a family, and through helping to run a country.
So, what is the most valuable takeaway from Bush's wisdom?
The thing she talks about the most are people, and the importance of them in your life.
So make sure you appreciate those around you, laugh with them, and love them unconditionally.
Doing so will help you to feel like your life is fulfilled, no matter how intense your responsibilities may seem.
What's your biggest takeaway from these wise Barbara Bush quotes?
Do you have any other favorite quotes to add?
Let us know in the comment section below.