Alexandre Dumas Quotes From The French Author
These Alexandre Dumas quotes come from some of his most famous works, including The Three Musketeers.
There are also many quotes from some of his lesser-known works.
Alexandre Dumas, the famous French author of The Count of Monte Cristo, was born Dumas Davy de la Pailleterie.
He is also known as Alexandre Dumas père (using the French word for 'father' as a way to distinguish himself from his son, Alexandre Dumas fils).
He is one of the most widely read French authors.
Some of his works were originally published as serials, including The Count of Monte Cristo and The Three Musketeers.
These adventurous novels have been adapted into plays and movies.
Just who was Alexandre Dumas though?
These Alexandre Dumas quotes about love, happiness, and even God give you a glimpse into the kind of person he was.
Keep reading to learn more about this complicated man and accomplished storyteller.
Don't forget to also check out our collection of The Count of Monte Cristo quotes from the literary classic.
Check out our most popular quote article, a list of short inspirational quotes for daily inspiration.
Explore our complete collection of motivational quotes here.
Alexandre Dumas quotes about learning, wisdom, and education
1. "All human wisdom is summed up in two words; wait and hope." – Alexandre Dumas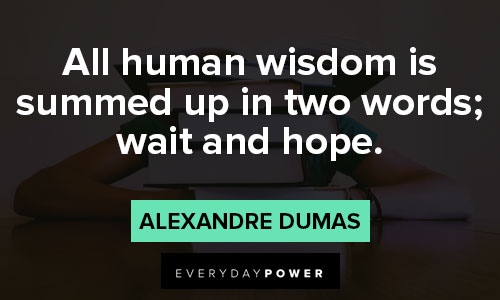 2. "How is it that little children are so intelligent and men so stupid? It must be education that does it." – Alexandre Dumas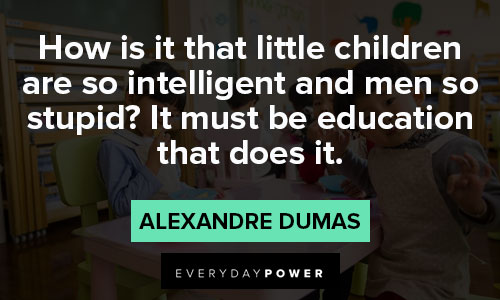 3. "I prefer rogues to imbeciles because they sometimes take a rest." – Alexandre Dumas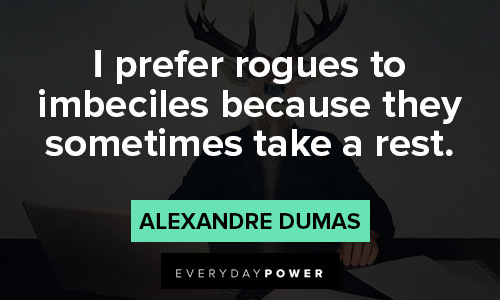 4. "Learning does not make one learned: there are those who have knowledge and those who have understanding. The first requires memory and the second philosophy." – Alexandre Dumas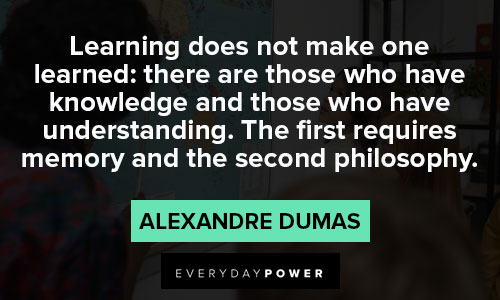 5. "One's work may be finished someday, but one's education never." – Alexandre Dumas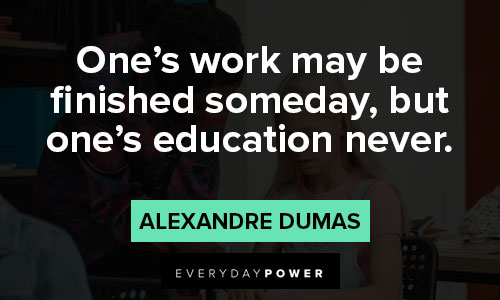 6. "Mastery of language affords one remarkable opportunities." – Alexandre Dumas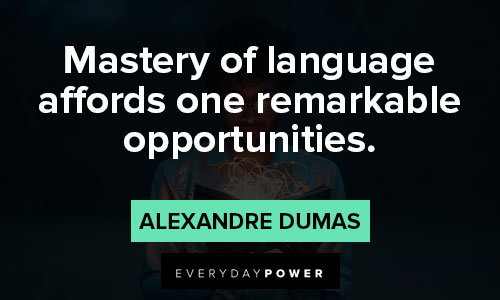 7. "Philosophy cannot be taught; it is the application of the sciences to truth." – Alexandre Dumas
8. "Order is the key to all problems." – Alexandre Dumas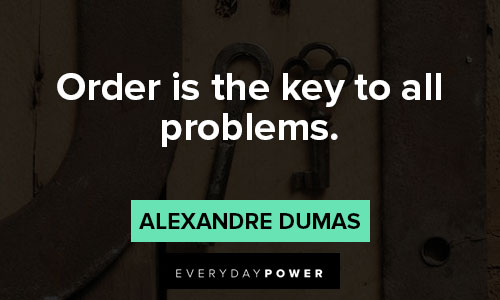 9. "So he went down, smiling skeptically and mutter the final word in human wisdom: 'Perhaps!" – Alexandre Dumas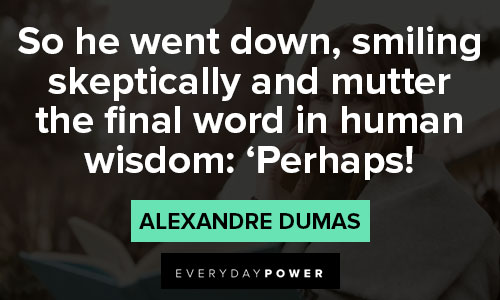 10. "Perhaps what I am about to say will appear strange to you gentlemen, socialists, progressives, humanitarians as you are, but I never worry about my neighbor, I never try to protect society which does not protect me — indeed, I might add, which generally takes no heed of me except to do me harm — and, since I hold them low in my esteem and remain neutral towards them, I believe that society and my neighbor are in my debt." – Alexandre Dumas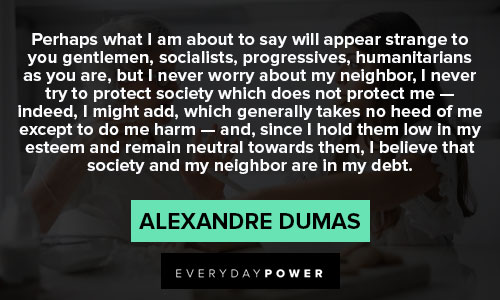 Alexandre Dumas quotes about happiness and sadness
11. "Happiness is like those palaces in fairy tales whose gates are guarded by dragons: we must fight in order to conquer it." – Alexandre Dumas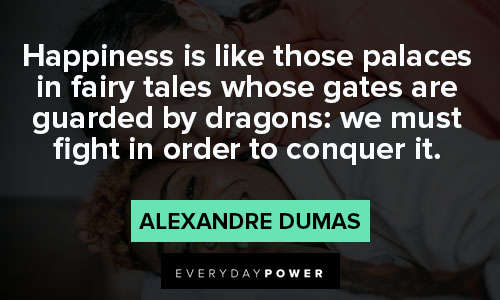 12. "Those born to wealth, and who have the means of gratifying every wish, know not what is the real happiness of life, just as those who have been tossed on the stormy waters of the ocean on a few frail planks can alone realize the blessings of fair weather." – Alexandre Dumas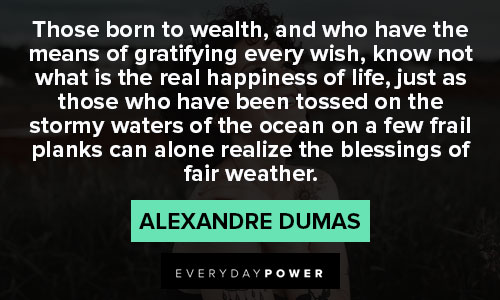 13. "Often we pass beside happiness without seeing it, without looking at it, or even if we have seen and looked at it, without recognizing it." – Alexandre Dumas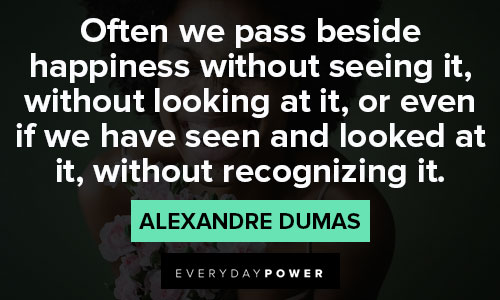 14. "There is neither happiness nor misery in the world; there is only the comparison of one state with another, nothing more. He who has felt the deepest grief is best able to experience supreme happiness." – Alexandre Dumas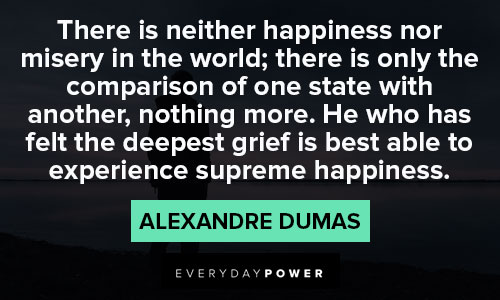 15. "Only a man who has felt ultimate despair is capable of feeling ultimate bliss." – Alexandre Dumas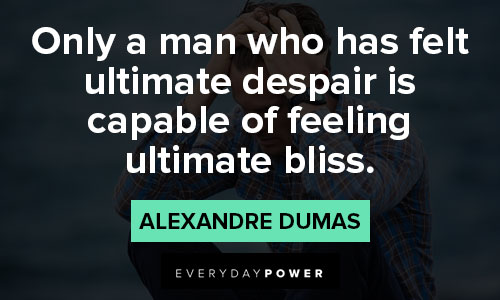 16. "Happiness is egotistical." – Alexandre Dumas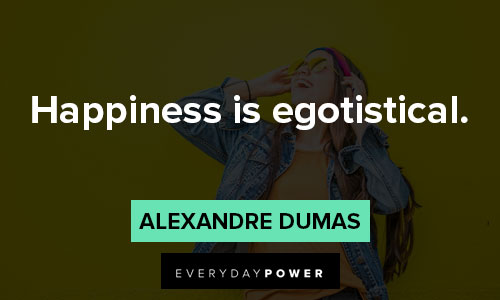 17. "We are always in a hurry to be happy; for when we have suffered a long time, we have great difficulty in believing in good fortune." – Alexandre Dumas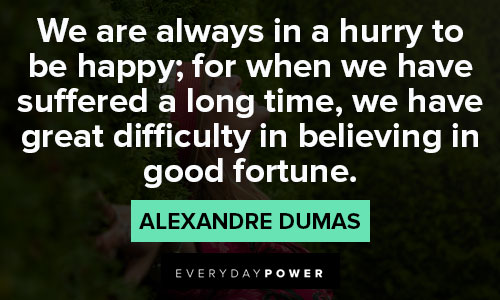 18. "I am not proud, but I am happy; and happiness blinds, I think, more than pride." – Alexandre Dumas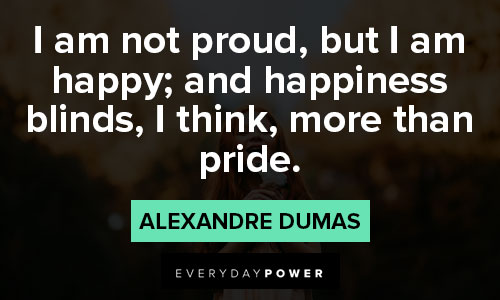 19. "I do not often laugh, sir, as you may perceive by the air of my countenance; but nevertheless, I retain the privilege of laughing when I please." – Alexandre Dumas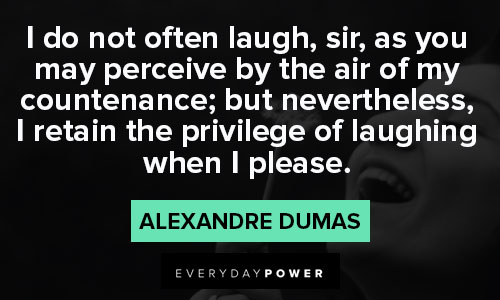 20. "Youth is a blossom whose fruit is love; happy is he who plucks it after watching it slowly ripen." – Alexandre Dumas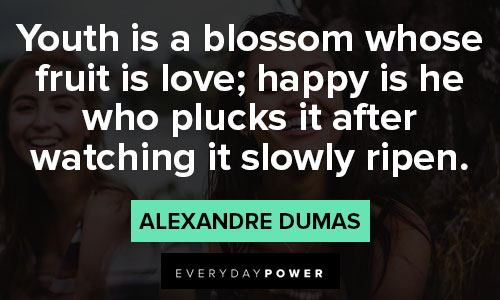 Short Alexandre Dumas quotes
21. "So rapid is the flight of our dreams upon the wings of imagination." – Alexandre Dumas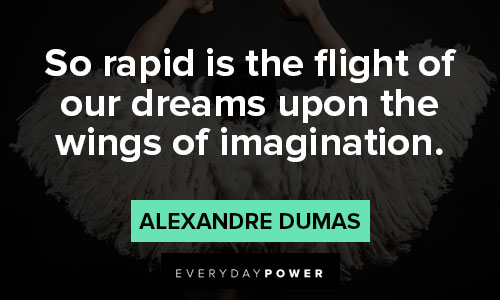 22. "Haste is a poor counselor." – Alexandre Dumas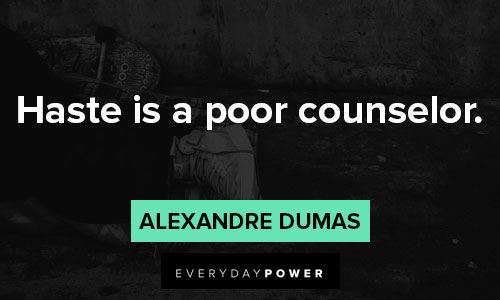 23. "Remember that what has once been done may be done again." – Alexandre Dumas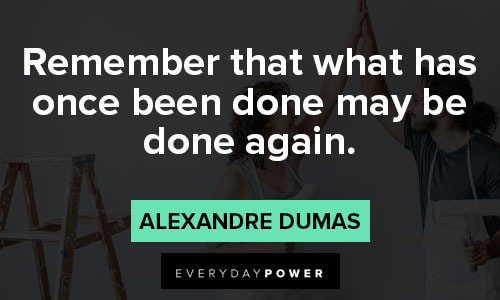 24. "It is necessary to have wished for death in order to know how good it is to live." – Alexandre Dumas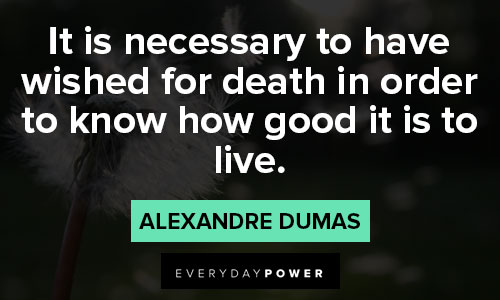 25. "Nothing succeeds like success." – Alexandre Dumas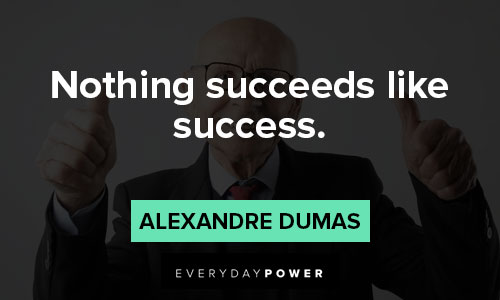 26. "All generalizations are dangerous, even this one." – Alexandre Dumas
27. "For all evils, there are two remedies – time and silence." – Alexandre Dumas
28. "I do not cling to life sufficiently to fear death." – Alexandre Dumas
29. "The merit of all things lies in their difficulty." – Alexandre Dumas
30. "Great is truth. Fire cannot burn it nor water drown it." – Alexandre Dumas
Alexandre Dumas quotes about love and the heart
31. "Pure love and suspicion cannot dwell together: at the door where the latter enters, the former makes its exit." – Alexandre Dumas
32. "Love is the most selfish of all the passions." – Alexandre Dumas
33. "For there are two distinct sorts of ideas: Those that proceed from the head and those that emanate from the heart." – Alexandre Dumas
34. "True love always makes a man better, no matter who the woman is that inspires it." – Alexandre Dumas
35. "Woman is sacred; the woman one loves is holy." – Alexandre Dumas
36. "Ah, lips that say one thing, while the heart thinks another." – Alexandre Dumas
37. "So heavy is the chain of wedlock that it needs two to carry it, and sometimes three." – Alexandre Dumas
38. "When a man resolves to avenge himself, he should first of all tear out the heart from his breast." – Alexandre Dumas
39. "We must never expect discretion in first love: it is accompanied by such excessive joy that unless the joy is allowed to overflow, it will choke you." – Alexandre Dumas
40. "Joy to hearts which have suffered long is like the dew on the ground after a long drought; both the heart and the ground absorb that beneficent moisture falling on them, and nothing is outwardly apparent." – Alexandre Dumas
Alexandre Dumas quotes about God, the human soul, and life and death
41. "There are people who are willing to suffer and swallow their tears at leisure, and God will no doubt reward them in heaven for their resignation, but those who have the will to struggle strike back at fate in retaliation for the blows they receive." – Alexandre Dumas
42. "If God were suddenly condemned to live the life which He has inflicted upon men, He would kill Himself." – Alexandre Dumas
43. "God is full of mercy for everyone, as He has been towards you. He is a father before He is a judge." – Alexandre Dumas
44. "There are two ways of seeing: with the body and with the soul. The body's sight can sometimes forget, but the soul remembers forever." – Alexandre Dumas
45. "For the happy man prayer is only a jumble of words, until the day when sorrow comes to explain to him the sublime language by means of which he speaks to God." – Alexandre Dumas
46. "Everyone knows that drunkards and lovers have a protecting deity." – Alexandre Dumas
47. "A weakened mind always sees everything through a black veil. The soul makes its own horizons; your soul is dark, which is why you see such a cloudy sky." – Alexandre Dumas
48. "God orders a man to do all he can to save his life." – Alexandre Dumas
49. "When you compare the sorrows of real-life to the pleasures of the imaginary one, you will never want to live again, only to dream forever." – Alexandre Dumas
50. "I am strong against everything, except against the death of those I love. He who dies gains; he who sees others die loses." – Alexandre Dumas
What did you leanr from these Alexandre Dumas quotes?
Alexandre Dumas was born in Picardy, France.
His father, Thomas-Alexandre Dumas, was the son of a French marquis and an enslaved woman of Afro-Caribean ancestry.
When Thomas-Alexandre was born his father was impoverished, however, he brought his son to France where he was legally freed.
He went on to military school and joined the army, changing his last name to Dumas after a fight with his father.
Alexandre's father was promoted to general by the age of 31, becoming the first soldier of Afro-Antilles origin to reach that rank.
He would have three children with Marie-Louise Élisabeth Labouret; Alexandre and his two sisters.
Alexandre chose to use his grandmother's surname as his father had done.
Alexandre Dumas began his writing career with articles for magazines.
He then branched out into writing plays for the theatre.
He wrote his first play, Henry III and His Courts, at age 27, and it was received well.
The following year, his second play, Christine, was met with equal acclaim.
These successes gave him sufficient income to write full-time.
Dumas actually made quite the comfortable living writing his novels and plays, but he also liked to spend his money on women and living lavishly.
In fact, it is believed he had 40 mistresses!
Despite his success, he dealt with numerous issues related to his mixed race.
He once said, "My father was a mulatto, my grandfather was a Negro, and my great-grandfather a monkey.
You see, Sir, my family starts where yours ends."
He also addressed the issue of race in his short novel Georges.
Do you have a favorite Alexandre Dumas quote you would like to share?
Let us know in the comment section below.