Cristiano Ronaldo Quotes on Success and Soccer
May 5, 2019 4:59 PM EST
Listen to article
4 minutes
Our latest collection of Cristiano Ronaldo quotes on Everyday Power.
Cristiano Ronaldo is a professional soccer player who plays for Italian club Juventus and the Portugal national team.
He is regarded by many as the best player in the world and arguably one of the greatest players of all time.
Among his many achievements, he has a record-tying five Ballon d'Or awards and has won 26 trophies in his career.
A prolific goalscorer, Ronaldo has scored over 680 senior career goals for club and country.
Besides, he was ranked the world's highest-paid athlete by Forbes in 2016 and 2017, making him one of the most marketable athletes in the world.
According to Ronaldo himself, the key to his staggering success is believing nobody is better than he is.
After thousands of hours of practice, he has built and mastered an unmatched level of self-confidence.
Ronaldo believes in his ability to win, no matter the odds, no matter the difficulty.
In that respect, here are some powerful Cristiano Ronaldo quotes to inspire and motivate you to discover your greatness.
If you like this article, we suggest you explore our most popular quotes article, a list of short inspirational quotes for daily encouragement.
Check out more inspirational quotes on our motivational quotes category page.
Cristiano Ronaldo Quotes on Success and Soccer
1. "You need to think big. I always believe that nobody is better than me, out on the pitch at least," – Cristiano Ronaldo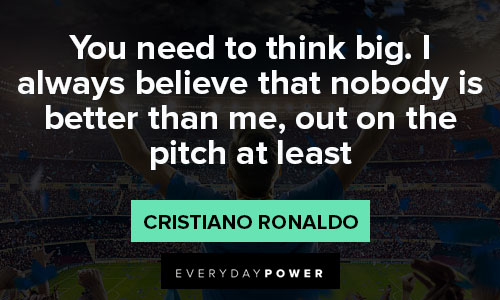 2. "Dreams are not what you see in your sleep, dreams are things which do not let you sleep." – Cristiano Ronaldo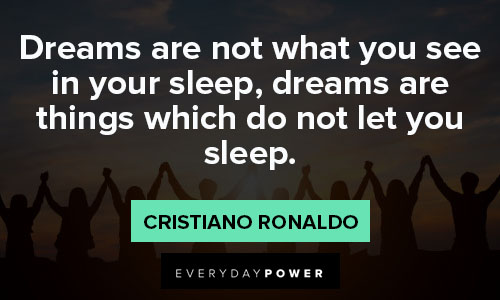 3. "Stay strong. Be brave. Go beyond." – Cristiano Ronaldo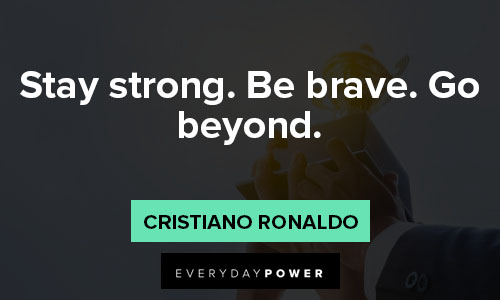 4. "If you don't train consistently, if you don't train your shooting skills, your pace, your dribbling, you'll get worse" – Cristiano Ronaldo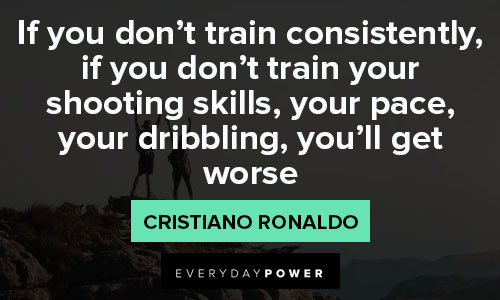 5. "We should always believe we are the best," – Cristiano Ronaldo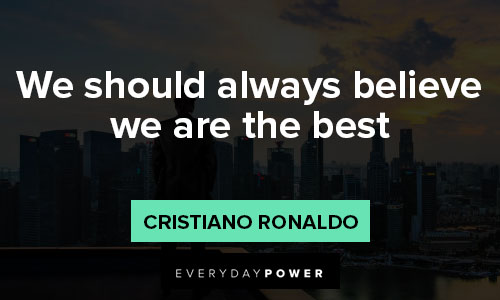 6. "I never tried to hide the fact that my only goal is to be the best" –Cristiano Ronaldo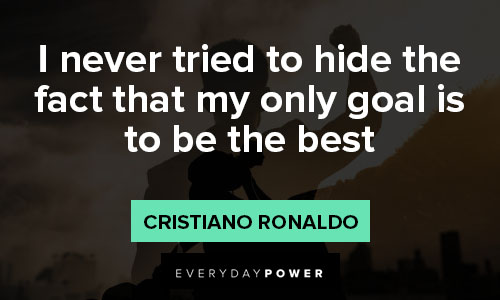 7. "There are three important things to do: "Sleep well, eat well and train hard. These are the three most important things for a footballer. – Cristiano Ronaldo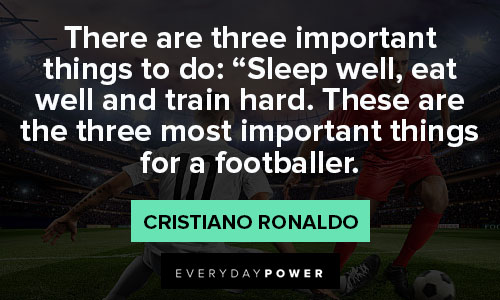 8. "Winning – that's the most important to me. It's as simple as that." –Cristiano Ronaldo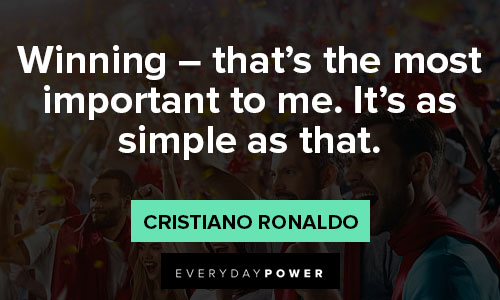 9. "If you think you're perfect already, then you never will be."
― Cristiano Ronaldo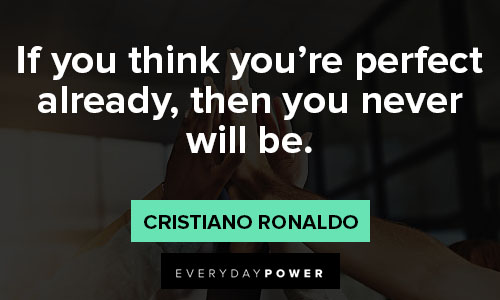 10. "We don't want to tell our dreams. We want to show them."― Cristiano Ronaldo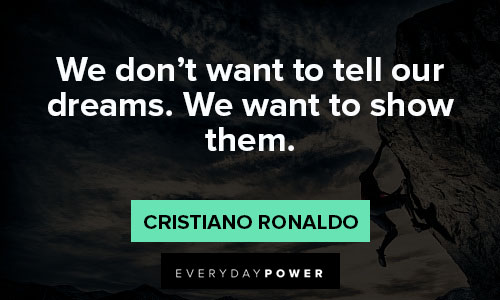 More Cristiano Ronaldo quotes
11. "I'm not a perfectionist, but I like to feel that things are done well."- Cristiano Ronaldo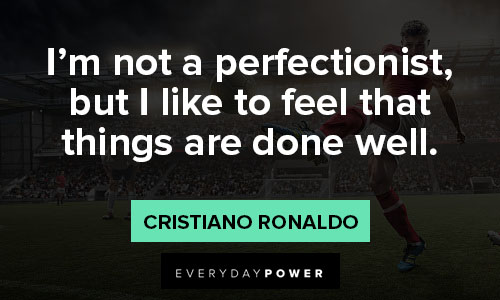 12. "Your love makes me strong. Your hate makes me unstoppable."- Cristiano Ronaldo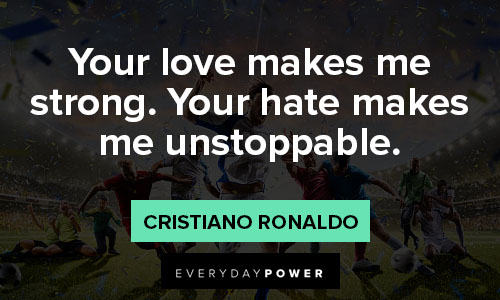 13. "Today there are opportunities that no one knows if they will come round again in the future."- Cristiano Ronaldo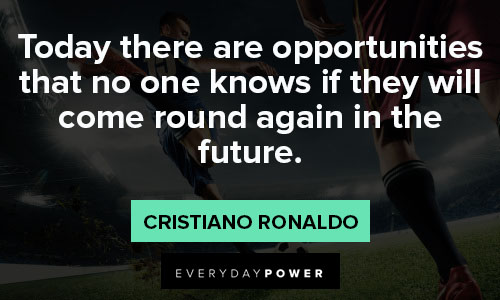 14. "Dedication, hard work all the time, and belief." ― Cristiano Ronaldo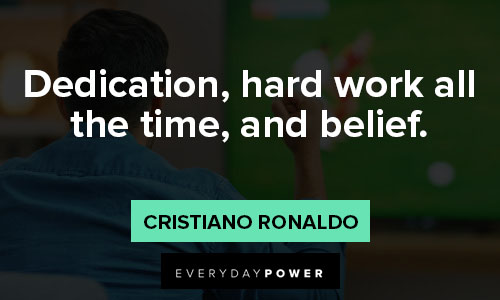 15. "I like to impose my own style of play." – Cristiano Ronaldo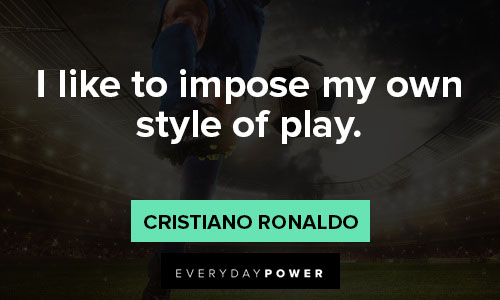 16. "I see football as an art and all players are artists.
If you are a top artist, the last thing you would do is paint a picture somebody else has already painted."― Cristiano Ronaldo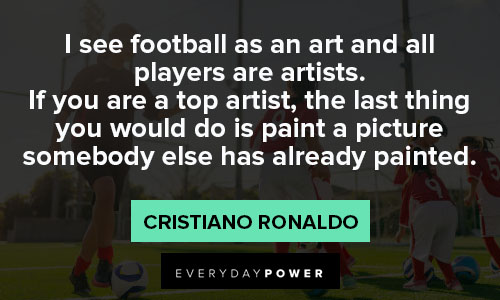 17. "We should make the most of life, enjoy it because that's the way it is." ― Cristiano Ronaldo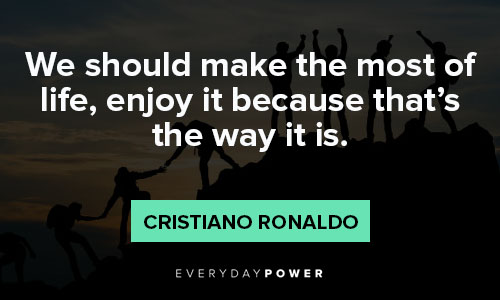 18. "Scoring goals is a great feeling, but the most important thing to me is that the team is successful – it doesn't matter who scores the goals as long as we're winning." ― Cristiano Ronaldo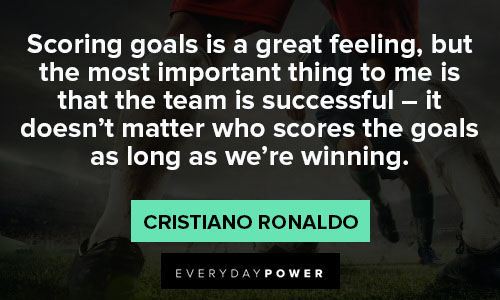 19. "There is no harm in dreaming of becoming the world's best player. It is all about trying to be the best. I will keep working hard to achieve it but it is within my capabilities." ― Cristiano Ronaldo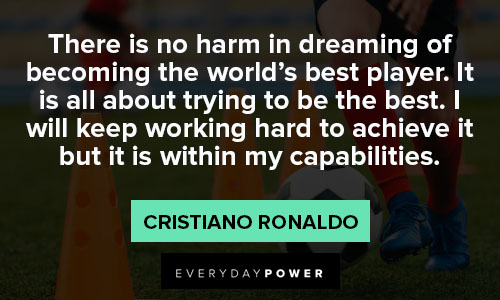 20. "Talent without working hard is nothing." – Cristiano Ronaldo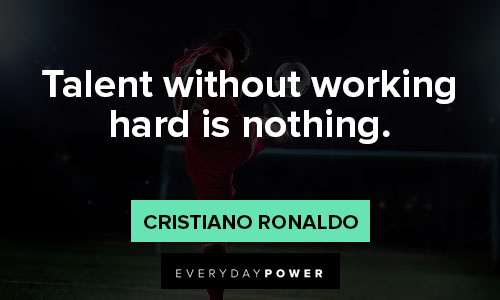 Don't forget to also read our collection of soccer quotes from the world's greatest players.
Which of these Cristiano Ronaldo quotes was your favorite?
Cristiano Ronaldo is an extraordinary athlete.
Throughout his career, he has proven to be an insatiable footballing machine.
His desire to expand, evolve and achieve greatness is unmatched.
Ronaldo has achieved this level of excellence as a result of his dedication to his profession and his unmatched self-confidence after many hours of practice and hard work.
Hopefully, these Cristiano Ronaldo quotes have helped ignite your inner fire.
Which of these Cristiano Ronaldo quotes resonated with you best?
Do you have any other favorite quotes to add?
Let us know in the comment section below.