25 Divergent Quotes About Facing Your Fears and Being Different
These Divergent quotes from the novel and the movie about facing your fears and being different make it easy to see why people like the story.
In 2011, my preteen daughter and all her friends were reading this new novel named Divergent by Veronica Roth.
They seemed enamored with the book for sure, and a few years later (2014) when the movie came out, my daughter all but demanded I take her to the theater.
Her best friend is my best friend's daughter, so we decided we would have a mother and daughter day and drive two hours to the big theater in Salt Lake City to see it.
I thought we would be in for a boring kid's story, but boy was I wrong!
This movie and the novel are filled with YA tropes like dystopian realities that flaunt authority, giving people a way to sort themselves (factions), and romance between the strong female heroine and the attractive male lead.
These quotes from Tris and Four will show each of these tropes in full force.
Some people ask why is this movie so terrible, and while I disagree, I can see their arguments.
Keep reading these Divergent quotes before deciding yourself!
Don't forget to also check out these unity and diversity quotes to help us stand together.
Check out our most popular quote article, a list of short inspirational quotes for daily inspiration.
Explore our complete collection of motivational quotes here.
Divergent book quotes about fear from the novel
1. "Becoming fearless isn't the point. That's impossible. It's learning how to control your fear, and how to be free from it." ― Veronica Roth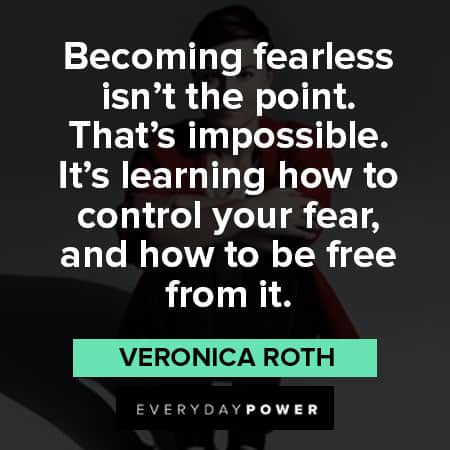 You will also enjoy our article on wednesday addams quotes.
2. "Fear doesn't shut you down; it wakes you up." ― Veronica Roth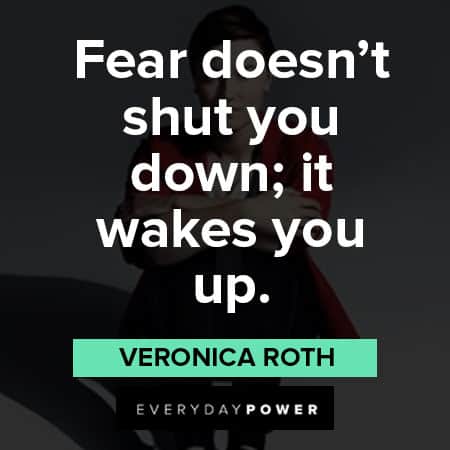 You will also enjoy our article on fear quotes.
3. "Fear doesn't shut you down; it wakes you up. I've seen it. It's fascinating." ― Veronica Roth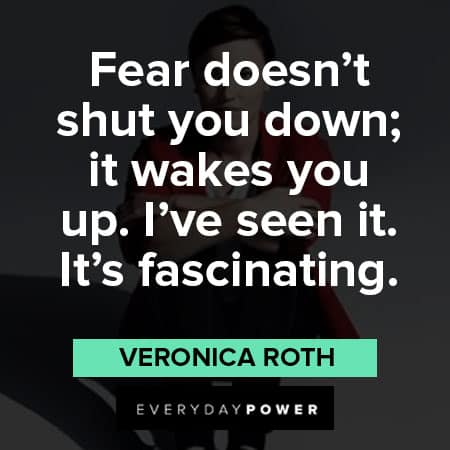 4. "Learning how to think in the midst of fear is a lesson that everyone needs to learn." ― Veronica Roth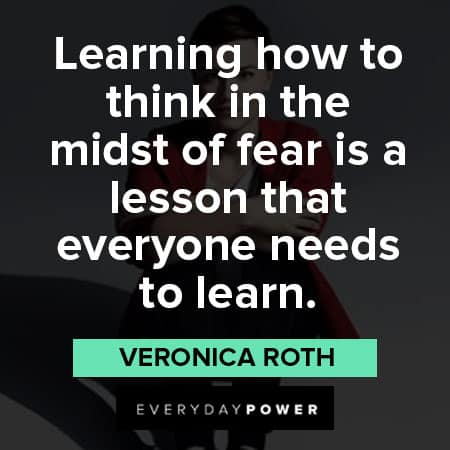 5. "Like you don't want to know what his fears are. He acts so tough that he's probably afraid of marshmallows and really bright sunrises or something." ― Veronica Roth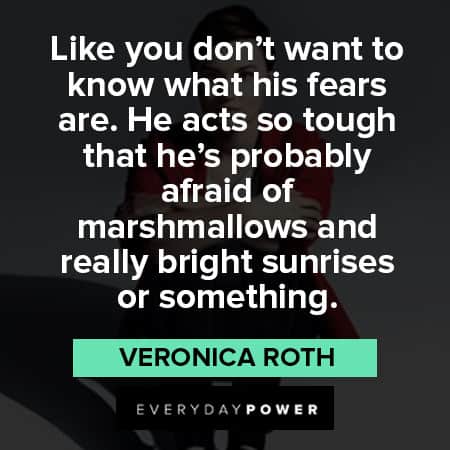 6. "We believe in freedom from fear and in acquiring the skills to force the bad out of our world so that the good can prosper and thrive." ― Veronica Roth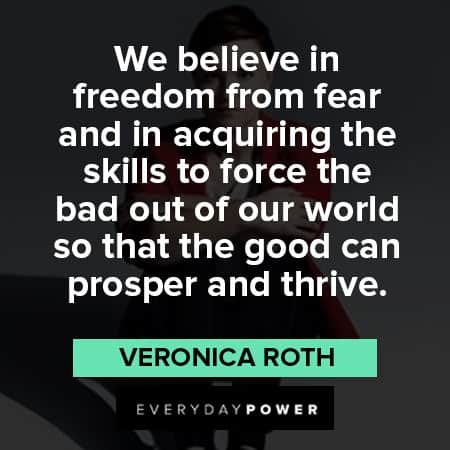 7. "But maybe what I saw as fearless was actually fear under control." ― Veronica Roth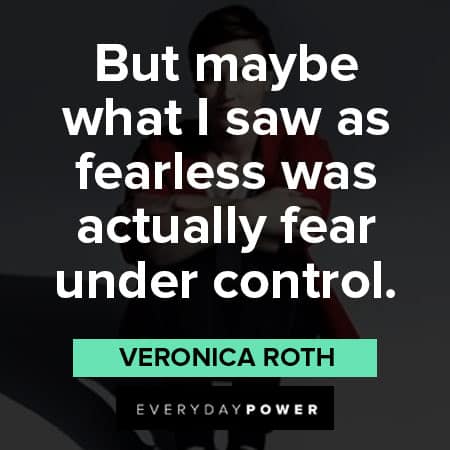 8. "I ignore my fear. When I make decisions, I pretend it doesn't exist." ― Veronica Roth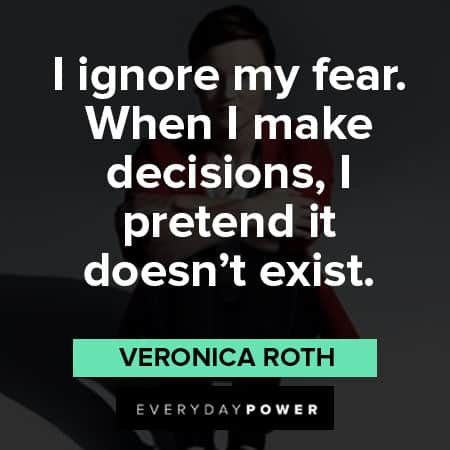 9. To me there's a difference between not being afraid and acting in spite of fear, as he does." ― Veronica Roth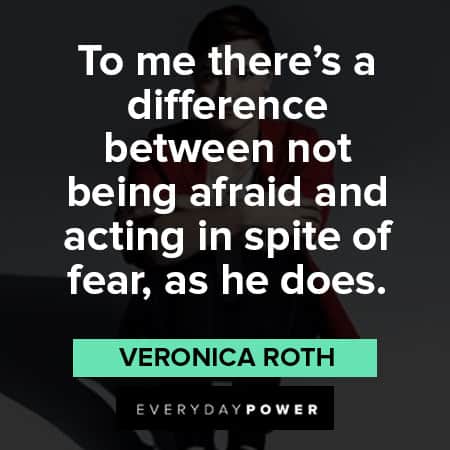 10. "I have to face the fear. I have to take control of the situation and find a way to make it less frightening." ― Veronica Roth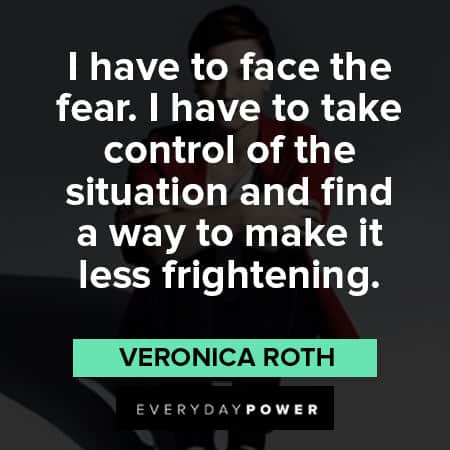 Divergent quotes about bravery from the novel
11. "We believe in ordinary acts of bravery, in the courage that drives one person to stand up for another." ― Veronica Roth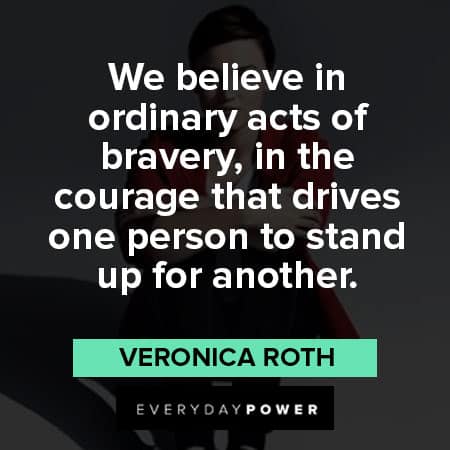 12. "I have a theory that selflessness and bravery aren't all that different." ― Veronica Roth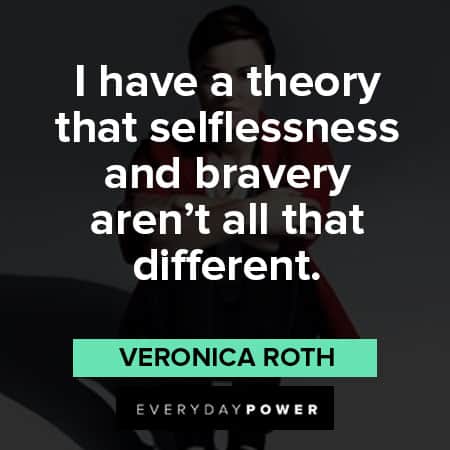 13. "A brave man acknowledges the strength of others." ― Veronica Roth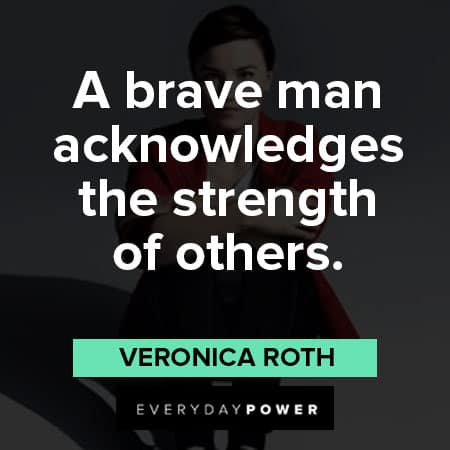 14. "It must require bravery to be honest all the time." ― Veronica Roth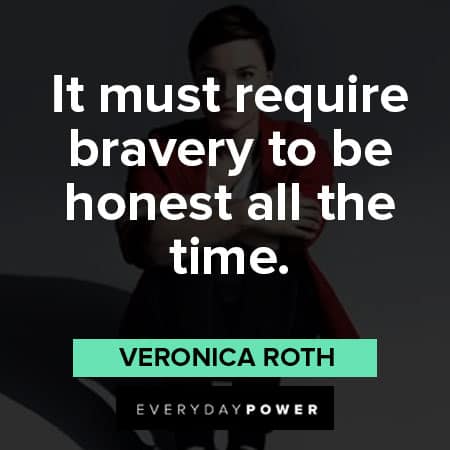 15. "He told me once to be brave, and though I have stood still while knives spun toward my face and jumped off a roof, I never thought I would need bravery in the small moments of my life. I do." ― Veronica Roth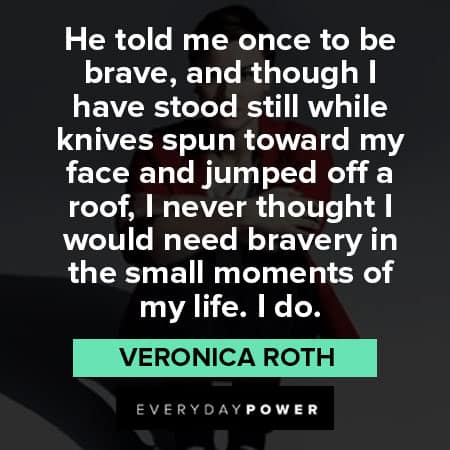 16. "A chasm reminds us that there is a fine line between bravery and idiocy." ― Veronica Roth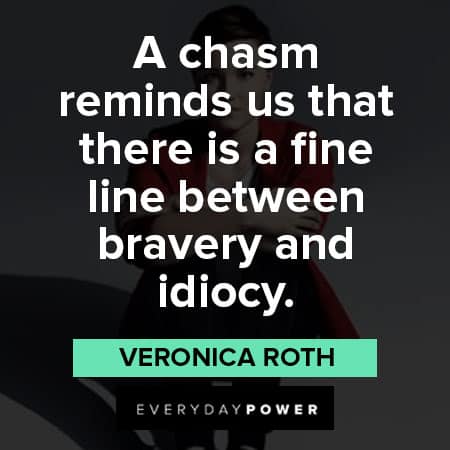 17. "Half of bravery is perspective." ― Veronica Roth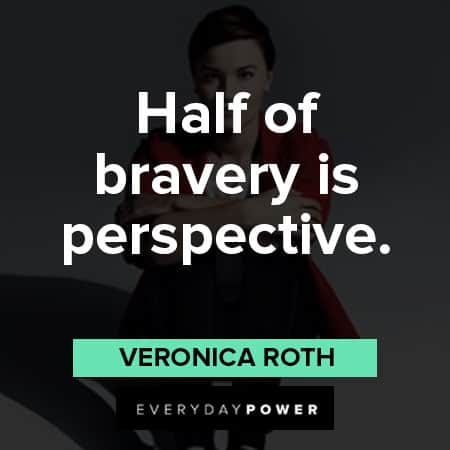 18. "It's easy to be brave when they're not my fears." ― Veronica Roth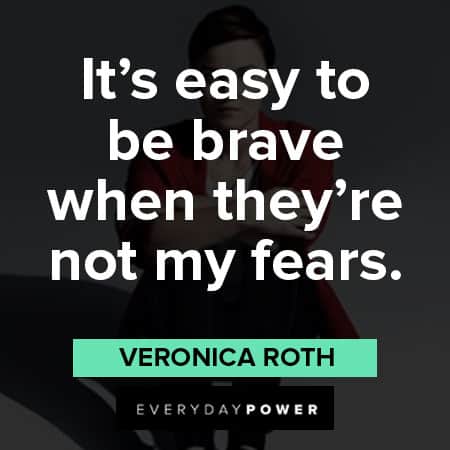 19. "Sometimes it isn't fighting that's brave, its facing the death you know is coming." ― Veronica Roth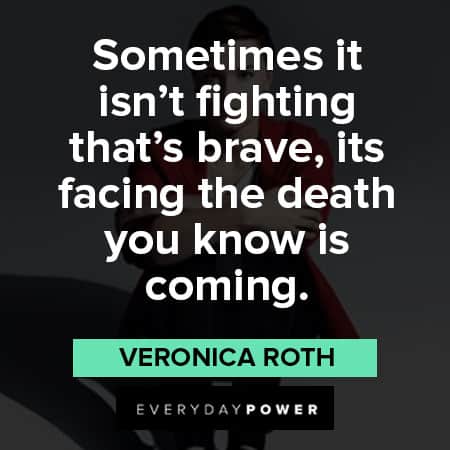 20. "And is it selfish of me to crave victory, or is it brave?" ― Veronica Roth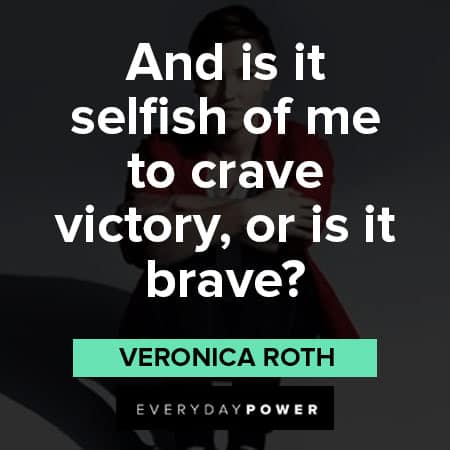 21. "It isn't just brave that she died for me; it is brave that she did it without announcing it, without hesitation, and without appearing to consider another option." ― Veronica Roth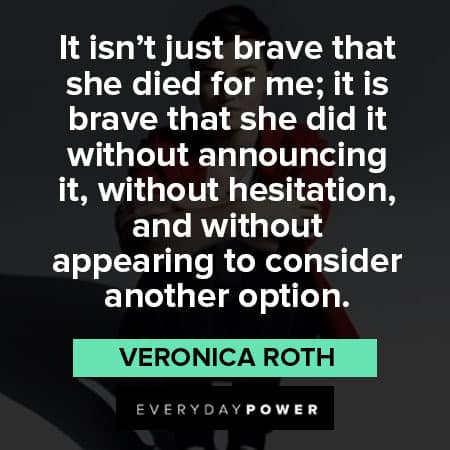 Divergent quotes from Four that make you feel like you're watching the movie
22. "It's okay, I already have my spot on the floor." ― Four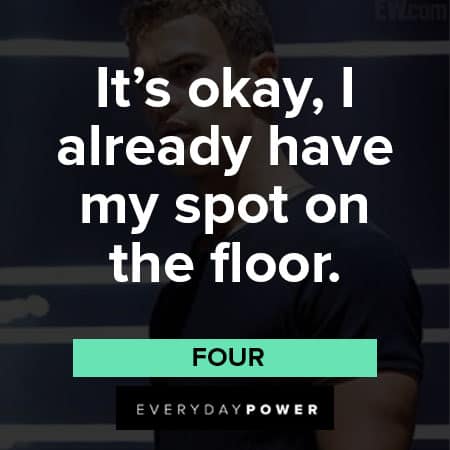 23. "As a Dauntless soldier you have to follow orders you don't always agree with." ― Four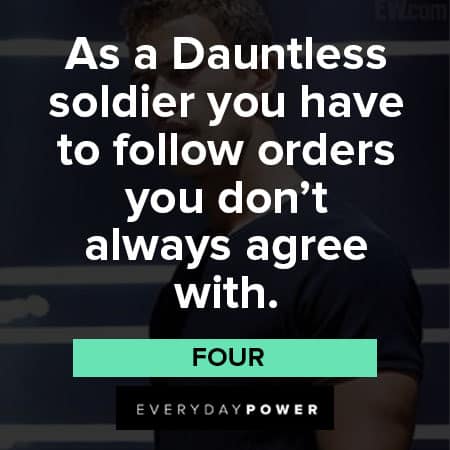 24. "I don't want to be just one thing. I want to be brave, selfless, intelligent, and honest, and kind… Well, I'm still working on kind." ― Four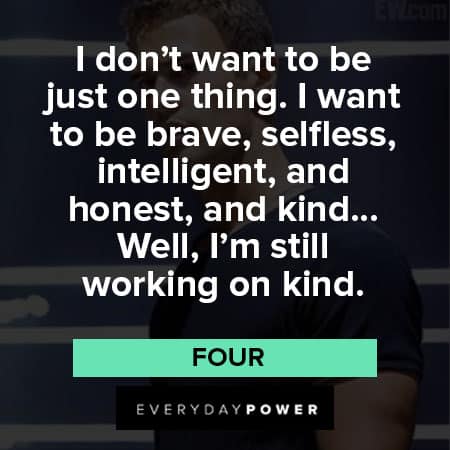 25. "You're supposed to be smart. If I wanted to hurt you, I would have." ― Four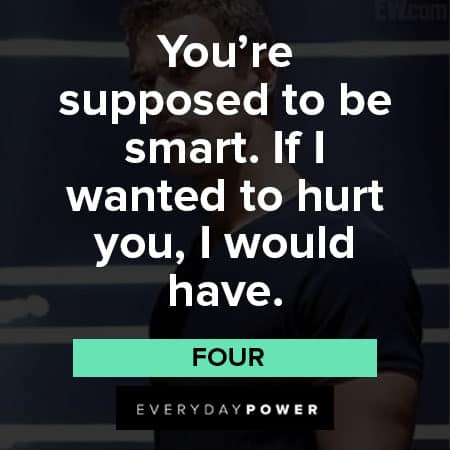 What did you learn from these Divergent quotes?
Critics argue that the novel and the movies fall short of mega-hits like Harry Potter and The Hunger Games.
I mean sure; they were a little lighter on the political aspects and social reform that fed the dystopian nature of The Hunger Games.
And granted, you don't see people actively declaring themselves part of a faction the way people pick houses like Hufflepuff.
But hey, Divergent, the first film in a series of films grossed $288 million worldwide against its budget of $85 million, which is not too shabby!
Some people also argue that the books should be banned because of their political, sexual, and rebellious nature.
Our little group that went to see Divergent in 2014, and has watched every installment since, disagrees!
The star-studded cast of Shailene Woodley, Theo James, Ashley Judd, Jai Courtney, Ray Stevenson, Zoë Kravitz, Miles Teller, Tony Goldwyn, Ansel Elgort, Maggie Q, and Kate Winslet never disappoint.
What do you think about the book or the movie?
Do you have any other favorite Divergent quotes and lines to add?
Share your thoughts in the comment section below.