John Madden Quotes From the American Football Coach
If you enjoy the Madden NFL games, you'll enjoy these John Madden quotes.
John Madden was an American football coach and commentator who lived from 1936 to 2021.
Known for coaching the Las Vegas Raiders from 1969 to 1978, Madden and the Raiders went to the playoffs eight times during his coaching career.
Madden led his team to a Superbowl win in 1977 when the Raiders beat the Minnesota Vikings 32-14.
Before Madden became a football coach, he was a football star himself.
Madden played football at multiple colleges in his younger years, including the University of Oregon and the College of San Mateo.
Madden started his coaching career in 1960 at Allan Hancock College when he became the assistant coach.
By 1962, Madden was promoted to head coach, which officially kick-started his coaching career.
If you enjoy this article, check out our most popular quote article, a list of short inspirational quotes for daily motivation.
If you want more motivational quotes, check out our motivational quotes category page.
Best of John Madden Quotes
There are a lot of coaches in the world, with only a small handful succeeding at the highest level. You can learn more about what set John Madden apart from the following quotes.
1. "Self-praise is for losers. Be a winner. Stand for something. Always have class, and be humble." – John Madden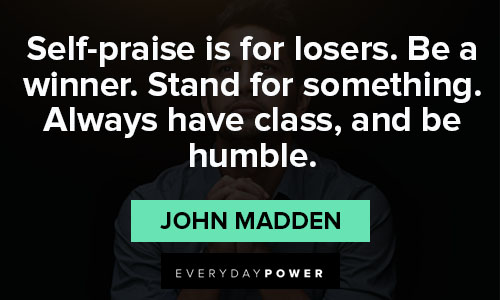 2. "That's the biggest gap in sports, the difference between the winner and the loser of the Super Bowl." – John Madden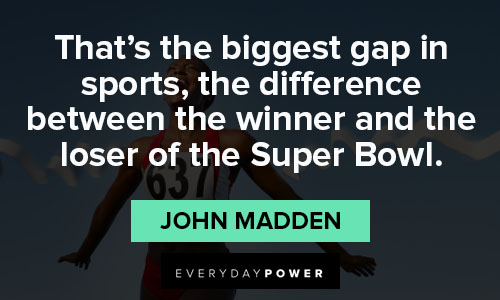 3. "Don't worry about the horse being blind, just load the wagon." – John Madden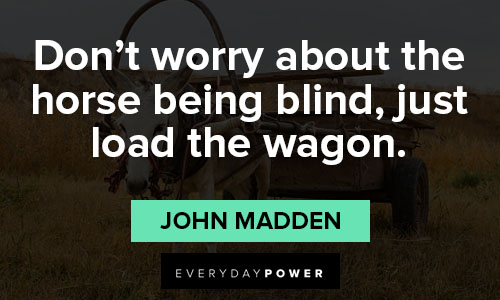 4. "There's so many kids who only know me from the video game." – John Madden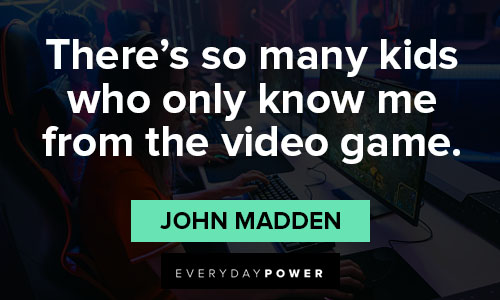 5. "I think comparisons are odious." – John Madden
6. "Coaches have to watch for what they don't want to see and listen to what they don't want to hear." – John Madden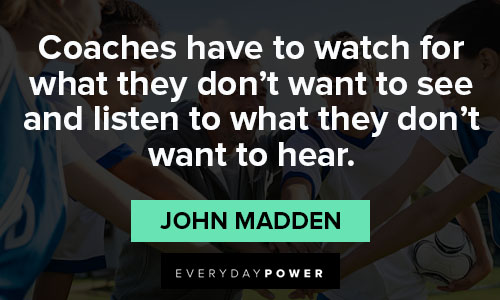 7. "You wouldn't do something for a receiver to catch the ball if the quarterback couldn't throw it." – John Madden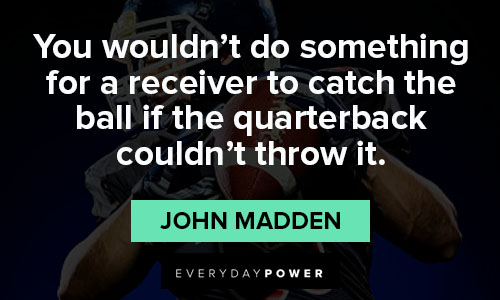 8. "Jim Harbaugh has done a great job of coaching in the NFL no matter how you put it." – John Madden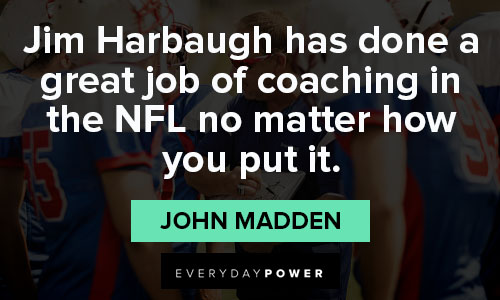 9. "I'm sure that had I not been a coach, I would have been some form of a teacher." – John Madden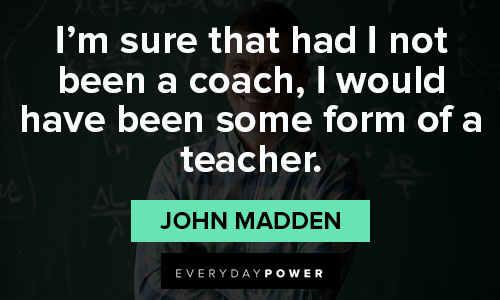 10. "I was a coach, and I put a lot of education and experience into coaching." – John Madden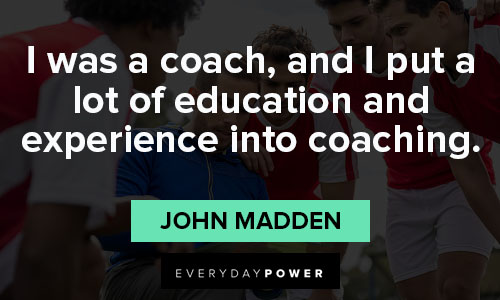 John Madden Quotes from the legendary coach
John Madden took a humble approach to his career and recognized that he had an opportunity that not many get. See if these quotes make you appreciate his attitude even more.
11. "If you think about it, I've never held a job in my life. I went from being an NFL player to a coach to a broadcaster. I haven't worked a day in my life." – John Madden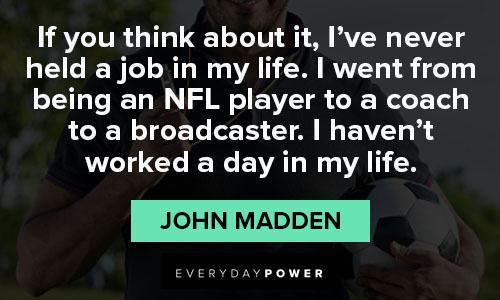 12. "If you win a Super Bowl before you're fired, you're a genius, and everyone listens to you. But a coach is just a guy whose best class in grammar school was recess and whose best class in high school was P.E. I never thought I was anything but a guy whose best class was P.E." – John Madden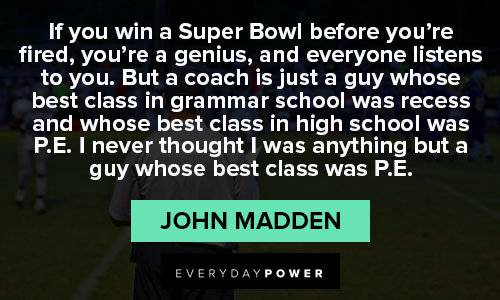 13. "Sometimes you can be one of the best, but you don't accept that if you don't get the ring or win the Super Bowl. There's a lot of good teams between the Super Bowl winner and other teams. Once the Super Bowl is over, we lump everyone into the other 31, and that's not fair." – John Madden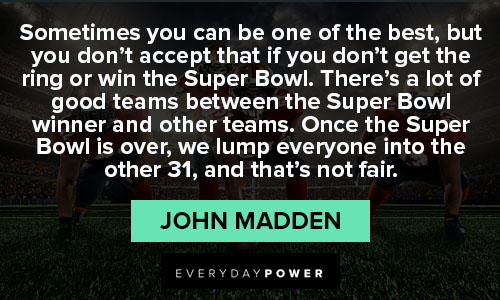 14. "I was an old tackle riding around talking to people about sports. Like I've said to a lot of people over the years, 'I only go where old tackles go, and if an old tackle does not belong there, I'm not going.'" – John Madden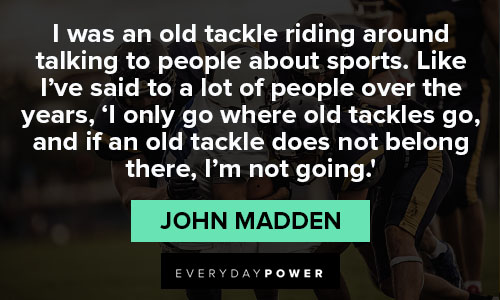 15. "I'm not afraid of flying; I just fear I'm going to die." – John Madden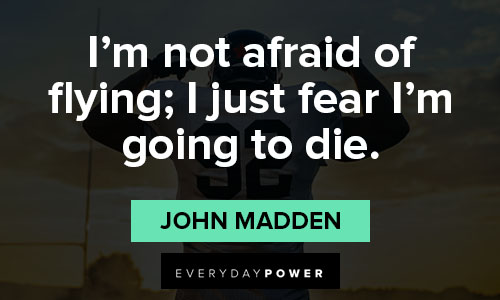 You might also like these Woody Hayes quotes on success & winning.
More John Madden Quotes
John Madden made his career in football from playing to coaching and then to broadcasting. You can learn more about him in these quotes below.
16. "I've always said winning's the great deodorant, and conversely, when you have a bad record, everything stinks, and everything starts to unravel, and everything falls apart." – John Madden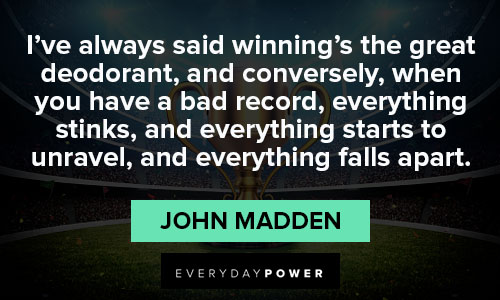 17. "Having been in football all my life as a player and a coach and having been on the sideline, I think the closer we can get to bringing people what it's like standing and watching the game on the sideline, with a better view, would be the perfect situation for television football." – John Madden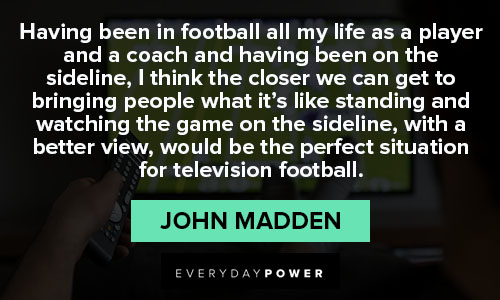 18. "Any time you get a new running back, whether it's a rookie or hasn't played a lot, that's the first thing you test, is their pass protection. That's big." – John Madden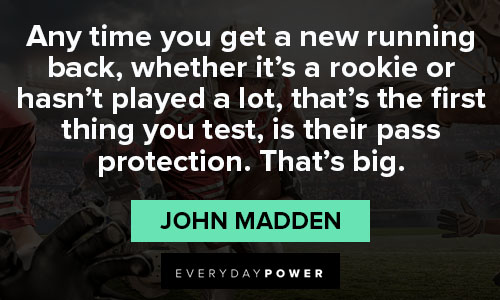 19. "The quarterback has to get rid of the ball quickly, so there's not a lot of time to make moves to gain separation." – John Madden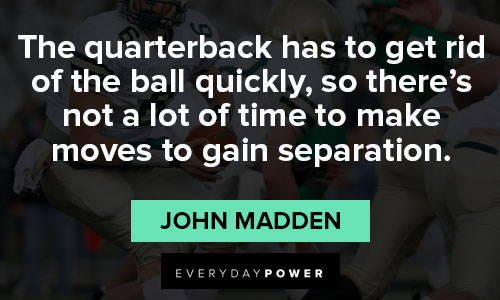 20. "In all the years that I've been in football – I went directly from coaching to broadcasting – I never really had a lot of experience watching it." – John Madden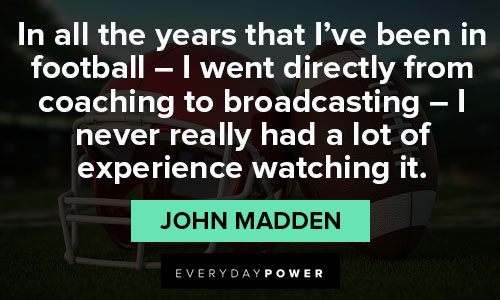 You might also like these Bobby Bowden quotes from the college football coach.
John Madden's wildly successful career
In addition to his coaching career, John Madden wrote a few books throughout the course of his life, including One Knee Equals Two Feet: And Everything Else You Need to Know About Football, Hey, Wait a Minute: I Wrote a Book!, and One Size Doesn't Fit All.
Madden was inducted into the Pro Football Hall of Fame in 2006.
John Madden is also widely known for having his name featured in the football video game series Madden NFL.
Madden also earned a few awards throughout his football career, including the Sports Lifetime Achievement Award in 2009. In addition, he won 16 Emmy Awards in his lifetime.
Madden passed away at the age of 85.
You can celebrate his life and accomplishments with us by sharing your favorite John Madden quote with us below and on social media with your circle of friends.