25 John Steinbeck Quotes From His Classic Novels and Novellas
These John Steinbeck quotes encompass quotes from The Grapes of Wrath, Of Mice and Men, and East of Eden.
John Ernst Steinbeck Jr. was an American author best known for his masterpiece and Pulitzer Prize-winning novel, The Grapes of Wrath.
In the first 75 years after its publication, The Grapes of Wrath sold 14 million copies.
Steinbeck also won the 1962 Nobel Prize in Literature "for his realistic and imaginative writings, combining as they do sympathetic humor and keen social perception."
He has also been referred to as "a giant of American letters," and several of his writings are classics of Western literature, like the novella, Of Mice and Men.
Over the course of his career, he authored 33 books (one of which was co-authored with Edward Ricketts), including 16 novels, six non-fiction books, and two collections of short stories.
Steinbeck set most of his works in central California, particularly in the Salinas Valley and the California Coast Ranges region.
Fate and injustice are common themes in his work, as well as protagonists who are down on their luck and easily relate to the "everyday man."
Steinbeck is also well known for the comic novels Tortilla Flat (1935) and Cannery Row (1945).
Enjoy these John Steinbeck quotes and lines!
Don't forget to also check out these Of Mice and Men quotes that will inspire you to keep your head up.
If you like this article, we suggest you explore our most popular quotes article, a list of short inspirational quotes for daily encouragement.
Read more related content on our inspirational quotes category page.
Famous John Steinbeck quotes from East of Eden
1. "All great and precious things are lonely." ― John Steinbeck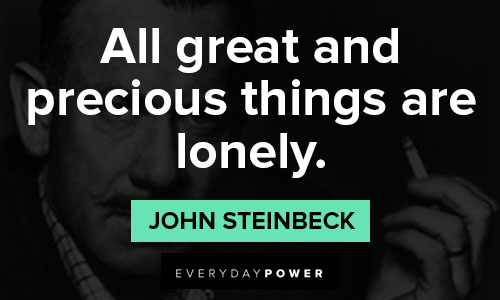 2. "And now that you don't have to be perfect, you can be good." ― John Steinbeck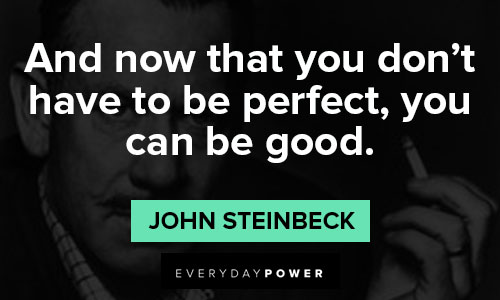 3. "There's more beauty in truth, even if it is dreadful beauty." ― John Steinbeck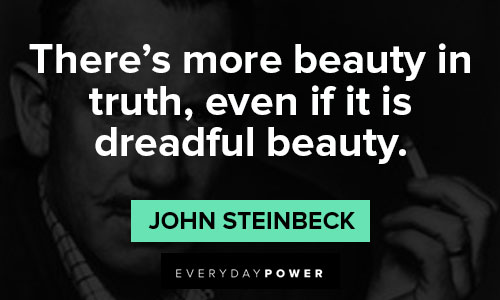 4. "My imagination will get me a passport to hell one day." ― John Steinbeck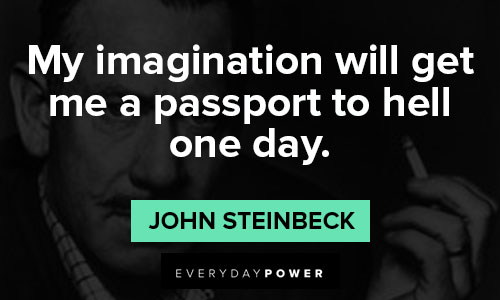 5. "Sometimes a man wants to be stupid if it lets him do a thing his cleverness forbids." ― John Steinbeck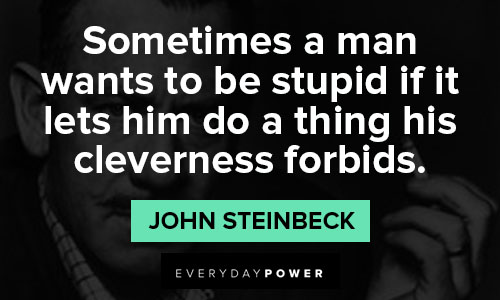 6. "A kind of light spread out from her. And everything changed color. And the world opened out. And a day was good to awaken to. And there were no limits to anything. And the people of the world were good and handsome. And I was not afraid anymore." ― John Steinbeck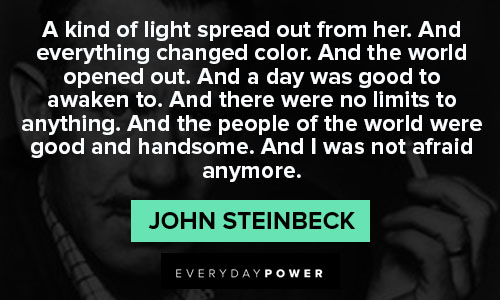 7. "People like you to be something, preferably what they are." ― John Steinbeck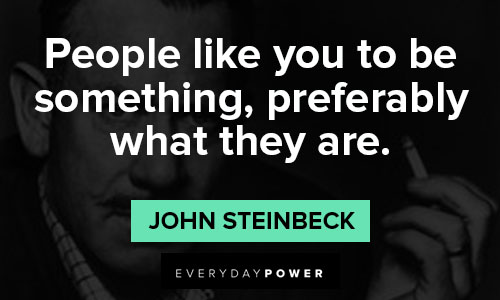 8. "It would be absurd if we did not understand both angels and devils since we invented them." ― John Steinbeck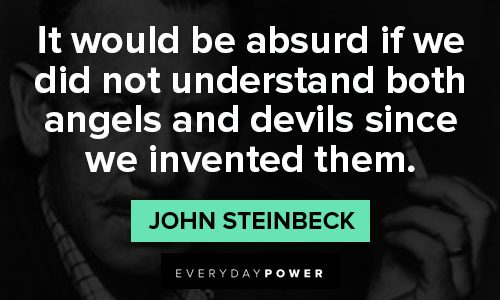 9. "Some men are friends with the whole world in their hearts, and there are others that hate themselves and spread their hatred around like butter on hot bread." ― John Steinbeck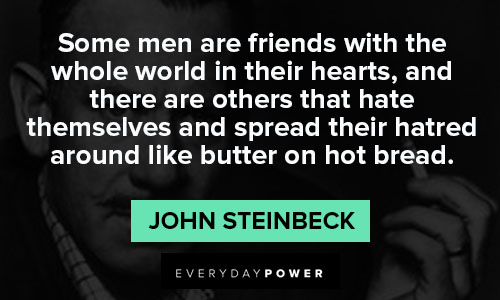 10. "Some people think it's an insult to the glory of their sickness to get well." ― John Steinbeck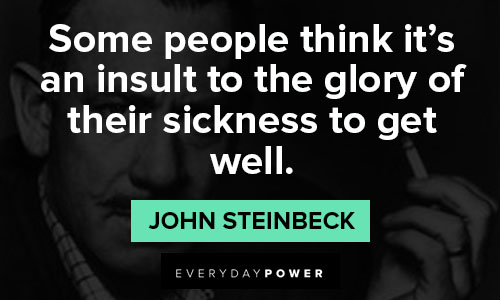 11. "I eat stories like grapes." ― John Steinbeck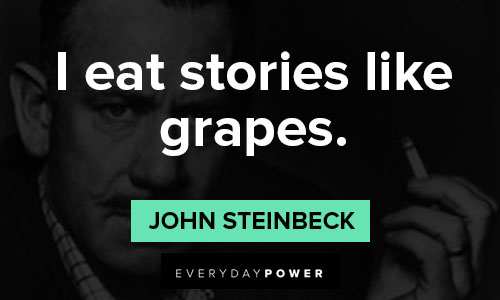 12. "The weight of knowledge is too great for one mind to absorb." ― John Steinbeck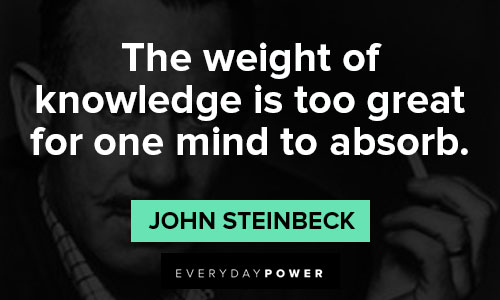 Best John Steinbeck quotes on socialism, government, and love
13. "Socialism never took root in America because the poor see themselves not as an exploited proletariat but as temporarily embarrassed millionaires." ― John Steinbeck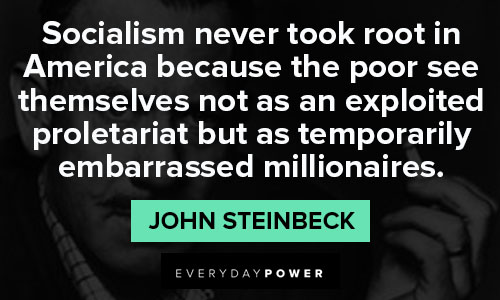 14. "Socialism is just another form of religion, and thus delusional." ― John Steinbeck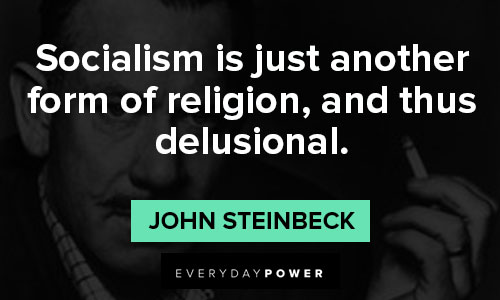 15. "I know now why confusion in government is not only tolerated but encouraged. I have learned. A confused people can make no clear demands." ― John Steinbeck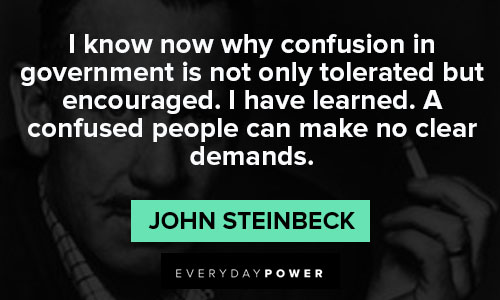 16. "And this I must fight against any idea, religion, or government which limits or destroys the individual. This is what I am and what I am about. I can understand why a system built on a pattern must try to destroy the free mind, for this is the one thing which can by inspection destroy such a system." ― John Steinbeck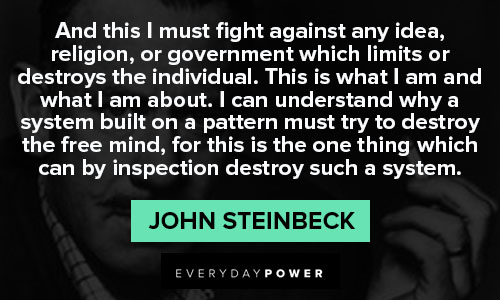 17. "I guess this is why I hate governments, all governments. It is always the rule, the fine print, carried out by fine-print men. There's nothing to fight, no wall to hammer with frustrated fists." ― John Steinbeck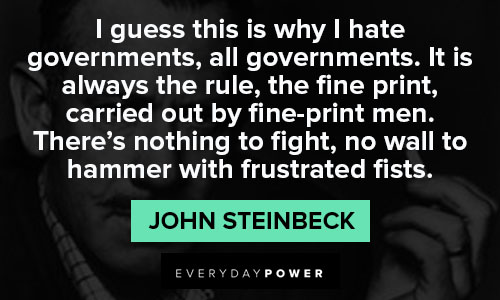 18. "Try to understand men, if you understand each other you will be kind to each other. Knowing a man well never leads to hate and nearly always leads to love." ― John Steinbeck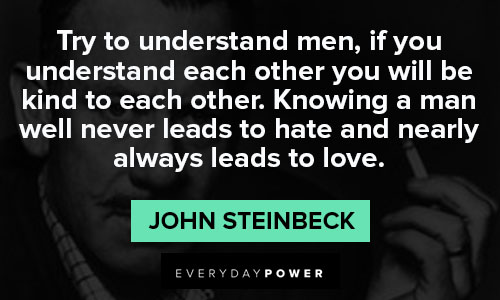 19. "A man so painfully in love is capable of self-torture beyond belief." ― John Steinbeck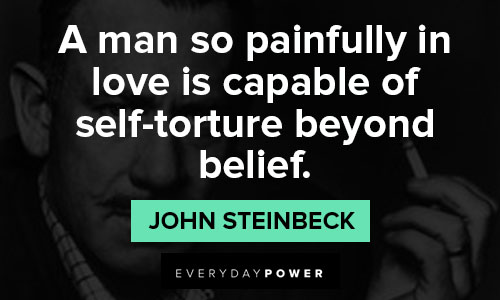 20. "I believe a strong woman may be stronger than a man, particularly if she happens to have love in her heart. I guess a loving woman is indestructible." ― John Steinbeck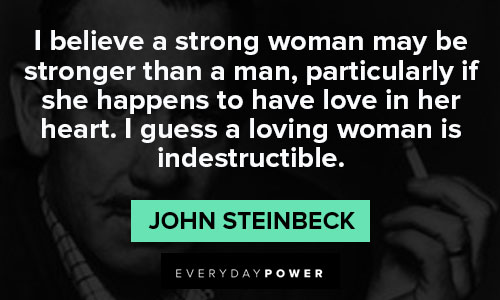 21. "A woman holds dreadful power over a man who is in love with her, but she should realize that the quality and force of his love is the index of his potential contempt and hatred." ― John Steinbeck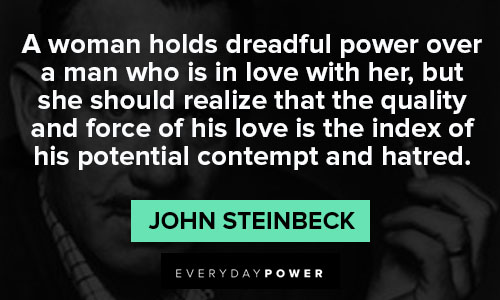 22. "I believe that love cannot be bought except with love." ― John Steinbeck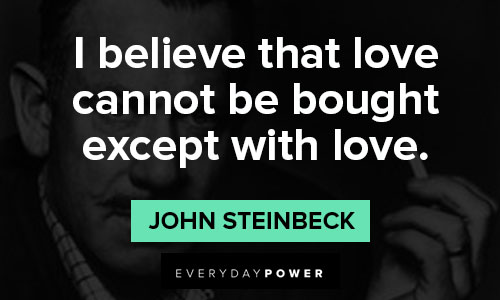 John Steinbeck quotes from The Grapes of Wrath
23. "There ain't no sin and there ain't no virtue. There's just stuff people do." ― John Steinbeck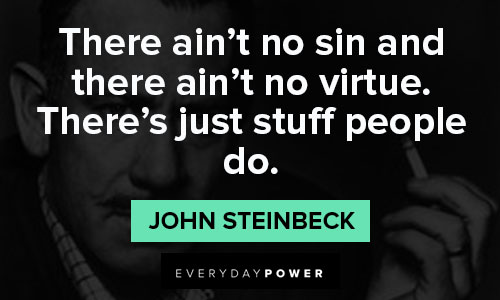 24. "It was her habit to build up laughter out of inadequate materials." ― John Steinbeck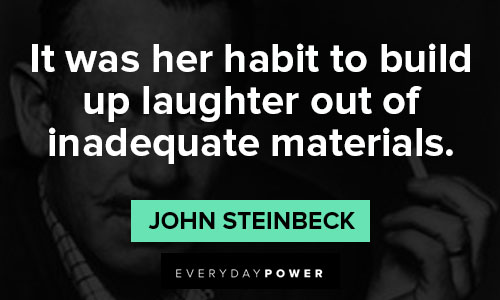 25. "How can we live without our lives? How will we know it's us without our past?" ― John Steinbeck
Take a moment and check out these Winter of Our Discontent Quotes from another John Steinbeck novel!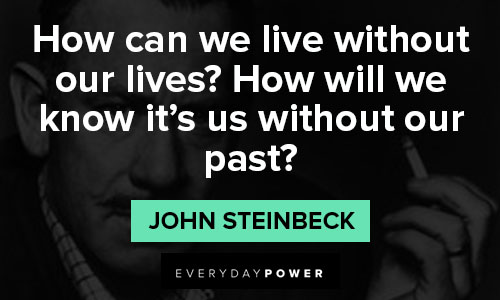 What did you learn from these John Steinbeck quotes?
Steinbeck is a classic and successful novelist, despite not having a college degree.
He graduated from Salinas High School in 1919 and studied English literature at Stanford University.
However, he left the school in 1925 without earning a degree.
Steinbeck's first novel, Cup of Gold, was published in 1929.
Between the years 1930 and 1933, he worked on three shorter pieces of literature: The Pastures of Heaven, The Red Pony, and To a God Unknown.
Money was tight during this period for Steinbeck and his first wife, Carol Henning, so the pair used welfare services.
He did some caretaking jobs and even tried to manufacture mannequins.
Steinbeck's first critically acclaimed success happened in 1935 with Tortilla Flat, a novel set in post-war Monterey, California.
It portrayed the adventures of a group of classless, and usually homeless young men, just before U.S. prohibition.
These John Steinbeck quotes and sayings reveal his thoughts on socialism and government, which were often mirrored in the moral dilemmas present in his writings.
Do you have a favorite Steinbeck quote that didn't make the list?
Share it with us in the comment section below.