Karl Lagerfeld Quotes for Seeing the Art in Life
These Karl Lagerfeld quotes encompass his philosophies about life and fashion and how, oftentimes, they worked together as one.
How can Karl Lagerfeld's view of life influence our own?
Karl Lagerfeld was an acclaimed fashion designer and photographer who was responsible for the revival of Chanel over the years.
For him, fashion was life, and one was always influencing the other.
In Lagerfeld's view, fashion and art was compared to the way he actually lived his life.
One always had an impact on the other, and these Karl Lagerfeld quotes truly show that life is just one big and crazy piece of art.
We also have a collection of fashion quotes that celebrate the looks of your favorite designers.
If you like this article, we suggest you explore our most popular quotes article, a list of short inspirational quotes for daily encouragement.
Look through our complete collection of inspirational quotes here.
Karl Lagerfeld Quotes About the Creative Process
1. "What I like about photographs is that they capture a moment that's gone forever, impossible to reproduce." – Karl Lagerfeld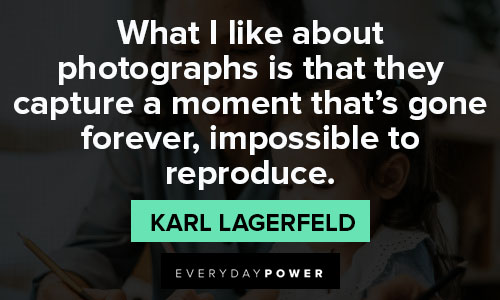 2. "People who do a job that claims to be creative have to be alone to recharge their batteries. You can't live 24 hours a day in the spotlight and remain creative. For people like me, solitude is a victory." – Karl Lagerfeld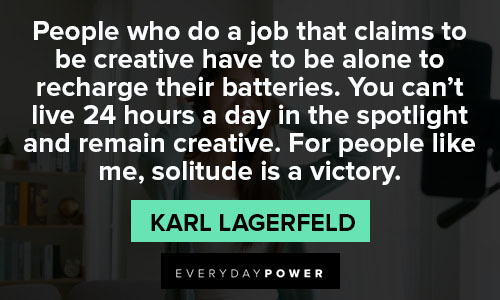 3. "Music gives color to the air of the moment." – Karl Lagerfeld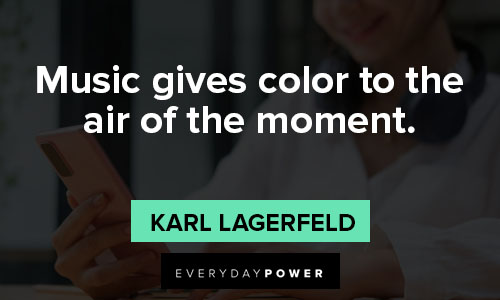 4. "Clear thinking at the wrong moment can stifle creativity." – Karl Lagerfeld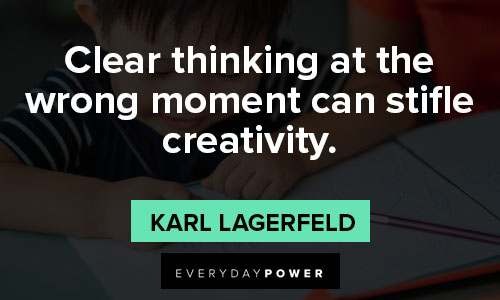 5. "Absurdity and anti-absurdity are the two poles of creative energy." – Karl Lagerfeld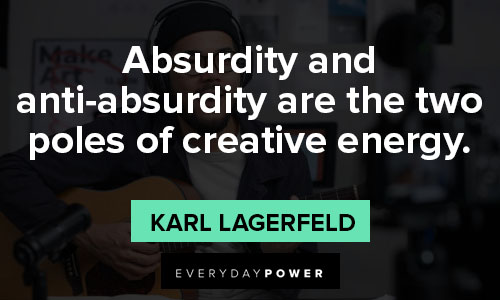 6. "Like poetry, fashion does not state anything. It merely suggests." – Karl Lagerfeld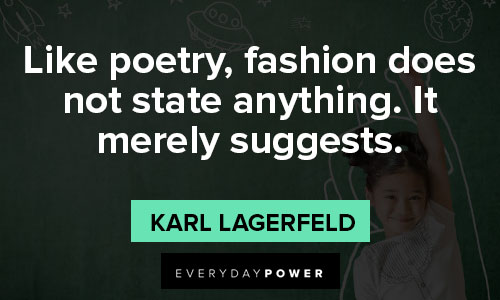 7. "Fashion and music are the same, because music expresses its period too." – Karl Lagerfeld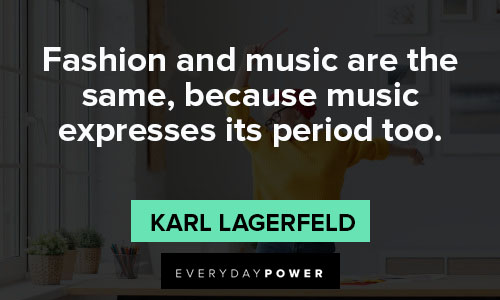 8. "Logos and branding are so important. In a big part of the world, people cannot read French or English—but are great at remembering signs." – Karl Lagerfeld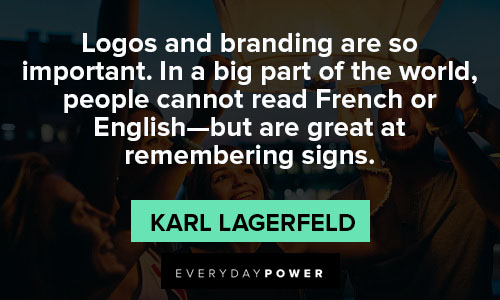 9. "The French say you get hungry when you're eating, and I get inspired when I'm working. It's my engine." – Karl Lagerfeld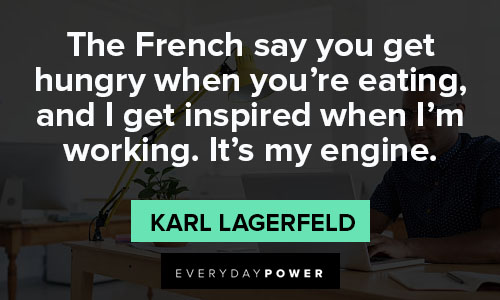 10. "I do my job like I breathe—so if I can't breathe I'm in trouble." – Karl Lagerfeld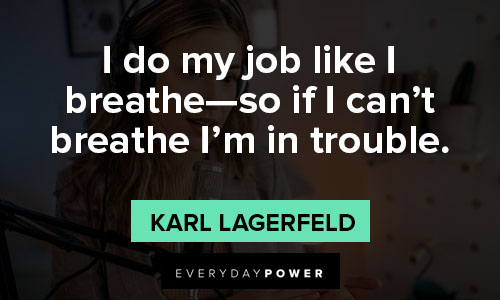 11. "What is the worst is a fashion designer who talks all the time of his or her creativity, what they are, how they evolved. Just do it and shut up." – Karl Lagerfeld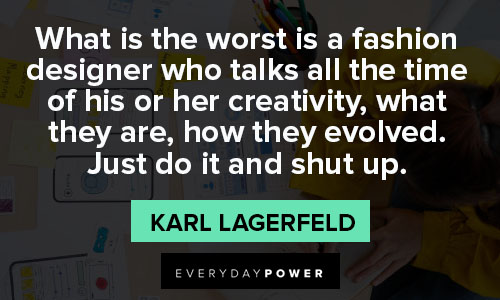 Karl Lagerfeld Quotes to Inspire You to Be Your Best
12. "Don't sacrifice yourself too much, because if you sacrifice too much there's nothing else you can give and nobody will care for you." – Karl Lagerfeld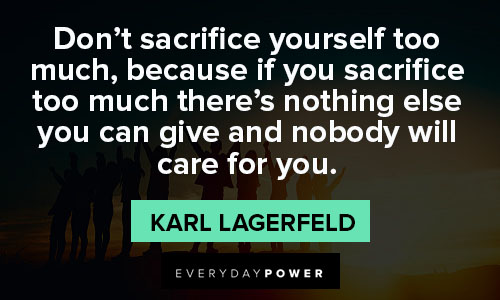 13. "Change is the healthiest way to survive." – Karl Lagerfeld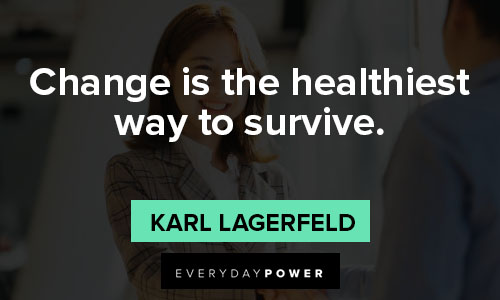 14. "People who say that yesterday was better than today are ultimately devaluing their own existence." – Karl Lagerfeld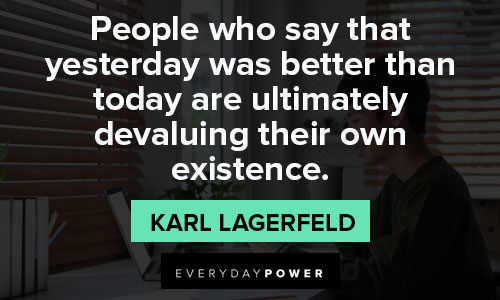 15. "I like to reinvent myself—it's part of my job." – Karl Lagerfeld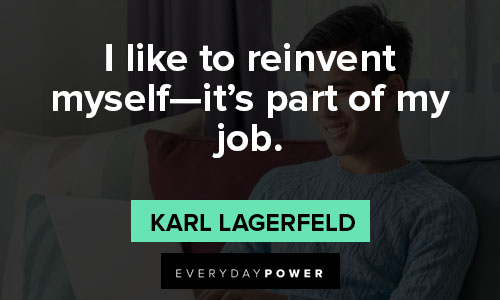 16. "Forgiveness isn't something I'm preoccupied with—turning the other cheek isn't my trip." – Karl Lagerfeld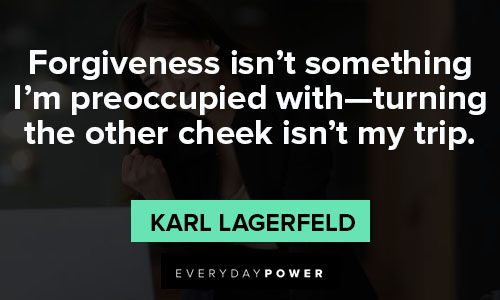 17. "Stuff your brain with knowledge." – Karl Lagerfeld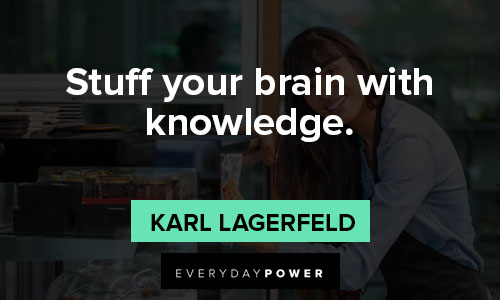 18. "Keep the best, forget the rest." – Karl Lagerfeld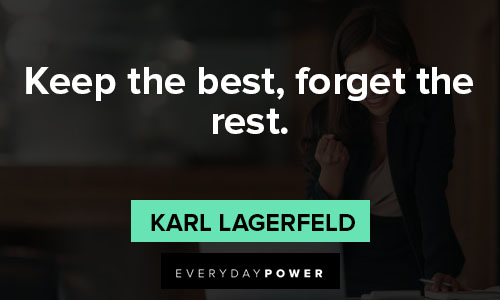 19. "If you stick to something doggedly, you are off to a bad start." – Karl Lagerfeld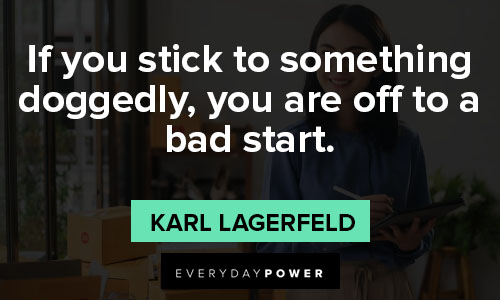 20. "Success nullifies. You then have to do it again, preferably differently." – Karl Lagerfeld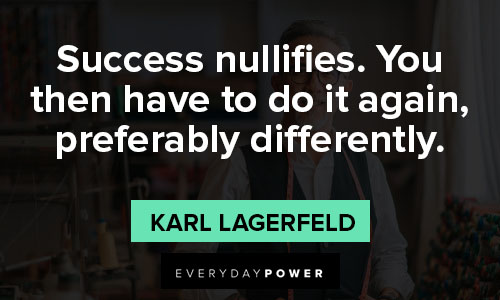 21. "I'm never content with what I do. I live in a sort of permanent dissatisfaction. I think that's the secret to doing things well." – Karl Lagerfeld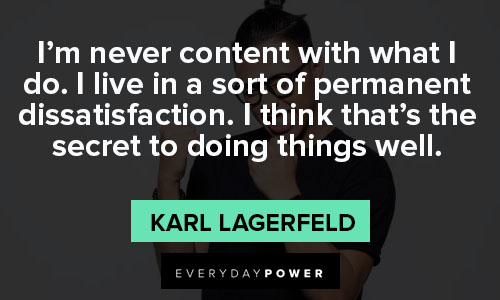 22. "When people want to be liked for what they did, they should stop." – Karl Lagerfeld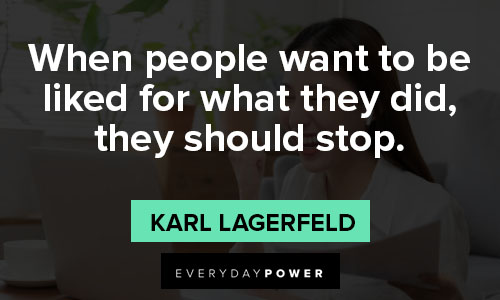 23. "Reinvent new combinations of what you already own. Improvise. Become more creative. Not because you have to, but because you want to. Evolution is the secret for the next step." – Karl Lagerfeld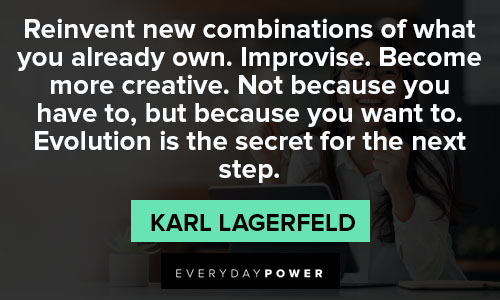 24. "Don't overact the story of your name. Overact the story of your work." – Karl Lagerfeld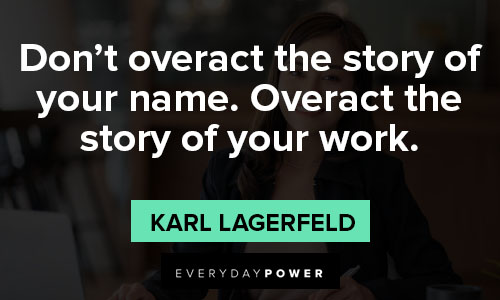 25. "For every book you buy, you should buy the time to read it." – Karl Lagerfeld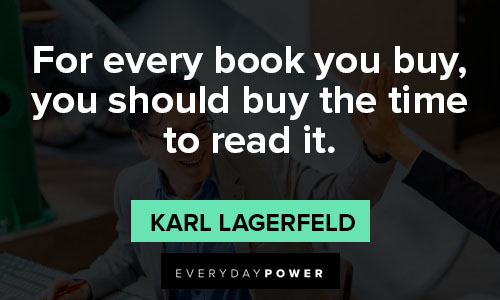 What did you learn from these Karl Lagerfeld quotes?
These Karl Lagerfeld quotes show the importance between the connection of art and reality.
Karl Lagerfeld was a major influence on modern fashion, revitalizing Chanel during the span of his career and becoming known for his fashion design and photography.
Lagerfeld had a unique outlook on life, bringing creativity into his way of living, even when he wasn't at work.
Is there something we can take away from Lagerfeld's view of life that could change our own work ethic?
Truly, Lagerfeld sees the connection between art and his life as an essential one, putting as much of his energy into living a life that's true to himself as he put into his fashion design.
We can all look at that and change our work ethic, seeing it as something that's meant to be enjoyed, a part of living, rather than something that's required of us.
What's your biggest takeaway from these Karl Lagerfeld quotes and sayings?
Do you have any other favorite quotes to add?
Let us know in the comment section below.