150 Fashion Quotes Celebrating Design and Your Favorite Designers
Our latest collection of the most inspirational fashion quotes of all time.
Fashion is a powerful and apparent form of personal expression.
The items of clothing you chose to wear say a lot about what type of person you are and what you think of yourself.
You may also enjoy our article on:
Fashion makes life more beautiful.
It allows people of all kinds to look their best and feel good about themselves.
Besides making you look great, what you choose to wear can have a profound effect on the way you feel.
Feeling your best can make you more confident and bring out the best in you.
Fashionable clothing covers our bodies in style.
It makes us feel good, unique, and beautiful. Moreover, fashion boosts the economy and creates jobs for a huge number of people.
To celebrate the beautiful things that the fashion universe creates and gives, below is our collection of inspirational, humorous, and iconic fashion quotes, fashion sayings, and fashion proverbs, collected from a variety of sources over the years.
Check out our most popular quote article, a list of short inspirational quotes for daily inspiration.
Explore our complete collection of motivational quotes here.
Fashion Quotes Celebrating Design And Your Favorite Designers
1. "Don't be into trends. Don't make fashion own you, but you decide what you are, what you want to express by the way you dress and the way to live." – Gianni Versace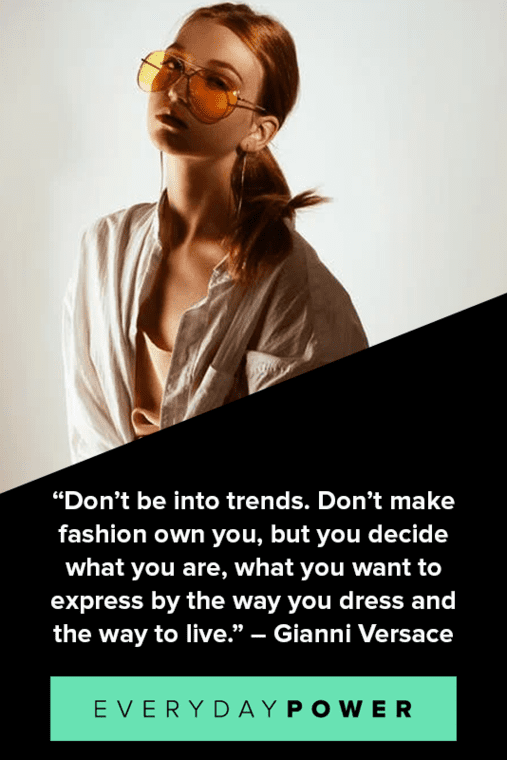 You will also enjoy our article on makeup quotes.
2. "Fashion is part of the daily air and it changes all the time, with all the events. You can even see the approaching of a revolution in clothes. You can see and feel everything in clothes." – Diana Vreeland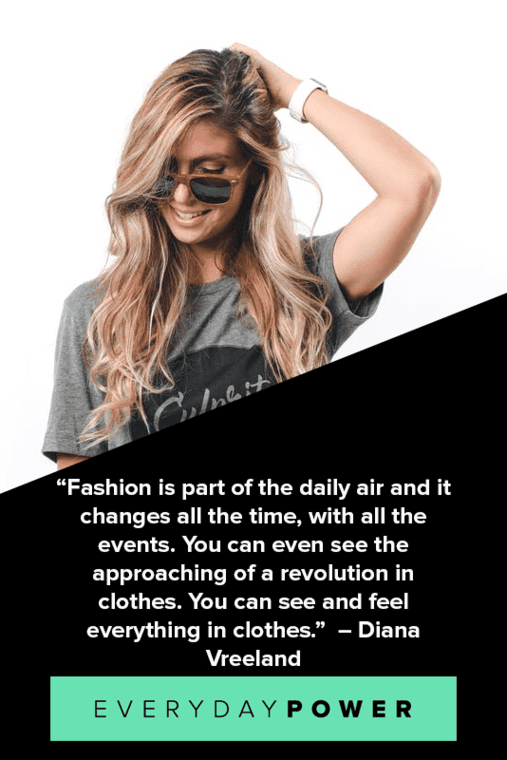 3. "What you wear is how you present yourself to the world, especially today, when human contacts are so quick. Fashion is instant language." – Miuccia Prada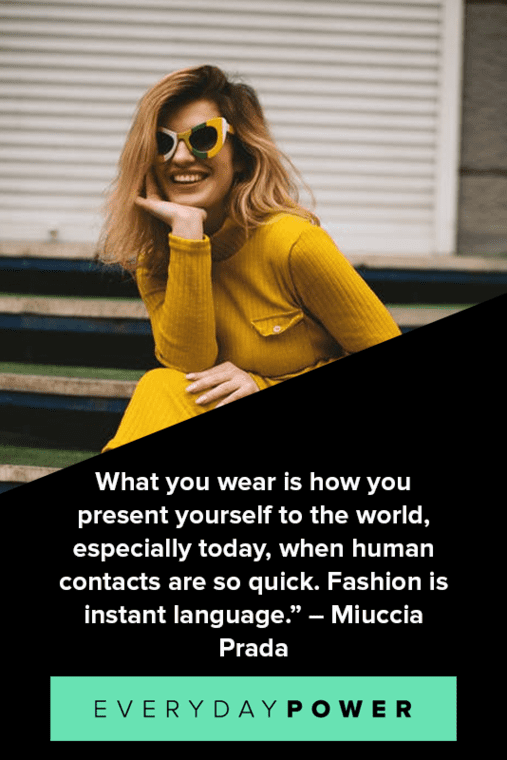 4. "You can have anything you want in life if you dress for it." – Edith Head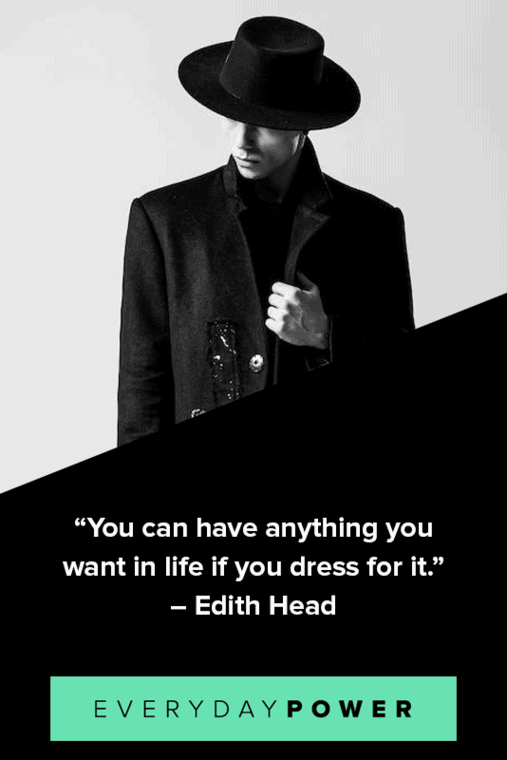 You will also enjoy our article on sunglasses quotes.
5. "Fashion is the armor to survive the reality of everyday life." – Bill Cunningham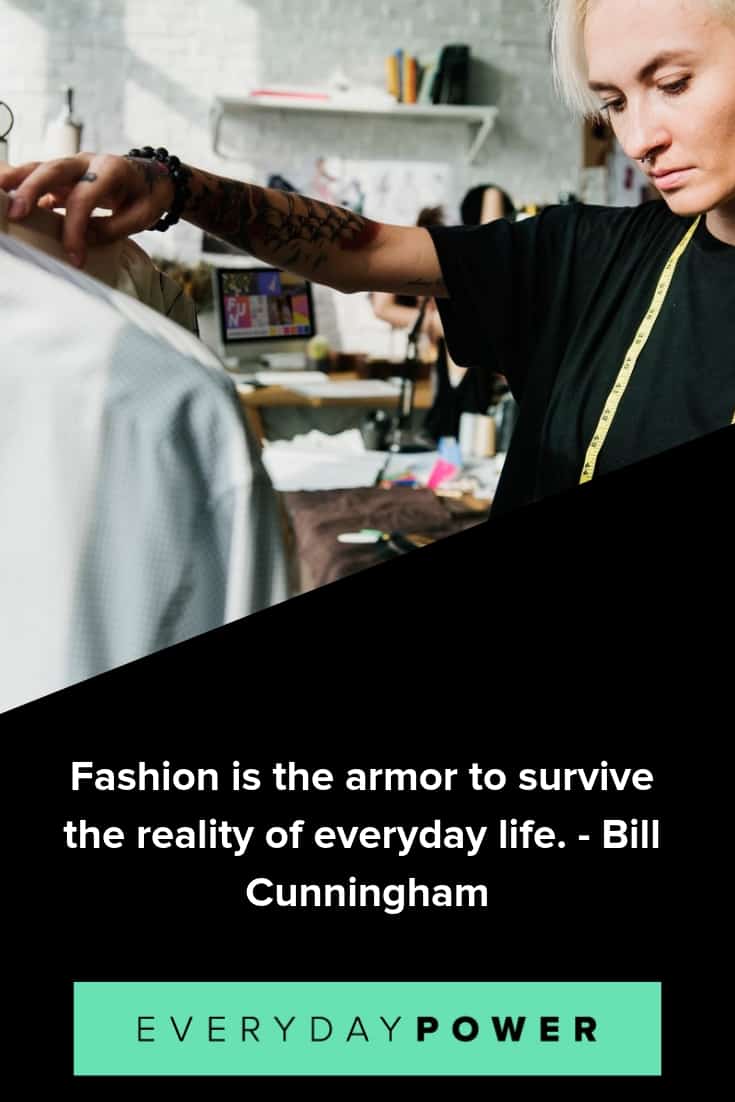 6. "I don't design clothes. I design dreams." – Ralph Lauren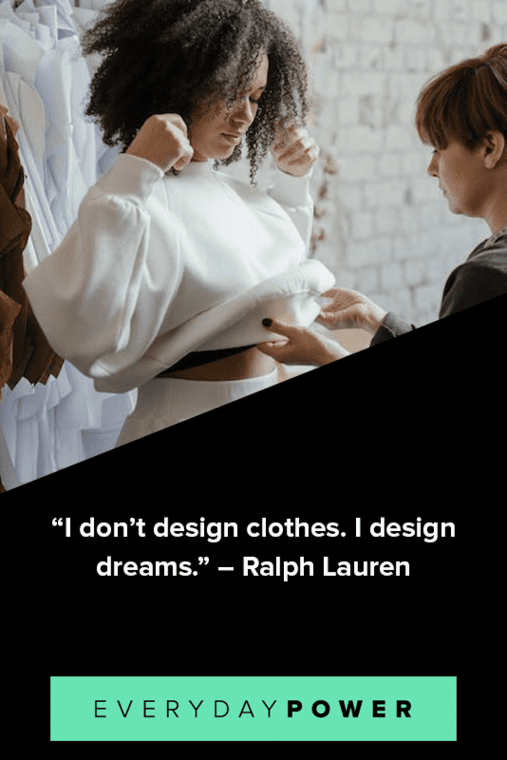 You will also enjoy our article on Versace quotes.
7. "Clothes mean nothing until someone lives in them." – Marc Jacobs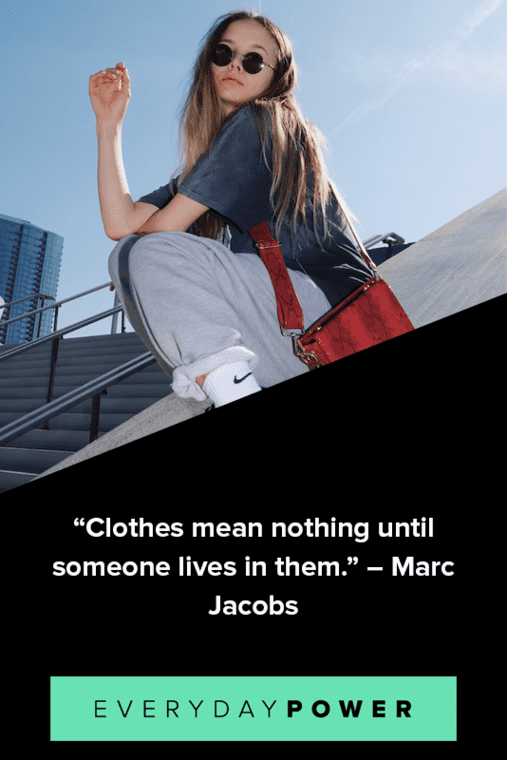 8. "Fashion is very important. It is life-enhancing and, like everything that gives pleasure, it is worth doing well." – Vivienne Westwood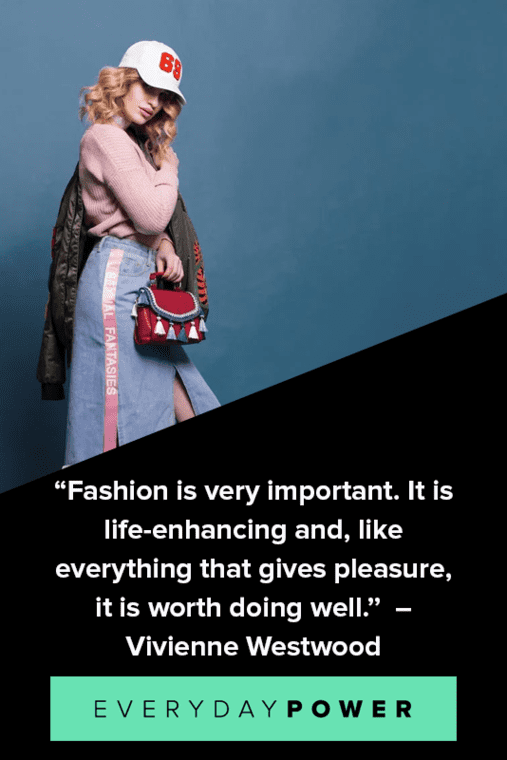 You will also enjoy our article on Johnny Bravo quotes.
9. "Style is the only thing you can't buy. It's not in a shopping bag, a label, or a price tag. It's something reflected from our soul to the outside world—an emotion." – Alber Elbaz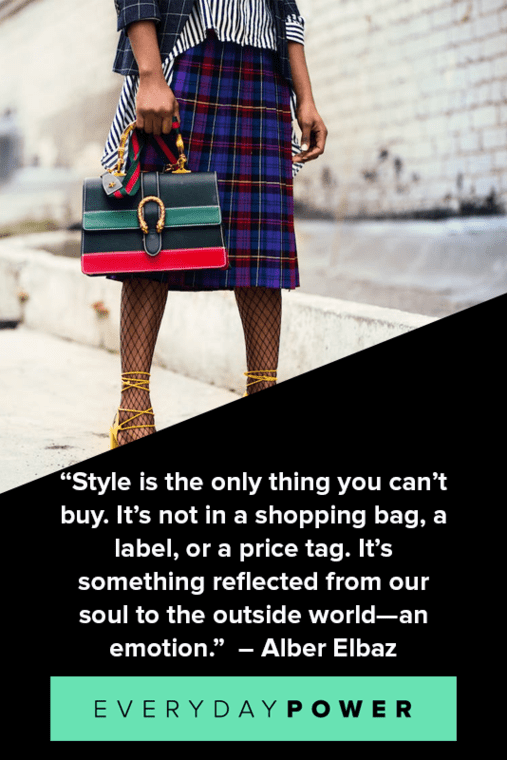 You will also enjoy our article on Harry Styles quotes.
10. "Fashion is like eating, you shouldn't stick to the same menu." – Kenzo Takada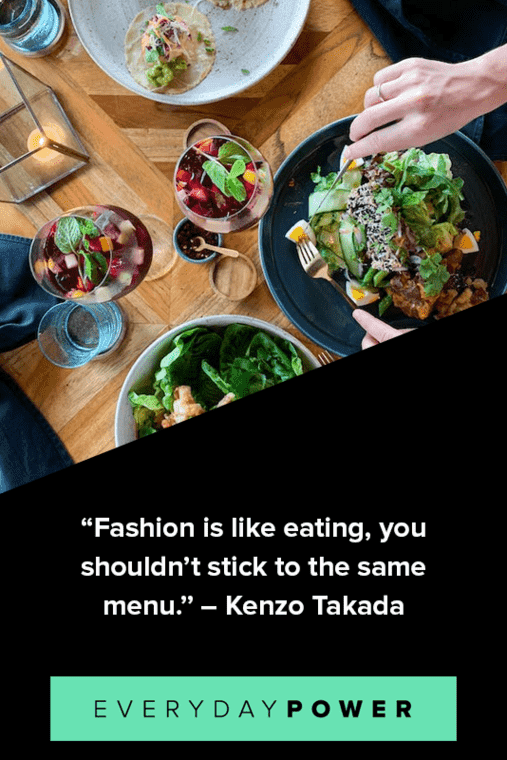 Inspiring Fashion Quotes To Live By
A study published in the journal Social Psychology and Personality Science found that wearing formal clothing can lead to increased feelings of power and confidence.
This suggests that clothing choices can influence our thoughts and behaviors in meaningful ways.
11. "What's my style is not your style, and I don't see how you can define it. It's something that expresses who you are in your own way." – Iris Apfel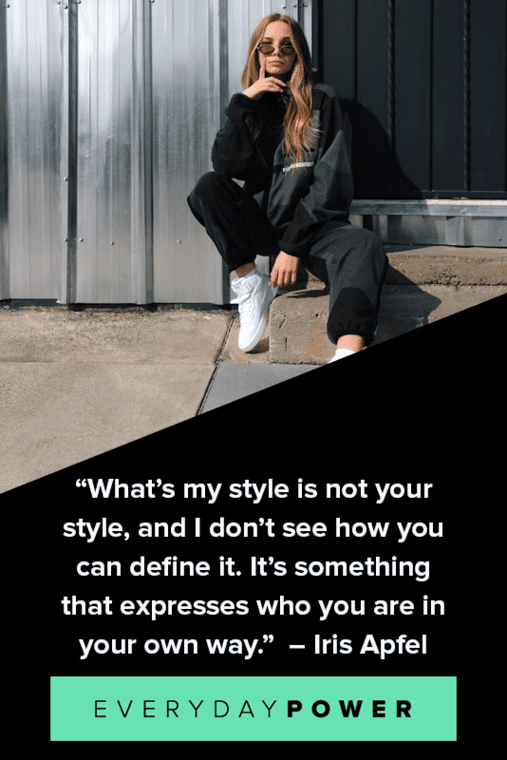 12. "Be sure what you want and be sure about yourself. Fashion is not just beauty, it's about good attitude. You have to believe in yourself and be strong." – Adriana Lima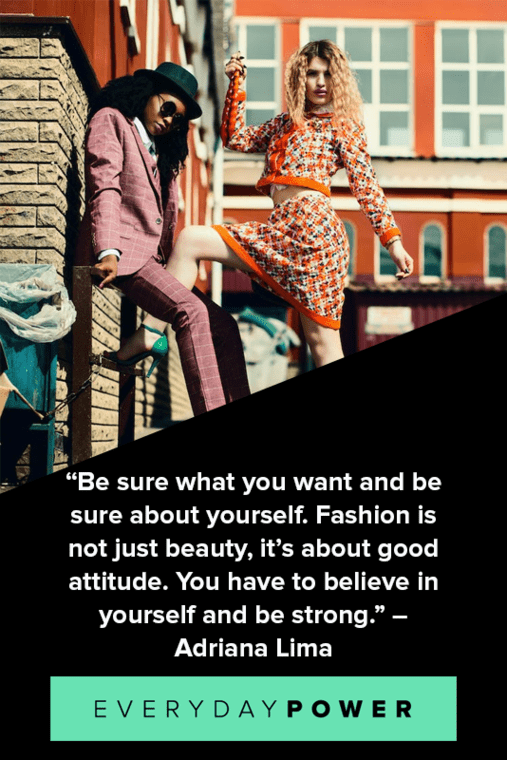 You will also enjoy our article on chic quotes.
13. "Fashion is part of our culture, and it's about more than just a pretty dress." – Joan Smalls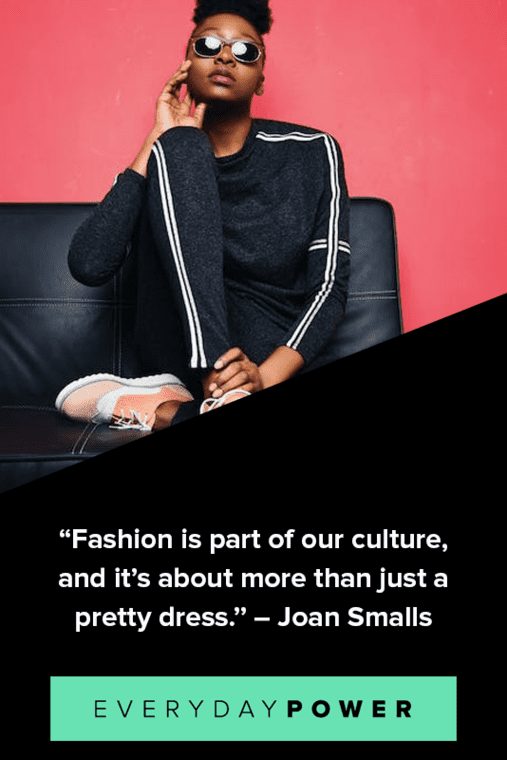 14. "Fashion is not something that exists in dresses only. Fashion is in the sky, in the street, fashion has to do with ideas, the way we live, what is happening." – Coco Chanel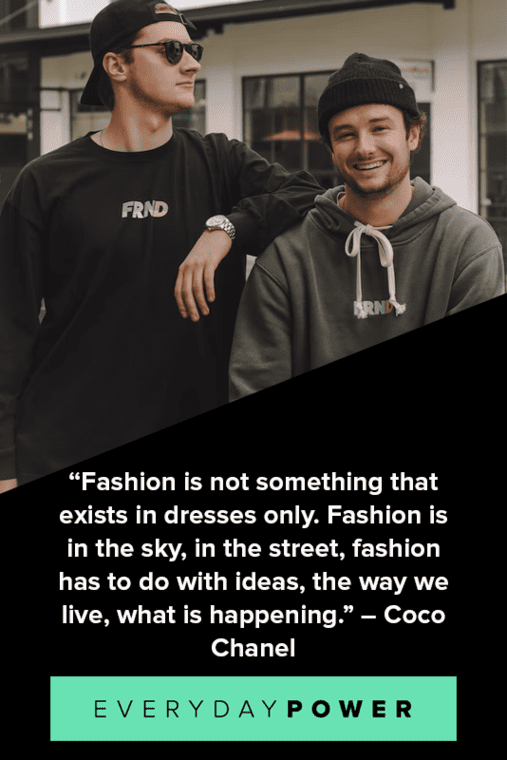 15. "Comfort and simplicity are two keys that I follow when it comes to fashion." – Fawad Khan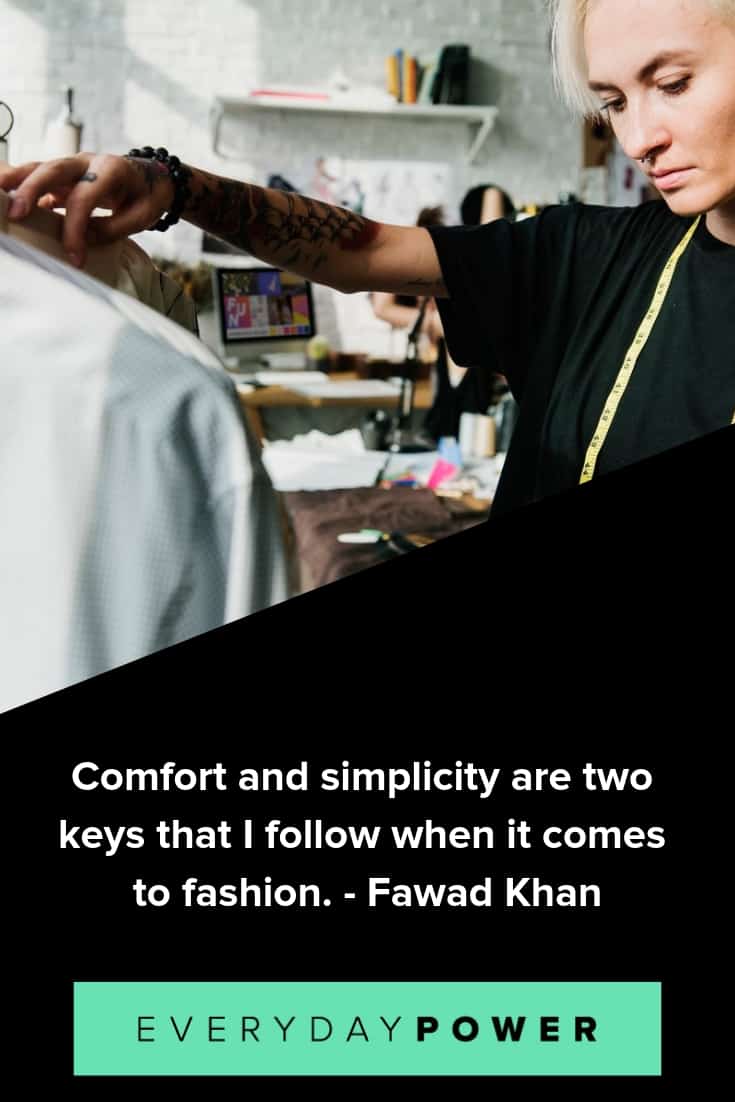 16. "I have always loved fashion because it's a great way to express your mood. And I'm definitely a shoe lover. The right pair of shoes can change the feel of an outfit, and even change how a woman feels about herself. A woman can wear confidence on her feet with a high stiletto, or slip into weekend comfort with a soft ballet flat." – Fergie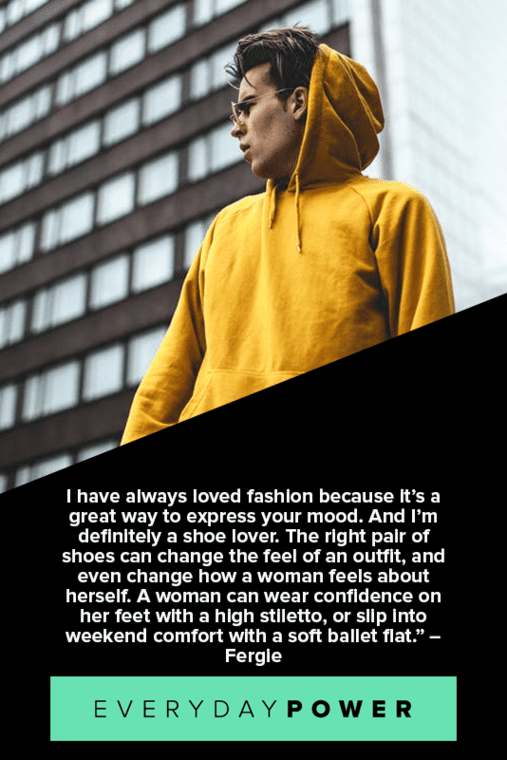 17. The best fashion advice I'd say would be just to do what makes you comfortable and what makes you feel cute, and that's how you're gonna look your best 'cause when you feel your best, everybody else can feel it, too." – Ariana Grande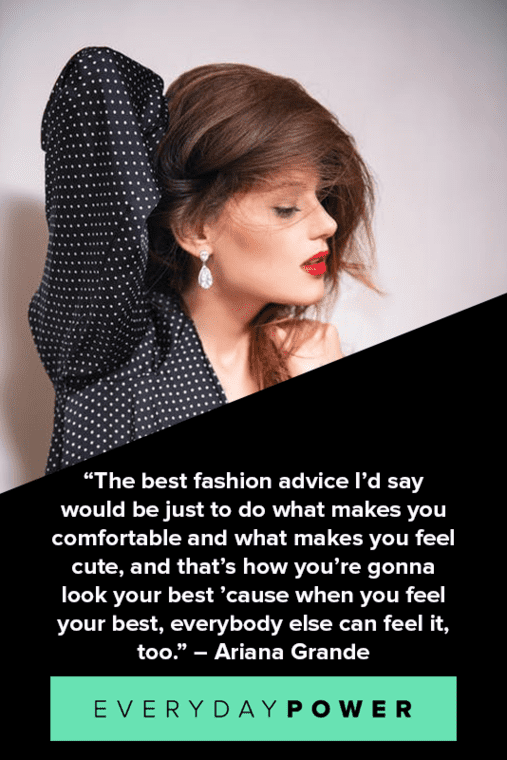 18. "If you look back in history of the women who are most memorable and most stylish, they were never the followers of fashion. They were the ones who were unique in their style, breakers of the rules. They were authentic, genuine, original. They were not following the trends." – Nina Garcia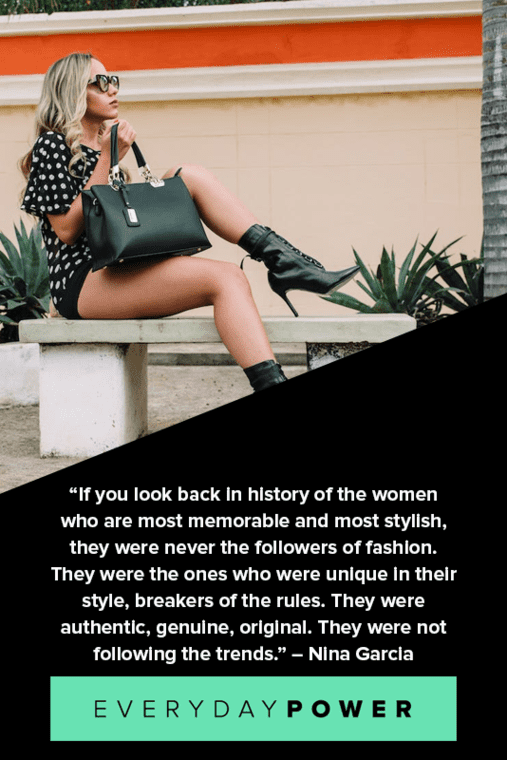 19. "Fashion is anything which is you and reflects your personality, and if you are comfortable with what you wearing, you'll look trendy and fashionable for sure." – Yami Gautam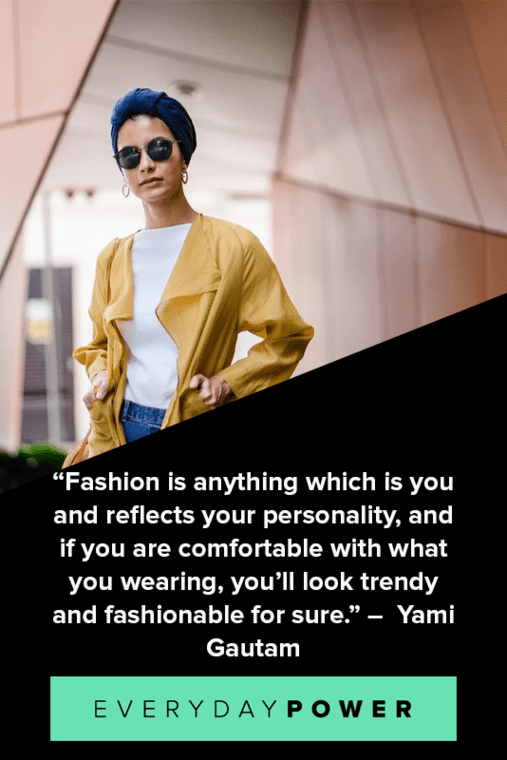 20. "Fashion is about dreaming and making other people dream." – Donatella Versace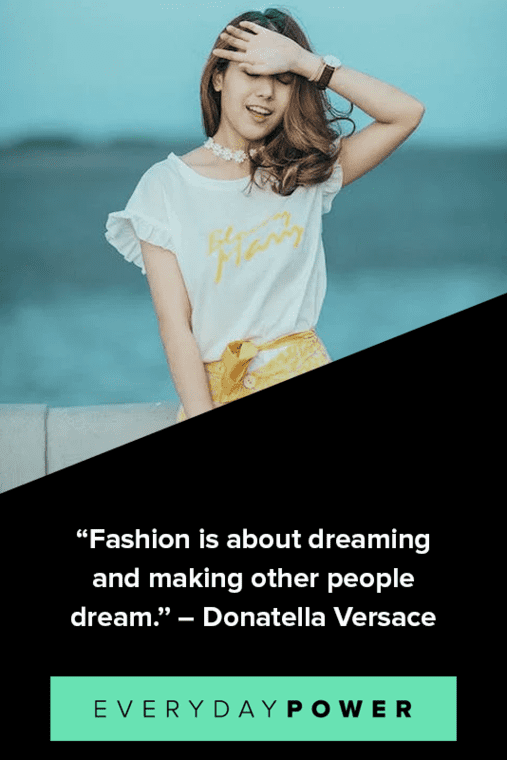 If you enjoy this article, check out our collection of shoe quotes for true shoe lovers.
Fashion Quotes That Will Never Go Out Of Style
21. "I have always believed that fashion was not only to make women more beautiful, but also to reassure them, give them confidence." – Yves Saint Laurent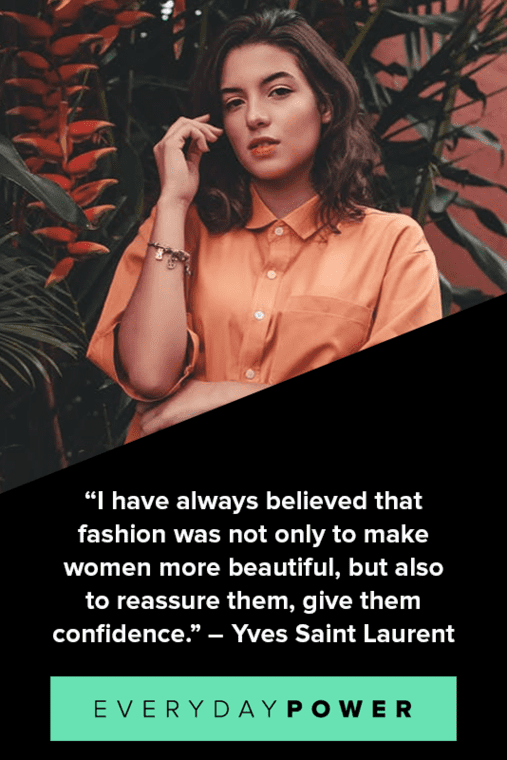 22. "In order to be irreplaceable one must always be different." – Coco Chanel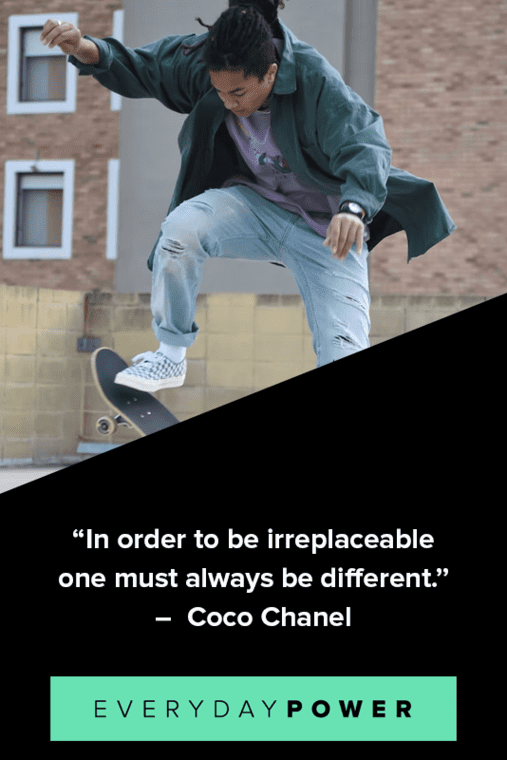 23. "You can never take too much care over the choice of your shoes. Too many women think that they are unimportant, but the real proof of an elegant woman is what is on her feet." – Christian Dior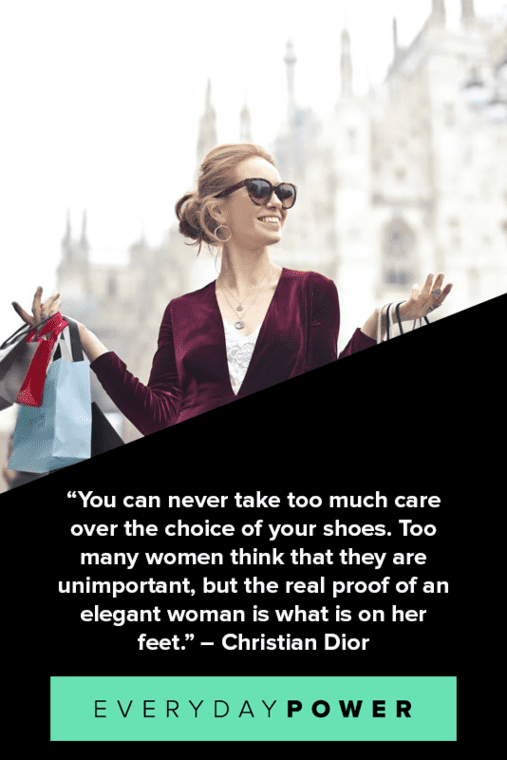 24. Give a girl the right shoes and she can conquer the world." – Marilyn Monroe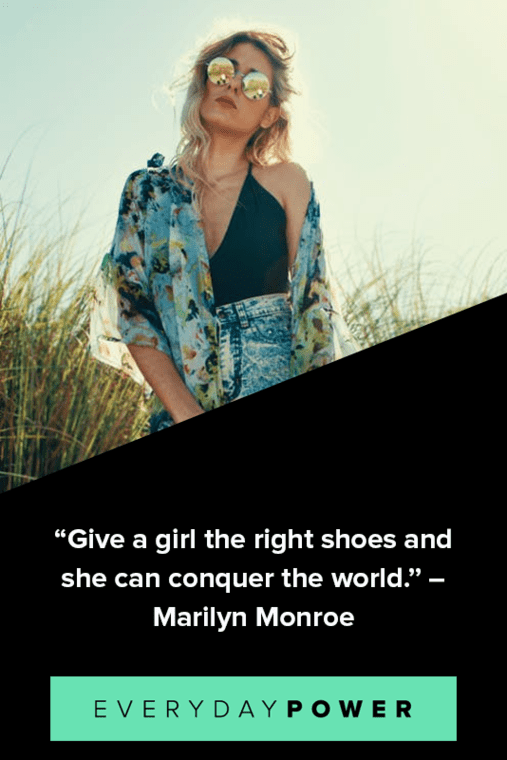 25. "The most important thing to remember is that you can wear all the greatest clothes and all the greatest shoes, but you've got to have a good spirit on the inside. That's what's really going to make you look like you're ready to rock the world." – Alicia Keys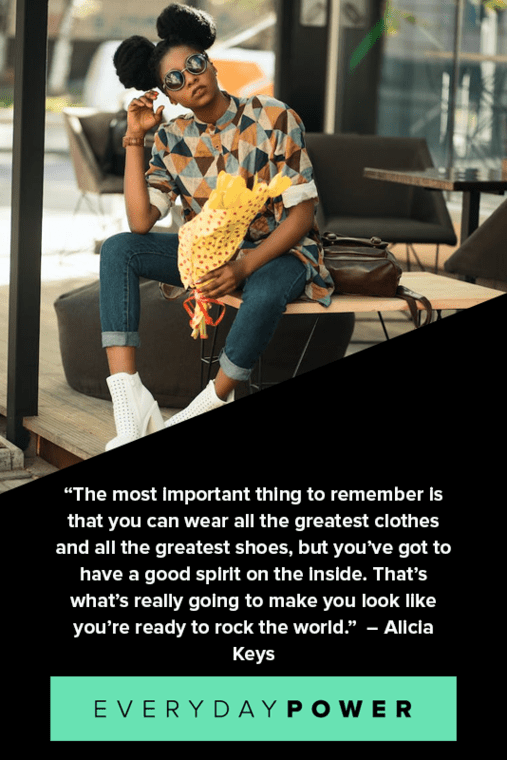 26. "Style is a way to say who you are without having to speak." – Rachel Zoe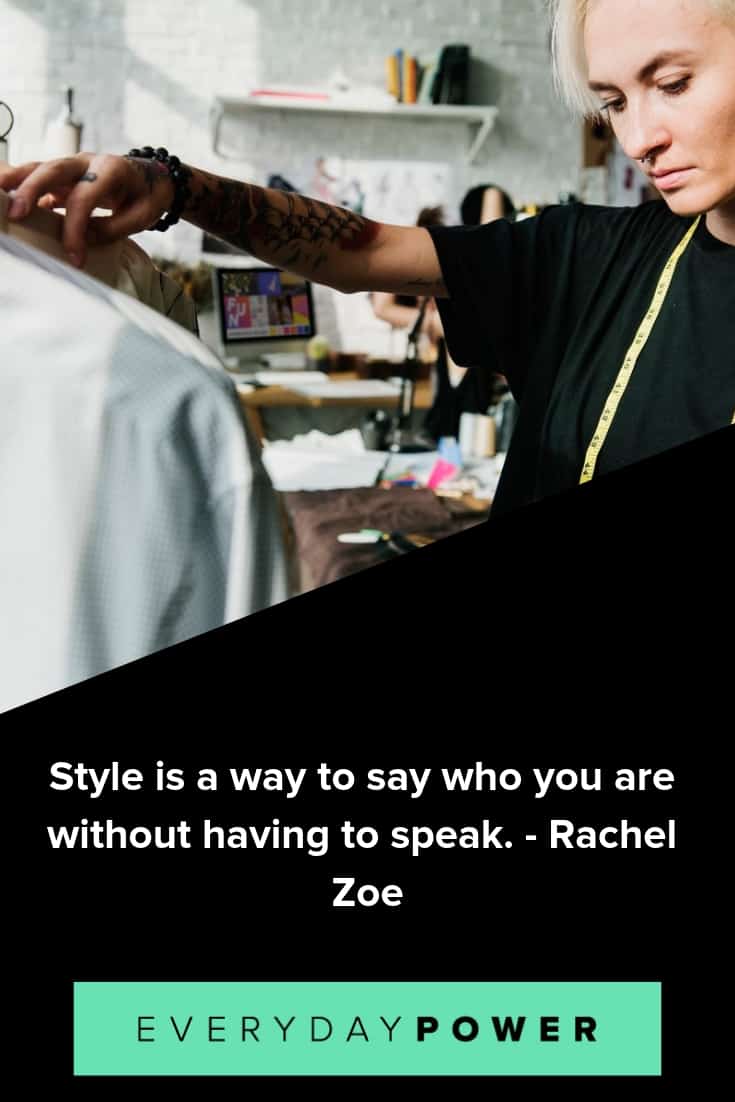 27. "Vain trifles as they seem, clothes have, they say, more important offices than to merely keep us warm. They change our view of the world and the world's view of us." – Virginia Woolf
28. "Men tell me that I've saved their marriages. It costs them a fortune in shoes, but it's cheaper than a divorce. So I'm still useful, you see." – Manolo Blahnik
29. Create your own style… let it be unique for yourself and yet identifiable for others." – Anna Wintour
30. "Shoes transform your body language and attitude. They lift you physically and emotionally." – Christian Louboutin
You might also like these stylish hair quotes that will boost your confidence.
Fashion Quotes To Help You Express Your Feelings About It
31. A woman's dress should be a like a barbed-wire fence: serving its purpose without obstructing the view." – Sophia Loren
32. "Fashion goes in only one direction -forward- and I am a firm believer in thinking that way too." – Anna Wintour
33. "Fashion is not necessarily about labels. It's not about brands. It's about something else that comes from within you." – Ralph Lauren
34. "Fashion is a language that creates itself in clothes to interpret reality." – Karl Lagerfeld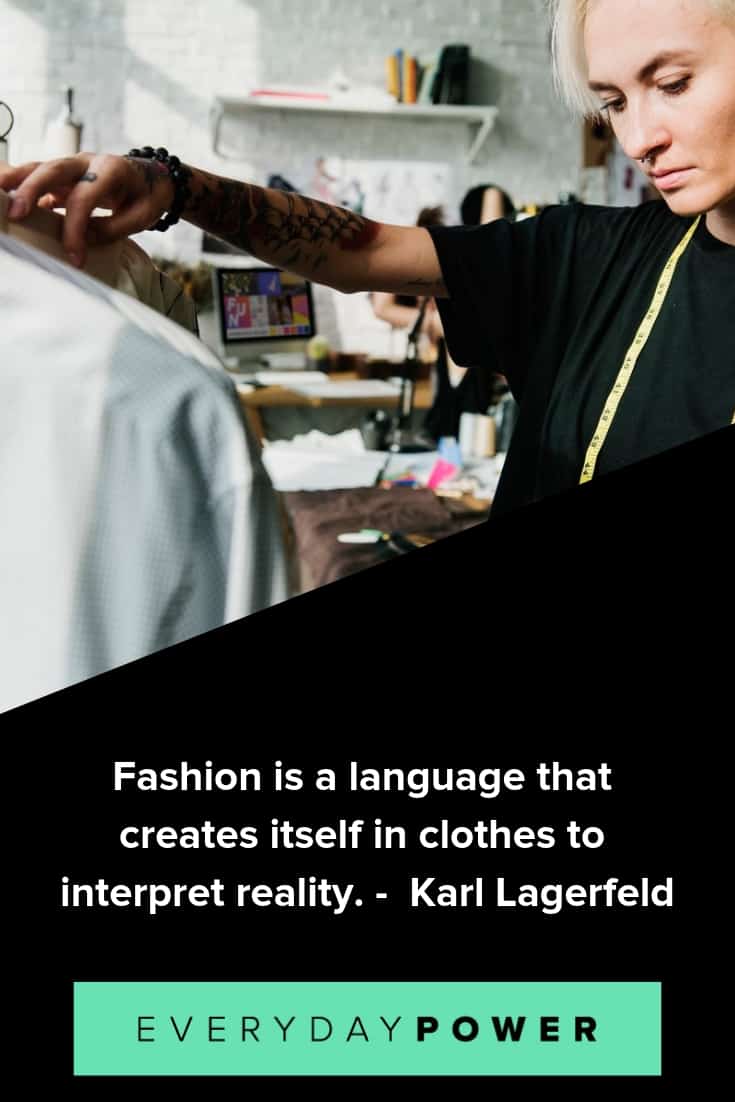 35. "The best New Year's resolution I ever made was probably to, like, pursue fashion in the spirit that I have now. – Virgil Abloh
36. "Fashion has to reflect who you are, what you feel at the moment, and where you're going." – Pharrell Williams
37. "Clothes is just something you put on to cover yourself… fashion is a way to communicate." – Dries van Noten
38. "The runway isn't just about showing fashion; it's about gaining confidence. And I really believe that once you've got your confidence, you can wear anything, you can do anything." – Ashley Graham
39. "Fashion is about comfort and feeling good." – Max Azria
40. "Fashion is not about product; it's about an interesting idea that you can't resist buying into." – Alessandro Michele
Fashion Quotes To Inspire You
41. "Everything in the universe has a purpose. Indeed, the invisible intelligence that flows through everything in a purposeful fashion is also flowing through you." – Wayne Dyer
42. "Fashion and beauty is a reflection of what's on the inside. And if you're genuine, they match up. The core of who you are will be the same." – Michelle Carter
43. "Our fashion style is very legendary and very classic. I feel like it's different, and I feel like everybody got our own different style to bring to the table." – Quavo
44. "I don't like women who follow fashion in the sense of becoming victims of it. I like women who have elegance, who have allure, who use fashion, rather than the other way around." – Giorgio Armani
45. "I create fashion that is memorable." – Jenny Packham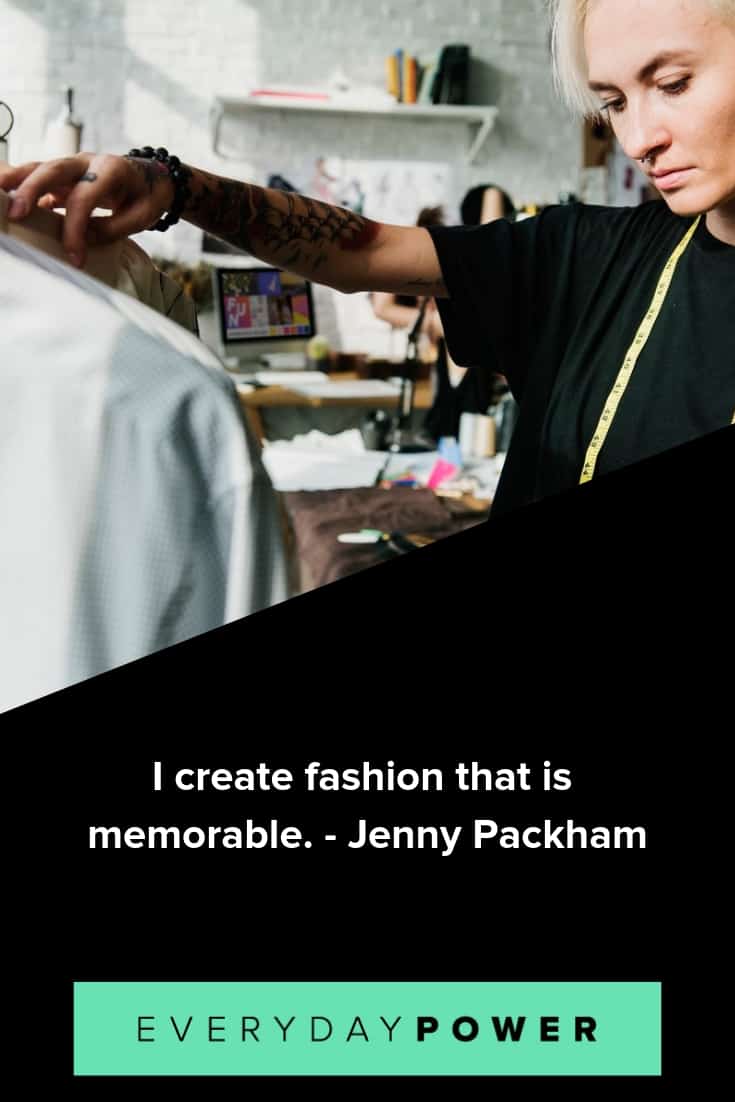 46. "We are one and the same. Our hearts beat as one. If we put our hearts into it – the fashion industry, any industry – our lives will be changed in the process, and the world will be changed as well" – Jamie Brewer
47. "Mine is one of the most beautiful professions in fashion: making others happy with an idea… I am happy because I did the job I dreamt of as a child." – Hubert de Givenchy
48. "Know your target audience. Always keep them at the forefront of your mind. Understand their lifestyle and what they are looking for. Gather their feedback and use it to tailor your approach. The voice of the consumer is an essential input into the development of any fashion business or blog." – Imran Amed
49. "It's about being creative and drawing on who you are when you wake up, and expressing yourself through fashion." – Future
50. "Fashion, for me, is reviving different things – I like to stand out every time I dress up and what I'm comfortable in. I need to be extremely confident and comfortable in the attire I wear."- Karishma Tanna
If you enjoy this article, check out our collection of jewelry quotes about the popular fashion accessory.
Fashion Quotes That Will Make Your Day
51. "I make clothes, women make fashion." —Azzedine Alaïa
52. "Fashion is only the attempt to realize art in living forms and social intercourse." —Francis Bacon
53. "Over the years I have learned that what is important in a dress is the woman who's wearing it." —Yves Saint Laurent
54. "Fashion is a religion in one sense. Once upon a time, our brand was considered the sanctum sanctorum of fashion. I want to produce things that people really want to buy." —Alessandro Michele
55. "I want people to see the dress, but focus on the woman." —Vera Wang
56. "I think fashion can do a lot. Fashion is very popular, so it can help broadcast a message and reach a new generation." —Maria Grazia Chiuri
57. "Elegance is not standing out, but being remembered." —Giorgio Armani
58. "Dress shabbily and they remember the dress; dress impeccably and they notice the woman." —Coco Chanel
59. "Fashion is about dressing according to what's fashionable. Style is more about being yourself." —Oscar de la Renta
60. "Elegance is good taste, plus a dash of daring." —Carmel Snow
Short Fashion Quotes
61. "Fashion is what you adopt when you don't know who you are." – Quentin Crisp
62. "Fashion is artistically designed to express the boldness of beauty." – Wayne Chirisa
63. "Fashion is not just about the clothes you wear, it's about the impression it creates." – Dr. Kemano
64. "Style never speaks, but somehow is always saying something." – Mircea Popister
65. "Fashion is everything that goes out of fashion." – Jean Cocteau
66. "Fashions fade, style is eternal." – Yves Saint Laurent
67. "Fashion is only different skins for different flavors of you." – Lauren Beukes
68. "Every beautiful design or creation is a byproduct of sensuality." – Lebo Grand
69. "Fashion is the thing! The thing you can put on confidently. And at least you can breathe with comfort." – Salman Aziz
70. "Fashion must elevate self-esteem of woman but not lower it down." – Sabina Hassan
You might also like these accessories quotes to groom your fashion sense.
Fashion Quotes To Motivate You
71. "The only flats I own are my sneakers, which I only wear inside the gym and always with black and diamonds." – Donatella Versace
72. "Happiness is the same price as red bottoms." — Ariana Grande, '7 Rings'
73. "Our beauty standard today is often very angry and hard and off-putting … To me, fashion should make you want to be friends with that person. They shouldn't scare you." – Tom Ford
74. I like my money right where I can see it – hanging in my closet." – Carrie Bradshaw
75. "What I've always disliked about fashion is trends. When you know who you are, you don't need to change faces every morning." – Marine Serre
76. "People will stare. Make it worth their while." — Harry Winston
77. "I was always attracted to the way rock stars dressed and the way their girlfriends dressed. I always thought they were the most interesting people. – Anna Sui
78. "Elegance is elimination." – Cristóbal Balenciaga
79. "Every day, half of my outfit is vintage. It's romantic; it's nostalgic. I'm a magpie for old times." – Alexa Chung
80. "My style icon is anyone who makes a bloody effort." – Isabella Blow
More Encouraging Fashion Quotes
81. "One is never over-dressed or under-dressed with a Little Black Dress." — Karl Lagerfeld
82. "I firmly believe that with the right footwear one can rule the world." — Bette Midler
83. "I think there is beauty in everything. What 'normal' people perceive as ugly, I can usually see something of beauty in it."— Alexander McQueen
84. "Style is something each of us already has, all we need to do is find it." — Diane von Furstenberg
85. "Florals? For spring? Groundbreaking." – Miranda Priestly
86. "The dress must follow the body of a woman, not the body following the shape of the dress." — Hubert de Givenchy
87. "Fashion you can buy, but style you possess. The key to style is learning who you are, which takes years. There's no how-to road map to style. It's about self expression and, above all, attitude." — Iris Apfel
88. "Playing dress-up begins at age five and never truly ends." — Kate Spade
89. "Being well dressed hasn't much to do with having good clothes. It's a question of good balance and good common sense." — Oscar de la Renta
90. "When in doubt, wear red." — Bill Blass
If you enjoy this article, check out our collection of hoodie quotes for comfy garment lovers.
Timeless Fashion Quotes By Iconic Fashionistas
91. "You either know fashion or you don't." – Anna Wintour
92. "Fashion is what you're offered four times a year by designers. And style is what you choose." – Lauren Hutton
93. "I loathe narcissism, but I approve of vanity." – Diana Vreeland
94. "The customer is the final filter. What survives the whole process is what people wear. I'm not interested in making clothes that end up in some dusty museum." – Marc Jacobs
95. "She can beat me, but she cannot beat my outfit." – Rihanna
96. "Trendy is the last stage before tacky." – Karl Lagerfeld
97. "It pains me physically to see a woman victimized, rendered pathetic by fashion." – Yves Saint Laurent
98. "When you hear designers complaining about the challenge of their profession, you have to say: Don't get carried away—it's only dresses." – Karl Lagerfeld
99. "Always dress like you're going to see your worst enemy." – Kimora Lee
100. "The most courageous act is still to think for yourself. Aloud." – Coco Chanel
If you enjoy this article, check out our collection of motivational T-shirt quotes that will inspire everyone.
Inspiring Fashion Quotes To Make You Feel Fashionable
101. "We must never confuse elegance with snobbery." – Yves Saint Laurent
102. "Girls do not dress for boys. They dress for themselves, of course, each other. If girls dressed for boys, they'd just walk around naked at all times." – Betsey Johnson
103. "When I first moved to New York, and I was totally broke, sometimes I would buy Vogue instead of dinner. I felt it fed me more." – Carrie Bradshaw
104. "Fashion should be a form of escapism and not a form of imprisonment." – Alexander McQueen
105. "We don't need fashion to survive, we just desire it so much." – Marc Jacobs
106. "In a machine age, dressmaking is one of the last refuges of the human, the personal, the inimitable." – Christian Dior
107. "Clothes are like a good meal, a good movie, great pieces of music." – Michael Kors
108. "The joy of dressing is an art." – John Galliano
109. "Fashion, somehow for me, is purely and happily irrational." – Hedi Slimane
110. "I don't want a politician who's thinking about fashion for even one millisecond. It's the same as medical professionals. The idea of a person in a Comme des Garcons humpback dress giving me a colonoscopy is just not groovy." – Simon Doonan
Fashion Quotes To Make You Comfortable In Your Style
111. "Fashion must be the most intoxicating release from the banality of the world." ― Diana Vreeland
112. "Fashion is about what you look like, which translates to what you would like to be like." ― Jean Paul Gaultier
113. "My dream was always to be a composer, but fashion came very easily." ― Gianni Versace
114. "When a popular phenomenon reaches the cover of 'Time,' it is already out of fashion." ― Richard Holloway
115. "You don't learn style from watching people on a runway. Fashion happens every morning when you wake up." ― Shalom Harlow
116. "Fashion is an imposition, a reign on freedom." ― Golda Meir
117. "People think I'm trying to make a fashion statement because I never wear a bra. It's really that I'm a tomboy at heart." ― Cameron Diaz
118. "What a deformed thief this fashion is." ― William Shakespeare
119. "If people turn to look at you on the street, you are not well dressed, but either too stiff, too tight, or too fashionable." ― Beau Brummell
120. "Fashion is nothing but an induced epidemic." ― George Bernard Shaw
Fashion Quotes To Make You Stylish
121. "The difference between style and fashion is quality." ― Giorgio Armani
122. "Fashion fades, only style remains the same." ― Coco Chanel
123. "Every generation laughs at the old fashions, but follows religiously the new." ― Henry David Thoreau
124. "Fashion seldom interferes with nature without diminishing her grace and efficiency." ― Henry Theodore Tuckerman
125. "We live not according to reason, but according to fashion." ― Seneca the Younger
126. Fashion is something barbarous, for it produces innovation without reason and imitation without benefit." ― George Santayana
127. "Fashion is a tool… to compete in life outside the home." ― Mary Quant
128. "Fashion is the science of appearance, and it inspires one with the desire to seem rather than to be." ― Henry Fielding
129. "In difficult times, fashion is always outrageous." ― Elsa Schiaparelli
130. "Fashion is more usually a gentle progression of revisited ideas." ― Bruce Oldfield
Fashion Quotes To Empower Your Style
131. When it comes to fashion or any high art, you have to have a combination of delicacy, along with taste." ― Erykah Badu
132. "Fashion is such a fairytale and it is such a fantasy. And it's about metamorphosis and sort of changing yourself and playing a part that you want people to see." ― Marc Jacobs
133. I have multipersonality disorder – in a very good way, of course – when it comes to my fashion choices." ― Katy Perry
134. "Doing collections, doing fashion is like a non-stop dialogue." ― Karl Lagerfeld
135. "I'm very much a girl that likes to have options. That's the way I am with fashion, and that's the way I am with my life." ― Ashley Greene
136. "I love fashion. I love couture. I'm going to erect a shelf in my bedroom with an art light to be the spot for the shoes of the month." ― Sandra Bullock
137. "Fashion is a kind of communication. It's a language without words." ― Ralph Lauren
138. "Fashion is a form of escapism, and it's something that allows people to dream." ― Alexander McQueen
139. "Fashion: by which what is really fantastic becomes for a moment the universal." ― Oscar Wilde
140. "A concert is not a live rendition of our album. It's a theatrical event. I have fun with my clothes onstage; it's not a concert you're seeing, it's a fashion show." ― Freddie Mercury
Fashion Quotes And Captions For Instagram
141. "Ten different looks and my looks all kill." — Cardi B
142. "I don't do fashion. I am fashion." — Coco Chanel
143. "I want all my clothes designer, I want someone else to buy 'em." — Kim Petras
144. "These sweatpants are all that fits me right now." – Regina George
145. "I'll stop wearing black when they invent a darker color." — Wednesday Addams
146. "Could I be wearing any more clothes?" – Joey Tribbiani
147. "Whoever said orange was the new pink was seriously disturbed." — Elle Woods
148. "On Wednesdays, we wear pink." – Karen Smith
149. "I will never be the woman with perfect hair, who can wear white without spilling on it." –Carrie Bradshaw
150. "Pink is my signature color." – Shelby Eatenton-Latcherie
Did You Enjoy These Fashion Quotes?
Style is a way to say who you are without having to speak.
If you want more quotes about style, check out these preppy quotes!
Fashion is an extension of personality and a way of expressing inner creativity.
What you choose to wear tells everyone about your mood, what type of person you are, and what you think of yourself.
Hopefully, the above quotes have given you a reason to express yourself.
Which of these fashion quotes was your favorite?
Do you have any other inspirational quotes to add?
Let us know in the comment section below.
We would love to hear all about it.