Soulful Nina Simone Quotes to Put You Under Her Spell
As the "high priestess of soul", Nina Simone was a talented artist who wasn't afraid to use her voice, whether as a civil rights activist or a chart-topping musician.
Today, we have curated these Nina Simone quotes to help you learn more about her journey to stardom.
What's your favorite Nina Simone song?
Simone's fascination with music began at age 3, where she began playing the piano.
As an adult, Simone released her debut studio album Little Girl Blue in 1959.
Simone released dozens of albums throughout her music career, with popular songs such as "I Put a Spell On You", "To Be Young, Gifted, and Black" and "Feeling Good".
In 2019, Simone's civil rights anthem "Mississippi Goddam" was preserved by the Library of Congress to protect its cultural significance.
To learn more about the amazing life of Miss Simone, check out the quotes below.
Also check out these Stevie Wonder quotes from the iconic soul artist.
If you like this article, we suggest you explore our most popular quotes article, a list of short inspirational quotes for daily encouragement.
Read more related content on our inspirational quotes category page.
Nina Simone quotes about love
1. "I would like a man now who is rich, and who can give me a boat – a sailboat. I want to own it and let him pay for it. My first love is the sea and water, not music. Music is second." – Nina Simone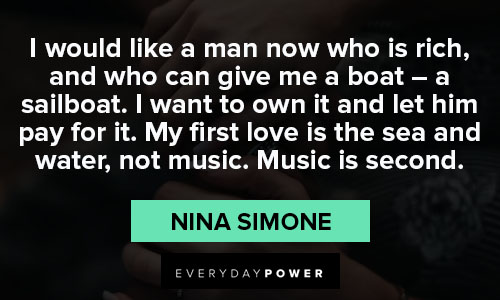 2. "I flirt all the time. I like men! I don't think we can do without them." – Nina Simone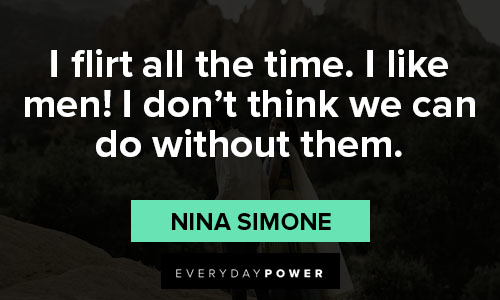 3. "For my love is like the wind, and wild is the wind." – Nina Simone, "Wild is the Wind"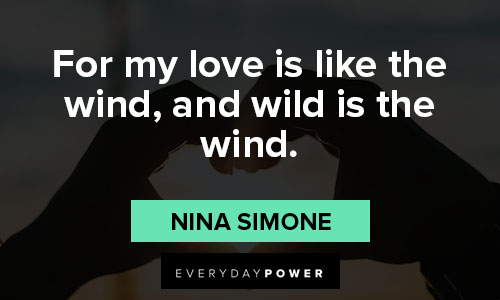 4. "You have to learn to get up from the table when love is no longer being served." – Nina Simone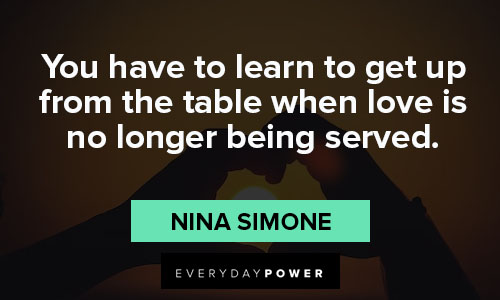 5. "I drink much more that I ought to drink because it brings me back you." – Nina Simone, "Lilac Wine"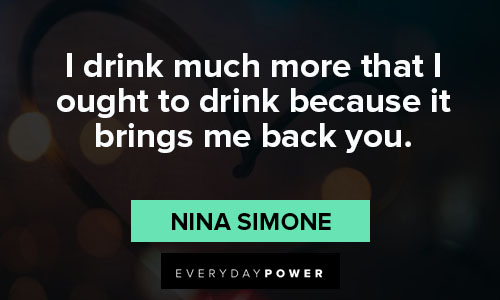 6. "You don't know what it's like to love somebody the way I love you." – Nina Simone, "To Love Somebody"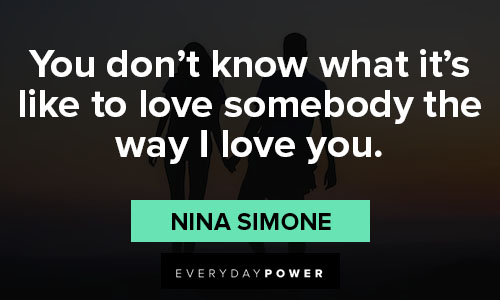 7. "What is love but a prelude to sorrow…with heartache ahead for your goal." – Nina Simone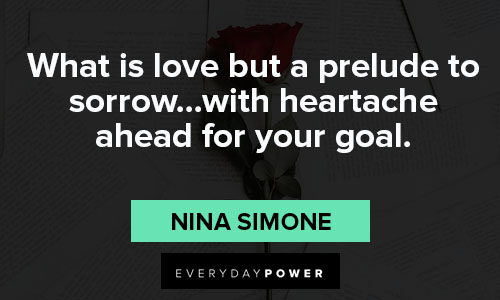 Powerful Nina Simone quotes
8. "I'll tell you what freedom is to me: no fear." – Nina Simone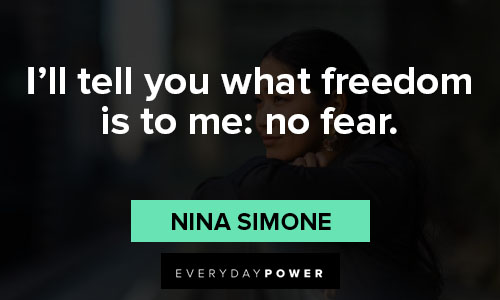 9. "To me, we are the most beautiful creatures in the whole world. Black people. And I mean that in every sense." – Nina Simone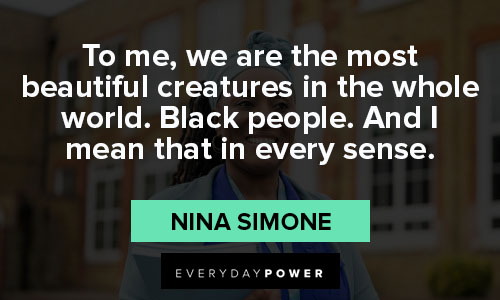 10. "I know I'm different, but I don't think about it." – Nina Simone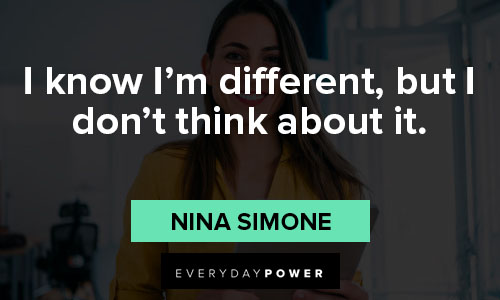 11. "Life is short. People are not easy to know. They're not easy to know, so if you don't tell them how you feel, you're not going to get anywhere, I feel." – Nina Simone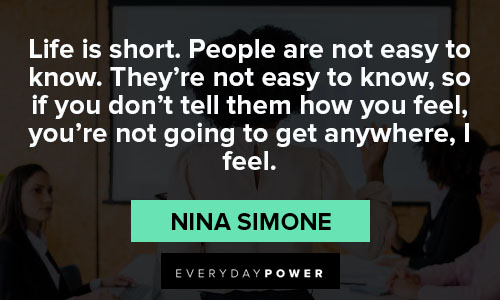 12. "There's no excuse for the young people not knowing who the heroes and heroines are or were" – Nina Simone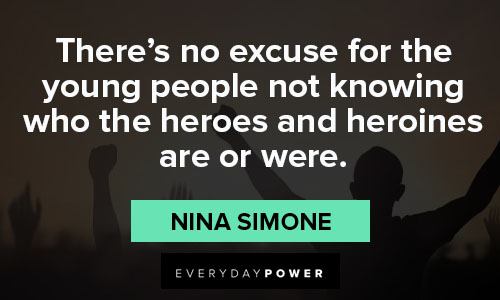 13. "Having as little to do with human beings as possible – in some weird way, I'm at peace." – Nina Simone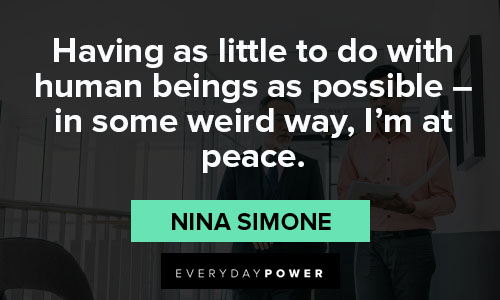 14. "But oh, I'm just a soul whose intentions are good. Oh Lord, please don't let me be misunderstood." – Nina Simone, "Don't Let Me Be Misunderstood"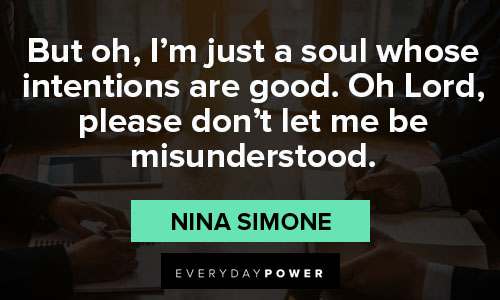 15. "I'm a real rebel with a cause." – Nina Simone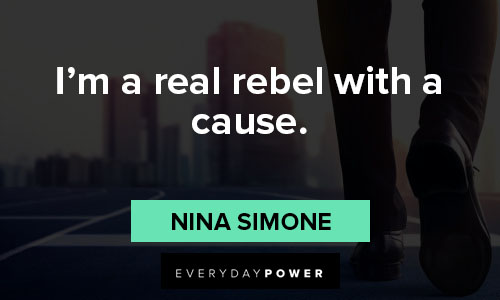 16. "I believe in racial memory too. I'm sure I've got ancient African blood in me that has something to do with what I am." – Nina Simone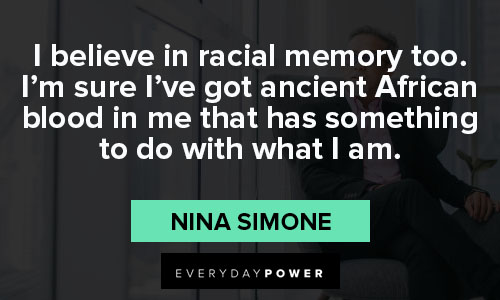 17. "It's a good time for black people to be alive." – Nina Simone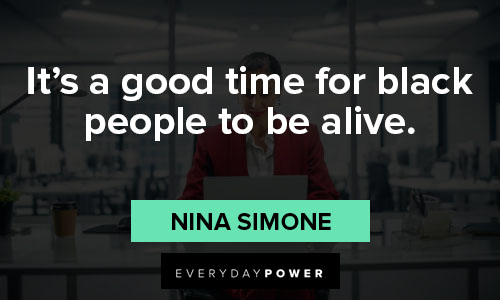 18. "That is why we fly from the inner void, since God might steal into it. It is not the pursuit of pleasure and the aversion for effort which causes sin, but fear of God. We know that we cannot see him face to face without dying, and we do not want to die." – Nina Simone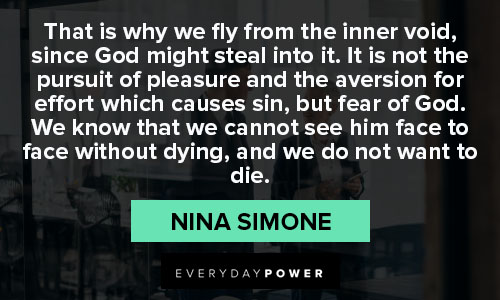 Nina Simone quotes about music and career
19. "I don't like rap music at all. I don't think it's music. It's just a beat and rapping." – Nina Simone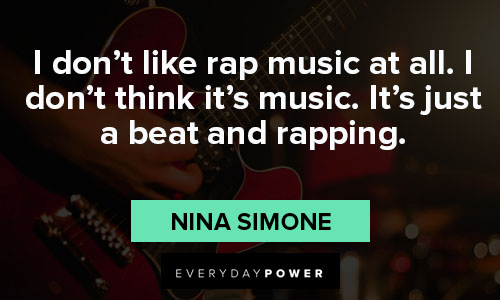 20. "To most white people, jazz means black and jazz means dirt, and that's not what I play. I play black classical music." – Nina Simone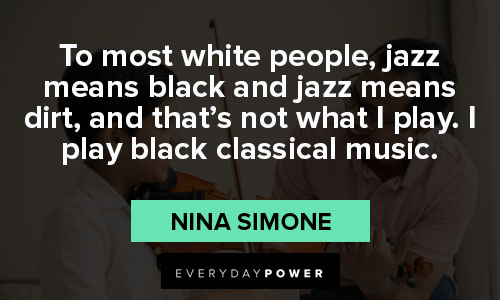 21. "It's an artist's duty to reflect the times in which we live." – Nina Simone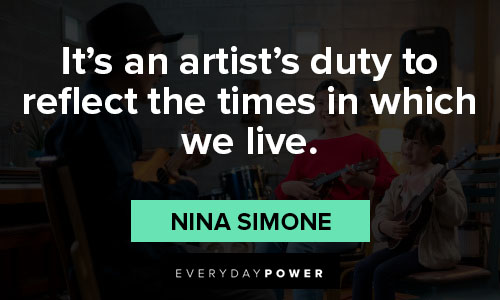 22. "I didn't get interested in music. It was a gift from God." – Nina Simone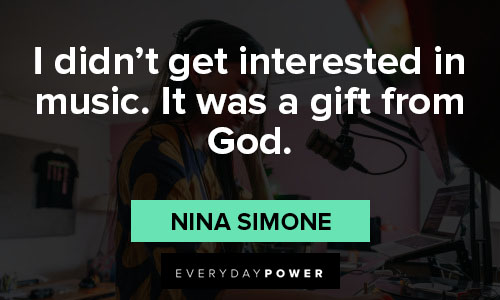 23. "Anything human can be felt through music, which means that there is no limit to the creating that can be done with music. You can take the same phrase from any song and cut it up so many different ways – it's infinite. It's like God… you know?" – Nina Simone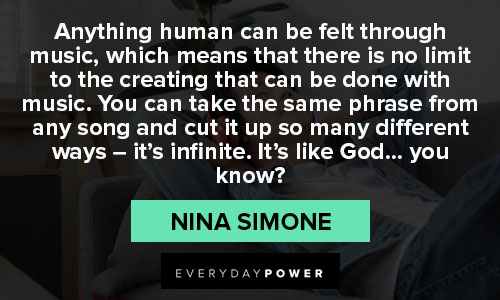 24. "I want to shake people up so bad, that when they leave a nightclub where I've performed, I just want them to be to pieces." – Nina Simone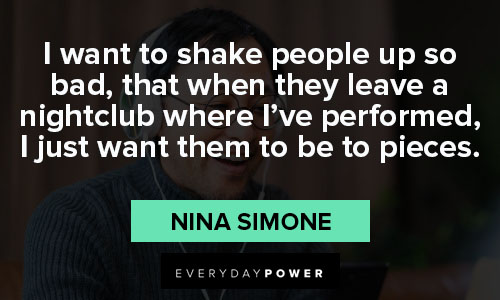 25. "It is difficult to retain your standards with the pressure of trying to make money, which always has its rules…It's hard to walk the tightrope of doing what you think is your best and making money at it." – Nina Simone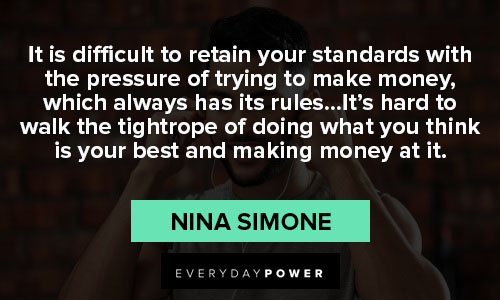 Have you ever used your talents to make a difference?
One of Nina Simone's most popular songs, "Mississippi Goddam" was made in direct response to the murder of civil rights activist Medgar Evers and the bombing of the 16th Street Baptist Church.
Simone performed the song for a crowd of 10,000 people celebrating the end of a five-day march from Selma, Alabama to Montgomery, Alabama, forever embedding it into the soundtrack of the civil rights movement.
Remember you have the power to make a difference within your community.
Whether you are a great writer, public speaker, or web designer, there are so many ways you can use your strengths to help causes you are passionate about.
Which of these Nina Simone quotes and sayings can't get out of your head?
Let us know your thoughts in the comments section below.