Stevie Wonder Quotes From the Iconic Soul Artist
March 31, 2020 7:15 AM EST
Listen to article
4 minutes
If you're a music fan, you'll love getting a little inspiration from these Stevie Wonder quotes.
There are few people that don't need any type of introduction in this world and Stevie Wonder is one of them.
But just in case you know the name and don't know much about the man, he is one of the greatest songwriters and musicians.
He accomplished things that others were unable to, such as topping the charts at the age of 13.
And on top of that, he did all of it without his sight.
Stevie Wonder lost his sight as a young child.
He has been winning Grammy's since the 70s and won his last one as of this time in 2007.
Below is our collection of inspirational, wise, and thoughtful Stevie Wonder quotes and lyrics that will motivate you to reach for the stars.
We also have a selection of Joe Rogan quotes to help you dream big.
Be sure to also check out that.
Check out our most popular quote article, a list of short inspirational quotes for daily inspiration.
Explore our complete collection of motivational quotes here.
Motivational Stevie Wonder quotes
1. "We all have ability. The difference is how we use it." – Stevie Wonder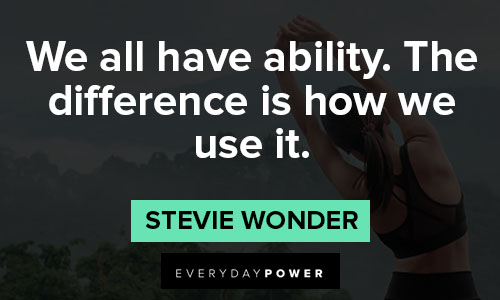 2. "When you're moving in the positive, your destination is the brightest star." – Stevie Wonder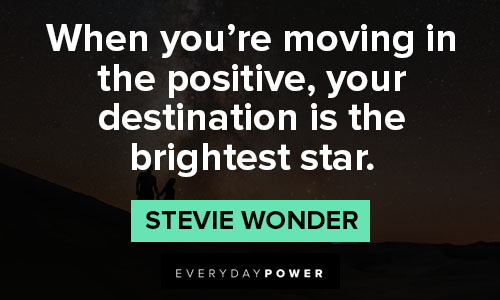 3. "You can't base your life on other people's expectations." – Stevie Wonder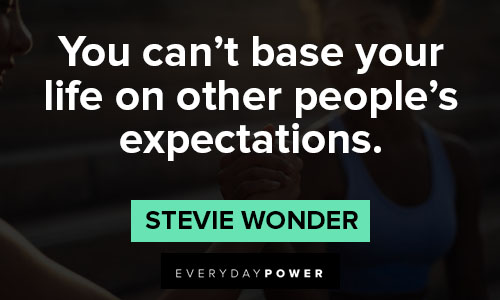 4. "Ya gots to work with what ya gots to work with." – Stevie Wonder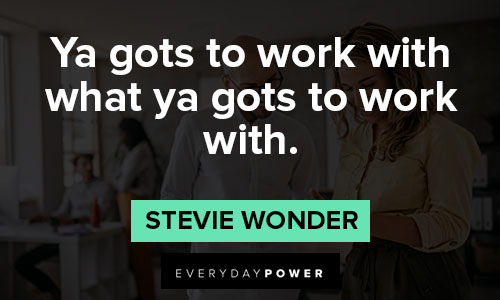 5. "Of all the needs that we need right now, more than anything we need a time for love." – Stevie Wonder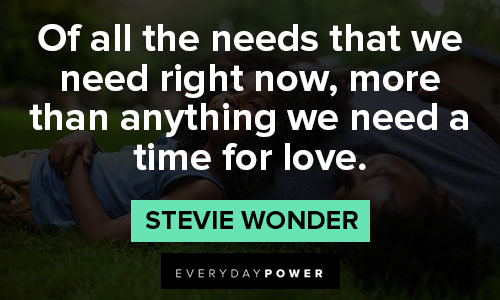 6. "Hate knows that love is the cure." – Stevie Wonder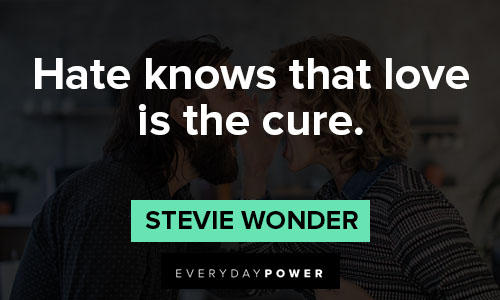 7. "We all have hearts… If you have a heart, love somebody. If you have enough heart, love everybody." – Stevie Wonder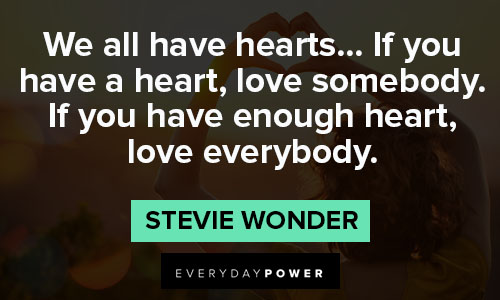 8. "Just because a man lacks the use of his eyes doesn't mean he lacks vision." – Stevie Wonder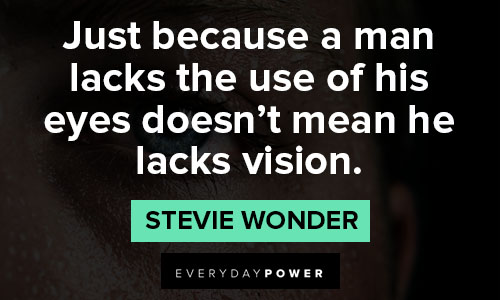 9. "Fear's what puts dreams to sleep." – Stevie Wonder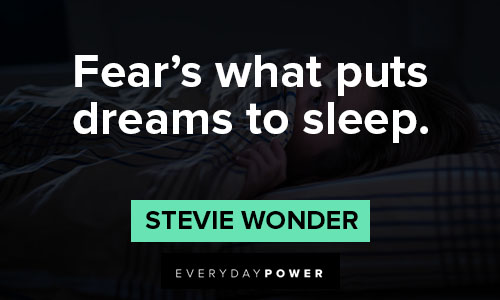 10. "Change your words into truths, and then change that truth into love." – Stevie Wonder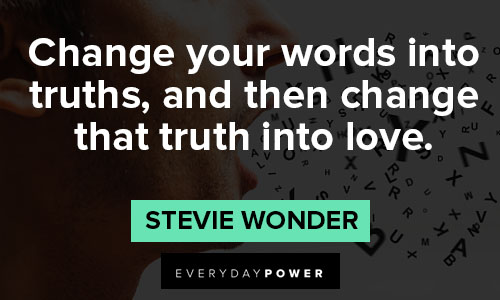 11. "I am what I am. I love me! And I don't mean that egotistically – I love that God has allowed me to take whatever it was that I had and to make something out of it." – Stevie Wonder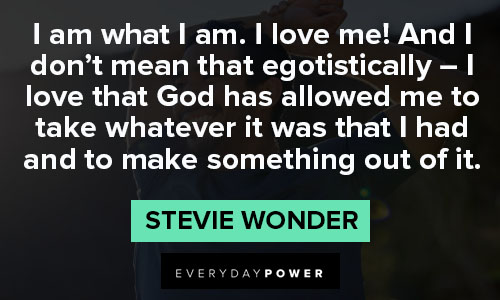 Stevie Wonder quotes about success
12. "I've had some incredibly triumphal things happen in my life." – Stevie Wonder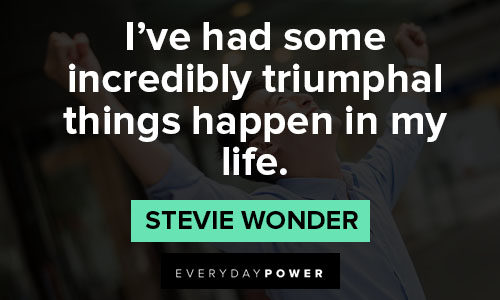 13. "God gave me life to continue to do things that I never would have done." – Stevie Wonder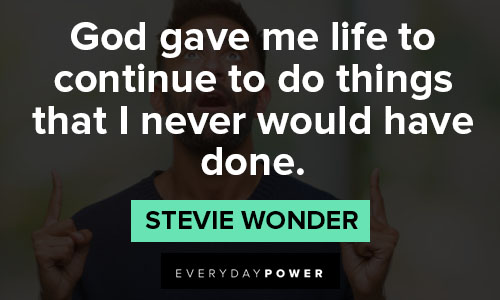 14. "If you don't ask, you don't get." – Stevie Wonder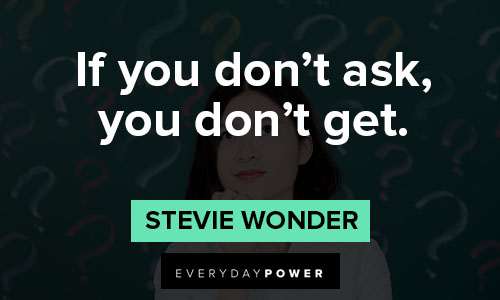 15. "Life has meaning only in the hands of struggle. Triumph or defeat is in the hands of God. So let us celebrate the struggle!" – Stevie Wonder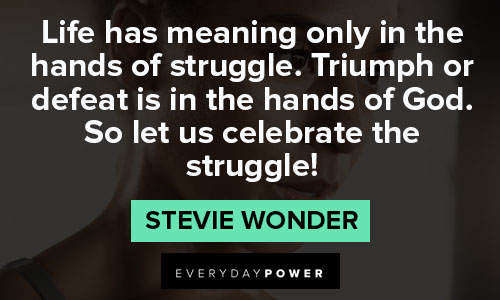 16. "Ability may get you to the top, but it takes character to keep you there." – Stevie Wonder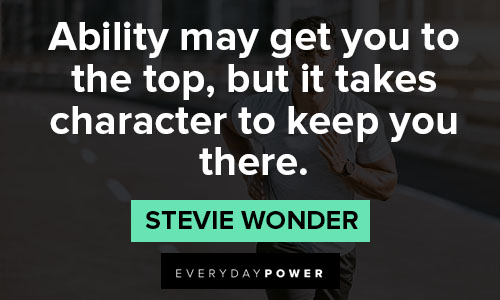 You might also like these role model quotes on the influence of heroes in our lives.
Stevie Wonder quotes about music
17. "All I ever wanted to do was music, and all I've ever asked, as I've gotten to know and discover the world more, is that God would use me in any way to encourage and inspire love and inspire people to bring and give love to each other." – Stevie Wonder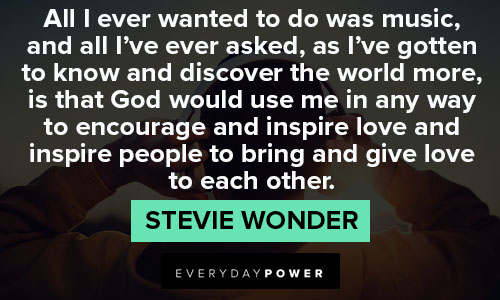 18. "Here is my music. It is all I have to tell you how I feel. Know that your love keeps my love strong." – Stevie Wonder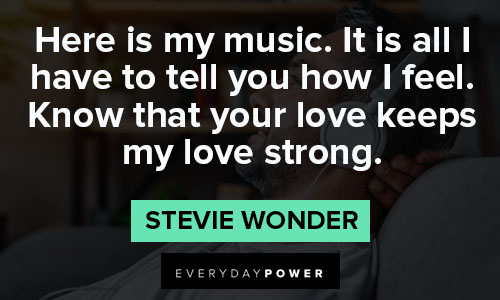 19. "Music is a world within itself, with a language we all understand." – Stevie Wonder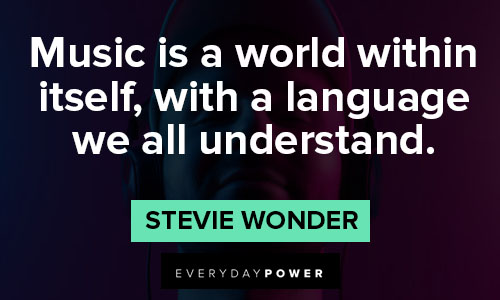 20. "People love to hear music on their personal devices, but the issue really becomes, if you're able to download music, you should know this download and the quality of it is going to be of the highest, and that it has a value to it and on it." – Stevie Wonder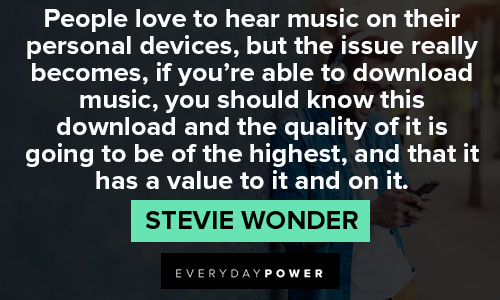 21. "Music at its essence is what gives us memories. And the longer a song has existed in our lives, the more memories we have of it." – Stevie Wonder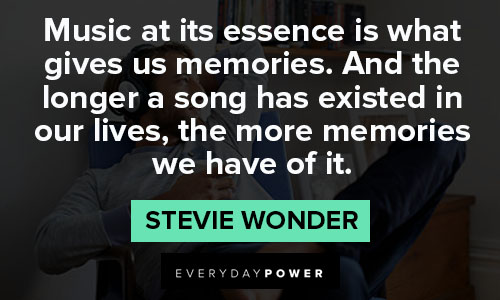 22. "Music can measure how broad our horizons are. My mind wants to see to infinity." – Stevie Wonder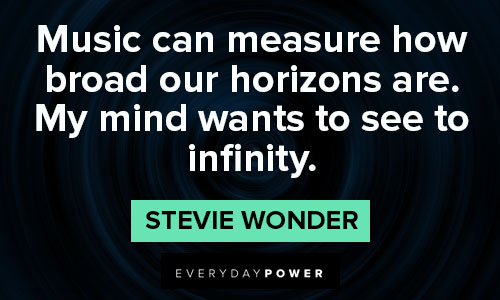 23. "The most important thing is, when I do give the music, I'm satisfied with it, that it speaks for what I want to do." – Stevie Wonder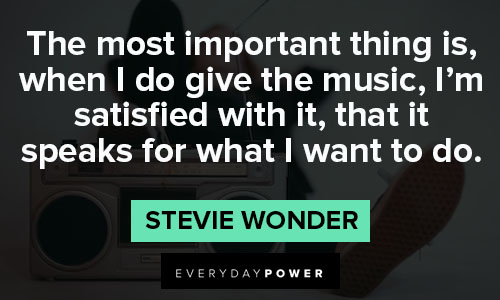 24. "Kenny Burrell is a great musician and his music has helped to make me what I am today." – Stevie Wonder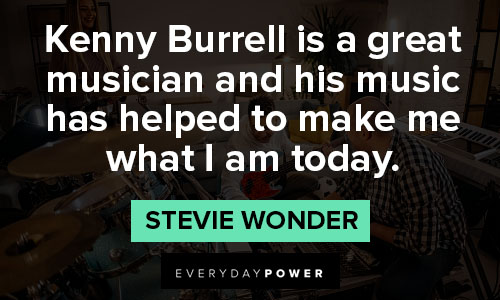 Have you seen these Nina Simone quotes and these Madonna quotes on going after your dreams?
Stevie Wonder quotes about life
25. "We're stuck in fear and in not wanting to cross that most important bridge of understanding that we're more alike or not. We all cry, we all laugh." – Stevie Wonder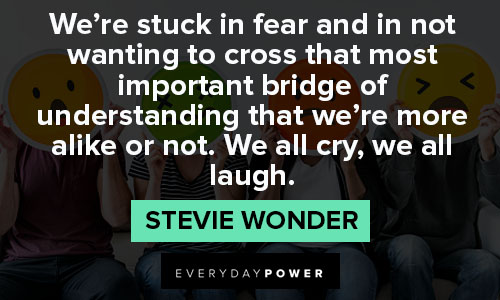 26. "Time is long, but life is short." – Stevie Wonder
27. "Minds ripen at very different ages." – Stevie Wonder
28. "I've always asked to be able to speak and write about injustice and to do it in a way that would encourage people to make things better for everyone." – Stevie Wonder
29. "Sometimes I feel I am really blessed to be blind because I probably would not last a minute if I were able to see things." – Stevie Wonder
30. "There are very few people on this Earth who are totally free. I'm not free, but I'm working on it." – Stevie Wonder
31. "You know, I have seven children, so I guess I know some things about life." – Stevie Wonder
32. "When you feel your life's too hard, just go have a talk with God. Well, he's the only free psychiatrist that's known throughout the world." – Stevie Wonder
33. "We're not living in a one-dimensional society. You can't just talk about, you know, the horrible things in life and the destruction." – Stevie Wonder
Also check out these thoughtful Adam Sandler quotes that will have you laughing out loud.
More Stevie Wonder quotes
34. "Eyes lie if you ever look into them for the character of the person." – Stevie Wonder
35. "It's better to love than to hate." – Stevie Wonder
36. "Mama was my greatest teacher, a teacher of compassion, love, and fearlessness. If love is sweet as a flower, then my mother is that sweet flower of love." – Stevie Wonder
37. "For the most part, I feel really comfortable with what I've given to people. I want to give it to them again." – Stevie Wonder
38. "When you believe in things that you don't understand, then you suffer." – Stevie Wonder
39. "The way the world is right now, we need more love." – Stevie Wonder
40. "As long as I know I have love I can make it." – Stevie Wonder
Don't forget to also read these inspirational Selena Gomez quotes about life, love, and beauty.
What will you accomplish?
Stevie Wonder is a great example of what someone is able to accomplish in life if they use their God-given talents and don't allow obstacles to hold them back.
It would be easy without sight to believe that he wasn't as capable to succeed with a music career.
But he did the exact opposite.
Even with all the big accomplishments that he has had, as you can see from these quotes, he still has a very down to earth attitude.
Take his words of wisdom and apply them to your own life.
Just imagine what you can accomplish if you don't let obstacles or setbacks get in your way.
Whtat's your biggest takeaway from these Stevie Wonder quotes and lyrics?
Do you have any other favorite quotes to add?
Let us know in the comment section below.