100+ Flirting Quotes to Make Your Crush Fall in Love
In this article, we embark on a journey through the world of flirting quotes!
One where pop culture references and insightful perspectives blend seamlessly, illuminating the complexities of human connection and the irresistible appeal of romantic banter.
"Flirting is a subtle dance, where words become playful sparks, and gestures speak volumes," whispered the legendary Casanova.
Join us as we explore the art of flirtation, unearthing the clever lines and magnetic appeal that has caused many people to blush, feel excited, and up their flirt game.
You may also enjoy our article on:
What are the benefits of reading flirting quotes?
Flirting can be tricky and intimidating if you don't know what to say.
These quotes will give you a good place to:
Start gathering your thoughts and words for when the opportunity presents itself
Write a text message
Come up with a pickup line
Whether you're single or in a committed relationship, these flirty quotes will add some extra romance to your life.
You'll capture their attention and heart with these sweet and sexy sayings.
How will you spice up your love life?
Everyone appreciates feeling wanted and attractive.
Send these flirting quotes to someone to brighten their day and spice up your love life.
If you want to make your crush fall in love, these romantic quotes could do the trick.
Through the art of flirting, your relationships will flourish, moving past the lust stage.
Remember, even if you have been in a relationship with someone for a while, flirting will help you keep the spark burning.
Share these flirty quotes with someone special and show them how much you care.
Also, check out our list of dating quotes about modern-day romance.
If you like this article, we suggest you explore our most popular quotes article, a list of short inspirational quotes for daily encouragement.
Check out more inspirational quotes on our motivational quotes category page.
Flirty quotes that will make you fall in love
1. "I think of you only twice a day ― when I am alone and when I am with someone else." – Amit Kalantri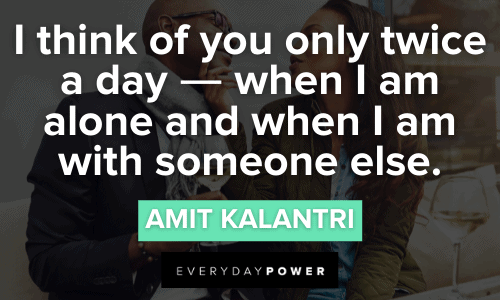 2. "I want you to know that you're the hottest biscuit this side of the gravy boat." – Erin McCarthy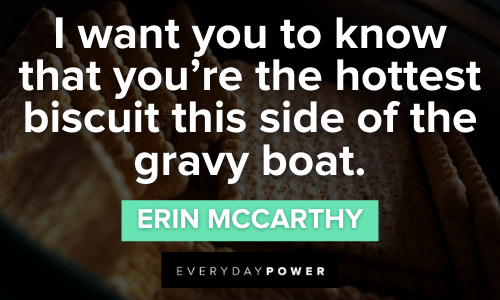 3. "A day without sunshine is a day without you." – Kenna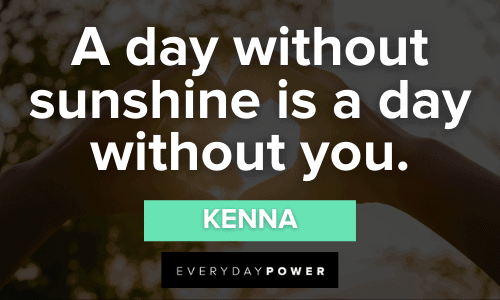 4. "Let's be naughty and save Santa the trip." – Gary Allan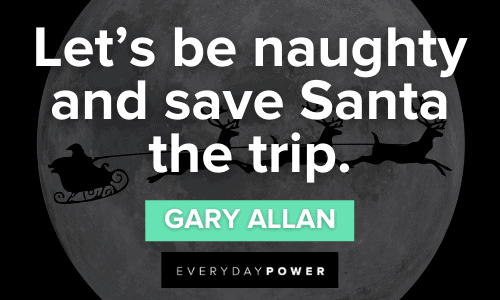 5. "I heard that the best way to get over someone is to get under someone else." – Kerry Cohen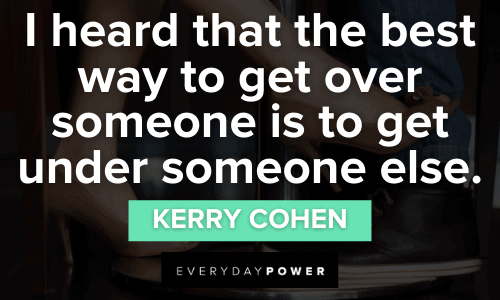 6. "I don't mind hot and spicy. Actually find that appealing in a girl. And chicken wings." – Julie James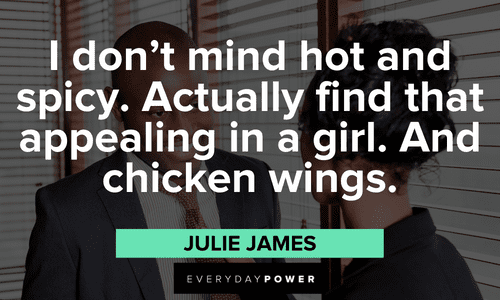 7. "I loved you for a thousand years and missed you in all of them." – Christina Strigas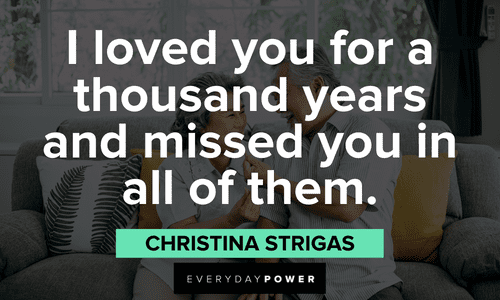 8. "I'm so in love, every time I look at you my soul gets dizzy." – Jesse Tyler Ferguson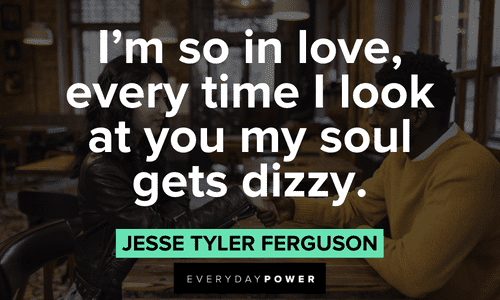 9. "A girl's legs are her best friends … but even the best of friends must part." – Redd Foxx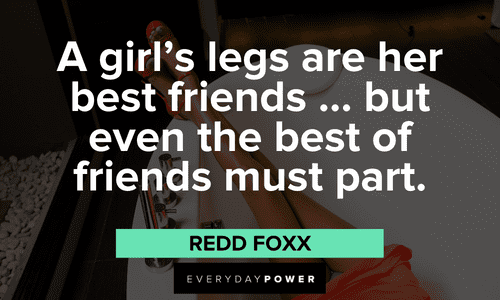 10. "When I want to smile, I know exactly what to do. I just close my eyes and think of you." – Rakii Retondo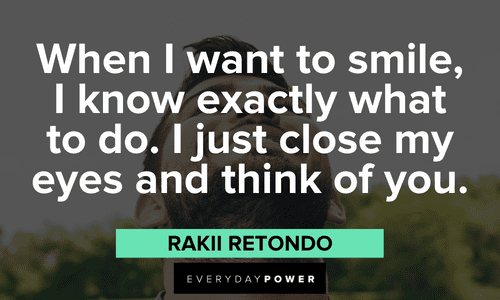 Flirting quotes to reignite the spark in your relationship
11. "You are, and always have been, my dream." – The Notebook, Nicholas Sparks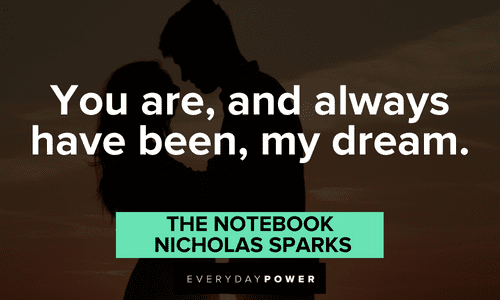 12. "Forget everything that surrounds you. Think that there's just you and me in this wide world." – Olga Goa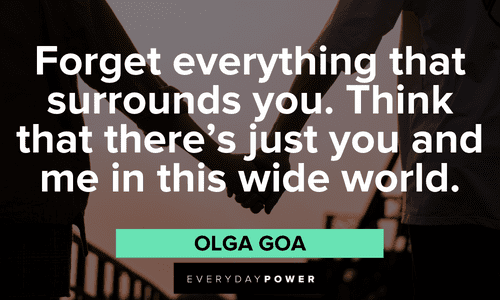 13. "From the first time I saw you, I've belonged to you completely. I still do. If you want me." – Cassandra Clare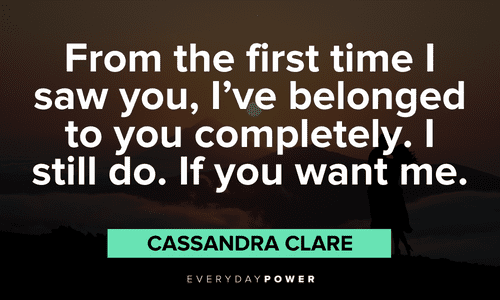 14. "If I had a flower for every time I thought of you, I could walk in my garden forever." – Alfred Lord Tennyson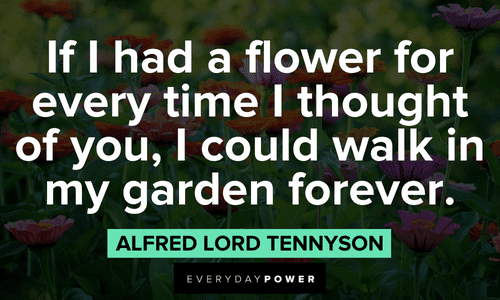 15. "Clever as the Devil and twice as pretty." – Holly Black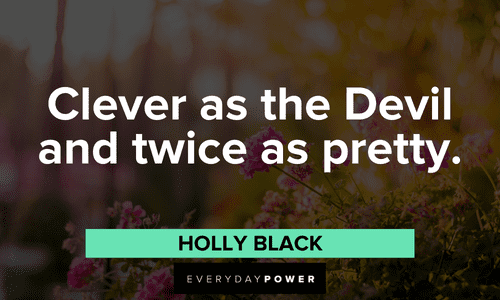 16. "If goodness is its own reward, shouldn't we get a little something for being naughty?" – Lauren Bacall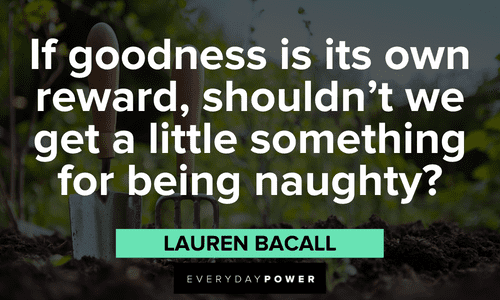 17. "I love you. That is the beginning, that is the end. That is everything." – Ella Frank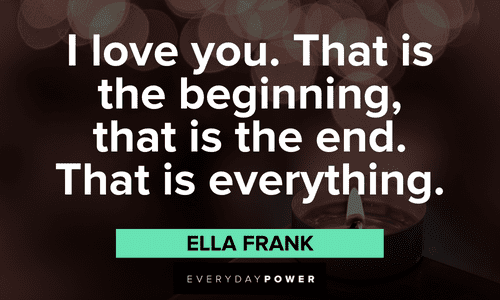 18. "Sex is a team sport, sugar." – Cherise Sinclair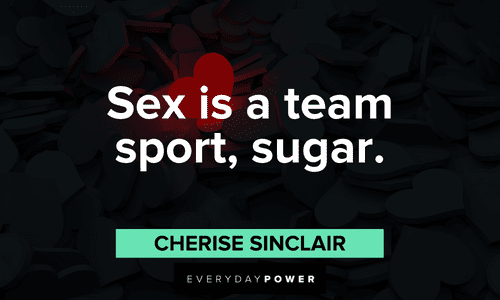 19. "I'm afraid to lose you and you're not even mine." – Drake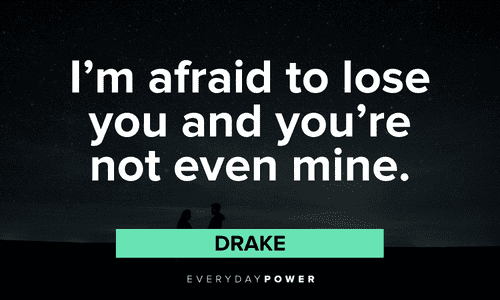 20. "For the two of us, home isn't a place. It is a person. And we are finally home." – Stephanie Perkins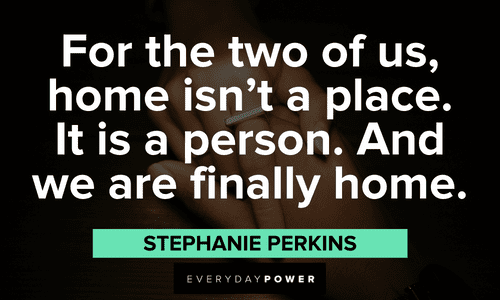 Flirty quotes that will make your crush smile and blush
21. "I love you not only for what you are, but for what I am when I am with you." – Roy Croft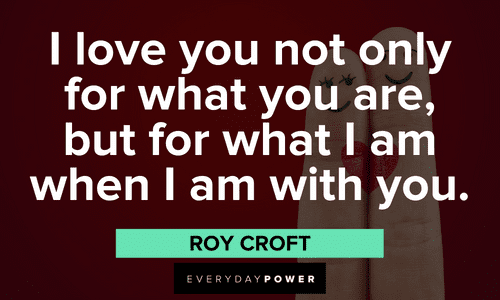 22. "I think about you constantly, whether it's with my mind or my heart." — Terri Guillemets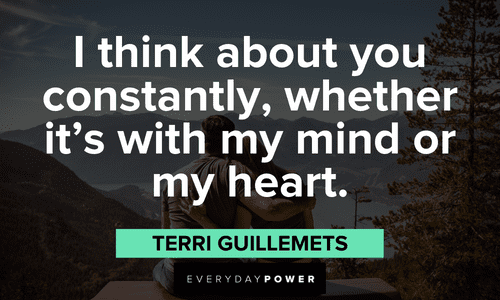 23. "If you were a bullet I would shoot myself to have you in me." – Maygin Nikki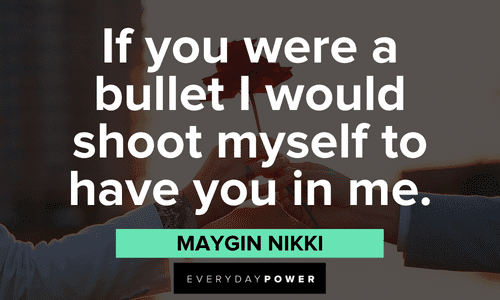 24. "And if I were a naughty little boy, the idea is to spank me into good behavior?" – Marquis de Sade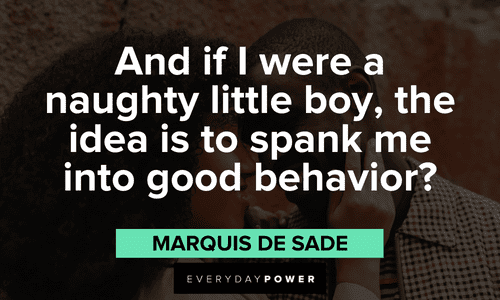 25. "I want your mind. Your strength. I want to be worth your time." – Tahereh Mafi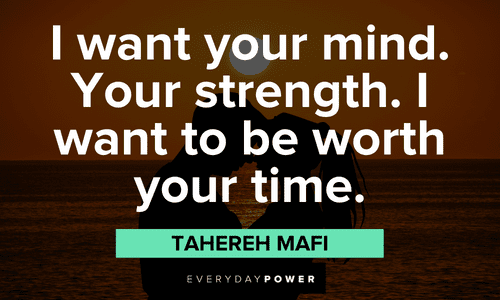 26. "You are enough to drive a saint to madness or a king to his knees." – Grace Willows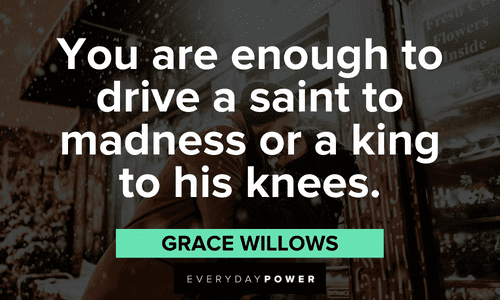 27. "I'm a fish swimming by … catch me if you want me." – Janet Fitch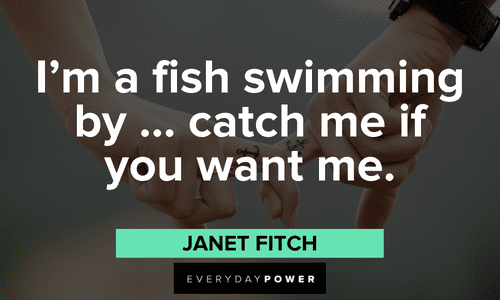 28. "Two souls with but a single thought. Two hearts that beat as one." – Friedrich Halm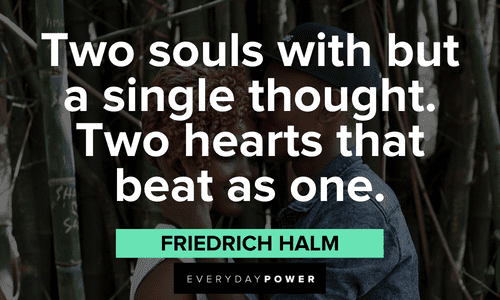 29. "Baby, where we're going, you won't need a shirt." – Vernon D. Burns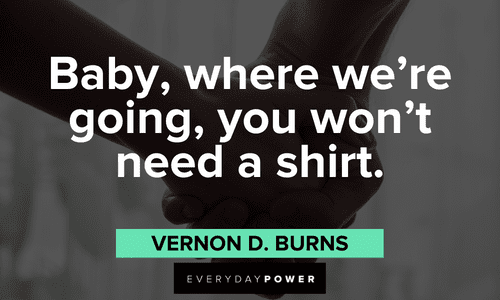 30. "In your smile, I see something more beautiful than the stars." – Beth Revis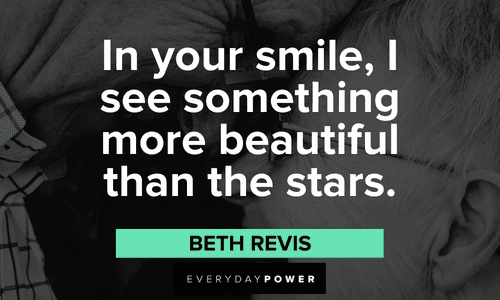 Flirting quotes to add extra romance into your life
31. "I want you to love me. I want you to trust me enough to let me love you, and I want you to stay here with me so we can build a life together. That's what I want." – Francine Rivers
32. "Can I tell you that in my eyes not even God would be good enough to command you?" – Kele Moon
33. "If you live to be a hundred, I want to live to be a hundred minus one day so I never have to live without you." – A.A. Milne
34. "Let me paint your lips with the stars… so that I don't need to go light-years each night to kiss them…" — Samba Shiva Thadavarthi
35. "I got my eyes on you. You're everything that I see, I want your hot love and emotion. Endlessly." – Drake
36. "Don't get me wrong. I'm happy to be your morning lollipop, but I need to eat, too." – Pamela Clare
37. "I wonder if you know how special you are; I wonder if you know how precious you are; I wonder if you know how lucky I am to have you in my life; I love you so much." – Hassan Ali
38. "I'm finding myself highly attracted to you right now. Would you like to come home with me since you're already dressed for bed?" – L.A. Casey
39. "You are adorable, mademoiselle. I study your feet with the microscope and your soul with the telescope." – Victor Hugo
40. "So it's not gonna be easy. It's going to be really hard; we're gonna have to work at this everyday, but I want to do that because I want you. I want all of you, forever, everyday. You and me … everyday." – Nicholas Sparks
Flirty quotes to spice up your love life
41. "If you want me you're going to have to come and get me." – Tiffanie DeBartolo
42. "You are the best decision my heart ever made." – Kennedy Ryan
43. "You burn for me. I've thought of nothing but how hot you'd run if I took my time." – Setta Jay
44. "The reason it hurts so much to separate is because our souls are connected." ― Nicholas Sparks
45. "Out of all the toads I kissed you are my first prince." – James D Wilson
46. "His eyes have made love to me all evening." ― Marguerite Gautier
47. "I want you to know, that you deserve the best. You're beautiful." – Lil Wayne
48. "Sweetheart, I have no intention of denying you a thing." – Rebecca Brooks
49. "Are you tired? You should be! You've been running through my mind all day." – Gary Barlow
50. "I think the way the sun shines on you has nothing to do with the sun but everything to do with you." – Christina Strigas
51. "You turn me on from across the room, and I'll completely melt if you come any closer." ― Crystal Woods
52. "Everything you do seduces me. All you need to do is breathe and I would do anything for you." ― Ashley March
53. "I'm addicted to your allure and I'm fiending for a cure." ― Christina Aguilera
54. "I want to do with you what spring does with the cherry trees." ― Pablo Neruda
55. "If I have only one coin left in the world, I will buy a rose to propose to you."― Amit Kalantri
Flirting quotes for your crush
56. "If you are not too long, I will wait here for you all my life." – Oscar Wilde
57. "All I really want is to hold you tight, treat you right, [and] be with you day and night." — Britney Spears
58. "You should let me love you, let me be the one to give you everything you want and need." — Mario
59. "Cause I'm trying and trying to walk away, but I know this crush ain't goin' away." — David Archuleta
60. "I got a crush on you; I hope you feel the way that I do: I get a rush when I'm with you; Oh, I got a crush on you." — Mandy Moore
61. "I just needed to be closer to you any way I could. Since then, you've distracted me every day whether you're near me or not." — Dylan Mcnair
62. "You must allow me to tell you how ardently I admire and love you." — Jane Austen
63. "Love took me by surprise, love led me to you, and love opened up my eyes." – Michelle Branch
64. "Oh, please say to me you'll let me be your man; And please say to me, you'll let me hold your hand." – The Beatles
65. "If I know what love is, it is because of you." – Herman Hesse
Flirting quotes for him
66. "I saw that you were perfect, and so I loved you. Then I saw that you were not perfect and I loved you even more." —Angelita Lim
67. "I am who I am because of you. You are every reason, every hope, and every dream I've ever had." —The Notebook
68. "Take my hand, take my whole life too. For I can't help falling in love with you." —Elvis Presley
69. "He's more myself than I am. Whatever our souls are made of, his and mine are the same." —Emily Bronte
70. "Morning without you is a dwindled dawn." — Emily Dickinson
71. "Your love shines in my heart as the sun that shines upon the earth." – Eleanor Di Guillo
72. "If I had to choose between breathing and loving you I would use my last breath to tell you I love you." – DeAnna Anderson
73. "For it was not into my ear you whispered, but into my heart. It was not my lips you kissed, but my soul." – Judy Garland
74. "I never want to stop making memories with you." — Pierre Jeanty
75. "Each time you happen to me all over again." — Edith Wharton
Flirty quotes to use when you want to up your flirting game
76. "Do I dazzle you?" ― Stephenie Meyer
77. "I always have many roads to travel, but I take the one which leads to you." ― Amit Kalantri
78. "Hurry up, before there's no more night left." ― Maggie Stiefvater
79. "Now turn around and go to sleep. I'm warning you that I plan to sleep with you in my arms all night long." ― Colleen Houck
80. "Come live in my heart, and pay no rent." ― Samuel Lover
81. That one tickled. If electrocution is your way of flirting, I commend you on your originality. ― Jeaniene Frost
82. "If you stood in front of a mirror holding 11 roses; you will see 12 of the most beautiful things in this world." ― Scemaa
83. "You already caught me, but every day, you pull me in deeper and deeper." ― KYB
84. "I guess your name is Google. Because you have everything that I am searching for." ― Ryan Gosling
85. "If you were a bullet I would shoot myself to have you in me." ― Maygin Nikki
Flirting quotes for her
86. "If I had a single flower for every time I think of you, I could walk forever in my garden." — Claudia Adrienne Grandi
87. "My soul and your soul are forever tangled." —N.R. Hart
88. "It's always better when we're together." —Jack Johnson
89. "I love you more than I have ever found a way to say to you." —Ben Folds
90. "You're the closest to heaven, that I'll ever be." —Goo Goo Dolls
91. "I need you like a heart needs a beat." — One Republic
92. "I've tried so many times to think of a new way to say it, and it's still I love you." —Zelda Fitzgerald
93. "Loving you never was an option. It was a necessity." — Truth Devour
94. "I love you and that's the beginning and end of everything." —F. Scott Fitzgerald
95. "All that you are is all that I'll ever need." — Ed Sheeran
Flirting Quotes To Share With Your Lover
96. "She learned to say things with her eyes that others waste time putting into words." ― Corey Ford
97. "I honestly have no idea how to live without you." ― Stephenie Meyer
98. "With you as an inspiration, a painter will create his best painting, a writer will write his best literature and a poet will create his best poetry." ― Amit Kalantri
99. "If I had a dollar for every time I smiled secretly having you in my mind I think my bank account would show up millions." ― Melville Elijah Stone
100. "The best thing about me is you." ― Max
101. "I know you want it, boy. I see you tryin. Just keep on pushin, I'm a let you slide in." ― Nicki Minaj
102. "Every once in a while, I have to pinch myself, because I'm so lucky to have such a beautiful person in my life." ― KYB
103. "Beauty is power; a smile is its sword." ― John Ray
104. "If you were a tear, I would never cry in fear of losing you." ― Walt Dizzle
105. "There are plenty of secrets I would like to know about you, Daphne." ― Brenda Hodnett
Flirting Quotes To Make You Have Fun
106. "It's fun to be a woman. It's fun to flirt and wear makeup and have boobs." — Eva Mendes
107. "Oh yea FORTUNATELY the girls are a lot braver then the guys, they flirt all the time." — Gwen Stefani
108. "I've always said that I worry about being with a man who doesn't flirt." — Charlize Theron
109. "Flirting I take to be the excitement of love, without its reality, and without its ordinary result in marriage." — Anthony Trollope
110. "No matter how happily a woman may be married, it always pleases her to discover that there is a nice man who wishes that she were not." — H. L. Mencken
111. "I love to flirt, and I've never met a man I didn't like." — Dolly Parton
112. "Words have finished flirting. Now they are making love." — Andre Breton
113. "A big part of letting go is recognizing when it is time to stay in a situation and when it is time to move on." — Darren Johnson
114. "I think the eyes flirt most. There are so many ways to use them." — Anna Held
115. "Flirting is a promise of sexual intercourse without a guarantee." — Milan Kundera
Flirting Quotes To Get You In The Mood
116. "Do you know a young and beautiful woman who is not ready to flirt-just a little?" — Jean Antoine Petit-Senn
117. "Whoever loves above all the approach of love will never know the joy of attaining it." — Antoine de Saint-Exupery
118. "The hardest task of a girl's life, nowadays, is to prove to a man that his intentions are serious." — Helen Rowland
119. "Just to summarize: I lurched into Rachel's room like a zombie, freaking her out, then went for a fist pound. It is impossible to be less smooth than Greg S. Gaines." — Malcolm Gladwell
120. "She flashed him a smile. A flirtatious smile. The weapon of a woman who knew how to handle man." — Gwynne Forster
121. "What are you in the mood for?" — Bo Burnham
122. "We men are very simple people: if we like what we see, we're coming over there. If we don't want anything from you, we're not coming over there. Period." — Steve Harvey
123. "How can a man help what he sees?" he said. "And, if I could add, you possess a very fine leg." — Shannon Hale
124. "I, Geric-Sinath of Gerhard, declare that you're beautiful and you're perfect and I'll slay any man who tries to take you from my side. Goose girl, may I kiss you?" —Shannon Hale
125. "Gods, I love it when you talk mathy to me." — Kresley Cole
Flirting Quotes To Share With Your Crush
126. "Sorry, but you owe me a drink. Because when I looked at you, I dropped mine." — A.J. Baker
127. "Out to make some new friends. Male, of course. I'm gonna start out with a little witty conversation and then a flirtatious smile." — Audrey Wyatt
128. "I spy entertainment in her: she discourses, she carves, she gives the leer of invitation." — William Shakespeare
129. "She gave me a smile I could feel in my hip pocket." — Raymond Chandler
130. "All I've ever wanted was to be near you." — Shannon Hale
131. "I was so enchanted by your beauty that I ran into that wall over there. So I am going to need your name and number for insurance purposes." — A.J. Baker
132. "Thirty, flirty and thriving." — Jenna
133. "Because of you, I can feel myself slowly, but surely, becoming the me I have always dreamed of being." — Tyler Knott Gregson
134. "You may fall out of the sky or out of a tree, but the best way to fall is in love with me." — A.J. Baker
135. "There's a language in her eye, her cheek, her lip— / Nay, her foot speaks; her wanton spirits look out / At every joint and motive of her body." — William Shakespeare
Flirting Quotes To Appear Sexy
136. "A smile is the chosen vehicle for all ambiguities." ― Herman Melville
137. "What's your poison or should I just waste my money by guessing something you probably won't even drink? I'd much rather get you something you like." ― Jason Medina
138. "Oh! no, not flirts. A woman in love with one man cannot flirt with another." ― (Henry Tilney) Jane Austen
139. "Being flirty is a way of letting a guy know you're interested without making a fool out of yourself." ― Carmen Electra
140. "She knew her distance and did angle for me, / Madding my eagerness with her restraint, / As all impediments in fancy's course / Are motives of more fancy." ― (Bertram) William Shakespeare
141. "O times! / I laughed him out of patience, and that night / I laughed him into patience, and next morn, / Ere the ninth hour, I drunk him to his bed." ― (Cleopatra) William Shakespeare
142. "When I look at you, my mind goes blank and my heart beats faster. All I can do is feel and keep losing myself in you." ― KYB
143. "I have a question for you. "If your shadow is the second most beautiful thing in the world, which is the first?" ― Amit Kalantri
144. "A woman's dress should be like a barbed-wire fence: serving its purpose without obstructing the view." ― Sophia Loren
145. "Merely innocent flirtation, / Not quite adultery, but adulteration." ― Lord Byron
Flirting Quotes To Flirt With Confidence
146. "He cold, he dope, he might sell coke He always in the air but he never fly coach." ― Nicki Minaj
147. "When i started flirting with the hustle, failure became my ex, now I'm engaged to the game and married to success." ― Lil Wayne
148. "O Polly, you might have toyed and kissed, by keeping men off, you keep them on." ― John Gay
149. "I hate if a man says anything laddy. 'You're sexy' or whatever. I just want someone to be friendly and a little bit flirty." ― Kimberley Garner
150. "I mean *sigh* Sickening eyes I can tell that you're in touch with your feminine side." ― Nicki Minaj
151. "My personal style is a mixture of, like, girly, throwback, like retro '50s pin-ups, floral, like hippies, like anything feminine, and like flirty." ― Ariana Grande
152. "Cold one day, sweet the next; irresistibly flirty one moment, resistibly obnoxious the next." ― John Green
153. "I said excuse me you're a hell of a guy, I mean my my my my you're like pelican fly!" ― Nicki Minaj
154. "God created the flirt as soon as he made the fool." ― Victor Hugo
155. "I think I like him better with the fitted cap on He aint even gotta try to put the mack on." ― Nicki Minaj
Which of these flirty quotes would make you fall in love?
Flirting can be a fun way to show someone how much you like them.
Whether you're in a relationship or looking for love, sending a flirty message can help set the mood.
Read this collection of flirting quotes for romantic inspiration.
These pickup lines are sensual, funny, and alluring.
Send a flirty text with one of these quotes to your crush and make their heart beat fast.
Sometimes flirting can feel awkward and scary.
If you're having trouble coming up with the right thing to say, try these quotes and sayings. Ignite the passion of your love life with some flirty, playful messages.
When you're finally ready to make your move, use one of these incredible romantic flirting quotes.
What are your favorite flirting quotes and lines to show someone special that you're interested in?
Let us know in the comment section below.