The Deuce Quotes from the Miniseries
The Deuce quotes below will give you a glimpse into the HBO miniseries.
The Deuce is a drama TV series set in New York City during the 70s and 80s.
It is about the Golden Age of Porn, the legalization and the rise of the porn industry in New York City.
This show features difficult topics such as government and police corruption, violence, drug epidemic, and abuse.
This series features various characters with different stories to tell and struggles in life.
The narrative focuses on the characters' conflict and triumph in the rapidly changing New York City.
Here are some of the most iconic The Deuce quotes for you.
Don't forget to also check out these Reign quotes from the CW series.
Check out our most popular quote article, a list of short inspirational quotes for daily inspiration.
Check out our inspirational quotes category page for more inspirational life quotes.
The Deuce quotes from Vincent
1. "I always knew I should get with a girl who's smarter than me. I'd be bored otherwise." — Vincent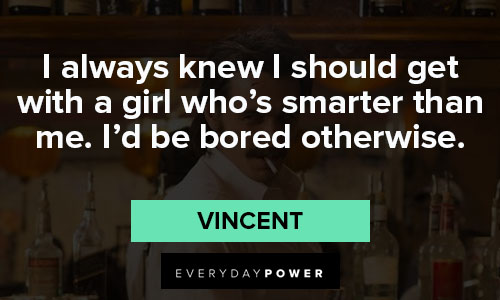 2. "Just 'cause it looks easy, don't mean that it is." — Vincent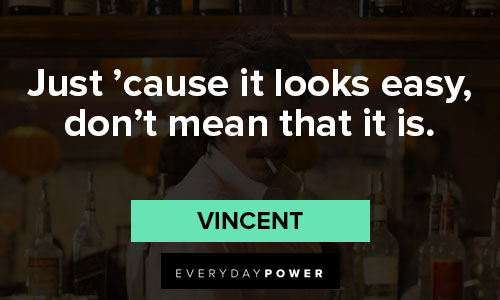 3. "He doesn't like you, El. He likes how you present." — Vincent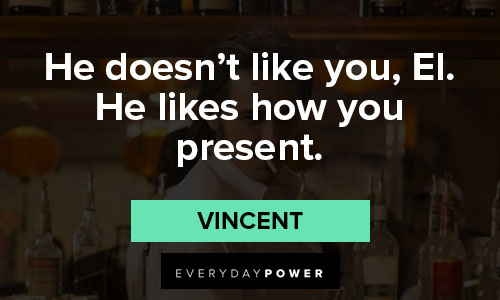 4. "You cannot walk ten feet in this city without running into some kind of toll." — Vincent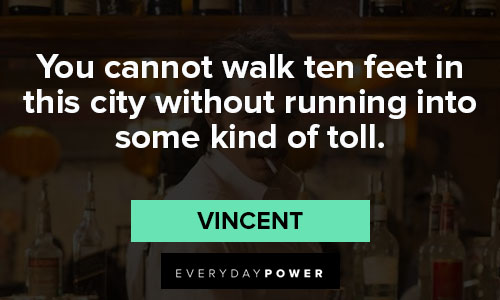 5. "Maybe all the a**holes in the world, they go through life thinking that they're not a**holes. They think they're right people, and they're not." — Vincent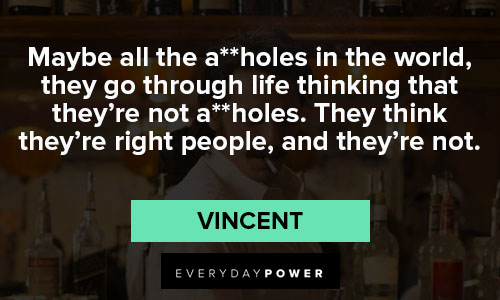 6. "I'm the center of things now. I'm building something." — Vincent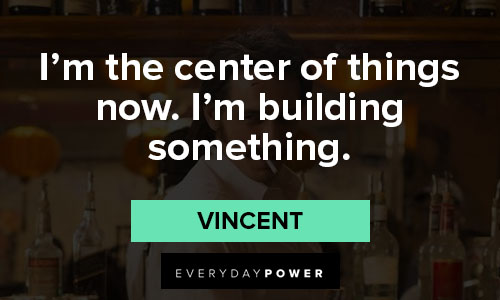 7. "I was the king of everything, and it all amounted to nothing." — Vincent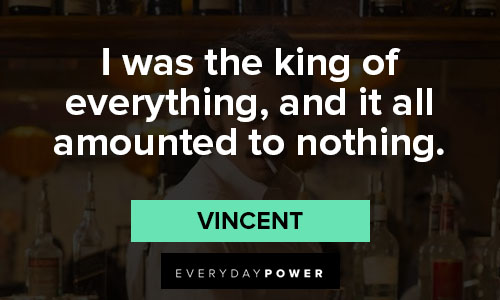 8. "I always knew I should get with a girl who's smarter than me. I'd be bored otherwise." — Vincent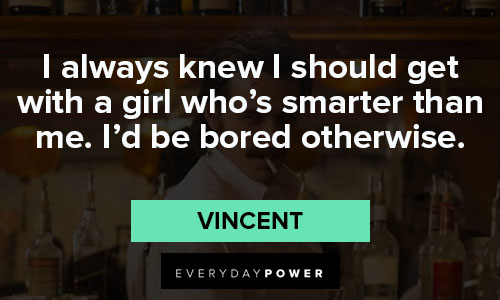 9. "Everyone loves a sucker." — Vincent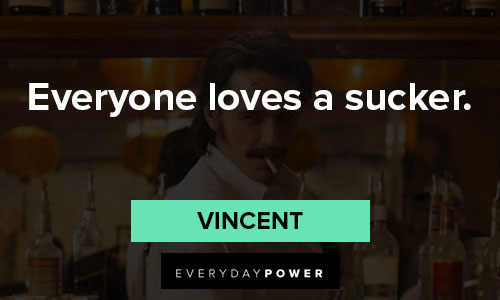 10. "Deuce is like a cockroach. It was here before us. It's gonna be here long after you and me are gone." — Vincent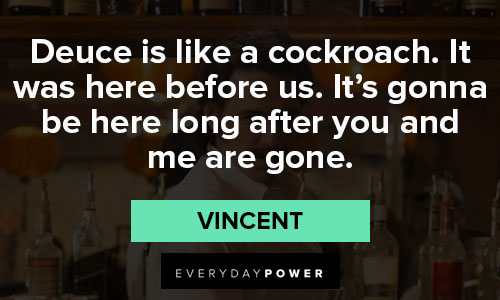 If you enjoy this article, check out our collection of Unorthodox quotes about finding your own path.
The Deuce quotes from Candy
11."You don't have your family, you're alone in this world." — Candy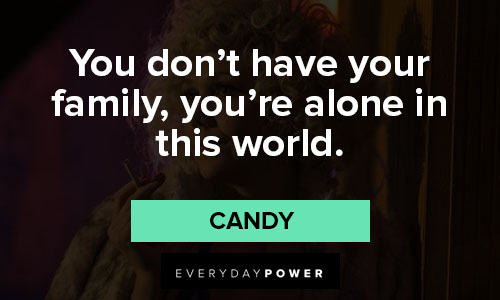 12. "There is no normal. I always say that. F*** normal. Normal is a lie." — Candy
13. "Normal? Harvey, I keep telling you: f*** normal. Nobody is normal." — Candy
14. "You live without pride long enough, you find a way to use what little you can get." — Candy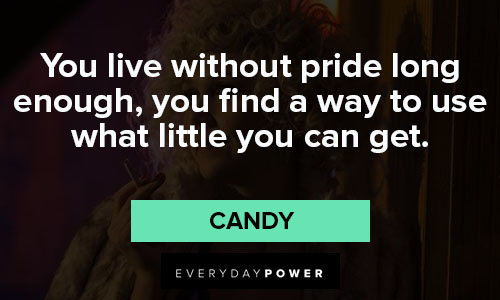 15. "You know what a producer does? He solves problems. He doesn't cause them." — Candy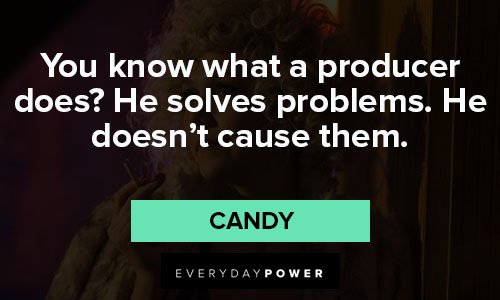 16. "When it comes to f***ing, we're all beasts." — Candy
17. "There's too many people who are weighed down by how other people see them." — Candy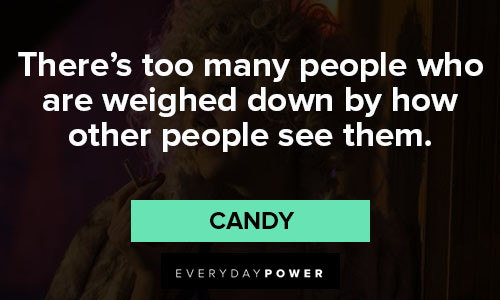 18. "The process is really saying goodbye to what you first imagined, and saying hello to what you discover." — Candy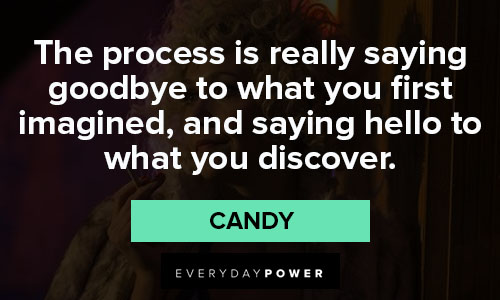 19. "Rodney, sugar, nobody makes money off of my p***y but me. I'm gonna keep what I earn. I don't need you. I don't need anybody else to hold my f***ing money for me." — Candy
20. "It's America, right? When do we ever leave a f***ing dollar for the other guy to pick up?" — Candy
21. "I know I'm not an actress. I came to you because I wanna learn to do what you do." — Candy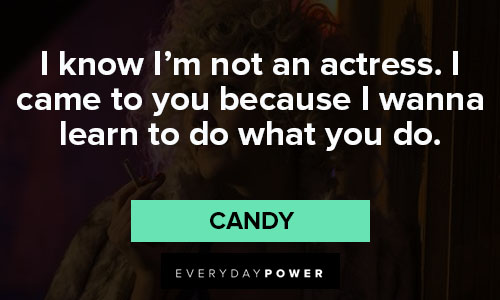 22. "I don't think anything is cliché if it's true." — Candy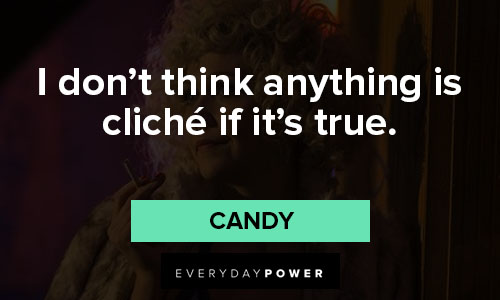 23. "Every woman in this world, she's selling. S***, even if she doesn't wanna be she's still got a price tag on her somewhere. Every one of us." — Candy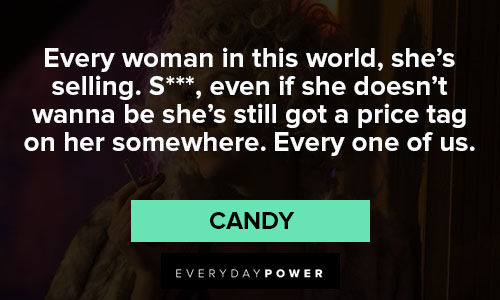 The Deuce quotes from Abby
24. "It's hard to get away when you're running a place." — Abby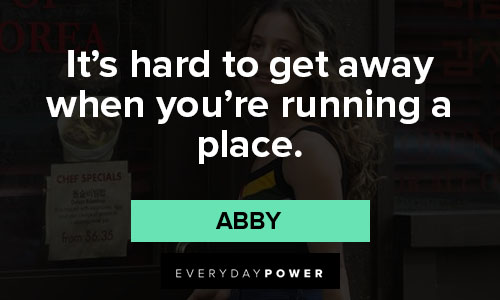 25. "People are surprising. And what you do isn't necessarily who you are." — Abby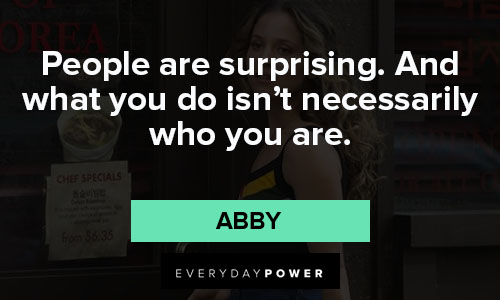 Which of these The Deuce quotes is your favorite?
Because of its bold and creative representation of the 70s and 80s New York City, the series gained tons of fans across the states and received high approval ratings.
The show demonstrates that both the cast and the people behind it fully understand urban grit while maintaining the colorful foundations of its characters.
The immersive world-building and character-driven stories throughout the series successfully created a stunning story for this show's audience.
With all the things that happened in the past and became part of the foundation of New York City, it is not hard to wonder what level of corruption still lingers in our cities.
Hopefully, you enjoyed reading these The Deuce quotes and sayings.
Use the comment section below to let us know which was your favorite.