25 Anais Nin Quotes on Love, Travel, Life and Friends
Allow these Anais Nin quotes to broaden your perspective on life, love, travel, and friends.
Anais Nin was light years before her time.
She was progressive in her ideas and expressed them through the written word in her many published works.
Want to broaden your perspective with some thought-provoking words?
Allow these Anais Nin quotes to help you do it.
Enjoy!
Anais Nin was a French-American diarist, essayist, novelist, and writer who is most known for her published diaries.
She wrote several novels, critical studies, essays, short stories, and volumes of erotica.
Born to Cuban parents in France, Nin spent her childhood and early life in Europe before moving to the U.S. where she became an established author.
Nin died of cervical cancer in 1977, in Los Angeles, California.
She will always be remembered for her unique expression of femininity, her lyrical style, and her psychological insight.
In honor of the late literary figure, below is our collection of Anais Nin quotes, collected from a variety of sources over the years.
When finished, be sure to check out our Gustave Flaubert quotes as well.
Check out our most popular quote article, a list of short inspirational quotes for daily inspiration.
Our inspirational quote category page has even more inspirational and educational quotes.
Anais Nin Quotes on Love, Travel, Life and Friends
1. "The secret of joy is the mastery of pain." – Anais Nin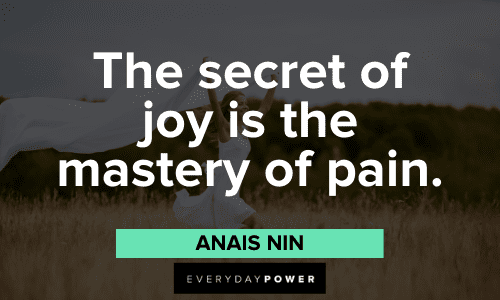 You will also enjoy our article on vacation quotes.
2. "The personal life deeply lived always expands into truths beyond itself." – Anais Nin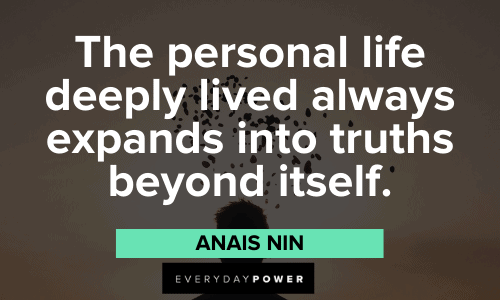 3. "We don't see things as they are, we see them as we are." – Anais Nin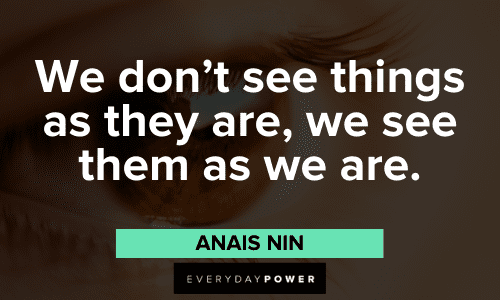 4. "We write to taste life twice, in the moment and in retrospect." – Anais Nin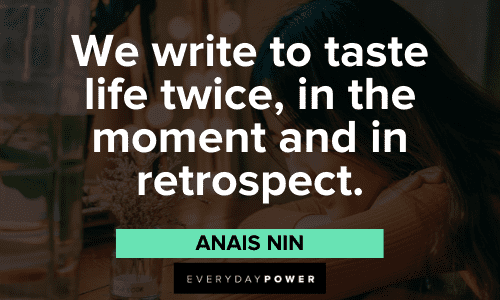 5. "Life shrinks or expands in proportion to one's courage." – Anais Nin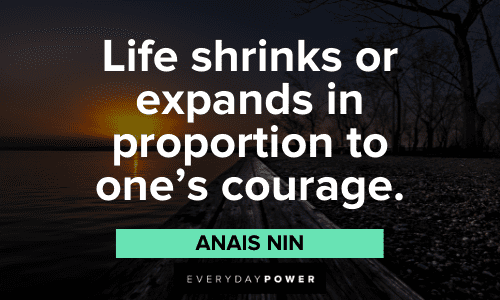 6. "Worlds self-made are so full of monsters and demons." – Anais Nin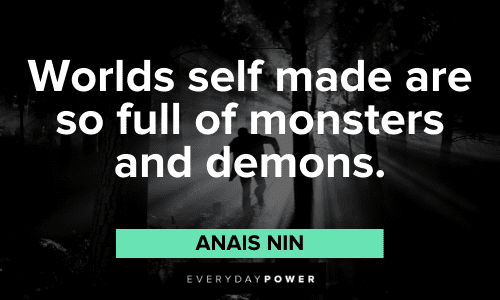 7. "Every word you wrote I ate, as if it were manna." – Anais Nin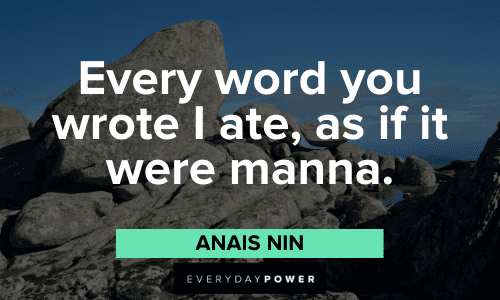 8. "To lie, of course, is to engender insanity." – Anais Nin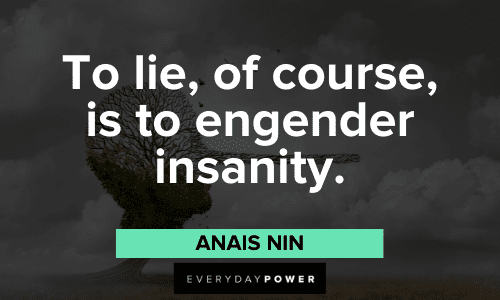 9. "Passion gives me moments of wholeness." – Anais Nin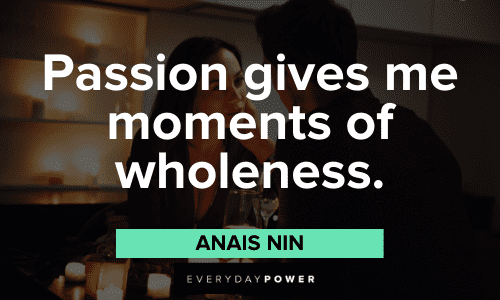 10. "I hate men who are afraid of women's strength." – Anaïs Nin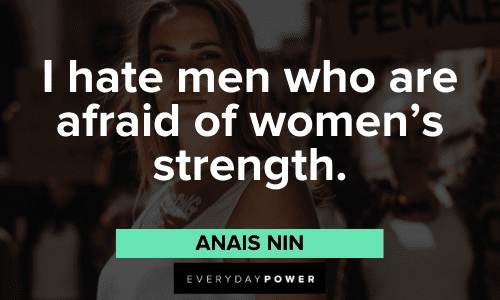 Anais Nin Quotes about love and instincts
11. "I, with a deeper instinct, choose a man who compels my strength, who makes enormous demands on me, who does not doubt my courage or my toughness, who does not believe me naive or innocent, who has the courage to treat me like a woman." – Anais Nin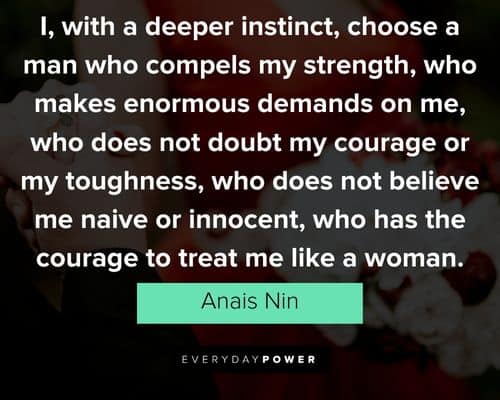 12. "Each friend represents a world in us, a world not born until they arrive, and it is only by this meeting that a new world is born." – Anais Nin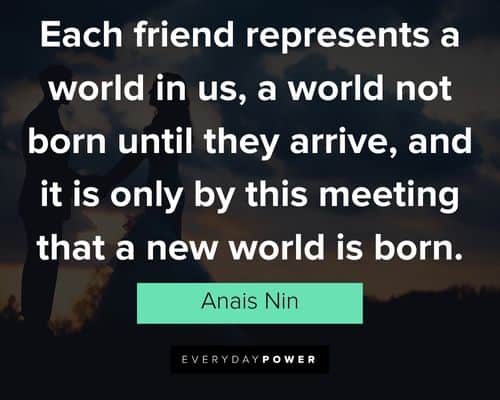 13. "The same chemicals were used in the cooking as were used on the composition of her own being: only those which caused the most violent reaction, contradiction, and teasing, the refusal to answer questions but the love of putting them, and all the strong spices of human relationship which bore a relation to black pepper, paprika, soybean sauce, ketchup and red peppers." ― Anaïs Nin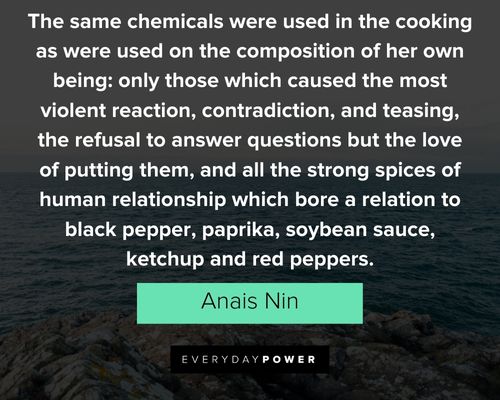 Anais Nin Quotes about life and vision
14. "Throw your dreams into space like a kite, and you do not know what it will bring back, a new life, a new friend, a new love, a new country." – Anais Nin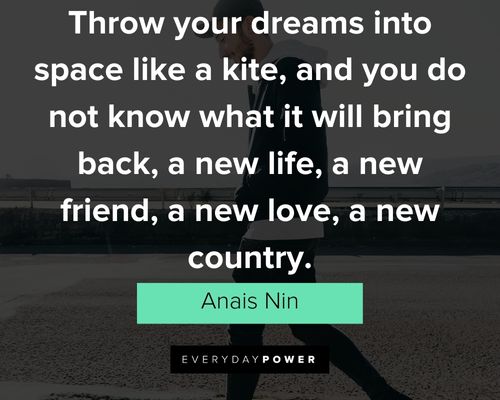 15. "Life is a process of becoming, a combination of states we have to go through. Where people fail is that they wish to elect a state and remain in it. This is a kind of death." – Anais Nin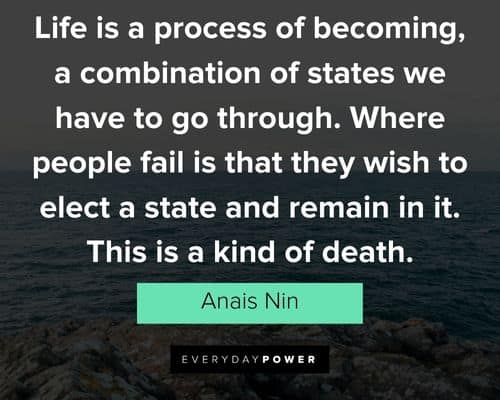 16. "The possession of knowledge does not kill the sense of wonder and mystery. There is always more mystery." – Anais Nin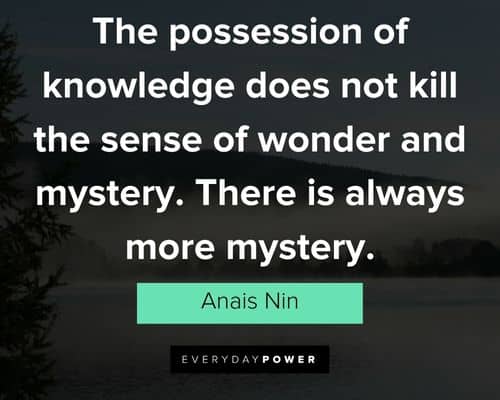 17. "There are books which we read early in life, which sink into our consciousness and seem to disappear without leaving a trace. And then one day we find, in some summing-up of our life and put attitudes towards experience, that their influence has been enormous."― Anaïs Nin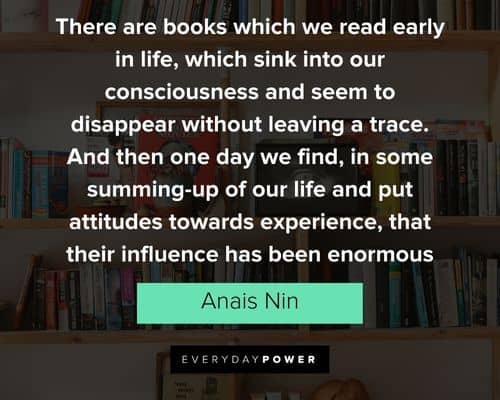 Anais Nin Quotes about friends and love
18. "Do not seek the because – in love there is no because, no reason, no explanation, no solutions." – Anais Nin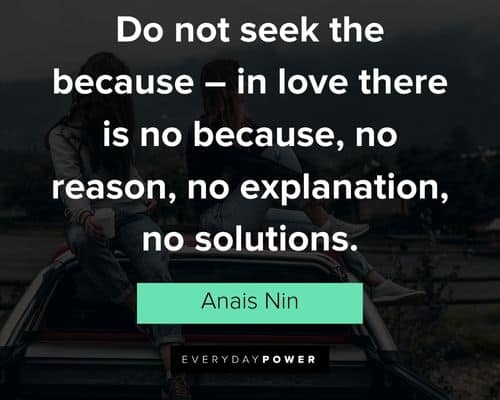 19. "Love never dies a natural death. It dies because we don't know how to replenish its source. It dies of blindness and errors and betrayals. It dies of illness and wounds; it dies of weariness, of witherings, of tarnishings." – Anais Nin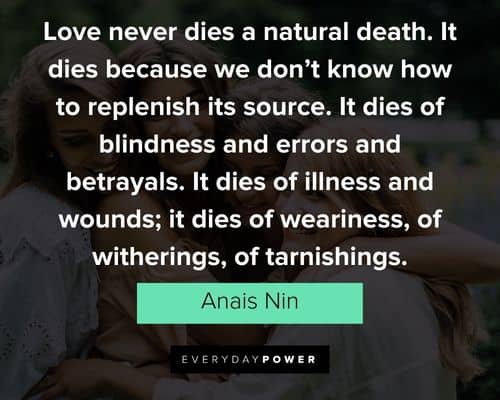 20. "And the day came when the risk to remain tight in a bud was more painful than the risk it took to blossom." – Anais Nin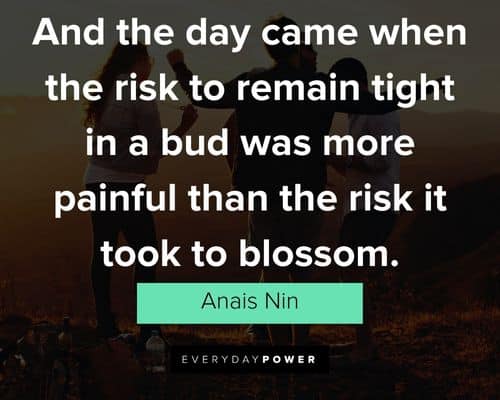 If you enjoyed this article, read our collection of Rumi quotes on life, love and strength that will inspire you.
Anais Nin Quotes travel
21. "How wrong is it for a woman to expect the man to build the world she wants, rather than to create it herself?" – Anais Nin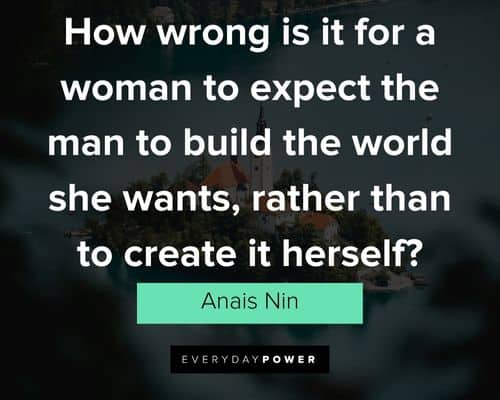 22. "We do not grow absolutely, chronologically. We grow sometimes in one dimension, and not in another; unevenly. We grow partially. We are relative. We are mature in one realm, childish in another. The past, present, and future mingle and pull us backward, forward, or fix us in the present. We are made up of layers, cells, constellations." – Anais Nin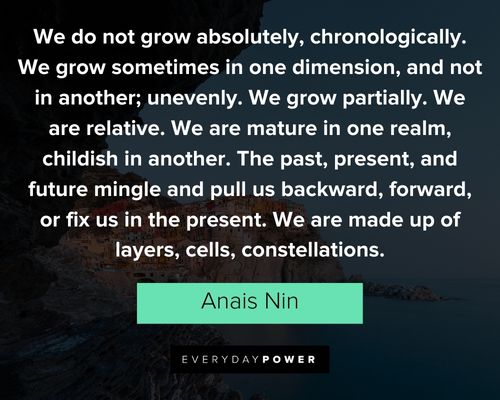 23. "I am an excitable person who only understands life lyrically, musically, in whom feelings are much stronger as reason. I am so thirsty for the marvelous that only the marvelous has power over me. Anything I can not transform into something marvelous, I let go. Reality doesn't impress me. I only believe in intoxication, in ecstasy, and when ordinary life shackles me, I escape, one way or another. No more walls." – Anais Nin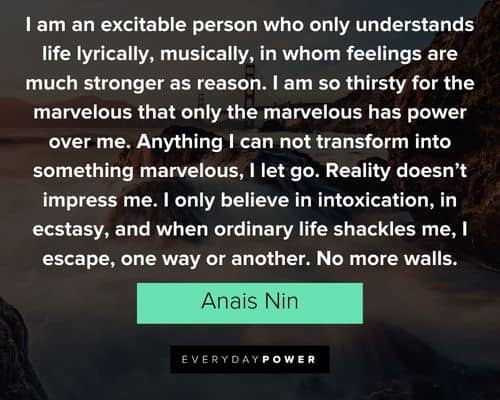 Anais Nin Quotes about love and courage
24. "Only in the fever of creation could she recreate her own lost life." – Anais Nin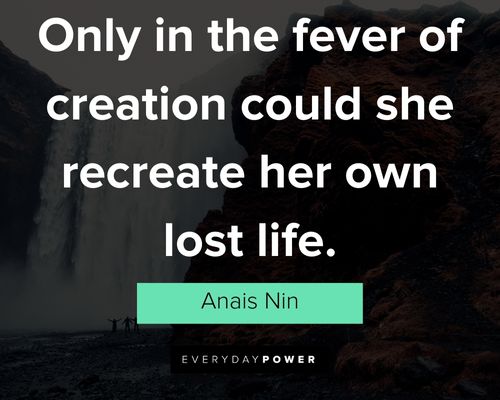 Anais Nin Quotes about life
25. "In the world of the dreamer there was solitude: all the exaltations and joys came in the moment of preparation for living. They took place in solitude." – Anais Nin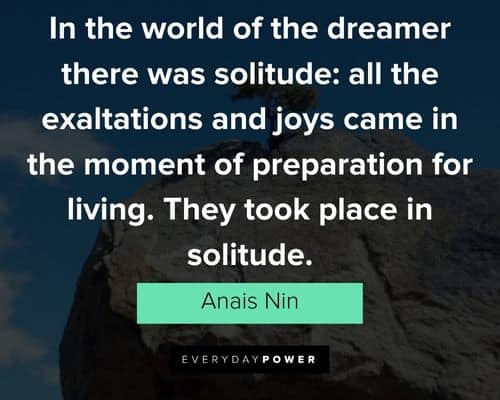 Did you enjoy these Anais Nin quotes?
Best known for her contribution to erotic literature, Anais Nin had a lot to say about love.
And regardless of her polarizing personality, she is widely regarded as inspirational.
Nin's volumes of work remain popular despite her death many years ago.
Hopefully, the above quotes have inspired you as much as they inspired us.
Which of the above Anais Nin quotes was your favorite?
Do you have any other inspirational quotes to add?
Tell us in the comment section below.