Best Fitness Motivational Quotes To Get You Started
Fitness motivational quotes can talk us into working out.
When we're tired, frustrated with our results and have a busy schedule, motivational quotes for working out can kick us into high gear in just a couple of seconds.
No matter what season it is, staying motivated to workout can be a challenge. When it's summer and we want instant results, when we don't see them it can be discouraging.
When it's wintertime and we want to prepare for summer, that can be too far away. And when we want to exercise, just to be healthy, well…sometimes we just don't know where to start.
The secret is to just get started and don't overthink it. The key is to find a workout routine that is fun for you. Find a workout YOU WANT to do consistently.
Most of us are addicted to words and phrases, but we just might not realize it. Our words and thoughts can distract us or keep us on track.
Use these motivational quotes for working out to help you stay focused on maintaining your health, great energy, and a healthy glow!
Also, check out our list of movement quotes for more inspiration.
Fitness Motivational Quotes
1. "A fit, healthy body—that is the best fashion statement." – Jess C. Scott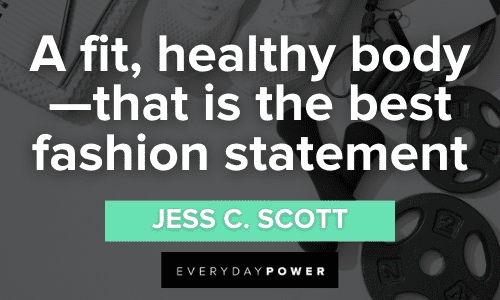 2. "The secret of getting ahead is getting started." -Mark Twain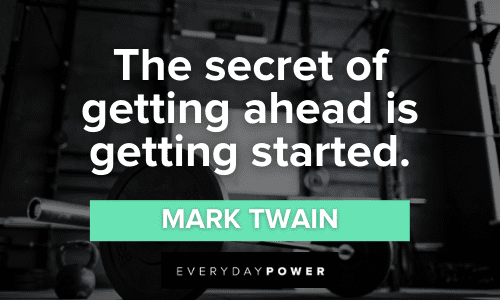 3. "Energy & persistence conquer all things." – Benjamin Franklin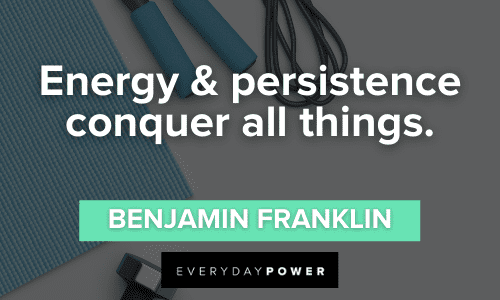 4. "The next few months will go by whether you workout or not!"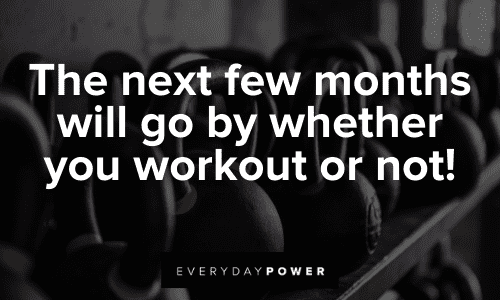 5. "Muscles are torn in the gym, fed in the kitchen and built in the bed."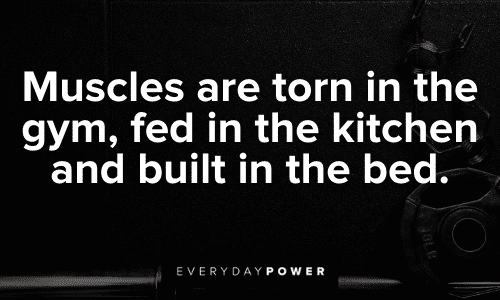 6. "If we could give every individual the right amount of nourishment and exercise, not too little and not too much, we would have found the safest way to health." – Hippocrates
7. "If you have a body, you are an athlete!" – Bill Bowerman
8. "Someone busier than you is working our right now."
9. "This month's exercise is next month's health."
If you're enjoying these quotes, make sure to read our collection of health quotes expressing the power of making healthy choices.
10. "You can either suffer the pain of discipline or the pain of regret." -Jim Rohn
11. "I don't work out because I hate my body, I workout because I love my body."
12. "No matter how slow you go you still lapping everyone on the couch."
13. "Today it hurts, tomorrow it works!"
14. "STRONG, is the new skinny."
15. "If it doesn't challenge you it doesn't change you!" – Fred Devito
Fitness motivational quotes to inspire you to work harder
16. "We are what we repeatedly do. Excellence then is not an act but a habit." —Aristotle
17. "Sweat is fat crying." —Unknown
18. "If you want something you've never had, you must be willing to do something you've never done." —Thomas Jefferson
19. "Strength does not come from physical capacity. It comes from an indomitable will." —Mahatma Gandhi
Don't forget to also check out these motivational quotes of the day for daily rejuvenation.
20. "Training gives us an outlet for suppressed energies created by stress and thus tones the spirit just as exercise conditions the body." – Arnold Schwarzenegger
21. "Respect your body. It's the only one you get."
22. "The only bad workout is the one that didn't happen."
23. "Nothing tastes as good as being fit feels."
24. "The voice in your head that says you can't do this is a liar."
25. "You don't have to be great to start, but you have to start to be great." – Zig Ziglar
Fitness motivational quotes to keep you on track and focused
26. "Today I will do what others won't, so tomorrow I can accomplish what others can't." —Jerry Rice
27. "All great achievements require time." —Maya Angelou
28. "Every day is another chance to get stronger, to eat better, to live healthier, and to be the best version of you." —Unknown
If you're enjoying these quotes, you'll love our collection of second chances quotes that will inspire you to take life by the horns and give that goal another go.

29. "Your body can stand almost anything. It's your mind that you have to convince."
30. "If you're tired of starting over, stop giving up."
31. "Take care of your body. It's the only place you have to live." – Jim Rohn
32. "To enjoy the glow of good health, you must exercise." – Gene Tunney
33. "In fitness, there are no shortcuts. It involves immense discipline and hard work." – Mahesh Babu
34. "The purpose of training is to tighten up the slack, toughen the body, and polish the spirit." – MORIHEI UESHIBA
35. "Fitness, in my opinion, is a mental exercise more than just physical." – Anushka Shetty
Also check out these inspirational walking quotes about the mental, physical, and emotional benefits.
Fitness motivational quotes to help you reach your goals
36. "The same voice that says "give up" can also be trained to say "keep going"" —Unknown
37. "To give anything less than your best is to sacrifice the gift." —Steve Prefontaine
38. "Running's a pain in the ass. But it sure gives me a nice one."
39. "Fitness is not about being better than someone else… It's about being better than you used to be." – Khloe Kardashian
40. "True enjoyment comes from activity of the mind and exercise of the body; the two are ever united." – Wilhelm von Humboldt
41. "Motivation is what gets you started. Habit is what keeps you going." – Jim Ryin
42. "Stop saying I wish, start saying I will."
43. "Whether you think you can or you think you can't, you're right." – Henry Ford
Other awesome fitness motivational quotes
44. "The difference between the impossible and the possible lies in a person's determination." —Tommy Lasorda
45. "The reason I exercise is for the quality of life I enjoy." – Kenneth H. Cooper
46. "A muscle is like a car. If you want it to run well early in the morning, you have to warm it up." – FLORENCE GRIFFITH JOYNER
47. "Exercise should be regarded as a tribute to the heart." – Gene Tunney
48. "My fitness journey will be a lifelong journey." – Khloe Kardashian
49. "Never give up on a dream just because of the time it will take to accomplish it. The time will pass anyway." – Earl Nightingale
50. "Always remember: good things take time."
Which of these fitness motivational quotes was your favorite?
There comes a time in your fitness journey when you feel like keeping to your workout routine isn't worth it anymore.
When this happens, you can either treat the feeling as a temporary blip and work through it, or you can give in and give up.
Hopefully, these quotes have reminded you why it's worth all the effort and give you the push you need to keep fighting for your fitness goals.
Did you enjoy these fitness motivational quotes? Which of the quotes was your favorite? We would love to hear all about it. Also, don't forget to share with your friends and followers.
May 5, 2019 5:00 AM EST
Be the first one to leave a comment!