25 In the Heights Quotes to Inspire You to Chase Your Dreams
If you need motivation or encouragement, enjoy these In the Heights quotes.
In the Heights is an American musical drama film directed by Jon M. Chu based on the stage musical of the same name.
It features the story of the predominantly Dominican Washington Heights neighborhood of Upper Manhattan in New York City.
It revolves around every member of the community pursuing their dreams of a better life.
The series presents a two-pronged assault of gentrification and discrimination, which are highly contested issues happening in real life.
But on the other hand, it shows the celebration of community, hope, and heritage.
Let these In the Heights quotes inspire you to chase and fulfill your dreams.
Don't forget to also check out these Raya and the Last Dragon quotes about trust and teamwork.
Check out our most popular quote article, a list of short inspirational quotes for daily inspiration.
Explore our complete collection of motivational quotes here.
In the Heights quotes by Usnavi
1. "Suenito? It means little dream." — Usnavi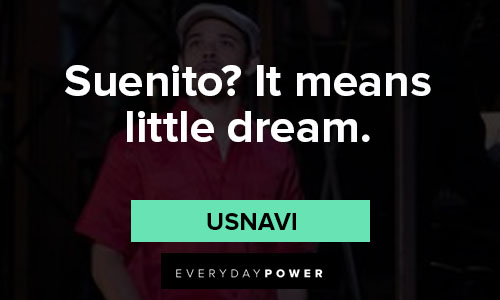 You will also enjoy our article on chase your dreams.
2. "I've been saving up all my pennies in my pennies in my piggy bank for this day." — Usnavi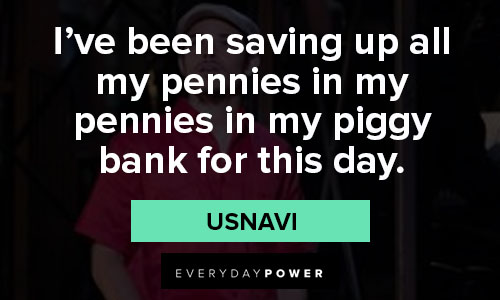 3. "Girl was a rocket, determined to go far." — Usnavi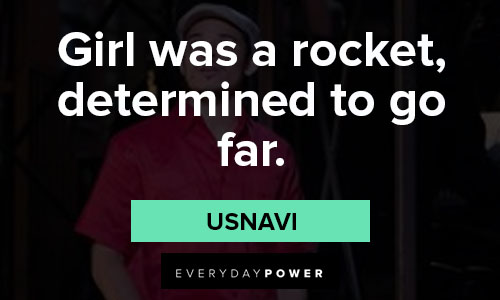 4. "Abuela Claudia never had kids, so she adopted the whole block as her own. Adopted our suenitos too." — Usnavi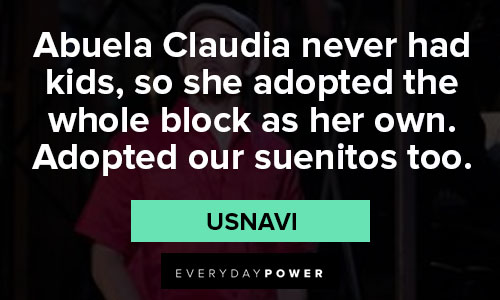 5. "Here I work to survive. El Suenito will be a labor of love." — Usnavi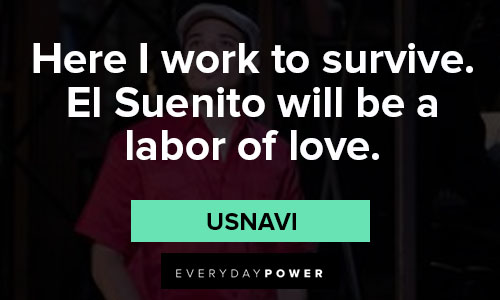 6. "The streets were made of music." — Usnavi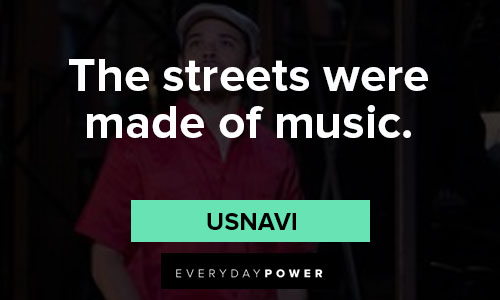 7. "I'm up Schitt's Creek." — Usnavi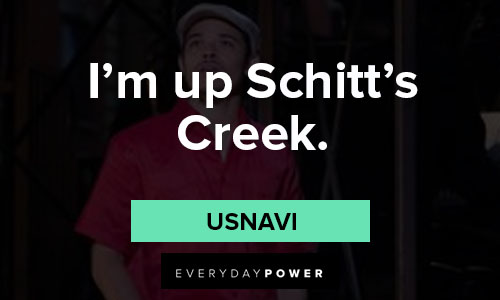 8. "Merry Christmas, y'all, I'm home." — Usnavi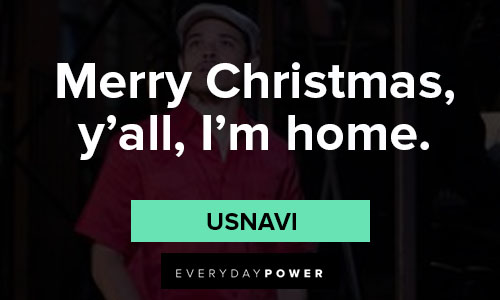 9. "You're just a kid. You don't even know. For real. Dominican Republic's going to blow your mind." — Usnavi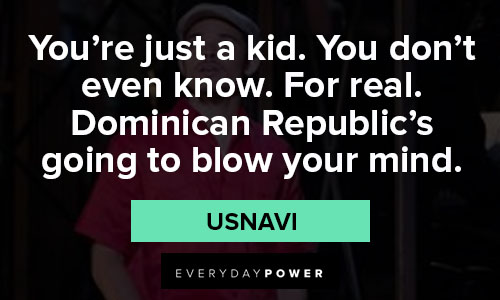 10. "It's the story of a block that was disappearing. Once upon a time, in a faraway land called Nueva York, en un barrio called Washington Heights. Say it, so it doesn't disappear." — Usnavi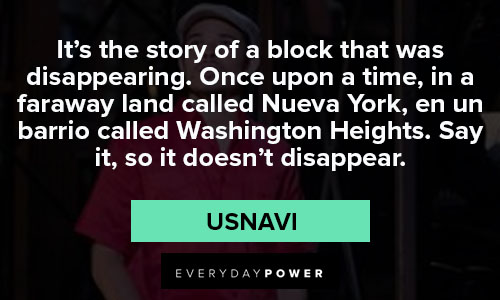 11. "If I made it back to the Dominican Republic, then we retained our roots. But Nina Rosario's dreams were all about reach. Spelling bee champ, valedictorian, managed her dad's business, and basically she was like a little sister to me." — Usnavi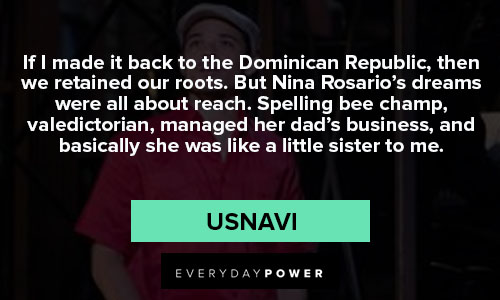 12. "On my dad's first trip to Nueva York, he saw a passing ship on the horizon. And he was like, 'Wow, that's going to be my son's name'." — Usnavi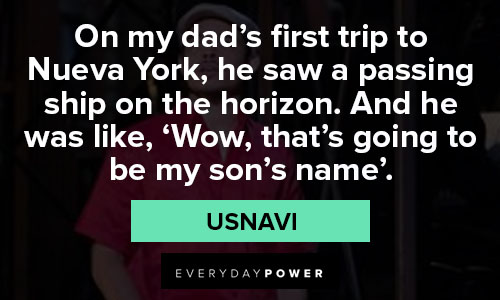 13. "The point is not who won, but that we all had a suenito. And when it comes to dreams, we had to keep scraping by." — Usnavi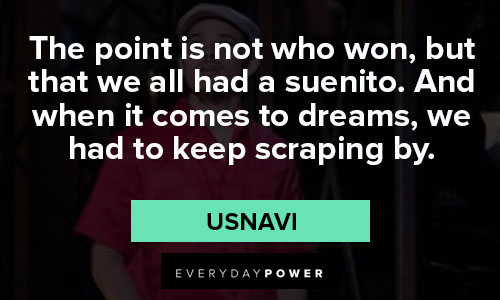 14. "Vanessa, tough as nails. Dreamed of being a downtown fashion designer. TO her, a suenito was something you keep a secret." — Usnavi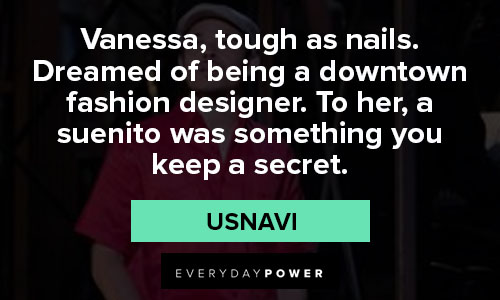 15. "I was thinking, there;s so much stuff going on, and all it just got me thinking about like, all the people I care about the most. And I just thought about you." — Usnavi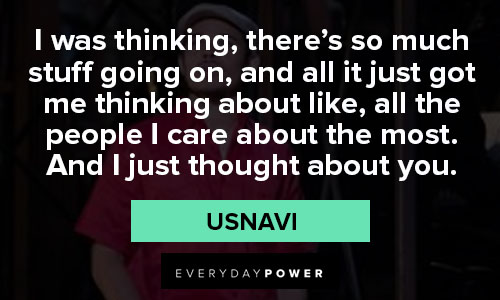 In the Heights quotes by Abuela Claudia
16. "We had to assert our dignity in small ways. That's why these napkins are beautiful. That's why my mother's gloves were beautiful. Little details that tell the world, we are not invisible" — Abuela Claudia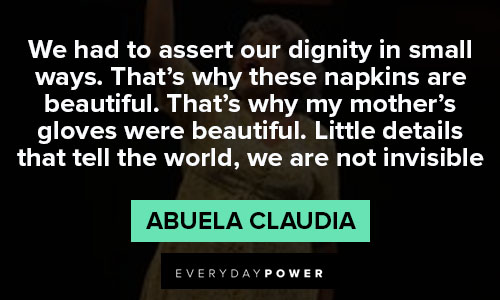 17. "You think it ill be different in the Domincan Republic? Just like my mama. Morning and night, you after year, to what end? To wake up and scrub another floor till the day she died." — Abuela Claudia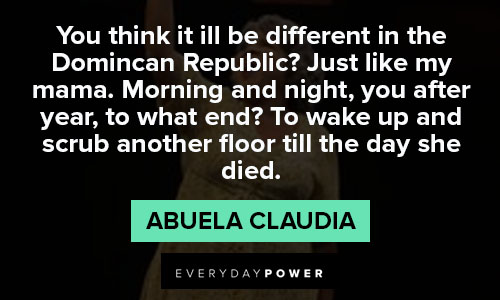 18. "That's the roof? On the floor?" — Abuela Claudia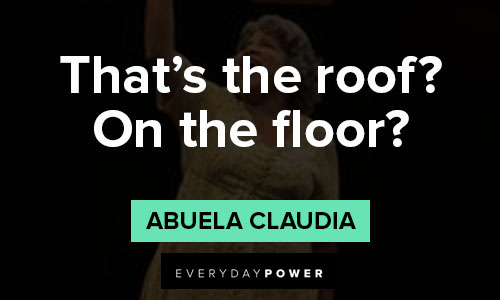 19. "Caramba. Buy me a bikini."— Abuela Claudia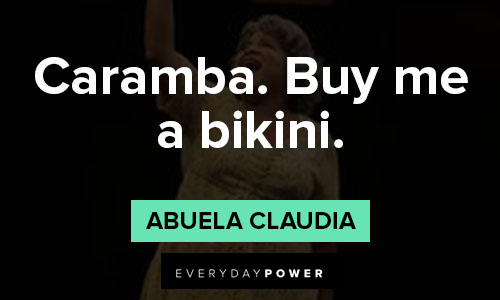 In the Heights quotes by Kevin Rosario
20. "You don't tell me how much we can afford. You're not the parent."— Kevin Rosario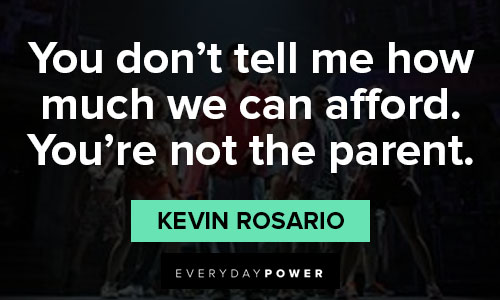 21. "There's no shame in waiting tables. And there's no shame in having a different path. Like you." — Kevin Rosario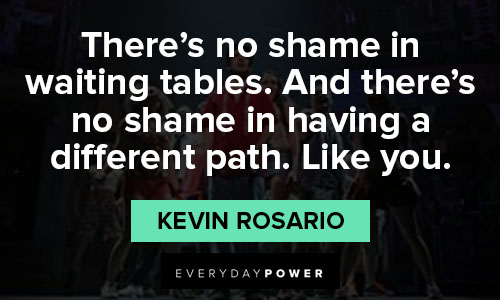 22. "Start small. Dream big." — Kevin Rosario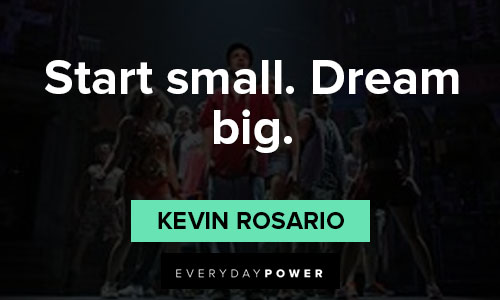 23. "So all of my decisions can just go to hell here? I'm doing this for you!" — Kevin Rosario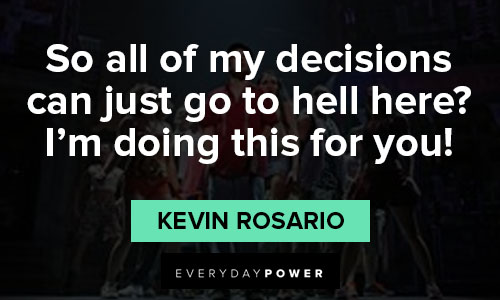 24. "You can take all the bruises baby you but stay in the ring." — Kevin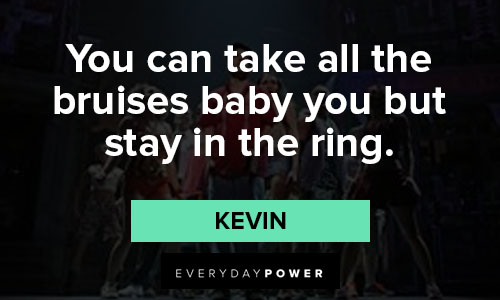 25. "Well, you keep getting A's baby that's your revenge!" — Kevin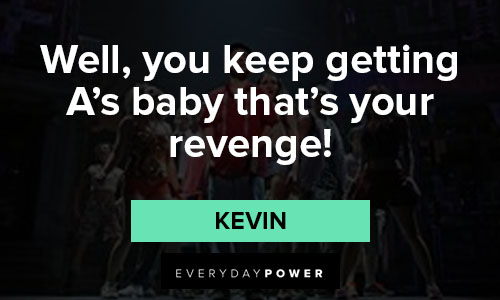 Which of these In the Heights quotes is your favorite?
In the Heights was originally set to be adapted by Universal Pictures in 2008 but after it fell through, the project was eventually started up in 2016 by director Chu.
The filming took place around New York City in 2019.
Moreover, this film received praises for its direction, performance, and musical numbers, but it did receive some criticism about the lack of representation of Afro-Latino Americans.
It's a big-hearted and vibrant film filled with music and dance.
Much like real life, it shows that anyone can dream big, and with the help of a tight-knit community, any dream is achievable.
So read on these In the Heights quotes and sayings and let yourself imagine your lifelong dream.