Raya and the Last Dragon Quotes About Trust and Teamwork
If you're a Disney fan, you will enjoy these Raya and the Last Dragon quotes from the recently released film.
Raya and the Last Dragon is one of the most recent family-friendly movies to hit the big screen.
The story is one of adventure and lessons as are all of our favorite Disney films.
Raya is a warrior princess of Southeast Asian descent.
Her family and their people live in a land that used to be inhabited by humans and dragons.
But, the dragons sacrificed themselves to save the humans against an evil that was coming against them.
Raya seeks out on an adventure to reunite the different clans that have since divided and to locate the last dragon which people aren't sure really exists.
Learn more about the story and adventure in these Raya and the Last Dragon quotes.
Don't forget to also check out these Yellowstone quotes for the modern-day rancher in you.
Check out our most popular quote article, a list of short inspirational quotes for daily inspiration.
Check out our inspirational quotes category page for more inspirational life quotes.
Raya and the Last Dragon quotes by Raya
1. "Remind me never to have kids." ― Raya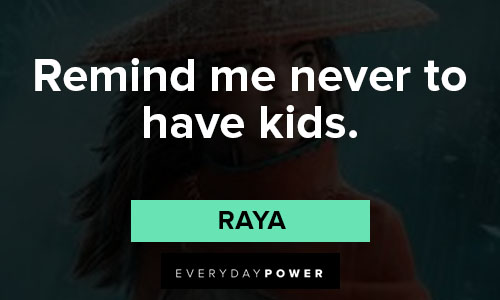 2. "Note to self: Don't die." ― Raya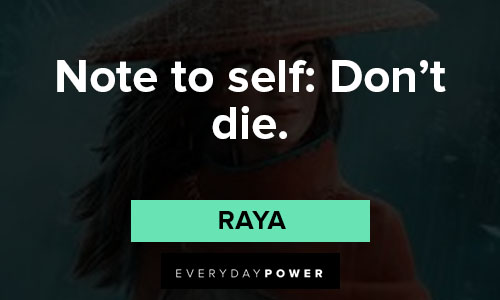 3. "That's Namaari, the back-stabbing binturi who broke the world." ― Raya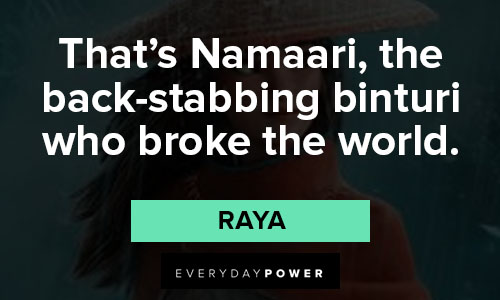 4. "I have something to say… Who's hungry?" ― Raya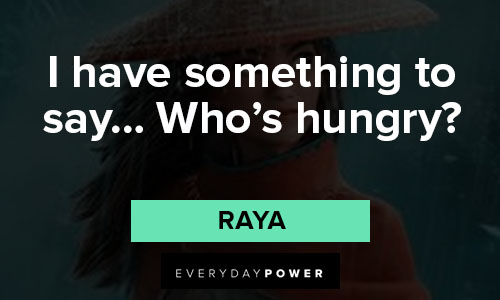 5. "Six years of searching, and we end up at a literal shipwreck." ― Raya
6. "Really? A con baby?" ― Raya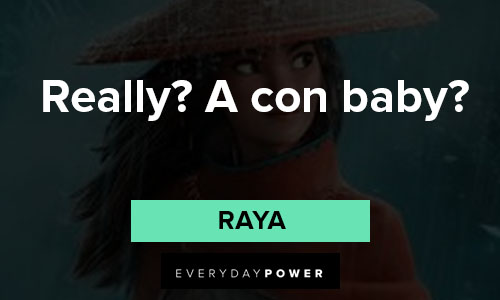 7. "Then let me take the first step." ― Raya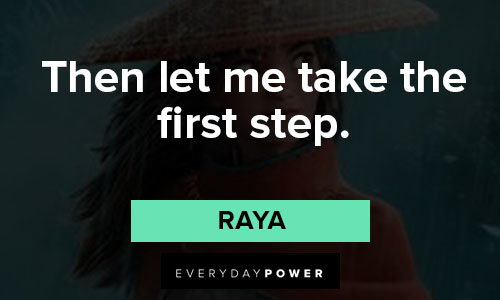 8. "You might want to take out that blade. You're gonna need it." ― Raya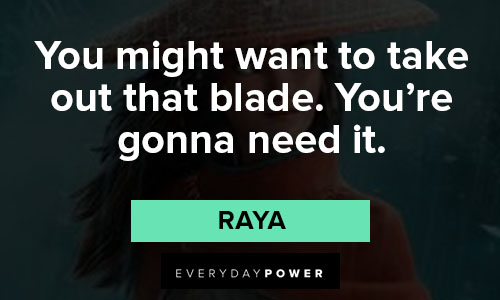 9. "What can I say? Bling is my thing." ― Raya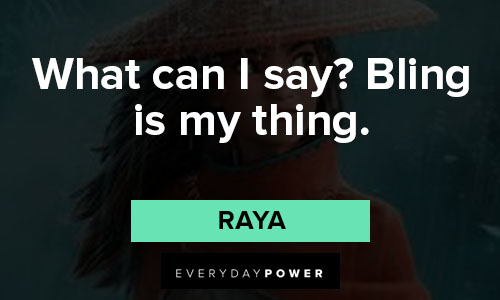 10. "My whole life, I trained to become a guardian of the Dragon Gem. But this world has changed, and its people are divided. Now to restore peace, I must find the Last Dragon. My name is Raya." ― Raya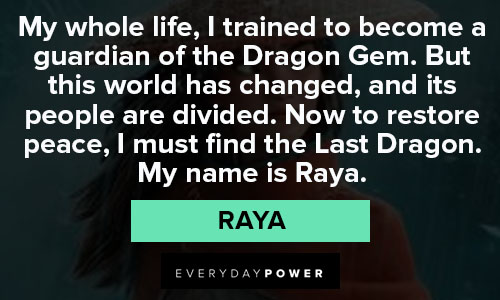 11. "I know what you're thinking. A lone rider. A distopian world. A land that's gone to waste. How did this world get so broken? Well, that all began 500 years ago. Kumandra. This is what we used to be when our land was whole, and we lived harmoniously alongside dragons, magical creatures who brought us water, and rain, and peace. It was paradise." ― Raya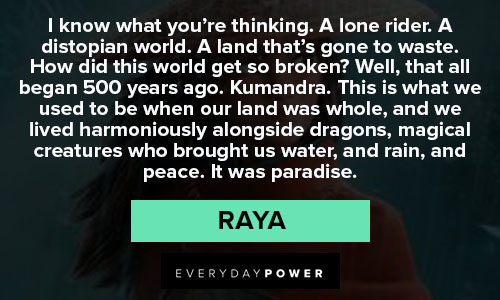 12. "Then, the druun came. A mindless plague that spread like wildfire. Multiplying as they consumed life and turned everyone they touched into stone. The dragons fought for us the best they could, but it wasn't enough. That's when the mighty Sisu Datuu, the last dragon, concentrated all her magic into a gem and blasted the druun away. Everyone that was turned to stone came back… except the dragons. All that was left of Sisu was her gem." ― Raya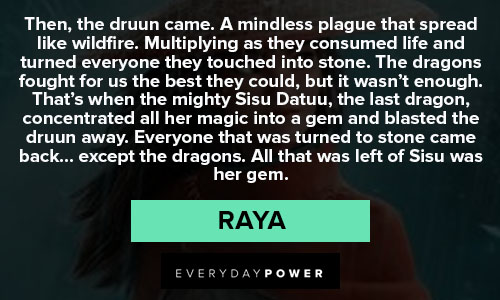 13. " It should have been this big inspirational moment where humanity united over her sacrifice, but instead, people being people, they all fought to possess the last remnant of dragon magic. Borders were drawn. Kumandra divided. We all became enemies, and the gem had to be hidden, but that's not how the world broke. That didn't truly happen until 500 years later when I came into the story." ― Raya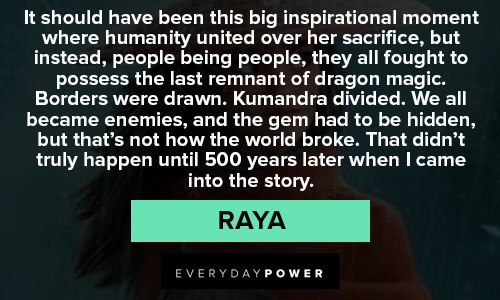 14. "Yeah, I knew you couldn't handle rolling solo. You're nothing without your band." ― Raya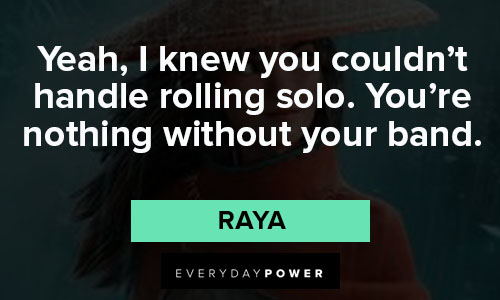 Raya and the Last Dragon quotes by Sisu
15. "I love credit!" ― Sisu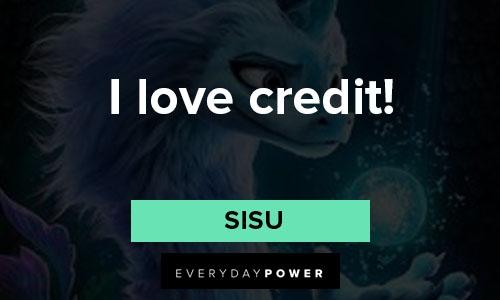 16. "It may feel impossible, but sometimes you just have to take the first step, even before you're ready." ― Sisu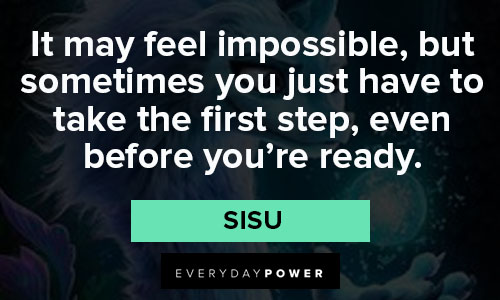 17. "But have you ever done like a group project, but there's like that one kid who didn't pitch in as much, but still ended up with the same grade? Yeah, I wasn't the one who actually made the gem. I just turned it in." ― Sisu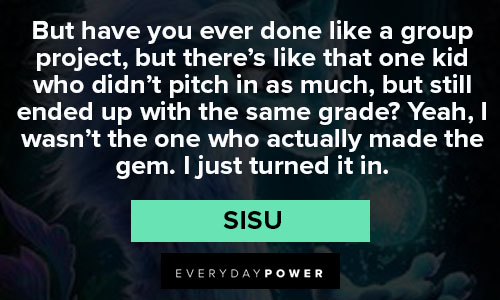 18. "Got it. Noted. Makes sense. You have to admit, though, these bug booties are kind of cute." ― Sisu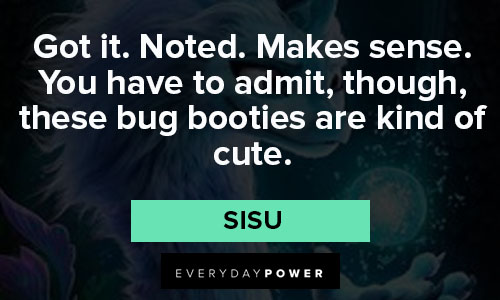 19. "Oh, we were doing a jumpy thing? So sorry. My bad. I get it now." ― Sisu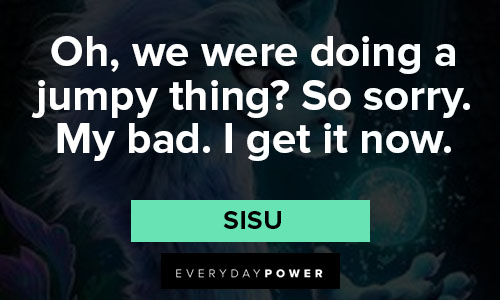 20. "Something tells me you're not besties." ― Sisu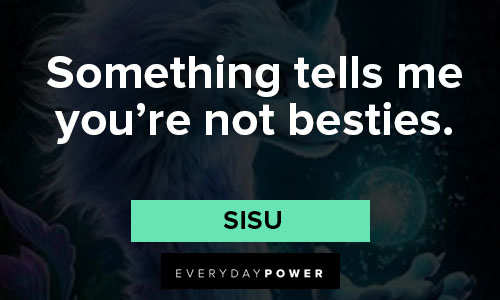 21. "Being people is hard." ― Sisu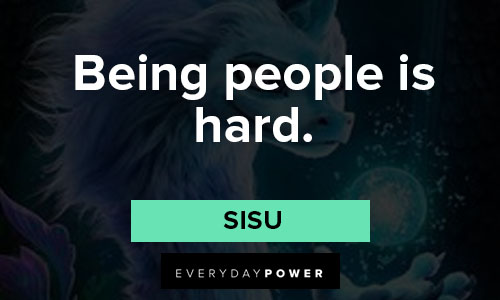 22. "Alright! You're not going to regret this. But we're gonna need a really good gift. What do you think she's into? Cats? Knives? Cats with knives? Knives with cats on them?" ― Sisu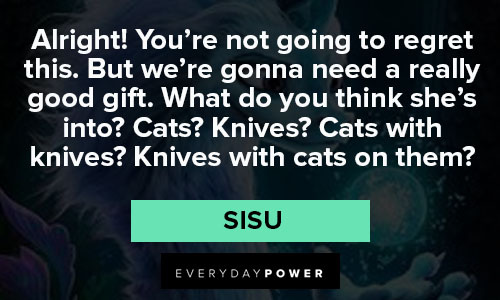 23. "Impressed, huh? Wait 'til you see my backstroke! I'm wicked when I hit that liquid! I got water skills that kill! I slaughter when I hit the water! I'm like… really good at swimming… through rhyme. I was trying to make that… that I'm really good at swimming. I'm a really good swimmer… just basically."― Sisu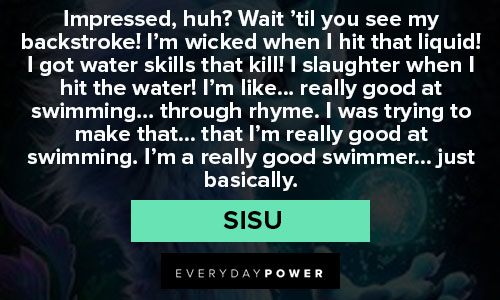 Raya and the Last Dragon quotes by Boun
24. "How hot do you want it? We have hot, really hot, and "Boom goes the dynamite!" ― Boun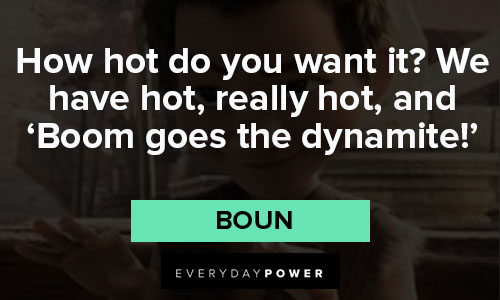 25. "We have shrimp, we have congee, we have shrimp congee that just won't quit" ― Boun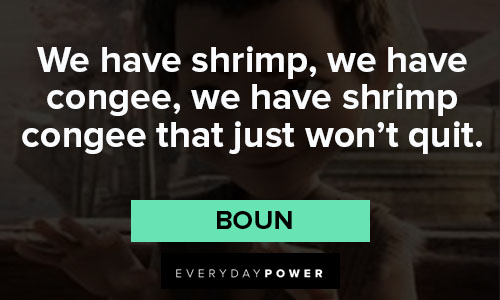 Which of these Raya and the Last Dragon quotes is your favorite?
There are high expectations that exist for Disney films and Raya and the Last Dragon did not disappoint.
Critics and viewers praised the storyline, characters, visual imagery, and music from the movie.
And while the story itself is enjoyable, there is a message to learn as there is in all Disney films.
It paints a beautiful picture of the importance of trust and teamwork for success and happiness.
If you've only read these Raya and the Last Dragon quotes and sayings and haven't watched the movie, set a movie day on your calendar.
And also check out these Eragon quotes about the dragon-riding fantasy novel!
Make it extra fun by theming your dinner or snacks around the movie theme and enjoy a day of Disney magic.