James Clear Quotes From the American Author
If you have ever wondered why you do or think a certain way, check out these James Clear quotes.
James Clear is an American author whose work focuses on decisions and habits in human behavior.
His bestselling book is called Atomic Habits. The book was released in 2018 and has sold over 8 million copies worldwide.
Clear is also a speaker, and he has spoken for clients such as Capital One, Intel, and Cisco.
In addition to the #1 New York Times-bestselling book Atomic Habits, Clear also released a journal called The Clear Habit Journal.
The book gives an easier way for his readers to build better habits.
Clear also has many articles on his website directed toward helping people.
To learn more about the James Clear quotes, take a look at the collection below.
Check out our most popular quote article, a list of short inspirational quotes for daily inspiration.
Explore our complete collection of motivational quotes here.
James Clear Quotes On Successful Habits
If we want success, we must form successful habits. Take a look at the quotes below for for information.
1. "I accumulated small but consistent habits that ultimately led to results that were unimaginable when I started." – James Clear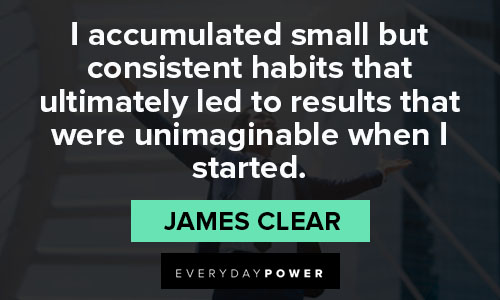 2. "In the long run, the quality of our lives often depends on the quality of our habits." – James Clear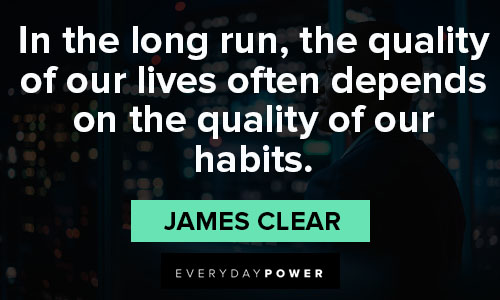 3. "The only way I made progress – the only choice I had – was to start small." – James Clear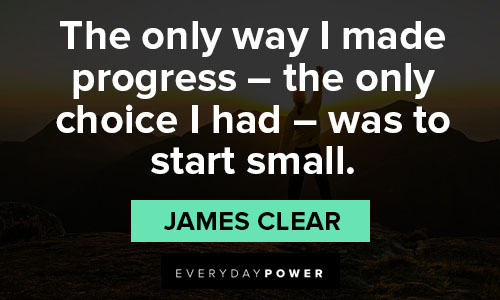 4. "If you can get 1 percent better each day for one year, you'll end up thirty-seven times better by the time you're done." – James Clear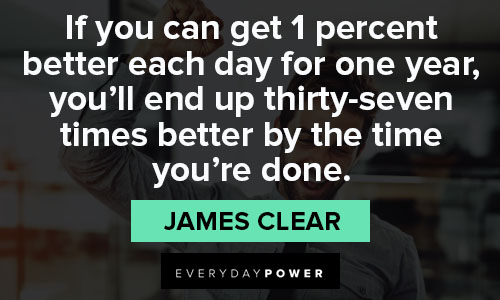 5. "Every action you take is a vote for the person you wish to become." – James Clear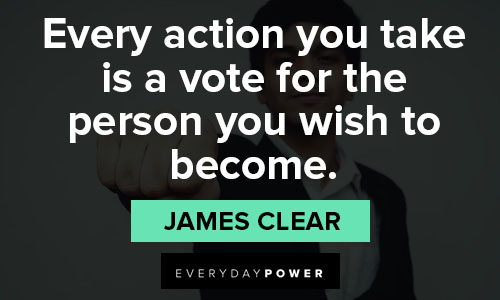 6. "By the time I graduated, I was listed in the school record books in 8 different categories." – James Clear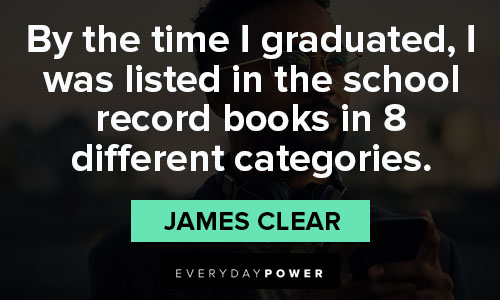 7. "Small habits helped me fill my potential." – James Clear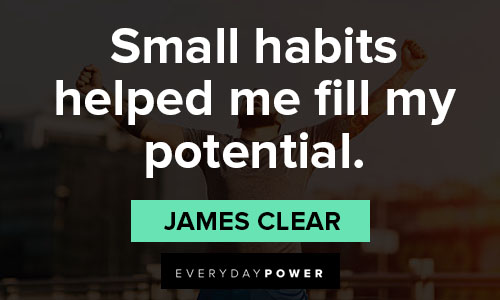 8. "Too often we convince ourselves that massive results require massive action." – James Clear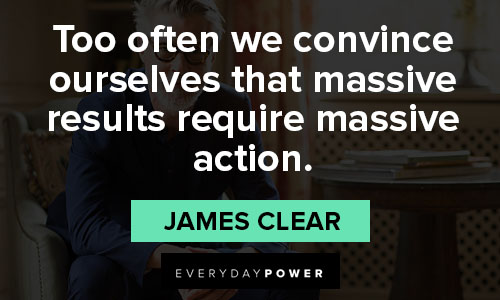 9. "Improving by 1% isn't particularly notable, sometimes it isn't even noticeable, but it can be far more meaningful – especially in the long run." – James Clear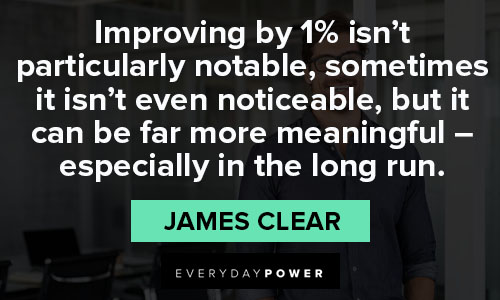 10. "A single decision is easy to dismiss, but when we repeat 1% errors day after day by replicating poor decisions, duplicating tiny mistakes, and rationalizing little excuses, our small choices compound into toxic results." – James Clear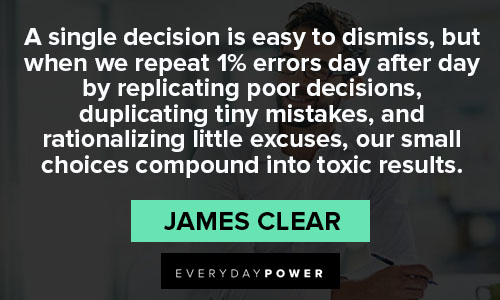 If you enjoy this article, check out our collection of Chuck Palahniuk quotes from the New York Times bestselling author.
James Clear Quotes On Little Steps
Lots of little steps equal big results. Take a look at the quotes below to get inspired to start some steps of your own.
11. "Making a choice that is 1% better or 1% worse is insignificant in the moment. But over the span of moments that make up a lifetime, these choices determine the difference between who you are and who you could be." – James Clear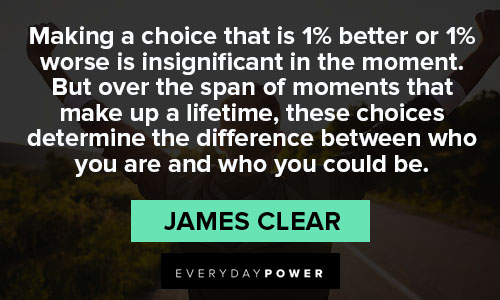 12. The more you think of yourself as worthless or stupid or ugly, the more you condition yourself to interpret life that way." – James Clear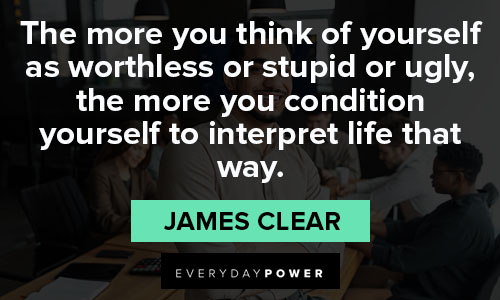 13. "The seed of every habit is a single, tiny decision." – James Clear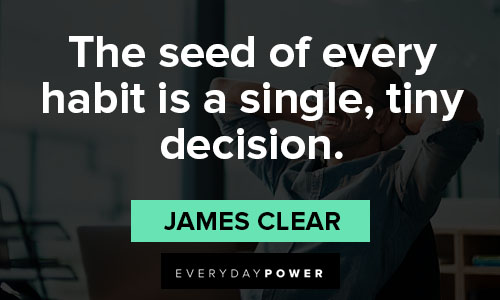 14. "Goals are good for setting a direction, but systems are best for making progress." – James Clear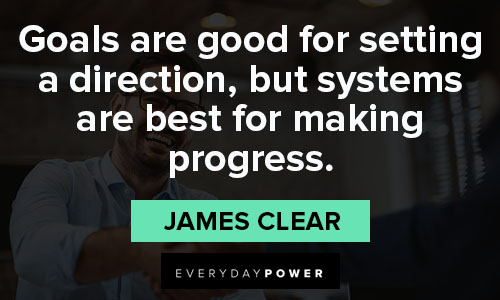 15. "Outcomes are about what you get. Processes are about what you do." – James Clear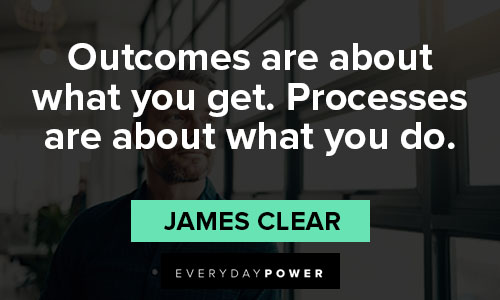 16. "Building habits in the present allows you to do more of what you want in the future." – James Clear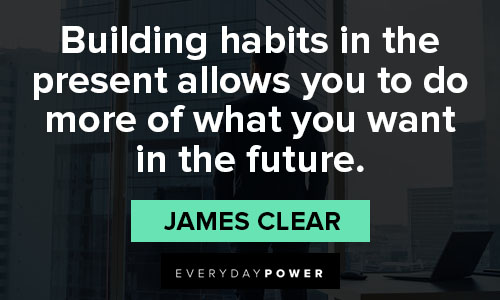 17. "Quite literally, you become your habits." – James Clear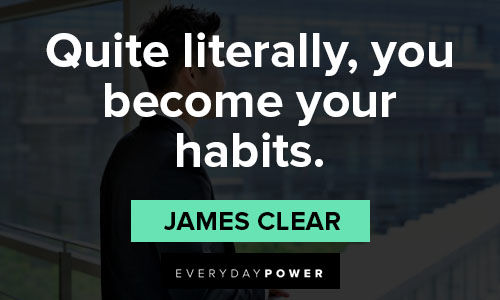 18. "Your habits can compound for you, or against you." – James Clear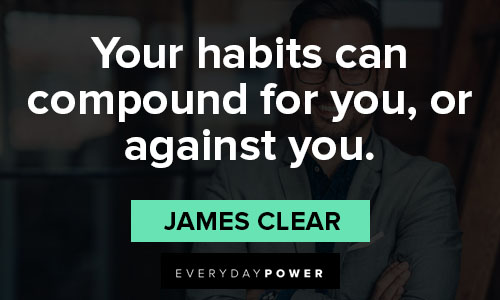 19. "Why do small improvements accumulate into remarkable results?" – James Clear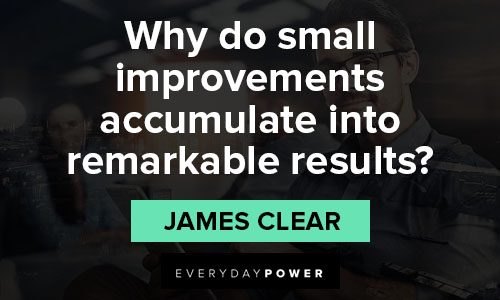 20. "You get what you repeat." – James Clear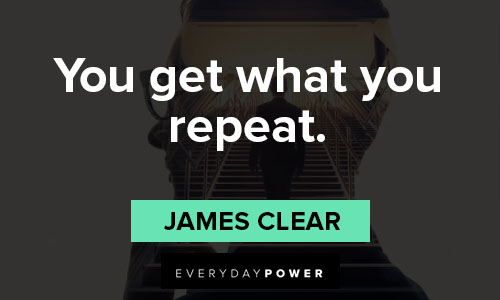 Did The James Clear Quotes Inspire You To Build New Habits?
James Clear has had many accomplishments during his career, most of which revolve around his bestselling book Atomic Habits.
The book has been translated into over fifty languages and spent over twelve months on the bestseller list.
In addition to the book's success, Clear's speaking has been a success, and he even has a place on his website where readers can submit requests for him to speak at their events.
Clear got his education from Denison University, graduating in 2008 with a degree in biomechanics.
Clear has reported that he is writing his next book, which will be his last book since Atomic Habits.
What new habits did the James Clear quotes inspire you to start?
Did you share this inspirations with your family and friends?
Please leave comments below.