Johnny Bravo Quotes From The Cartoon Classic
Woah, mama!
If you're looking for some Johnny Bravo quotes, we've got you covered.
You may also enjoy our article on:
In 1992, Ted Turner launched the Cartoon Network, a 24/7 network of animation.
He'd purchased Hana-Barbera, acquiring rights to all the classics – like Scooby-Doo and The Flintstones – but he needed some fresh content to catch the eye of a new generation of television watchers.
While attending Loyola Marymount University, Van Partible created an animated short featuring an Elvis impersonater.
His professor convinced Partible to submit the film to Hana-Barbera as a pitch, and Johnny Bravo was debuted as one of Cartoon Network's new animated series.
The show continued to run for four seasons, embedding the funny but egotistical Johnny in the minds of millennial children forever.
Don't forget to also check out these Scooby-Doo quotes from Scooby and the gang.
If you love this quote collection, read out our most popular quote article about short inspirational quotes for daily motivation.
If you need more inspirational quotes, check out our motivational quotes category page.
Famous Johnny Bravo quotes to boost your self-love
1. "But enough about me… Let's talk about me. What do you think of me?" — Johnny Bravo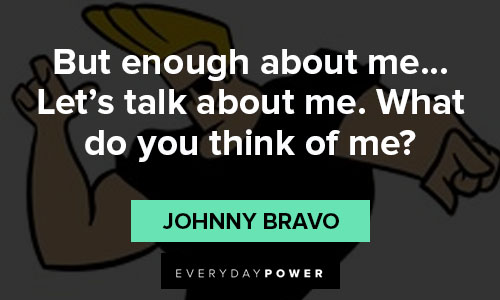 2. "Check the pects. Hoo-ha hooah!" — Johnny Bravo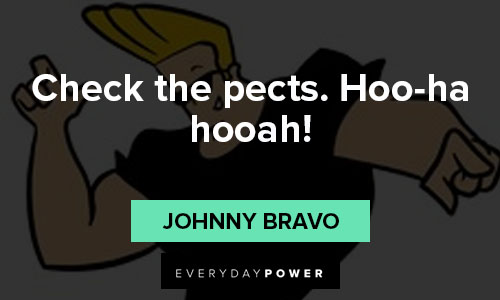 3. "Enough about you, let's talk about me, Johnny Bravo." — Johnny Bravo
You will also enjoy our article on Mamma Mia quotes.
4. "Mama mia. That's a spicy meatball!." — Johnny Bravo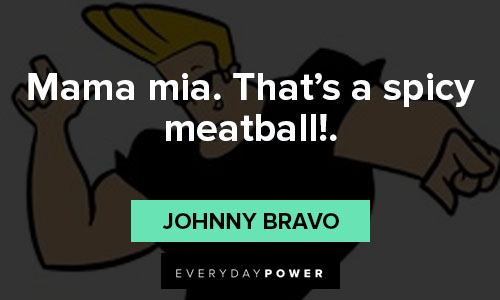 5. "Hey Foxy Mama, You smell kinda pretty. Wanna smell me? Hoohah!" — Johnny Bravo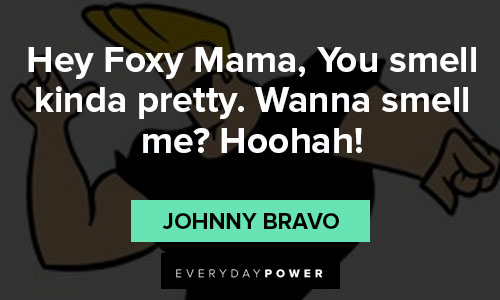 6. "I am Johnny Bravo, the one-man army!" — Johnny Bravo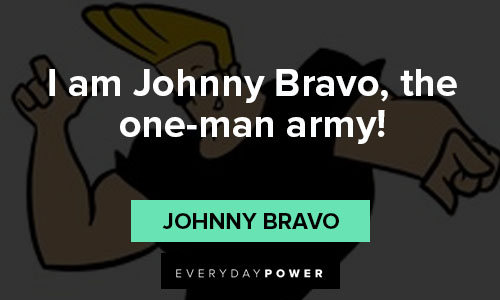 7. "Man, I'm pretty." — Johnny Bravo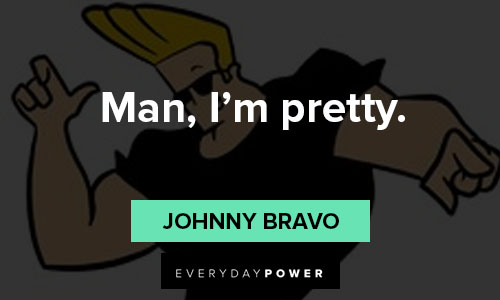 8. "Now remember, I do my best work when I'm being worshiped as a god." — Johnny Bravo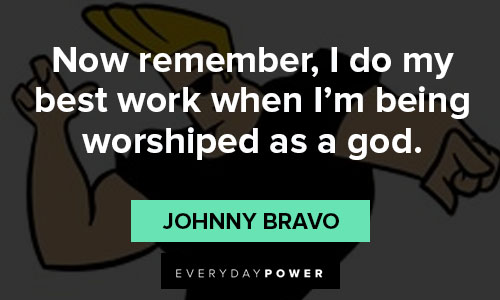 9. "So enough about me, let's talk more about me." — Johnny Bravo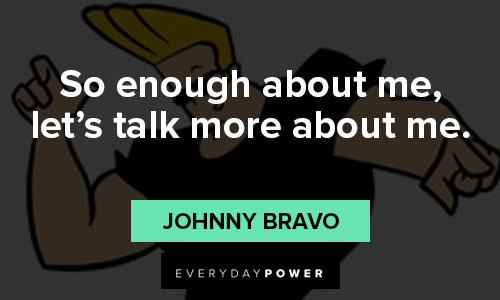 10. "It's a beautiful day. But not as beautiful as me." — Johnny Bravo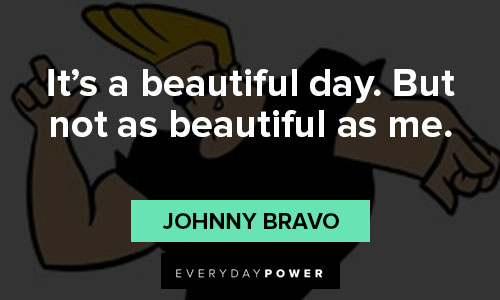 If you enjoy this article, check out our collection of Sonic quotes about everyone's favorite fast hedgehog.
Johnny Bravo quotes and sayings for when you're hungry
11. "Great Scott. My pizza-sense is tingling." — Johnny Bravo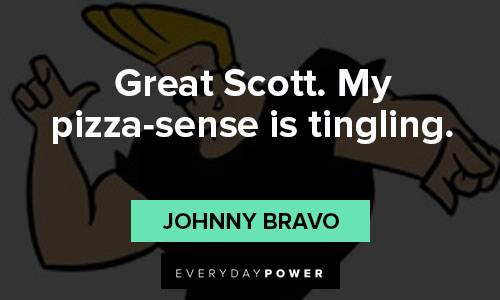 12. "Hey there smart momma, typin' recipes?" — Johnny Bravo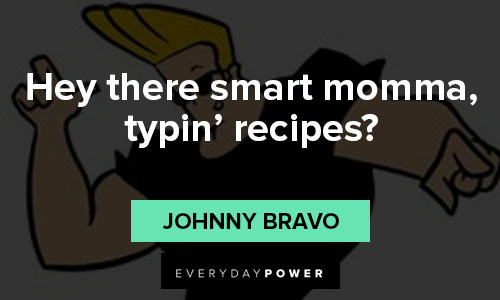 13. "I am investigating the disappearance of all the cats in the city… my living room is full of cats… that means… (pause) I'm hungry!" — Johnny Bravo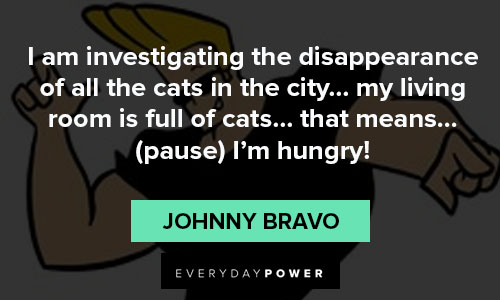 14. "Jinkies…isn't that some sort of breakfast cereal or something?" — Johnny Bravo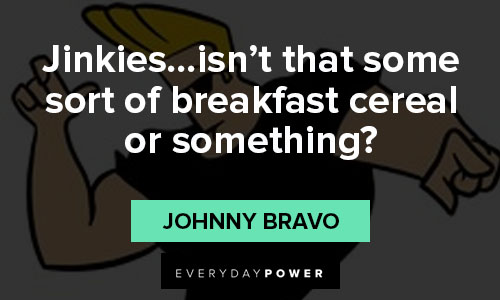 15. "Hello, 911 Emergency? There's a handsome guy in my bathroom! Hey, wait a second. Cancel that – it's only me! " — Johnny Bravo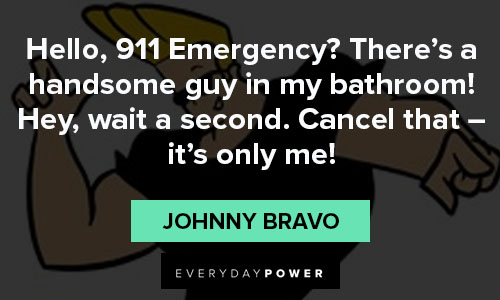 16. "Mmm. Frosted Sugar Bits. The great taste of frosted sugar in bits." — Johnny Bravo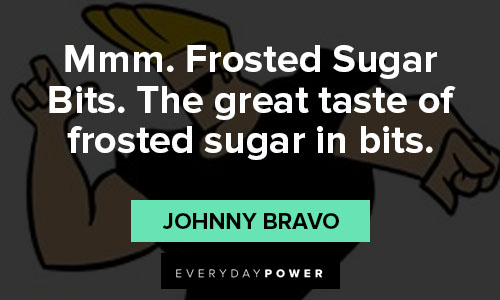 17. "Sweet. Bring on the Danish chicks and cream soda." — Johnny Bravo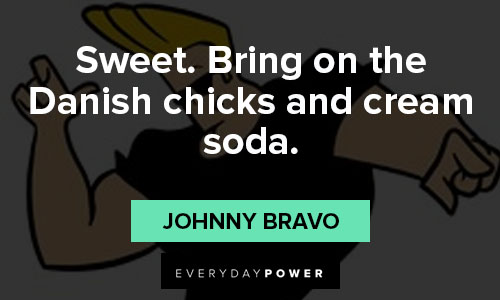 18. "Some people look at Jerky and say, "Why?". Me, I look at Jerky and I say "Mmmmmmmm! Jerky!" — Johnny Bravo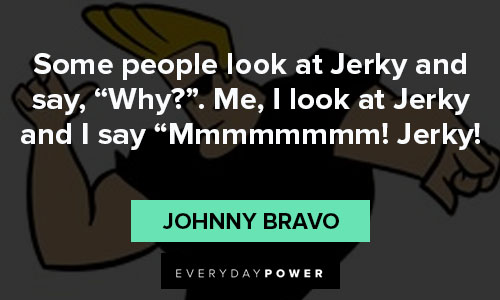 If you enjoy this article, check out our collection of Pinky & The Brain quotes from the 90s cartoon mice.
The best Johnny Bravo quotes – pick up lines (that you probably shouldn't use)
19. "I bet your name's Mickey, 'cause you're so fine." — Johnny Bravo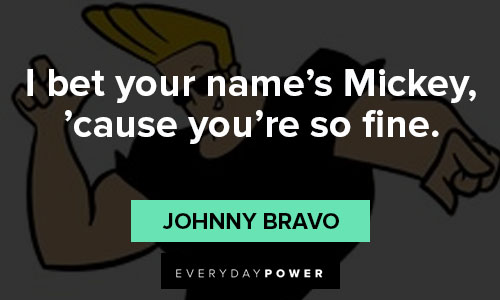 20. "Wanna see me comb my hair, really fast?" — Johnny Bravo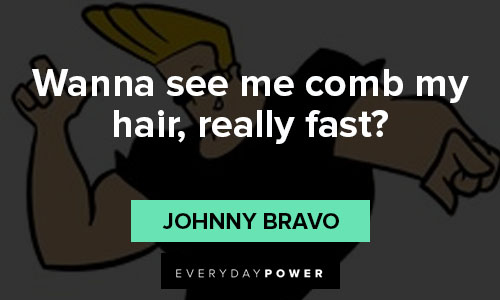 21. "Wanna watch my chest hair move in slow motion?" — Johnny Bravo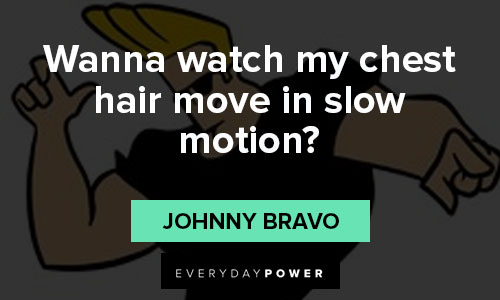 22. "You look pretty…I look pretty…why don't we go home and stare at each other?" — Johnny Bravo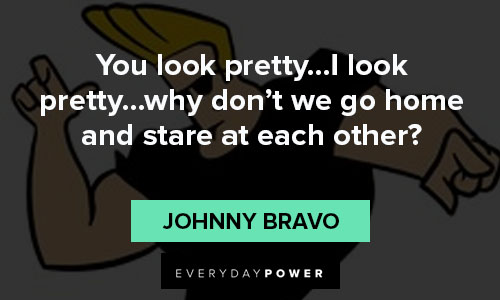 23. "Hey, Baby! Anybody ever tell you I have beautiful eyes?" — Johnny Bravo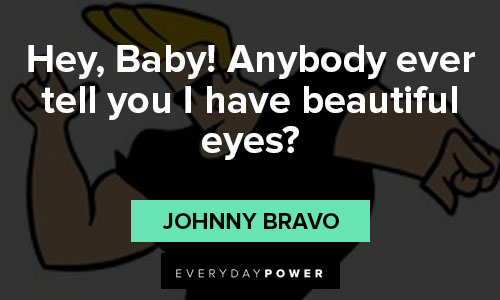 24. "If loving me is wrong, you don't wanna be right!" — Johnny Bravo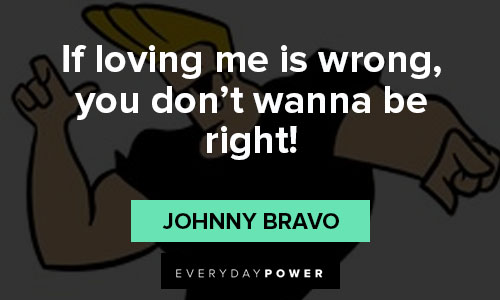 25. "Hey baby, can I be your natural selection?" — Johnny Bravo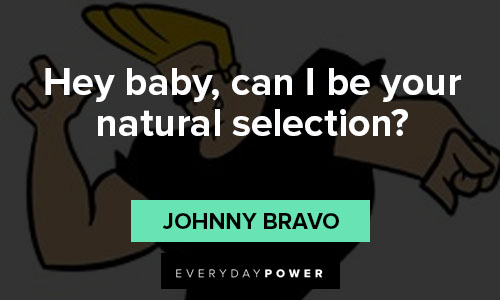 Did you know that Johnny Bravo was almost never made?
When Van Partible pitched his idea to the studio in the mid-1990s, Cartoon Network was ready to pass.
However, three prominent women at the studio (Janet Mazotti, Ellen Cockrill, and Julie Kane-Ritsch) fought for the show to be made.
This may seem surprising considering Johnny's egotistical and almost predatory behavior towards women, but as Partible later wrote in his blog, "I think it's because they know Johnny Bravos in their lives and can relate.
They also enjoy watching him get his comeuppance."
Did you enjoy these Johnny Bravo quotes and lines?
Which quote was your favorite?
Let us know in the comments below.