Kim's Convenience Quotes to Make You Laugh
Recall your childhood memories as you read these Kim's Convenience quotes.
Kim's Convenience is a Canadian television sitcom that aired on CBC Television from October 2016 to April 2021.
It is based on actor Ins Choi's 2011 play, Kim's Convenience.
The story revolves around the Kim's, first-generation Korean-Canadian immigrants who operate a convenience store in the Moss Park neighborhood of Toronto.
Kim's family shows very relatable themes like family, love, tradition, and diversity.
It also depicts parents' hardships and how far they are willing to go so that their children will have a better life and opportunity.
The series was developed by Ins Choi and Kevin White and stars Paul Sun-Hyung Lee, Jean Yoon, Andrea Bang, Simu Liu, Andrew Phung, and Nicole Power.
It was released to mostly positive reception from critics. It received various nominations and won several awards, including Best Comedy Series at the 6th Canadian Screen Awards in 2018.
These Kim's Convenience quotes below will bring back the fun memories you had with your family.
Don't forget to also check out these Dawson's Creek quotes that will take you back to high school.
Check out our inspirational quotes category page for more inspirational life quotes.
Kim's Convenience quotes by Appa
1. "Stop! Every time you gossip, you make the baby Jesus cry." — Appa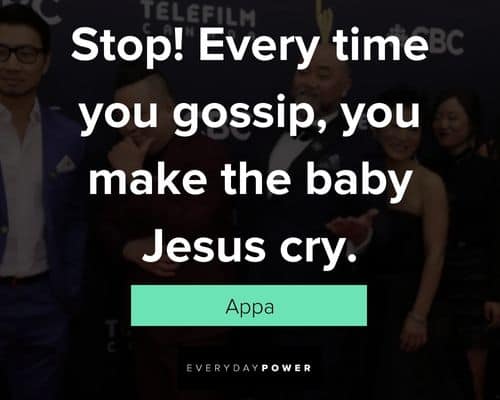 You will also enjoy our article on gamer quotes.
2. "Come. We eat from our sad food group starting with cookie dough ice cream." — Appa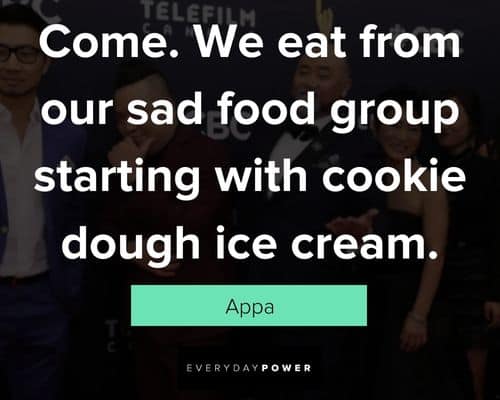 You will also enjoy our article on ricky gervais quotes.
3. "Mrs. Kim is very smart sneak attack. Almost best. Almost…" — Appa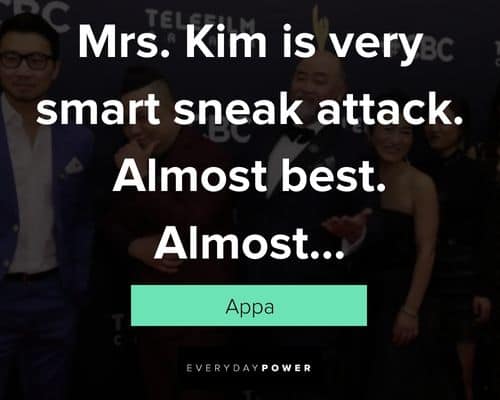 4. "I put in my mouth apple cut with the blood and the garbage of murder knife?" — Appa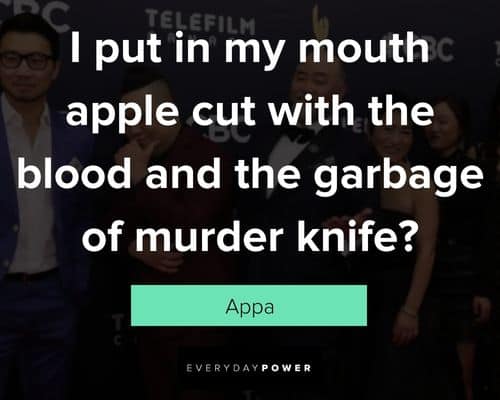 5. "In my funeral photo, I want to be looking successful." — Appa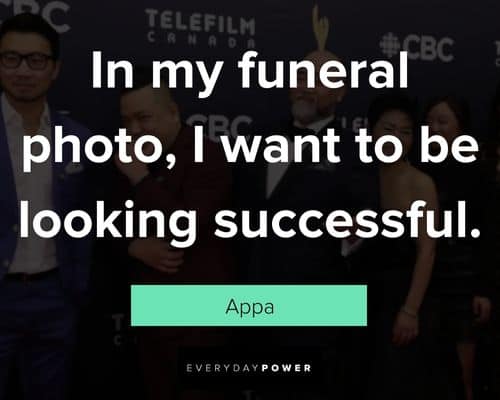 6. "Why you read this book? I'm already on page 20 and still no murder." — Appa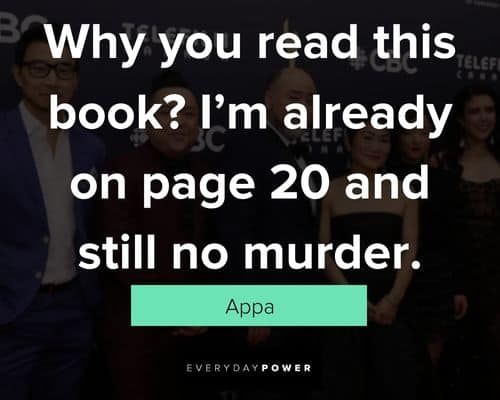 7. "Super Appa go back in time and keep Super Appa mouth shut." — Appa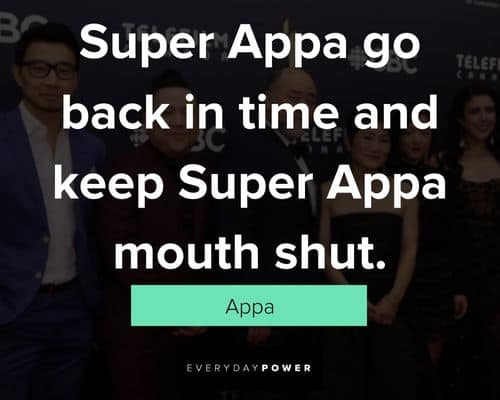 8. "Maybe our happiness depends too much on our dumb kids." — Appa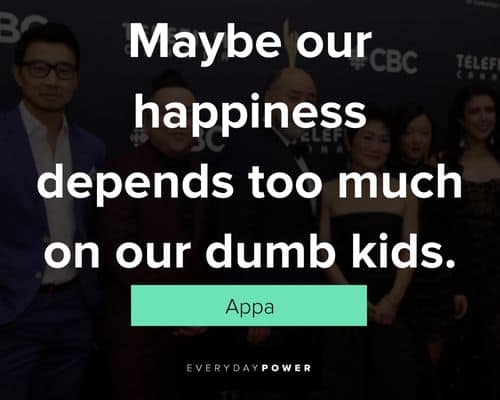 9. "Sometimes you sneak attacking s good, you don't even know you sneak attacking." — Appa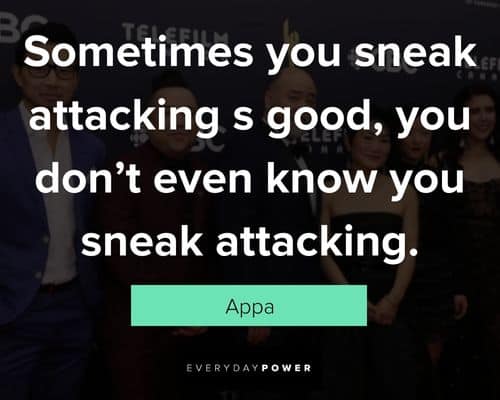 10. "This is a successful face." — Appa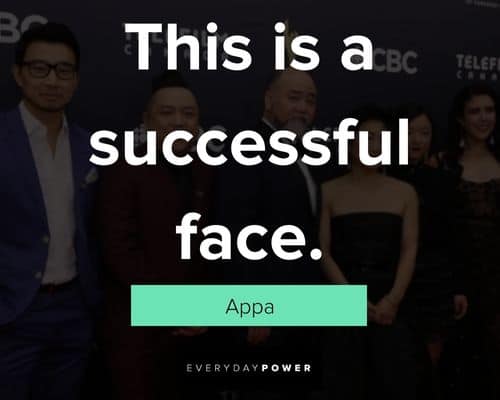 12. " Marriage is hard. Being married to Mrs. Kim is the hardest thing I ever do. Very hard. Harder than store. Harder than Korea Army training." — Appa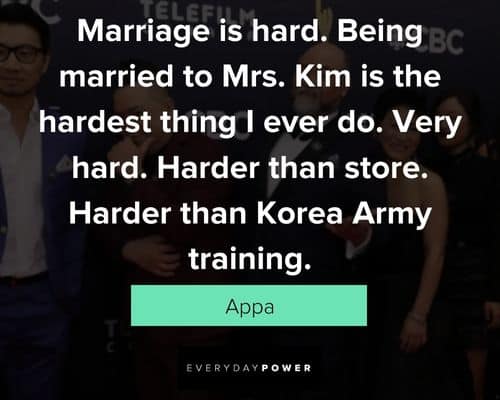 13. " …and 12 egg. Yeah, I say like that. Look, if I only want 12 egg, I say "dozen." If I want 12-dozen egg, I say "12 egg." Easy. "Egg" means "dozen." "Dozen" means "12 egg." What's you problem?" — Appa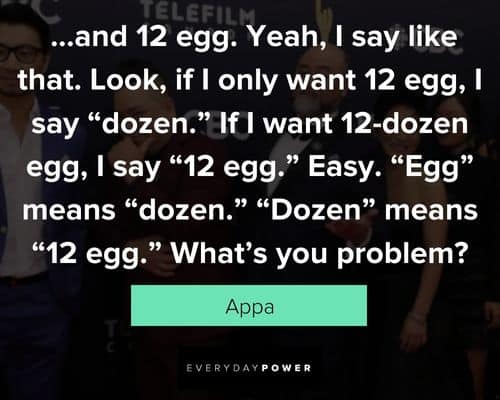 Kim's Convenience quotes by Umma
14. "You don't like his beard? This is a miracle. Most Korean men, they cannot grow beard. But this land is fertile." — Umma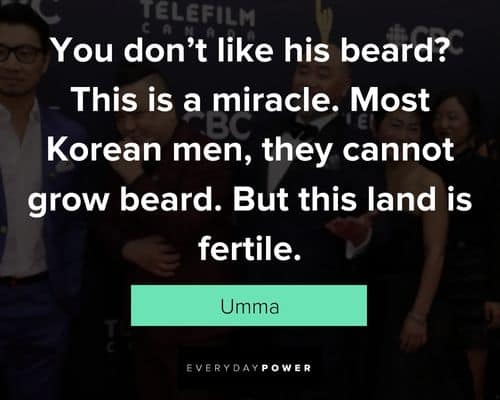 15. "I want our family together but I also want a working dishwasher." — Umma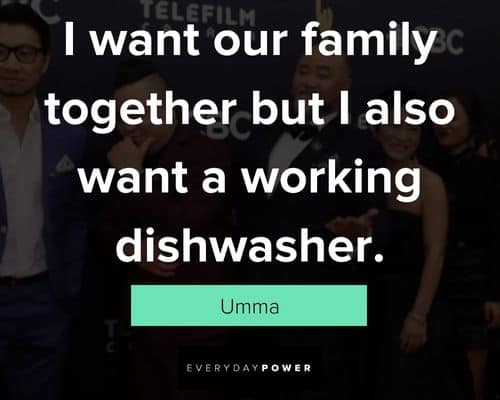 16. "After mourning period, I move into fancy condo and upgrade to Sleep Number Bed." — Umma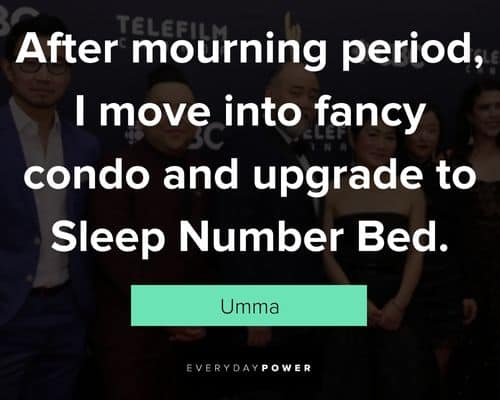 17. "I need new dress for special occasion. Janet's wedding, Jung's wedding, Jung's second wedding." — Umma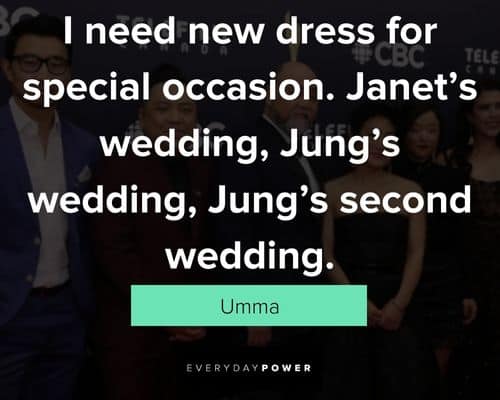 18. "Your cousin Nayoung, she very nice, but she not wear enough clothes. She, you know… Korean-style girl." — Umma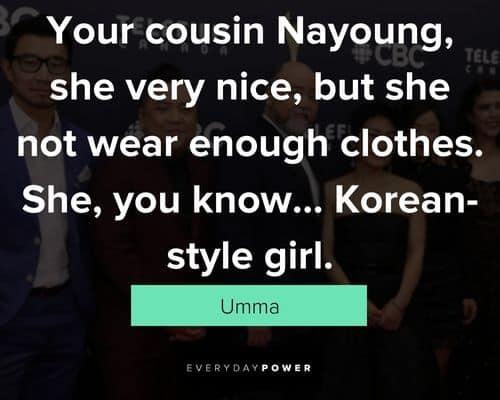 19. "I see her on Facebook. She wear very short skirt, and high heel shoes. Make short skirt look even more short." — Umma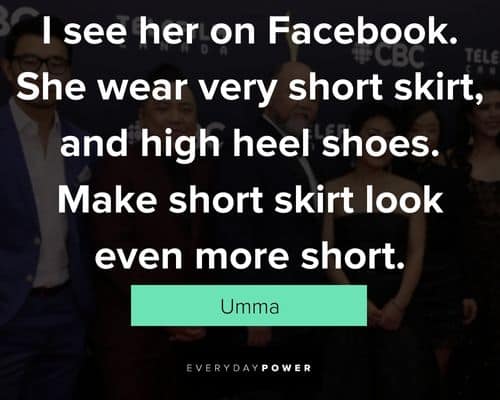 20. "All I saying if she dressing like that, she going to get pregnancy." — Umma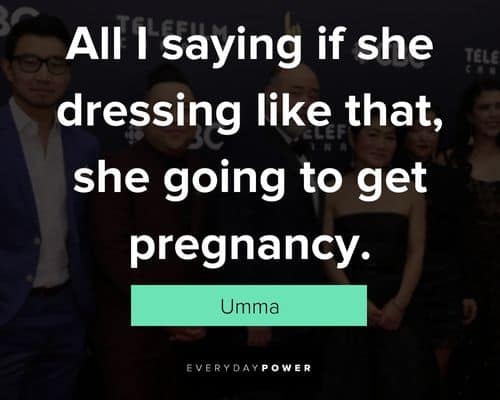 21. "She dress too much like a—what's the word—slut." — Umma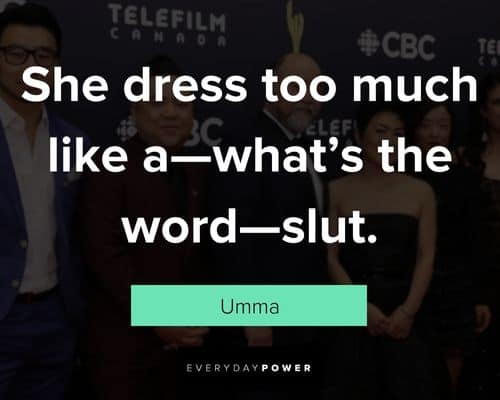 22. "This is all you fault. I don't have to massage-kigae so bad if you don't kick me out of bed." — Umma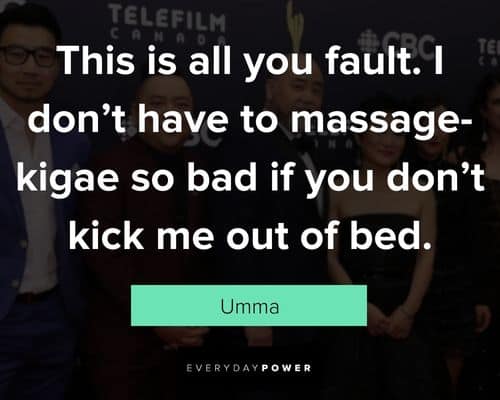 Kim's Convenience quotes by Mr. Mehta
23. "Raj is taking me to a full-price movie. He won't even let me sneak in our snacks. We will be purchasing them. Again, full price. The mind boggles." — Mr. Mehta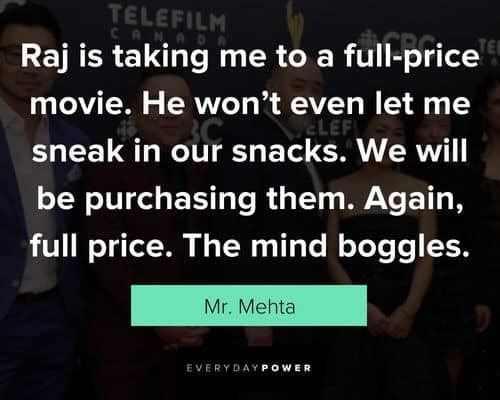 24. "The weather! My God! It's…everywhere." — Mr. Mehta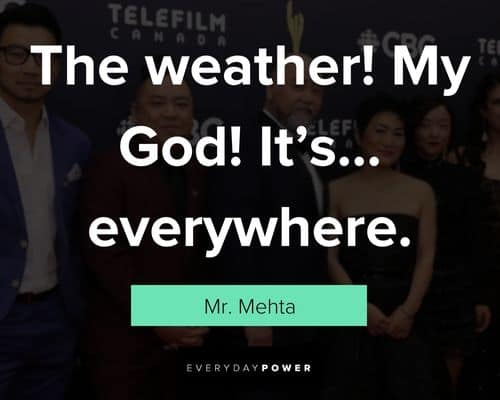 Kim's Convenience quotes by Shannon
25. "But seriously, if you're going to steal someone's yogurt, eat the whole thing. Don't just tunnel down to the fruit then leave it." — Shannon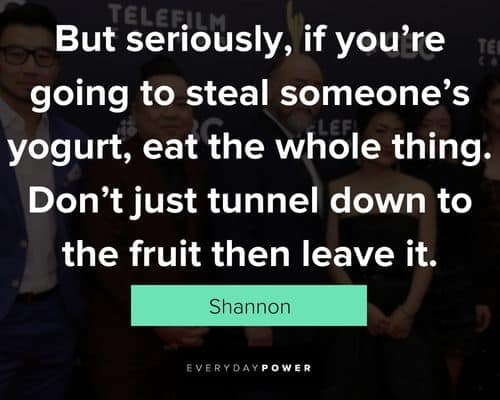 Which of these Kim's Convenience quotes is your favorite?
This show received many awards and positive reviews from critics and viewers.
Some critics say that it is funny, heartfelt, authentic, and prestigious.
Unfortunately, the fifth season became the final one due to the departure of the show's two co-creators.
Kim's Convenience fills the gap in storytelling ー what really happens behind immigrant families, how they adapt to the new culture, and the curveball thrown to them by their children.
One can get easily hooked with every episode as it shows real-life situations in a smart, fun, and heartfelt way.
Take this time to thank your parents and remember the fun memories you have with them while browsing through these Kim's Convenience quotes and sayings.