Tim Burton Quotes From the American Filmmaker
These Tim Burton quotes show what sets the filmmaker apart from others.
Tim Burton is an American film producer who was born in 1958.
He has made many films during his lifetime so far, one of the most popular ones being The Nightmare Before Christmas from 1993.
Burton has received many awards throughout his career, including the Empire Legend Award in 2012 and the Winsor McCay Award in 2010.
Burton studied character animation at the California Institute of the Arts when he was younger.
While at school, Burton made a couple of shorts, one of which was called Stalk of the Celery Monster.
This short got the attention of Disney, and Burton began to work for Disney in the 1980s.
Enjoy the creativity of these Tim Burton quotes.
If you enjoy this article, check out our most popular quote article, a list of short inspirational quotes for daily motivation.
If you want more motivational quotes, check out our motivational quotes category page.
Tim Burton Quotes From the Famous Producer
Learning from those who have already succeeded is a good way to start on your journey. If you're interested in film production, these Tim Burton quotes can help.
1. "Half the fun is plan to plan." – Tim Burton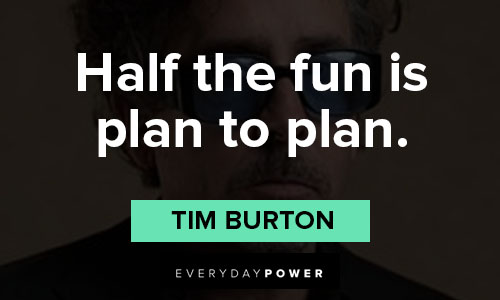 You will also enjoy our article on Step Brothers quotes.
2. "Don't worry about how you 'should' draw it. Just draw it the way you see it." – Tim Burton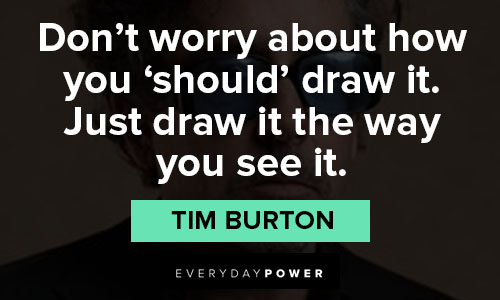 3. "When I was growing up, Dr. Seuss was really my favorite. There was something about the lyrical nature and the simplicity of his work that really hit me." – Tim Burton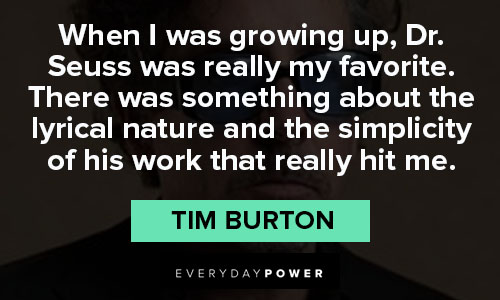 You will also enjoy our article on Wes Anderson quotes.
4. "There's something about taking a classic movie that people love and doing another version of that; you're setting yourself up for a mistake." – Tim Burton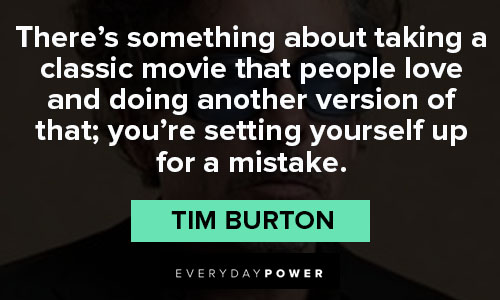 5. "I can't remember any dreams in my life." – Tim Burton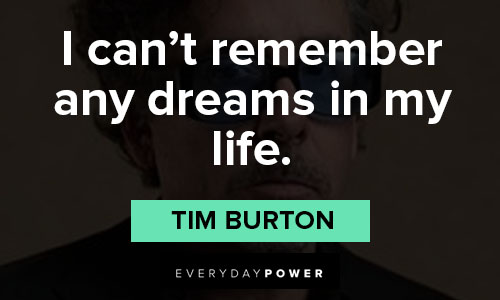 6. "First of all, you make a movie that you want to see, and then you just hope for the best." – Tim Burton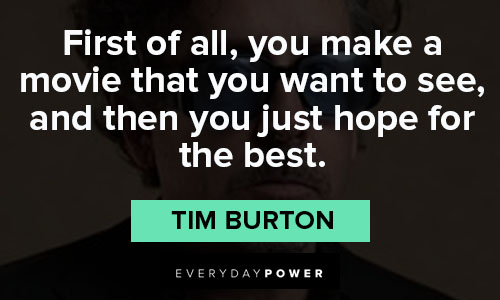 7. "It's like getting into film—I didn't say early on, 'I'm going to become a filmmaker.' When you start to think those things, you're in trouble." – Tim Burton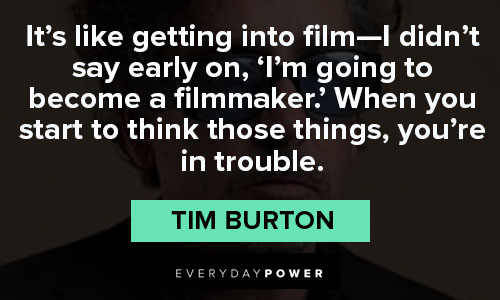 8. "One of the things I loved about the musical was that you listened to the soundtrack, and it told you the story." – Tim Burton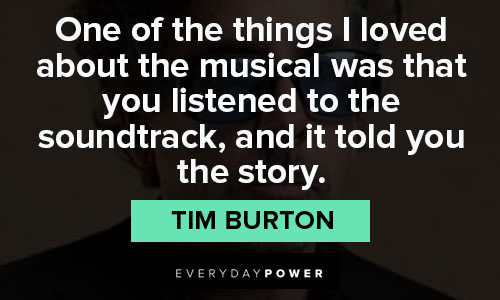 9. "There's a weird freedom in not having people treat you like you're part of society or where you have to fulfill social relationships." – Tim Burton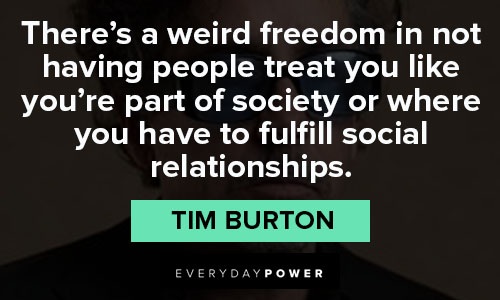 10. "Whatever troubles I've had, I've also gotten the opportunities to do things." – Tim Burton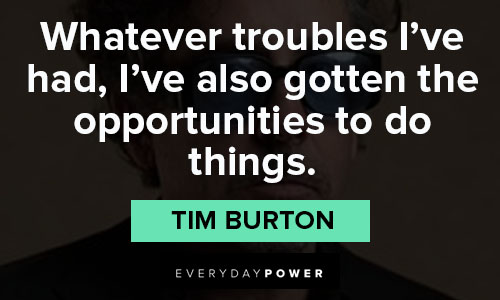 You will also enjoy our article on wednesday addams quotes.
Tim Burton Quotes to Inspire Creativity
Tim Burton is known for thinking outside of the box. These quotes give you a taste of how he did that.
11. "Every story has a beginning, a middle, and an end. Not necessarily in that order." – Tim Burton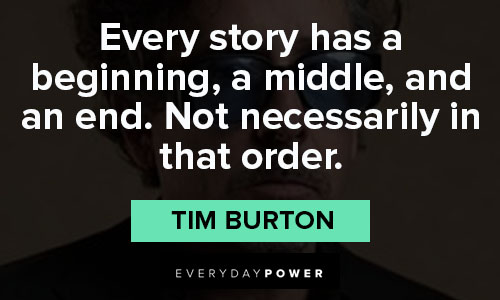 12. "When you don't have many friends, and you don't have a social life, you're kind of left looking at things, not doing things." – Tim Burton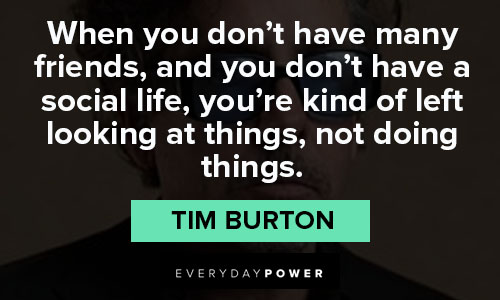 13. "I always felt that Hollywood has a way of making you feel outside."- Tim Burton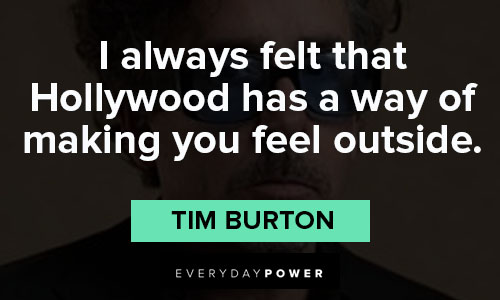 14. "I find that the most special thing to me is if you've connected to people in some way." – Tim Burton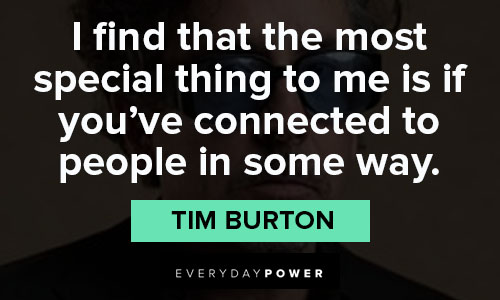 15. "In movies, you kind of work out your issues, but then you realize, those kind of traumatic issues stay with you forever, so somehow they kind of keep reoccurring, no matter how hard I try to get them out of my head they sort of stay there." – Tim Burton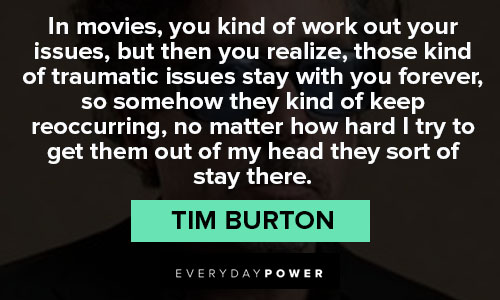 16. "There's something beautiful about the stop-motion process, being able to touch the puppets. That's such a personal feeling, even the medium itself, seeing the characters on the set with the lighting and everything. It's like actually bringing something to life." – Tim Burton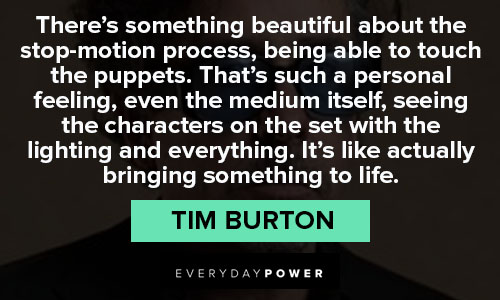 17. "Visions are worth fighting for. Why spend your life making someone else's dreams?" – Tim Burton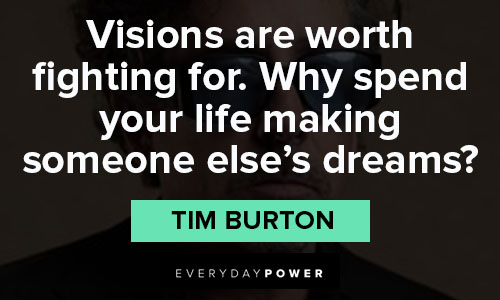 18. "Anybody who knows me knows I would never read a comic book." –Tim Burton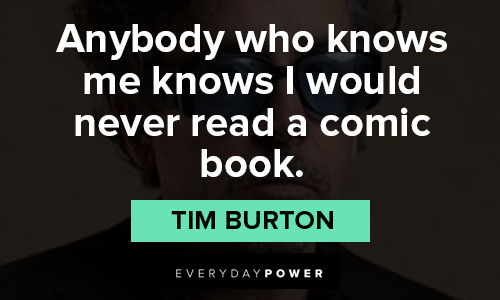 19. "I don't look at my films or my old drawings much, so that was an interesting way to kind of reconnect with myself a bit." – Tim Burton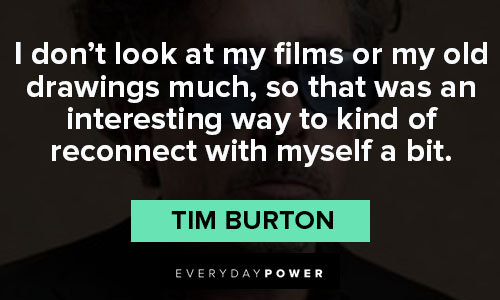 20. "I keep thinking I'm going to miss it back in Los Angeles. But I don't. The only thing I miss is driving out in the desert in the Southwest." –Tim Burton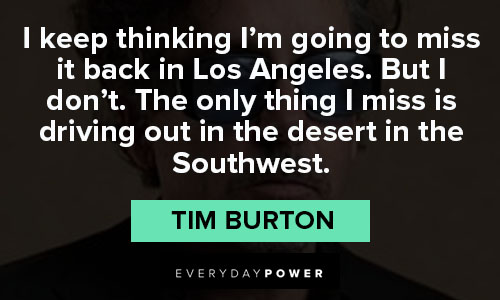 Are you ready to watch a Tim Burton film?
In addition to Tim Burton's movies, he has also written a few books during his career.
A few of the more popular books include The Art of Tim Burton in 2009 and Improve Your English in 1997.
Tim Burton's famous movie, The Nightmare Before Christmas, released in 1993, was initially supposed to be a rhyming children's book.
However, when it was turned into a movie by writer Caroline Thompson and directed by Henry Selick, it was a huge success, grossing $50 million.
Tim Burton also worked with other popular films, such as James and the Giant Peach in 1996 and Planet of the Apes in 2001.
We hope you enjoyed these Tim Burton quotes. Which of his pieces of work is your favorite?