25 Maria Montessori Quotes from the Woman that Changed Education
If you're a supporter of the approach of Montessori schools, you'll enjoy these Maria Montessori quotes from the woman behind the classroom.
Many people have heard of Montessori schools but not everyone understands what they are or where the idea came from.
Maria Montessori was a woman that was incredibly educated during a period of time when many women did not further their education.
She had formal education in both medicine and education.
She eventually experimented with a style of learning and quickly saw it's success.
This learning style involved providing children with items that would build their interest and learning in different subjects but allowing the child's interests to influence their activities.
As the woman that changed education, Maria Montessori is someone who clearly managed to tap into her Everyday Power.
Enjoy this selection of inspirational, wise, and enlightening Maria Montessori quotes and sayings.
Don't forget to also check out these education quotes and the power of learning.
If you like this article, we suggest you explore our most popular quotes article, a list of short inspirational quotes for daily encouragement.
Look through our complete collection of inspirational quotes here.
You will also enjoy our article on quotes about education.
Maria Montessori quotes about children
1. "A child who has become master of his acts through long and repeated exercises, and who has been encouraged by the pleasant and interesting activities in which he has been engaged, is a child filled with health and joy and remarkable for his calmness and discipline." – Maria Montessori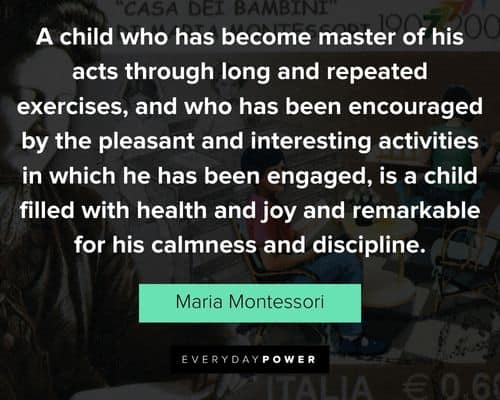 You will also enjoy our article on preschool quotes.
2. "The child who concentrates is immensely happy." – Maria Montessori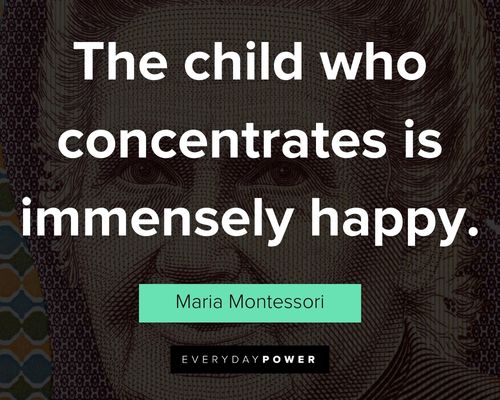 3. "The hand is the instrument of intelligence. The child needs to manipulate objects and to gain experience by touching and handling." – Maria Montessori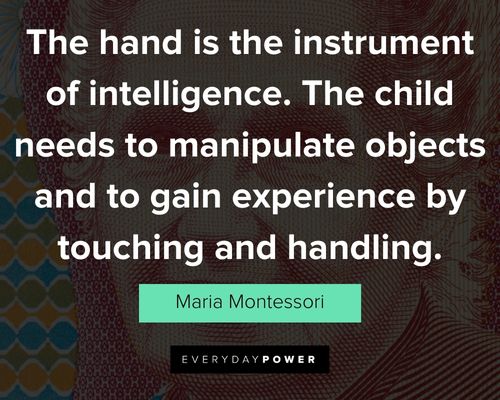 4. "In the child is much knowledge, much wisdom. If we do not profit from it, it is only because of neglect on our part to become humble and to see the wonder of this soul and learn what the child can teach." – Maria Montessori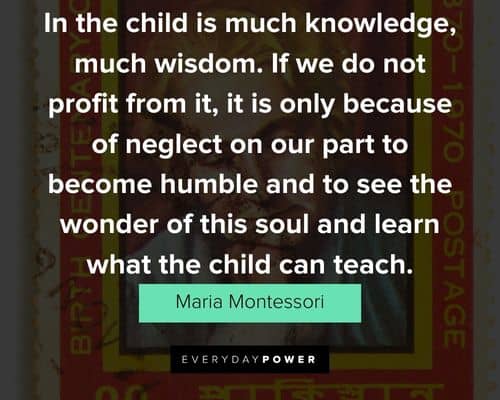 5. "Adults move because their will directs them. The small child is urged by nature." – Maria Montessori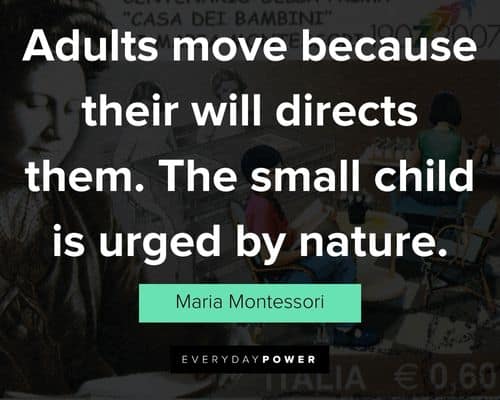 6. "It is necessary that the child teach himself, and then the success is great." – Maria Montessori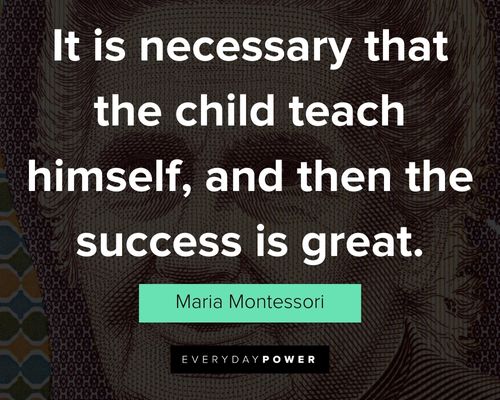 7. "The child who has never learned to work by himself, to set goals for his own acts, or to be the master of his own force of will is recognizable in the adult who lets others guide his will and feels a constant need for approval of others." – Maria Montessori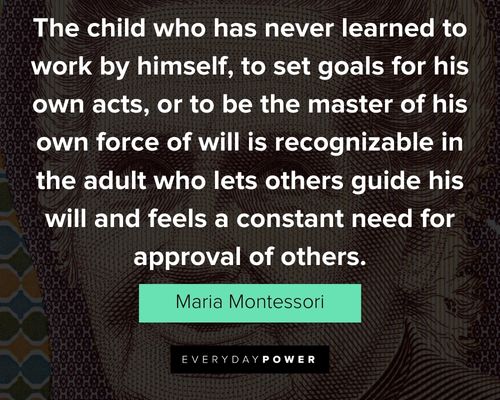 8. "The child is both a hope and a promise for mankind." – Maria Montessori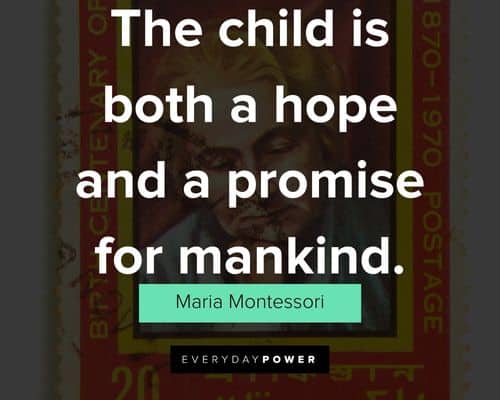 9. "By the age of three the child has already laid down the foundations of his personality as a human being." – Maria Montessori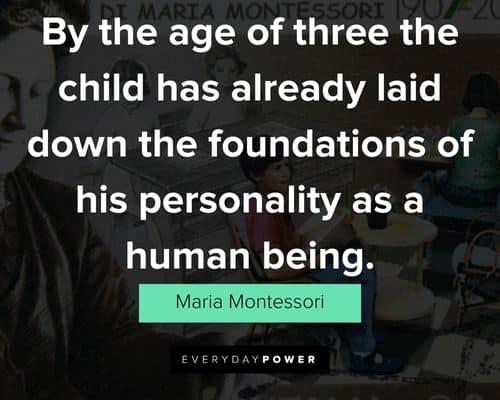 10. "Free the child's potential, and you will transform him into the world." – Maria Montessori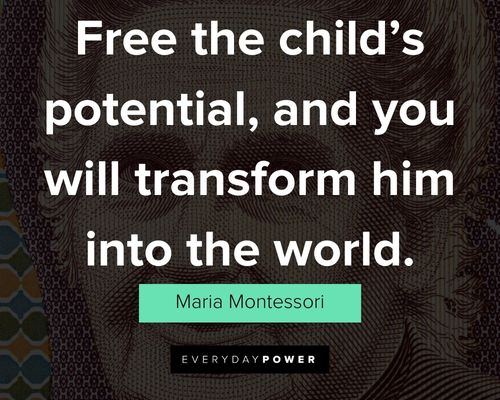 11. "Never help a child with a task at which he feels he can succeed." – Maria Montessori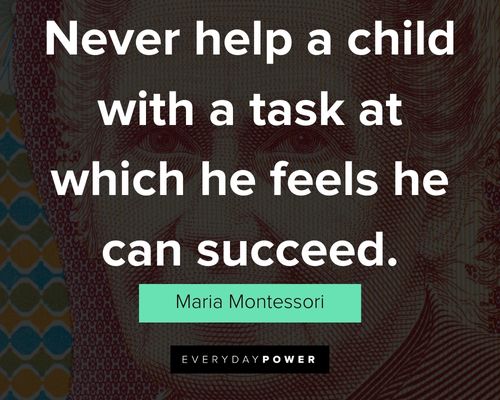 12. "When children come into contact with nature, they reveal their strength." – Maria Montessori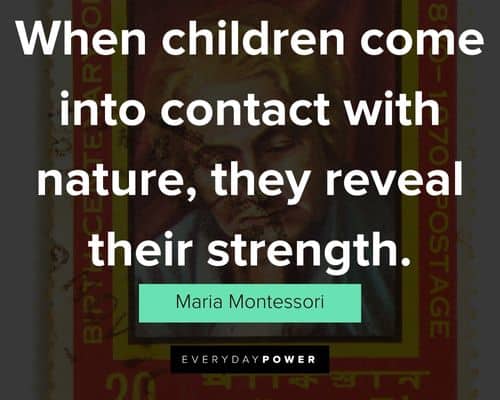 13. "Our care of the child should be governed, not by the desire to make him learn things, but by the endeavor always to keep burning within him that light which is called intelligence." – Maria Montessori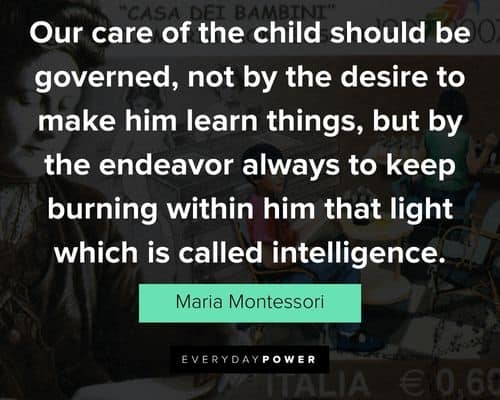 Also check out these Rick Warren quotes for living a better life.
Maria Montessori quotes about education and teaching
14. "The teacher's task is not to talk, but to prepare and arrange a series of motives for cultural activity in a special environment made for the child." – Maria Montessori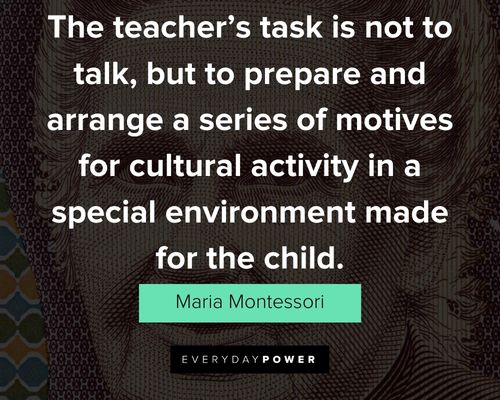 15. "Education is the best weapon for peace." – Maria Montessori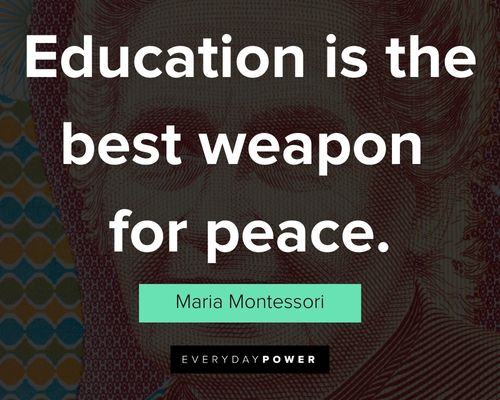 16. "Preventing conflicts is the work of politics; establishing peace is the work of education." – Maria Montessori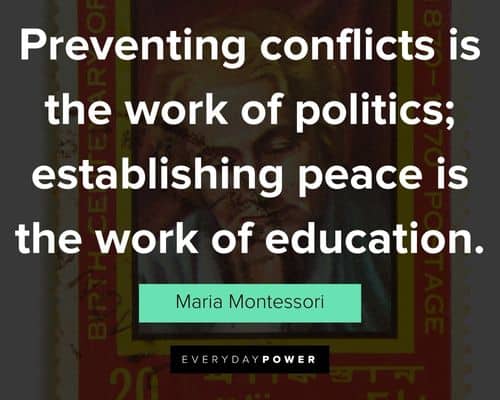 17. "The goal of childhood education should be to activate the child's own natural desire to learn." – Maria Montessori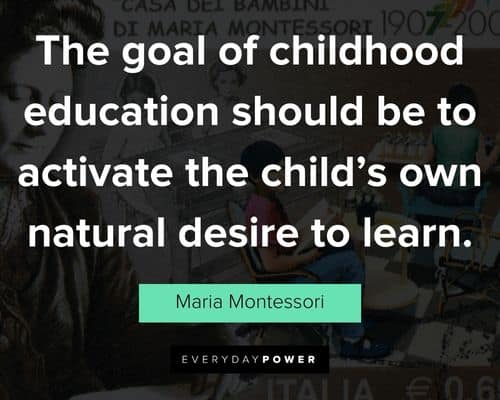 18. "Education cannot be effective unless it helps a child open up to himself about life." – Maria Montessori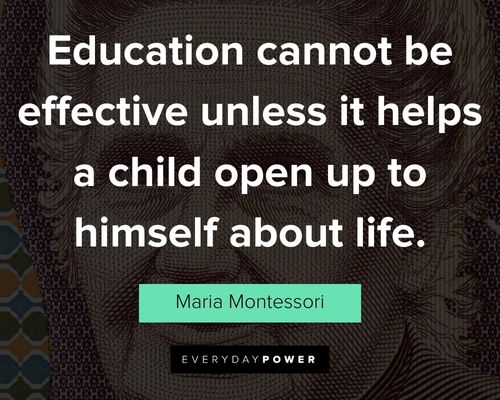 19. "This is the hope we have—a hope in a new humanity that will come from this new education, an education that is collaboration of man and the universe…." – Maria Montessori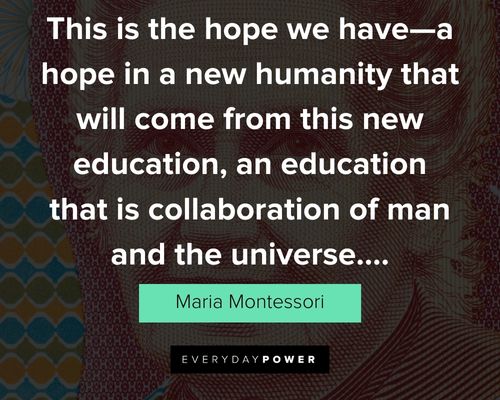 20. "All children can…explode into learning." – Maria Montessori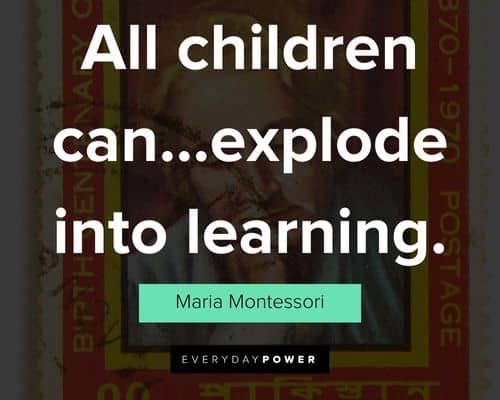 21. "The greatest sign of success for a teacher is to be able to say, 'The children are now working as if I did not exist." – Maria Montessori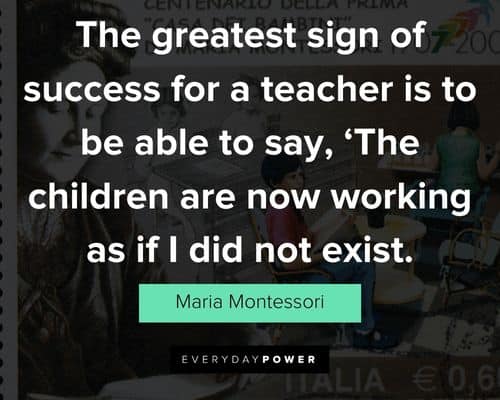 22. "The education of a small child, therefore, does not aim at preparing him for school, but for life." – Maria Montessori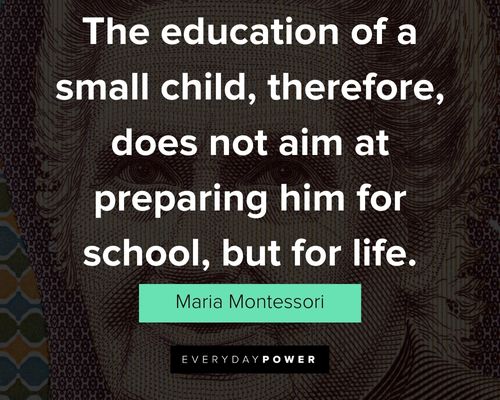 23. "An education capable of saving humanity is no small undertaking: it involves the spiritual development of man, the enhancement of his value as an individual, and the preparation of young people to understand the times in which they live." – Maria Montessori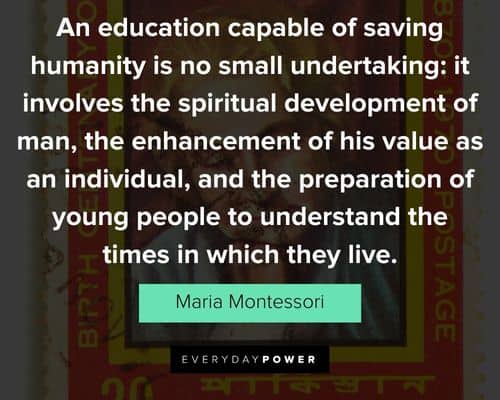 24. "Education is a natural process carried out by the child and is not acquired by listening to words but by experiences in the environment." – Maria Montessori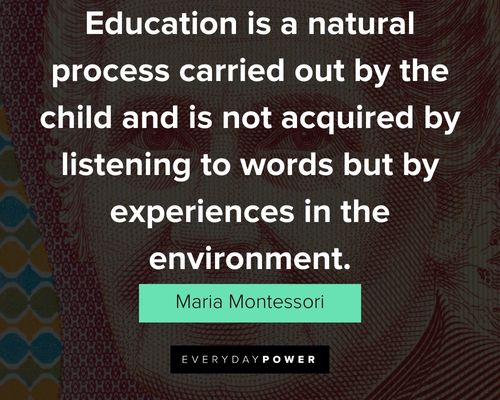 25. "The training of the teacher is far more than learning ideas. It includes training of character. It is a preparation of the spirit." – Maria Montessori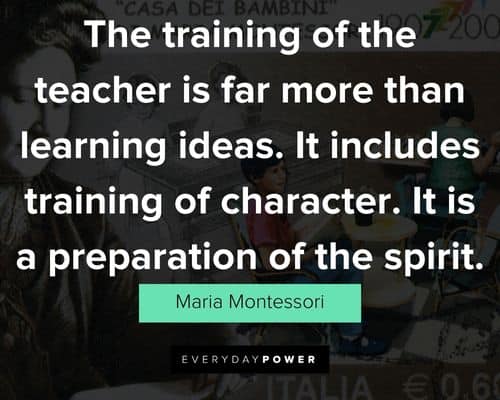 Maria Montessori changed learning forever
Through the work that Maria did and the achievements that she accomplished, students for future generations have benefited.
Students in Montessori schools are known for developing a strong enjoyment of learning due to their ability to explore the subjects in the way that makes the most sense to them.
Maria Montessori was able to achieve this and introduce the world to a new way of learning because she was willing to put her own formal education first.
She made tough decisions throughout her life, sacrificing personal relationships in order to build upon her professional advancements.
But she forever changed the what we know about the education of children because of it.
What's your biggest takeaway from these Maria Montessori quotes and sayings?
Do you have any other inspirational quotes to add?
Let us know in the comment section below.
Read our related quote articles
First Day of School Quotes That Will Get You Ready for The Year
Whatever you may feel about your first day of school (or your child's first day of school), remember that everyone has been in this position in their lives.
300+ Education Quotes On Learning & Students
Education is one of the most powerful aspects of life.
Funny Yearbook Quotes to Make You Laugh
Through trials, triumphs, and the giggles in between, we are reminded of the beautiful mosaic of school life.
School Quotes To Get The Motivation You Need For Learning
Encourage the magic of learning with our inspirational collection of school quotes.
Read our related education articles
10 Ways to Increase Your Intrinsic Motivation
Motivation determines what we do, how we do something, and how much we accomplish.
6 Reasons Your Grades Do Not Define Your Intelligence
A fixation on tracking our growth and capabilities using a standardized grading scale gets implanted in us at an early age.
Chase Your Dreams: The Best Advice I Ever Got
When people aren't living their dreams, they often have limited belief systems.
Why Hard Work Beats Talent Every Time
"Hard work" applied to your natural talents and instincts will take you to levels others may never attain.