Thomas Edison Quotes on Greatness and Innovation
These Thomas Edison quotes are sure to motivate you to never give up.
If you thought these quotes were inspiring, share your favorite in the comments below.
Thomas Edison was an American inventor, scientist, and businessman who is regarded as being one of the most prolific inventors of all time.
He had a major impact on modern life, contributing inventions in areas such as electric power generation, communication, motion pictures, and sound recording.
Born on February 11, 1847, in Milan, Ohio, Edison would work as a telegraph operator early in his career.
He developed many of his early inventions in his first laboratory facility in Menlo Park, New Jersey, which he established in 1876.
By the time of his death in 1931, Edison had more than 1,000 patents for his inventions.
He is considered one of America's greatest inventors and will always be remembered as someone who never let failure stop him from achieving his purpose.
He persevered until he found what he wanted.
As a man who lived an active and complex life full of projects and business ventures, Edison clearly used his Everyday Power well.
There are a lot of lessons we can learn from his life and words of wisdom.
In his honor, below is our collection of inspirational, wise and thought-provoking Thomas Edison quotes and Thomas Edison sayings, collected from a variety of sources over the years.
Don't forget to also read our compilation of thoughtful Nikola Tesla quotes for understanding humanity.
Check out our most popular quote article, a list of short inspirational quotes for daily inspiration.
Check out our entire collection of motivational quotes here.
Thomas Edison quotes on greatness and innovation
1. "I have not failed. I've just found 10,000 ways that won't work." – Thomas A. Edison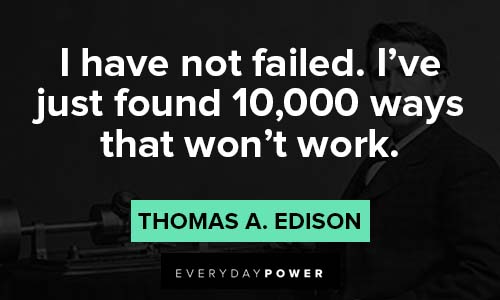 You will also enjoy our article on Navy quotes
2. "What you are will show in what you do." – Thomas A. Edison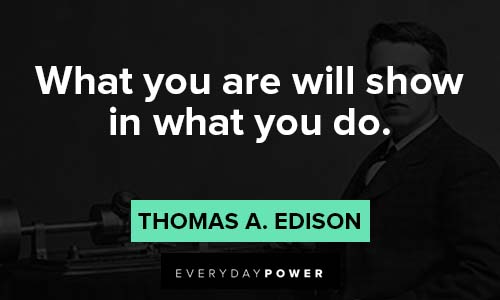 3. "Just because something doesn't do what you planned it to do doesn't mean it's useless." – Thomas A. Edison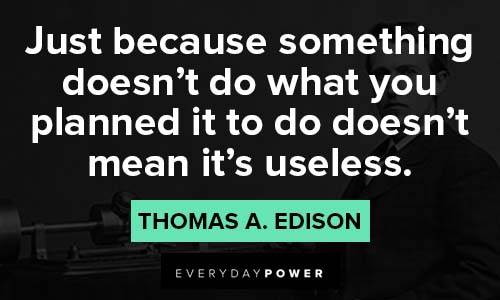 You will also enjoy our article on technology quotes.
4. "To invent, you need a good imagination and a pile of junk." – Thomas A. Edison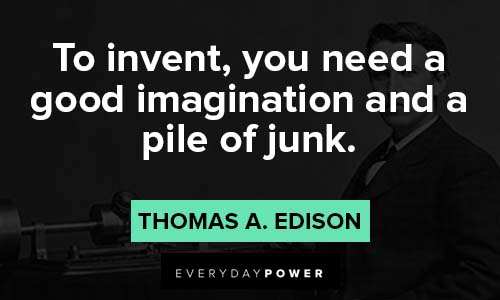 5. "Your worth consists in what you are and not in what you have." – Thomas A. Edison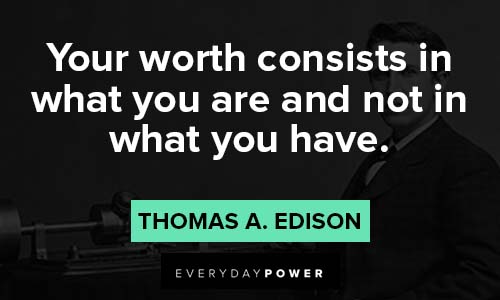 6. "Not everything of value in life comes from books- experience the world." – Thomas A. Edison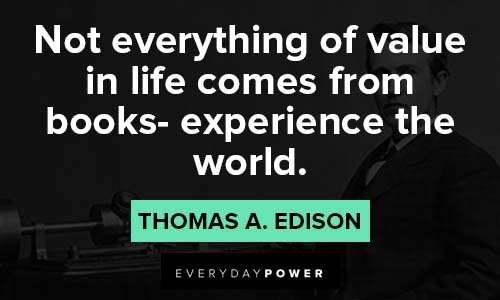 7. "The value of an idea lies in the using of it." – Thomas A. Edison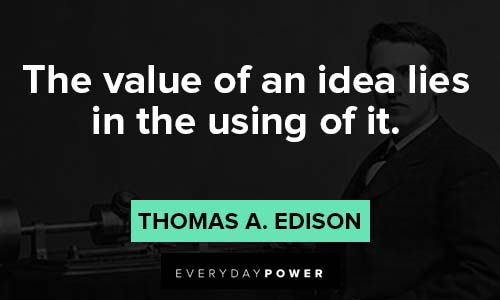 8. "Hard work, nothing to divert my thought, clear air and simple food made my life very pleasant." – Thomas A. Edison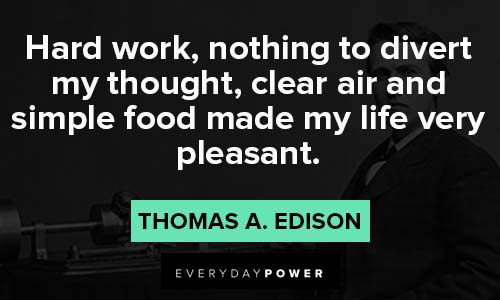 9. "Vision without execution is hallucination." – Thomas A. Edison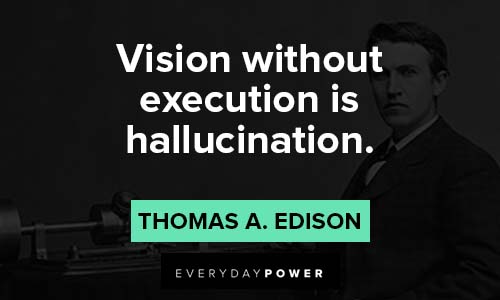 10. "You can't realize your dreams unless you have one to begin with." – Thomas A. Edison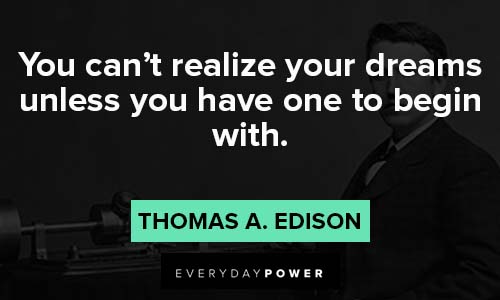 Thomas Edison quotes on success
11. "Opportunity is missed by most people because it is dressed in overalls and looks like work."  – Thomas A. Edison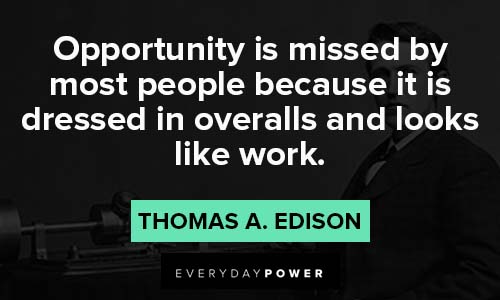 12. "If we did all the things we are capable of, we would literally astound ourselves." – Thomas A. Edison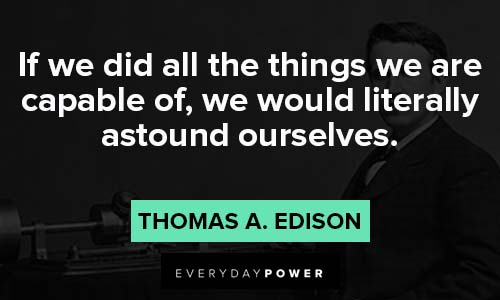 13. "We shall have no better conditions in the future if we are satisfied with all those which we have at present." – Thomas A. Edison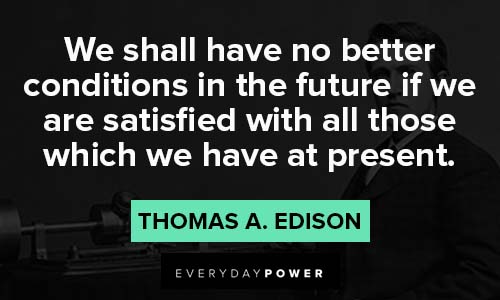 14. "I've never made a mistake. I've only learned from experience." – Thomas A. Edison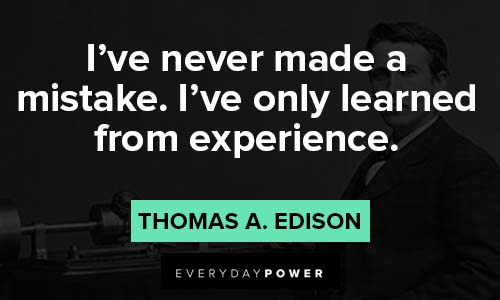 15. "I don't live with the past; I am living for to-day and to-morrow." – Thomas A. Edison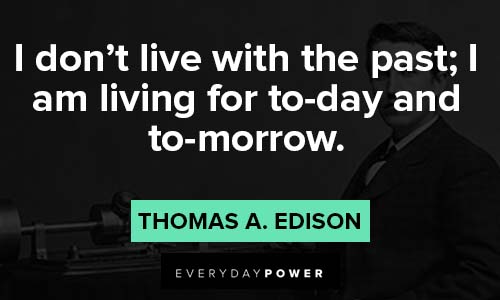 16. "What a man's mind can create, man's character should control." – Thomas A. Edison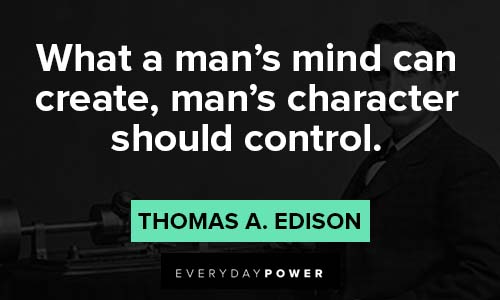 17. "I readily absorb ideas from every source, frequently starting where the last person left off." – Thomas A. Edison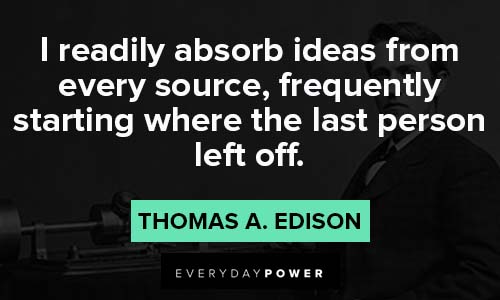 18. "Inspiration can be found in a pile of junk. Sometimes, you can put it together with a good imagination and invent something." – Thomas A. Edison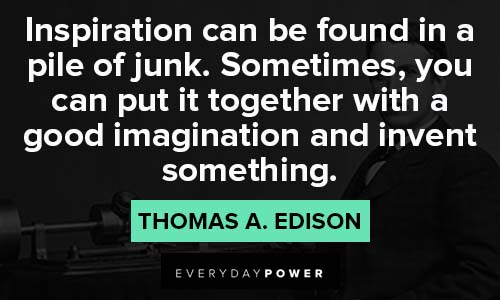 19. "Show me a thoroughly satisfied man and I will show you a failure." – Thomas A. Edison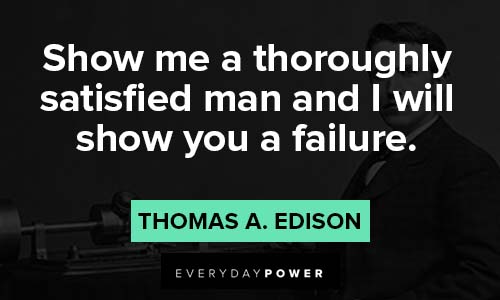 20. "Success is 90% perspiration and 10% inspiration!" – Thomas A. Edison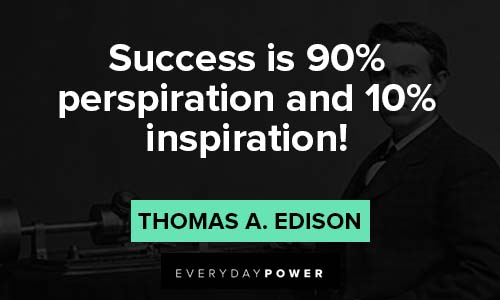 21. "Good fortune often happens when opportunity meets with preparation." – Thomas A. Edison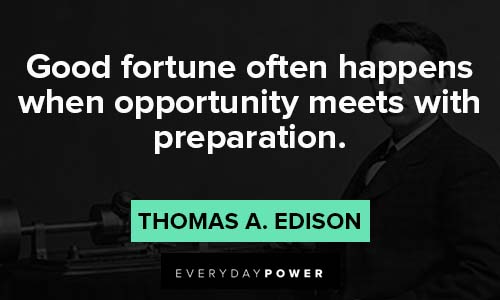 Also read these innovation quotes to motivate you to create.
Thomas Edison quotes to motivate you to reach your goals
22. "Our greatest weakness lies in giving up. The most certain way to succeed is always to try just one more time." – Thomas A. Edison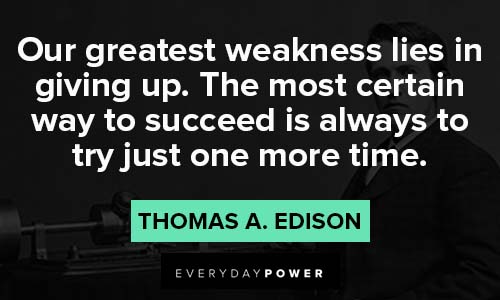 23. "Never get discouraged if you fail. Learn from it. Keep trying." – Thomas A. Edison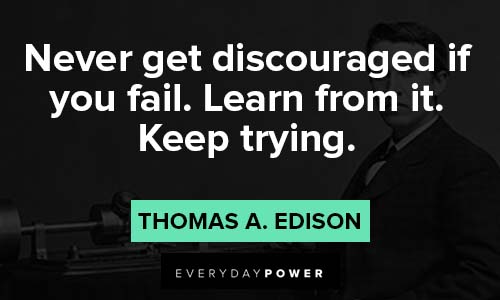 24. "Many of life's failures are people who did not realize how close they were to success when they gave up." – Thomas A. Edison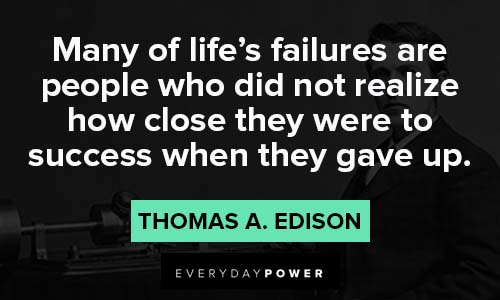 25. "Discontent is the first necessity of progress." – Thomas A. Edison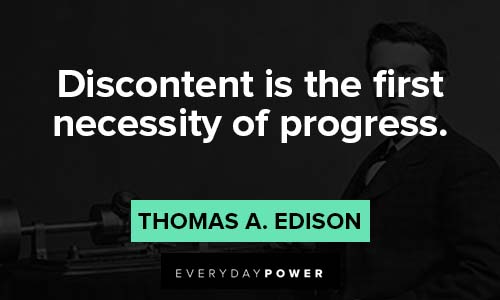 Which of these Thomas Edison quotes was your favorite?
Although Thomas Edison is credited with the many tools and conveniences of modern life, he did not have an easy path towards greatness.
He started from humble beginnings and worked his way to becoming an inventor of major technology.
As one of the greatest inventors of all time, there's a lot every one of us can learn from Edison's life.
Hopefully, these words of wisdom from the "Wizard of Menlo Park" have taught and inspired you.
Did you enjoy these Thomas Edison quotes?
What other Thomas Edison quotes would you like to share with us?
We would love to hear all about it in the comment section below.