25 Martha Graham Quotes About Dance, Life, and Art
Share which of these Martha Graham quotes makes you want to get up and dance the most in the comments.
Martha Graham was born in Pennslyvania in 1894 and would grow up to reshape the dynamic of the dance industry.
In her lifetime, Graham choreographed 181 dances.
She believed that dance should reflect human emotion and thus she created techniques that would forever alter the way dancers moved.
Graham's ballets were inspired by a variety of sources.
She included elements of Native American ceremonies and created movement inspired by artwork from the American Frontier and from Greek mythology.
Graham favored sharp, angular movement as she felt this type of dance brought out more emotion.
We hope you enjoy these quotes from one of the most iconic dancers of the 20th century.
Don't forget to also check out these dance quotes to get your body moving.
If you enjoy this article, check out our most popular quote article, a list of short inspirational quotes for daily motivation.
If you want more motivational quotes, check out our motivational quotes category page.
Martha Graham quotes about dance
1. "The body never lies." — Martha Graham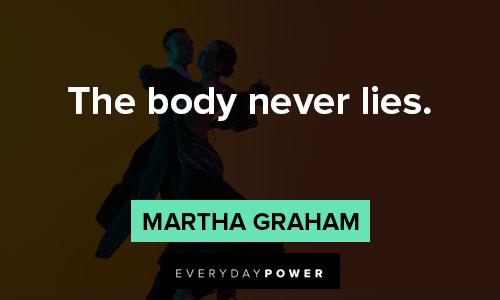 2. "Dance is the hidden language of the soul." — Martha Graham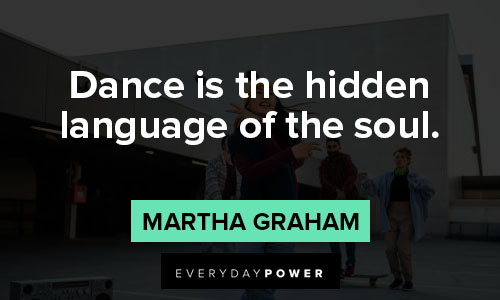 3. "Dancers are the messengers of the gods." — Martha Graham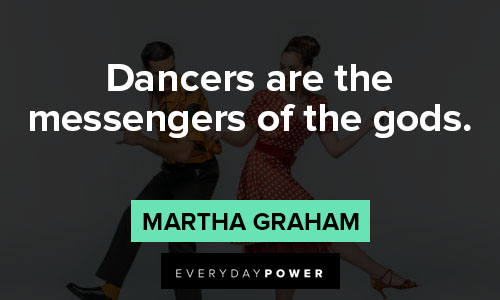 4. "Nothing is more revealing than movement." — Martha Graham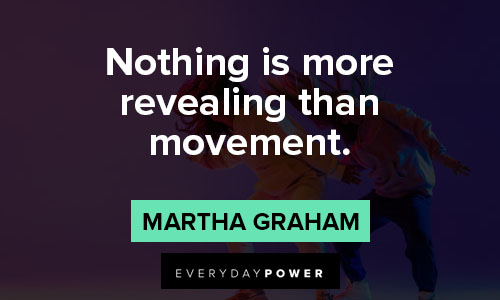 5. "Dancing is just discovery, discovery, discovery." — Martha Graham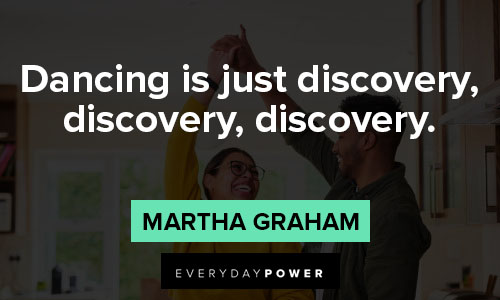 6. "Dance is a song of the body. Either of joy or pain." — Martha Graham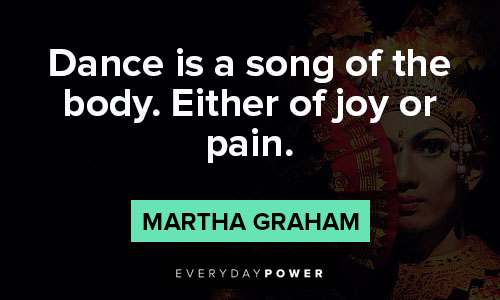 7. "Nobody cares if you can't dance well. Just get up and dance." — Martha Graham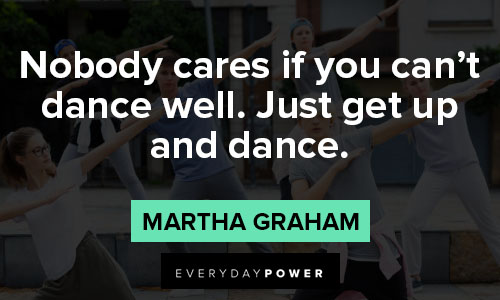 8. "I feel that the essence of dance is the expression of man – the landscape of his soul." — Martha Graham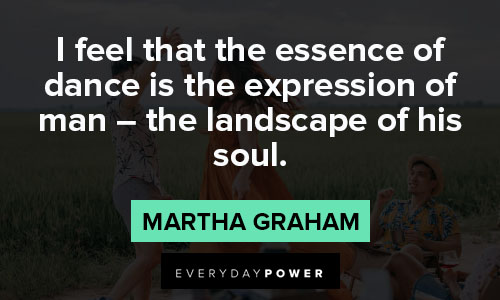 9. "Think of the magic of the foot, comparatively small, upon which your whole weight rests. It's a miracle and the dance is a celebration of that miracle." — Martha Graham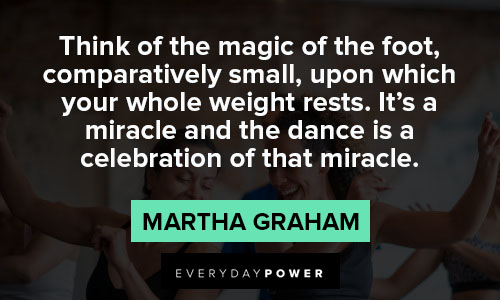 10. "I am a dancer. I believe that we learn by practice. Whether it means to learn to dance by practicing dancing or to learn to live by practicing living…" — Martha Graham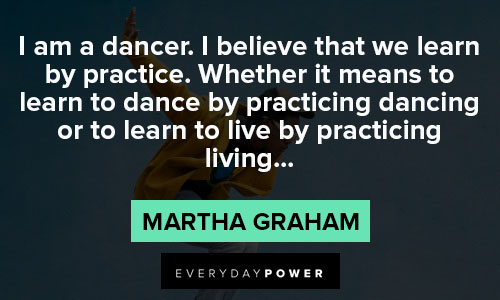 11. "All that is important is this one moment in movement. Make the moment important, vital, and worth living. Do not let it slip away unnoticed and unused." — Martha Graham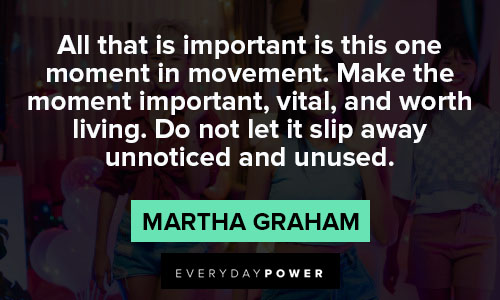 12. "We look at the dance to impart the sensation of living in an affirmation of life, to energize the spectator into keener awareness of the vigor, the mystery, the humor, the variety, and the wonder of life. This is the function of the American dance." — Martha Graham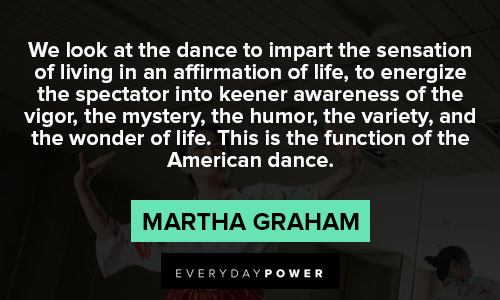 Martha Graham quotes about performance
13. "The body says what words cannot." — Martha Graham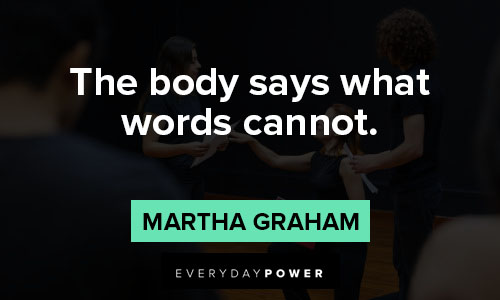 14. "Theater is a verb before it is a noun, an act before it is a place." — Martha Graham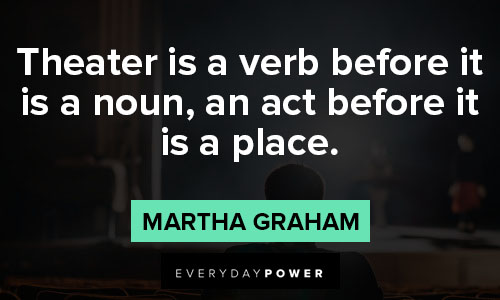 15. "The body is your instrument in dance, but your art is outside that creature, the body." — Martha Graham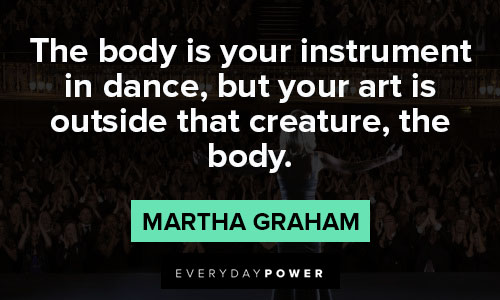 16. "Movement never lies. It is a barometer telling the state of the soul's weather to all who can read it." — Martha Graham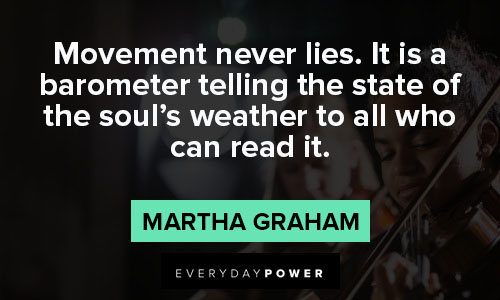 17. "I hope that every dance I do reveals something of myself or some wonderful thing a human can be." — Martha Graham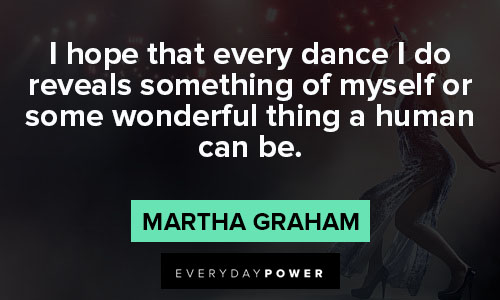 18. "Dance is communication, and so the great challenge is to speak clearly, beautifully and with inevitability." — Martha Graham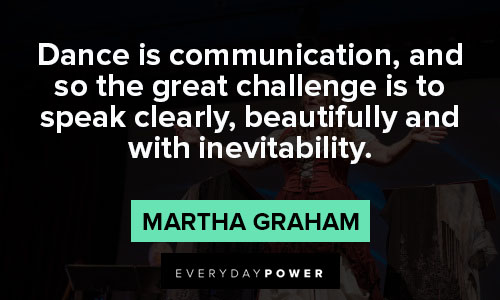 19. "The function of the body and the awareness of the body results in dance and you become a dancer, not just a human being." — Martha Graham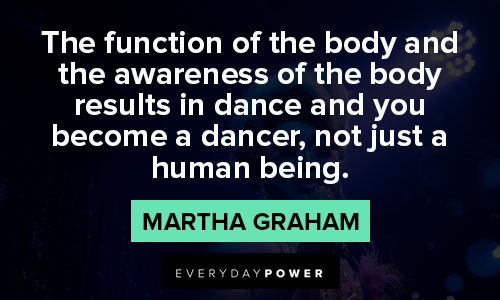 20. "All things I do are in every woman. Every woman is Medea. Every woman is Jocasta. There comes a time when a woman is a mother to her husband. Clytemnestra is every woman when she kills." — Martha Graham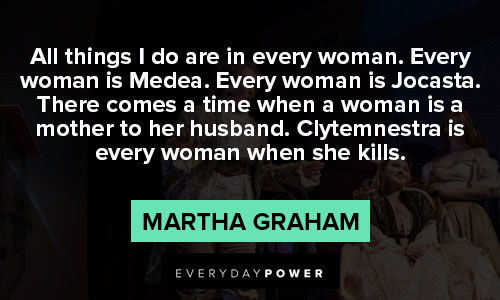 21. "I did not want to be a tree, a flower, or a wave. In a dancer's body, we as audience must see ourselves, not the imitated behavior of everyday actions, not the phenomenon of nature, not exotic creatures from another planet, but something of a miracle." — Martha Graham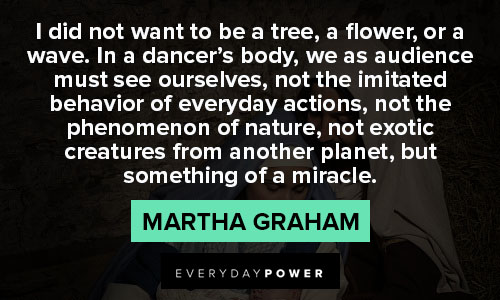 Martha Graham quotes about determination
22. "Practice is a means of inviting the perfection desired." — Martha Graham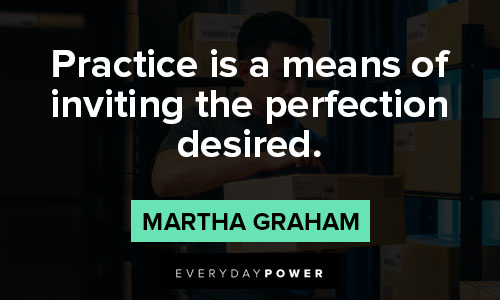 23. "Practice means to perform, over and over again in the face of all obstacles, some act of vision, of faith, of desire." — Martha Graham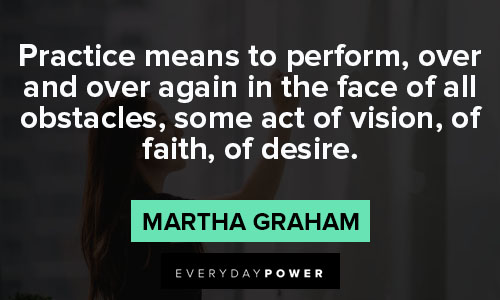 24. "Some men have thousands of reasons why they cannot do what they want to when all they need is one reason why they can." — Martha Graham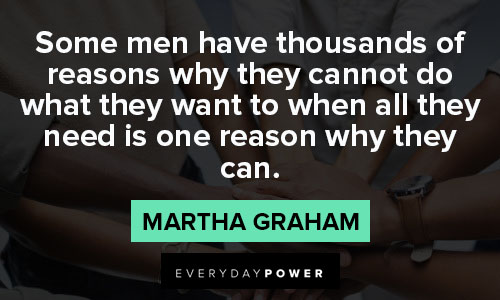 25. "There is a fatigue so great that the body cries, even in its sleep. There are times of complete frustration; there are daily small deaths." — Martha Graham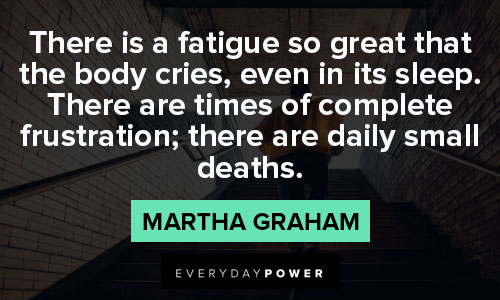 What passion puts a fire under your soul?
If you are passionate about something, never let that flame disappear.
Let the fire consume you and motivate you so that you live out your passion every day.
Martha Graham was passionate about dance.
She saw dance in a unique way and brought her vision out onto the stage.
It was her passion and her vision that made her such an iconic part of dance history.
Martha Graham opened a dance company in 1926 where she carried out the visions that danced through her mind.
The dance company is still around today and is still creating beautiful performances in her memory.
Did you enjoy these Martha Graham quotes and sayings?
Which quote was your favorite?
Let us know in the comments below.