140 Dance Quotes To Get Your Body Moving
No matter what style you prefer, these exciting dance quotes will get your body moving!
Fast, slow, choreographed or freestyle, dancing is one of the most amazing things we can do simultaneously for our minds and our bodies.
Some of us were born to dance, and others of us just like to do it for fun.
But however you like to move your body around, these dance quotes will get you ready to shake your booty.
You may also enjoy our article on:
Dancing improves our lives in many different ways.
It allows us to be more active, to socialize and to develop creative and physical skills.
It can also help you reduce stress levels, give you improved relaxation, weight control, a healthier brain, and much more.
Besides boosting your physical health, dancing can also help improve your self-confidence and self-esteem.
It provides an opportunity to overcome the fear of being awkward, meeting new people, making mistakes, negative body image, and more.
Learning to dance can be one of the best things you do to yourself.
In that respect, below is our collection of inspirational, fun, and thoughtful dance quotes, dance sayings, and dance proverbs, collected from a variety of sources over the years.
If you like this article, we suggest you explore our most popular quotes article, a list of short inspirational quotes for daily encouragement.
Look through our complete collection of inspirational quotes here.
Dance Quotes to Get Your Body Moving
1. "Life is sweet when you pay attention. When it doesn't seem sweet, put a sticker on your nose and do a funky dance." – Whitney Scott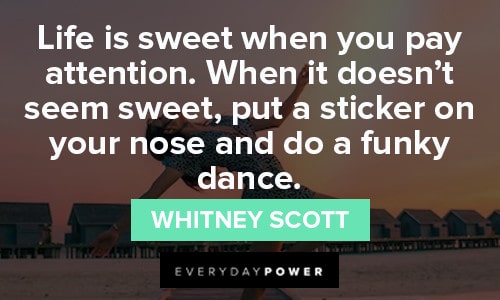 You will also enjoy our article on naughty quotes.
2. "Nobody cares if you can't dance well. Just get up and dance." – Dave Barry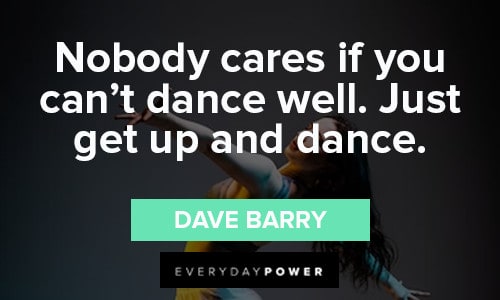 3. "Work like you don't need the money. Love like you've never been hurt. Dance like nobody's watching." – Satchel Paige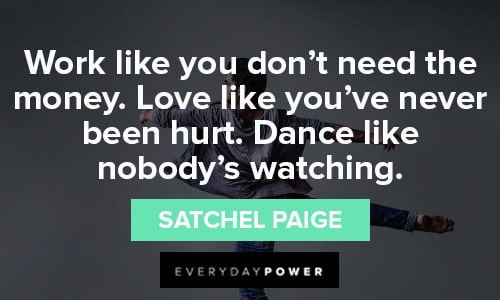 4. "Dancing – however you do it, even if it's in your living room – is a great workout." – Ciara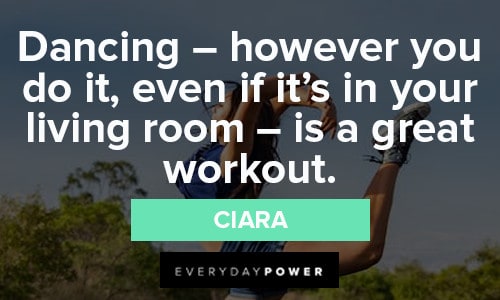 You will also enjoy our article on free spirit quotes.
5. "Let us read, and let us dance; these two amusements will never do any harm to the world." – Voltaire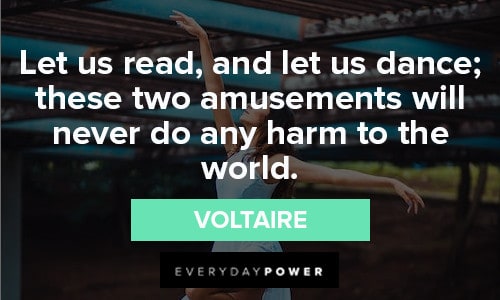 6. "Get up and dance, get up and smile, get up and drink to the days that are gone in the shortest while." – Simon Fowler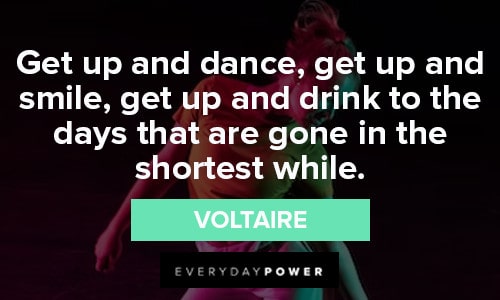 7. "Someone need not be perfect to be a great dancer? Feeling a soul is more important than what the body can do." – Marcia Hayde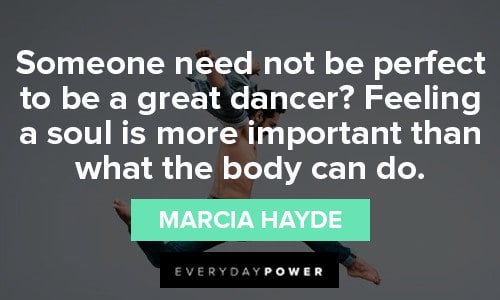 8. "When you dance, you can enjoy the luxury of being you." – Paulo Coelho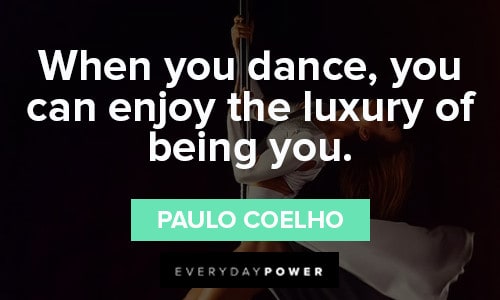 9. "Dance is your pulse, your heartbeat, your breathing. It's the rhythm of your life. It's the expression in time and movement, in happiness, joy, sadness and envy." – Jaques D'Ambroise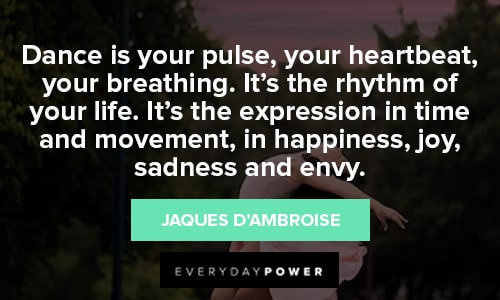 10. "Every day brings a chance for you to draw in a breath, kick off your shoes, and dance." – Oprah Winfrey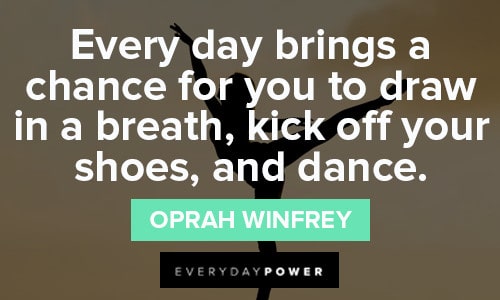 Dance quotes will get your body moving
11. "Dance is the timeless interpretation of life." – Shah Asad Rizvi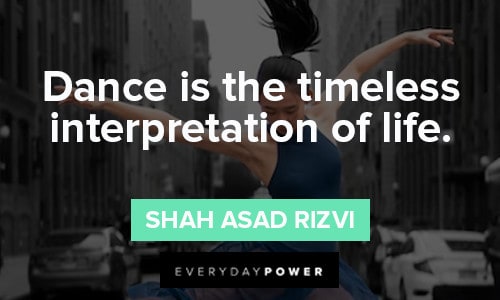 You will also enjoy our article on creative hobbies.
12. "If you want to release your aggression, get up and dance. That's what rock and roll is all about." – Chuck Berry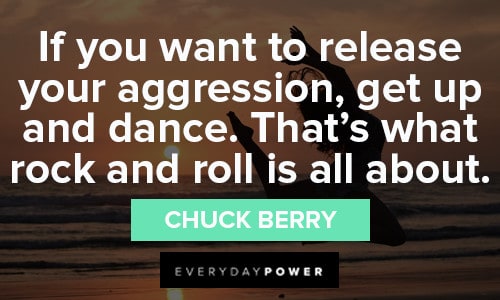 13. "When I dance, I forget everything else and just feel completely happy." – Katherine Jenkins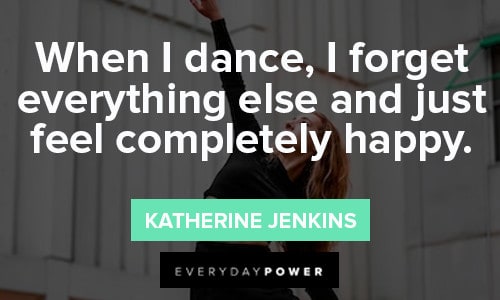 You will also enjoy our article on leg day quotes.
14. "The only way to make sense out of change is to plunge into it, move with it, and join the dance." – Alan W. Watts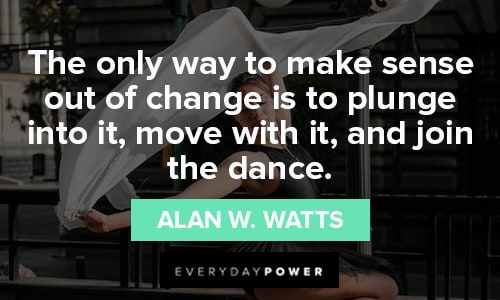 15. "Dance first. Think later. It's the natural order." – Samuel Beckett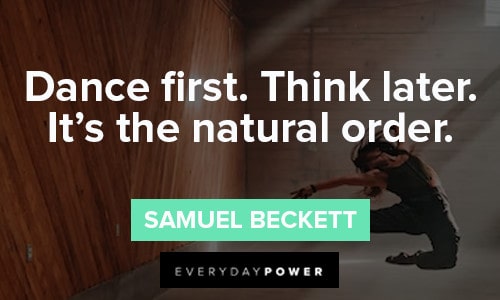 You will also enjoy our article on Saturday quotes.
16. "Nobody cares if you can't dance well. Just get up and dance. Great dancers are great because of their passion." – Martha Graham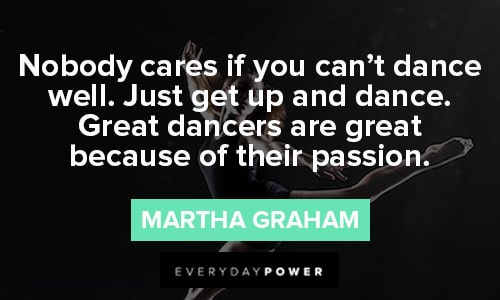 17. "The job of feets is walking, but their hobby is dancing." – Amit Kalantri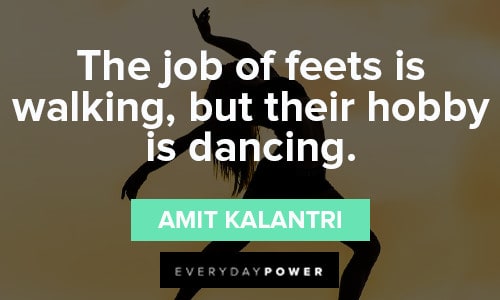 18. "I don't want to hide. I want to slow dance with you again. I want to dance with you forever." – Sarah Black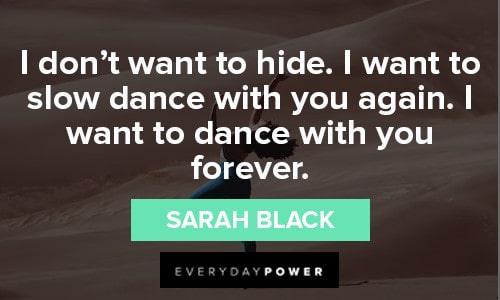 19. "Dancing and running shake up the chemistry of happiness." – Mason Cooley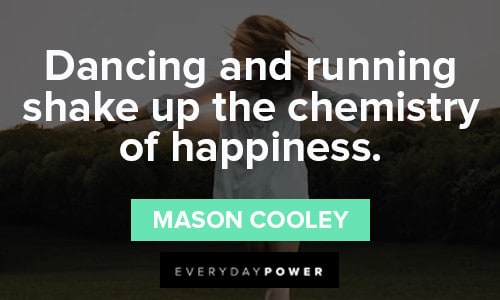 20. "To dance is to be out of yourself. Larger, more beautiful, more powerful. This is power, it is glory on earth and it is yours for the taking." – Agnes de Mille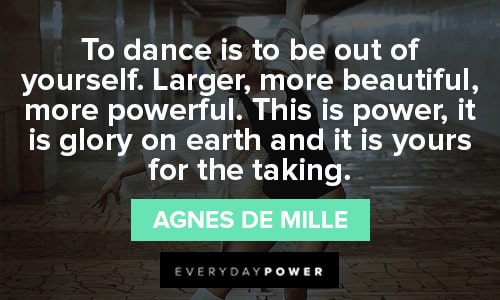 Dance quotes that will make your day
21. "Dance from your heart and let your passion shine through." – The Dance Mum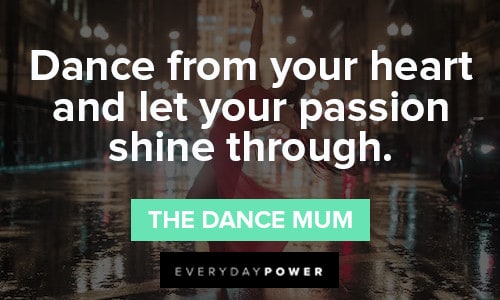 22. "Dance and sing to your music. Embrace your blessings. Make today worth remembering." – Steve Maraboli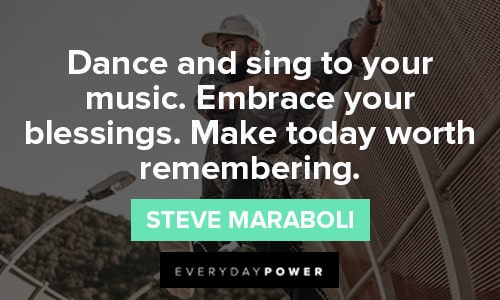 23. "Dance, when you're broken open. Dance, if you've torn the bandage off. Dance in the middle of the fighting. Dance in your blood. Dance when you're perfectly free." – Rumi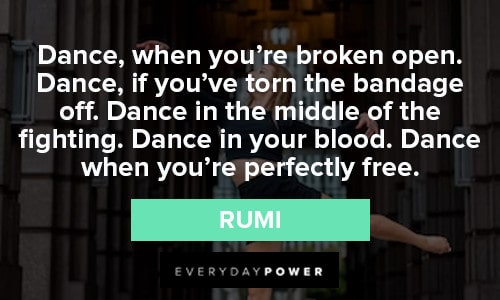 24. "Life is short and there will always be dirty dishes, so let's dance." – James Howe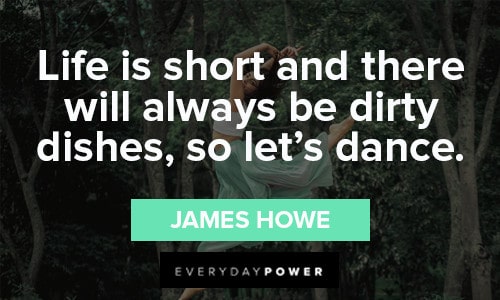 25. "The first dance is the worst dance; the last dance is the best dance! All the roads of persistent practice lead to the Land of Perfection!" – Mehmet Murat ildan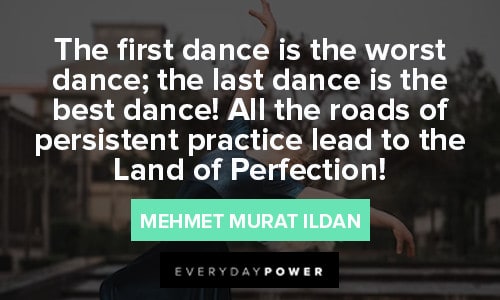 26. "Do not be frightened, friend. Let us dance our way to God." – Kamand Kojouri
27. "Dancing with a spinal cord injury is a challenge like no other, but I aspired to prove to myself that I could still be phenomenal dancer even with an SCI" – Sarah Todd Hammer
28. "When you dance, your purpose is not to get to a certain place on the floor. It's to enjoy each step along the way." – Wayne Dyer
29. "Every dance is a kind of fever chart, a graph of the heart." – Martha Graham
30. "My heart, which is so full to overflowing, has often been solaced and refreshed by music when sick and weary." – Martin Luther
Dance quotes to inspire and encourage you
31. "It's the heart afraid of breaking that never learns to dance." – Xiaolu Guo
32. "I learned to appreciate repetition. That's why I can dance. It's how I learned to act. I have a high tolerance for repetition." – Channing Tatum
33. "Dance is the only art of which we ourselves are the stuff of which it is made." – Ted Shawn
34. "I don't want people who want to dance, I want people who have to dance." – George Balanchine
35. "Dancing is surely the most basic and relevant of all forms of expression. Nothing else can so effectively give outward form to an inner experience." – Lyall Watson
36. "Dancing is a perpendicular expression of a horizontal desire." – George Bernard Shaw
37. "I dance. A lot. I work grief and sadness out of my body when I dance, and I bring in joy and rhythm." – Inga Muscio
38. "To live is to be musical, starting with the blood dancing in your veins. Everything living has a rhythm. Do you feel your music?" – Michael Jackson
39. "Any kind of dancing is better than no dancing at all." – Lynda Barr
40. "I see dance being used as communication between body and soul, to express what it too deep to find for words." – Ruth St. Denis
Dance quotes to lift your mood
41. "Dance for yourself. If someone understands, good. If not, no matter. Go right on doing what interests you, and do it until it stops interesting you." – Louis Horst
42. "We should consider every day lost on which we have not danced at least once." – Friedrich Nietzsche
43. "Before dance came into my life, I don't really remember having any major goals or dreams of wanting to be anything." – Misty Copeland
If you're enjoying these quotes, make sure to check out our collection of Misty Copeland quotes for a life of passion.
44. "I go with the flow. Whatever music you play for me, I'll dance." – Gael Garcia Bernal
45. "People have asked me why I chose to be a dancer. I did not choose. I was chosen to be a dancer, and with that, you live all your life." – Martha Graham
46. "Daily dance uplifts the soul to spiritual realms." – Lailah Gifty Akita
47. "Our biological rhythms are the symphony of the cosmos, music embedded deep within us to which we dance, even when we can't name the tune." – Deepak Chopra
48. "We dance to seduce ourselves. To fall in love with ourselves. When we dance with another, we manifest the very thing we love about ourselves so that they may see it and love us too." – Kamand Kojouri
49. "To be fond of dancing was a certain step towards falling in love." – Jane Austen
50. "When I have bad days, I just eat lots of chocolate ice cream and dance to the 'Lion King' soundtrack. It's really odd, but it's true." – Blake Lively
More dance quotes and sayings
51. "Dance is a song of the body. Either of joy or pain." – Martha Graham
52. "Even if you are not that good, dancing frees the body to float along with the music, and to cast off stress." – Byron Pulsifer
53. "Dancing is creating a sculpture that is visible only for a moment." – Erol Ozan
54. "Dancing alone is often easier and certainly less complicated than dancing with someone else, but there is nothing quite so satisfying as creating even one moment of real beauty moving gracefully with another." – Oriah, The Dance
55. "Life is the dancer and you are the dance." – Eckhart Tolle
56. "Taking dance lessons creates the opportunity for you to showcase "class" on occasions such as marriages or parties." – Claire Robin, Intimacy in Marriage
57. "Dancing's part of my soul. I enjoy it, it makes people happy, and it makes me happy." – John Travolta
58. "Let us dance in the sun, wearing wild flowers in our hair." – Susan Polis Schutz
59. "Dancing begets warmth, which is the parent of wantonness. It is, Sir, the great grandfather of cuckoldom." – Henry Fielding
60. "He who cannot dance puts the blame on the floor." – Hindu Proverb
Dance quotes to inspire you to hit the dance floor
61. "And those who were seen dancing were thought to be insane by those who could not hear the music." ― Friedrich Nietzsche
62. "And hand in hand, on the edge of the sand,
They danced by the light of the moon."
― Edward Lear
63. "Almost nobody dances sober, unless they happen to be insane." ― Howard Phillips Lovecraft
64. "To be creative means to be in love with life. You can be creative only if you love life enough that you want to enhance its beauty, you want to bring a little more music to it, a little more poetry to it, a little more dance to it." ― Osho
65. "Somebody just gave me a shower radio. Thanks a lot. Do you really want music in the shower? I guess there's no better place to dance than a slick surface next to a glass door." ― Jerry Seinfeld
66. "Life isn't about waiting for the storm to pass…It's about learning to dance in the rain." ― Vivian Greene
67. "Dance is the hidden language of the soul" ― Martha Graham
68. "She would be half a planet away, floating in a turquoise sea, dancing by moonlight to flamenco guitar." ― Janet Fitch
69. "If a man doesn't know how to dance he doesn't know how to make love, there I said it!" ― Craig Ferguson
70. "If you've got nothing to dance about, find a reason to sing." ― Melody Carstairs
Dance quotes to make you bust a move
71. "There are shortcuts to happiness, and dancing is one of them." — Vicki Baum
72. "Dancing is like dreaming with your feet!" — Constanze Mozart
73. "The body says what words cannot." — Martha Graham
74. "Dancing is the poetry of the foot." — John Dryden
75. "The most essential thing in dance discipline is devotion." — Merce Cunningham
76. "Dancing is silent poetry." — Simonides
77. "Dance every performance as if it were your last." — Erik Bruhn
78. "You have to love dancing to stick to it. It gives you nothing back, no manuscripts to store away, no paintings to show on walls and maybe hang in museums, no poems to be printed and sold, nothing but that fleeting moment when you feel alive. It is not for unsteady souls." — Merce Cunningham
79. "The truest expression of a people is in its dance and its music. Bodies never lie." — Agnes de Mille
80. "Dancers come and go in the twinkling of an eye, but the dance lives on." — Michael Jackson
Dance Quotes To Bring Joy & Happiness
81. "When you can be still and still dance, you are a great dancer. When you can move and still be still, you are a greater dancer." ― Donna Goddard
82. "Blessed are those whose breaths are faithful to the art of dance." ― Shah Asad Rizvi
83. "I finally found my rhythm when I realized that even the steps backward were part of the dance." ― Melody Godfred
84. "Elevate the dance, evolve with its stance, execute it with all that you feel within, each movement as though a synergy with heartbeats." ― Shah Asad Rizvi
85. "Release stress, be not tense, in movements of dance find healing for yourself." ― Shah Asad Rizvi
86. "Just dance your feminine creative form.. It's all about finding your radiance, flow and sensuality.. Just pure bliss and truest self. " ― Marina G. Roussou
87. "Life is a dance of consciousness with the music of emotions to enjoy the ecstasy of existence." ― Debasish Mridha
88. "The ultimate goal in life is to dance to the songs you used to cry on." ― Apoorv Sharma
89. "A dancer must dance every day." ― Lailah Gifty Akita
90. "To dance is to create poetry with your feet." ― Avijeet Das
Dance Quotes To Inspire Dancers
91. "Dance is art; paint your dream and follow it."― Steven Thompson
92. "Dance is a little insanity that does us all good." ― Edward Demby
93. "The dance goes on forever. So shall I. So shall we." ― Gelsey Kirkland
94. "Dance is a great way to express yourself." ― Darcey Bussell
95. "I do not try to dance better than anyone else. I only try to dance better than myself." ― Mikhail Baryshnikov
96. "Opportunity dances with those already on the dance floor." ― H. Jackson Brown
97. "Life is an affair of mystery; shared with companions of music, dance and poetry." ― Shah Asad Rizvi
98. "Live like you'll die tomorrow, work like you don't need the money, and dance like nobody's watching." ― Bob Fosse
99. "The dance is a poem of which each movement is a word." ― Mata Hari
100. "Do it big, do it right, and do it with style." ― Fred Astaire
Dance Quotes To Make You Move in Joy
101. "I feel that the essence of dance is the expression of man the landscape of his soul. I hope that every dance I do reveals something of myself or some wonderful thing a human can be." ― Martha Graham
102. "There is a bit of insanity in dancing that does everybody a great deal of good." ― Edwin Denby
103. "Dancing is the world's favorite metaphor." ― Kristy Nilsson
104. "Dance till the stars come down from the rafters Dance, Dance, Dance till you drop." ― W.H. Auden
105. "For I have trained myself and am training myself always to be able to dance lightly in the service of thought." ― Søren Kierkegaard
106. "Life is a dance. Mindfulness is witnessing that dance." ― Amit Ray
107. "Dance, even if you have nowhere to do it but your living room." ― Kurt Vonnegut
108. "In a society that worships love, freedom, and beauty, dance is sacred. It is a prayer for the future, a remembrance of the past and a joyful exclamation of thanks for the present." ― Amelia Atwater-Rhodes
109. "How can we know the dancer from the dance?" ― William Butler Yeats
110. "The one thing that can solve most of our problems is dancing." ― James Brown
Dance Quotes About the Art of Dancing
111. "Dancers are the athletes of God." — Albert Einstein
112. "Do a loony-goony dance, 'cross the kitchen floor, put something silly in the world that ain't been there before." — Shel Silverstein
113. "Talk about dance? Dance is not something to talk about. Dance is to dance." — Peter Saint James
114. "Dance is the poetic baring of the soul through motion." — Scott Nilsson
115. "Dance is the movement of the universe concentrated in an individual." — Isadora Duncan
116. "Dance is one of the most revealing art forms." — Mikhail Baryshnikov
117. "Dance is for everybody. I believe that the dance came from the people and that it should always be delivered back to the people." — Alvin Ailey
118. "Dance is certainly a sport, and they are phenomenal athletes, and they're also artists." — Neve Campbell
119. "Dancing is the loftiest, the most moving, the most beautiful of the arts, because it is not mere translation or abstraction from life; it is life itself." — Havelock Ellis
120. "Dancing is moving to the music without stepping on anyone's toes, pretty much the same as life." — Robert Brault
Dance Quotes To Boost Your Self-Confidence
121. "The dance can reveal everything mysterious that is hidden in music, and it has the additional merit of being human and palpable. Dancing is poetry with arms and legs." — Charles Baudelaire
122. "The dance: a minimum of explanation, a minimum of anecdotes, and a maximum of sensations." — Maurice Bjart
123. "Hard times require furious dancing." — Alice Walker
124. "I just like to hop up on the dance floor and do my thing." — Kyle Massey
125. "I'm going to dance in all the galaxies." — Elisabeth Kubler-Ross
126. "In my dreams, I am not crippled. In my dreams, I dance." — Louise Brooks
127. "To watch us dance is to hear our hearts speak." — Hopi Indian
128. "What we want from modern dance is courage and audacity." — Twyla Tharp
129. "Never give a sword to a man who can't dance." — Confucius
130. "Let your life lightly dance on the edges of Time like dew on the tip of a leaf." — Rabindranath Tagore
131. "Dance is movement, and movement is life." — Ludmilla Chiriaeff
132. "I don't remember not dancing. When I realized I was alive and these were my parents, and I could walk and talk, I could dance." — Gregory Hines
133. "The one unbreakable rule of couples dancing is that the partners must move inter dependently, as a unit." — Gerald Jonas
134. "I always want to have more dancers in my company." — Alvin Ailey
135 "I have the same opinion of dances that physicians have of mushrooms: the best of them are good for nothing." — Saint Francis de Sales
136. "Ballet is a dance executed by the human soul." — Alexander Pushkin
137. "There are two ways of being creative. One can sing and dance. Or one can create an environment in which singers and dancers flourish." — Warren G. Bennis
138. "When the music and dance create with accord…their magic captivates both the heart and the mind." — Jean-Georges Noverre
139. "When we give ourselves over completely to the spirit of the dance, it becomes a prayer." — Gabrielle Roth
140. "Leaders must encourage their organizations to dance to forms of music yet to be heard." — Warren G. Bennis
Did you enjoy these dance quotes?
There are so many reasons to dance.
Whether it's increasing your amount of daily exercise or making new friends, dancing provides many benefits.
If you're doubting yourself or dealing with low self-esteem, why not try dancing?
It can be a fun way to overcome these limiting beliefs.
Hopefully, the quotes above have inspired you to get your body moving.
You might also like this article on prom quotes from one of the most celebrated milestone dances!
Let us know, in the comment section below, which of these dance quotes resonated with you best.
Also, if you enjoyed this collection of quotes about dancing, be sure to share with your friends and followers.