25 Money Heist Quotes from the International Crime Series
If you're looking for a show with a unique storyline, check out these Money Heist quotes.
You may also enjoy our article on:
Money Heist is an award-winning crime drama.
While you may have watched it on Netflix, the series originally aired on a Spanish network as it is a Spanish heist crime drama.
It tells the story of a group that decides to pull off the largest Spanish heist in history by robbing the Royal Mint of Spain.
It follows the story of what happens during the heist as well as what happens afterward and the preparation for another heist after being in hiding.
If you're ready for something different than the same old storyline, you'll enjoy these Money Heist quotes.
Check out our most popular quote article, a list of short inspirational quotes for daily inspiration.
Our inspirational quote category page has even more inspirational and educational quotes.
Money Heist quotes from The Professor
1. "The plan is designed to survive any setbacks, including my death." ― The Professor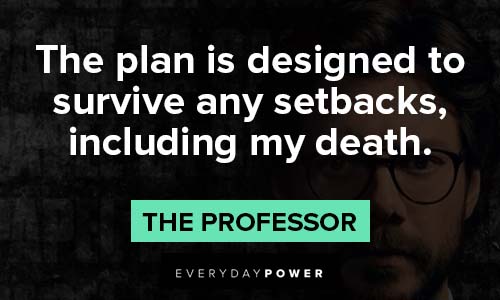 You will also enjoy our article on The Powerpuff Girls quotes.
2. "You're the sexiest woman in the world but I love you for your brains." ― The Professor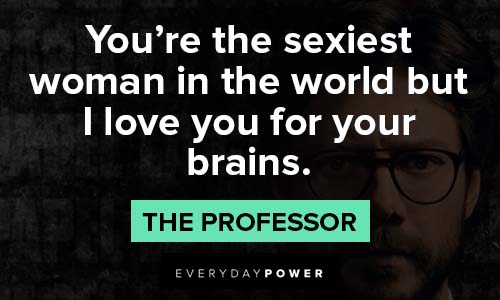 3. "I'm offering you resurrection, A second life." ― The Professor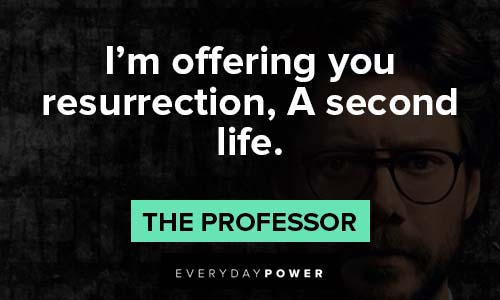 4. "Sometimes, a truce is the most important part of a war." ― The Professor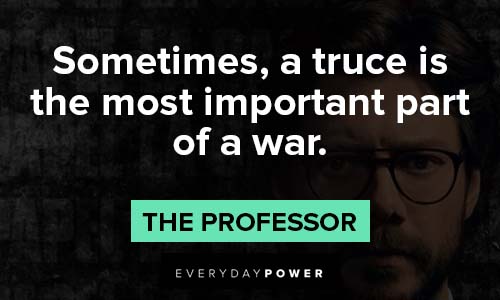 5. "In this world, everything is governed by balance. There's what you stand to gain and what you stand to lose. And when you think you've got nothing to lose, you become overconfident." ― The Professor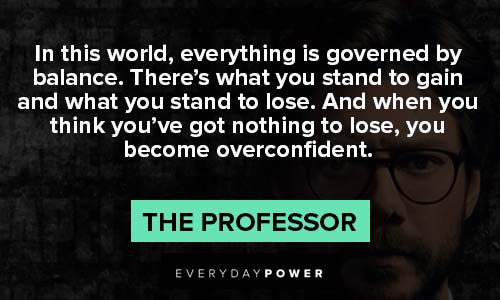 6. "Betrayal doesn't depend on how much or how deeply you love someone. It depends on the magnitude of the dilemma put in front of you." ― The Professor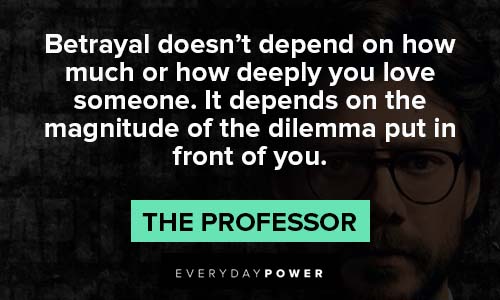 7. "When someone is in love, they look through rose―tinted glasses. Everything's wonderful. They transform into a soft teddy bear that's smiling all the time." ― The Professor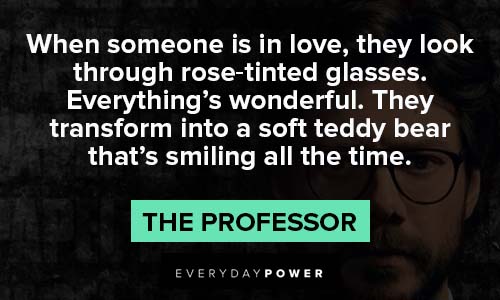 8. "Maybe we're all immature to some extent." ― The Professor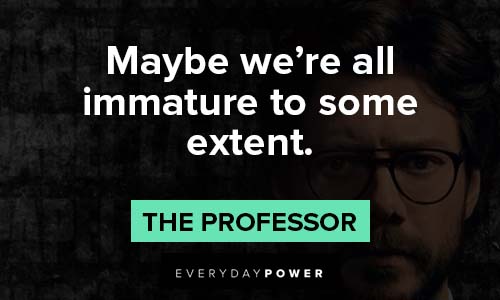 9. "Time is greater than money." ― The Professor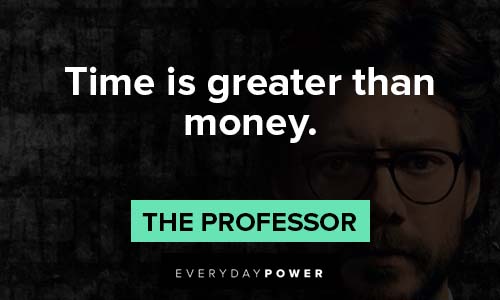 10. "You can't get out of the Bank of Spain alive. It's impossible. But I will get you out of there." ― The Professor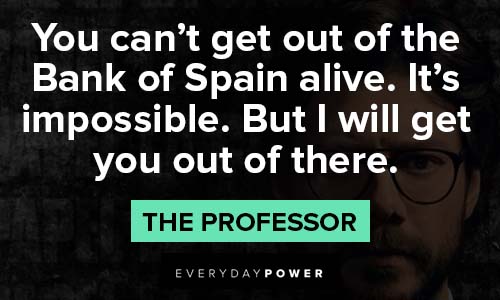 Money Heist quotes from Berlin
11. "My love, the things that actually matter in life always come unexpectedly." ― Berlin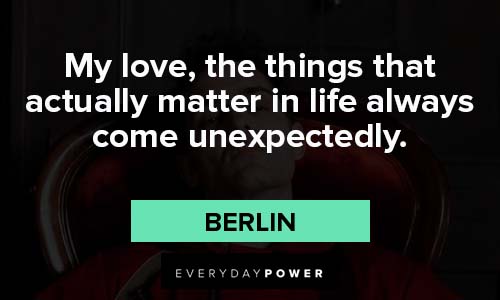 12. "Death is simply just a word, a priori. It comprises everything that doesn't exist. On the other hand, once you're dead, you won't remember you were alive." ― Berlin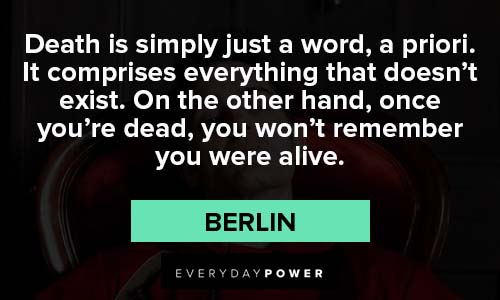 13. "First times are so special. But the last times are beyond comparison. Priceless. But people don't usually know it." ― Berlin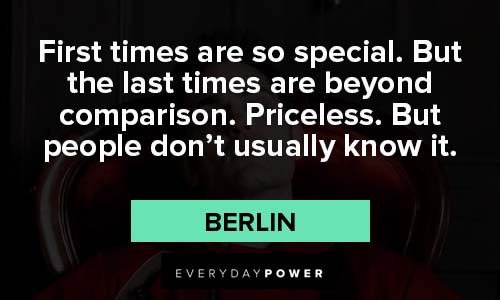 14. "What I don't want is for you to die before you've even lived." ― Berlin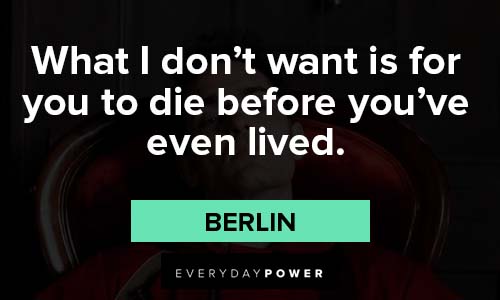 15. "Believe me, I've had five divorces. Do you know what five divorces are? Five times I believed in love." ― Berlin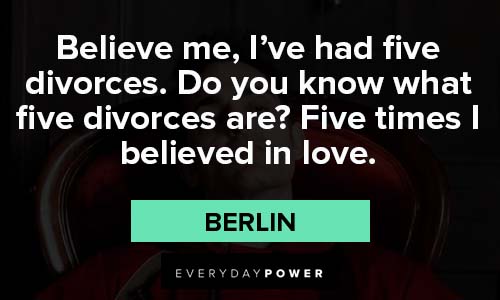 16. "Sometimes distance is the only way to find peace. So you can heal your wound." ― Berlin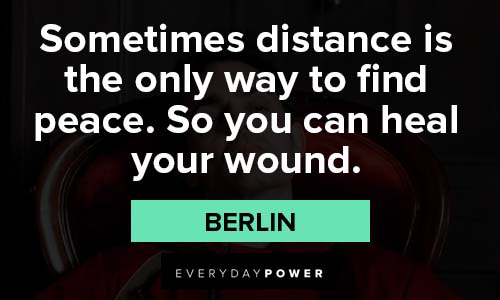 17. "I've spent my life being a bit of a son of a bitch, but today I think I want to die with dignity." ― Berlin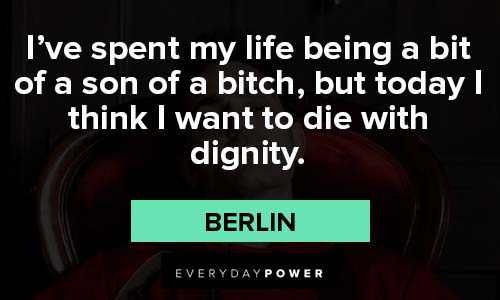 18. "Death can be the greatest opportunity of your life." ― Berlin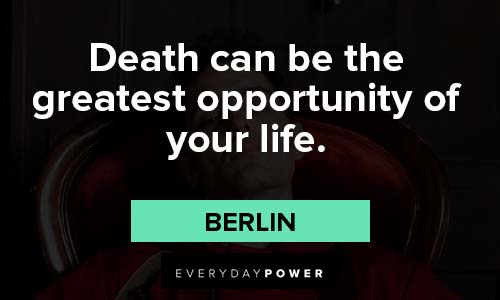 19. "If you really want something in life, you have to steal it from someone else. That's the story of the world, my son." ― Berlin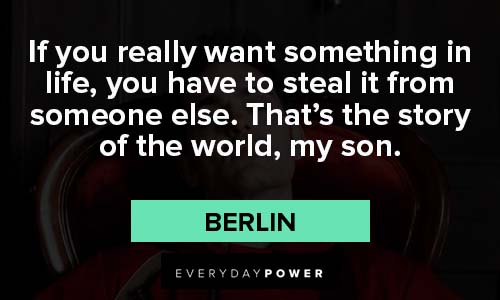 20. "The things that are really important in life, Rafael, have a price, Rebellion, Liberty, Ideals." ― Berlin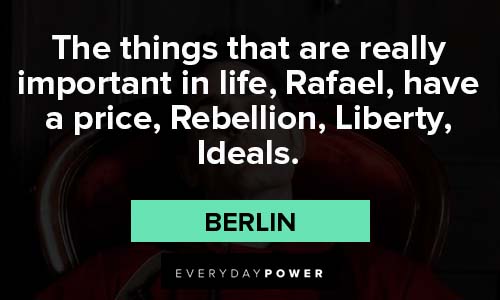 21. "No matter how tough things get, children always turn out okay." ― Berlin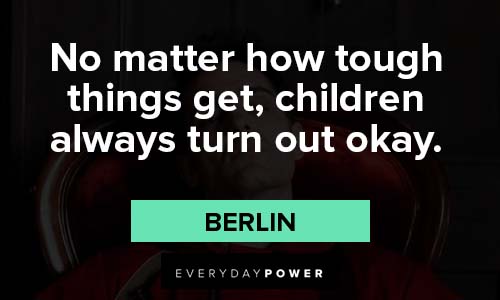 22. "I've spent my life being a bit of a son of a bitch, but today I think I want to die with dignity" ― Berlin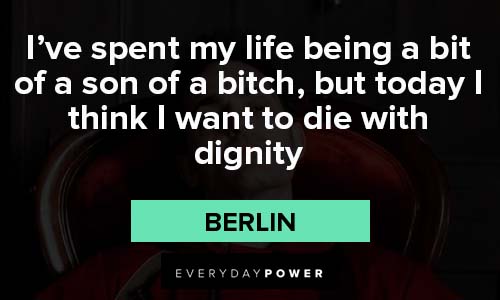 23. "Do you know that in horror movies there is always a brave guy who always thinks: "I will not last long"?" ― Berlin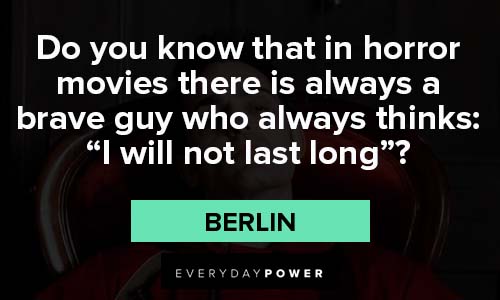 Money Heist quotes from Tokyo
24. "In heists, love can get multiplied." ― Tokyo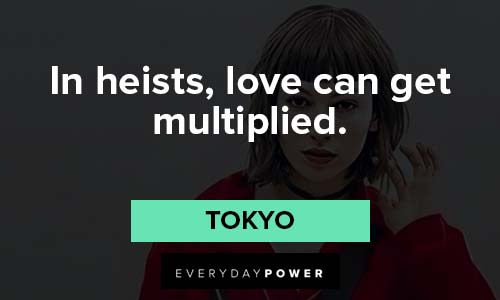 25. "In the bathtub, I told you to break up with me, But I didn't say my last words, You're not leaving here without me." ― Tokyo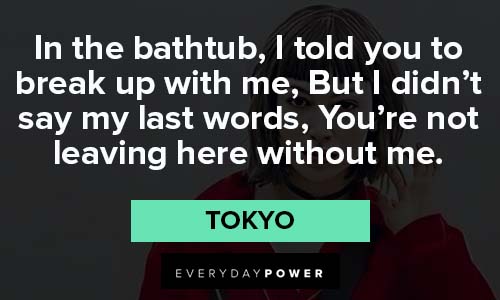 Which of these Money Heist quotes is your favorite?
Money Heist was originally going to be a two-part series, but once it ended up on Netflix, it ended up running for five seasons for a total of 41 episodes.
The last release date was in December of 2021.
The series won several awards and stood out from other heist series and films by using a female perspective for the narrator.
In addition, when Netflix picked the series up they maintained the original feel of the show instead of adapting it for the new international audience.
This helped the show feel more authentic and stand apart from the crowd of other series available to watch.
If you liked these Money Heist quotes and sayings, now is a great time to binge the series again.