Richard Wright Quotes on Humanity and Racism
These Richard Wright quotes will help bring out the best in you.
Richard Wright was pioneering American author who is best known for the 1940 bestseller Native Son and his 1945 autobiography, Black Boy.
Much of his work addressed racial themes and helped change race relations in the United States in the mid-20th century.
Born on September 4, 1908, in Roxie, Mississippi, Wright developed his love for writing from an early age and published his first short story at the age of 16.
Native Son was a successful and groundbreaking best seller that brought Wright fame and freedom to write.
It also made him the wealthiest African American writer in the country.
Despite having tumultuous upbringing, Wright rose to become one of the most influential African-American writers of the twentieth century.
He paved the way for the black writers who followed him and had an influence on the Civil Rights movement and anti-colonialism.
Wright died in Paris, France, on November 28, 1960.
Years after his passing, his legacy still remains strong.
In his honor, below is our collection of inspirational, wise, and thought-provoking Richard Wright quotes, collected from a variety of sources over the years.
You may also enjoy our collection of Frederick Douglass quotes.
If you like this article, we suggest you explore our most popular quotes article, a list of short inspirational quotes for daily encouragement.
Check out more inspirational quotes on our motivational quotes category page.
Richard Wright Quotes on Humanity and Racism
1. "If you possess enough courage to speak out what you are, you will find you are not alone." ― Richard Wright

2. "The world of most men is given to them by their culture.." ― Richard Wright

3. "My days and nights were one long, quiet, continuously contained dream of terror, tension, and anxiety. I wondered how long I could bear it." ― Richard Wright

4. "We cannot shake off three hundred years of fear in three hours." ―Richard Wright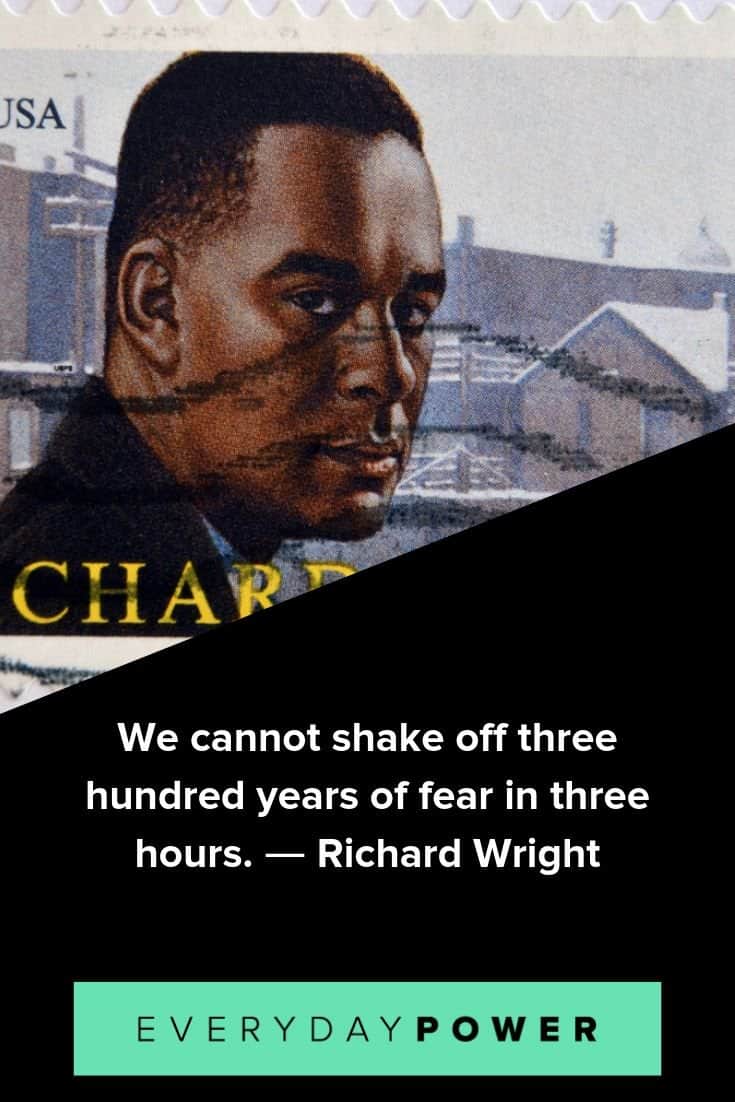 5. "There are times when life's ends are so raveled that reason and sense cry out that we stop and gather them together again before we can proceed" ― Richard Wright

6. "I had tasted what to me was life, and I would have more of it, somehow, someway." ― Richard Wright

7. "Whenever my environment had failed to support or nourish me, I had clutched at books…" ― Richard Wright

8. "The artist must bow to the monster of his own imagination." ― Richard Wright

9. "You asked me questions nobody ever asked me before. You knew that I was a murderer two times over, but you treated me like a man…" ― Richard Wright

10. "If laying down my life could stop the suffering in the world I'd do it. But I don't believe anything can stop it." ― Richard Wright
Richard Wright quotes that will change the way you think
11. "Men can starve from a lack of self-realization as much as they can from a lack of bread." ― Richard Wright

12. "I was persisting in reading my present environment in the light of my old one." ― Richard Wright

13. "Violence is a personal necessity for the oppressed…It is not a strategy consciously devised. It is the deep, instinctive expression of a human being denied individuality." ― Richard Wright

14. "Love grows from stable relationships, shared experience, loyalty, devotion, trust." ― Richard Wright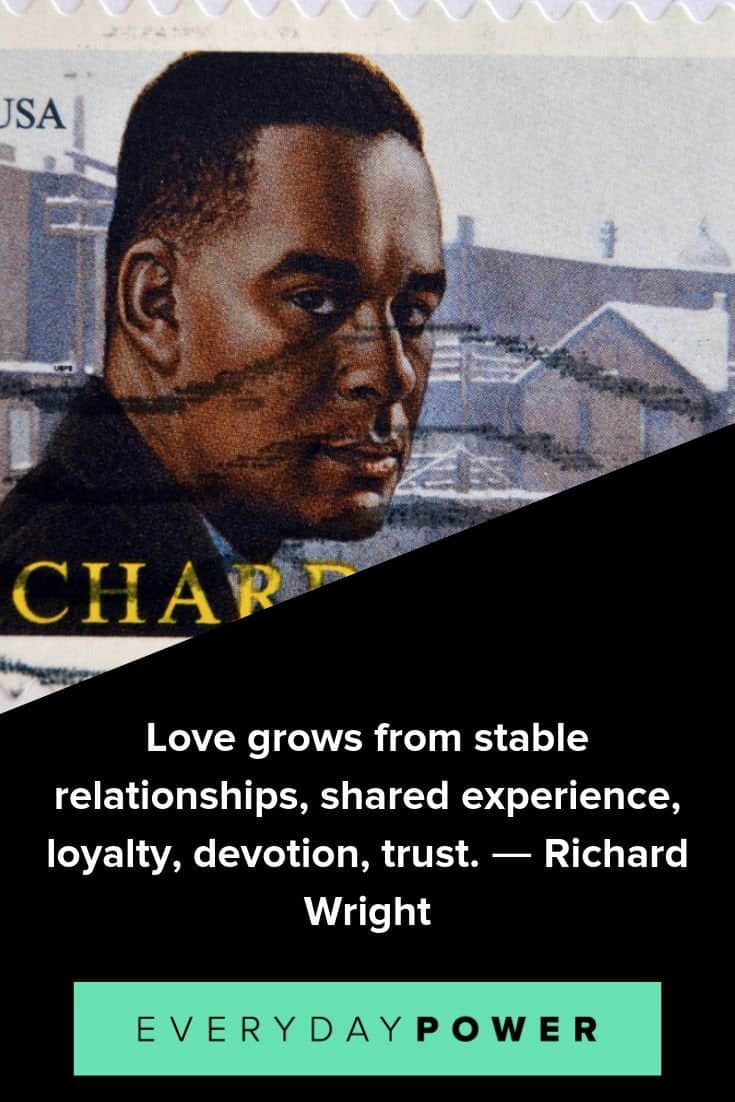 15. "How soon will someone speak the word the resentful millions will understand: the word to be, to act, to live?" ― Richard Wright

16. "I didn't know I was really alive in this world until I felt things hard enough to kill for 'em…" ― Richard Wright

17. "I was seized by doubt. Should I have come here? But going back was impossible. I had fled a known terror, and perhaps I could cope with this unknown terror that lay ahead." ― Richard Wright

18. "If a man confessed anything on his death bed, it was the truth; for no man could stare death in the face and lie." ― Richard Wright

19. "I knew that I lived in a country in which the aspirations of black people were limited, marked-off. Yet I felt that I had to go somewhere and do something to redeem my being alive." ― Richard Wright

20. "Men are inventing ideas every day to justify for themselves and others their actions and needs." ― Richard Wright
Richard Wright quotes to elevate your perspective
21. "The white folks like for us to be religious, then they can do what they want to with us." ― Richard Wright

22. "But the color of a Negro's skin makes him easily recognizable, makes him suspect, converts him into a defenseless target" ― Richard Wright

23. "Every man, it seems, interprets the world in the light of his habits and desires" ― Richard Wright

24. "I wanted to try to build a bridge of words between me and that world outside, that world which was so distant and elusive that it seemed unreal." ― Richard Wright

25. "One can account for just so much of life, and then no more. At least, not yet." ― Richard Wright
Which of these Richard Wright quotes was your favorite?
Richard Wright was arguably the most influential African-American writer of the twentieth century.
His work was an important part of the discussion on race relations and had an impact across the globe.
Despite not being with us now, Wright's life and writings remain exemplary.
We hope his words have inspired you to live a positive mark in whatever field you're involved in.
Did you enjoy these Richard Wright quotes?
Which of the quotes was your favorite?
Tell us in the comment section below.
We would love to hear all about it.