Sylvia Plath Quotes Celebrating Life, Love and Death
These brilliant Sylvia Plath quotes will show you deeper meanings to life, love, and death.
The late Sylvia Plath was a dynamic author who showed the world just how powerful words can be in a time when women, let alone men, were not discussing the major topics she wrote on.
Her words are still as thought-provoking today as they were then, and these Sylvia Plath quotes will open your eyes and mind.
Born in Boston, Massachusetts, in 1932, Plath wrote poetry from an early age.
Some of her most popular works include her published collections, The Colossus and Other Poems and Ariel, as well as The Bell Jar, a semi-autobiographical book about her depression and mental struggles.
She is credited with advancing the genre of confessional poetry and became the first person to win a posthumous Pulitzer Prize.
Plath suffered from severe bouts of clinical depression in her adult life and was treated multiple times with electroconvulsive therapy (ECT).
She sadly committed suicide in 1963.
Despite the controversies shrouding her suicide, Plath remains a major part of American literature.
Her work is gripping and compelling to read.
For those battling mental illness, her work can serve as a reminder that all is not lost.
You deserve to be happy and should believe that there's hope.
In honor of one of the most dynamic and admired poets of the 20th century, below is our collection of brilliant, inspirational, and thought-provoking, Sylvia Plath quotes and sayings, collected from a variety of sources over the years.
Check out our most popular quote article, a list of short inspirational quotes for daily inspiration.
Check out our entire collection of motivational quotes here.
Sylvia Plath quotes celebrating life, love and death
1. "If you expect nothing from anybody, you're never disappointed." – Sylvia Plath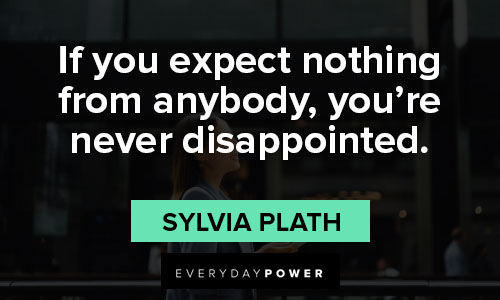 You will also enjoy our article on alice in the wonderland quotes.
2. "There is so much hurt in this game of searching for a mate, of testing, trying. And you realize suddenly that you forgot it was a game, and turn away in tears." – Sylvia Plath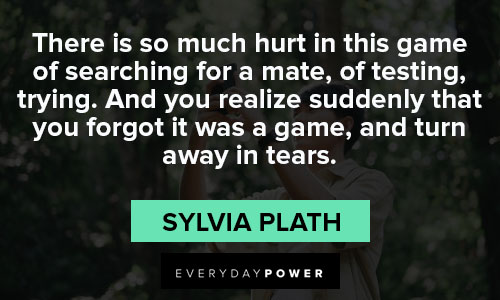 3. "Freedom is not of use to those who do not know how to employ it." – Sylvia Plath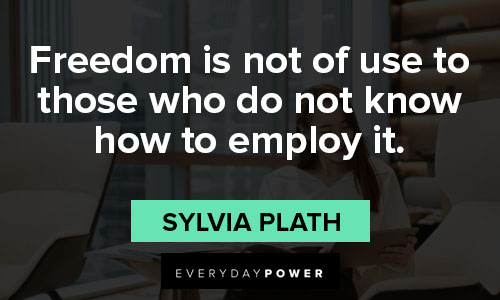 You will also enjoy our article on orange quotes.
4. "Perhaps when we find ourselves wanting everything, it is because we are dangerously close to wanting nothing." – Sylvia Plath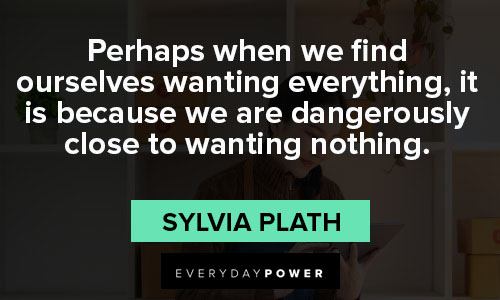 5. "But life is long. And it is the long run that balances the short flare of interest and passion." – Sylvia Plath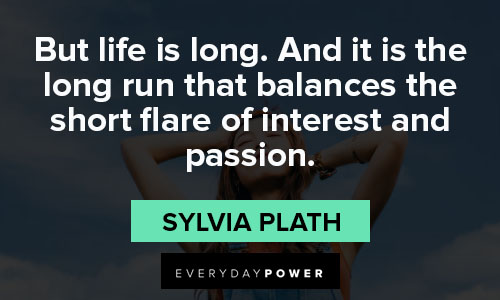 6. "If I tried to describe my personality, I'd start to gush about living by the ocean half my life and being brought up on 'Alice in Wonderland' and believing in magic for years and years." – Sylvia Plath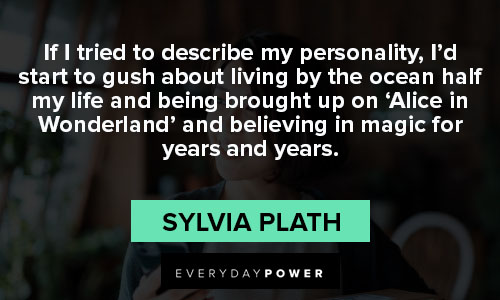 7. "I have the choice of being constantly active and happy or introspectively passive and sad." – Sylvia Plath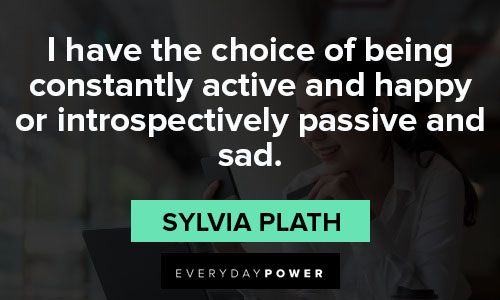 8. "Let me live, love, and say it well in good sentences" – Sylvia Plath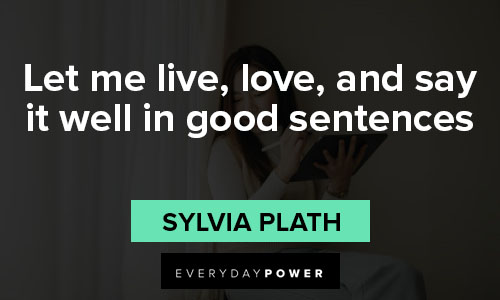 9. "Believe in some beneficent force beyond your own limited self. God, god, god: where are you? I want you, need you: the belief in you and love and mankind." – Sylvia Plath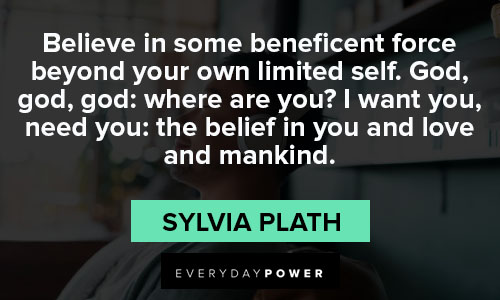 10. "What a man is is an arrow into the future, and what a woman is is the place the arrow shoots off from." – Sylvia Plath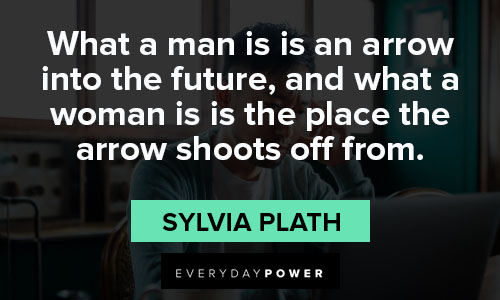 Sylvia Plath quotes that will open your eyes and mind
11. "Kiss me and you will see how important I am." – Sylvia Plath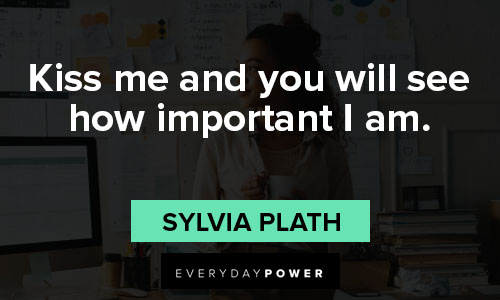 12. "And by the way, everything in life is writable about if you have the outgoing guts to do it, and the imagination to improvise. The worst enemy to creativity is self-doubt." – Sylvia Plath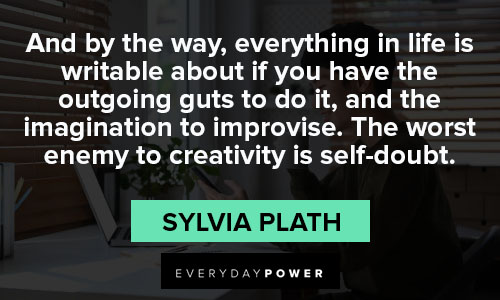 13. "Remember, remember, this is now, and now, and now. Live it, feel it, cling to it. I want to become acutely aware of all I've taken for granted." – Sylvia Plat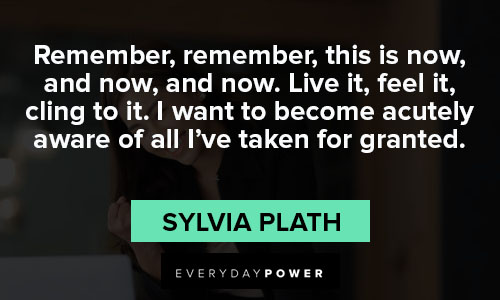 14. "The silence depressed me. It wasn't the silence of silence. It was my own silence." – Sylvia Plath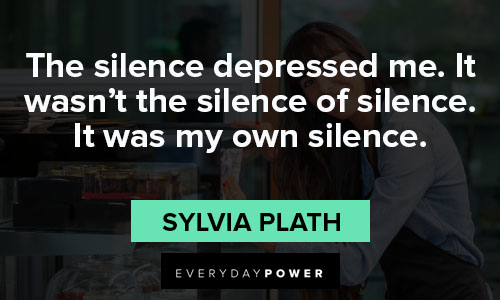 15. "I felt my lungs inflate with the onrush of scenery—air, mountains, trees, people. I thought, "This is what it is to be happy." – Sylvia Plath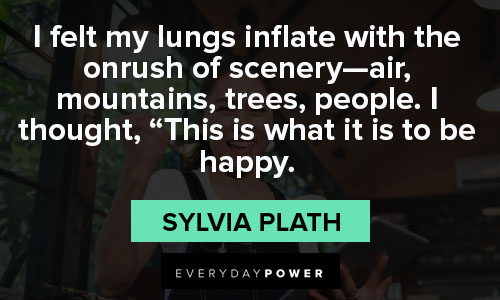 16. "I like people too much or not at all. I've got to go down deep, to fall into people, to really know them." – Sylvia Plath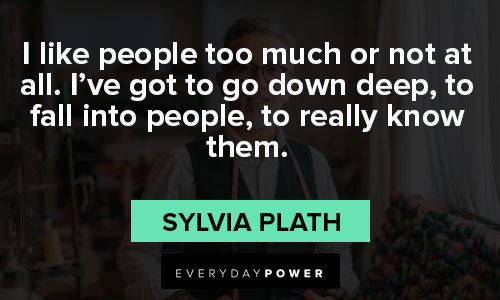 17. "How frail the human heart must be – a mirrored pool of thought." – Sylvia Plath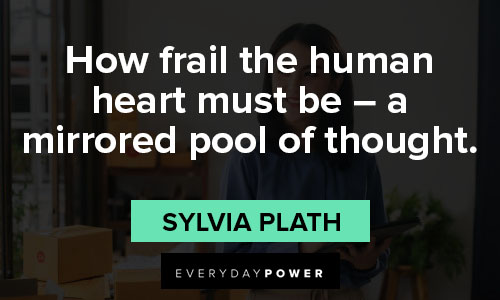 18. "Dying is an art, like everything else. I do it exceptionally well. I do it so it feels like hell. I do it so it feels real. I guess you could say I've a call." – Sylvia Plath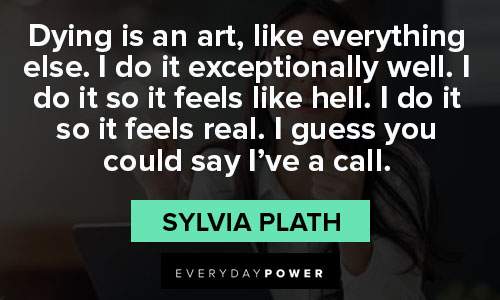 19. "I took a deep breath and listened to the old bray of my heart. I am. I am. I am." – Sylvia Plath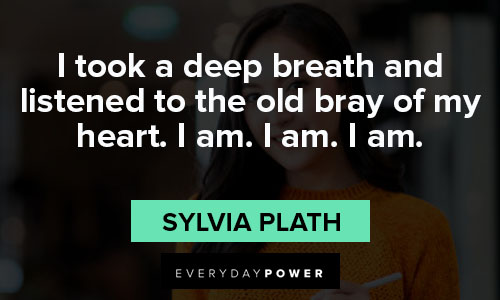 20. "I pass by people, grazing them on the edges, and it bothers me. I've got to admire someone to really like them deeply – to value them as friends." – Sylvia Plath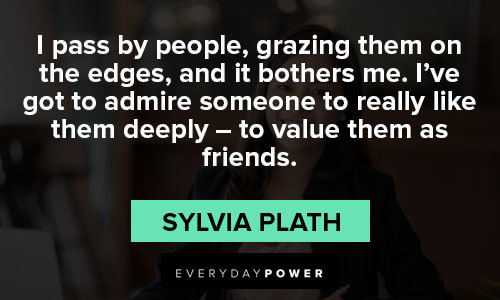 Sylvia Plath quotes that will expand your mind
21. "Nothing stinks like a pile of unpublished writing." – Sylvia Plath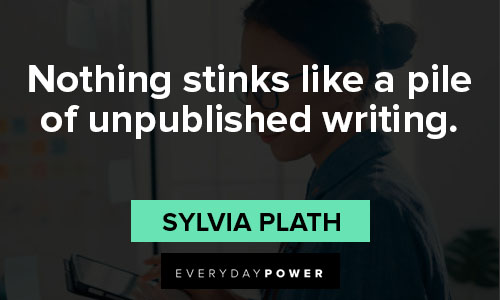 22. "My mother said the cure for thinking too much about yourself was helping somebody who was worse off than you." ― Sylvia Plath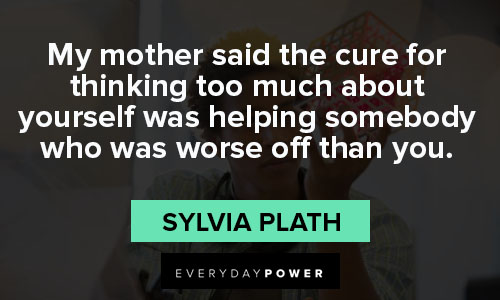 23. "Apparently, the most difficult feat for a Cambridge male is to accept a woman not merely as feeling, not merely as thinking, but as managing a complex, vital interweaving of both." – Sylvia Plath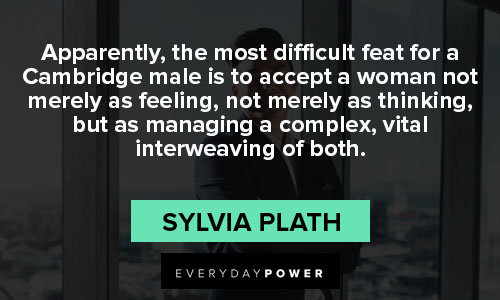 24. "Indecision and reveries are the anesthetics of constructive action." – Sylvia Plath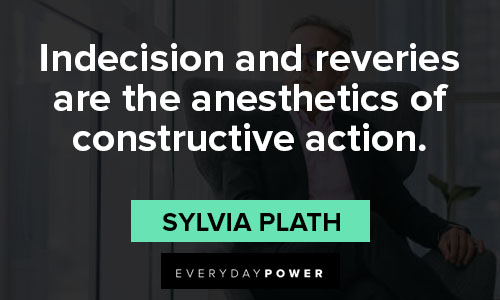 25. "It is as if my life were magically run by two electric currents: joyous positive and despairing negative – whichever is running at the moment dominates my life, floods it." – Sylvia Plath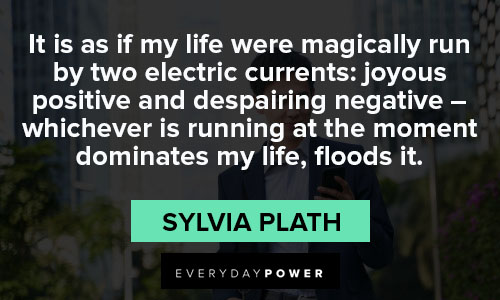 Which of these Sylvia Plath quotes is your favorite?
Sylvia Plath's work brought to the fore the plight of mid-twentieth century women and opened the door for exploration of a feminist-martyr to patriarchal society.
Since her death, Plath has inspired countless readers and influenced many poets.
She should be remembered as a beautiful, wonderful composer of prose and weaver of words.
We hope her words have inspired you to find deeper meaning to life.
Did you enjoy these Sylvia Plath quotes?
Let us know which of the quotes resonated with you best.
Also, don't forget to share with your friends and followers.