The Babysitters Club Quotes to Remind You of Your Childhood Friends
These Babysitters Club quotes will take you back to your childhood days.
The Babysitters Club is a comedy-drama streaming on Netflix as a reboot of the 1990 HBO series.
It is based on a classic children's book series by Ann M. Martin that built massive readers during its heights in the 80s and 90s.
It's about friendship and navigating the messy world of growing up.
In this series, we follow the enthusiastic adventure and drama of five young middle-schoolers as they find their way to navigate the world and understand themselves.
Soon they'll find themselves building a babysitting business at a very young age.
The Babysitters Club Quotes below will make you miss the moments you had with your long-time friends.
Don't forget to also check out these Santa Clarita Diet quotes to keep you laughing.
Check out our most popular quote article, a list of short inspirational quotes for daily inspiration.
Check out our inspirational quotes category page for more inspirational life quotes.
The Babysitters Club quotes from Kristy
1. "He just kept droning on and on about the genius of Thomas Jefferson and how all men are created equal… if he was such a genius why didn't he say all people?" — Kristy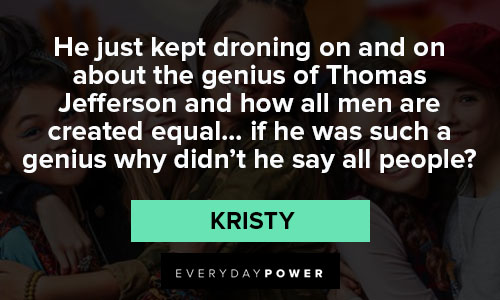 2. "You're gonna get all dressed up for some dude who couldn't even be bothered to ask you out for real?" — Kristy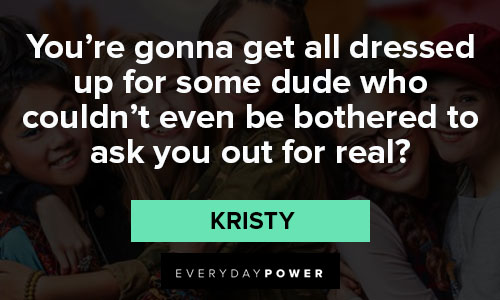 3. "We can't lose this club, it's the best idea I've ever had." — Kristy
4. "They're trying to get a piece of our action so we need to differentiate ourselves from the competition." — Kristy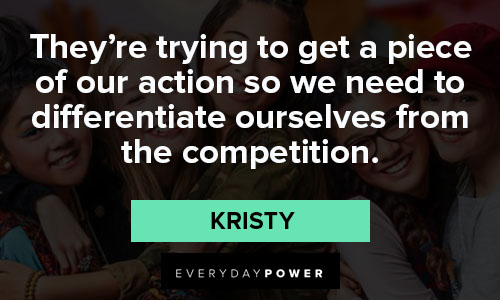 5. "What is the meaning of decorum? Well, I know what it's supposed to mean. Raising my hand, waiting to be called on, being non-disruptive, and all things that would probably make your life easier. But to me, decorum means other things, like knowing when you're wrong… giving people the benefit of the doubt… and most of all, being a good friend… all in order to create a perfect union where all people are created equal. Although it may not be your definition of decorum, it is mine." — Kristy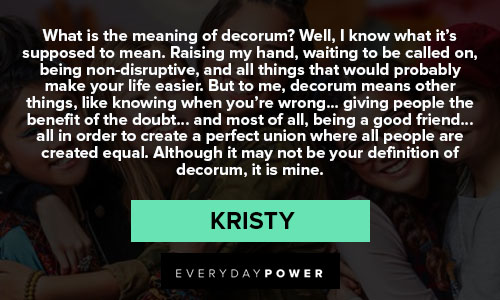 6."Wouldn't it be a great idea if you could like make one phone call and reach a bunch of good sitters at the same time? A few times a week we'd all meet together in the same place, and people would call and offer us jobs." — Kristy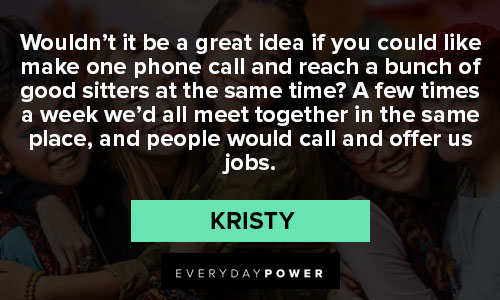 7. "A business where people hire us to baby-sit. and it's not just girls, boys can take care of kids, too." — Kristy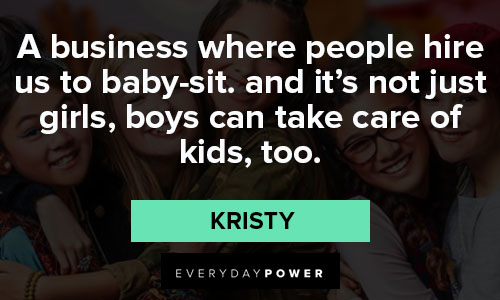 8. "I'm bossy, get used to it." — Kristy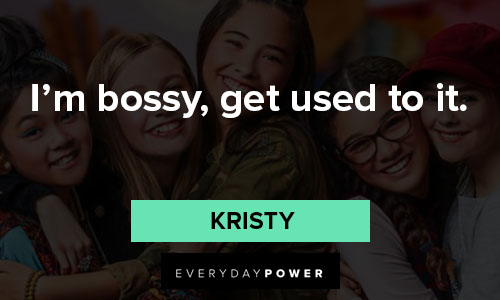 9. "Look, although the baby-sitter's club was my idea, it doesn't mean I get to tell you guys what to do all the time. And the club's ours, not just mine — even though it was my idea. But with that being said, it would be an honor to continue serving as your president, but I understand if you guys want me to step down." — Kristy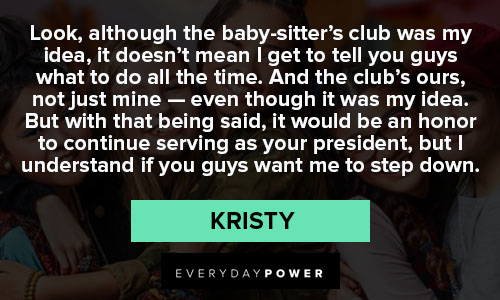 The Babysitters Club quotes from Claudia
10. "Remembering a wrong is like carrying a burden in you mind." — Claudia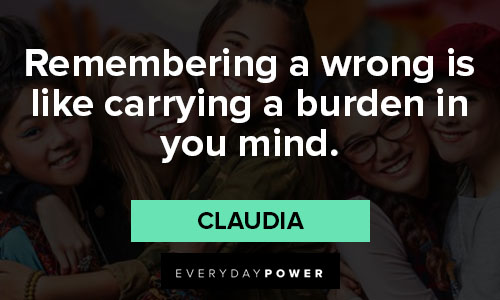 11. "With all the things I can do, the only thing they care about is the one thing I can't." — Claudia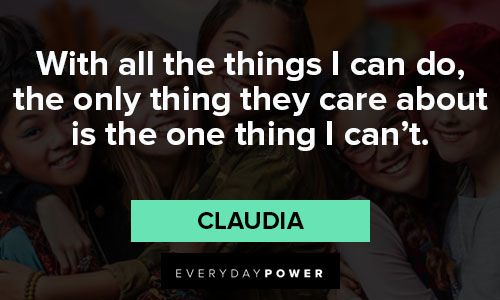 12. "When I'm painting or sculpting all the little voices telling me what I should be doing and who I'm supposed to be, go away." — Claudia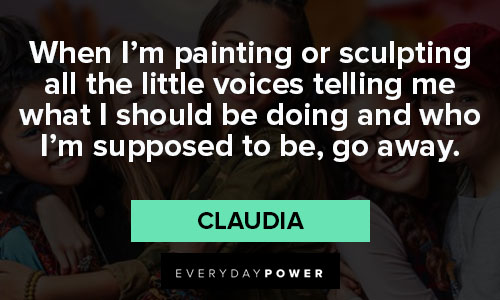 13. "Social media rots your brain." — Claudia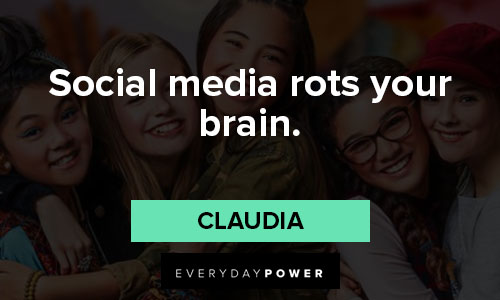 14. "You don't choose to be an artist, Janine! You just are." — Claudia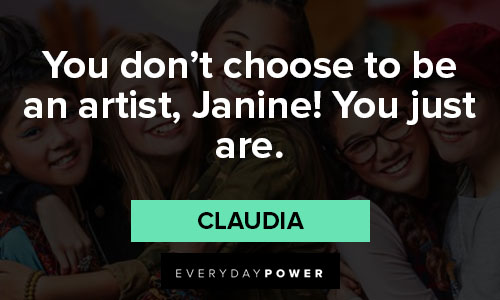 15. "I need the money. I've grown accustomed to a certain quality of life." — Claudia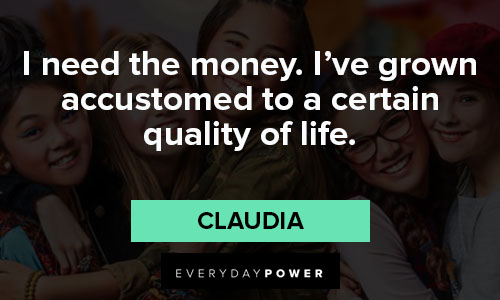 16. "Why don't they loiter at the mall like other teenagers?" — Claudia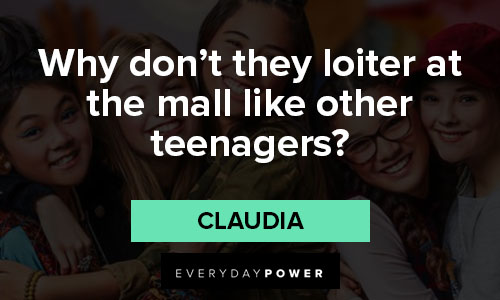 17. "Another thing I'm pretty good at is cooking. I do it a lot with my grandma Mimi. She's taught me a lot. mimi is the best person i know – at everything. I think it's because whatever she does, she does it with so much love." — Claudia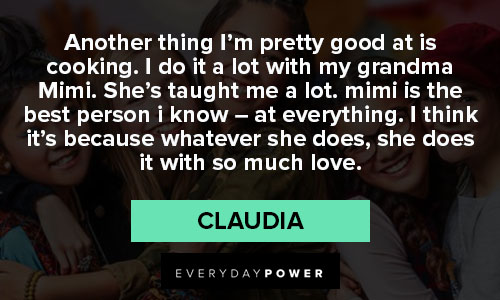 18. " I need the money, I've grown accustomed to a certain quality of life. sable paintbrushes." — Claudia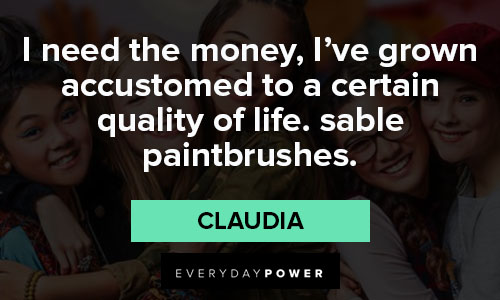 The Babysitters Club quotes from Stacey
19. "I thought if you knew, that's all you'd see me as. The sick girl." — Stacey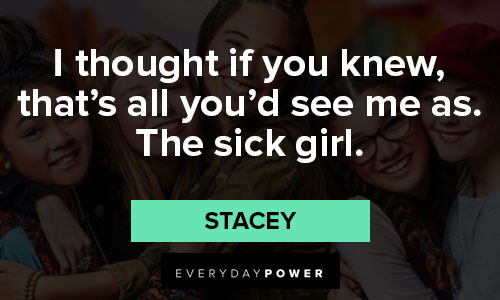 20. "I think you're confusing real life with Gossip Girl." — Stacey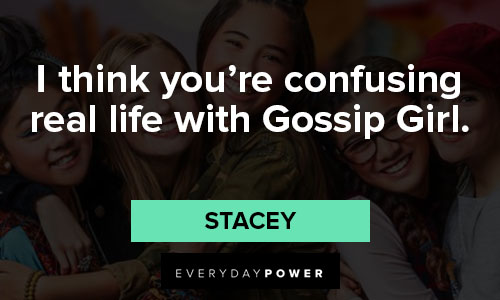 21. "That's the great thing about math, you know if you're right." — Stacey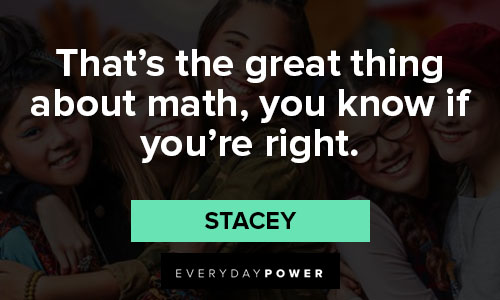 22. "New year, new you." — Stacey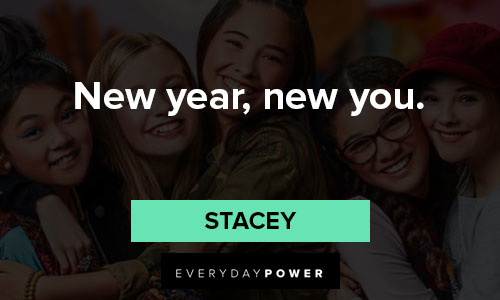 23. "This rug is my husband." — Stacey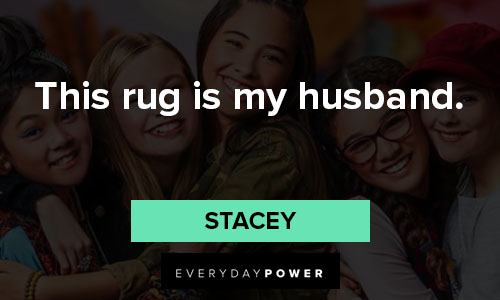 The Babysitters Club quotes from Mary Anne
24. "As long as you know your only right about 95% of the time instead of 100, I'm good." — Mary Anne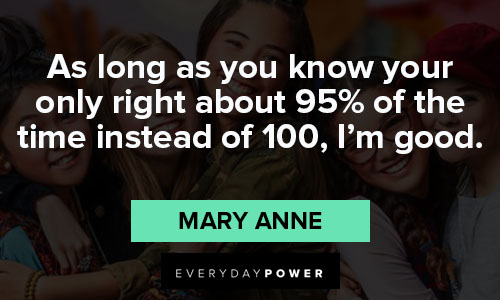 25. "Isn't it illegal to be on Instagram before you turn 13?" — Mary Anne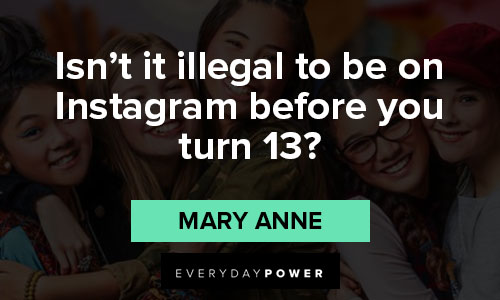 The Baby-sitter Club is full of hope and a light-hearted series that will keep your hearts warm.
It is well-received by the fans of the novels and 90s series because of its sincerity and ability to connect to its audience in a wholesome way.
In a world full of toxicity and chaos, we could use more of these series that could connect to our good and young selves.
Watching these series can actually put a smile not only on your face but also on your heart.
Hopefully, you had fun reading The Babysitters Club quotes and sayings, and of course, you can share these also with a friend to remind them of the fun times you had together.