Drama Quotes For When Pettiness Is Getting The Best of You
May 12, 2022 5:00 AM EST
These drama quotes will help you deal with jealous people, gossip, arguments, critics and toxic people.
You've probably encountered a fair share of drama in your life.
Quite often, we encounter people who try to pull some sort of power play on us.
Whatever the case, you probably want to minimize drama in your life.
It's pointless, frustrating, and depleting.
There are a number of ways to deal with drama and toxic people.
You can avoid drama by paying little or no attention to negative people, spending your time with loyal and trustworthy people, and focusing on solutions, not problems.
If you suspect that someone is trying to deceive and toy with your emotions, then it's best to avoid such people.
Besides, be careful not to over-commit yourself and avoid giving unsolicited advice.
Life will always have drama.
However, you don't have to let it get to you.
To help you survive in a drama-laden world, below is our collection of inspirational, wise, and thought-provoking drama quotes, drama sayings, and drama proverbs, collected from a variety of sources over the years.
Be sure to also read our collection of quotes on being real to consider as you move forward with your life.
Check out our most popular quote article, a list of short inspirational quotes for daily inspiration.
Our inspirational quote category page has even more inspirational and educational quotes.
Drama Quotes For When Pettiness Is Getting The Best of You
1. "I just wanted to tell you that I understand if you go. It's okay if you have to leave us. It's okay if you want to stop fighting." ― Gayle Forman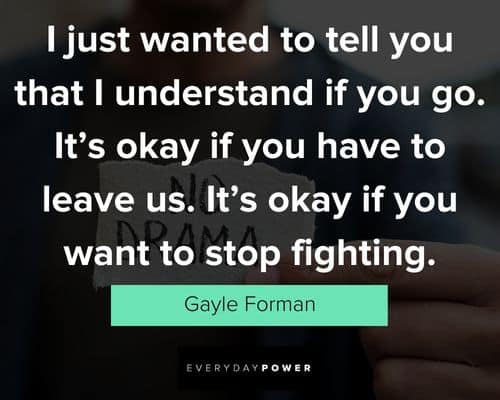 You will also enjoy our article on savage quotes.
2. "All the world's a stage and most of us are desperately unrehearsed." – Sean O'Casey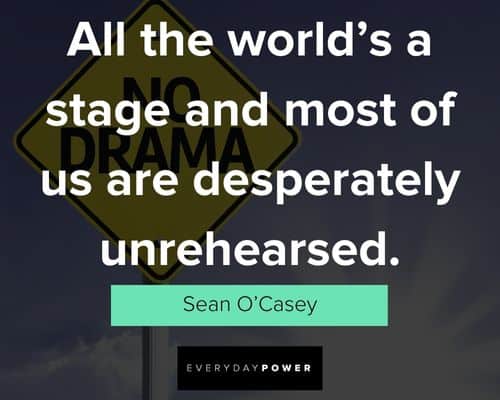 You will also enjoy our article on hate quotes.
3. "Don't waste words on people who deserve your silence. Sometimes the most powerful thing you can say is nothing at all." – Mandy Hale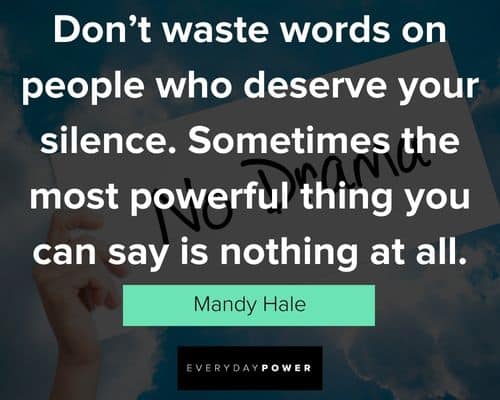 You will also enjoy our article on Taxi Driver quotes.
4. "If your blade were as sharp as your tongue, you'd have sliced my through years ago." ― Erica Goros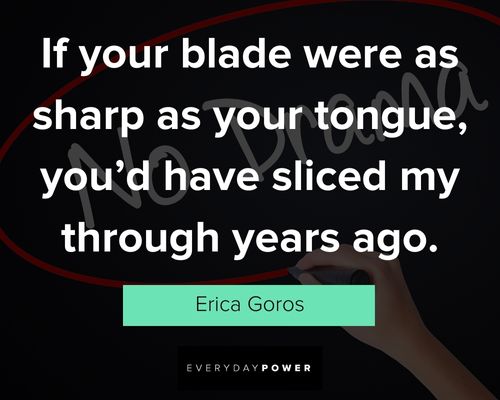 You will also enjoy our article on bridesmaid quotes.
5. "I learned to keep my eyes open and my mouth shut." ― Gary Heiden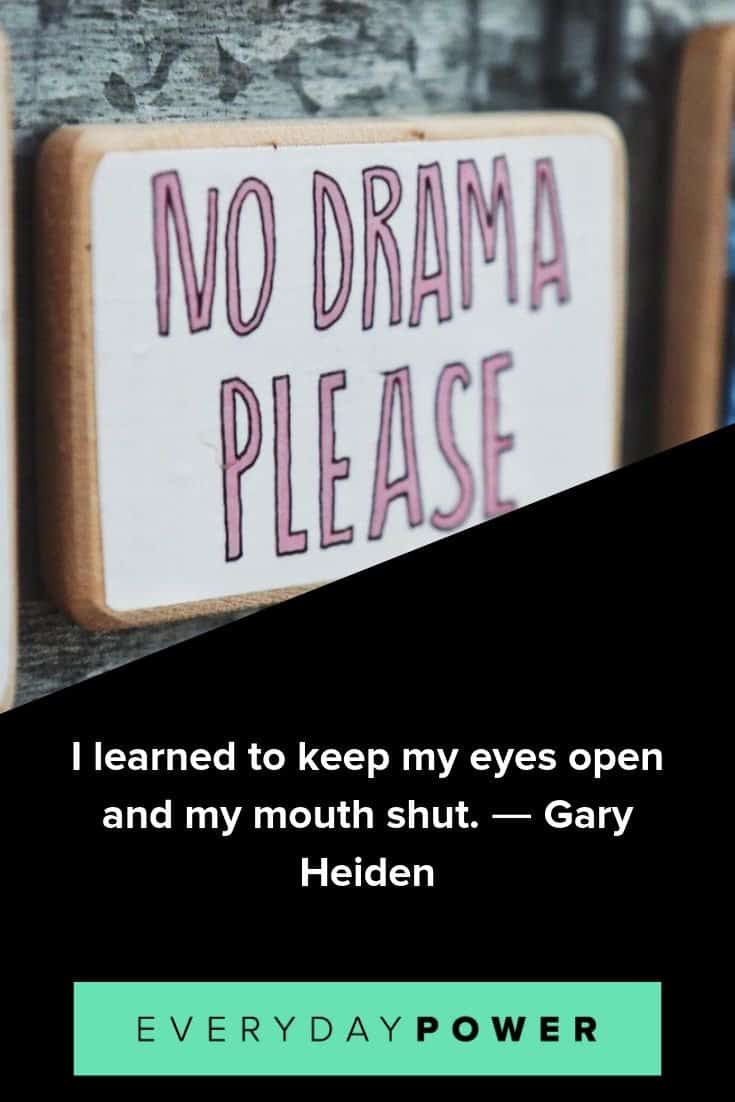 You will also enjoy our article on theatre quotes.
6. "If only people put as much energy into helping people as they do into creating drama." ― Akiroq Brost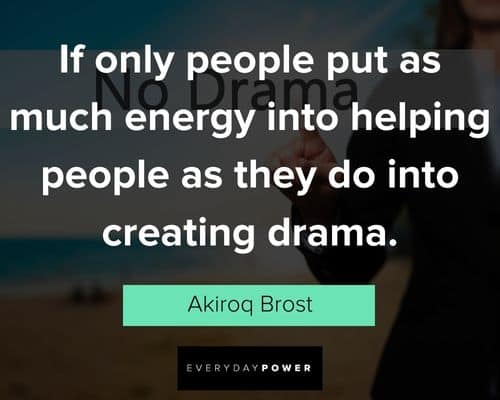 7. "Dear me, whatever shall we do with mother?" ― James Goldman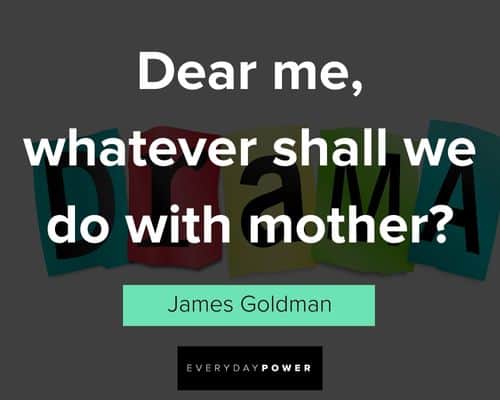 8. "Don't hate the game, hate the player… the player should have known better than to play the game in the first place." ― Nyki Mack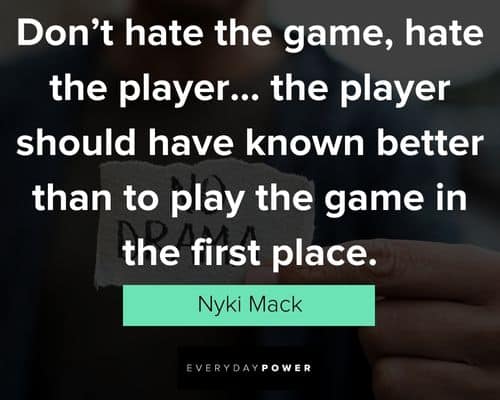 9. "Save the drama for the queens. Stand alone be a wolf, a rebel, a warrior, a savage, a badass. Be anything but a damn drama queen!" ― Melody Lee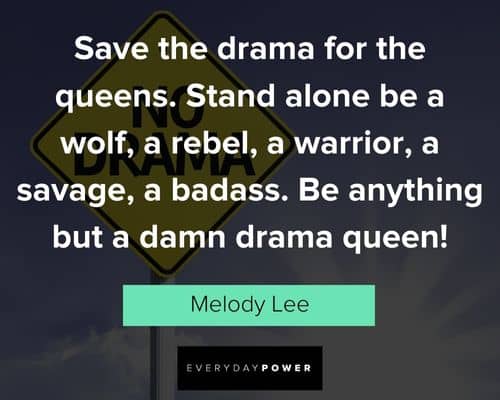 10. "Isn't it kind of silly to think that tearing someone else down builds you up?" ― Sean Covey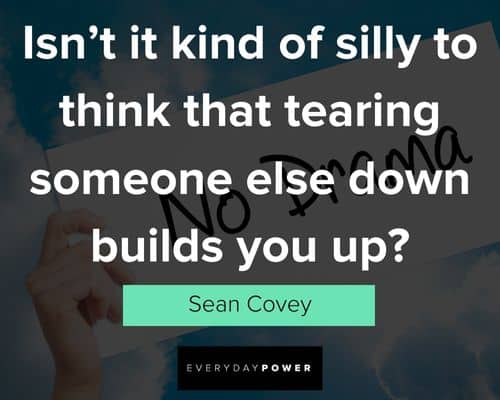 Drama quotes to help you deal with toxic people
11. "Every true genius is bound to be naive." ― Friedrich Schiller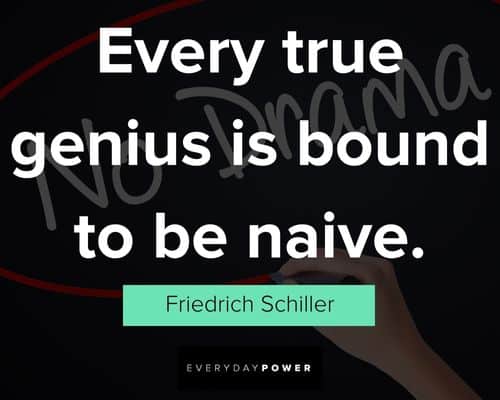 12. "When it's sunny, why not spend some time dressing up and go out to have a walk!" ― Tachibana Higuchi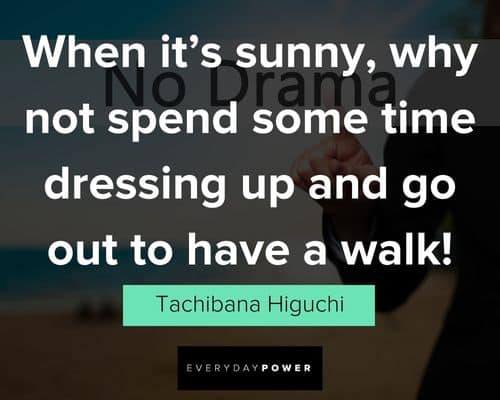 13. "Love means never having to say you're sorry." ― Erich Segal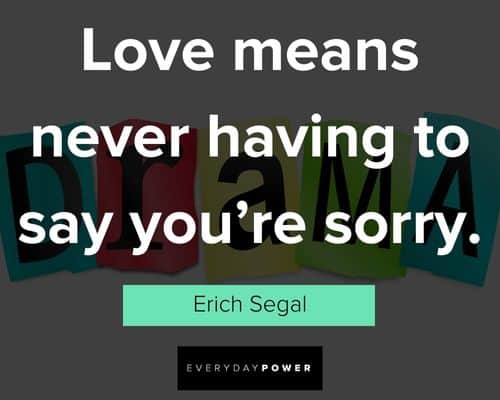 14. "The whole world can become the enemy when you lose what you love." ― Kristina McMorris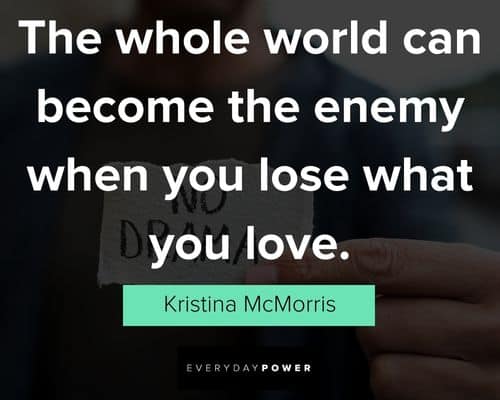 15. "Real life is messy, and drama is a shaped version of real life." – Simon Beaufoy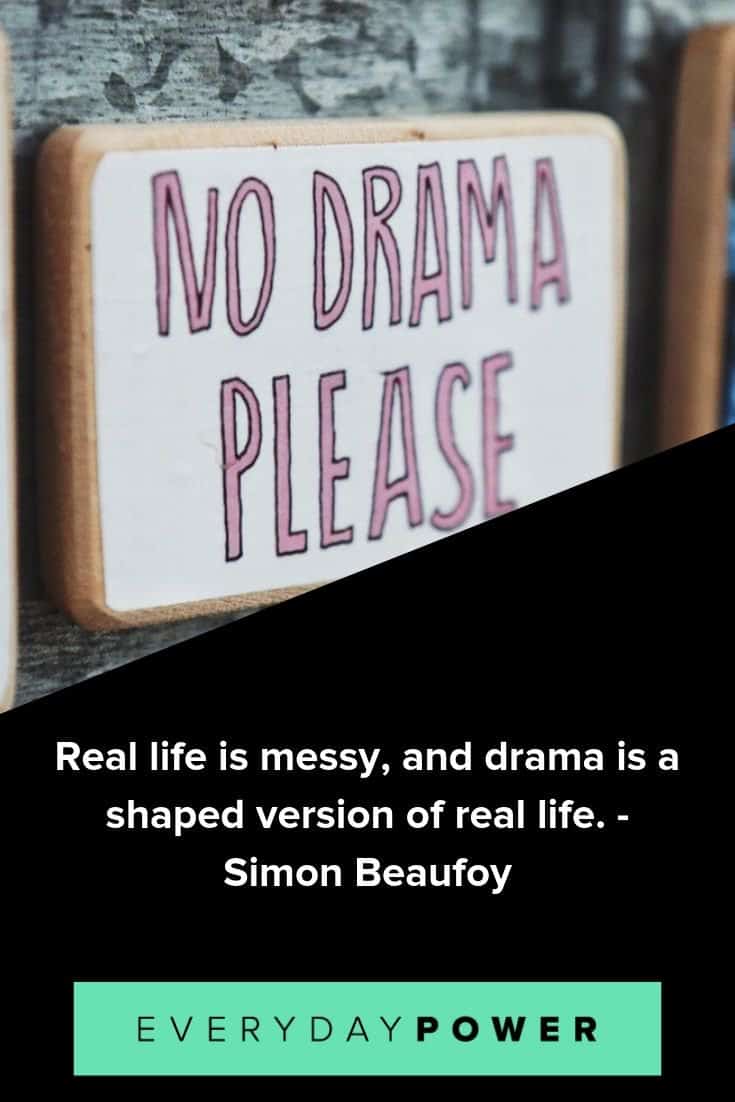 16. "It took me years to figure out that upset was upset, and tumultuousness was not the same thing as passion. Love isn't drama." ― Deb Caletti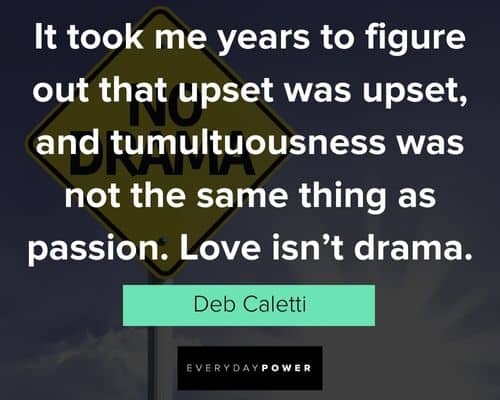 17. "I saw myself driving through eternity in a timeless taxi." ― K. Mansfield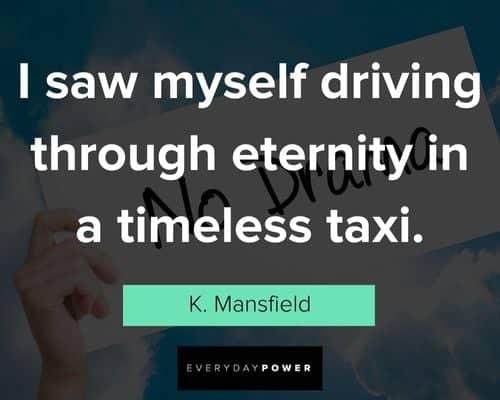 18. "When you don't know where you're going, you drive on the highway." ― Roger Hedden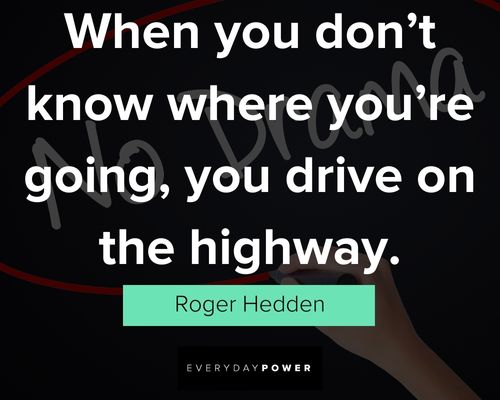 19. "If there's not drama and negativity in my life, all my songs will be really wack and boring or something." – Eminem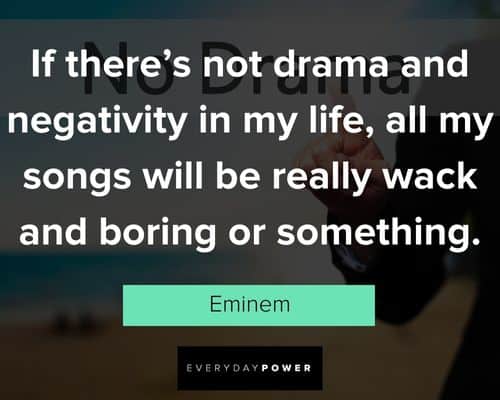 20. "I will break your heart over a fucking library card." ― Patrick Rothfuss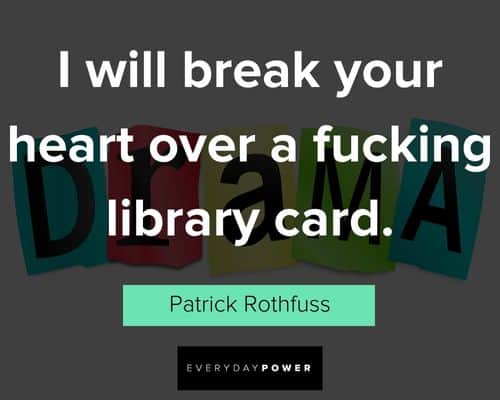 Also read these enlightening gossip quotes that will help you eliminate rumors from your life at work, at school, or among friends.
Drama quotes to help you live a happy life
21. "My life is full of drama, and I don't have time to worry about something as petty as what I look like." – Adele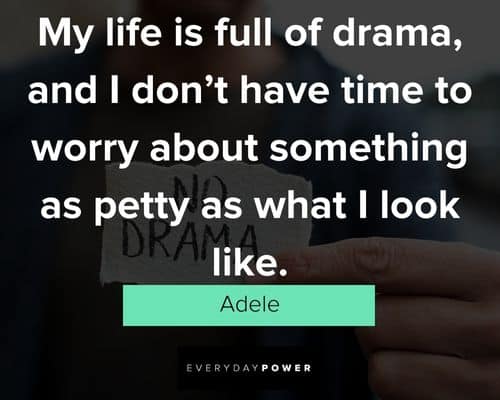 22. "You are enough to drive a saint to madness or a king to his knees." ― Grace Willows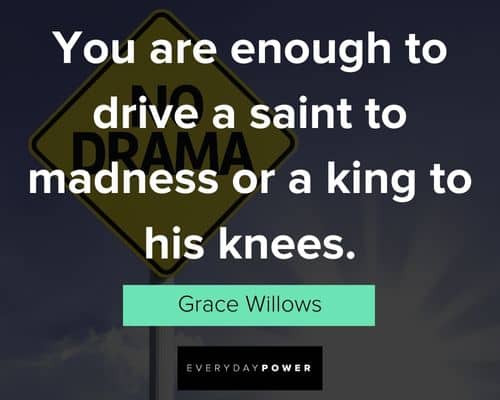 23. "Anger precedes hate, while love vicariously hangs in the balance." ― Lorraine Gokul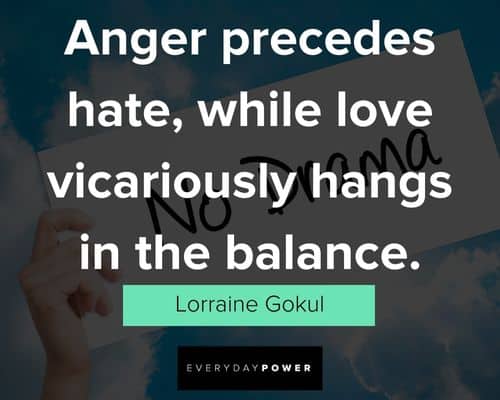 24. "Every one of us is a minor tragedy. Most of us learn to cope." ― Elizabeth Bear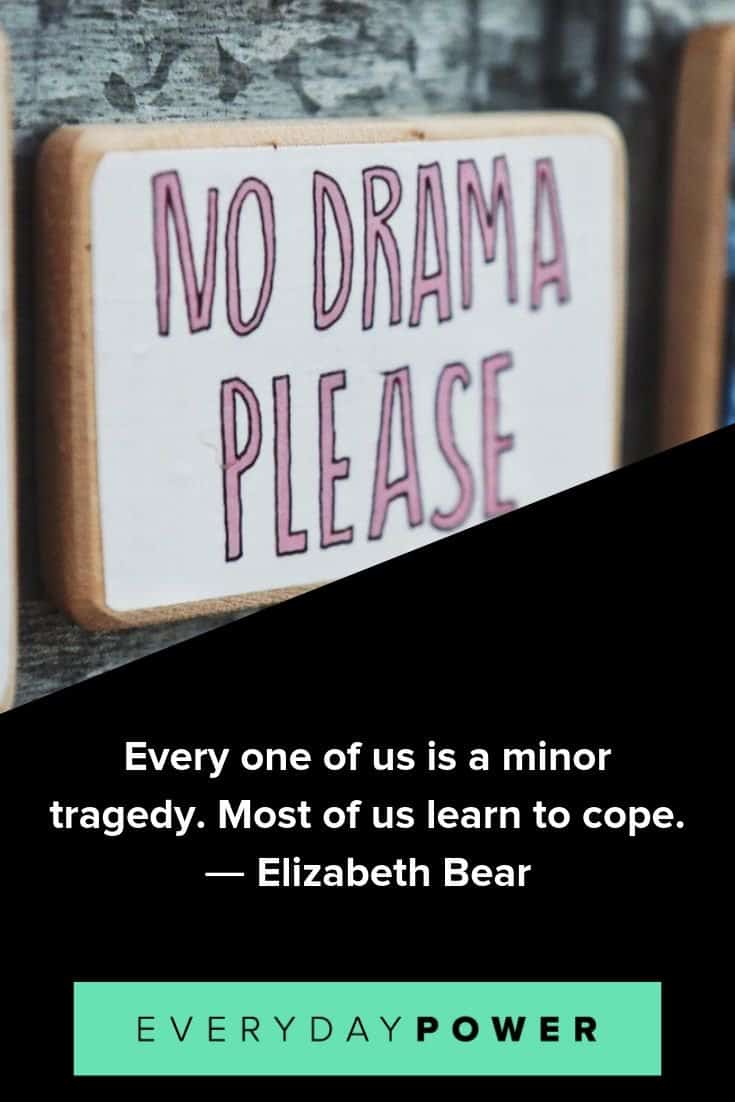 25. "Never annoy an inspirational author or you will become the poison in her pen and the villain in every one of her books." ― Shannon L. Alder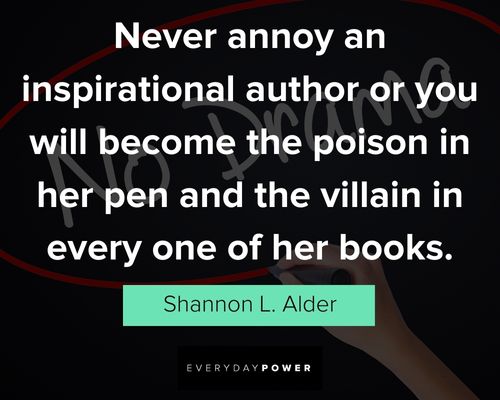 26. "I had liked him for all the wrong reasons." ― Wendelin Van Draanen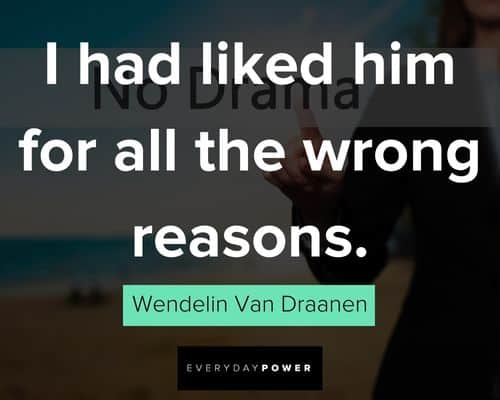 27. "She was a ray of sunshine, a warm summer rain, a bright fire on a cold winter's day, and now she could be dead because she had tried to save the man she loved." ― Grace Willows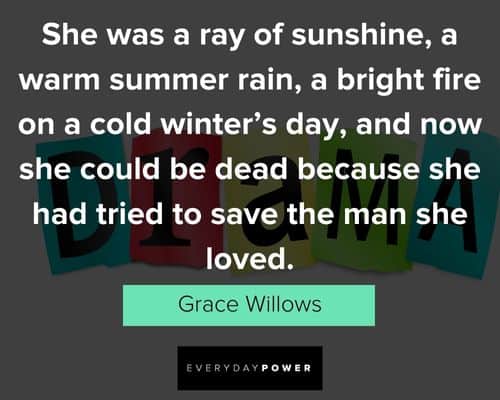 28. "There is a voice in my head that is only silenced by the scratching of my pen" ― Jessica-Lynn Barbour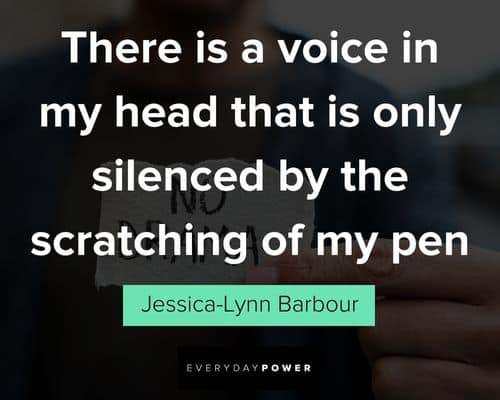 29. "There ought to be a law that allows eavesdroppers to sue." ― Gill McKnight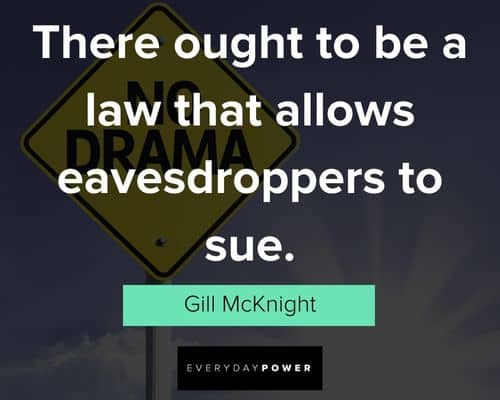 30. "Just because some people are fueled by drama doesn't mean you have to attend the performance." ― Cheryl Richardson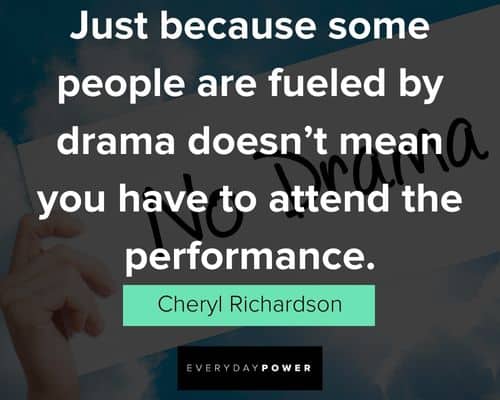 Drama quotes to inspire and teach
31. "No I'm not a dream, I'm your worst nightmare" ― C.T. Todd
32. "I am not interested in living in a city where there isn't a production by Samuel Beckett running." ― Edward Albee
33. "What if two people want to be your partner, then what?" ― Emily Giffin
34. "Those who truly know, know those who don't, will learn if they ask" ― Rose Blue
35. "If you're going to give me something, give me something I'll miss." ― Darlene Susan Girard
36. "Don't feed the drama monster. It's insatiable and has no friends." ― Donna Goddard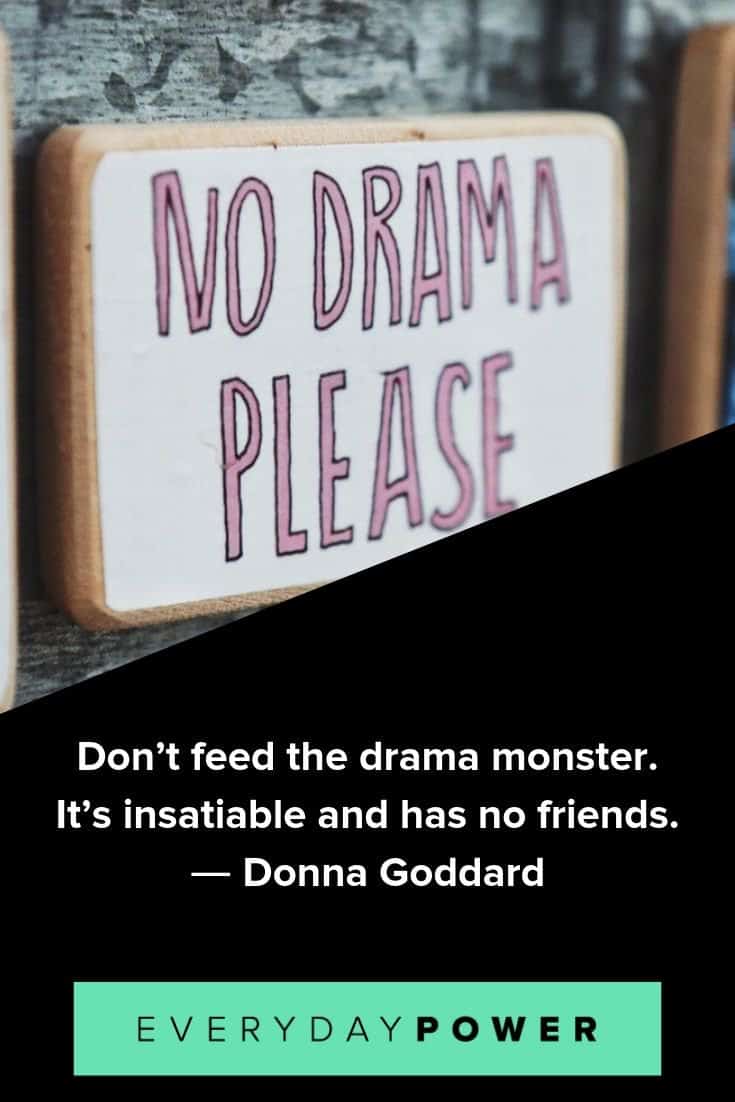 37. "If you live a long life and get to the end of it without ever once having felt crushingly depressed, then you probably haven't been paying attention." ― Duncan MacMillan

If you're enjoying these quotes, you'll love our collection of powerful depression quotes that will provide perspective.
38. "To be able to say "I love you", one has to be able to say "I" ― Ayn Rand
39. "No more games, no more drama. When you wanna be real gimme a hello." ― Nitya Prakash
40. "I was born when she kissed me. I died when she left me. I lived a few weeks while she loved me." ― Humphrey Bogart
You might also like these rumor quotes and sayings about gossip and drama.
Other inspirational drama quotes
41. "Pay attention… When a person is gossiping, you are learning more about them and their character than anything they are gossiping about." ― Steve Maraboli
42. "I only have time for you, not your drama" ― Ibrahim Hanif
43. "Taking on too much of other people's drama is just a poor excuse for not taking ownership and control over your own life." ― José N. Harris
44. "Every thing's for sale out here. Anything you want. About the only thing you can't buy is my dignity and self-respect, cause those were the first to go. And I gave them away for free." ― Darlene Susan Girard
45. "Maybe the consequences of someone's unreason can be remedied only with new unreason?" ― Igor Eliseev
46. "When you surround yourself with dramatic people, your life will be driven by drama instead of destiny." ― Gift Gugu Mona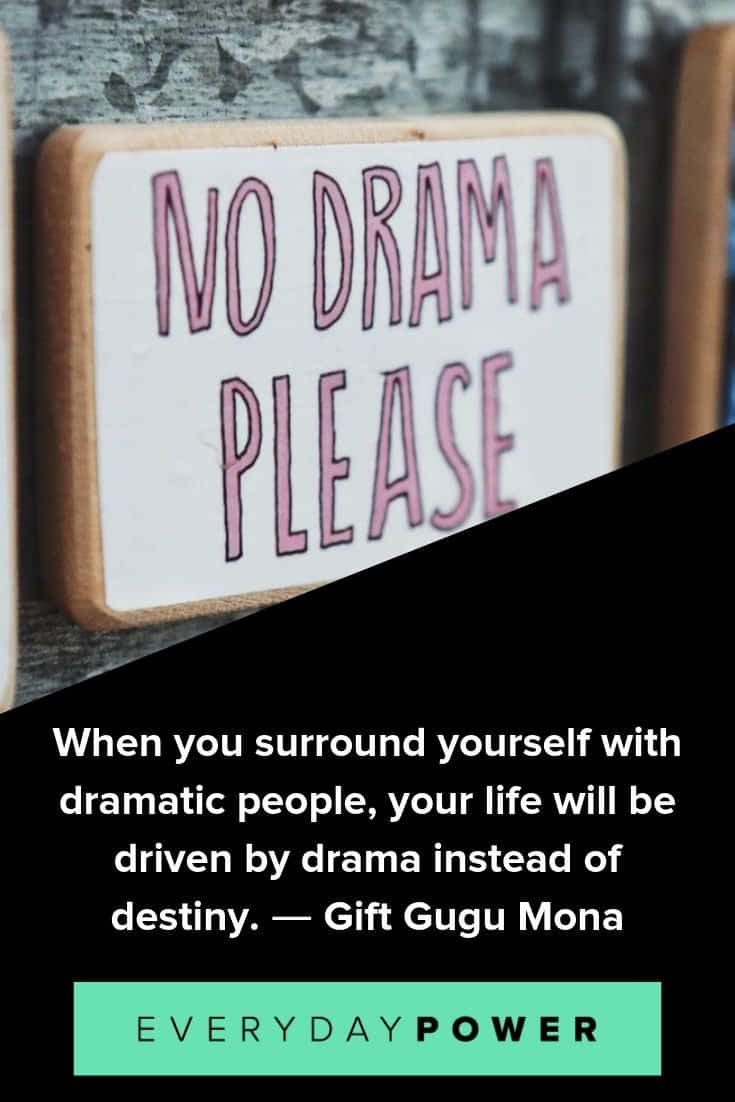 47. "It always turns out this way: at first people idolize you, swear to be your faithful friend forever and then spit in your tea and in your soul, too." ― Igor Eliseev
48. "People love scandal; people love drama. They love stripping away the layers to see what's really in there, and they'll do anything – as well as make it up – to get it." – Julia Roberts
49. "You don't need everyone to like you, just the right one(s)!" ― LaTonya "Tee" Johnson
50. "How perfectly evil spirit and beauty can combine in one person, harmonically supplementing each other." ― Igor Eliseev
Drama quotes about life
51. "Drama starts where logic ends." -Ram Charan
52. "Drama is life with the dull bits cut out." -Alfred Hitchcock
53. "The human mind is a dramatic structure in itself and our society is absolutely saturated with drama." -Edward Bond
54. "Conflict is drama, and how people deal with conflict shows you the kind of people they are." -Stephen Moyer
55. "Truth in drama is forever elusive. You never quite find it, but the search for it is compulsive. The search is clearly what drives the endeavour. The search is your task." -Harold Pinter
56. "So many people prefer to live in drama because it's comfortable." -Ellen DeGeneres
57. "The ode lives upon the ideal, the epic upon the grandiose, the drama upon the real." -Victor Hugo
58. "Nature is full of drama." -Jacques Perrin
59. "The drama of life begins with a wail and ends with a sigh." -Minna Antrim
60. "Don't waste time on what's not important. Don't get sucked into the drama." -Allegra Huston
Drama quotes to remind you toxic people don't need to be in your life
51. "I will not allow anyone to walk in my mind with dirty feet." – Mahatma Gandhi
52. "Stop letting people who do so little for you control so much of your mind, feelings, and emotions." — Will Smith
53. "Letting go of toxic people in your life is a big step in loving yourself." —Hussein Nishah
54. "Don't let negative and toxic people rent space in your head. Raise the rent and kick them out." — Robert Tew
55. "Toxic people will pollute everything around them. Don't hesitate. Fumigate." ― Mandy Hale
56. "I found peace of mind when I walked away from small fights not worth fighting. I stopped fighting for people who gossiped about me." –Dana Arcuri
57. "Because at some point you have to realize that some people can stay in your heart but not in your life." —Sandi Lynn
58. "Like arsenic, toxic people will slowly kill you. They kill your positive spirit and play with your mind and emotions. The only cure is to let them go." —Dennisse Lisseth
59. "There are people who break you down by just being them. They need not do anything. Dissociate." ― Malebo Sephodi
60. "Pay no attention to toxic words. What people say is often a reflection of themselves, not you." ― Christian Baloga
Drama Quotes about Family
61. "A family is a risky venture, because the greater the love, the greater the loss… that's the trade-off. But I'll take it all." – Brad Pitt
62. "I don't think anyone has a normal family." – Edward Furlong
63. "Family quarrels are bitter things. They don't go according to any rules. They're not like aches or wounds, they're more like splits in the skin that won't heal because there's not enough material." – F. Scott Fitzgerald
64. "Family is not an important thing, it's everything." – Michael J. Fox
65. "You leave home to seek your fortune and, when you get it, you go home and share it with your family." – Anita Baker
66. "To us, family means putting your arms around each other and being there." – Barbara Bush
67. "One of the greatest things drama can do, at it's best, is to redefine the words we use every day such as love, home, family, loyalty and envy. Tragedy need not be a downer." – Ben Kingsley
68. "A man that raises a large family does, indeed, while he lives to observe them, stand a broader mark for sorrow; but then he stands a broader mark for pleasure too." – Benjamin Franklin
69. "The secret of a happy home life is that members of the family learn to give and receive love." – Billy Graham
70. "The family is a haven in a heartless world." – Christopher Lasch
Drama Quotes on How to Deal With it
71. "I never travel without my diary. One should always have something sensational to read in the train." ― Oscar Wilde
72. "Never trust a pretty girl with an ugly secret." ― Sara Shepard
73. "People don't want their lives fixed. Nobody wants their problems solved. Their dramas. their distractions. Their stories resolved. Their messes cleaned up. Because what would they have left? Just the big scary unknown." ― Chuck Palahniuk
74. "I can't go on, I'll go on." ― Samuel Beckett
75. "A day wasted on others is not wasted on one's self." ― Charles Dickens
76. "You can't save others from themselves because those who make a perpetual muddle of their lives don't appreciate your interfering with the drama they've created. They want your poor-sweet-baby sympathy, but they don't want to change." ― Sue Grafton
77. "Free yourself from the complexities and drama of your life. Simplify. Look within. Within ourselves we all have the gifts and talents we need to fulfill the purpose we've been blessed with." ― Steve Maraboli
78. "If there really is such a thing as turning in one's grave, Shakespeare must get a lot of exercise." ― George Orwell
79. "She had no tolerance for scenes which were not of her own making." ― Edith Wharton
80. "The other girl, Iko, cupped her chin with both hands. "This is so much better than a net drama." ― Marissa Meyer
Did you enjoy these drama quotes?
While many of us hate pointless drama, for some people creating or engaging in it is energizing.
But although life will always have drama, you don't have to let it get to you.
Let the quotes above help you minimize drama in your life.
Did you enjoy these drama quotes?
Which of the quotes was your favorite?
Let us know in the comment section below.
Also, don't forget to share with your friends and followers.