25 The Crown Quotes that Give You A Peek into the Life of Queen Elizabeth II
If you like historical dramas, these The Crown quotes will draw you in.
The Crown is a magnificent drama series on Netflix based on the true events of the reign of Queen Elizabeth II.
The story revolves around Elizabeth's ascension to the throne of England and her struggle to become a true queen.
It also covers her complex marriage to Philip, Duke of Edinburgh.
The show successfully portrayed historical events while providing a unique flavor of drama and politics in the genre.
Whether you are a history enthusiast or someone who simply loves a good drama, this show is for you.
Check out The Crown quotes below and experience the wonderful story and life of Queen Elizabeth II.
Don't forget to also check out these Queen quotes celebrating the women in your life.
If you love this quote collection, read out our most popular quote article about short inspirational quotes for daily motivation.
If you need more inspirational quotes, check out our motivational quotes category page.
The Crown quotes by Queen Elizabeth II
1. "History was not made by those who did nothing." — Queen Elizabeth II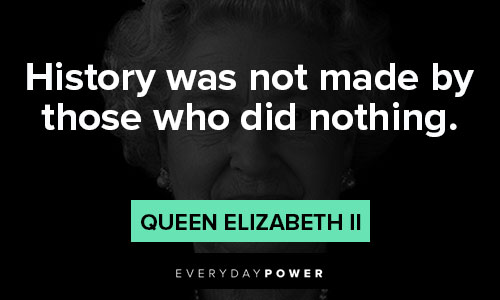 2. "In the first flush of a romantic love, we're all blind. We see only what we want to see." — Queen Elizabeth II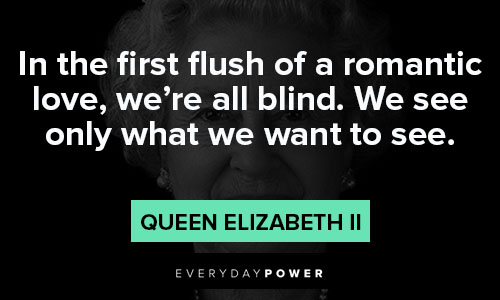 3. "One always has to accept one's own part, I believe, in any mess." — Queen Elizabeth II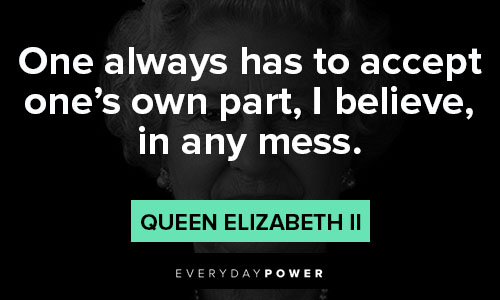 4. "It is not my job to govern. But it is my job to ensure proper governance." — Queen Elizabeth II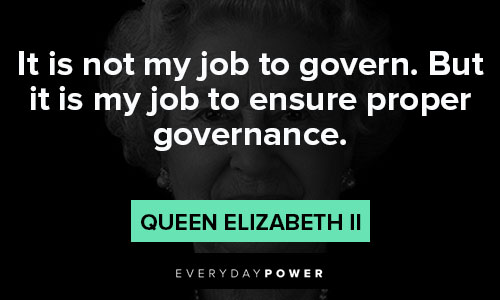 5. "I am Queen, but I am also a woman. And a wife." — Queen Elizabeth II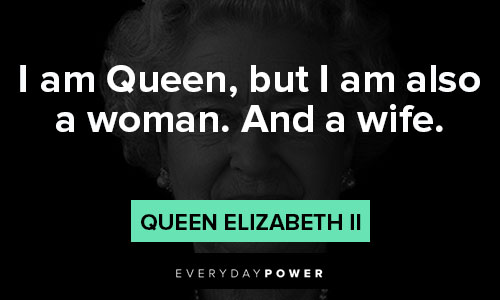 6. "Some things can only be perceived one way because they only have one meaning." — Queen Elizabeth II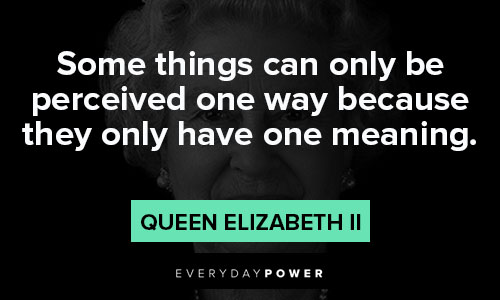 7. "There comes a time where one must draw a line in the sand." — Queen Elizabeth II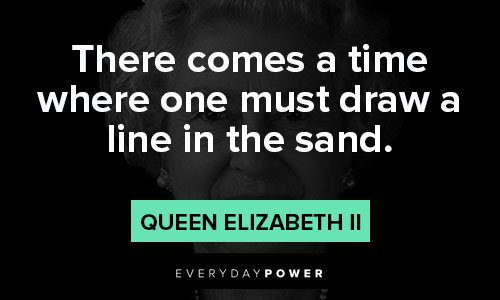 8. "To do nothing is often the best course of action." — Queen Elizabeth II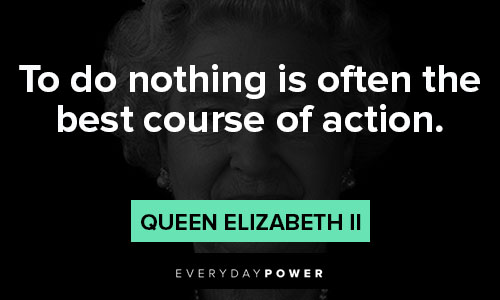 9. "That's the thing about unhappiness. All it takes is for something worse to come along and you realize it was actually happiness after all." — Queen Elizabeth II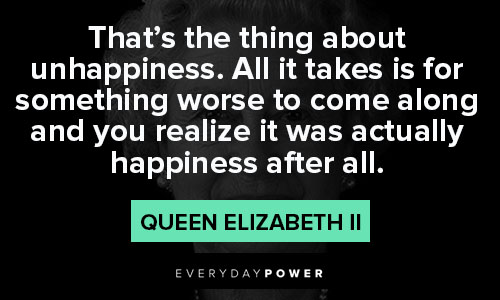 10. "Too much character, an excess of character." — Queen Elizabeth II
11. "I am aware that I am surrounded by people who feel that they could do the job better, strong people with powerful characters, but for better or worse, the crown has landed on my head." — Queen Elizabeth II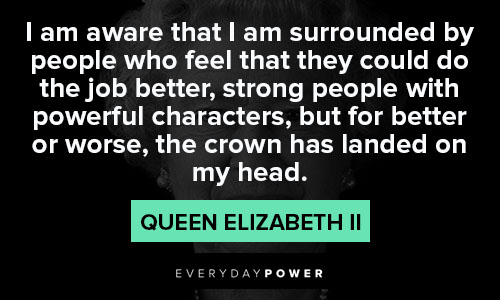 12. "Forgiveness is very important to me." — Queen Elizabeth II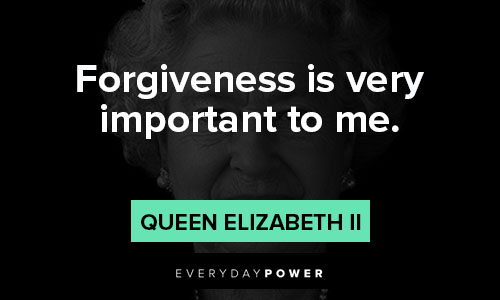 13. "Would you like to know the principle, perhaps only advantage, of being the Chief Patron of the English Bowling Association? My fellow patrons are frequently too old or too ill to meet." — Queen Elizabeth II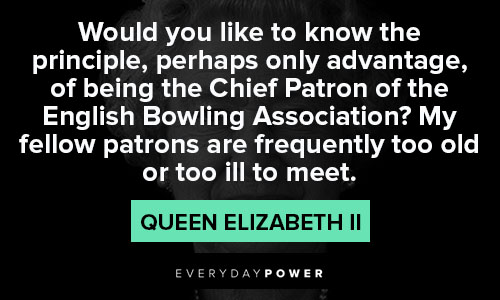 14. "In an increasingly complex world, we all need certainty." — Queen Elizabeth II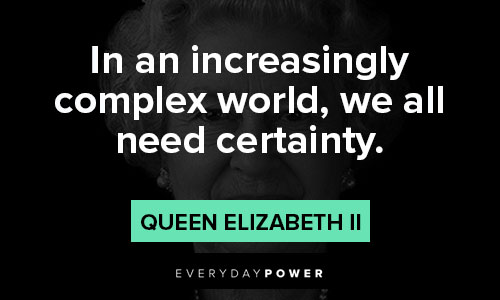 15. "When is it, do you think, if one's committed to a life of honesty, that one must start calling oneself 'middle-aged?'" — Queen Elizabeth II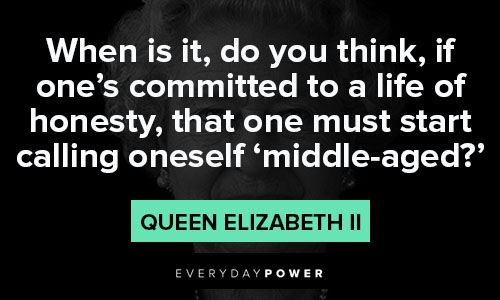 16. "They say listening is important in any marriage." — Queen Elizabeth II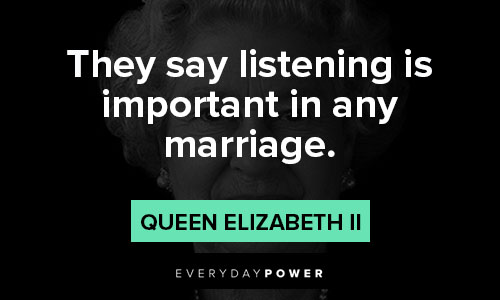 17. "Look, I'm strong. You know that. And I can cope with the truth. I just demand to know the truth. It's when people don't tell me the truth that I can't bear it." — Queen Elizabeth II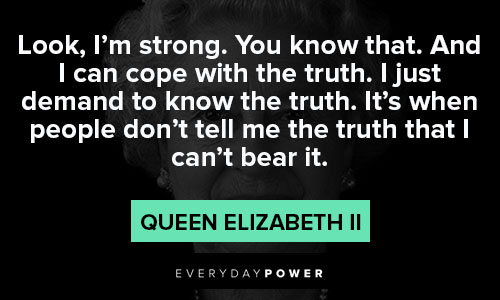 18. "The first 10 years of marriage are just an overture. That there's often a crisis at 10 years, but then you work it out and settle in and it's only then that it really gets into its stride." — Queen Elizabeth II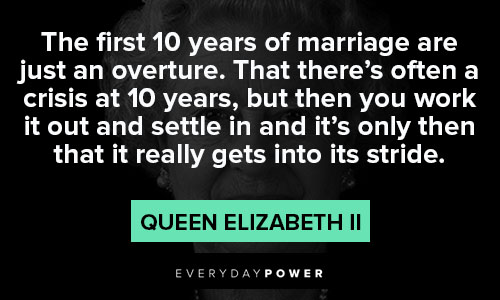 19. "No human being is ideal. Only God is ideal." — Queen Elizabeth II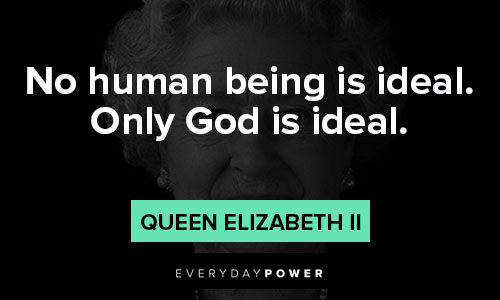 The Crown quotes by Jacqueline Kennedy
20. "People are so rarely what they seem." — Jacqueline Kennedy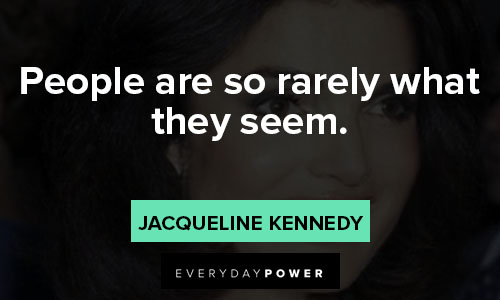 21. "It's really one of the great paradoxes of being in a position where I have to talk to a great many people, but deep down, I'm happiest with animals." — Jacqueline Kennedy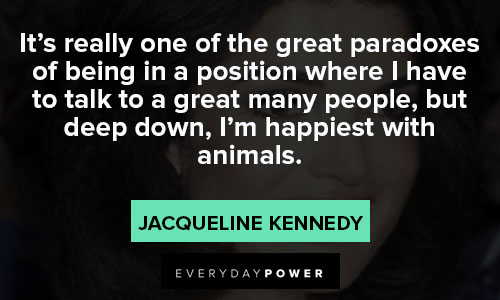 22. "A shy person will seek out someone strong to protect them. And a strong character's often one who enjoys public life. Who thrives on it. And then, before you know it, the very person you've turned to in order to protect you is the very reason you are exposed." — Jacqueline Kennedy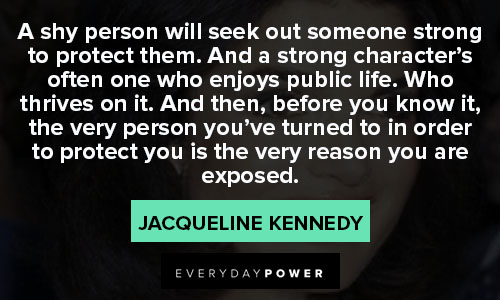 The Crown quotes by Philip Mountbatten
23. "I learned very early on that it's wise not to take things for granted." — Philip Mountbatten, Duke of Edinburgh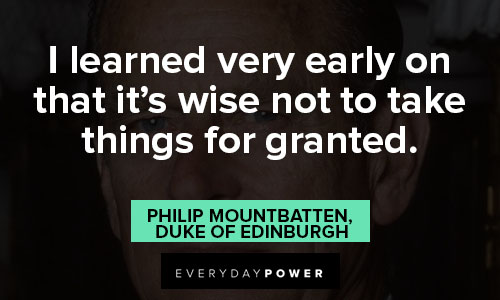 24. "There is no such thing as a bad compliment." — Philip Mountbatten, Duke of Edinburgh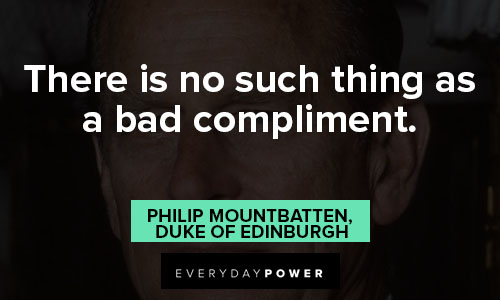 25. "Why does everybody think, just because we're royal, we like fine dining? Don't they realize we're savages? Good for nothing but school dinners and nursery food." — Philip Mountbatten, Duke of Edinburgh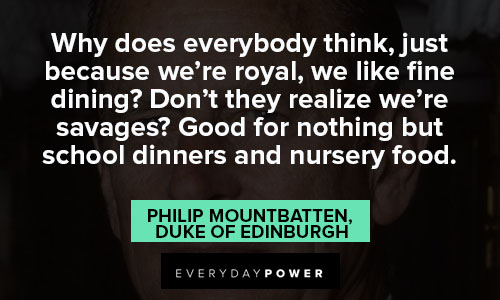 Which of these The Crown quotes is your favorite?
The show brought new perspectives about the events that shaped modern England today.
It gives the audience a deeper insight into the life of one of the most iconic figures in history.
Details of the Queen's private journey behind the public facade will keep you on the edge of your seat wanting more.
Dive into this smart drama-politics series that humanizes the royalty of the British empire.
Binge watch this 100 Million Dollar production set and be amazed by the brilliance of the whole team behind it.
These The Crown quotes and sayings will provide you a quick look at the most memorable lines of your favorite characters in the series.