25 Prince Quotes About Life, Creativity, and Music
These amazing Prince quotes will inspire you to follow your dreams.
Prince Roger Nelson, better known simply as Prince, was an iconic singer, songwriter, and performer.
Some of Prince's most famous hits from the 1980s include Purple Rain and Kiss.
Prince was born on June 7, 1958, in Minneapolis, Minnesota.
Share your favorite Prince song with us in the comment section below.
What are the benefits of reading these Prince quotes?
He began his career early and signed a record deal with Warner Bros Records at age nineteen.
One of the greatest musicians of his generation, he:
released 39 albums during his life
sold over 120 million albums worldwide
is ranked among the best-selling music artists of all time
Prince has received many accolades, including an Academy Award, a Golden Globe Award, the Grammy President's Merit Award, and the Billboard Icon Award.
They inducted him into the Rock and Roll Hall of Fame in 2004, the UK Music Hall of Fame in 2006, and the Rhythm and Blues Music Hall of Fame in 2016.
In 2022, he was inducted twice into the Black Music & Entertainment Walk of Fame.
Prince has a unique perspective on the music industry as a legendary Grammy winner and a beloved celebrity.
Reading this collection of Prince quotes is a great way to honor his extraordinary legacy.
If you're a fan of this talented musician, you'll love these inspirational sayings and lines.
The singer Prince was an influential trendsetter who changed the world.
His words and lyrics continue to inspire millions of people all across the globe today.
Don't forget to read these Michael Jackson quotes about life, music, and dreams.
Check out our most popular quote article, a list of short inspirational quotes for daily inspiration.
If you enjoy this collection, check out our inspirational quotes category page.
Prince quotes to honor his extraordinary legacy
1. "Dearly beloved, we are gathered here today to get through this thing called life." – Prince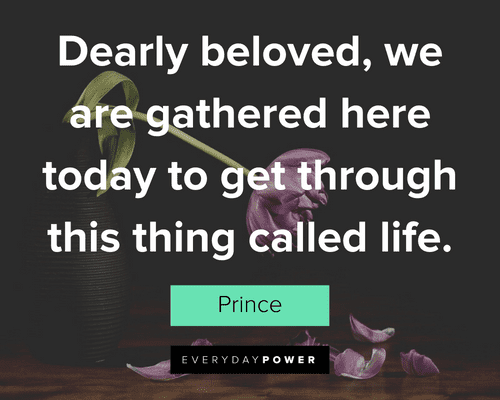 You will also enjoy our article on music quotes.
2. "Always cry for love, never cry for pain." – Prince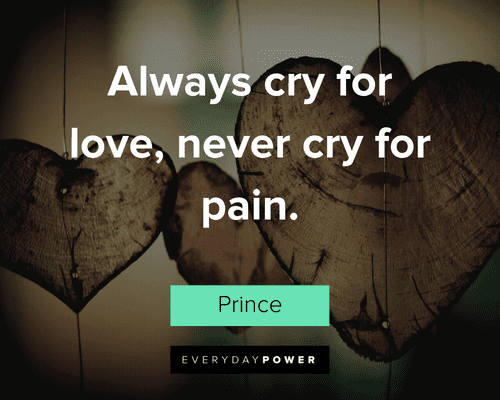 You will also enjoy our article on Rock & Roll quotes.
3. "If you lend your consciousness to someone else, you're a robot." – Prince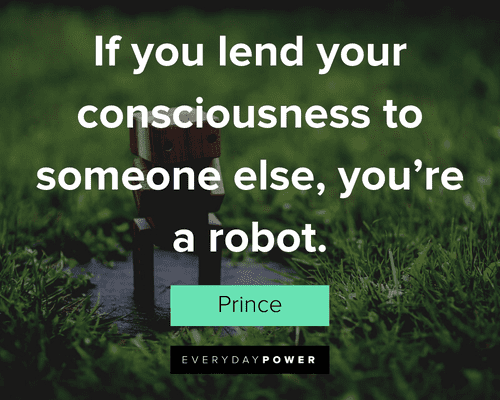 You will also enjoy our article on nas quotes.
4. "Sometimes it takes years for a person to become an overnight success." – Prince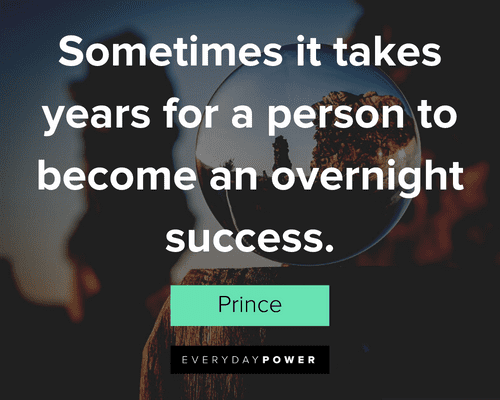 You will also enjoy our article on Brooklyn Nine-Nine quotes.
5. "Despite everything, no one can dictate who you are to other people." – Prince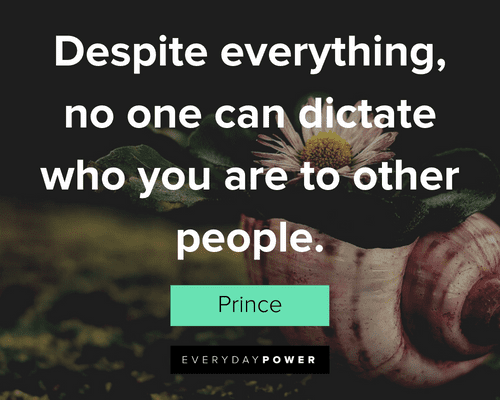 6. "Instead of hate, celebrate." – Prince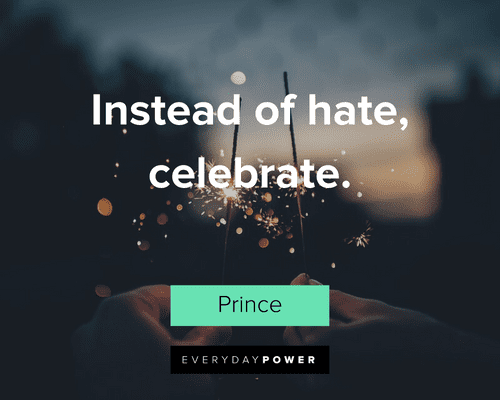 7. "A strong spirit transcends rules." – Prince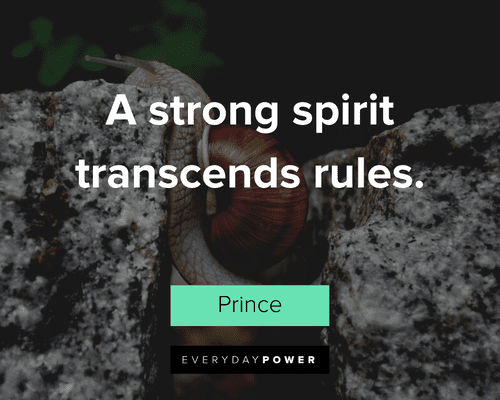 8. "There are people who are unhappy with everything." – Prince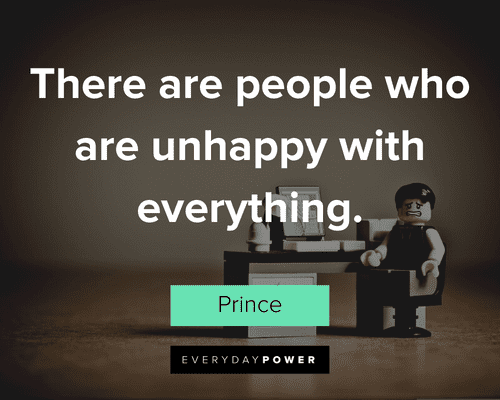 9. "Time is a mind construct. It's not real." – Prince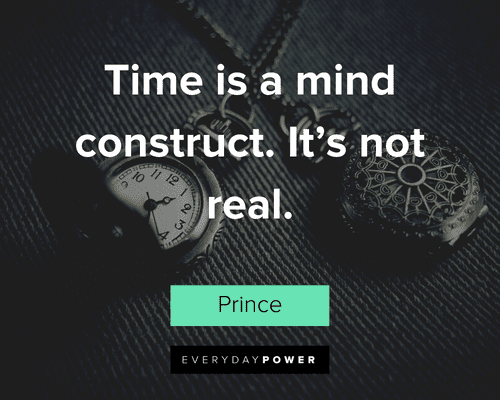 10. "Music is music, ultimately. If it makes you feel good, cool." – Prince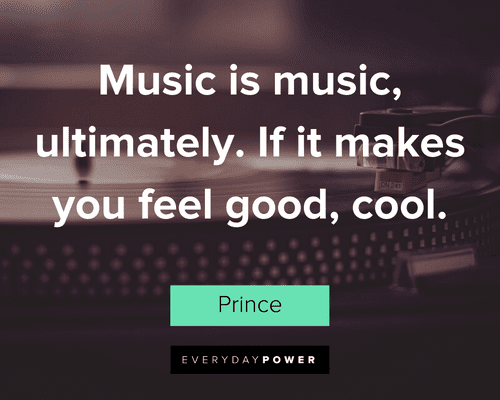 Prince quotes that will motivate you to follow your dreams
11. "I don't live in the past. I don't play my old records for that reason. I make a statement, then move on to the next." – Prince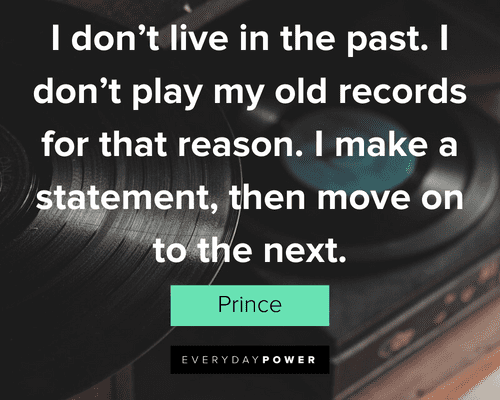 12. "Art is about building a new foundation, not just laying something on top of what's already there." – Prince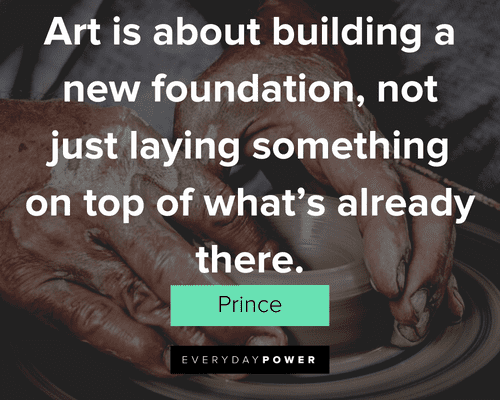 13. "Every day I feel is a blessing from God. And I consider it a new beginning. Yeah, everything is beautiful." – Prince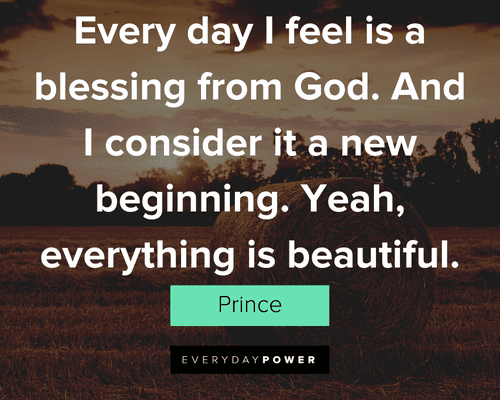 14. "The music, for me, doesn't come on a schedule. I don't know when it's going to come, and when it does, I want it out." – Prince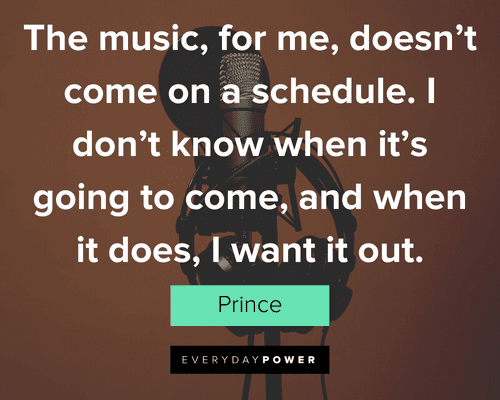 15. "I don't really care so much what people say about me because it usually is a reflection of who they are." – Prince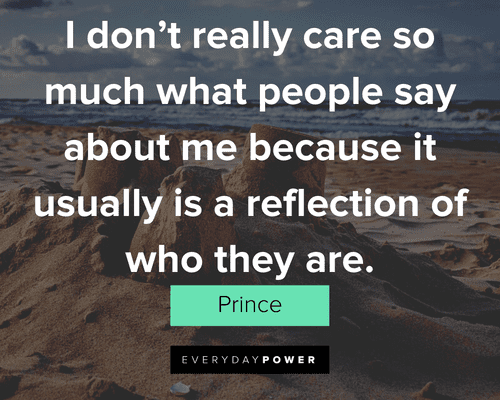 16. "I always knew I had a relationship with God. But I wasn't sure God had a relationship with me." – Prince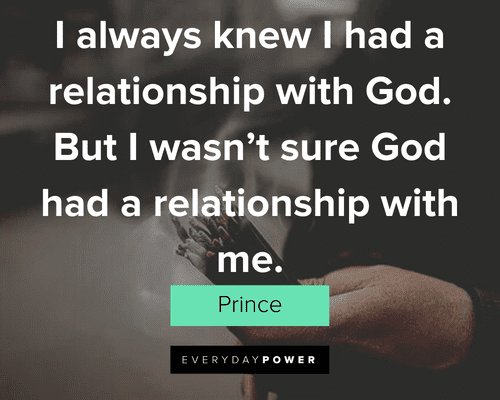 You might also like these motivational Whitney Houston quotes that will inspire your journey to greatness.
Prince quotes to open your mind to the world of fame, fashion, and creativity
17. "Music is real. It affects people; it's real." – Prince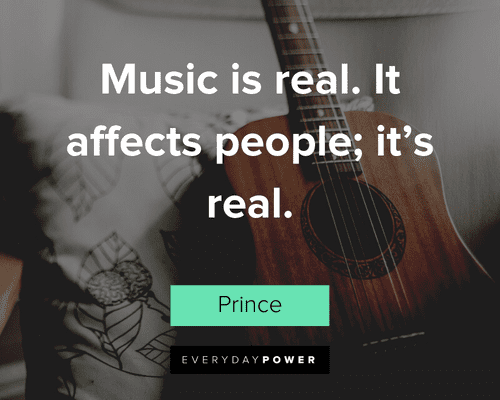 18. "Like books and black lives, albums still matter." – Prince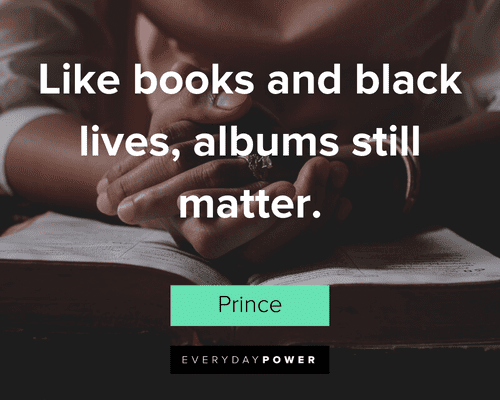 19. "I've always understood the two to be intertwined: sexuality and spirituality. That never changed." – Prince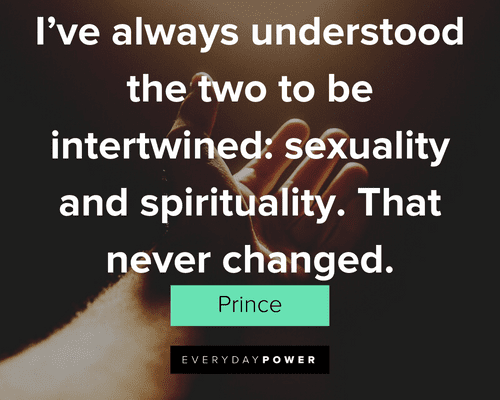 20. "To create something from nothing is one of the greatest feelings, and I would – I don't know, I wish it upon everybody. It's heaven." – Prince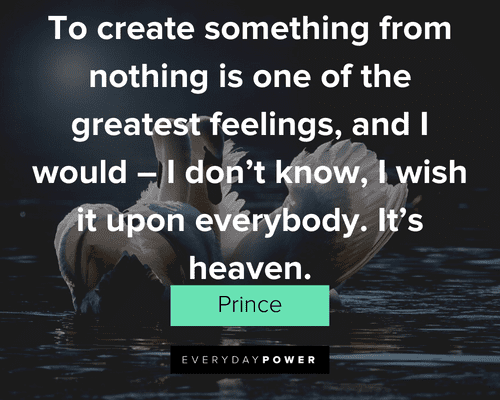 21. "In the tech-savvy, real-time world we all live in today, everything is faster." – Prince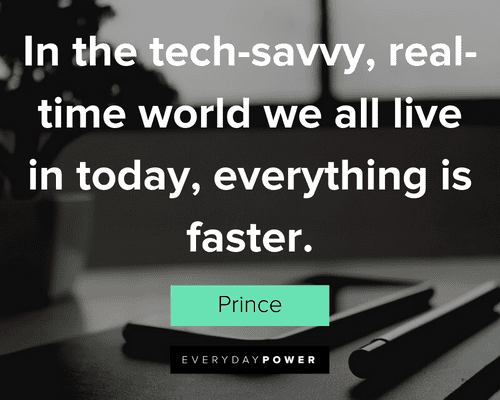 22. "Everyone has a rock bottom." – Prince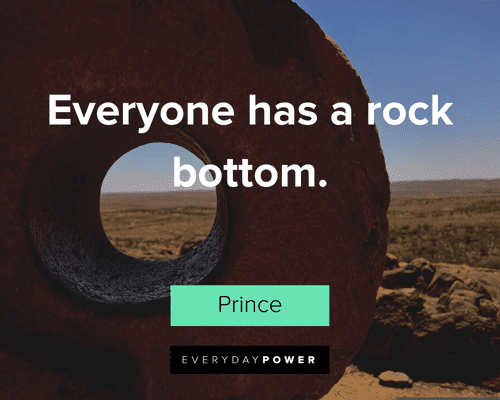 23. "I want to make heart decisions in business. If you can't do that, you're not free. I want to be able to dictate which way I'm going to go." – Prince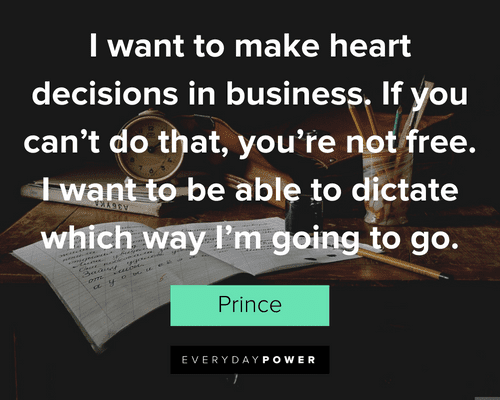 24. "There's a dark side to everything." – Prince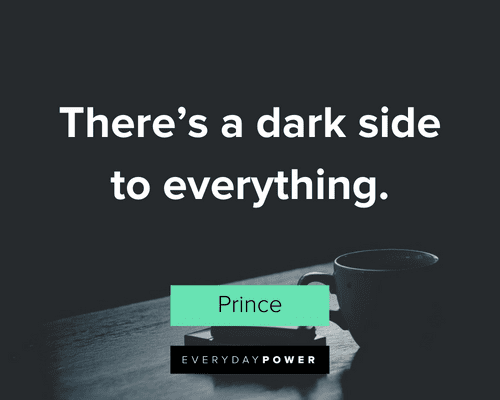 25. "It gets embarrassing to say something untrue because you put it online and everyone knows about it, so it's better to tell the truth." – Prince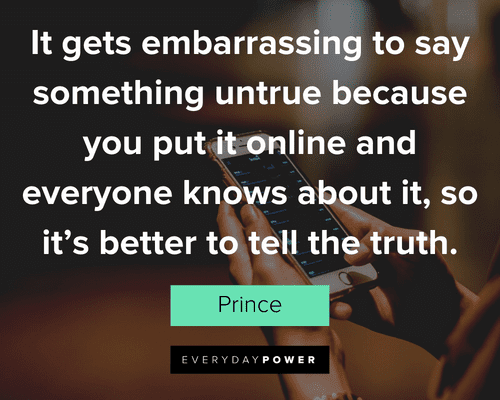 Which of these inspiring Prince quotes uplifts your spirit the most?
These memorable words from the artist known as Prince will motivate you to follow your dreams.
Read this collection of quotes to boost your creativity and fuel your passions.
If you practice your talents and believe in yourself, anything is possible.
Follow in the footsteps of Prince and chase your wildest dreams.
Whether you enjoy Prince's earliest works or his latest hits, you'll love this list of quotes.
Read these Prince quotes whenever you want to access your inner peace, strength, and talent.
Prince is a beloved, iconic performer who has changed many people's lives.
Honor his memory and spread his ideas about life and love by sharing this inspirational list.
If you're a fan of the legendary musician, these words will definitely resonate with you.
Read these inspiring Prince quotes to brighten up your day and inspire creativity.
What are your favorite Prince quotes and lyrics?
Use the comment section below to share them with us!
Share these quotes with your friends and family to keep his memory alive.