223 Queen Quotes To Honor The Women In Your Life
These incredible queen quotes will have you adjusting your crown, ladies!
This collection of inspiring queen quotes will help you honor your mother, sisters, wife, or daughters in your life.
A woman who is strong, courageous, and a natural-born leader sometimes needs to be reminded of just how amazing they are.
In the comment section below, let us know your favorite queen quote.
You may also enjoy our article on:
What are the benefits of reading these queen quotes?
Despite the sacrifices women make to ensure our emotional and physical well-being, we take it for granted because we assume it's their duty.
It's time we treated all women with the respect that queens deserve.
They play a variety of integral roles in our day-to-day lives.
If you're a woman, you have a royal highness in you, so let these queen quotes:
Inspire you to keep your head held high and make others take notice
Remind you of the huge role you play in shaping the world
Encourage you to build up and support your female friends
As the popular phrase goes, "Behind every successful man, there's a woman."
Women nurture our dreams and aspirations.
They are our core creators and the engines of our lives.
To help you celebrate the women in your life, below is our collection of inspirational, beautiful, and majestic queen quotes, queen sayings, and queen proverbs, collected from a variety of sources over the years.
Also, check out our list of motivational quotes for girls to inspire you to go for your goals.
If you like this article, we suggest you explore our most popular quotes article, a list of short inspirational quotes for daily encouragement.
Check out more inspirational quotes on our motivational quotes category page.
Queen quotes celebrating the women in your life
1. "Women are the nourishing power of the Universe. Whoever has deep respect for women of the world, will remain free from diseases." ― Amit Ray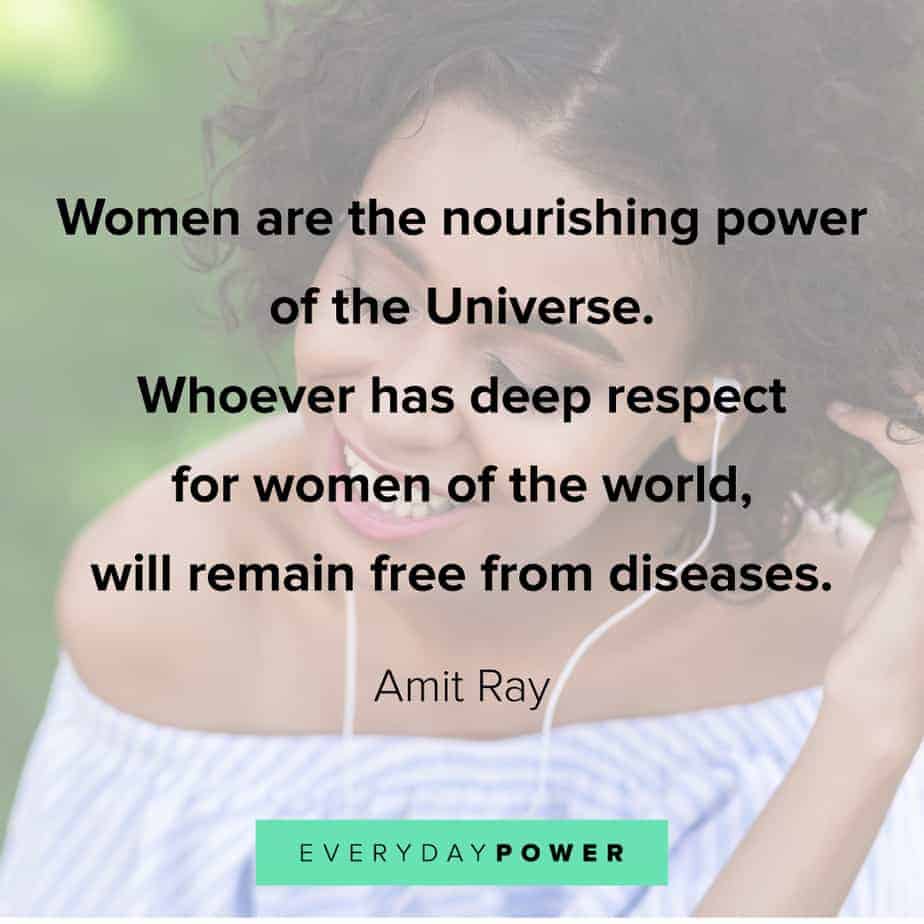 2. "You better treat her like your queen, if you want to be treated like a king." – Moosa Rahat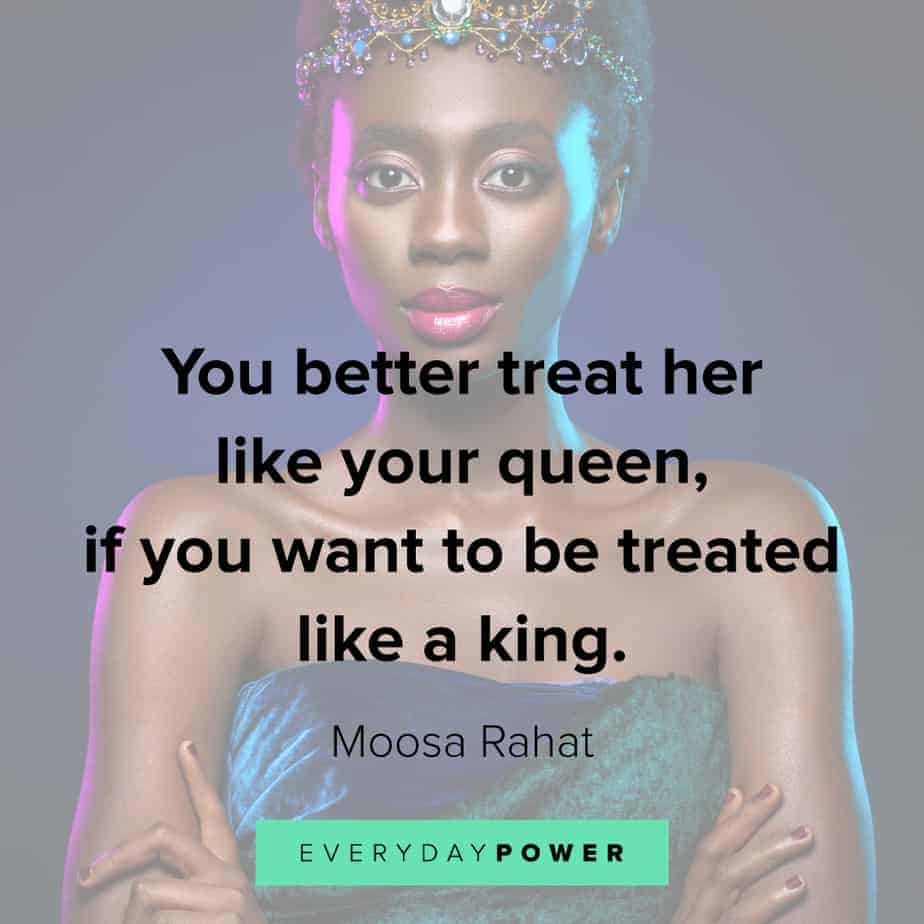 3. "You are enough to drive a saint to madness or a king to his knees." ― Grace Willows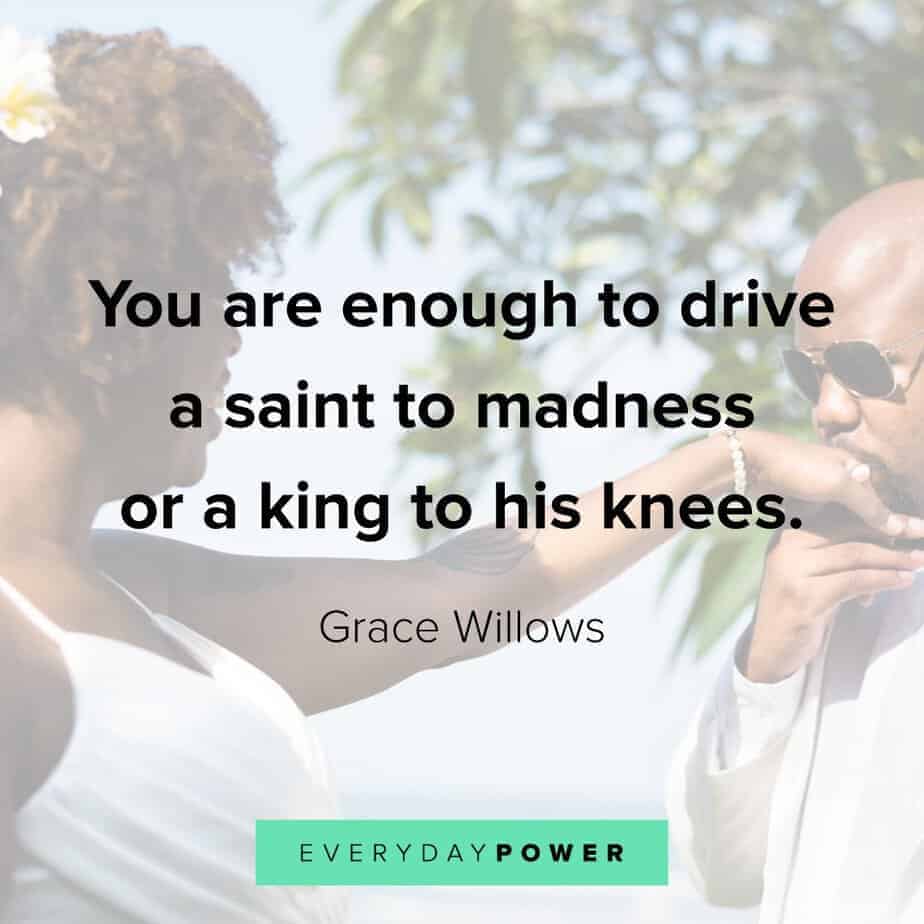 4. "It's like chess, you know. The Queen saves the King." – Terry Pratchett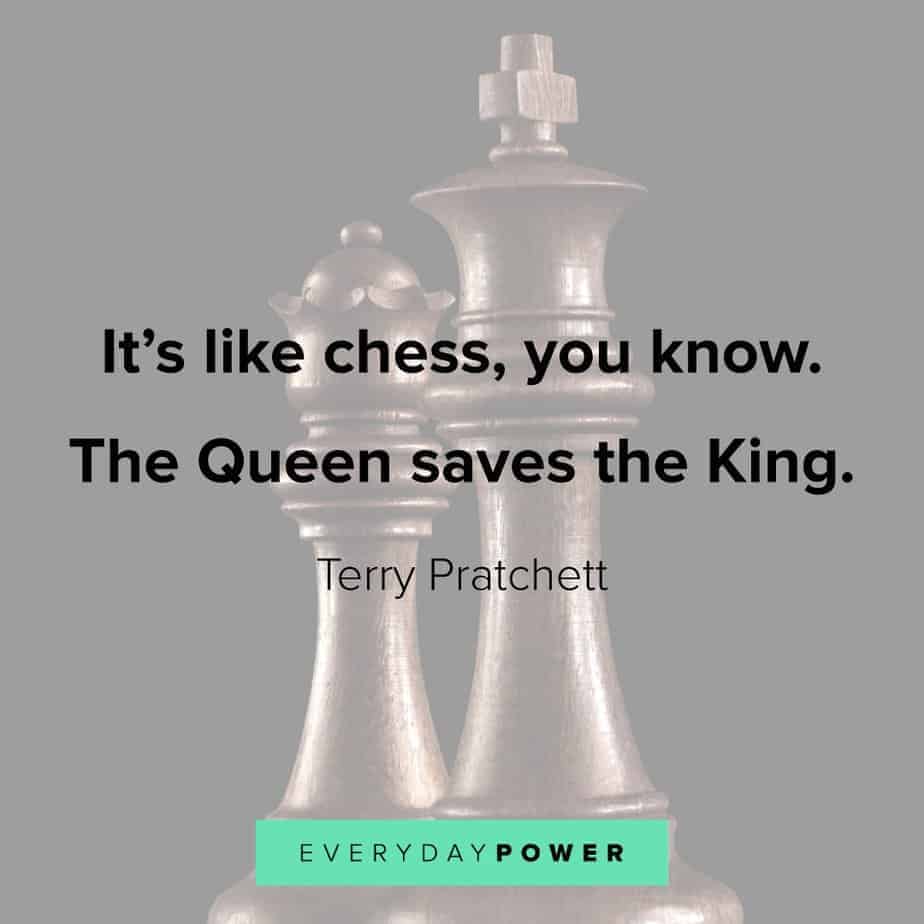 5. "As women, we have superpowers. We are sisters. We are healers. We are mothers. We are goddess warriors." – Merle Dandridge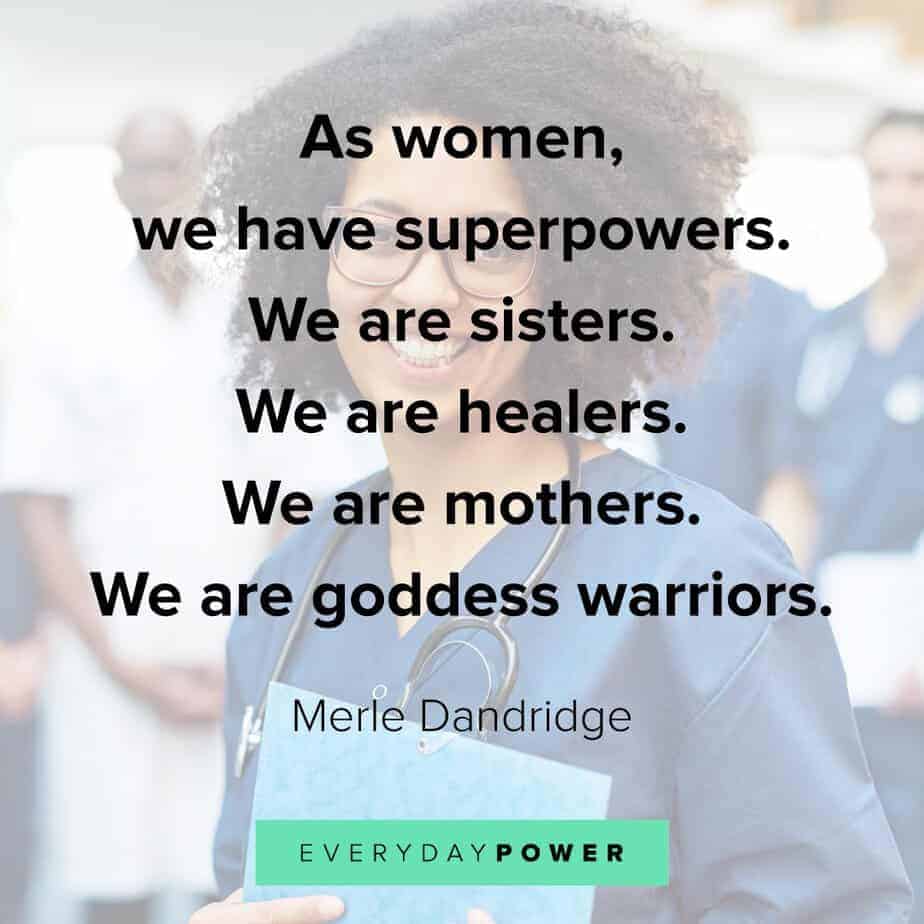 6. "My Queen, this is for you. I bring you the stars, the stars from the borderless sea." – Matt Suddain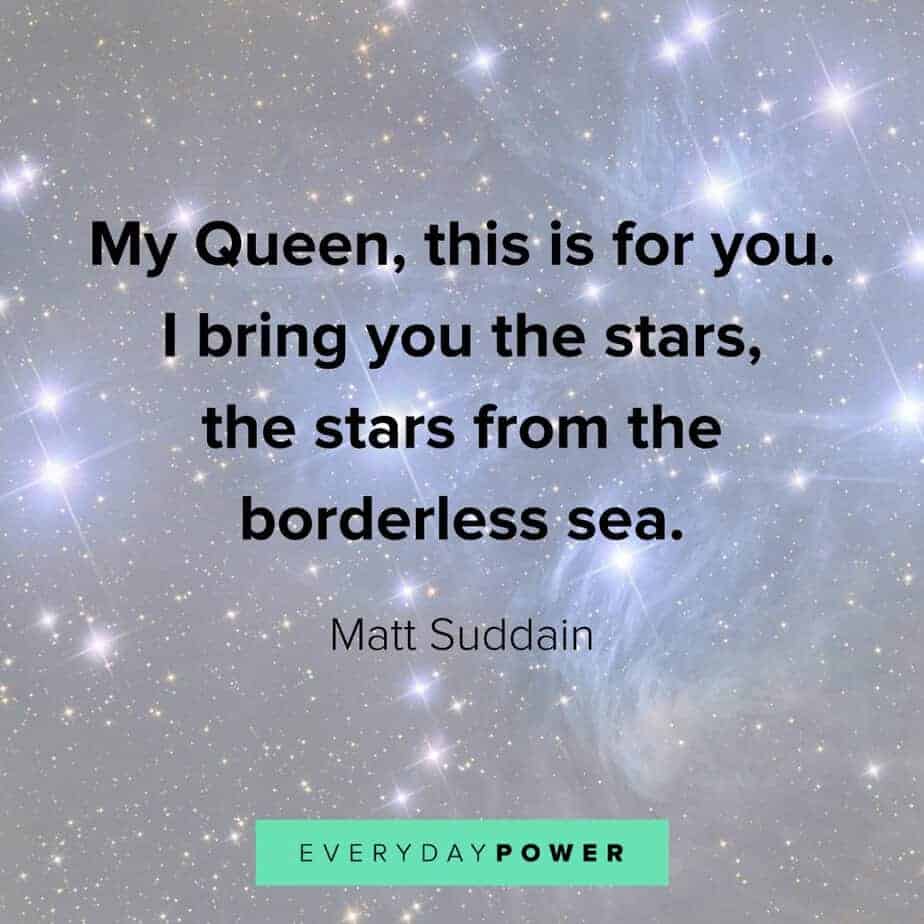 You will also enjoy our article on Cleopatra quotes.
7. "I like a man who looks like a bad boy but knows how to treat a woman like a queen." – Candice Swanepoel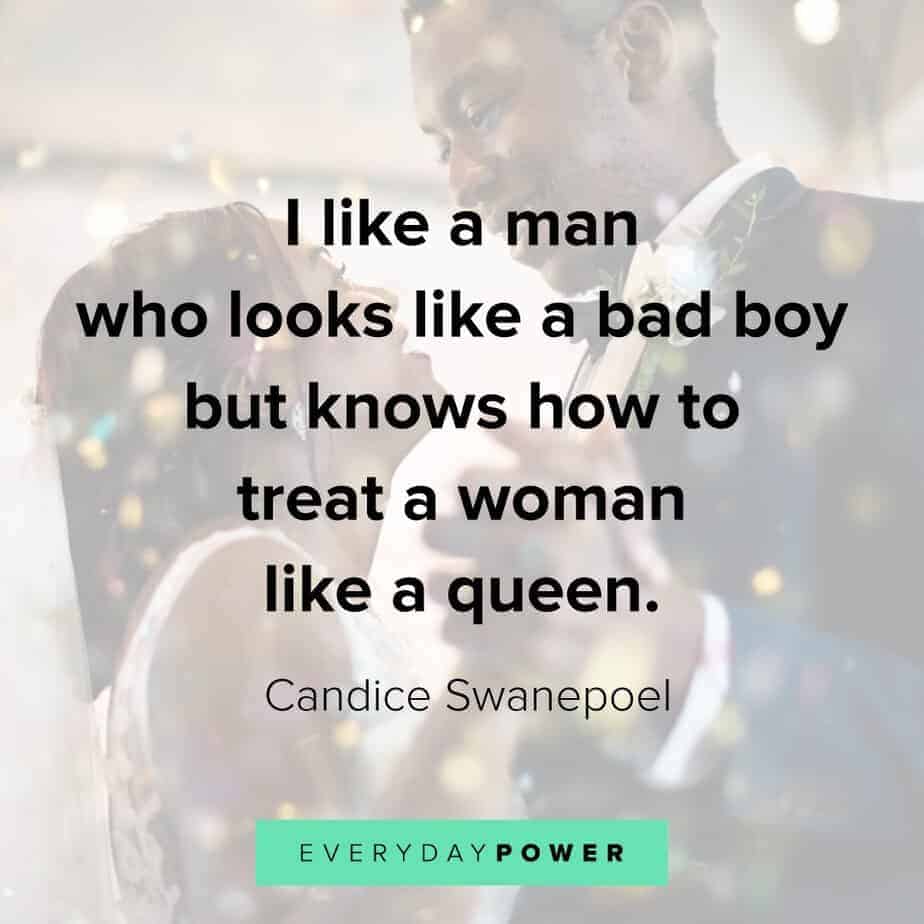 8. "If a man does not treat you like a princess during courtship, he will not treat you like a queen during marriage." – Matshona Dhliwayo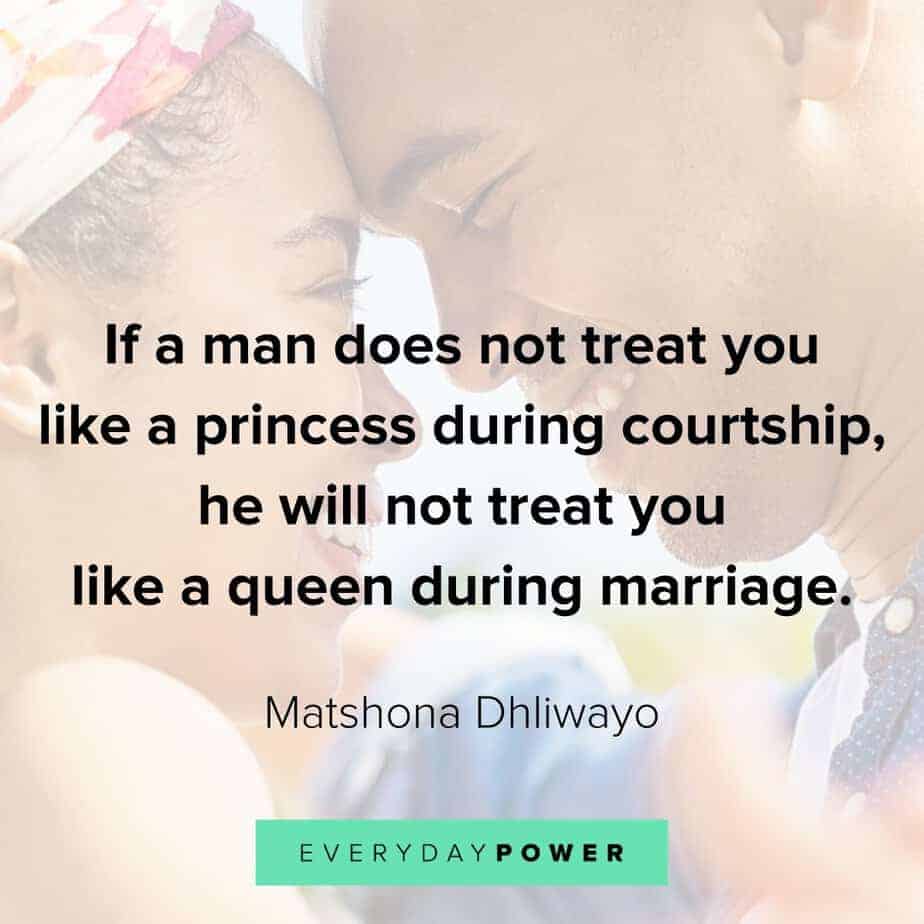 9. "You are a queen that demands respect and God will bring the right person into your life to make you forget why you ever wasted your time on nothing important." – Shannon L. Alder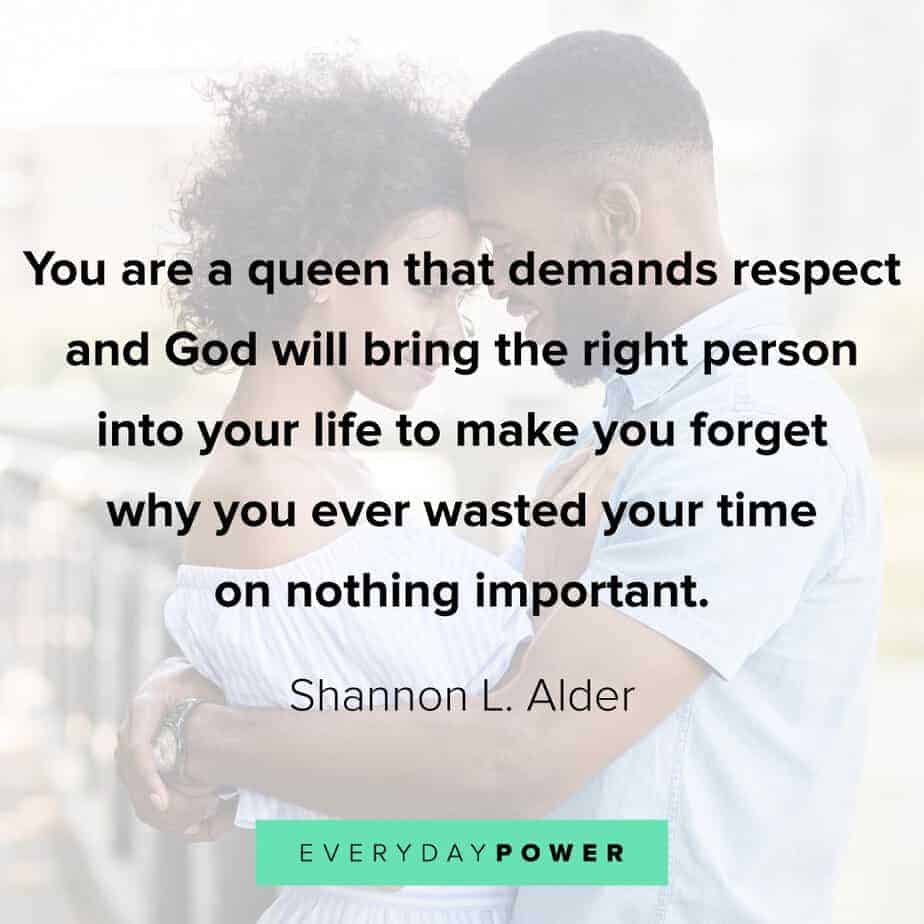 10. "I love the way he says my name. With the elegance and utmost respect of a King, just before he bows to his Queen." – M.J. Abraham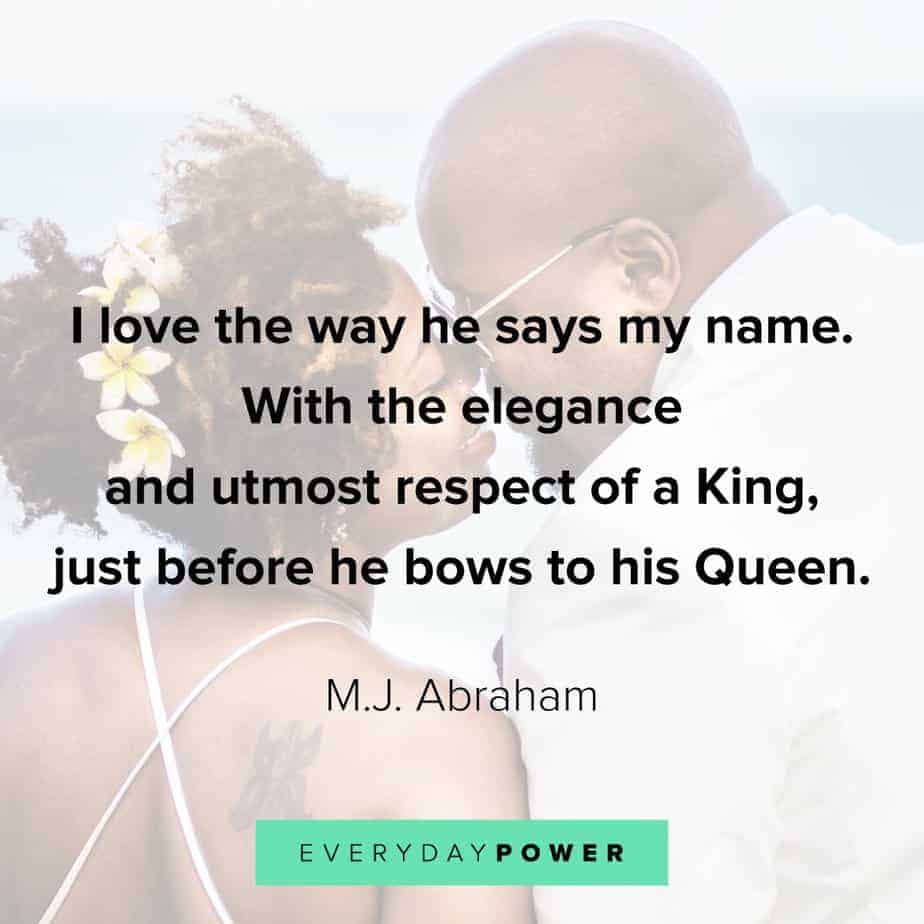 Also read these motivational black women quotes on self-love, life, and success.
Queen quotes on why all women deserve to be treated as royalties
Research from the University of British Columbia has shown that positive feedback and appreciation can boost women's self-esteem.
Celebrating the women in your life with queen quotes is a simple yet powerful way to show appreciation and boost their confidence.
11. "The strength of a kingdom comes from its King, The strength of a King comes from his Queen." – Cody Edward Lee Miller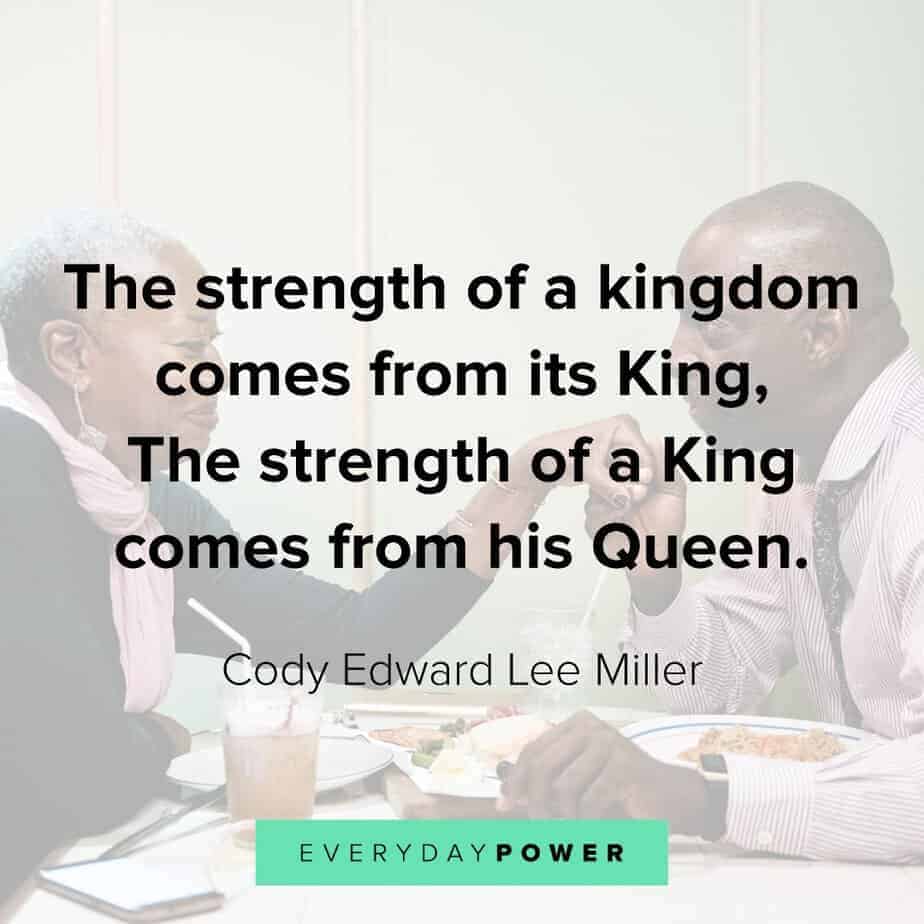 12. "I think women are foolish to pretend they are equal to men; they are far superior and always have been." – William Golding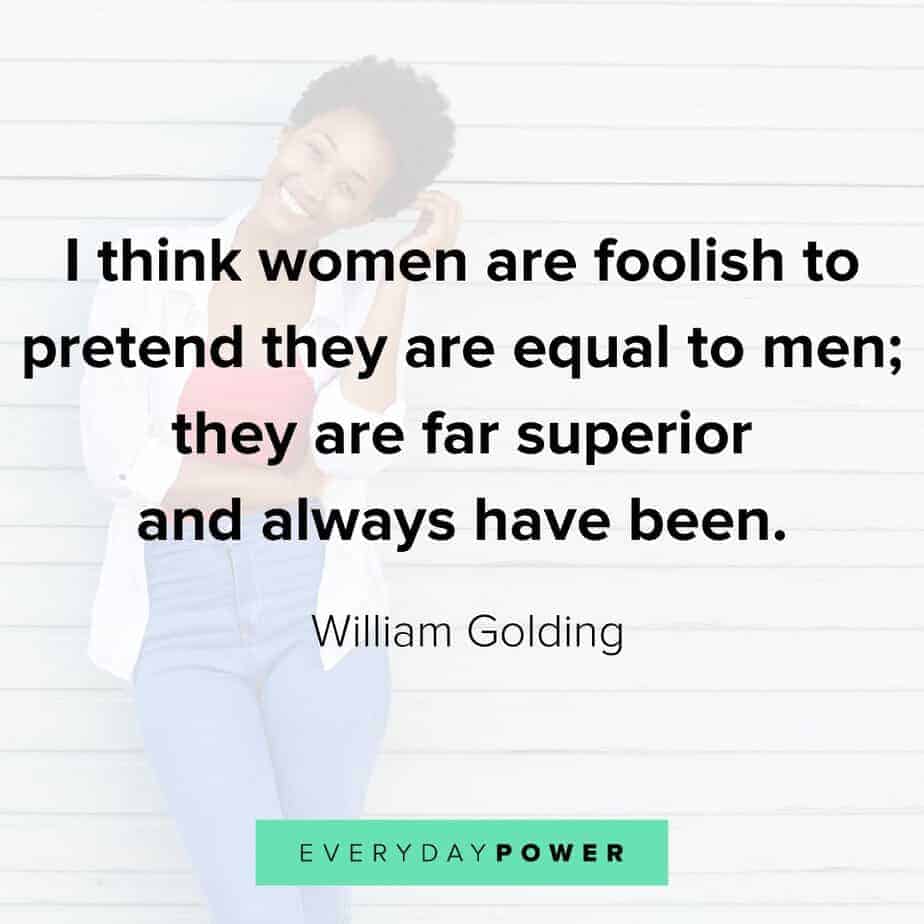 13. "A queen—a queen who bowed to no one, a queen who had faced them all down and triumphed. A queen who owned her body, her life, her destiny, and never apologized for it." – Sarah J. Maas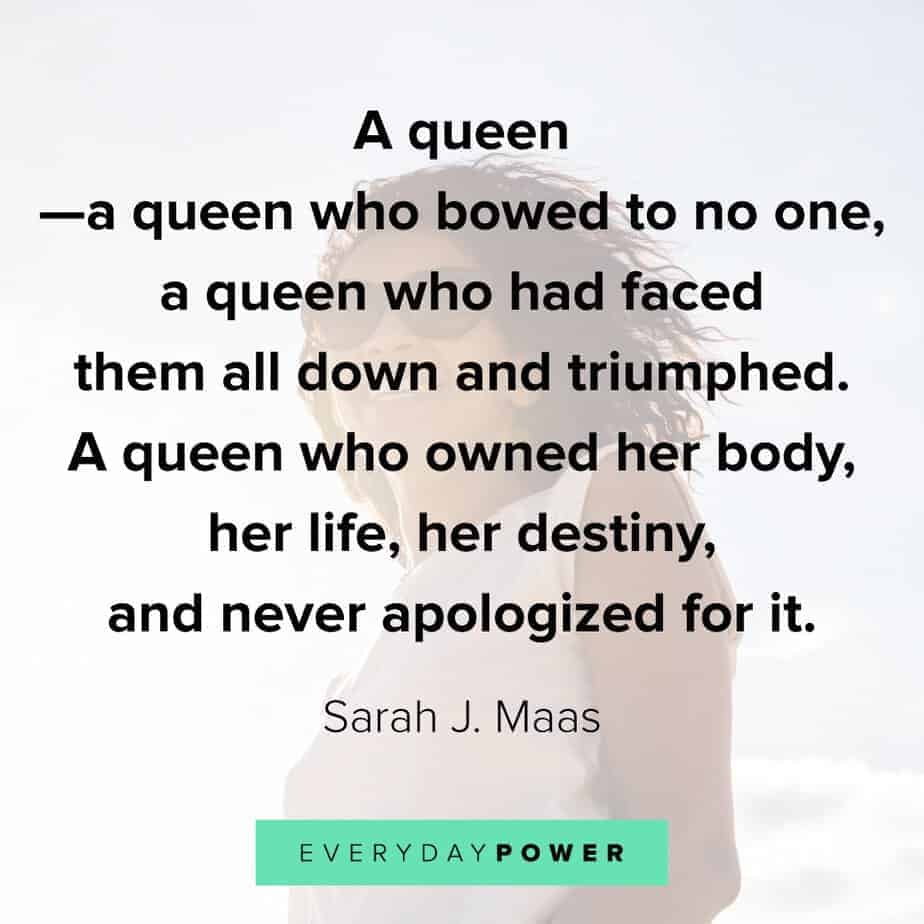 14. "I want to encourage women to embrace their own uniqueness. Because just like a rose is beautiful, so is a sunflower, so is a peony. I mean, all flowers are beautiful in their own way, and that's like women too." – Miranda Kerr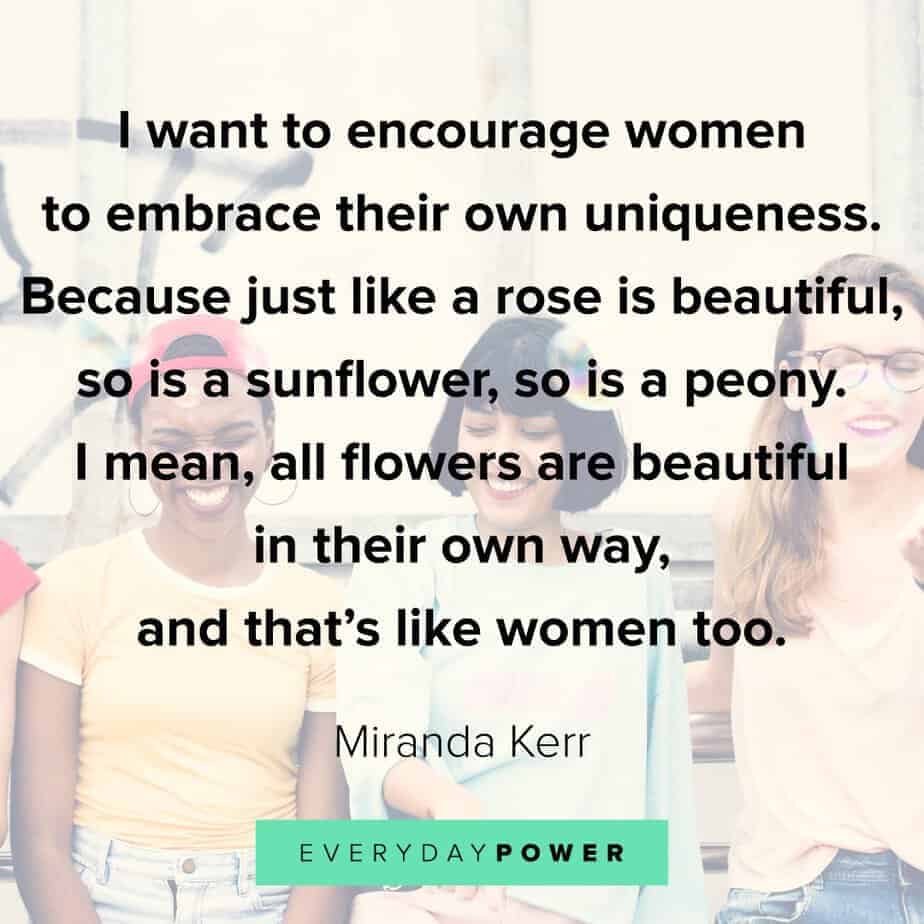 You will also enjoy our article on pretty Woman quotes.
15. "In every woman, there is a Queen. Speak to the Queen and the Queen will answer." – Norwegian Proverb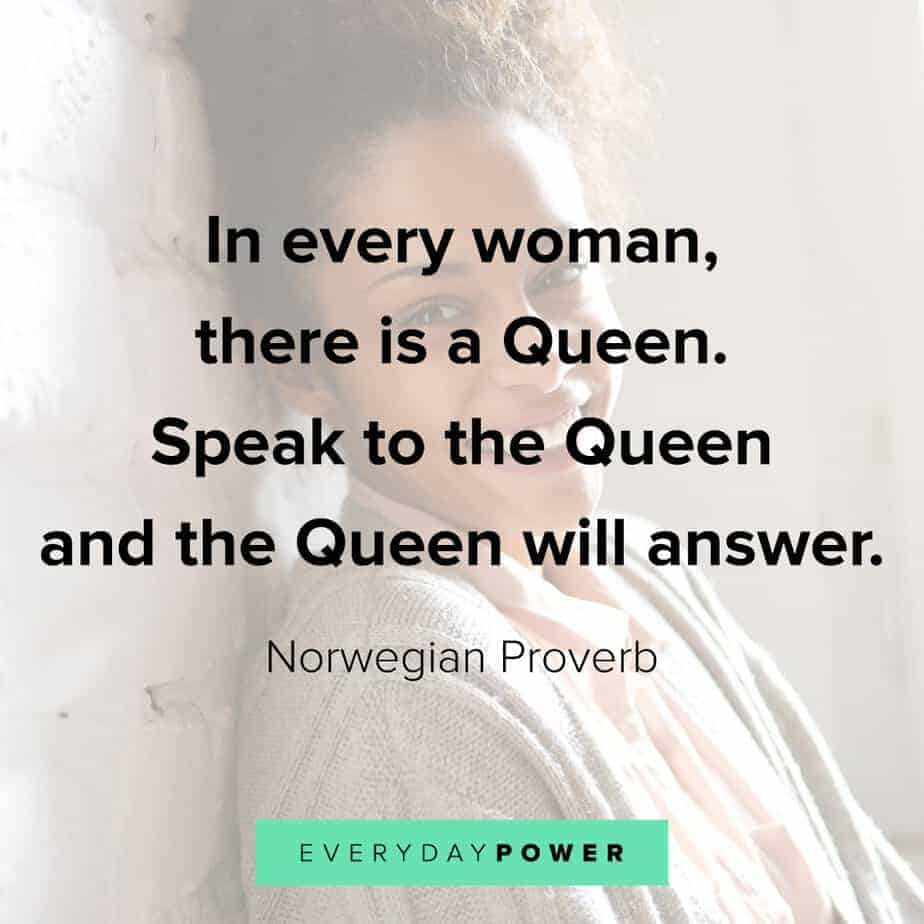 16. "It's always wonderful to get to know women, with the mystery and the joy and the depth. If you can make a woman laugh, you're seeing the most beautiful thing on God's Earth." – Keanu Reeves
If you're enjoying these quotes, you'll love our collection of Keanu Reeves quotes that will remind you to be kind.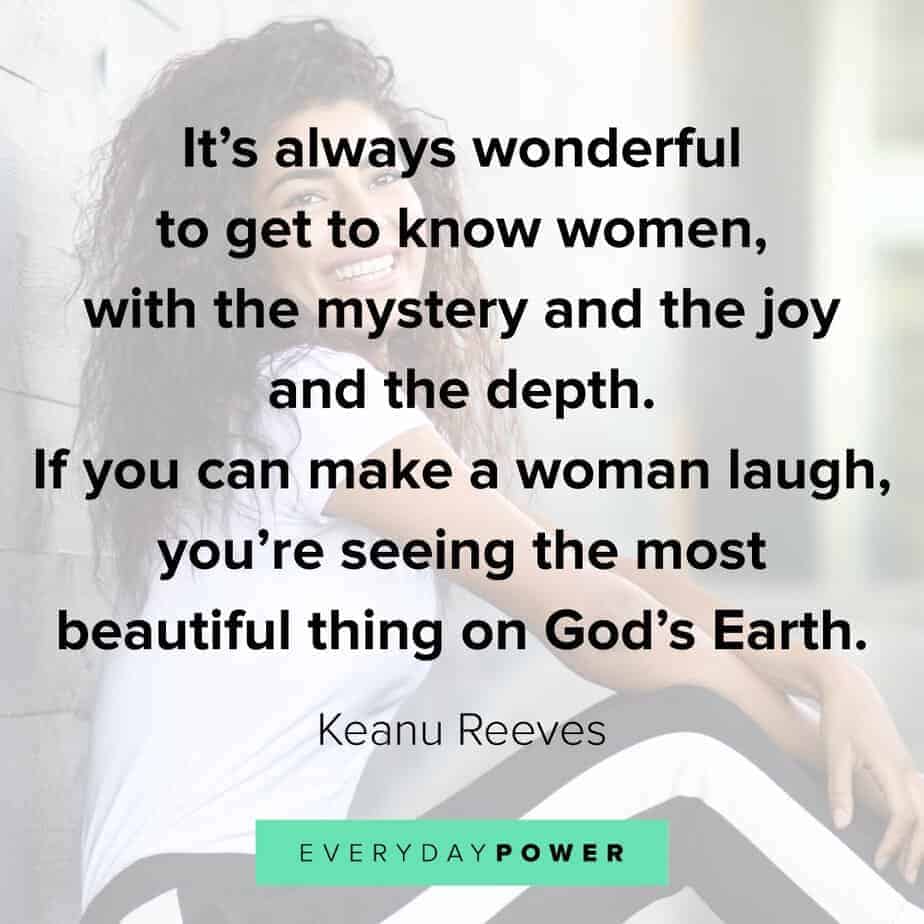 You will also enjoy our article on women supporting women quotes.
17. "Women are the largest untapped reservoir of talent in the world." – Hillary Clinton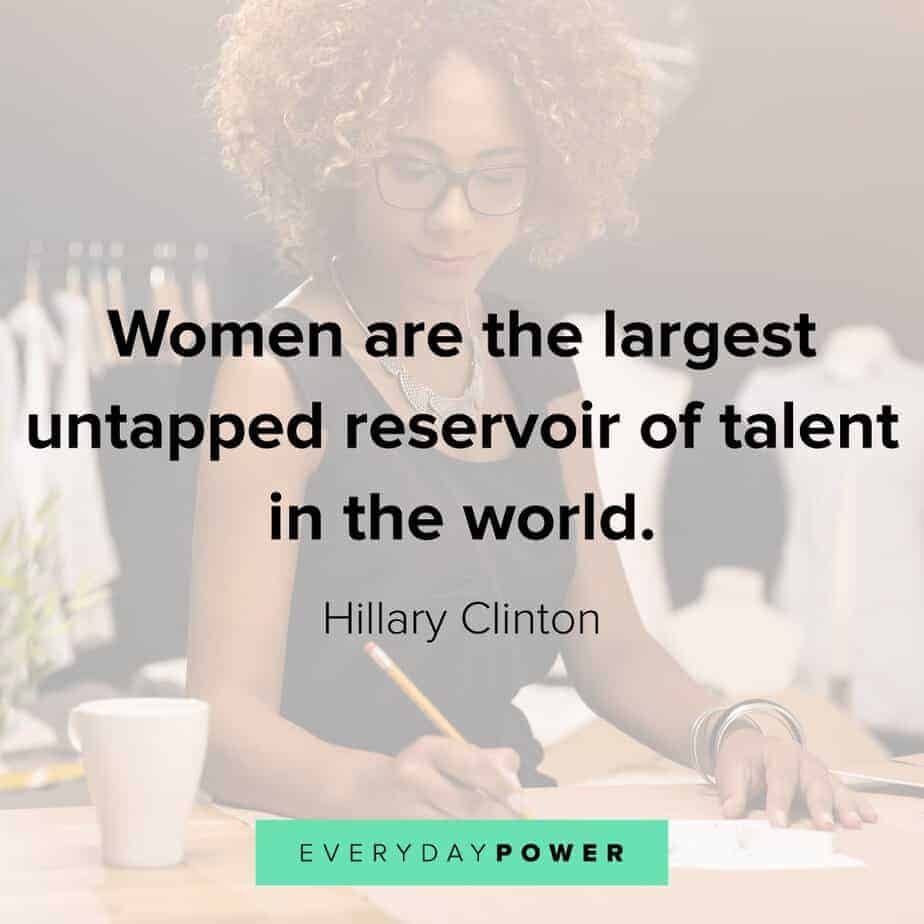 You will also enjoy our article on Kingdom Hearts quotes.
18. "Think like a queen. A queen is not afraid to fail. Failure is another steppingstone to greatness." – Oprah Winfrey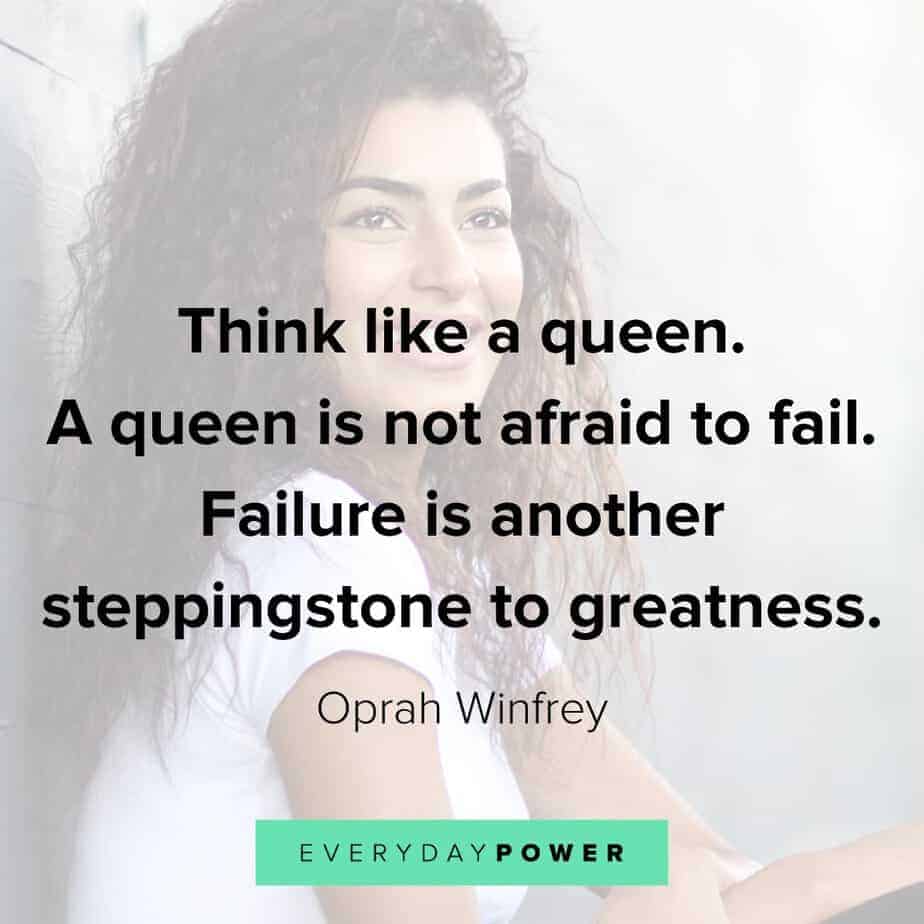 You will also enjoy our article on role model quotes.
19. "Being the Queen is not all about singing, and being a diva is not all about singing. It has much to do with your service to people. And your social contributions to your community and your civic contributions as well." – Aretha Franklin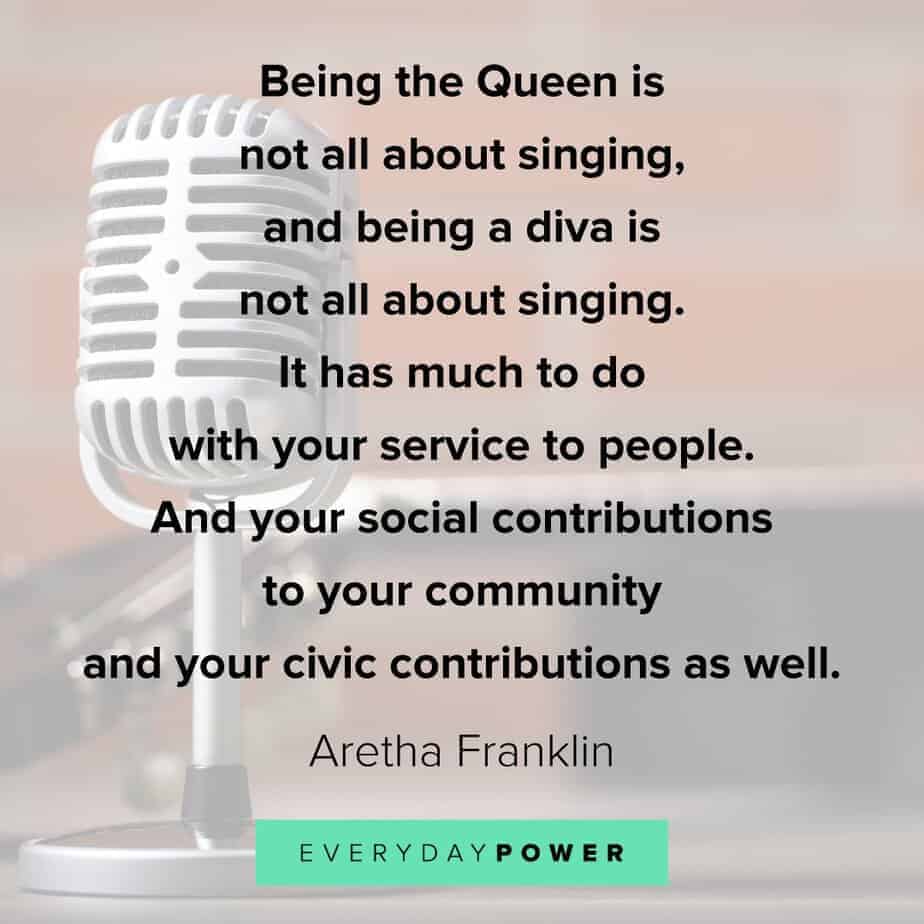 20. "Her hair is full of icy wind and daylight. She is every princess, every queen, in the history book." – Lauren DeStefano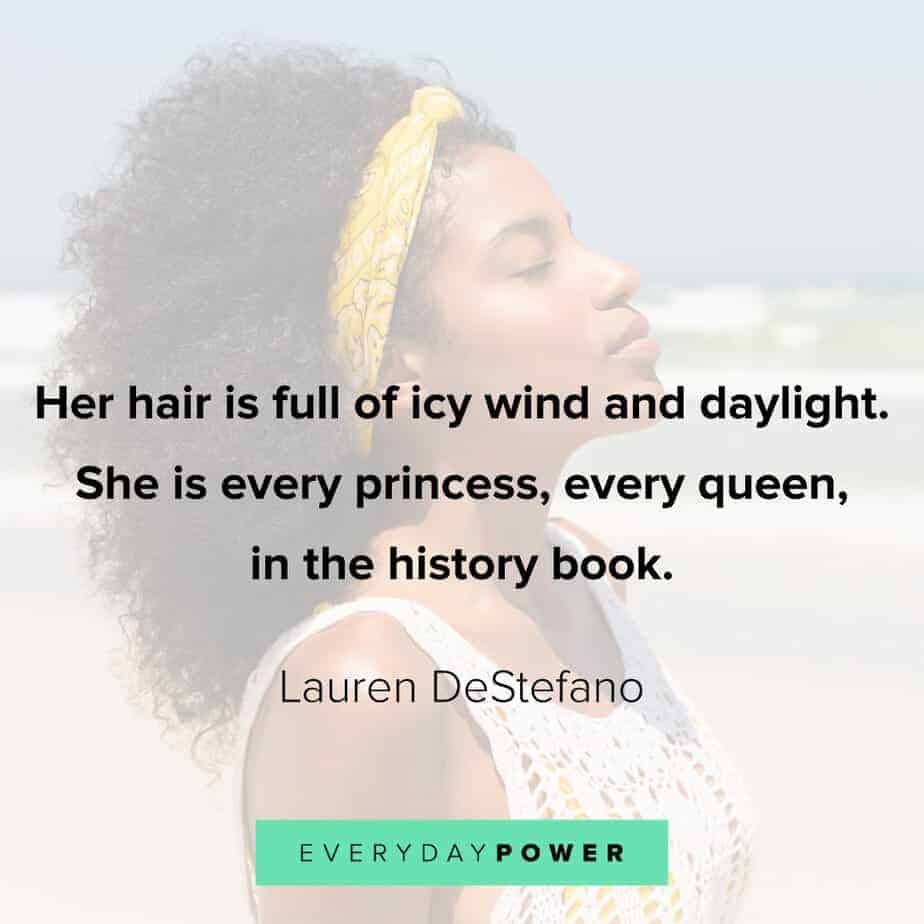 You might also like these Women's Day quotes and sayings to celebrate womanhood.
Queen quotes to celebrate the contributions women make in your life
21. "A man who treats his women like a princess is proof that he was raised by a queen." – Wiz Khalifa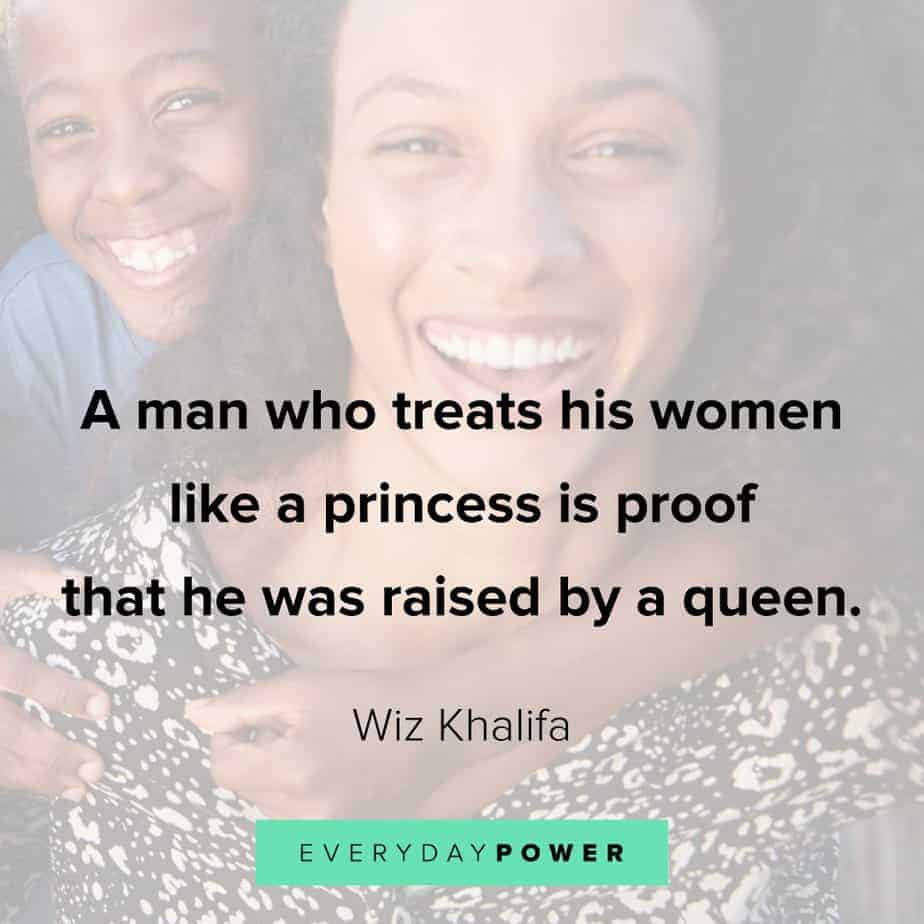 22. "Strong women wear their pain like stilettos. No matter how much it hurts, all you see is the beauty of it." – Harriet Morgan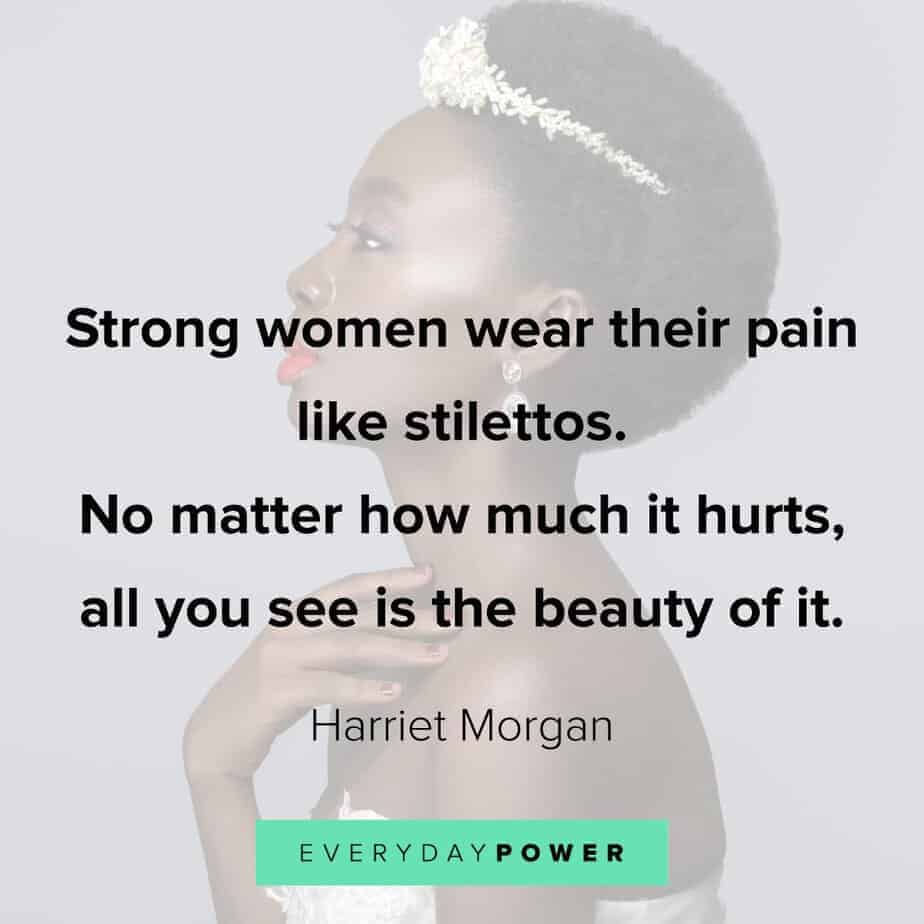 23. "God gave women intuition and femininity. Used properly, the combination easily jumbles the brain of any man I've ever met." – Farrah Fawcett

24. "I do not want a husband who honors me as a queen, if he does not love me as a woman." – Elizabeth I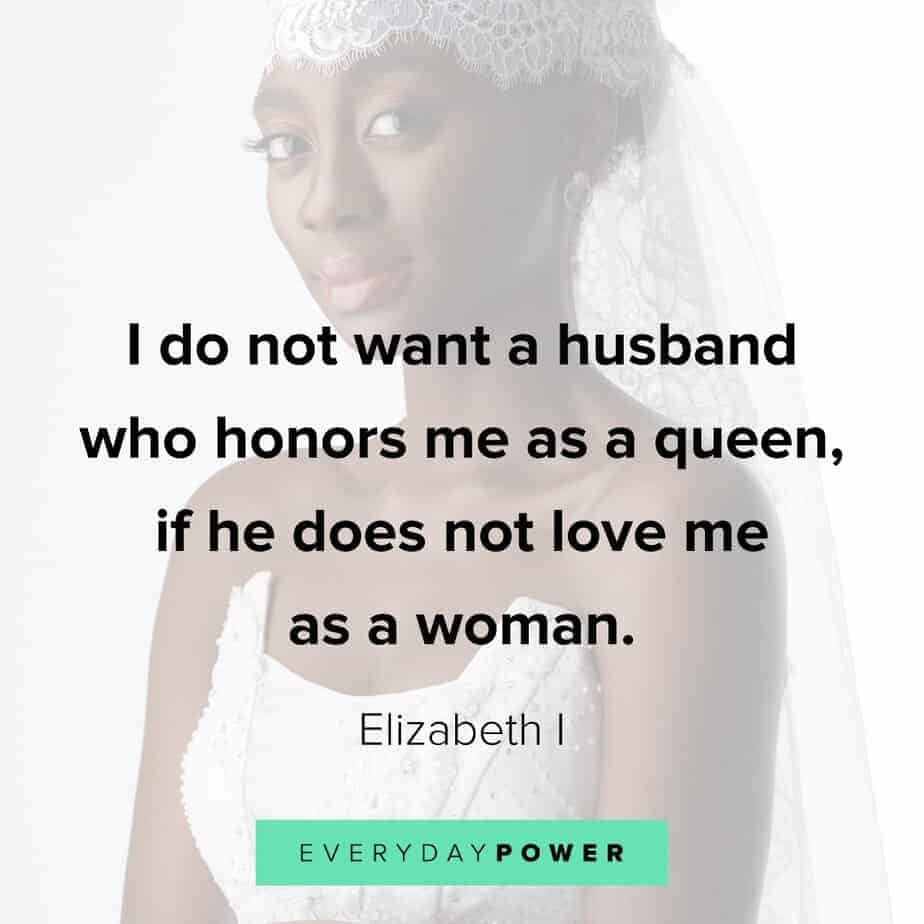 25. "Every woman is a queen, and we all have different things to offer." – Queen Latifah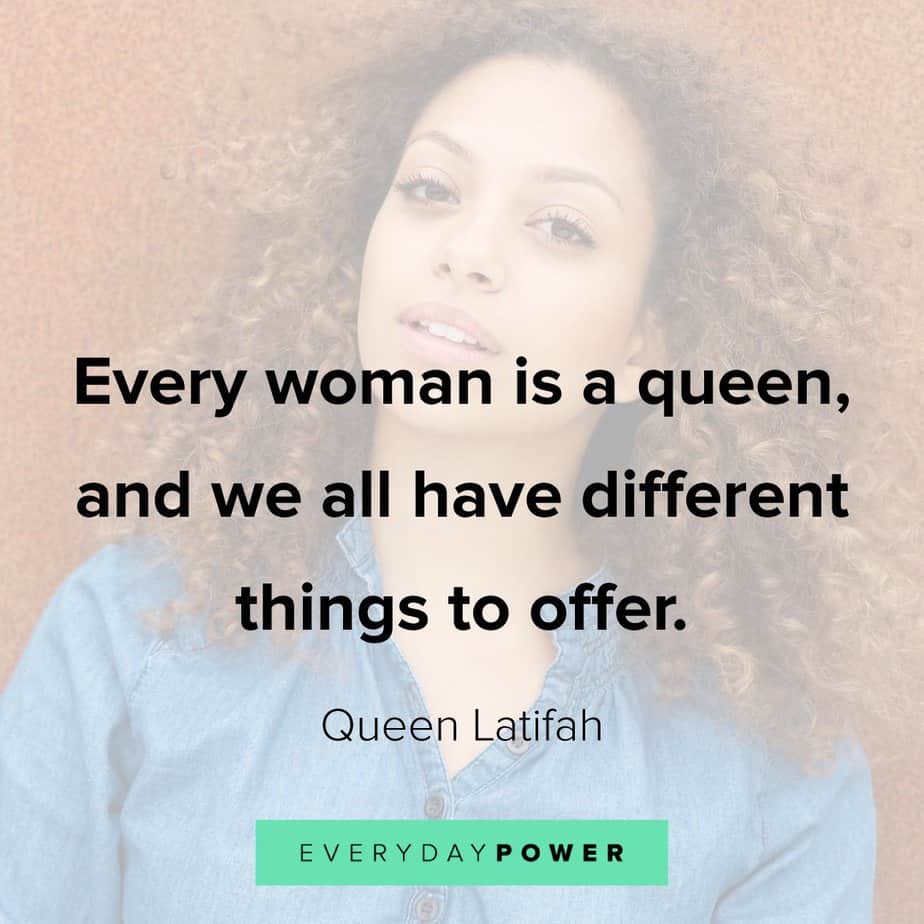 26. "A queen could leave her throne. But a mother never leaves her son." – V.E. Schwab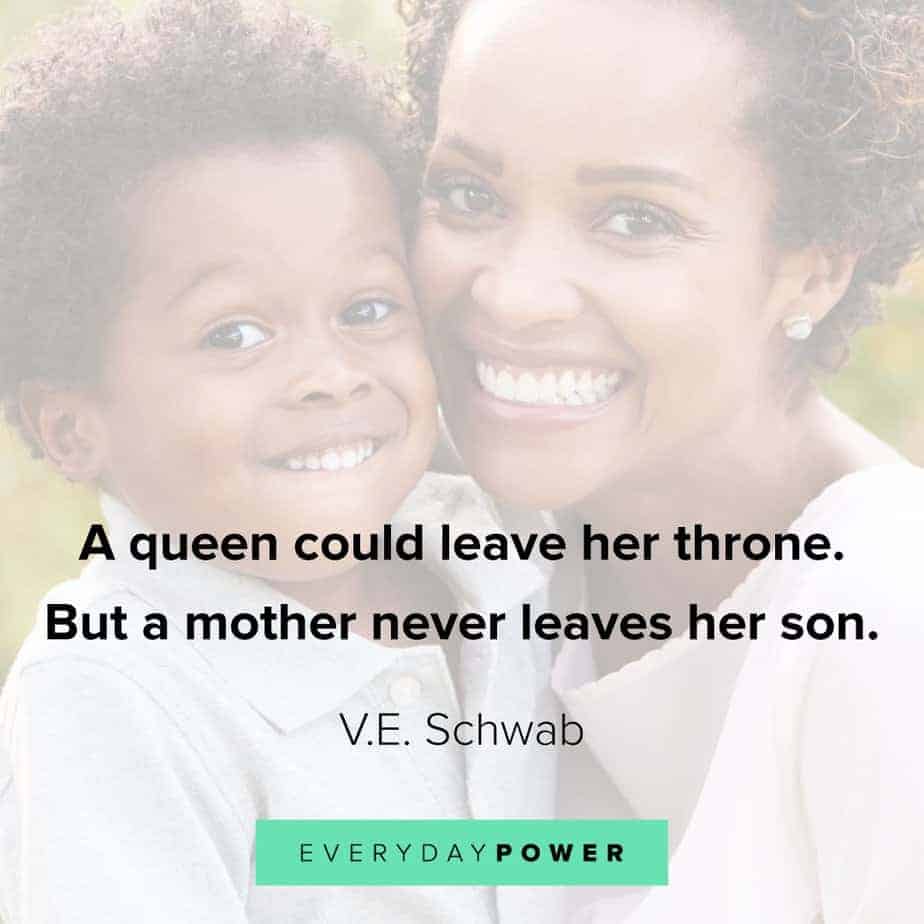 27. "Women are leaders everywhere you look — from the CEO who runs a Fortune 500 company to the housewife who raises her children and heads her household. Our country was built by strong women and we will continue to break down walls and defy stereotypes." – Nancy Pelosi
If you're enjoying these quotes, make sure to check out our collection of Nancy Pelosi quotes from America's most powerful woman.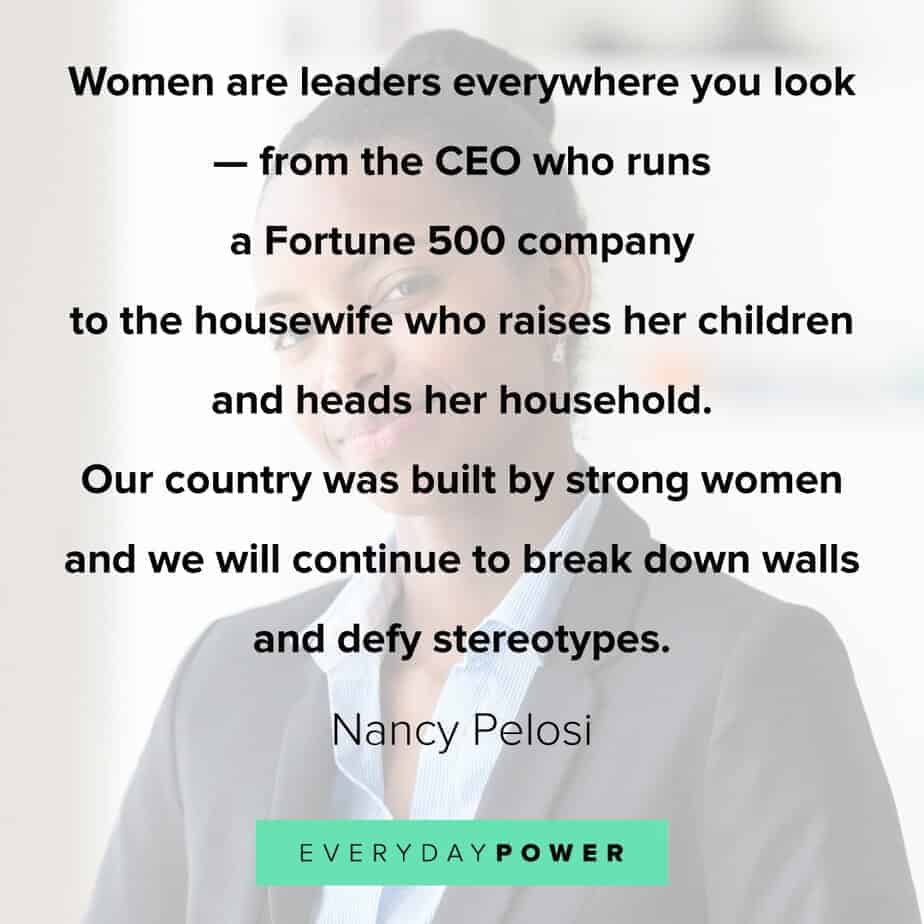 28. "If you want something said, ask a man; if you want something done, ask a woman." – Margaret Thatcher
If you're enjoying these quotes, make sure to check out our collection of Margaret Thatcher quotes about strong will and leadership.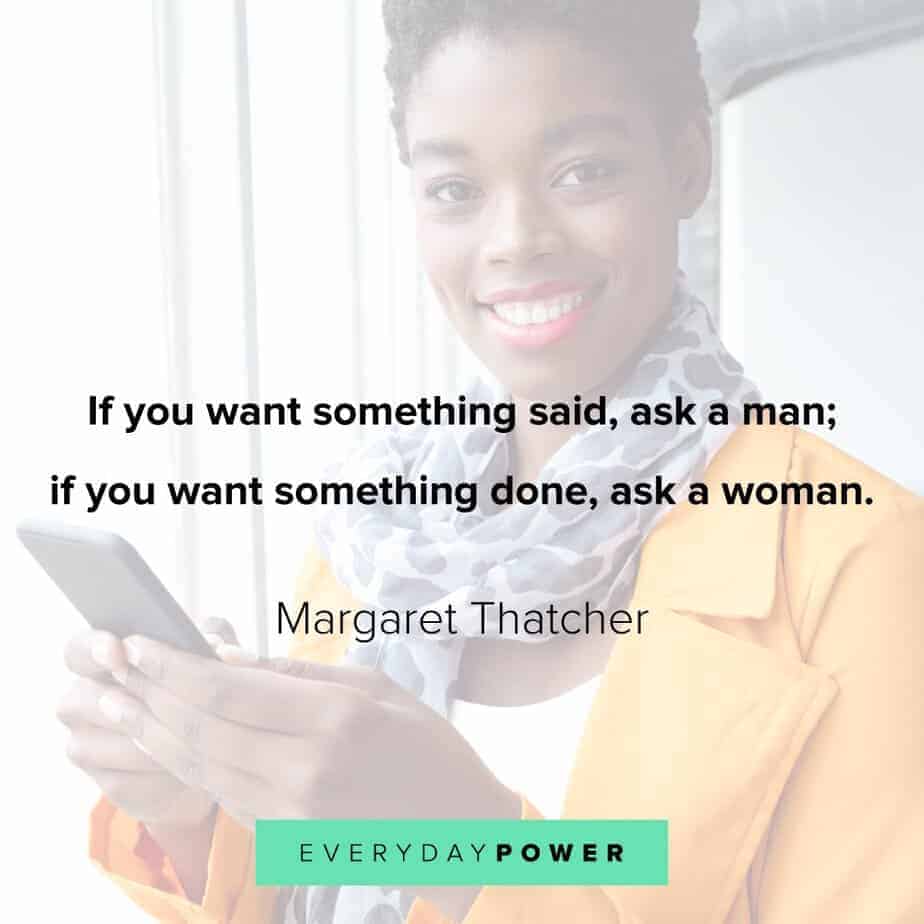 29. "You make the world come alive. You make the world colorful. You are the inspiration behind all that happens. You are the pillar of strength to many around you, the centrifugal force of your own little world, called family." ― Deeba Salim Irfan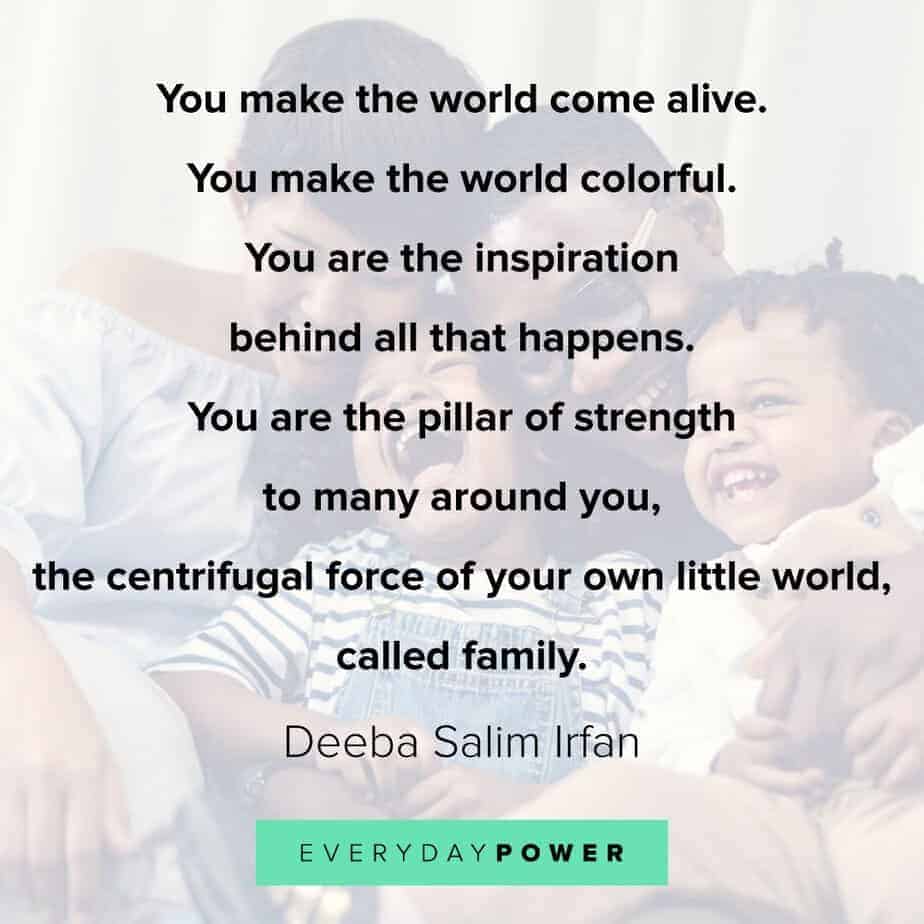 30. "I look those haters straight in the eye, keep my chin up and shoulders back. Because I know I'm a fierce queen—and they know it, too." – Alyssa Edwards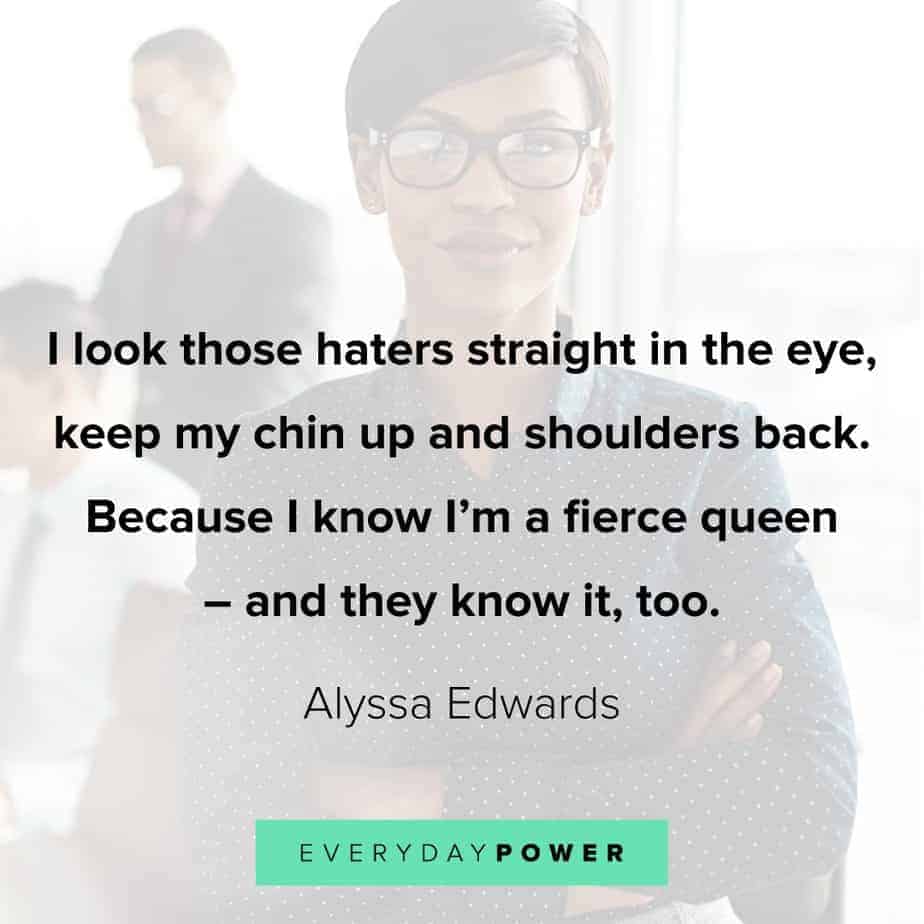 Don't forget to also read these women empowerment quotes to help you succeed in life
Queen quotes to appreciate the women in your life
31. "You are a Queen. Let mine be the joy of giving you your kingdom." – Katherine Mansfield
32. "A strong woman is someone who is able to smile this morning like she wasn't crying last night." – Harriet Morgan
33. "Whatever glory belongs to the race for a development unprecedented in history for the given length of time, a full share belongs to the womanhood of the race." – Mary McLeod Bethune
34. "I've always said, if you treat yourself like a queen, you'll attract a king." – Pepa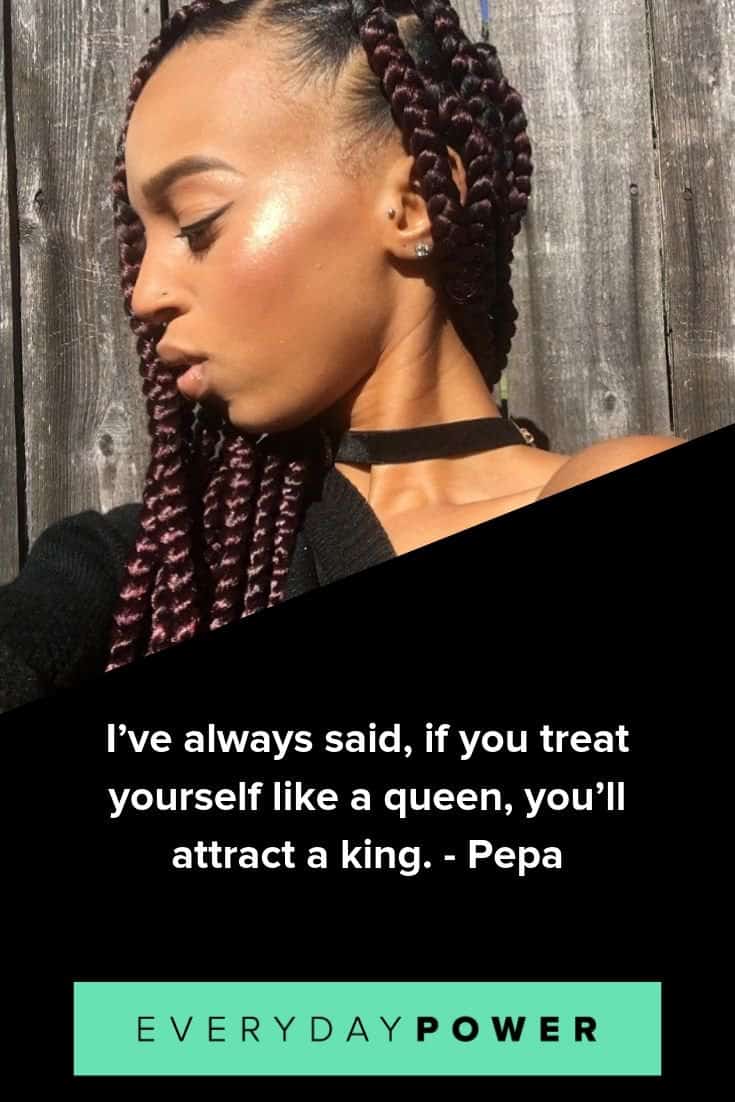 35. "I just want to say to women, 'Be yourself – it's the inner beauty that counts. You are your own best friend, the key to your own happiness, and as soon as you understand that – and it takes a few heartbreaks – you can be happy." – Cherie Lunghi
36. "The Queen is the only person who can put on a tiara with one hand, while walking downstairs." – Princess Margaret
37. "Woman is the companion of man, gifted with equal mental capacity." – Mahatma Gandhi
38. "A woman with a voice is, by definition, a strong woman. But the search to find that voice can be remarkably difficult." — Melinda Gates
39. "To be a queen of a household is a powerful thing." – Jill Scott
40. "You don't have to play masculine to be a strong woman." — Mary Elizabeth Winstead
Inspirational and majestic queen quotes
41. "Women are the real architects of society." – Cher
42. "If you don't see a clear path for what you want, sometimes you have to make it yourself."— Mindy Kaling
43. "I love strong women, not only in life but in craft." – Brad Garrett
44. "A strong woman is a woman determined to do something others are determined not be done." — Marge Piercy
45. "The Queen rarely loses her temper, but when she does, she brooks no argument." – Ingrid Seward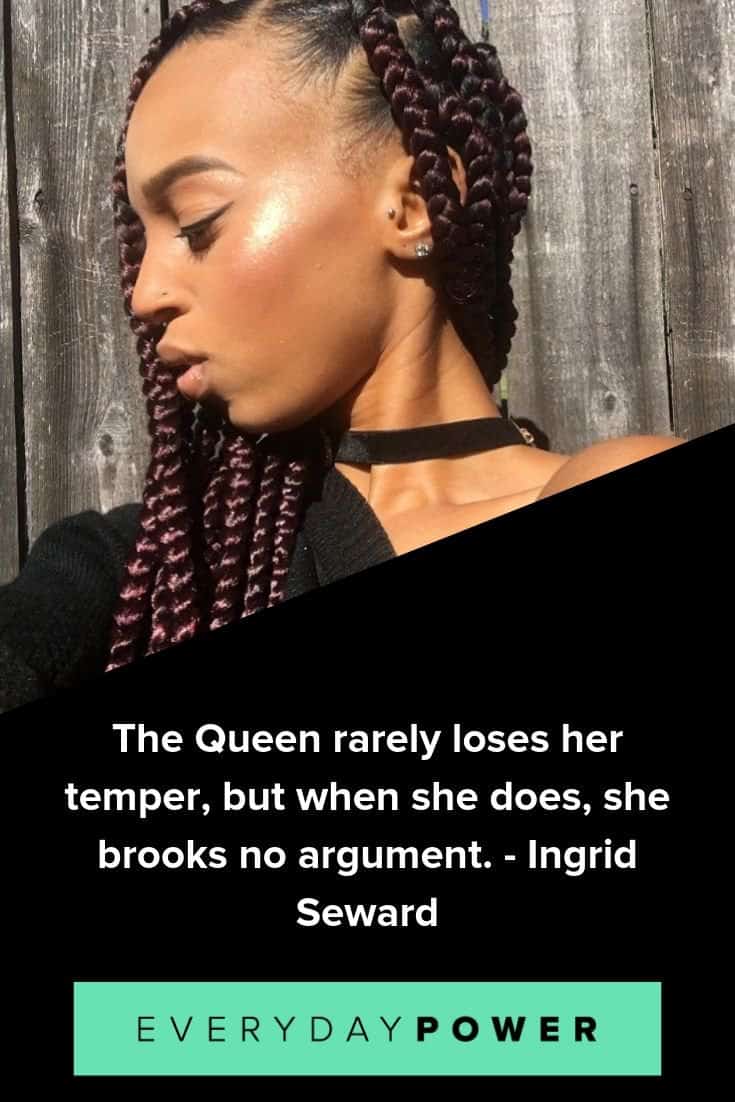 46. "A woman that knows her worth doesn't measure herself against another woman but stands strong, calmed and self confident." ― Auliq Ice
47. "Always wear an internal crown and have a queendom mindset. A queen is a leader and role model." – Janna Cachola
48. "What makes you different or weird – that's your strength."- Meryl Streep
49. "Whether women are better than men I cannot say – but I can say they are certainly no worse." – Golda Meir
50. "A lot of people would say 'sexy' is about the body. But to me, 'sexy' is a woman with confidence. I admire women who have very little fear." – Allegra Versace
You might also like these quotes about strong women to share with your tribe
Queen quotes to empower you
51. "When you are a real queen, there is absolutely no reason to try and make people believe that you are one. Because you just are. Life is lived with grace, courage, and serenity. If you must dedicate any amount of time and mental ability to making anyone believe that you are one; you're not!"― C. JoyBell C.
52. "I love good strong words that mean something."― Louisa May Alcott
53. "I am a queen because I know how to govern myself."― Lailah Gifty Akita
54. "In the past, people were born royal. Nowadays, royalty comes from what you do." – Gianni Versace
55. "I want to be queen of this great country not because someone is holding my hand,but because I can do it.Me.Elisa."― Rae Carson
56. "A woman's rank
Lies in the fulness of her womanhood:
Therein alone she is royal." – George Eliot
57. "Real kings and queens are people whose heads are crowned with dreams as they sit on the throne of passion. They rule with visions in the regalia of inspirations!" – Israelmore Ayivor
58. "The most important thing is to enjoy your life–to be happy–it's all that matters." – Audrey Hepburn
59. "When they go low, we go high."― Michelle Obama
60. "Find ecstasy in life; the mere sense of living is joy enough." – Emily Dickinson
Queen quotes to elevate your mind
61. "You can be the king, but watch the queen conquer."― Nicki Minaj
62. "Royalty is completely different than celebrity. Royalty has a magic all its own." – Philip Treacy
63. "If you want to be a King, you must first kneel before your Queen."― MissTammy Cantellia
64. "All kings and queens are not born of royal bloodlines. Some become royal because of what they do once they realize who they are." – Pharrell Williams
65. "Even when she's dethroned by hardship, she still wears the sun as a crown." – Curtis Tyrone Jones
67. "The more you praise and celebrate your life, the more there is in life to celebrate." – Oprah Winfrey
68. "The only person that deserves a special place in your life is someone that never made you feel like you were an option in theirs."― Shannon L. Alder
69. "Nothing liberates our greatness like the desire to help, the desire to serve." – Marianne Williamson
70. "In the future, there will be no female leaders. There will just be leaders." —Sheryl Sandberg
If you're enjoying these quotes, make sure to read our collection of Audrey Hepburn quotes on life, style and children.
Insightful queen quotes
71. "Treat me like a queen and I'll treat you like a king. But if you treat me like a game, I'll show you how it's played." — Emmanuela Duku
72. "You are a queen. So walk in your royalty."― Angel Moreira
73. "The Queen is by much the most powerful of the forces." – Howard Staunton
74. "Don't be a drag. Just be a queen." – Lady Gaga
75. "Being brave means that knowing when you fail, you won't fail forever."
― Lana Del Rey
76. "If one wants to be called a queen, one should act with civility and grace." – Jinkx Monsoon
77. "I am definitely the queen. I definitely see myself as the queen." – Lil' Kim
78. "Every queen is a woman, but not every woman is a queen." – Mehmet Murat Ildan
79. "Someday soon you'll call me Queen."― Nicki Pau Preto
80. "I'd like to be queen of people's hearts." – Princess Diana
If you're enjoying these quotes, you'll love our collection of Lana Del Rey quotes that give a glimpse of who she is on a more personal level.
Queen quotes to inspire you
81. "I will do what queens do, I will rule." – Daenerys Targaryen
82. "A queen offers her hand to be kissed & can form it into a fist while smiling the whole damn time."― Elizabeth Acevedo
83. "People are like bees. They're all workers who could be queens, with the right stuff, but once a queen-making has begun, it can't be reversed." – Natasha Pulley
84. "If you don't think I'm a princess then you're 100% right, I'm the fucking queen."― Amanda Conner
85. "No Queen has clean hands." – George R.R. Martin
86. "She was beautiful; she was also terrible. She was the Summer Queen."― Kailin Gow
87. "Do not tell secrets to those whose faith and silence you have not already tested." – Queen Elizabeth I
88. "First an empress, then an empire."― A.D. Aliwat
89. "Never did the world make a queen of a girl who hides in houses and dreams without traveling." – Roman Payne
90. "A crown of kisses to the queen of dreams."― Albert Camus
If you're enjoying these quotes, make sure to check out our collection of mindset quotes that will help take you where you want to go in life.
Queen quotes on women strength and beauty
91. "I do not so much rejoice that God hath made me to be a Queen, as to be a Queen over so thankful a people." – Queen Elizabeth I
92. "These people will try to manipulate you, try to bring you down but remember baby girl you are a queen, own your crown."― Nikki Rowe
93. "I have to be seen to be believed." – Queen Elizabeth II
94. "The purpose of life as a woman is to ascend to the throne and rule with heart."― Marianne Williamson
95. "I'd like to be a queen in people's hearts but I don't see myself being queen of this country." – Princess Diana
96. "Queen, do not allow a commoner to dethrone you. Own that throne. You are royalty."― Gift Gugu Mona
97. "A true plague of a girl. And yet a queen in every sense of the word." –
Renee Ahdieh
98. "If they love you for anything, it will be for your beauty."― Melissa Bashardoust
99. " People have to go through things in order to become the person that they are today and that's that." — Sarah Hyland
100. "Sometimes a man with with eyes still can't see you as the beautiful queen you are."― Angel Moreira
You might also like these know your worth quotes that will elevate your perspective.
Queen quotes to live by
101. "I was a queen, and you took away my crown; a wife, and you killed my husband; a mother, and you deprived me of my children. My blood alone remains: take it, but do not make me suffer long." – Marie Antoinette
102. "A queen loves where she must not where she will."― George R.R. Martin
103. "I'd love to have tea and scones with the Queen; she's my idol." – Agyness Deyn
104. "Life is tough, my darling, but so are you." – Stephanie Bennett-Henry
105. "I'd decided that I was going to stop dressing like a princess and start dressing like a queen."― Kiera Cass
106. "The question isn't who's going to let me; it's who is going to stop me." — Ayn Rand
107. "Some women are built by the fire. Yet, there are some that are the FIRE!"― Shannon L. Alder
108. "I've never been interested in being invisible and erased." ‒ Laverne Cox
109. "It only takes one voice to give others the chance to see possibilities."― Aimee Carter
110. "A strong woman looks a challenge in the eye and gives it a wink." – Gina Carey
If you're enjoying these quotes, you'll love our collection of grace quotes that will change your life.
More queen quotes and sayings
111. "I'm an icon. I'm the Queen of Limerick." – Dolores O'Riordan
112. "There's no point in fighting for the throne if you're not going to make a difference."― Rhiannon Thomas
113. "You don't turn your back on your destiny."― Trine Villemann
114. "She has been through hell, so believe me when I say, fear her when she looks into fire and smiles." – E. Corona
115. "I'd have been queen of all England, but Massachusetts haunted me and wouldn't let me go."― C.F. Joyce
116. "There is no force more powerful than a woman determined to rise." – W.E.B. Dubois
117. "Sometimes you have to sacrifice your queen to capture the king."― Aimee Carter
118. "Yes, she knows pain, but she is strong. Her heart knows no other way." – A.R. Asher
119. "A king always protects his queen."― Moosa Rahat
120. "Above all, be the heroine of your life, not the victim." – Nora Ephron
121. "I was a princess made of ashes; there is nothing left of me to burn. Now it's time for a queen to rise." – Laura Sebastian
122. "In the privacy of my dreams, I'm a warrior." – Kimberly Derting
123. "Don´t desire to be a wife so much that you accept less than a husband." – Gugu Mofokeng
124. "She was their witch queen, and they adored her." – Lev Grossman
125. "I am a queen, and I demand to be treated like a queen." – Sheila Jackson Lee
126. "It's a good thing I was born a girl, otherwise I'd be a drag queen." – Dolly Parton
Queen quotes about the strength of women
127. "One of the most courageous things you can do is identify yourself, know who you are, what you believe in, and where you want to go." – Sheila Murray Bethel
128. "I don't believe in putting on airs. I call it like I see it." — Ellen Pompeo
129. "And you, you scare people because you are whole all by yourself." – Lauren Alex Cooper
130. "Each time a woman stands up for herself, she stands up for all women." – Maya Angelou
131. "I have chosen to no longer be apologetic for my femaleness and my femininity. And I want to be respected for all of my femaleness because I deserve to be." – Chimamanda Ngozi Adichie
132. "The best protection any woman can have is courage." – Elizabeth Cady Stanton
133. "I am a strong woman with or without this other person, with or without this job, and with or without these tight pants." – Queen Latifah
134. "She never seemed shattered; to me, she was a breathtaking mosaic of the battles she's won." – Matt Baker
135. "Having a soft heart in a cruel world is courage, not weakness." – Katherine Henson
136. "A woman is the full circle. Within her is the power to create, nurture and transform." – Diane Mariechild
Queen quotes that will make you straighten out your crown and move on
137. "I am a drama queen!" — Parineeti Chopra
138. "Being queen is overrated." — Queen Rania of Jordan
139. "I think I was always a drama queen." — Kathryn Hahn
140. "I really like milk. I'm a dairy queen." — Melanie Martinez
141. "Elvis may be the King of Rock and Roll, but I am the Queen." — Little Richard
142. "I'm constantly trying to redefine what being a beauty queen is." — Catriona Gray
143. "The king died and then the queen died is a story. The king died, and then queen died of grief is a plot." — E. M. Forster
144. "My parents would always tell you that I was the crazy princess growing up. I was a drama queen." — Mallory Jansen
145. "God bless America. God save the Queen. God defend New Zealand and thank Christ for Australia." — Russell Crowe
146. "Years ago, I thought up the name Queen. It's just a name. But it's regal, obviously, and -sounds splendid." — Freddie Mercury
Queen quotes for strong women
147. "Own yourself, woman." – Toni Morrison
148. "I am no longer accepting the things I cannot change. I am changing the things I cannot accept." – Angela Davis
149. "She was a wild one; always stomping on eggshells that everyone else tip-toed on." – Kaitlin Foster
150. "Strong women don't have 'attitudes,' we have standards." – Marilyn Monroe
151. "The woman who doesn't require validation from anyone is the most feared individual on the planet." – Mohadesa Najumi
152. "I don't care what you think about me. I don't think about you at all." – Coco Chanel
153. "She is water. Strong enough to drown you, strong enough to cleanse you, and deep enough to save you." – Rupi Kaur
154. "Some women fear the fire, some simply become it." – R.H. Sin
155. "She is a queen, her soul is royalty." – Adrian Michael
156. "Women have discovered that they cannot rely on men's chivalry to give them justice." —Helen Keller
Queen Quotes about what a Strong Queen She is
157. "Perhaps I cannot make my people good, she told herself, but I should at least try to make them a little less bad." – George R.R. Martin
158. "If only Queen Elizabeth II had the intellectual, political and linguistic skills of Queen Elizabeth I, many people would support giving her some of the powers of an elected president." – A. N. Wilson
159. "I observe and remain silent." – Queen Elizabeth I
160. "Though I am not imperial, and though Elizabeth may not deserve it, the Queen of England will easily deserve to have an emperor's son to marry." – Elizabeth I
161. "Like all best families, we have our share of eccentricities, of impetuous and wayward youngsters and of family disagreements." – Queen Elizabeth II
162. "My care is like my shadow in the sun, follows me flying, flies when I pursue it, stands and lies by me, doth what I have done." – Elizabeth I
163. "Why do the Gods make kings and queens if not to protect the ones who can't protect themselves?" – George R.R. Martin
164. "The past can not be cured." – Queen Elizabeth I
165. "There was once a time when darkness shrouded the world, and the darkness had a queen." – Marie Lu
166. "In the games of queens and kings, we leave our dreams at the door and we make do with what we have. Sometimes if we're fortunate, we still manage to have a good life." – Melina Marchetta
Queen Quotes To Encourage Women
167. "I am a Queen, but I must never forget that I am a human being. And as a human being, I am put on earth to perform certain duties." ― Marion Crawford
168. "Be careful dear that you don't end up as the queen of a lonely kingdom" ― Lisa Kleypas
169. "I feel like every woman is a queen, and we should be treated as such, and we should, you know, sort of request that sort of treatment from others." ― Queen Latifah
170. "Why be a princess when you can be a Queen" ― Dido Stargaze
171. "Never underestimate women; there is a good reason the queen is the most powerful piece on the chessboard." ― Matshona Dhliwayo
172. "Queening is the courage to define and see yourself as the highest form that you can be" ― Mitta Xinindlu
173. "Every woman is a queen to the man who loves her." ― Erminda Rentoul Esler
173. "Cowards falter, but danger is often overcome by those who nobly dare." ― Queen Elizabeth II
174. "Dear Beautiful Black Queens… Never underestimate the beauty of just being YOU. Being your authentic self is powerful, sexy, and courageous!" ― Stephanie Lahart
175. "Let your inner queen's voice come through loud and clear. Be strong, be authentic, be you, and you'll do her proud." ― Queen Latifah
Powerful Queen Quotes To Appreciate Her Beauty
176. "I love photo sessions. I'm alone, I'm the queen, everyone's taking care of me." — Eva Herzigova
177. "QUEEN, n. A woman by whom the realm is ruled when there is a king, and through whom it is ruled when there is not." — Ambrose Bierce
178. "We're bigger than we ever dreamed, and I'm in love with being queen." — Lorde
179. "The concept of Queen is to be regal and majestic. Glamour is part of us and we want to be dandy." — Freddie Mercury
180. "Get money, have fun and treat a woman like she's a queen." — Puff Daddy
181. "You can call me a fat, balding, talentless old queen who can't sing, but you can't tell lies about me." — Elton John
182. "A king without a queen is not a king. The main point of creation is the union of male and female." — Yosef Yitzchak Jacobson
183. "I am still yours, Allie, my queen, my timeless beauty. You are, and always have been, the best thing in my life." — Nicholas Sparks
184. "You could be the king but watch the queen conquer!" — Nicki Minaj
185. "Besides, if you are who you claim to be, that makes you my true queen. Therefore, you have my loyalty." — Marissa Meyer
Queen Quotes to Make Her Feel Special
186. "On respect for the Queen: When I lick a stamp I always do it with my eyes closed." ― Russell Brand
187. "If the Black woman is a queen, and I believe that she is, why would I settle for something less than royal?" ― Runoko Rashidi
188. "Women have been called queens for a long time, but the kingdom given them isn't worth ruling." ― Louisa May Alcott
189. "She been looking like a queen in a sailor's dream." ― Gordon Lightfoot
190. "A woman with romance in her life lived as grandly as a queen, because her heart was treasured." ― Nora Roberts
191. "Sweet Truth is a queen proud and mighty—Her throne is in heaven above." ― Ardelia Cotton Barton
192. "When I walk the streets, kings and queens step aside, every woman I meet, they all stay satisfied." ― George Thorogood
193. "In no man's land, alien is the queen." ― Toba Beta
194. "I decided early on that I was going to put on my crown and rule my world by acting right and treating myself like a queen." ― Queen Latifah
195. "A woman wants to rule like a queen by involving herself in all activities of the house; and a man who fools oneself says often that she is multitasking to manage everything well." ― Anuj Somany
Classy Queen Quotes For Her
195. "I am a queen" she observes. "It is natural that men are going to gather round me, hoping for a smile." ― Philippa Gregory
196. "I saw in a flash that if I shrank from this there would at once be less Queen and more Orual in me." ― C.S. Lewis
197. "Long live the King, said the Queen. Without him I would have been nothing." ― Ljupka Cvetanova
198. "I am not yet come of age, my lord. How can I be queen?" asked Constance fearfully." ― Laurel A. Rockefeller
199. "She was mine. She was all fucking mine.I was the king of the jungle, and the woman beside me was my queen." ― J.J. McAvoy
200. "Sometimes he thinks of me as a child he must protect, and sometimes as a woman he would like to bed, but does he ever truly see me as his queen?" ― George R.R. Martin
201. "Treat me like a king and I'll treat you like a queen……….Treat me like a queen and off with your head" ― Josh Stern
202. "What is autumn? Here is a very simple definition: Autumn is a Queen, Queen of Beauty!" ― Mehmet Murat ildan
203. "Sometimes a Pawn is enough to change the whole game and those who ignore the importance of it, are liable to lose their Queen." ― Sandeep Sharma
204. "They don't want a princess. They want a war queen." ― JM Robison
Queen Quotes To Inspire Women
205. "My brow still burns from the kiss of the queen; I have dreamed in the grotto where the siren swims . . ." ― Gérard de Nerval
206. "You look like Snow White killed the queen and stole the mirror." ― V.E. Schwab
207. "Come on, fight me as a queen would." ― Rebecca Ross
208. "If you want to find a King, act like a Queen." ― Tamerlan Kuzgov
209. "No one can break the Queen of the First Circle." ― Michaela Haze
210. "The queen sees me coming, turns toward us and waits, with a killer's patience, for me to reach the chancel steps." ― Philippa Gregory
211. "The more you get in touch with your sensuality, the more you release your man's potential to treat you like a queen." ― Lebo Grand
212. "When dealing with relationships in life you can not play your queen of hearts like a three of clubs." ― Angel Moreira
213. "The most truly eccentric dresser in this country is the Queen, who pays no attention whatsoever to fashion" ― Kate Fox
214. "A woman of virtue does not desert her throne, even when stones are thrown. She sits tight on her throne, because she is a Queen." ― Gift Gugu Mona
215. "Whatever may come about, I will be your queen, and I will teach you to respect me." — Voltaire
216. "I'll make my heaven to dream upon the crown; Answer no more, for thou shalt be my queen." — William Shakespeare
217. "Be my king, and I will be your queen; and we will rule here as we please." — Eneas Sweetland Dallas
218. "You treat me like a queen. You treat me like a princess. You treat me like a movie star. You treat me like the rich and famous." — Lisa Lee Hairston
219. "Every woman on the planet wants a man that treats her like a queen and showers her with love, affection and gifts." — Tye Coe
220. "And you know, I am a queen. And every Black woman is a queen." — Verta A. Taylor
221. "I am not a woman, I am a queen; you are not a man, but, for me, a subject." — Alexandre Dumas
222. "You are My Queen, My Bride. I want you to rest in My love and rest in My provision for you. I will always keep My Queen, My Bride satisfied because I am a kind and generous King." — Beth C. Walker
223. "It is my business to wait on you, and see that everything is made nice for you, and have you treated like a queen." — William Black
Which of these queen quotes was your favorite?
All women deserve to be treated like queens.
Whether it's a relative, a friend, or a mentor, make the women in your life feel appreciated, valued, and special today and every day.
Many of us attribute our success and achievements to the women in our lives.
We hope the above quotes have inspired you to reflect on the ways we can support, encourage, love, and empower them.
Did you enjoy these queen quotes?
Which of the quotes was your favorite?
Let us know in the comment section below.
Also, don't forget to share with your friends and followers.