25 Revealing Judy Garland Quotes About The Star's Life
These Judy Garland quotes highlight what her career and life were like.
Judy Garland is one of the most recognizable faces and voices in Hollywood, but her story is also one of the saddest.
Almost everyone knows that she played Dorothy Gale in the Wizard of Oz and sang Somewhere Over the Rainbow.
However, what you might not know is that before she signed on with MGM, Frances Ethel Gumm was part of a vaudeville group with her sisters, known as The Gumm Sisters.
Judy was 13 when she signed on with MGM, which was difficult for the studio to handle.
She was too old for the traditional child roles but too young for the adult female roles.
This, coupled with the fact that beautiful starlets surrounded her, created extra anxiety for the teenager about her appearance.
To make matters even worse for the impressional young girl, studio chief Louis B. Mayer referred to her as his "little hunchback."
Keep reading these Judy Garland quotes, and you can hear how lonely she was.
If you like this article, we suggest you explore our most popular quotes article, a list of short inspirational quotes for daily encouragement.
Look through our complete collection of inspirational quotes here.
Judy Garland quotes about her parents
1. "I wasn't close to my father, but I wanted to be all my life. He had a funny sense of humor, and he laughed all the time – good and loud like I do. He was a gay Irish gentleman and very good-looking. And he wanted to be close to me, too, but we never had much time together." ― Judy Garland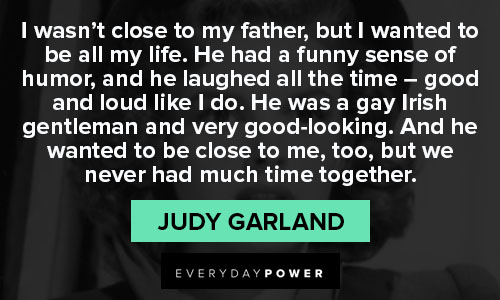 2. "My father's death was the most terrible thing that happened to me in my life." ― Judy Garland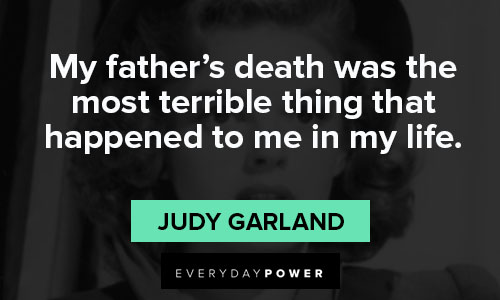 3. "My mother had a marvelous talent for mishandling money – mine." ― Judy Garland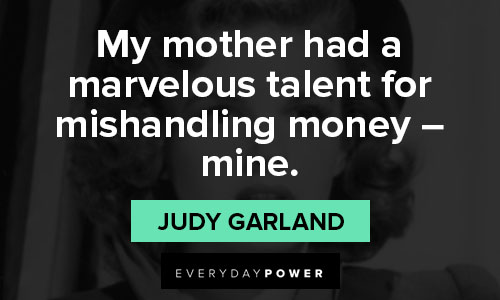 Judy Garland quotes about loneliness and sadness
4. "If I am a legend, then why am I so lonely?" ― Judy Garland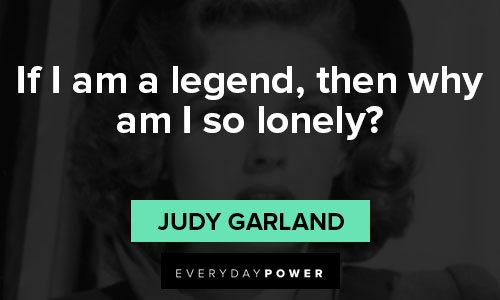 5. "I can live without money, but I cannot live without love." ― Judy Garland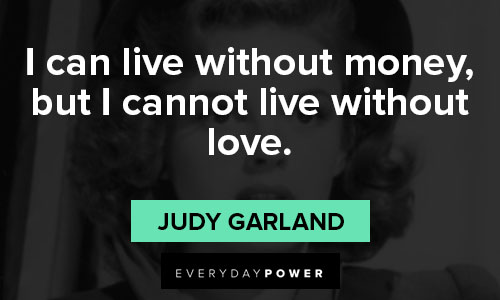 6. "I was always lonesome. The only time I felt accepted or wanted was when I was on stage performing. I guess the stage was my only friend: the only place where I could feel comfortable. It was the only place where I felt equal and safe." ― Judy Garland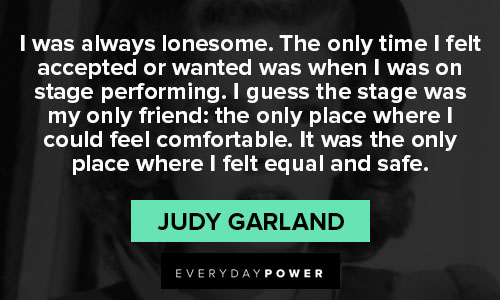 7. "It's lonely and cold on the top… lonely and cold." ― Judy Garland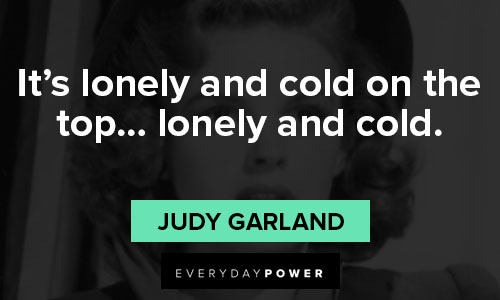 8. "Hollywood is a strange place if you're in trouble. Everybody thinks it's contagious." ― Judy Garland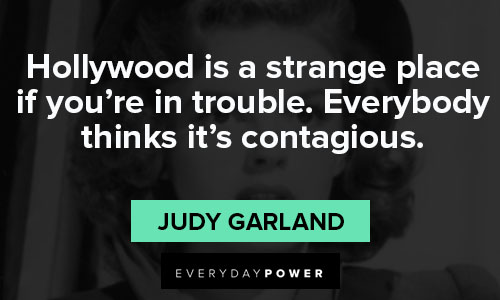 9. "You are never so alone as when you are ill on stage. The most nightmarish feeling in the world is suddenly to feel like throwing up in front of four thousand people." ― Judy Garland
If you're enjoying these quotes, make sure to read our collection of lonely quotes to help you navigate solitide.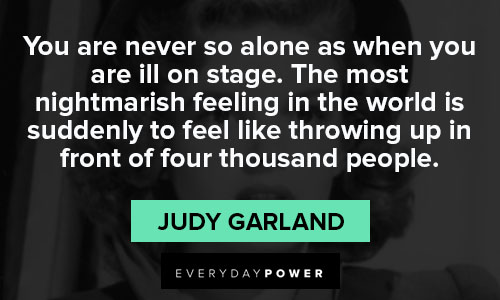 10. "In the silence of night, I have often wished for just a few words of love from one man, rather than the applause of thousands of people." ― Judy Garland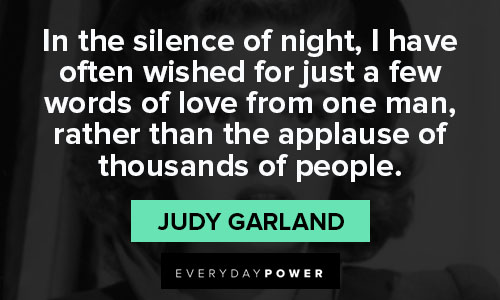 Judy Garland quotes that reveal her mental state
11. "I've always taken 'The Wizard of Oz' very seriously, you know. I believe in the idea of the rainbow. And I've spent my entire life trying to get over it." ― Judy Garland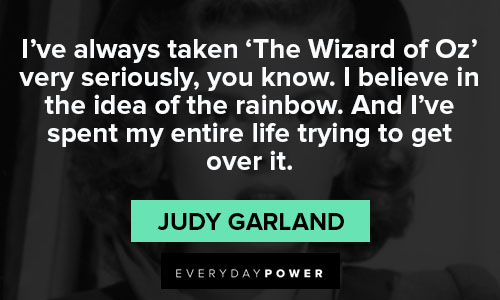 If you're enjoying these quotes, make sure to read our collection of Wizard of Oz quotes from the iconic movie.
12. "How strange when an illusion dies. It's as though you've lost a child." ― Judy Garland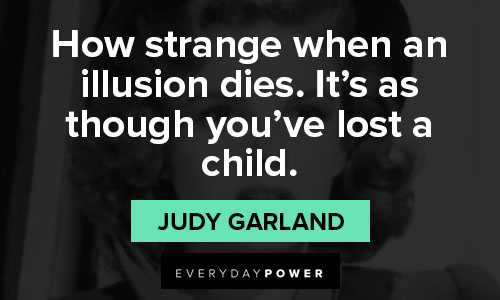 13. "I think there's something peculiar about me that I haven't died. It doesn't make sense, but I refuse to die." ― Judy Garland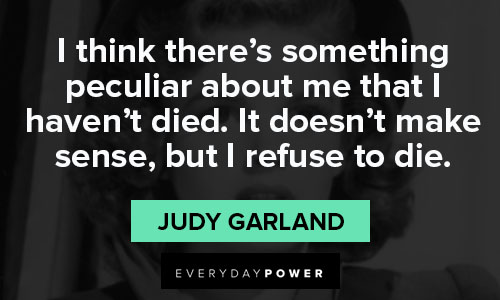 14. "From the time I was thirteen, there was a constant struggle between MGM and me – whether or not to eat, how much to eat, what to eat. I remember this more vividly than anything else about my childhood." ― Judy Garland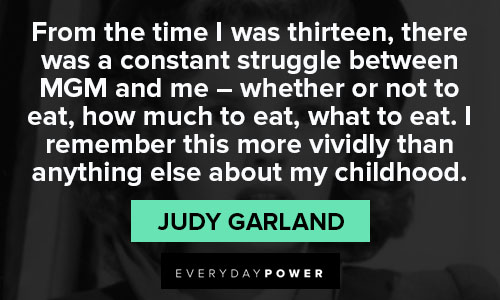 15. "There have been times when I have deliberately tried to take my life… I think I must have been crying for some attention." ― Judy Garland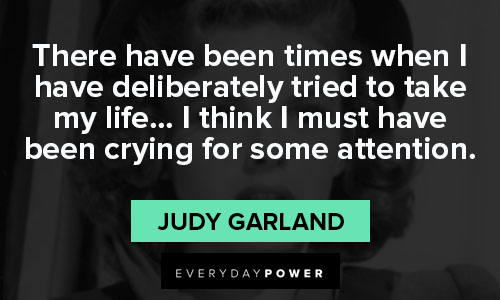 Judy Garland quotes that showcase what her career was like
16. "If you have to be in a soap opera, try not to get the worst role." ― Judy Garland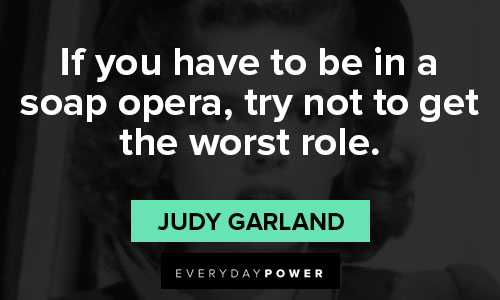 17. "I'm a woman who wants to reach out and take 40 million people in her arms." ― Judy Garland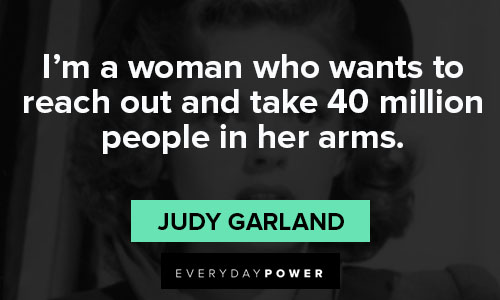 18. "I was born at the age of twelve on an MGM lot." ― Judy Garland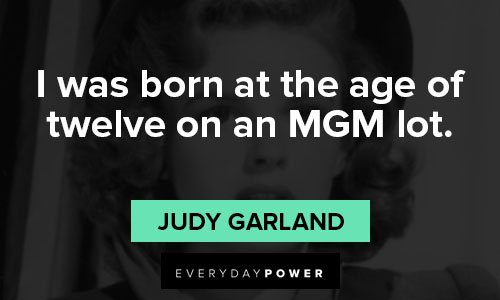 19. "I'm the original take-orders girl." ― Judy Garland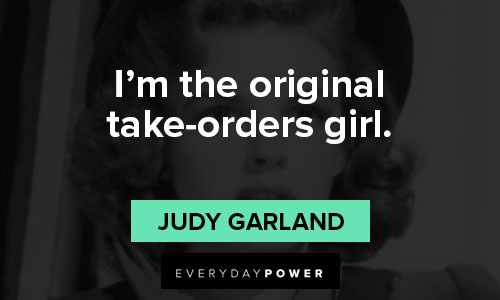 20. "There have been a lot of stories written about me, some of them fantastically distorted." ― Judy Garland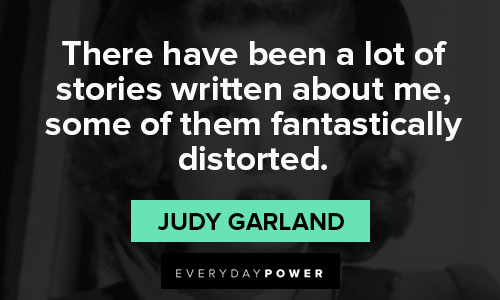 21. I don't always have to sing a song. There is something besides 'The Man That Got Away' or 'Over the Rainbow' or 'The Trolley Song.' There's a woman. There are three children. There's me! There's a lot of life going here." ― Judy Garland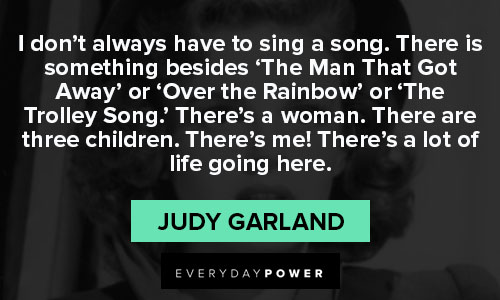 22. "In our house, the word of Louis B. Mayer became the law." ― Judy Garland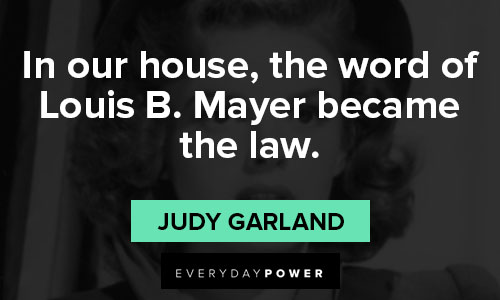 23. "I think that I have every right to write a book. I think I'm interesting. I have perspective about me." ― Judy Garland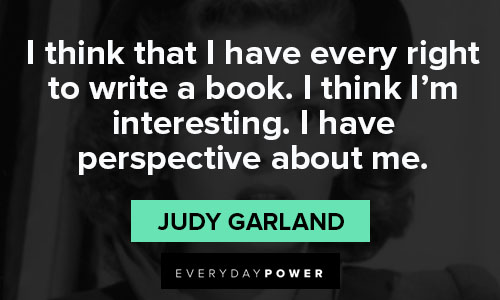 24. "I try to bring the audience's own drama – tears and laughter they know about – to them." ― Judy Garland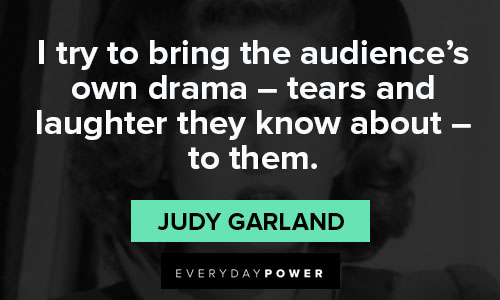 Inspirational and random Judy Garland quotes
25. "Always be a first-rate version of yourself, instead of a second-rate version of somebody else." ― Judy Garland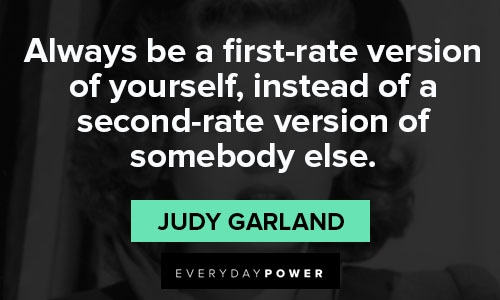 Which of these Judy Garland quotes resonated with you best?
Judy suffered from her insecurities at an age when most girls go through something similar, but the pressure of being a child star was a lot for her to handle.
The studio execs did everything they could to manipulate her appearance, including managing her attire, adding rubber discs to her nose, and capping her teeth.
Even though she maintained a healthy weight, the studio kept putting her on incredibly restrictive diets.
The poor girl's father also passed away from meningitis when she was only 13.
Garland also stated that the studio used to give her, and fellow stars, amphetamines, and barbituates to meet filming demands.
She would suffer from addiction her entire life, but the studio denied any hand in her habit.
The trauma didn't end there for Judy Garland.
Her first husband, David Rose, proposed on her 18th birthday.
They agreed to wait a year after the studio disapproved because he was already married to someone else.
Judy had an abortion the year they were married because the pregnancy hadn't been 'approved.'
She had an affair with Tyrone Powers during her marriage, which resulted in a second abortion.
Judy would later marry director Vincente Minnelli and give birth to her daughter Liza.
Two years after her marriage, while filming The Pirate, Judy had a nervous breakdown, resulting in her first suicide attempt.
Garland attempted a second suicide in 1950 after being released from the studio for her erratic behavior while filming.
After several failed attempts, Judy divorced her third husband, claiming he had struck her on several occasions and was mentally cruel.
He had also been her manager, and her finances were in ruin.
She married her tour manager, but they divorced quickly.
Her fifth husband and club manager, Mickey Deans, would find her dead on their bathroom floor days after her 47th birthday.
Despite all the awards and achievements, it is clear that loneliness, sadness, and depression played a considerable part in this beautifully talented woman's life.
Which of these Judy Garland quotes and sayings resonated with you best?
What was your favorite movie that Judy Garland starred in?
Let me know in the comments below.
I think I will watch an old Judy Garland movie marathon and pay tribute to the cultural icon.
If you liked these Juday Garland quotes, you will also enjoy our Ave Gardner Quotes!