Attack on Titan Quotes From The Popular Manga Franchise
These Attack on Titan quotes come from some of the fan favorites, including Eren Jaeger, Armin Arlert, and Mikasa Ackerman.
Attack on Titan started out as a manga in 2009.
However, in a little over a decade, it became one of the best-selling manga series ever.
It also snowballed into a popular anime series.
Despite being banned in China, the show and the manga series have a giant fan base!
It was such a success that a live-action movie adaptation was developed, and Marvel invited the franchise to participate in a crossover comic.
Just why is a popular anime series like Attack on Titan banned in China?
Well, they first banned the show in 2015, along with several other popular anime series.
The Chinese Ministry of Culture bans anything they feel is inappropriate for public consumption.
Since the anime series included either "scenes of violence, pornography, terrorism and crimes against public morality," the Chinese government bans it.
China is known for having an incredibly restrictive media policy, so it isn't surprising that they banned this kind of anime.
That doesn't stop the rest of the world from watching it or reading about Attack on Titan.
Check out these inspiring, funny, and even dark Attack on Titan quotes, and learn more about the movie!
Don't forget to also check out these Eren Yeager quotes.
If you enjoy this article, check out our most popular quote article, a list of short inspirational quotes for daily motivation.
Browse our entire collection of inspirational quotes for more motivating ideas and concepts.
AOT quotes from Eren Jaeger
1. "If you think reality is just living comfortably and following your own whims, can you seriously dare to call yourself a soldier?" ― Eren Jaeger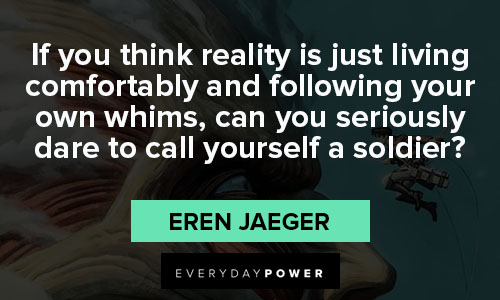 You will also enjoy our article on Jabba the Hutt quotes.
2. "What is the point if those with the means and power do not fight?" ― Eren Jaeger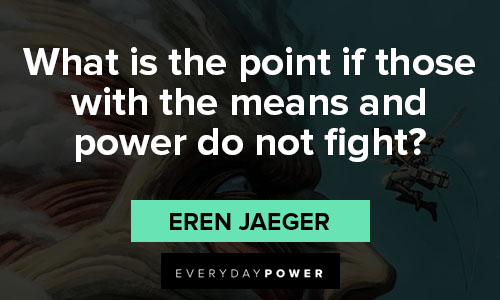 You will also enjoy our article on sad anime quotes.
3. "I don't have time to worry if it's right or wrong, you can't hope for a horror story with a happy ending." ― Eren Jaeger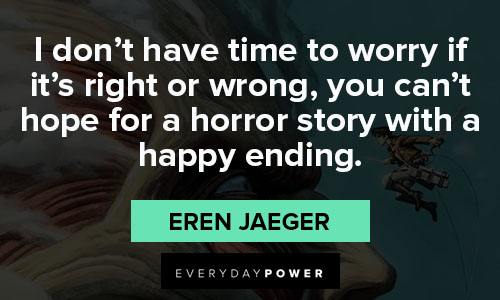 4. "I want to see and understand the world outside. I don't want to die inside these walls without knowing what's out there." ― Eren Jaeger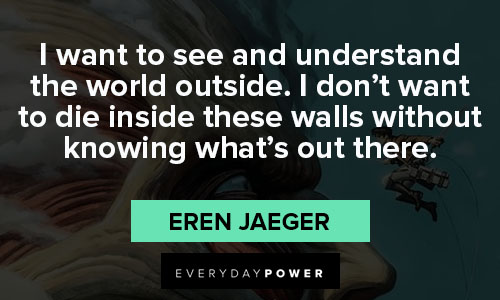 5. "Nothing can suppress a human's curiosity." ― Eren Jaeger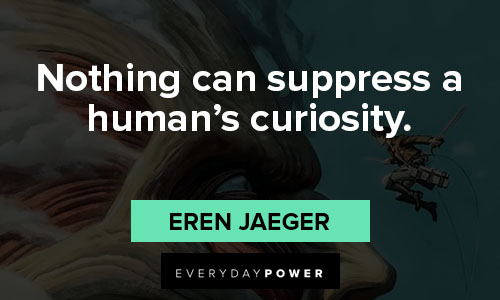 6. "I'll slaughter you all… and take back what you stole… All of it!" ― Eren Jaeger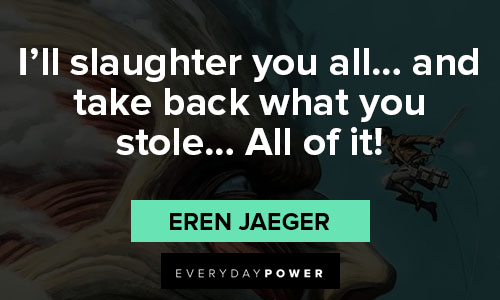 7. "If you win, you live. If you lose, you die. If you don't fight, you can't win." ― Eren Jaeger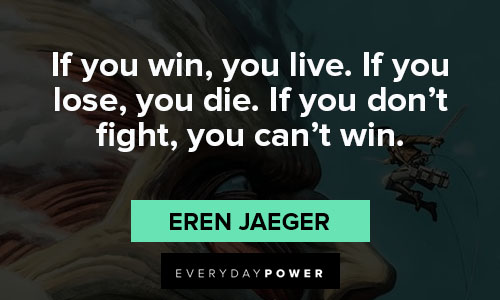 8. "I knew… you were more of a hero than anyone else." ― Eren Jaeger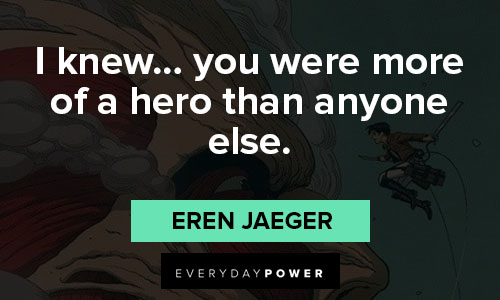 9. "I don't have time to worry if it's right or wrong, you can't hope for a horror story with a happy ending." ― Eren Jaeger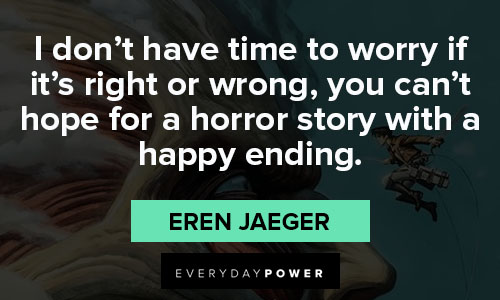 10. "I can do this. No, we can do this! Because we've all been special since the day we were born. We're free!" ― Eren Jaeger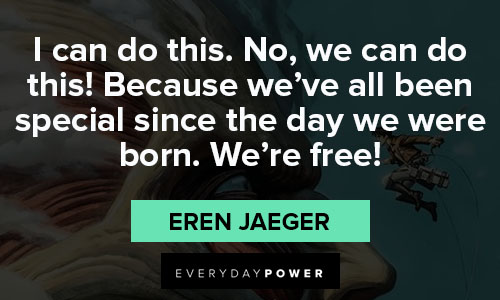 11. "No matter how messed up things get, you can always figure out the best solution." ― Eren Jaeger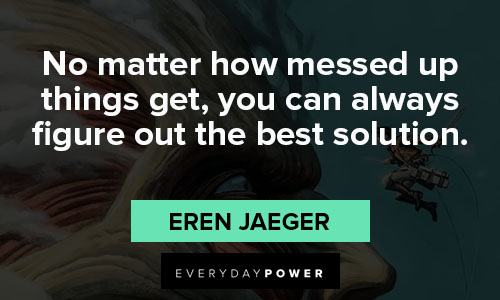 12. "I disposed of some dangerous beasts. Mere animals that just happened to resemble humans." ― Eren Jaeger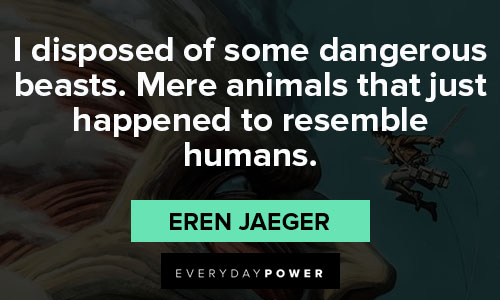 If you enjoy this article, check out our collection of One Piece quotes from your favorite characters.
Best Attack on Titan quotes from Armin Arlert
13. "People are crazy for believing that these walls will protect us forever. Even though the walls have been intact for the past 100 years, there's nothing that can guarantee they won't be broken down today." ― Armin Arlert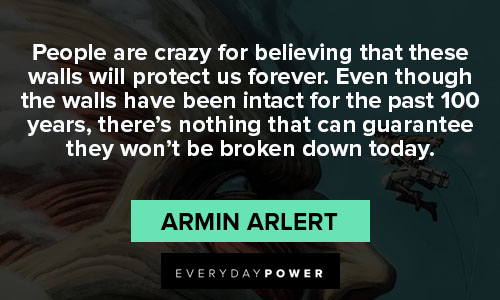 14. "You're only resorting to physical abuse because you can't prove that I'm wrong." ― Armin Arlert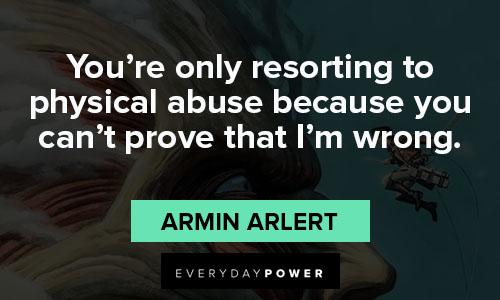 15. "When people are faced with a situation they don't understand, it's easy for fear to take hold." ― Armin Arlert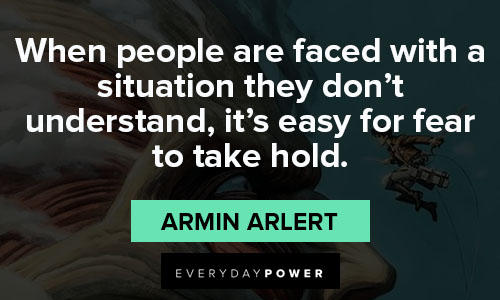 16. "People who can't throw something important away, can never hope to change anything." ― Armin Arlert Armin Arlert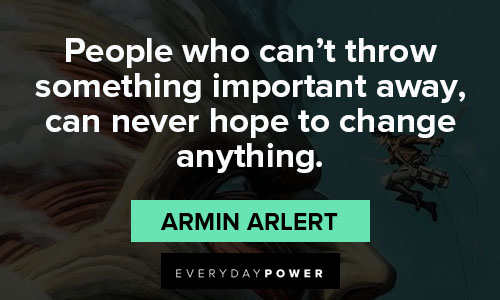 17. "I'm leaving it all with Eren. My dream, my life, everything. I have nothing else left to lose. I'm sure Eren will be able to reach the ocean. He'll have to see it for both of us." ― Armin Arlert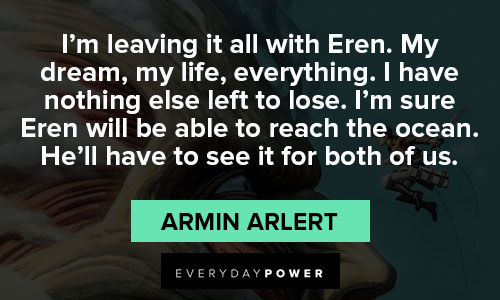 18. "To surpass monsters, you must be willing to abandon your humanity." ― Armin Arlert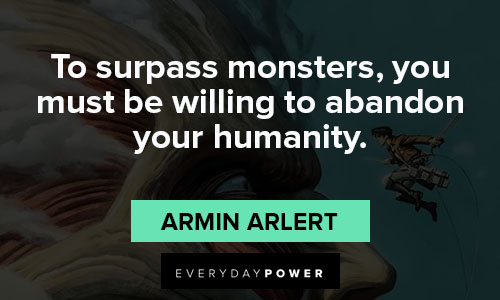 19. "Willpower alone isn't enough in battle." ― Armin Arlert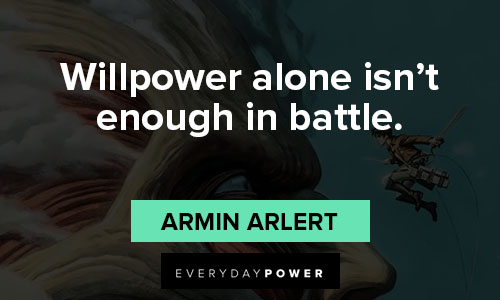 20. "We're going to explore the outside world someday, right? Far beyond these walls, there's flaming water land made of ice, and fields of sand spread wide. It's the world my parents wanted to go to." ― Armin Arlert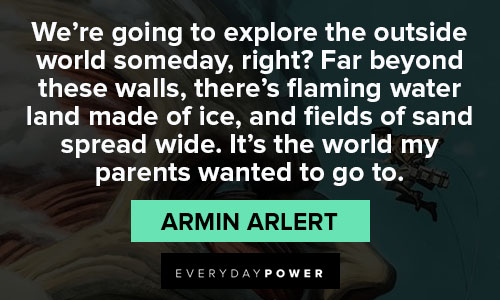 21. "I don't like the terms good person or bad person because it's impossible to be entirely good to everyone, or entirely bad to everyone. To some, you are a good person, while to others you are a bad person." ― Armin Arlert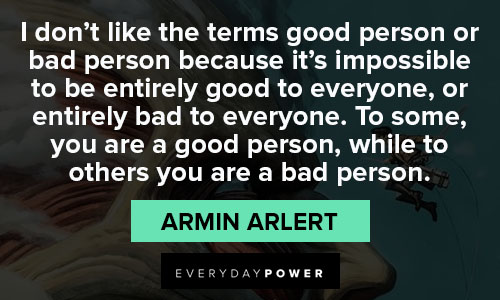 22. "The strong feed upon the weak. It's such an obligingly simple rule. Except in this world, my friends tried to be strong." ― Armin Arlert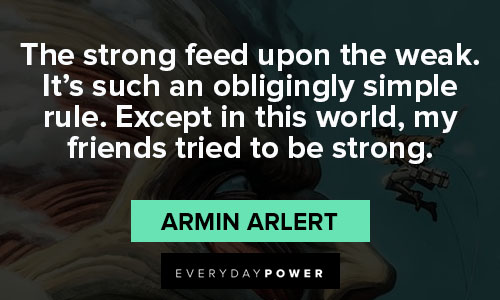 23. "Everyone can make a choice after they have learned what it will result in. It is so easy to say we should have done it this way afterward. But you can't know what your choice will result in before actually choosing." ― Armin Arlert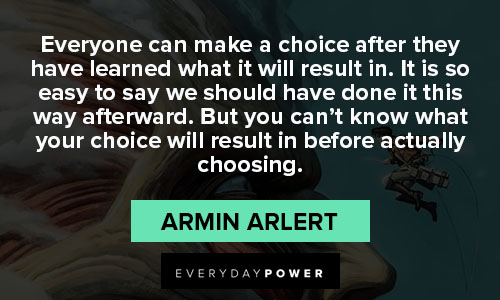 24. "I was, I am, and I remain a soldier, sworn to devote my heart and soul to the restoration of humankind. There is no greater glory than dying for that belief!" ― Armin Arlert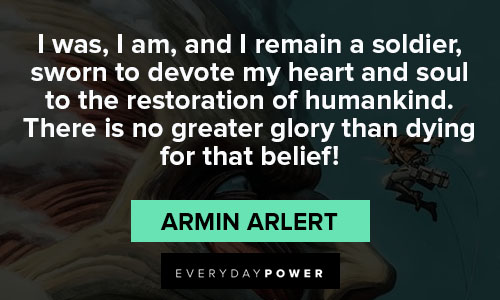 25. "I'd rather die than become a burden." ― Armin Arlert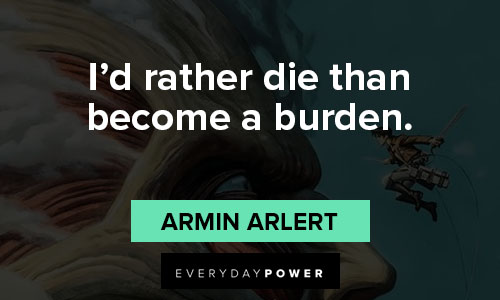 If you enjoy this article, check out our collection of Fruits Basket quotes from the manga and anime series.
Which of these Attack on Titan quotes is your favorite?
The Japanese post-apocalyptic action film based on Attack on Titan premiered in 2015 with the first part.
The second part premiered later that year in September and was subtitled End of the World.
The films are directed by Shinji Higuchi and were written by Yūsuke Watanabe and Tomohiro Machiyama.
The cast includes Haruma Miura (Eren Yeager), Kiko Mizuhara (Mikasa Ackerman), and Kanata Hongō (Armin Arlert).
The story follows the manga and the anime regarding the plot of the story.
Eren Yeager, and his childhood friends Mikasa Ackerman and Armin Arlert, join the Survey Corps.
This is a military corporation committed to fighting the massive humanoids (Titans) that attack their cities despite walls to keep them safe.
Are you an Attack on Titan fan?
Do you prefer the manga, the anime series (which you can watch on Netflix), or the live-action film?
Before you go, take a moment and check out these Levi Ackerman quotes.
Let us know in the comment section below.