25 Tina Belcher Quotes From The Eldest Child on Bob's Burgers
These Tina Belcher quotes will give you a pretty good idea of what she is like.
A few of them may make you laugh or even feel inspired.
Just who is Tina Belcher?
Well, if you are a fan of Bob's Burgers, the Fox Network's American sitcom, then you recognize her as the eldest Belcher child.
If you haven't seen Bob's Burgers, don't worry.
Tina Belcher is a female character, but she is voiced by Dan Mintz.
This helps explain her signature low and monotone voice.
She wears glasses, a sky blue, short-sleeved t-shirt accompanied by a short, navy-blue pencil skirt, and white tube socks with red stripes on the bottom.
Her black sneakers, with white tips, and a yellow hair clip on the right side of her head complete her "look".
She works part-time at the family restaurant.
The rest of her time is usually spent being the voice of reason amongst her siblings.
Tina is quite the personality, as you will discover by reading through these Tina Belcher quotes about everything from zombies to romance.
Don't forget to also check out these Drop Dead Fred quotes from the 90s cult classic about imaginary friends.
If you like this article, we suggest you explore our most popular quotes article, a list of short inspirational quotes for daily encouragement.
Read more related content on our inspirational quotes category page.
Tina Belcher quotes on love, relationships, and picking up guys
1. "I've logged over 3,000 fantasy hours on my relationship." — Tina Belcher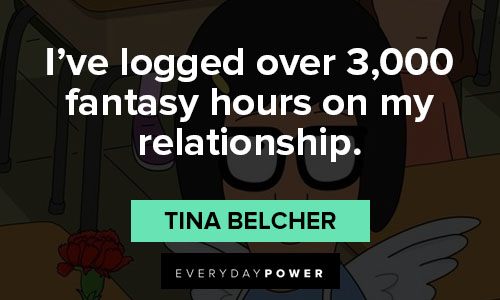 2. "Is it possible to be in love with 25 people at once?" — Tina Belcher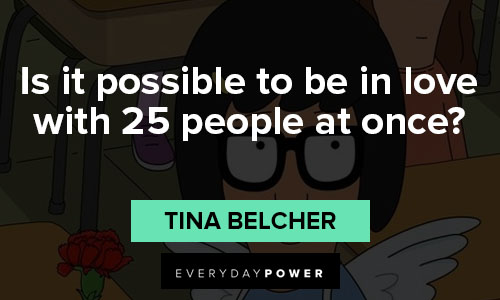 3. "My heart just pooped its pants." — Tina Belcher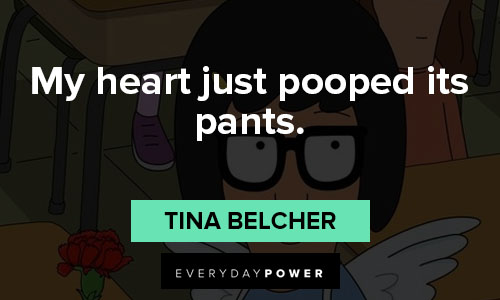 4. "If he has a butt for touching and lips for kissing, I'm going for that." — Tina Belcher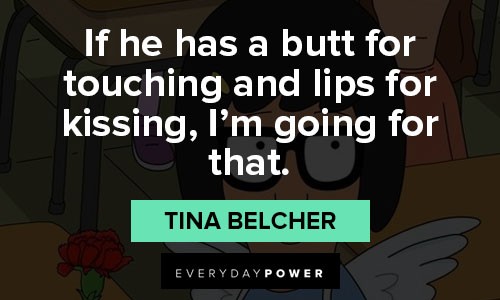 5. "We can make this work. We can work out a dating wheel, just like a chore wheel. Let 's put the try in triangle." — Tina Belcher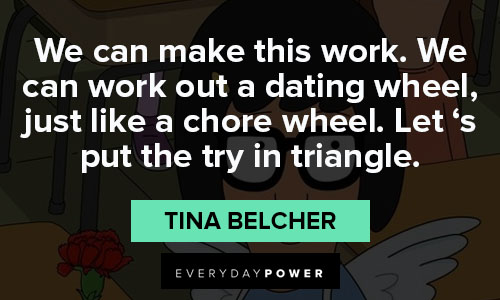 6. "Flirt a little, wink a little." — Tina Belcher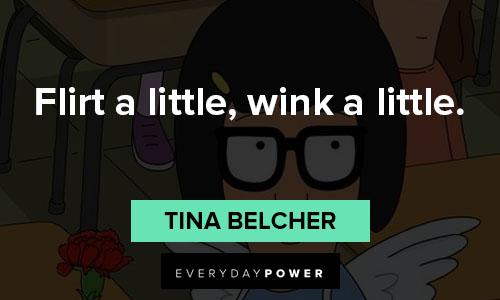 7. "Here's a bunch of numbers that may look random, but they're my phone number." — Tina Belcher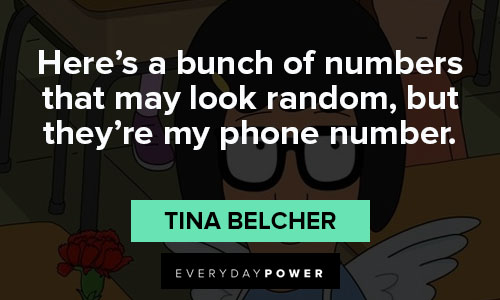 8. "Brr, it sure is cold in here. I wish some strong, chivalrous man would lend me his jacket" — Tina Belcher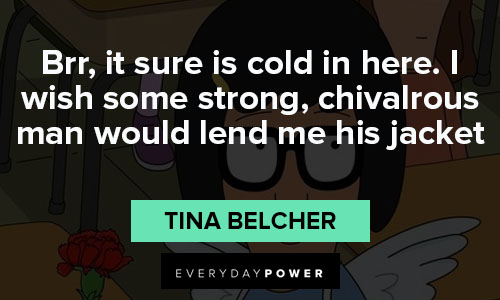 9. "The hand wants what the hand wants. I can't tell where your back ends and your butt begins." — Tina Belcher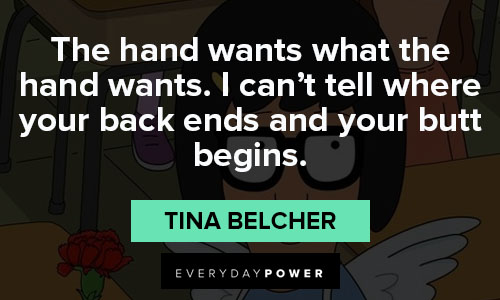 10. "Time for the charm bomb to explode." — Tina Belcher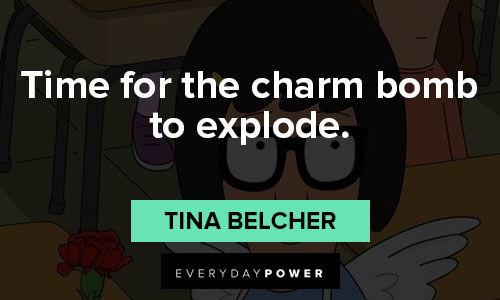 Inspirational and feminist Tina Belcher quotes
11. "I'm a smart, strong, sensual woman." — Tina Belcher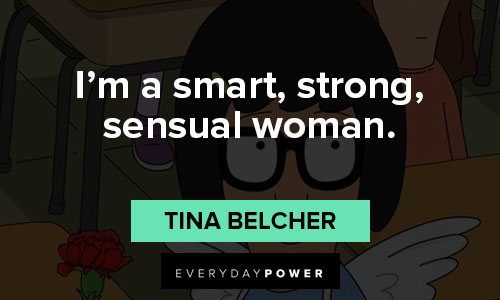 12. "Dad, if you believe you're beautiful, you will be. I did." — Tina Belcher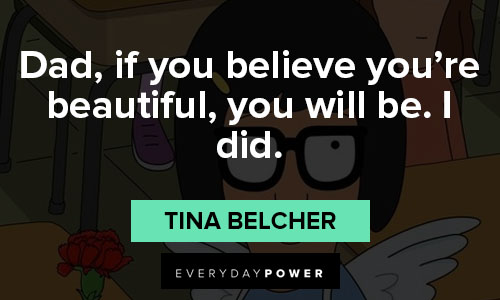 13. "I don't need a boy to pay attention to me. I'll pay attention to myself." — Tina Belcher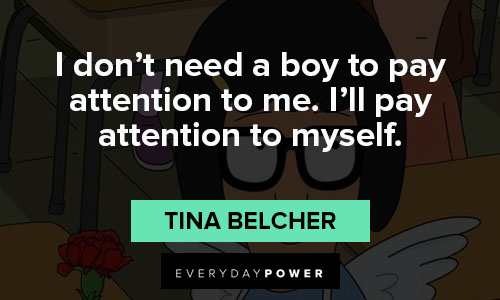 14. "Don't hide your ta-tas under a bush." — Tina Belcher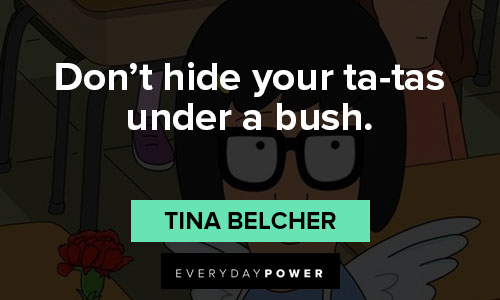 15. "I'm no hero. I put my bra on one boob at a time like everyone else." — Tina Belcher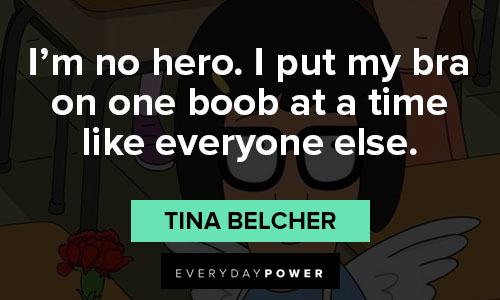 16. "I'm sick of acting like a dumb, helpless girl, so a hot boy who dances his feelings will notice me. That's not who I am." — Tina Belcher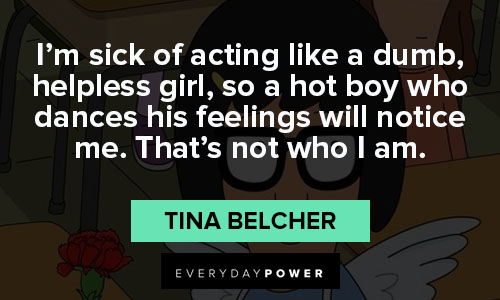 17. "Nathan, you might be in this for the wrong reasons, I think we should break up." — Tina Belcher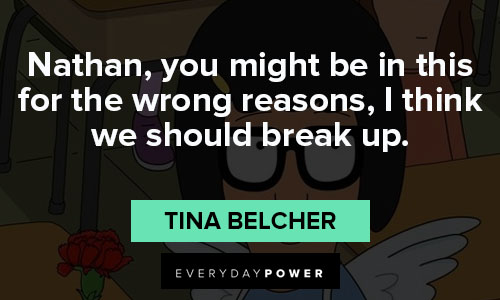 18. "No! Stop interpreting! This whole date has been about you, not me! Jimmy Jr., I don't know if you can understand me, but this is the date I wanted. We'd watch a movie, probably 27 Dresses, then we'd walk along the beach at low tide and find a cozy place to sit in the kelp and kiss." — Tina Belcher
19. "It's called fate, and it's great." — Tina Belcher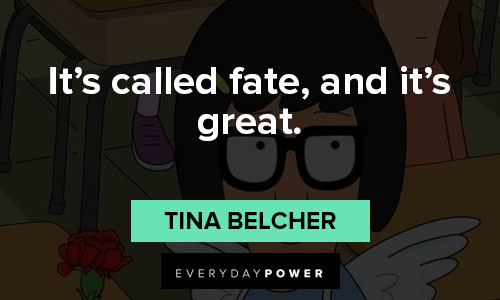 20. "This is the biggest man cave ever, and Tina's going spelunking." — Tina Belcher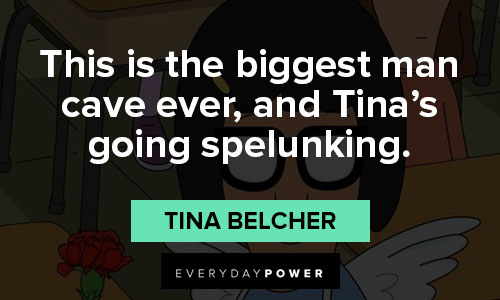 Funny Tina Belcher quotes
21. "Your ass is grass and I'm gonna mow it." — Tina Belcher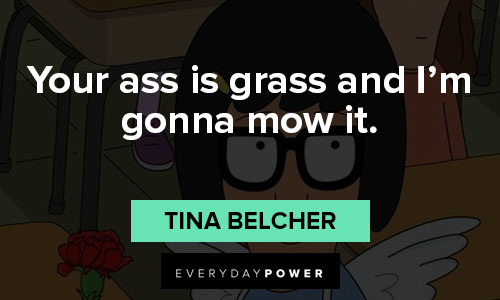 22. "The plots got a lot of holes, but also a 'hole' lot of heart." — Tina Belcher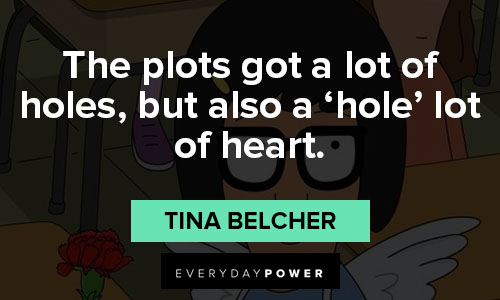 23. "'Danger' is my middle name. But I spell it R-U-T-H." — Tina Belcher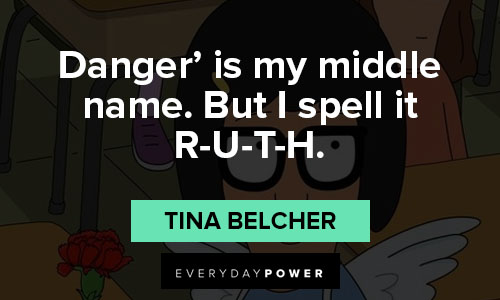 24. "If boys had uteruses, they'd be called duderuses." — Tina Belcher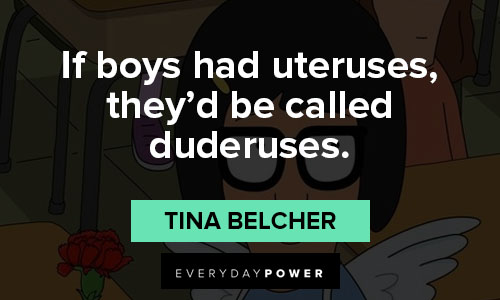 25. "I have a complicated relationship with zombies. They're dangerous, but I love their swagger." — Tina Belcher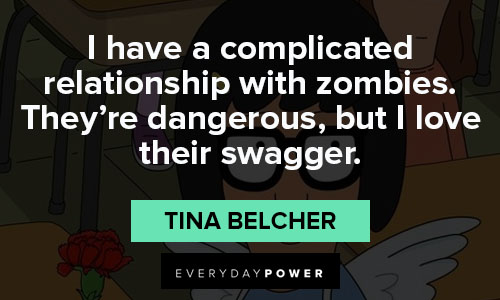 Which of these Tina Belcher quotes is your favorite?
Tina's plot themes in the show revolve around her transitioning from child to young adult.
This is evidenced by her shyness around her peers, and her desire to lead a romantically satisfying life.
You might have noticed from the Tina Belcher quotes that she has a thing for butts.
And a complicated relationship with zombies.
She also really likes horses and boys and has an on-again-off-again relationship with Jimmy Jr. (the son of Bob's biggest rival, Jimmy Pesto).
Her siblings attest that Tina has written erotic fanfiction of several television shows and movies.
They believed she has moved on to "erotic friend fiction", in which she uses real-life people.
At the start of the series, Tina was aged 12 but since the episode "Sheesh! Cab, Bob?" has been 13.
She sings songs about puberty in a club at school, called the Hormone-iums.
She doesn't really do all that great in school, and there is even an episode where the guidance counselor calls her a "dum-dum."
What do you like most about Bob's Burgers or Tina Belcher?
Do you have any other favorite Tina Belcher quotes and sayings to add?
Let us know using the comment section below.