25 Fruits Basket Quotes From the Manga and Anime Series
These Fruits Basket quotes from your favorite characters are just what you need while you wait for the highly anticipated reboot Fruits Basket: Prelude!
If you aren't sure what Fruits Basket is, then you have come to the right place!
Fruits Basket is a Japanese manga series originally serialized in the semi-monthly Japanese shōjo manga magazine Hana to Yume from 1998 to 2006.
It was written and illustrated by Natsuki Takaya.
You might think this is a strange name for a manga series, but the title comes from the name of a popular game played in Japanese elementary schools.
The game is a bit like musical chairs and tag.
The series follows the story of Tohru Honda, a young orphan girl who meets Yuki, Kyo, and Shigure Sohma.
She learns that the thirteen members of the Sohma family are possessed by the animals of the Chinese zodiac.
Most everyone knows of the 12 animals of the zodiac: rat, ox, tiger, rabbit, dragon, snake, horse, sheep, monkey, rooster, dog, and the boar.
The missing 13th animal, according to legend, is the cat.
However, all 13 animals are part of the curse attributed to the Sohma family.
They transform into their animal forms when they are weak or feeling stressed.
Their animal forms are also triggered when they are embraced by anyone of the opposite sex that is not possessed by a spirit of the zodiac.
Enjoy these Fruits Basket quotes!
Don't forget to also check out these Attack on Titan quotes from the popular manga franchise.
Check out our most popular quote article, a list of short inspirational quotes for daily inspiration.
Our inspirational quotes category page has all of our motivational quotes for all the different areas of life.
Fruits Basket quotes from Tohru Honda
1. "The scariest and the most painful thing is to be hated by someone you truly love."― Tohru Honda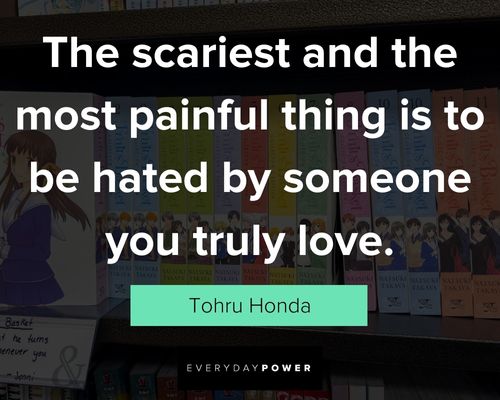 You will also enjoy our article on sad anime quotes.
2. "It's not always easy to see the good in people. In some people, you might even doubt that it's there at all." ― Tohru Honda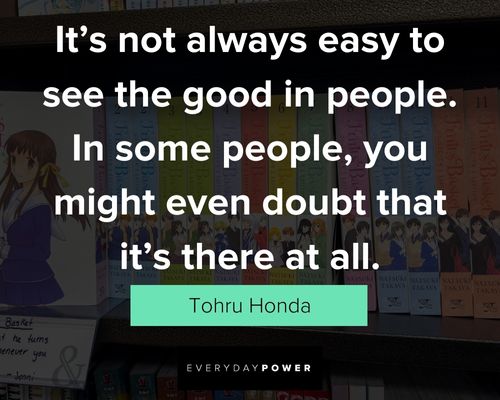 You will also enjoy our article on fruit quotes.
3. "My mom told me it's better to trust people than to doubt them. She said that people aren't born with kind hearts." ― Tohru Honda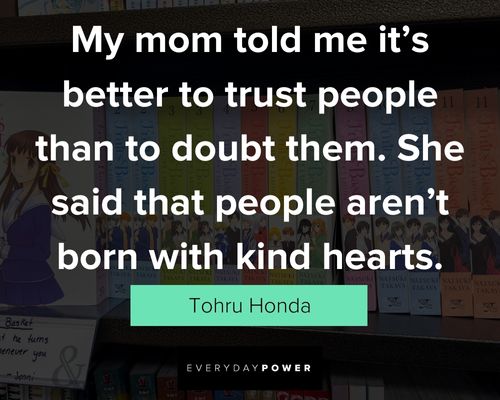 4. When we're born, all we have are desires for food and material things. Selfish instincts, I guess. ― Tohru Honda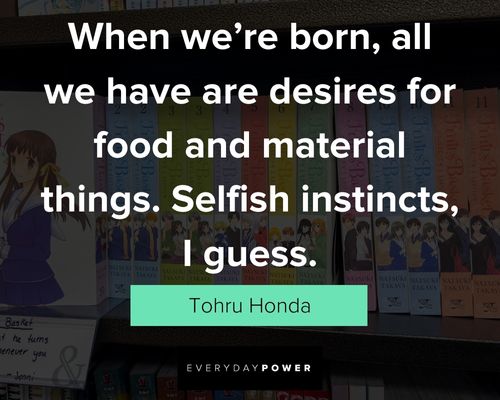 5. "She said that kindness is something that grows inside of each person's body, but it's up to us to nurture that kindness in our hearts." ― Tohru Honda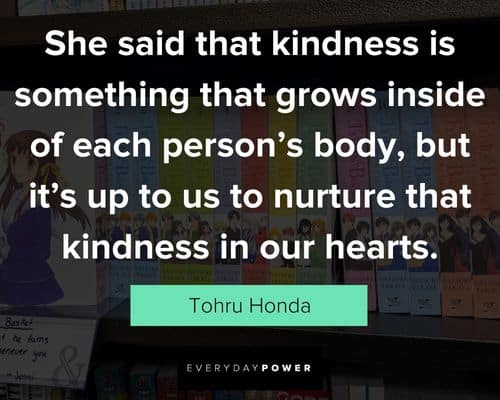 6. "A conscience grows, just like the body. It's bred within your heart. That's why the shape of people's kindness is so different." ― Tohru Honda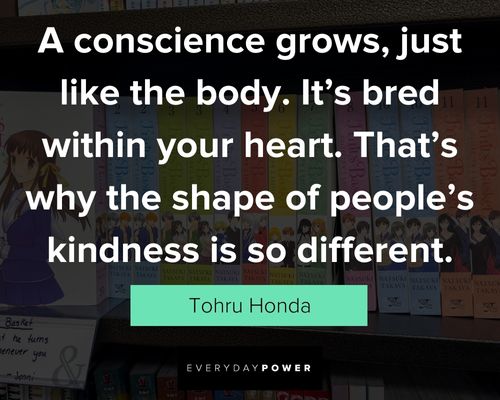 7. "You can erase my memory, but afterwards, promise you'll still be my friend?" ― Tohru Honda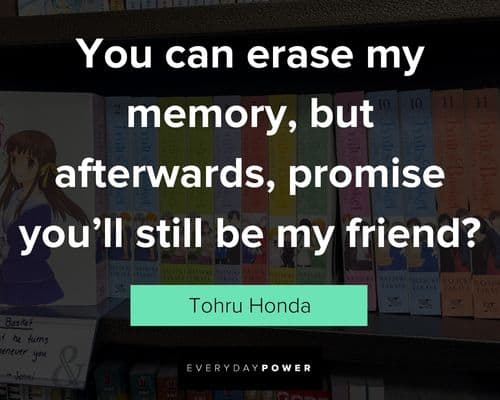 8. "My happiness comes from the kindness of those around me." ― Tohru Honda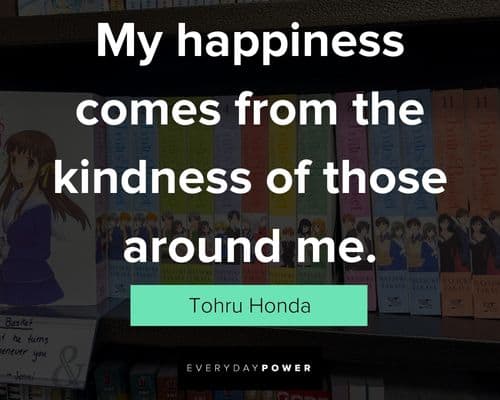 9. "I don't think anyone is born with a reason to live. It's something you have to find for yourself." ― Tohru Honda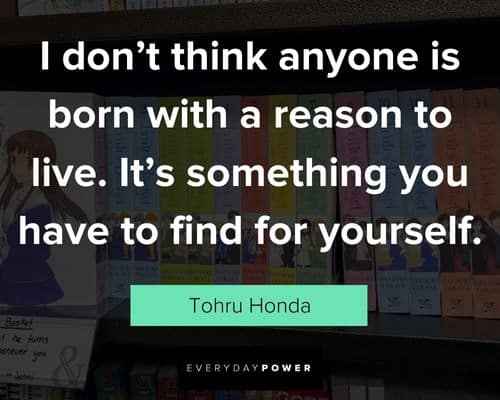 10. "Mr postman! It's terrible, you see! They're animals!" ― Tohru Honda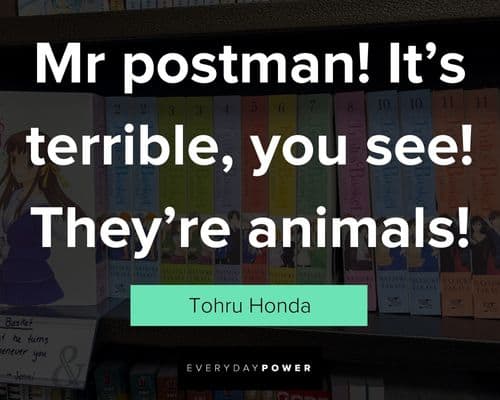 Fruits Basket quotes from Kyo Sohma
11. "Stupid ocean!!! Ya want me to kill you? Huh??" ― Kyo Sohma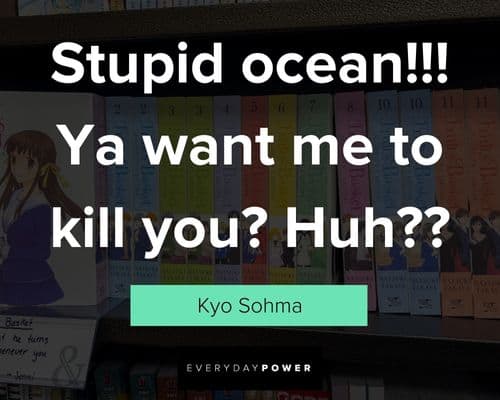 12. "Yo…Are you ready for me to break your neck…Rat-boy?" ― Kyo Sohma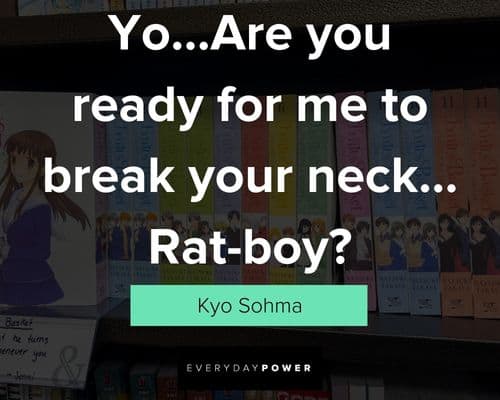 13. "If you love someone, they could make you sad. They could even make you feel lonely sometimes. But, that someone can also make you happier than you'll ever be." ― Kyo Sohma
14. "I'm gonna take my place as a true member of this family!" ― Kyo Sohma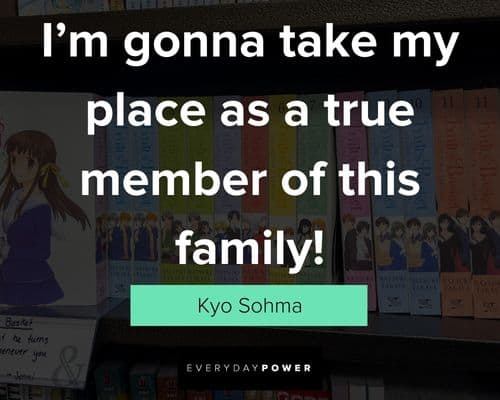 15. "Tohru, I can't stand not being with you…I…because I love you." ― Kyo Sohma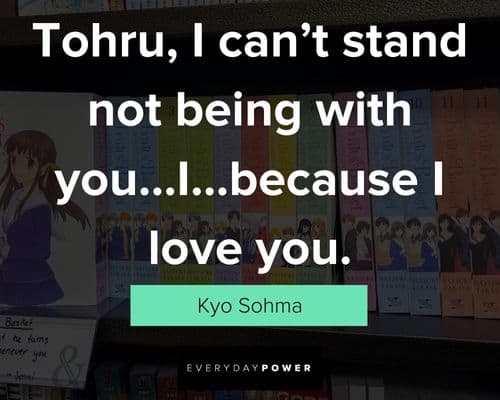 16. "Maybe I'm not perfect. Maybe I have a long way to go. But someday…someday I'll be able to stand and walk on my own. Without hurting anyone…and without being a burden." ― Kyo Sohma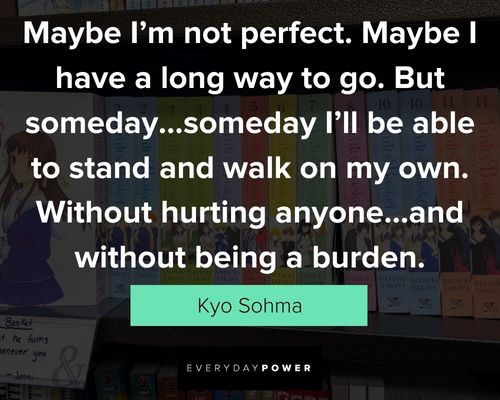 17. "Be selfish. Say what you want once in a while. It's okay to let yourself be sad." ― Kyo Sohma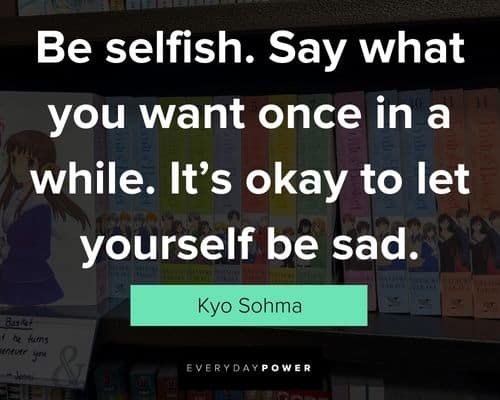 18. "I love you. When did I start to love you so much?" ― Kyo Sohma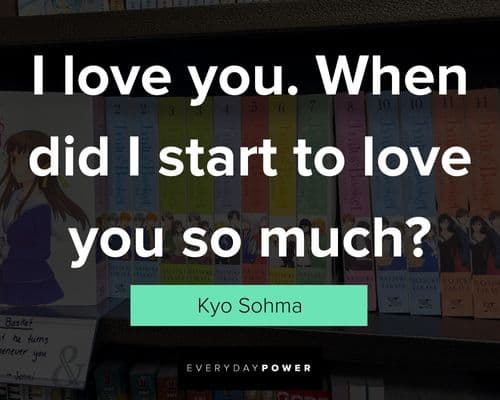 19. "I want to possess her… to make her belong to me, and only me." ― Kyo Sohma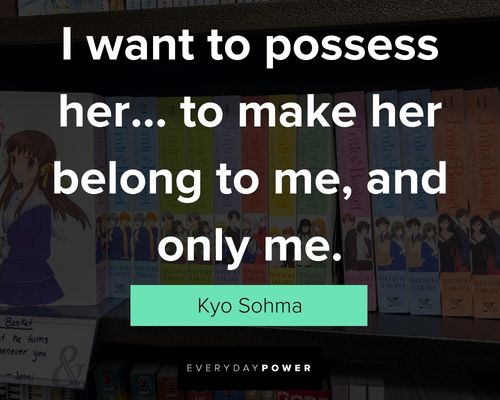 20. "You know… you really are something…" [to Tohru] ― Kyo Sohma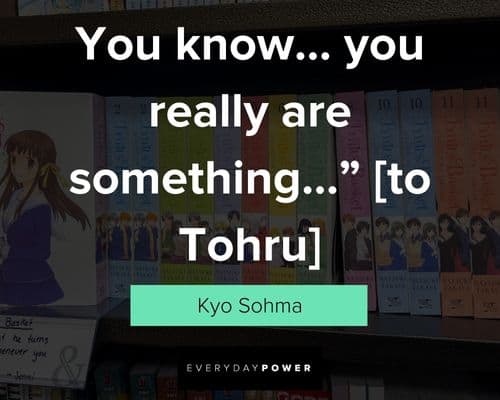 Fruits Basket quotes from Natsuki Takaya
21. "We have just witnessed a classic example of what I like to call 'misdirected rage'." ― Natsuki Takaya.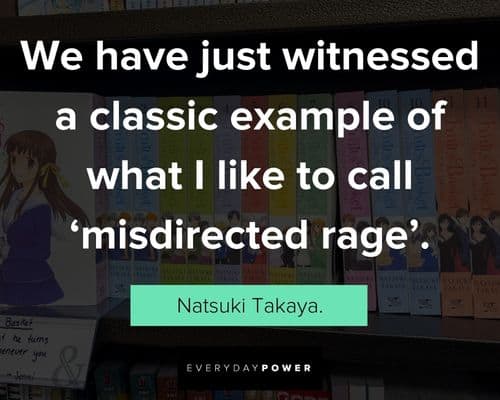 22. "To forgive or not to forgive…are those my only choices?" ― Natsuki Takaya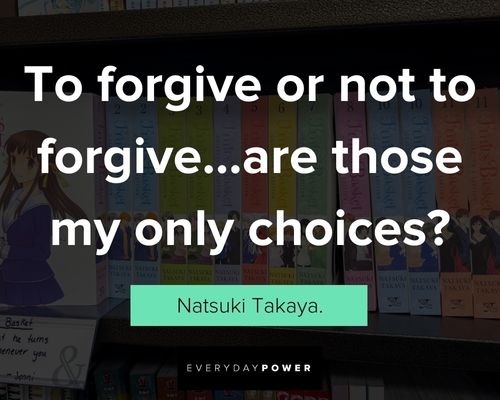 23. "Because even the smallest of words can be the ones to hurt you, or save you." ― Natsuki Takaya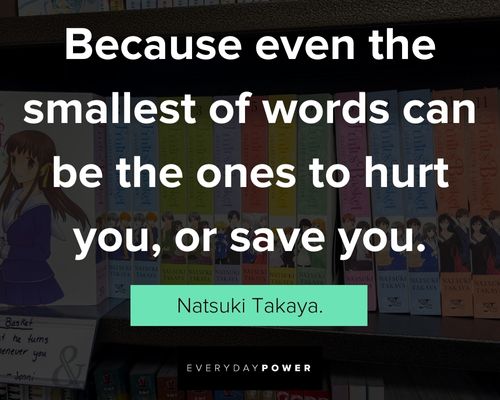 24. "Don't get lost. Give it a try. Go find the place that you're wishing for." ― Natsuki Takaya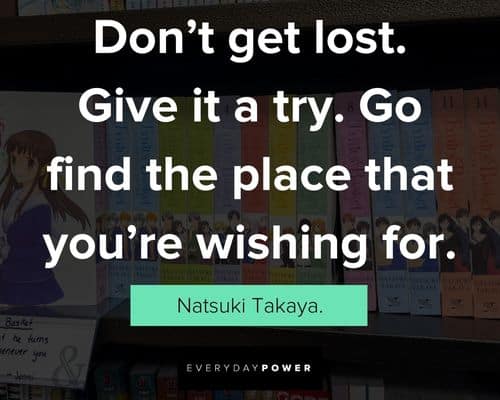 25. "Those who hurt others will also hurt themselves." ― Natsuki Takaya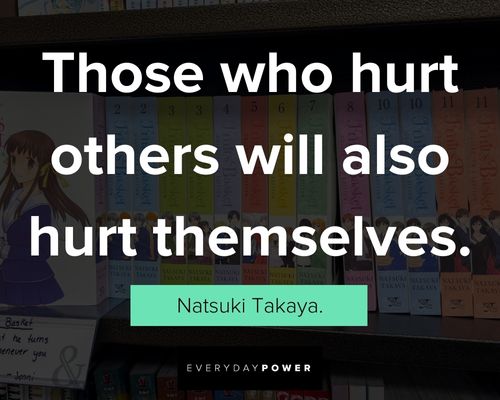 What these Fruits Basket quotes teach us about life
Throughout the series, Tohru learns of the hardships and pain faced by the afflicted members of the Sohma family.
She is a kind and generous person with an innately nurturing personality who helps them heal from their emotional traumas.
While doing so, she learns about life and also herself.
One of my favorite quotes from Yuki is the one where he wishes he could have lived his life without "any wrong turns."
He mentions how we push forward and that is all we can do, on our own two feet.
Quote the life lesson from the last of the family members to have the curse removed.
The original manga wasn't adapted to an anime television series until 2001.
It consisted of 26 episodes.
A second anime television series adaptation, produced by TMS Entertainment and directed by Yoshihide Ibata, premiered in April 2019.
The reboot anime series is a co-production of Funimation, who released the series through a partnership with Crunchyroll.
A compilation film titled Fruits Basket: Prelude will premiere on February 18, 2022.
Were you a fan of the series?
Which character was your favorite?
Let us know using the comment section below.