25 George HW Bush Quotes From The 41st President
Our latest collection of George HW Bush quotes on Everyday Power.
Former President George H.W. Bush died on Friday, November 30, 2018.
He will be remembered best for his leadership of the United States at the end of the Cold War and his service spanning a life of 94 years.
Bush led such an eventful life.
Before he became the 41st President of the United States, he had served as a WWII combat pilot for the Navy and as director of the CIA.
Even after his tenure in public service, Bush continued to inspire many with his faith and hope for a better future.
To honor him, here are some inspirational George H. W. Bush quotes to remember our 41st president.
Also check out these John McCain quotes about character, America and more.
If you love this quote collection, read out our most popular quote article about short inspirational quotes for daily motivation.
If you need more inspirational quotes, check out our motivational quotes category page.
George HW Bush Quotes From The 41st President
1. "I do not mistrust the future. I do not fear what is ahead. For our problems are large, but our heart is larger. Our challenges are great, but our will is greater." – George H. W. Bush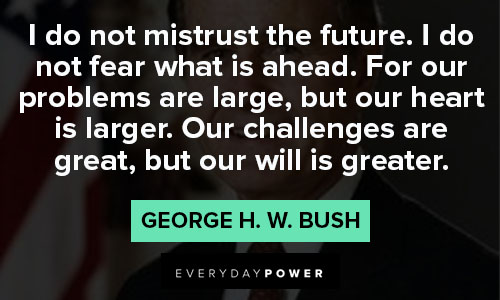 2. "I have opinions of my own, strong opinions, but I don't always agree with them." – George H. W. Bush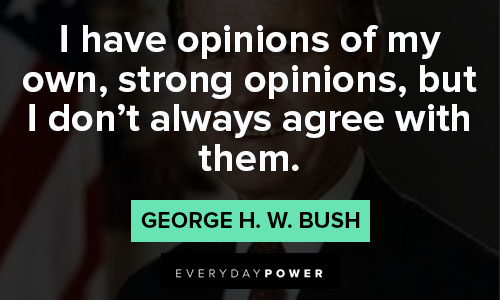 3. "We are a nation of communities… a brilliant diversity spread like stars, like a thousand points of light in a broad and peaceful sky." – George H. W. Bush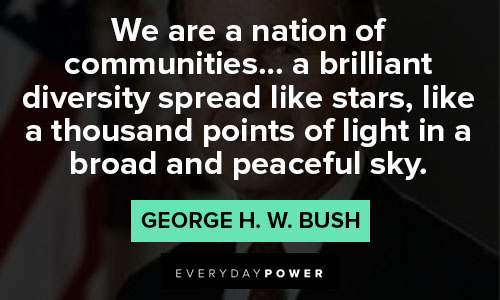 4. "I am not one who flamboyantly believes in throwing a lot of words around." – George H. W. Bush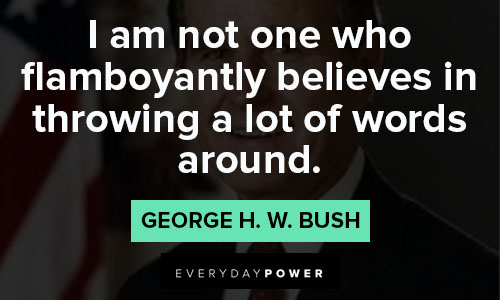 5. "Old guys can still have fun and still do stuff." – George H. W. Bush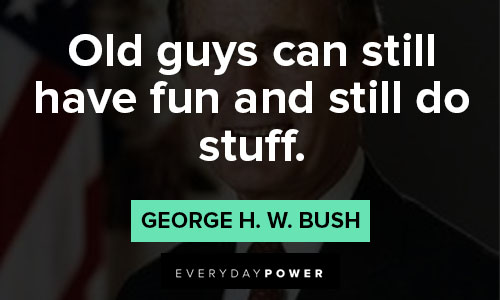 You will also enjoy our article on William Henry Harrison quotes.
6. "History will point out some of the things I did wrong and some of the things I did right." – George H. W. Bush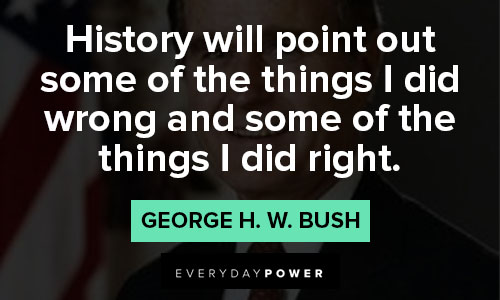 7. "I plan to put something back into society, and not at the head table, not always in the glamour, certainly not with a lot of news attention." – George H. W. Bush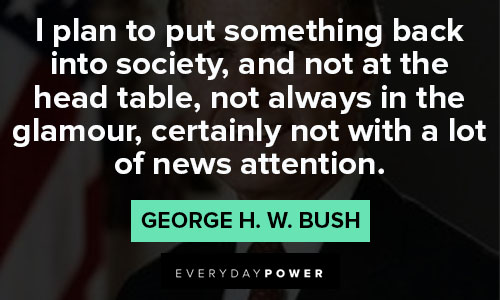 8. "What's wrong with being a boring kind of guy?" – George H. W. Bush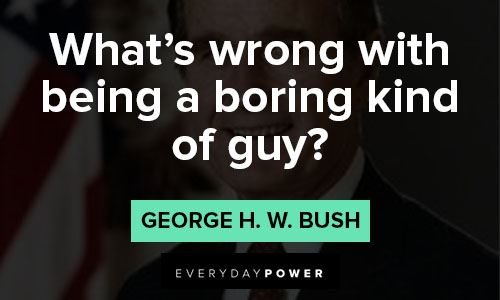 9. "No problem of human making is too great to be overcome by human ingenuity, human energy, and the untiring hope of the human spirit." – George H. W. Bush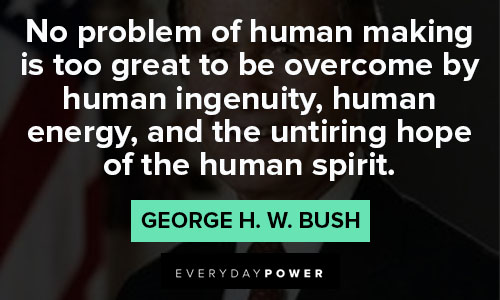 10. "There is nothing more fulfilling than to serve your country and your fellow citizens and to do it well." – George H. W. Bush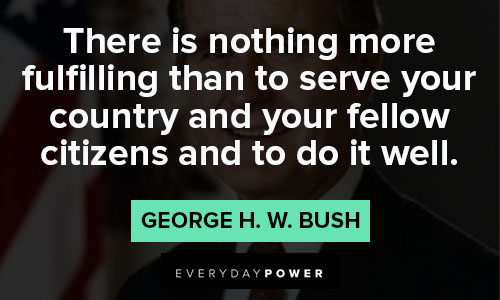 Inspirational George HW Bush quotes
11. "Look to the very heart of Europe, to Berlin, and you will see a great truth shining brighter with each passing day: The quest for freedom is stronger than steel, more permanent than concrete." – George H. W. Bush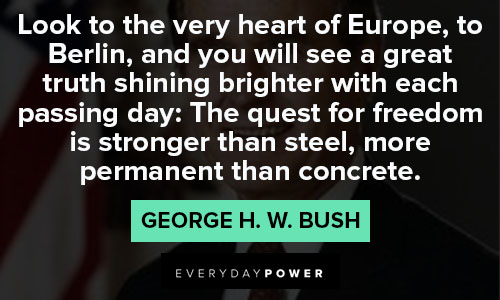 12. "International exchanges are not a great tide to sweep away all differences, but they will slowly wear away at the obstacles to peace as surely as water wears away a hard stone." – George H. W. Bush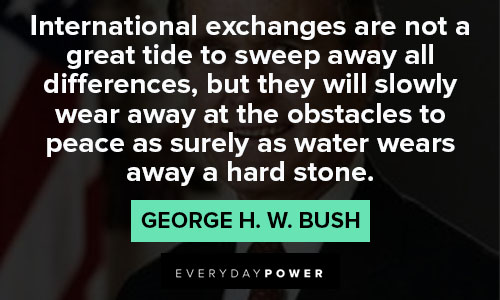 13. "Be bold in your caring, be bold in your dreaming and above all else, always do your best." – George H. W. Bush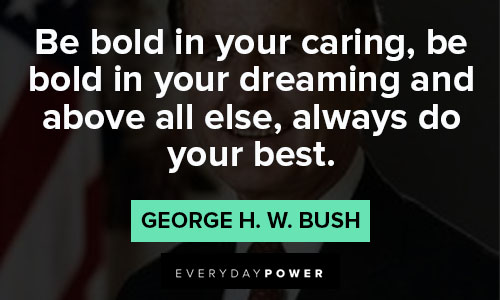 14. "I am a conservative, but I'm not a nut about it." – George H. W. Bush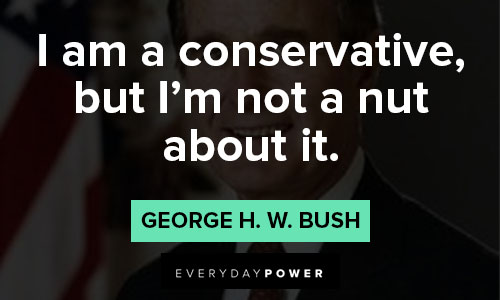 15. "In crucial things, unity. In important things, diversity. In all things, generosity." – George H. W. Bush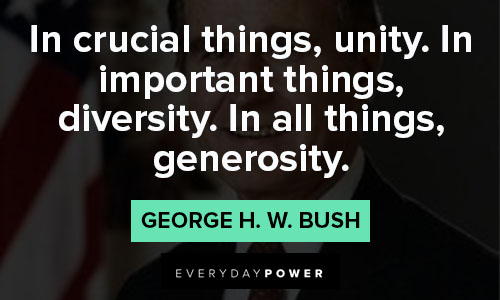 16. "To all who mourn a son, a brother, a husband, a father, a friend — I can only offer you the gratitude of a nation, for your loved one served his country with distinction and honor." – George H. W. Bush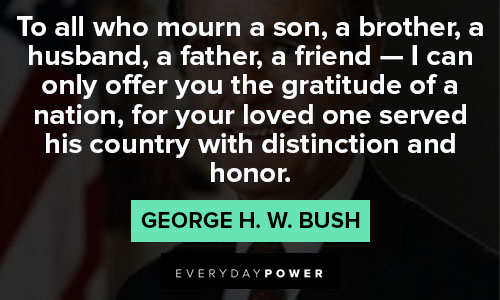 17. "We are not the sum of our possessions." – George H. W. Bush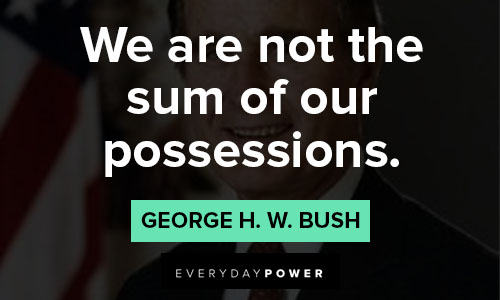 18. "In the wake of the Cold War, in a world where we are the only remaining superpower, it is the role of the United States to marshal its moral and material resources to promote a democratic peace. It is our responsibility, it is our opportunity to lead. There is no one else." – George H. W. Bush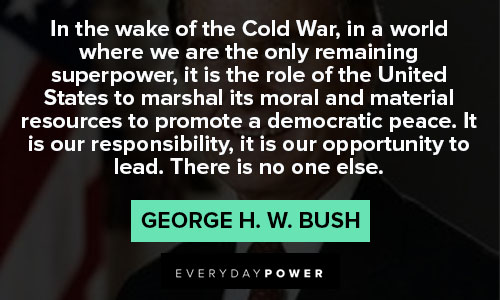 19. "I'm not a very good one to give advice; but just don't let the critics discourage you or push you off course. … Your success is now our country's success. I am rooting for you." – George H. W. Bush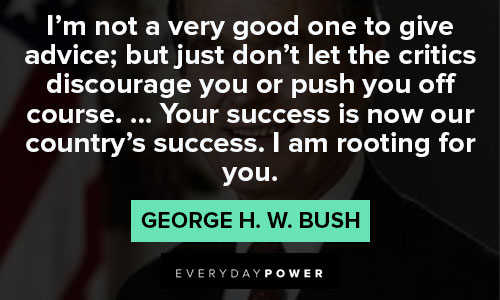 20. "You don't have to go to college to be a success … We need the people who run the offices, the people who do the hard physical work of our society." – George H. W. Bush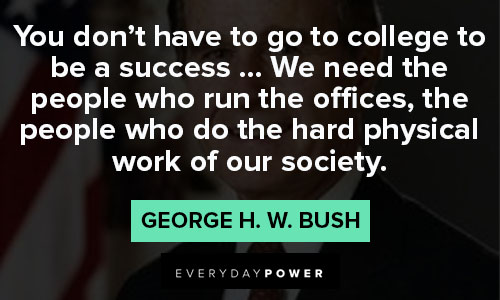 You might also like these Barbara Bush quotes for understanding the complexities of life.
George HW Bush quotes on American and Freedom
21. "We know what works. Freedom Works. We know what's right. Freedom is right." – George H. W. Bush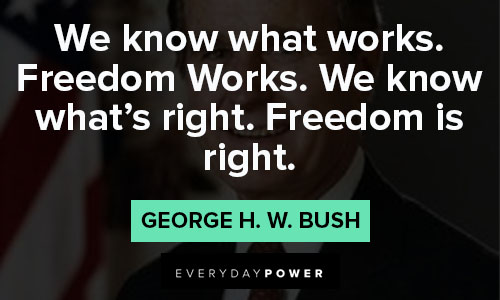 22. "We don't want an America that is closed to the world. What we want is a world that is open to America" – George H. W. Bush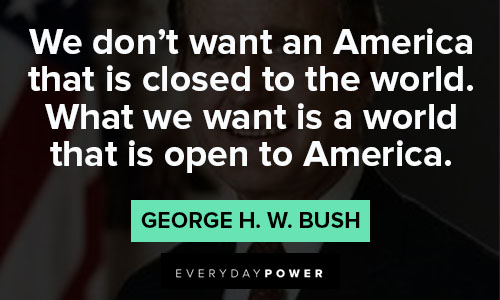 23. "I will keep America moving forward, always forward, for a better America, for an endless enduring dream and a Thousand Points of Light. This is my mission, and I will complete it." – George H. W. Bush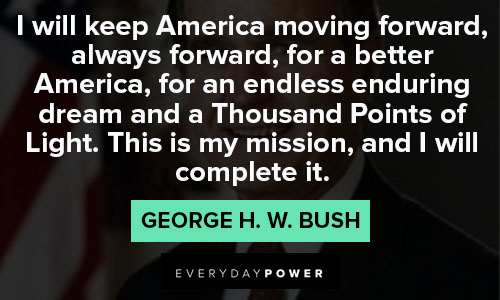 24. "We're going to keep trying to strengthen the American family. To make them more like the Waltons and less like the Simpsons." – George H. W. Bush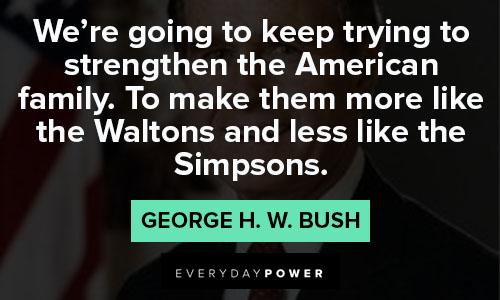 25. "America is never wholly herself unless she is engaged in high moral principle. We as a people have such a purpose today. It is to make kinder the face of the nation and gentler the face of the world." – George H. W. Bush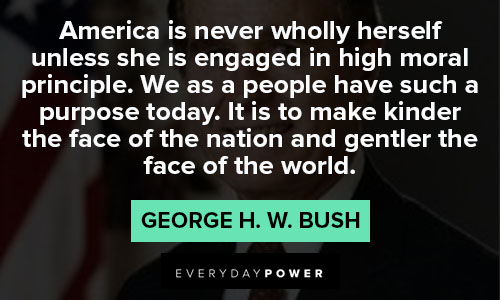 Also check out these wise presidential quotes from past presidents.
Which of these George HW Bush quotes was your favorite?
George Bush Sr will be remembered for many things, among them, his achievements in foreign policy and for arranging the world into much of its present order.
As we honor the 41st president of the free world, we hope his words of wisdom have inspired you to strive for a better tomorrow for yourself and for those around you.
Did you enjoy these George HW Bush quotes?
Do you have any other quote to add to the list?
Feel free to share it with us in the comment section below.
We would love to hear all about it.