Priyanka Chopra Quotes on Marriage, Love and Success
Our latest collection of Priyanka Chopra quotes on Everyday Power.
Priyanka Chopra is an Indian actress who has appeared in nearly 50 films and who became the first Indian woman to star in a leading American TV network drama with her role in 'Quantico.'
She won the Miss India pageant while in high school and was also crowned Miss World in 2000.
Chopra has received numerous awards and was named one of the 100 most influential people in the world by Time magazine in 2016.
In 2017, Forbes listed her among the World's 100 Most Powerful Women as well.
Chopra began a relationship with the musician and actor, Nick Jonas, earlier in 2018.
At the beginning of December 2018, the couple married in a multiple-day lavish affair involving traditional Hindu and Christian ceremonies.
Besides acting, Chopra is also a singer, film producer, and philanthropist.
She has worked with UNICEF since 2006 and was appointed as the national and global UNICEF Goodwill Ambassador for Child Rights in 2010 and 2016.
As one of India's highest-paid and most popular celebrities, Chopra is someone who has clearly managed to maximize her Everyday Power.
She's an example that hard work pays off well.
In that respect, here are some amazing Priyanka Chopra quotes to inspire you on your journey to greatness.
Check out our most popular quote article, a list of short inspirational quotes for daily inspiration. 
Explore our complete collection of motivational quotes here.
Priyanka Chopra Quotes on Marriage, Love and Success
1. "I live with romance in my brain. I'm a true-blue Cancerian like that." – Priyanka Chopra
2. "No one can tell you how much you can do. You have to set your own standards." – Priyanka Chopra
3. "I totally commit and completely give myself to a relationship. Be warned, though – I don't like being taken for granted so I can be pretty high-maintenance sometimes! " – Priyanka Chopra
4. "Don't try to squeeze into a glass slipper. Instead, shatter the glass ceiling." – Priyanka Chopra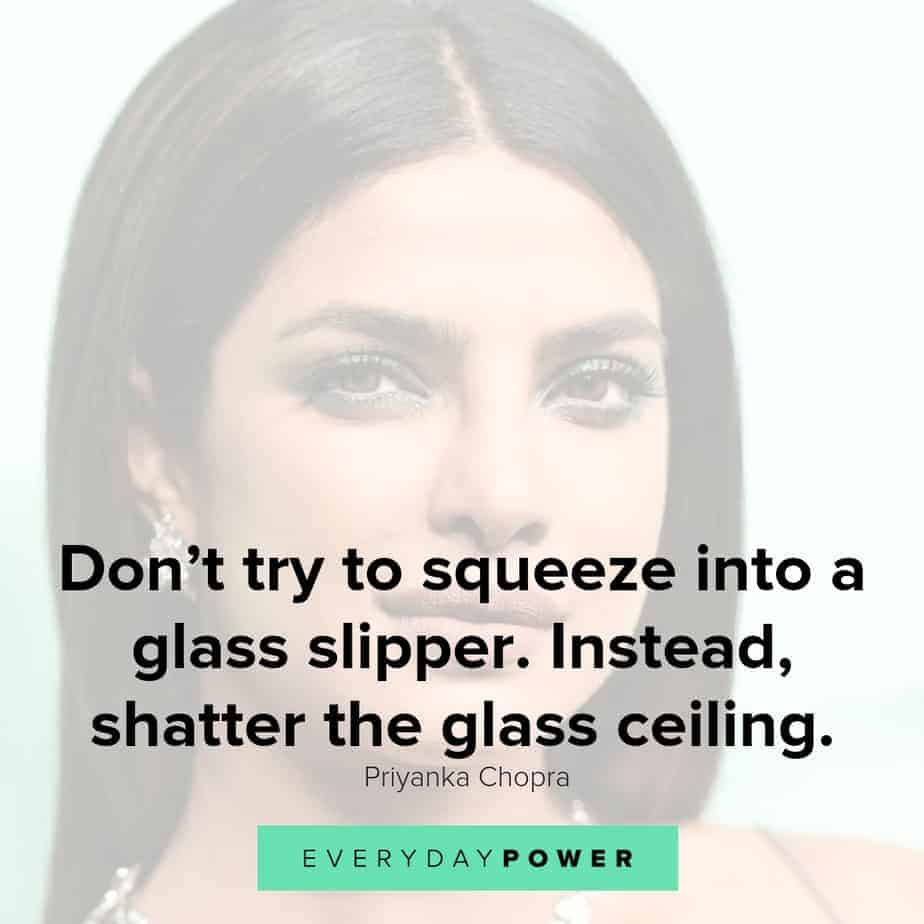 5. "People just need to see others for what they are. They need to stop thinking that there's an agenda behind everything." – Priyanka Chopra
6. "I don't like guys who are conventional. I'm an achiever; he has to be an achiever. I admire drive, I admire ambition. I like a guy who keeps me on my toes." – Priyanka Chopra
7. "Stardom should be a discovery. You don't hammer it onto people's heads. You don't demand it. You command it." – Priyanka Chopra
8. "I believe in myself and my art so much. I've always trusted destiny. Wherever it takes me, I just work damn hard at the opportunity." – Priyanka Chopra
9. "I wasn't the prettiest girl in the room, but I learned to carry myself with confidence – that's how you make the best impression on people." – Priyanka Chopra
10. "I love that our wedding was a religious mash-up. We took beautiful traditions that we both grew up with and personalized them in a way that made sense for us." – Priyanka Chopra
Priyanka Chopra quotes on Life and Success
11. "I think it's great to be flawed. I am hugely flawed, and I like it this way. That's the fun of life. You fall, get up, make mistakes, learn from them, be human and be you." – Priyanka Chopra
12. "When life gives you lemons, make grape juice, then sit back and let people wonder how you did it." – Priyanka Chopra
13. "Ambition is a word associated with women negatively. People say she's too ambitious. Why is that a bad thing?" – Priyanka Chopra
14. "Any transition is easier if you believe in yourself and your talent." – Priyanka Chopra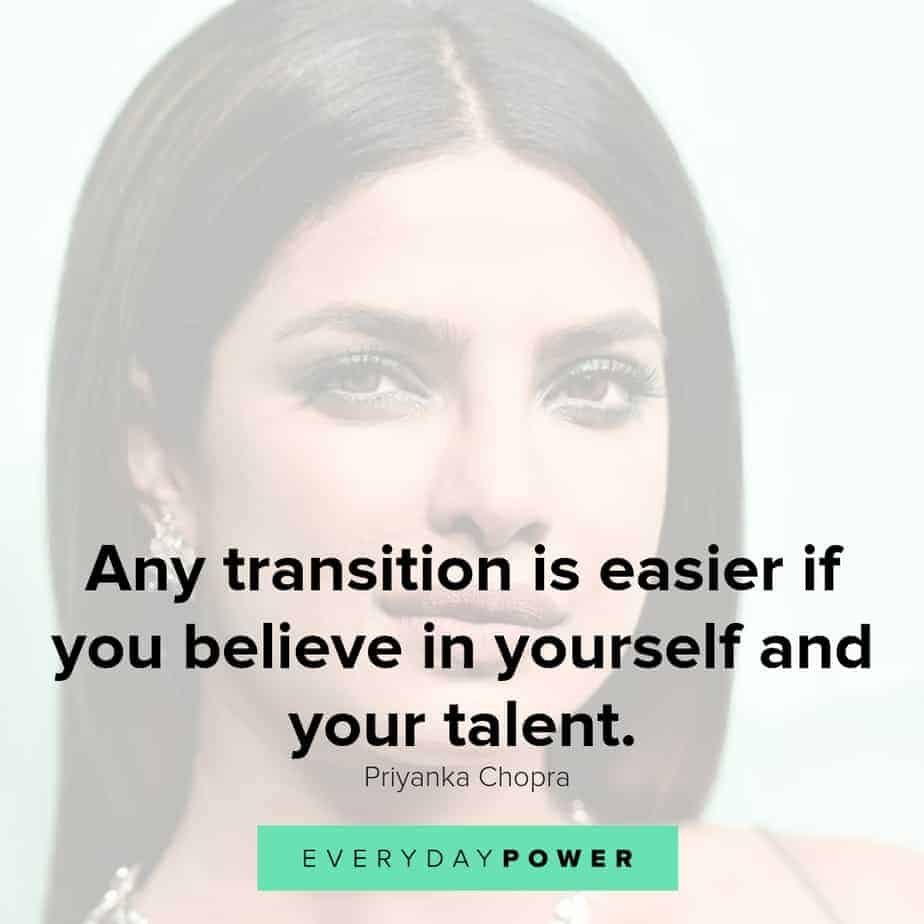 15. "I'm inspired by creative people because they add the color and the emotions to our lives." – Priyanka Chopra
16. "You can't control everything – you just have to do your best with every opportunity." – Priyanka Chopra
17. "I am a little – I won't say arrogant – self-assured." – Priyanka Chopra
18. "Black, brown, white, yellow – why are we always talking about colors? I'm a girl. I believe in a global community." – Priyanka Chopra
19. "My career is the sum of the decisions I have made. Everyone can work hard, but I work on my own terms. I stand my ground, and once I have committed to anything, I give my 150 percent." – Priyanka Chopra
20. "I believe destiny and hard work go hand in hand." – Priyanka Chopra
More Priyanka Chopra quotes
21. "If my film does not do well, it really hurts me. But by God's grace, even if some of my films may not have done well, people have still liked my work in it. " – Priyanka Chopra
22. "You can be an absolute woman and also be smart and tough and not lose your femininity. " – Priyanka Chopra
23. "I taught myself confidence. When I'd walk into a room and feel scared to death, I'd tell myself, 'I'm not afraid of anybody.' And people believed me. You've got to teach yourself to take over the world." – Priyanka Chopra
24. "To be a philanthropist, you don't have to be Nelson Mandela. You just have to look around you and ask, 'What little bit can I do? Whose life can I touch?'" – Priyanka Chopra
25. "Be true to who you are. Be courage. Be selfless. Be love." – Priyanka Chopra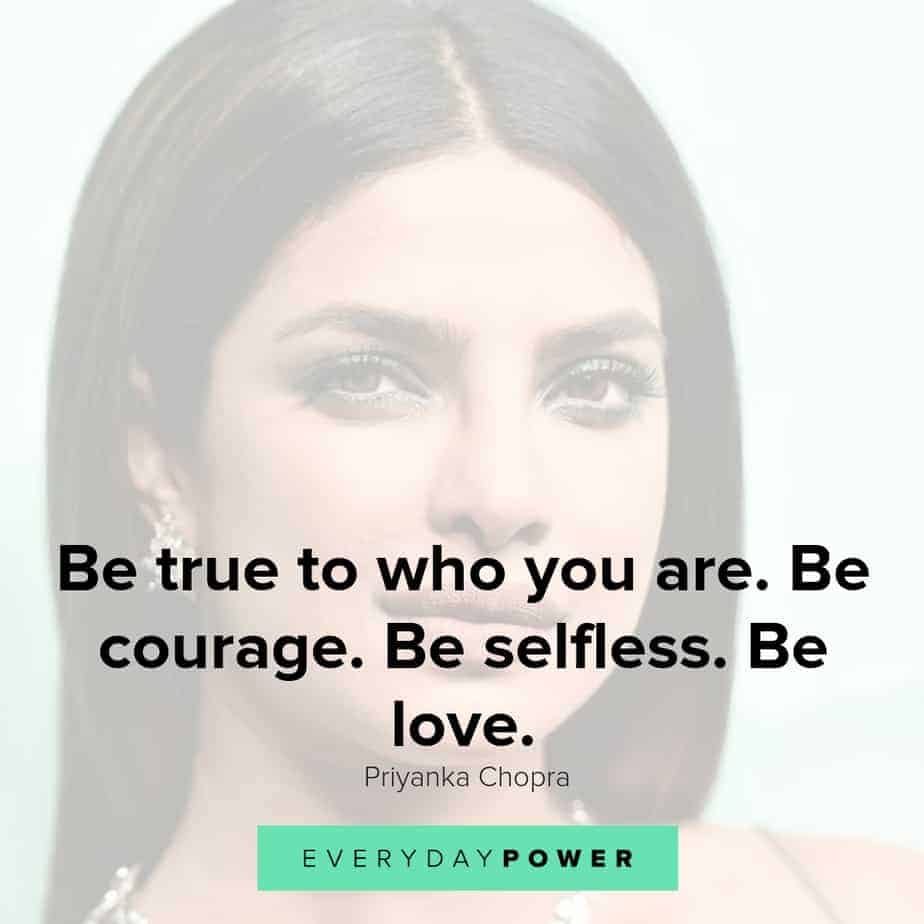 26. "I can't eradicate poverty, but at least for the people around me, I can help make sure no child is denied a dream. – Priyanka Chopra
27. "I've been the saddest while I've been the most successful, strangely." – Priyanka Chopra
28. "I am a little old-fashioned. I believe that in a relationship a man and a woman are never equal." – Priyanka Chopra
29. "It melted my heart. Being able to have two big weddings, in India, with our closest family and friends was unbelievably special." – Priyanka Chopra
30. "I know I'm flawed – but perfect is boring anyway! Flawed is good!" – Priyanka Chopra
Which of these Priyanka Chopra quotes was your favorite?
Chopra's story of success and early achievements in life leaves a strong message of courage, confidence, and determination.
She's crossed all the hurdles of life to become one of the leading actresses in Bollywood.
Hopefully, these quotes have inspired you to win your battles and achieve the success you strive for.
Did you enjoy these Priyanka Chopra quotes?
Which of the quotes was your favorite?
Let us know in the comment section below.
We would love to hear all about it.