25 Desmond Tutu Quotes To Encourage Togetherness
Our curated Desmond Tutu quotes will inspire you to unite with and appreciate the wonderful people around you.
Nobel Peace Prize recipient Bishop Desmond Tutu is an activist who advocates for togetherness and against oppression.
Tell us which Desmond Tutu quote resonated most with you in the comment section below.
What are the benefits of reading these Desmond Tutu quotes?
Born in Klerksdorp, a large town in South Africa, Bishop Desmond Tutu studied theology after he was ordained as a priest in the 1960s.
Merriam-Webster defines theology as "the study of religious faith, practice, and experience."
Tutu became well known throughout South Africa as an activist who spoke out against South Africa's apartheid worldwide.
In 1984, he received the Nobel Peace Prize for his efforts against apartheid.
These Desmond Tutu quotes will:
provide you with insight into life and the universe
offer a new perspective on diversity
shed light on humanity and society
For more inspiration from his incredible mind, look below.
Don't forget to check out these Nelson Mandela quotes on forgiveness and freedom.
Check out our most popular quote article, a list of short inspirational quotes for daily inspiration.
Check out our inspirational quotes category page for more inspirational life quotes.
Insightful Desmond Tutu quotes
1. "Do your little bit of good where you are; it's those little bits of good put together that overwhelm the world." – Desmond Tutu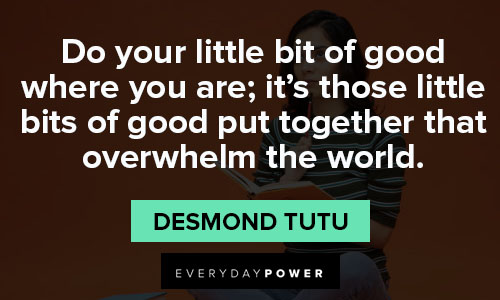 You will also enjoy our article on unity quotes.
2. "There is nothing more difficult than waking someone who is only pretending to be asleep." – Desmond Tutu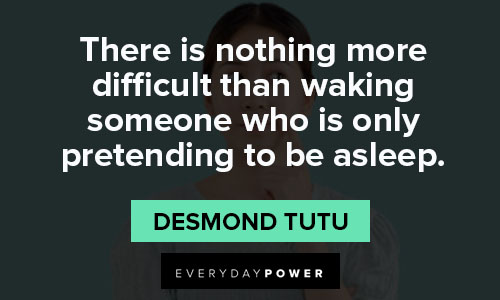 3. "I'm coming to believe more and more in the truth that everything we do has consequences. a good deed doesn't just evaporate and disappear." – Desmond Tutu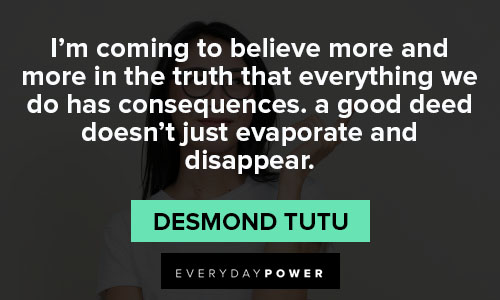 4. "Forgiveness does not mean condoning what has been done. Forgiving means abandoning your right to pay back the perpetrator in his own coin." – Desmond Tutu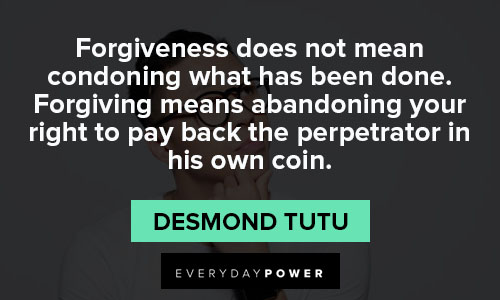 5. "Your ordinary acts of hope and love point to the extraordinary promise that every human life is of inestimable value." – Desmond Tutu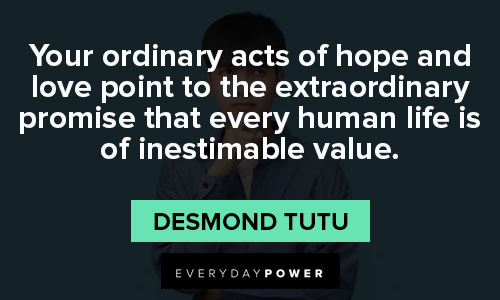 6. "The universe can take quite a while to deliver." – Desmond Tutu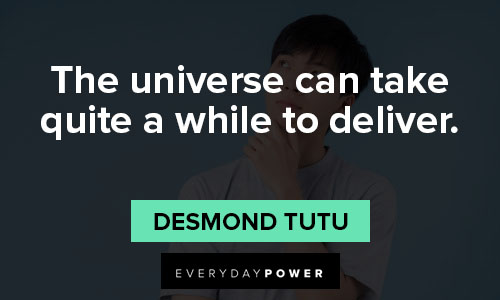 7. "I wish I could shut up, but I can't, and I won't." – Desmond Tutu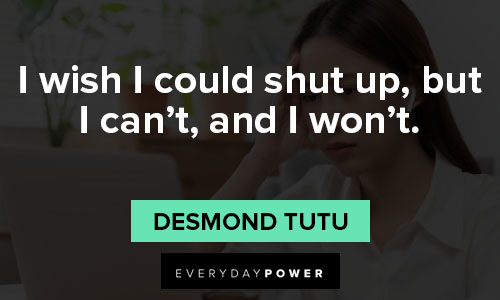 8. "Forgiveness says you are given another chance to make a new beginning." – Desmond Tutu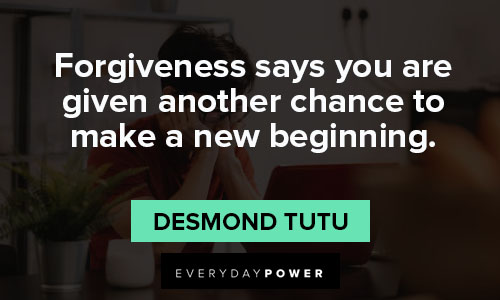 9. "We are made for loving. If we don't love, we will be like plants without water." – Desmond Tutu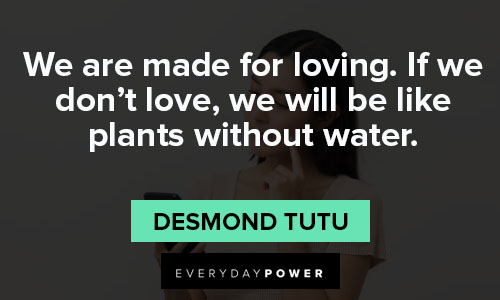 10. "Ultimately our greatest joy is when we seek to do good for others." – Desmond Tutu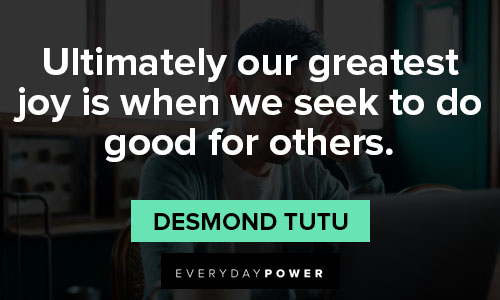 11. "Without forgiveness, there's no future." – Desmond Tutu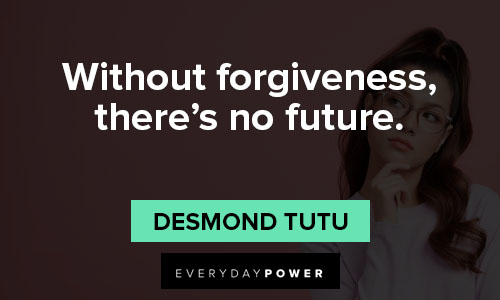 12. "If you want peace, you don't talk to your friends. You talk to your enemies." – Desmond Tutu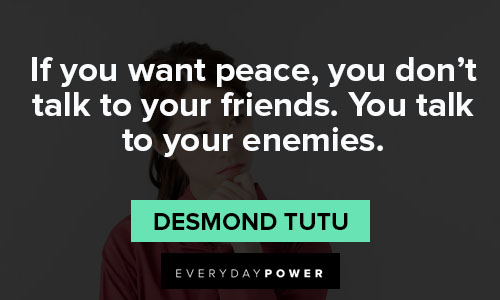 13. "There comes a point where we need to stop just pulling people out of the river. We need to go upstream and find out why they're falling in." – Desmond Tutu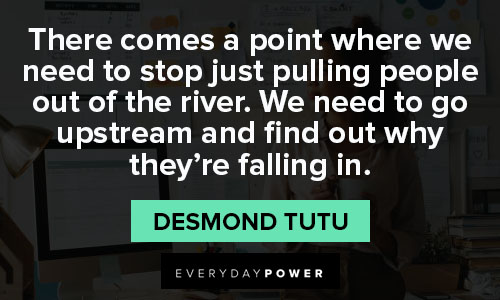 14. "My father used to say, don't raise your voice; improve your argument." – Desmond Tutu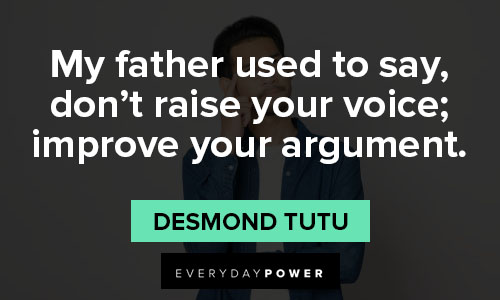 15. "The pressure to succeed has a lot to do with why people overstep the line. It is a peculiar weakness of western culture where we have made a fetish of success." – Desmond Tutu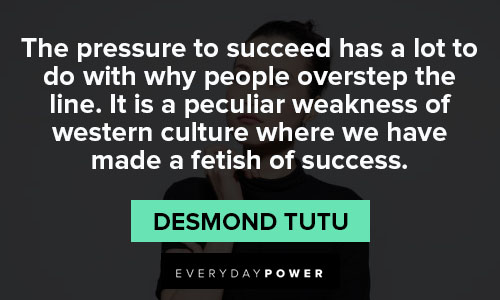 Desmond Tutu quotes about diversity
16. "We inhabit a universe that is characterized by diversity." – Desmond Tutu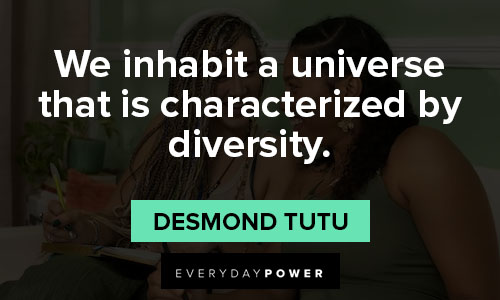 17. "Differences are not intended to separate, to alienate. We are different precisely in order to realize our need of one another." – Desmond Tutu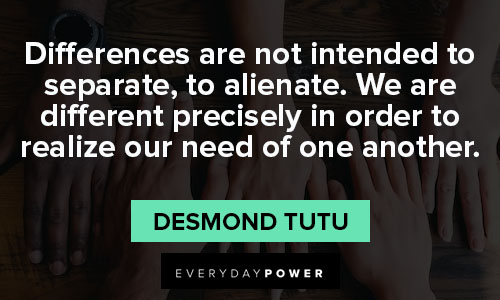 18. "How could you have a soccer team if all were goalkeepers? How would it be an orchestra if all were French horns?" – Desmond Tutu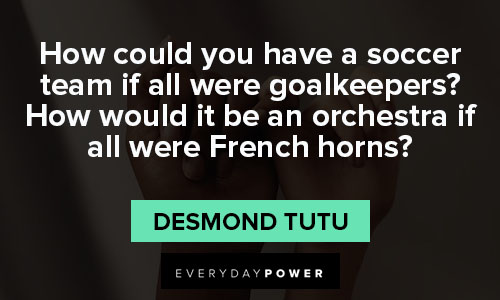 19. "For Christians, who believe they are created in the image of God, it is the Godhead, diversity in unity and the three-in-oneness of God, which we and all creation reflect." – Desmond Tutu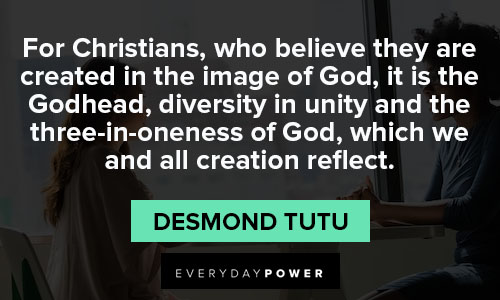 20. "Isn't it amazing that we are all made in God's image, and yet there is so much diversity among his people?" – Desmond Tutu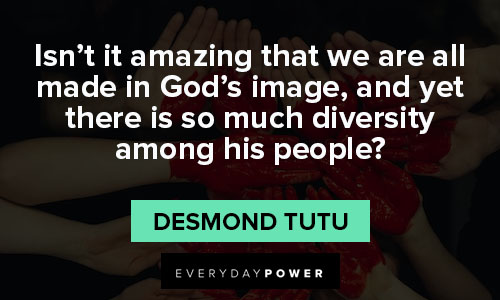 Desmond Tutu quotes about humanity and society
21. "My humanity is bound up in yours, for we can only be human together." – Desmond Tutu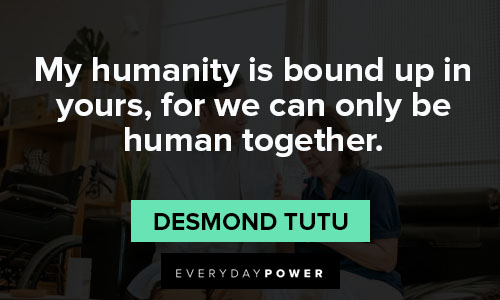 22. "A person is a person because he recognizes others as persons." – Desmond Tutu
23. "Be nice to whites, they need you to rediscover their humanity." – Desmond Tutu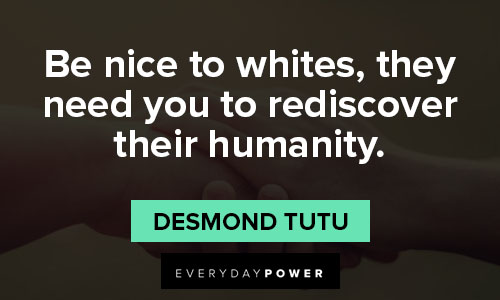 24. "You must show the world that you abhor fighting." – Desmond Tutu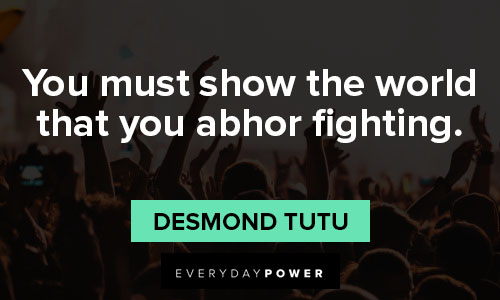 25. "Children are a wonderful gift. They have an extraordinary capacity to see into the heart of things and to expose sham and humbug for what they are." – Desmond Tutu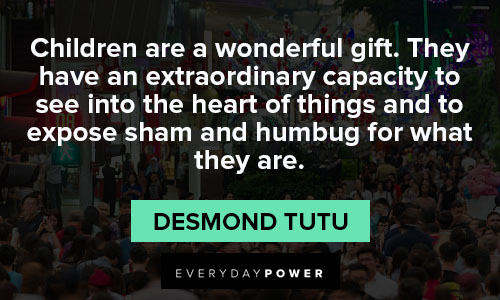 What is the beauty of diversity to you?
Faced with South Africa's horrific apartheid, Bishop Desmond Tutu emphasized the importance of equality and togetherness.
Accompanied by Tutu's extensive knowledge as a theologist, his words connected with millions across South Africa, if not the world.
We often compare his impact to other prominent black activists such as Nelson Mandela and Martin Luther King Jr.
The main theme weaving through Bishop Desmond Tutu's views is that we are stronger together than we are apart.
The moment we accept the beauty of diversity within our society is the moment that we can make real change.
Is there a quote from Bishop Desmond Tutu that you connected with deeply?
Are you planning on sharing it with a loved one?
Let us know your thoughts!