25 Benjamin Button Quotes About Living Life to the Full
These Benjamin Button quotes will bring you hope.
Benjamin Button is the main character in the film "The Curious Case of Benjamin Button."
The movie was released in 2008 and is based on a short story written in 1922 by F. Scott Fitzgerald.
The story is about a man who ages in reverse, becoming younger as the years go by.
While he was born as an infant and with the size of an infant, he is actually wrinkled and resembles an old man.
Benjamin Button then goes through life, and when he passes away, physically, he is an infant, but in chronological age, he would have been 84.
The story of Benjamin Button is a fascinating one, as it challenges our understanding of what it means to age and to grow old.
At the heart of the story is the idea that our experiences and the way we perceive the world are shaped by our age, and that if we were to age in reverse, we would experience life completely differently.
It is a powerful reminder of the fleeting nature of life and of the importance of cherishing our moments.
It encourages us to live in the present, to appreciate the people and experiences around us, and to make the most of the time we have.
Check out our most popular quote article, a list of short inspirational quotes for daily inspiration.
Our inspirational quote category page has even more inspirational and educational quotes.
Benjamin Button quotes about courage and wisdom
1. "Life went on as usual." ― Benjamin Button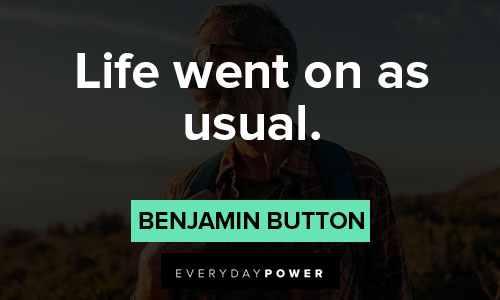 2. "There's a first time for everything." ― Benjamin Button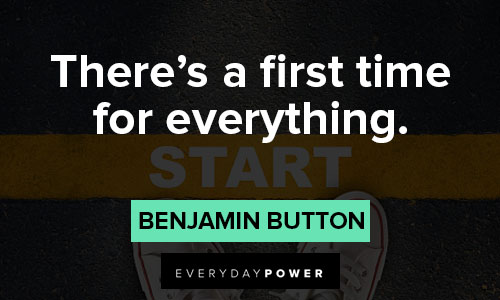 3. "I felt like I could do anything, that I could sprout wings." ― Benjamin Button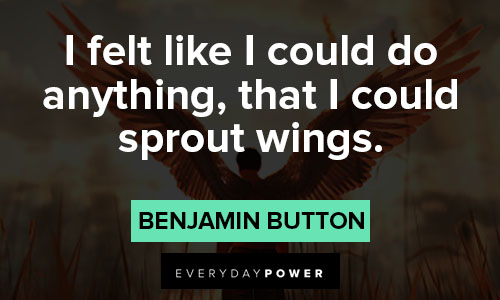 You will also enjoy our article on Casablanca quotes.
4. "Our lives are defined by opportunities, even the ones we miss." ― Benjamin Button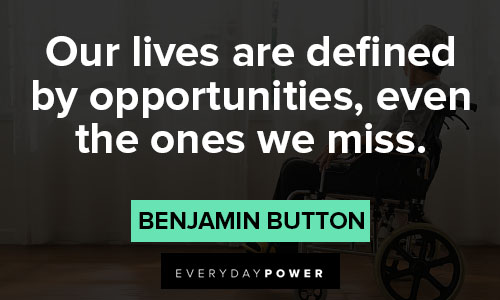 5. "Be with the people you are so fond of. You can only be young once." ― Benjamin Button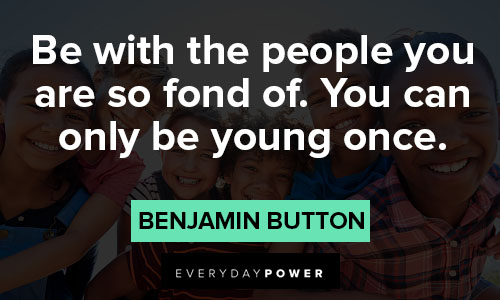 6. "For what it's worth: it's never too late or, in my case, too early to be whoever you want to be." ― Benjamin Button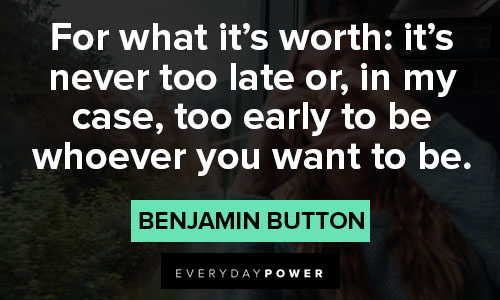 7. "I figured out one thing. If you're growing older or getting younger it really doesn't make any difference." ― Benjamin Button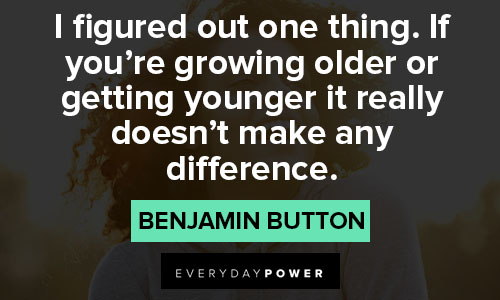 8. "My father asked me to tell you how much he appreciated the hard work you put in for him and his company for so many years." ― Benjamin Button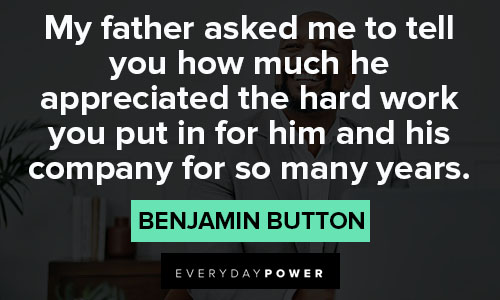 9. "You can be as mad as a mad dog at the way things went, you can curse the fates, but when it comes to the end, you have to let go." ― Benjamin Button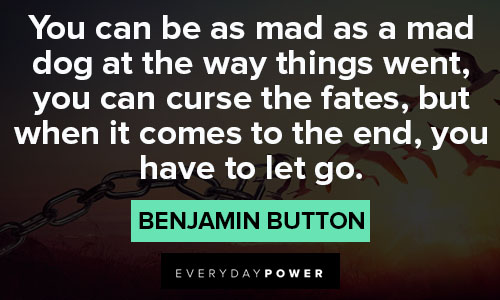 10. "It's a funny thing coming home. Nothing changes. Everything looks the same, feels the same, even smells the same. You realize what's changed, is you." ― Benjamin Button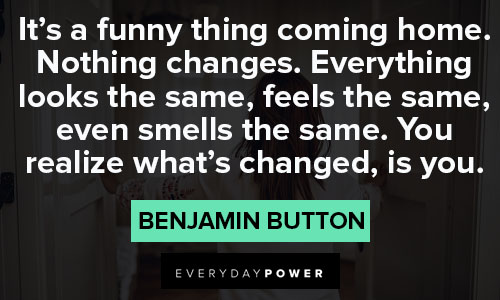 11. "I hope you meet people with a different point of view. I hope you live a life you're proud of. If you find that you're not, I hope you have the courage to start all over again." ― Benjamin Button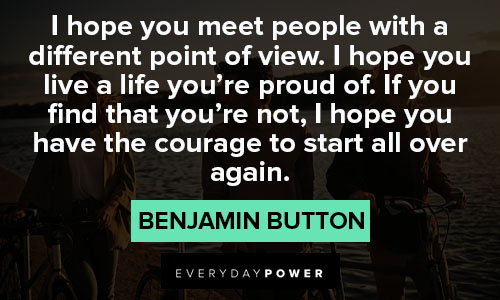 12. "There's a right way of doing things and a wrong way. If you've made up your mind to be different from everybody else, I don't suppose I can stop you, but I really don't think it's very considerate." ― Benjamin Button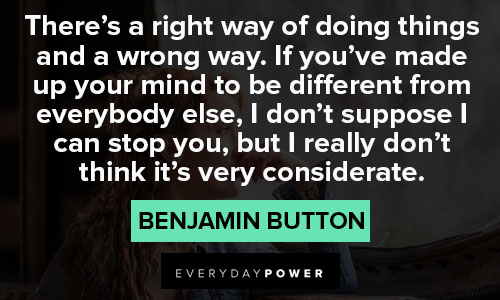 Benjamin Button quotes about love and sacrifices
13. "There's nothing I wouldn't do for you." ― Benjamin Button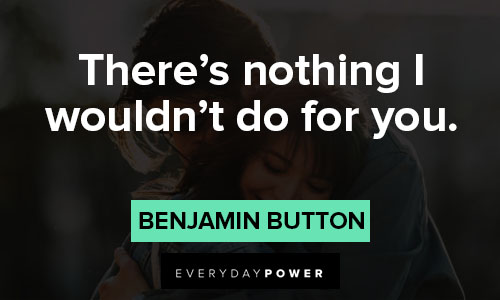 14. "Relationships have a time and a place." ― Benjamin Button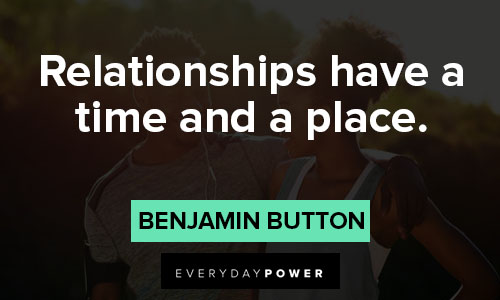 15. "She gave her life for me. And for that, I am forever grateful." ― Benjamin Button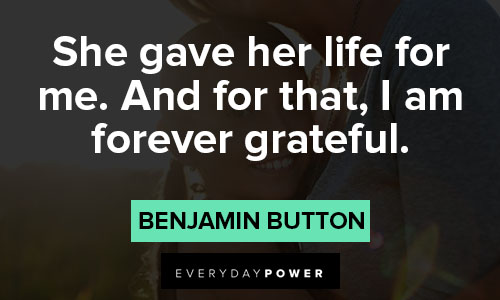 16. "It was Thanksgiving 1930, I met the person who changed my life forever." ― Benjamin Button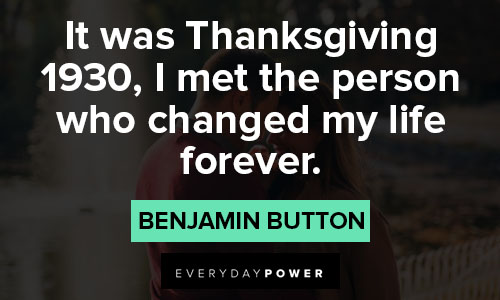 17. "She taught me to play the piano, and what it meant to miss somebody." ― Benjamin Button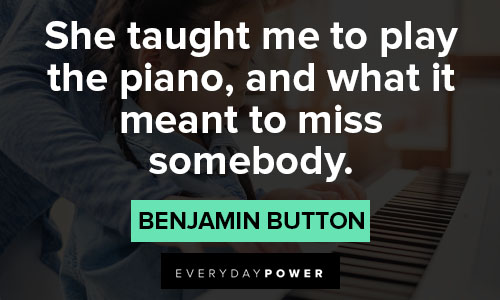 18. "It was the first time a woman had ever kissed me. It's something you never forget." ― Benjamin Button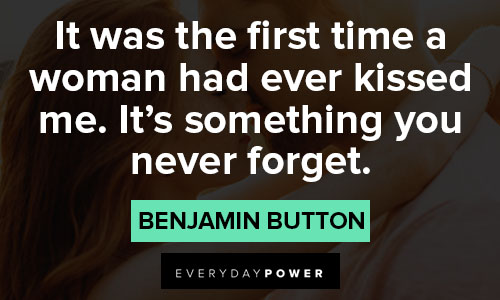 19. "You only get so many chances to be with someone. I let her go, and I missed it." ― Benjamin Button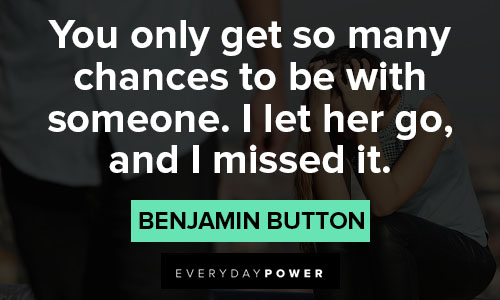 20. "She was not beautiful. She was plain as paper. But she was as pretty as any picture to me." ― Benjamin Button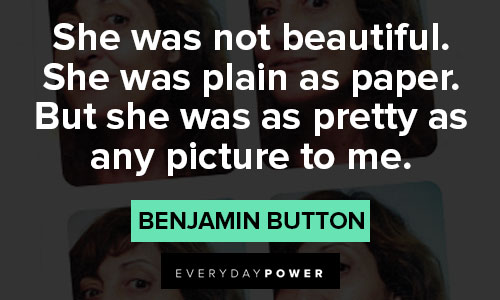 21. "We're meant to lose the people we love. How else would we know how important they are to us?" ― Benjamin Button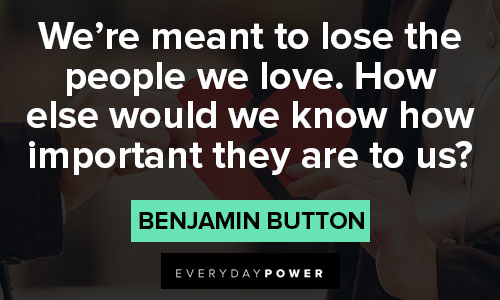 22. "I might have enjoyed the company of a woman or two… Or three but that had never stopped me from loving you." ― Benjamin Button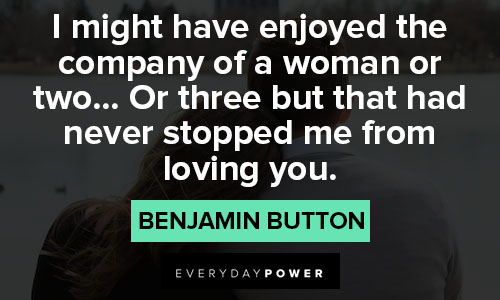 23. "Would you still love me if I were young and had acne? When I'm afraid of what's under the stairs? Or if I end up wetting the bed?" ― Benjamin Button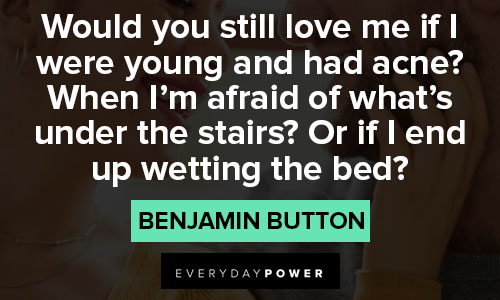 24."A rigour passed over him, blood rose into his cheeks, his forehead, and there was a steady thumping in his ears. It was first love." ― Benjamin Button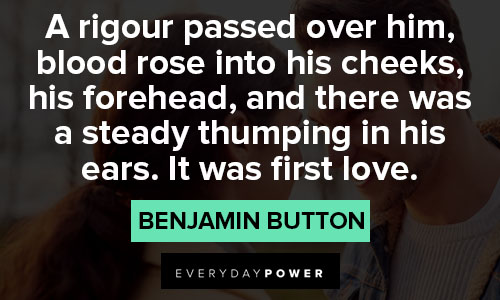 25. "I was with people who had put away all the inconsequences of life, left in a state of pure being…wondering about the weather…the temperature of a bath…the light at the end of the day." ― Benjamin Button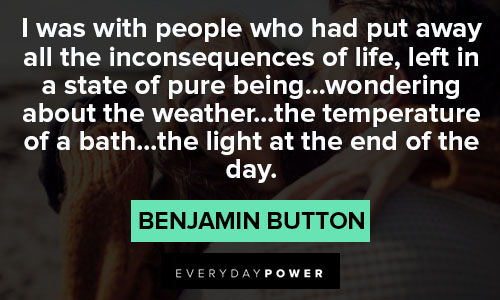 Which of these Benjamin Button quotes is your favorite?
Benjamin Button lived a very strange, hard, and inspirational life.
The movie shows how he has to relate to people throughout his life and the difficulty in relating to someone your own age when you are 70 years old in appearance, but 14 in chronological age.
Benjamin Button learns that life is fleeting and that his life has a short span where he can properly connect with people who match his physical and chronological age.
The story tells his life but focuses on his love life, where he has such a small amount of time that his life matches the age of the love of his life.
Did you enjoy these Benjamin Button quotes and lines?
Which of the quotes is your favorite?
Let us know in the comment section below.